Discover Bercy Village, this neighborhood located in the 12th arrondissement, which used to be the world's leading wine market. It is now a place of leisure and culture sought after by Parisians. Here is a list of the 17 reasons why Bercy Village is worth visiting.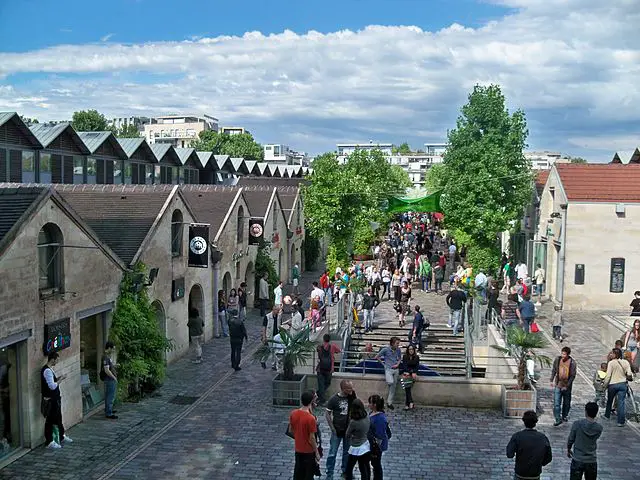 1. A shopping center open 7 days a week
Open from Monday to Sunday, from 10 am to 8pm for shops and from 11am to 2am for restaurants, Bercy Village is probably the shopping center to go to.
You can therefore enjoy these stores on weekdays and on weekends.
An idea for a Sunday outing!
2. Its excellent accessibility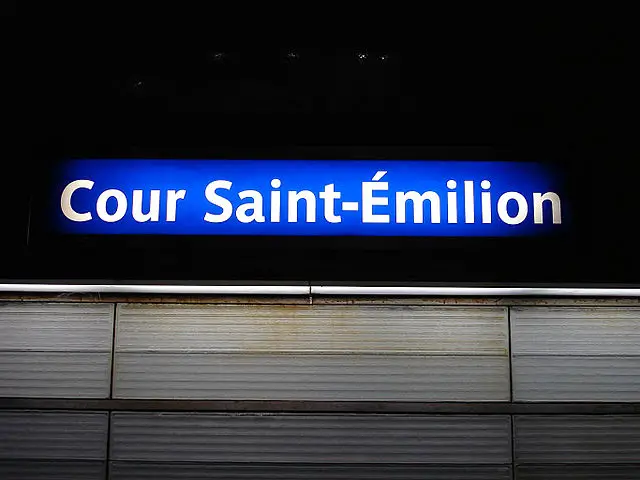 Bercy Village is served by line 14 of the metro, which is by far one of the most pleasant and fastest Parisian lines.
Get off at Cour Saint Emilion station, which takes its name from the Protected Designation of Origin for wines from the Bordeaux region.
You will access directly the head of this shopping and leisure area.
3. Visit old wine cellars while shopping at the Cour Saint-Emilion
The old wine cellars of Bercy Village used to host the wine barrels of what was once one of the largest wine markets in the world.
Now, completely renovated, these 46 century cellars from the XIXth century have become more than 30 shops, made available for your greatest pleasure.
Every effort has been made to ensure that you can shop or enjoy a meal on the Village's terraces.
4. Treat yourself to its good deals
You will find exclusive collections and discounts on your favorite products – from Fnac to Rituals and Factory&Co.
Find out more about Bercy Village's good deals here (in french only).
5. Enjoy this pedestrian-only zone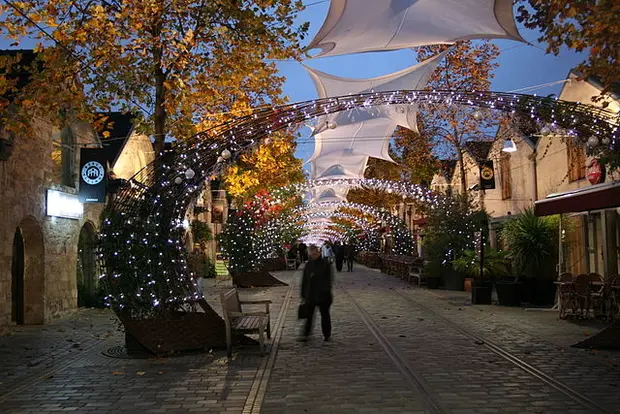 Paris is known as a city full of cars and tailbacks.
Bercy Village on the other hand allows you to enjoy a quiet moment away from the traffic.
Thanks to this pedestrian-only neighborhood, take time to roam around the paved roads in these old wine cellars renovated for your shopping pleasure!
6. An unmatched location
Bercy Village is only a few minutes from the Accord Hotel Arena, the third largest arena in the world, which hosts international tours and sporting events.
The Village is also close to Bercy and the Gare de Lyon stations.
You can even reach the Bibliothèque Nationale de France by crossing the ultramodern Simone de Beauvoir footbridge.
7. Enjoy an out-of-the-ordinary atmosphere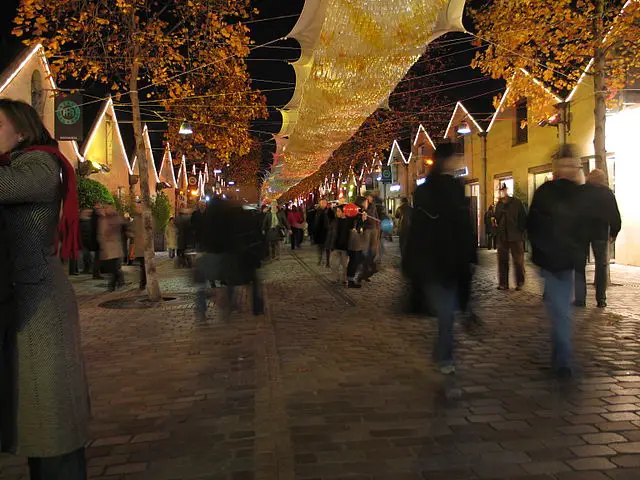 Because of its cobbled streets, its mix of modern and old buildings and white stones, Bercy village is a real exotic oasis that will move you away from the Parisian hubbub.
8. Stay in lavish hotels
A wide selection of hotels is available near Bercy Village. Among them, the Pullman Paris Center, which is in the heart of the district, offers artists' performances, a musical atmosphere and contemporary art exhibitions.
If you are looking for something cosy and elegant, discover the 209 and its 47 renovated rooms in a contemporary and clear style.
9. Eating in renowned restaurants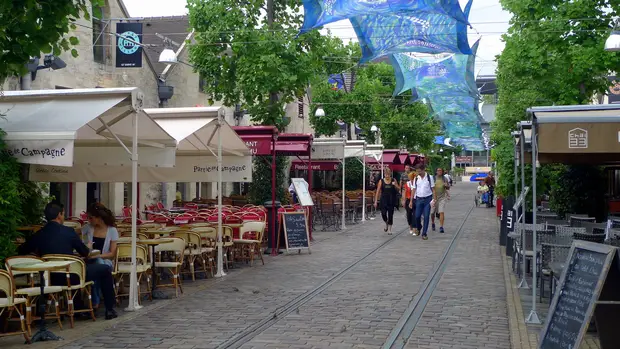 Bercy Village is the perfect place to find good restaurants. There is something for every taste and every desire.
Among them, the Chai 33 offers you a delicate French and European cuisine and also offers its wide collection of wine with more than 300 to select from.
This refined atmosphere can be found on a site that opens onto the Cour Saint Emilion and the Parc de Bercy.
Treat yourself to a moment of softness with the Eric Kayser (website in French) pastry bakery.
Let yourself be tempted by its different breads and its famous macaroons. Note that you will also find a selection of gluten-free products.
10. Its closeness to most trendy places
Whether it is to go out or to have a drink, Bercy Village is near to all the places to have a good time.
So head for the docks to enjoy the Cité de la Mode et du Design. This contemporary building welcomes various bars and clubs, including the very popular Wanderlust (website in French) and Café Oz Rooftop.
11. Enjoy its free artistic program
Throughout the year Bercy Village offers its visitors exhibitions that are accessible to all.
Whether it's concerts, workshops or openings, you won't be bored. Find all the latest news about Bercy Village here (in french only).
12. Have a stroll in the Parc de Bercy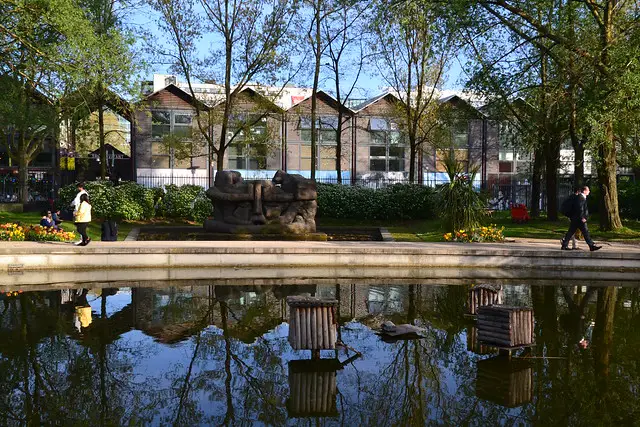 A few steps from Bercy Village, find the Parc de Bercy, which combines several gardens with various themes.
The closest to the Village is the romantic garden that will surprise you with its grasslands, dunes and ponds.
13. Visit the Maison du Jardinage
In the heart of the modern but authentic park of Bercy Village, find the Maison du Jardinage. It is the Parisian resource centre for all budding gardeners who wish to have a green thumb.
Professionals are available to give you their best advice, as well as to lead workshops and exhibitions.
14. Learn all about oenology
Stay within the theme and learn about oenology, the science of wine tasting.
L'école des vins et des spiritueux welcomes you to become a true expert in the epicenter of this historic wine district.
Book your course here.
15. Recharge your batteries with a free yoga class
From March to October, Get Yogi (website in French) offers free yoga lessons in association with Bercy Village to revitalize yourself in this special setting.
You must first register online and a carpet will be provided on site.
Book your course here.
16. Discover the Cinémathèque Française
Enter the world's largest database on the seventh art.
The Cinémathèque (website in French) offers to take you through its cinema, its museum, workshops and many other activities to immerse yourself in the art of film making.
17. Be bewitched at the Musée des Arts Forains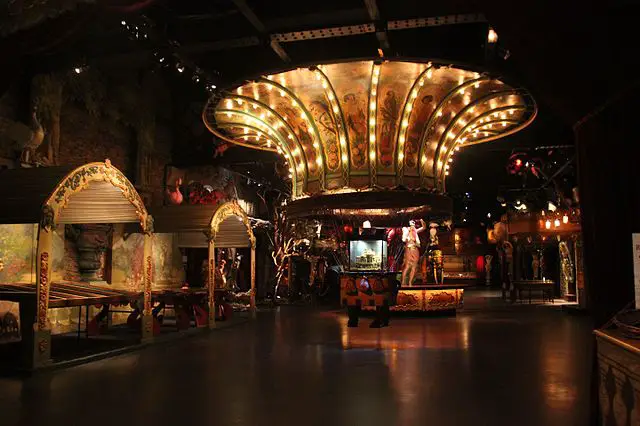 In this unique place you will find the largest collection of fairground objects in Europe.
Lights, sounds and projections are on display in this museum-show which will amaze you through 4 rooms scripted on the themes of show and celebration.

I aim to share my tips and recommendations for the beautiful country of France. My goal is to help you plan your next adventure, whether it's a weekend getaway or a once-in-a-lifetime trip. From finding the best hotels and restaurants, to discovering unique activities and sights, I've got you covered!