There are numerous luxury hotels in the French capital, a lot of them with a worldwide reputation, and the race for the best palace never seems to end. They include spas, fitness and wellness centres or even movie theatres sometimes. Some also have starred restaurants that have made them famous. Can we just pick one among this variety of choices? It's a complex task! That is why we have listed the 7 best 5-star hotels in Paris, with their varied and wide number of services. Also, If you're interested in more luxurious hotels, check this article !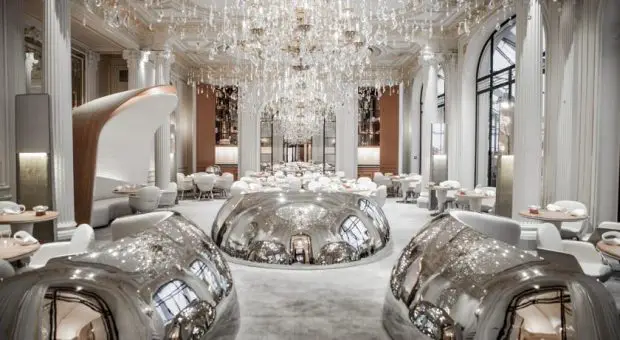 1) Hotel Le Royal Monceau Raffles Paris***** – A modern palace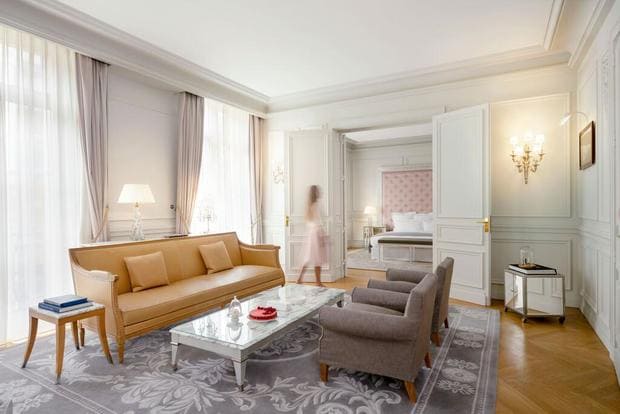 Area: Champs-Elysées – Madeleine
37, avenue Hoche, 75008 Paris
This palace is ideally located between the parc Monceau and the Place Charles de Gaulle where the Arc de Triomphe is erected. It comprises 149 rooms and suites with varying services, as to satisfy you in the best way possible. The decoration is both modern and elegant without getting into excessive luxury or turning into your great-auntie's place.
The hotel will offer you many ways of spending your holiday and will fulfil your expectations. You'll have access to the beauty centre, to the bar and its patio, to a library and to a movie theatre. As for the rooms, the smallest surface area is 36 square meters, whereas the largest goes up to 350 (the Presidential Suite Raffles). In between, the Junior Suite is 64 square meters. There is one for every taste!
In the first rooms you'll find all you need to make your stay perfect and to help you relax. The room is equipped with a big walk-in wardrobe, a minibar fridge and furniture created by designers. To pass the time or to rest is an easy thing: you'll also be provided with books, a guitar and game consoles. The bathroom is large, with a bathtub and multiple mirrors. You'll be welcomed with Clarins products upon your arrival, along with beauty treatments for kids. You'll leave Paris even more beautiful than when you arrived!
The most prestigious rooms provide the same services as in the first rooms, with extras. You'll have 3 bedrooms, each with its own bathroom (with a shower and a bathtub), a Japanese toilet and a dressing room in each. Common areas are composed of two living rooms, a kitchen and its dining room, where you will eat your meals, and a private sports gym. It'll be like home!
Whether you book a room or a suite, you'll benefit from the same hotel services with a very professional staff who will pamper you. You'll have unlimited access to the spa, to the 24-hour room service and to a butler service on demand. As a customer of the hotel, you'll also have priority in its restaurants, amongst which you can go to Laurent André's, which won a star in the Michelin Guide. And for the dessert, what about eating a Pierre Hermé pastry?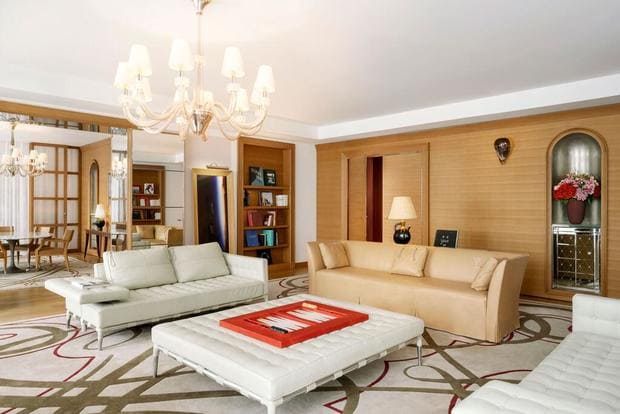 What we like: the movie theatre
What we love: the 1-star restaurant
For further information about the Royal Monceau, its services, its prices and availabilities, click here.
2) Hotel Plaza Athénée***** – Never-ending luxury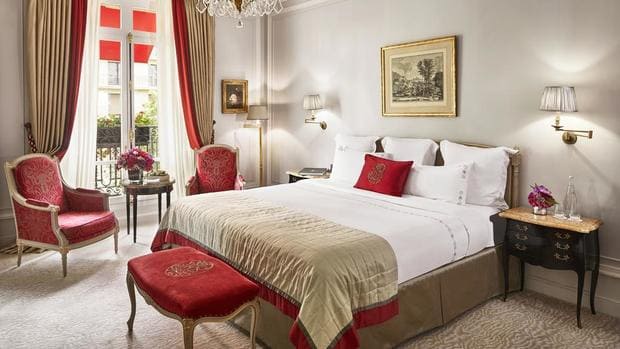 Area: Champs-Elysées – Madeleine
25, avenue Montaigne, 75008 Paris
French luxury, Parisian luxury… The Plaza Athénée was built in 1909, was modernized and later renovated in 2014. It is located on the prestigious avenue Montaigne, where you will find the major French and international luxury stores. Five minutes away from the avenue des Champs-Elysées, it is ideally located for a holiday in Paris.
This palace offers a wide range of services that will enchant you and show you what French luxury looks like. It extends over 8 floors, with over 200 rooms and suites. It is decorated mostly with red colours and candelabras, thus creating a chic and stylish atmosphere.
This luxury hotel provides a Dior spa and beauty institute with free access, along with five restaurants led by starred chef Alain Ducasse, a cocktail bar, an outdoor skating rink (open during winter) and a bakery of its own.
Rooms are spacious and they all have a marbled bathroom, composed of a bathtub and a shower, and a balcony always decorated with hints of red to look glamorous.
There are "standard" rooms where you'll be provided with the essentials and where you will have access to all the hotel services and facilities. Junior suites are also available: they are bigger, they comprise two bathrooms each and the thoughtful staff will offer you fresh products (fruits, flowers, etc…). This is what you are looking for if you want a luxurious wide room without falling into excess.
Much bigger suites are available (they are as wide as 450 square meters): there you will spend some holidays you will never forget. The biggest rooms can host up to 10 guests: you can live there with your friends and family as if it was your own place. They are composed of 4 bedrooms, a Jacuzzi and a hammam (what better way is there to relax in your own room?), 9 televisions, 4 living rooms and a dining room. If you pick this one, you will be welcomed with a bottle of champagne, fruits and the hotel will transfer you from the airport or the train station straight to the hotel.
A Christophe Robin hair salon is also open during the day, so as to take care of yourself without leaving the Plaza. You will leave the hotel happy and delighted, thanks to the skilled staff who will do everything they can to make your stay wonderful.
What we like: the Dior spa and beauty institute
What we love: the very caring staff
3) Four Seasons Hotel George V***** – Your dream escape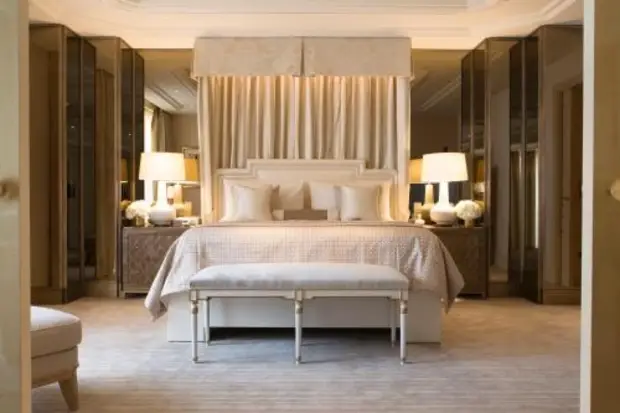 Area: Champs-Elysées – Madeleine
31, avenue George V, 75008 Paris
This palace is located on the avenue George V, a very quiet street, ideal for a trip in a lively neighbourhood, a neighbourhood that is, at the same time, disconnected from the touristic turmoil. You can reach "the most beautiful avenue in the world" (the Champs-Elysées, obviously) in a 5-minute walk.
The George V is one of the first French palaces, it has 244 rooms and it is known for organizing several social events: 7 lounges were made especially for receptions. You can do various activities in the hotel; thus, you will relax in the best way possible. The spa offers a full selection of beauty services and is ruled by a very qualified staff. You will also find a beauty institute and a hair salon. An indoor swimming pool and a fitness centre are open all year long.
When you are booking, you will have to choose between 3 types of rooms. They can host up to 4 customers (in that case, an additional bed will be needed), and their marbled bathrooms are comprised of both a bathtub and a shower. They are ideal for a short but luxurious family holiday. What's more, you'll benefit from a Wi-Fi connection, a coffee machine, a minibar and all the services provided by the palace.
If you'd rather sleep in a suite, there is a large choice of them in the Four Seasons George V. They are very much alike, apart from the views from their windows: a 360-degree view, a view over the rooftops of the city or over the Eiffel Tower. They also differ in surface area; they host between 1 and 4 customers.
As for catering services, you'll happily discover Le Cinq, a restaurant that obtained two Michelin stars, under the direction of the chef Christian Le Squer. Three other restaurants serve varied menus everyone will agree on. A room catering service is available 24 hours a day and you'll be lucky enough to eat rare delicacies.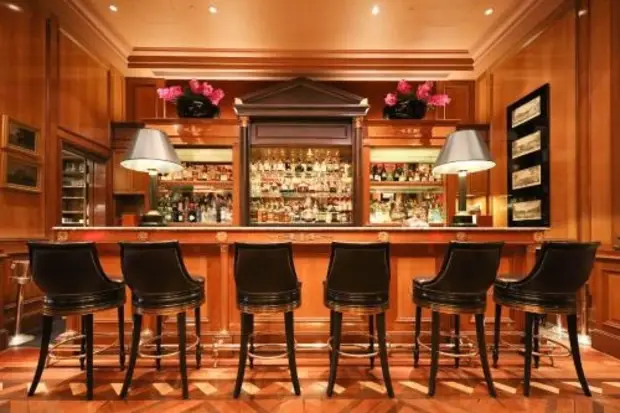 What we like: the wide range of activities
What we love: the view from the rooms
For further information about the George V, its services, prices and availabilities, click here.
4) Grand Hôtel du Palais Royal***** – Sober, fancy and elegant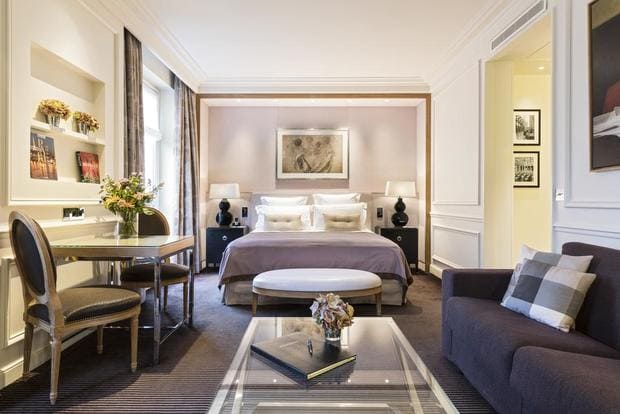 Area: Louvre-Châtelet
4, rue de Valois, 75001 Paris
You would like to find a 5-star hotel without getting into excessive luxury? We have what you're looking for: the Hôtel du Palais Royal! A classy, but also simple and elegant, palace. The hotel localization will allow you to navigate through a typically Parisian atmosphere: it is 2 minutes away from the rue de Rivoli, the Tuileries Gardens and the Comédie-Française.
This palace is in an 18th century building, it comprises 68 rooms scattered over 7 floors. On the last floor, the 70 square meter panoramic suite is composed of a bedroom, a lounge and a dining room. As you can guess from its name, this room has a panoramic view via a terrace with a 180-degree view over Paris monuments. Do not miss a sunbath nor an American breakfast on this balcony that overlooks the capital. This apartment-like suite will make you feel like a true Parisian for the duration of your stay.
More rooms and suites, smaller and without a view this time, are also available. However, they are as luxurious as the panoramic suites and will impress you quite as much. We are telling you a little secret: some of these rooms have a balcony; all you need to do is ask for it when you are booking!
Every room and suite offers the exact same high-quality hotel services, with a staff that will care for you. The hotel management also employs Clefs d'Or Concierges to guarantee you an exceptional service — as you are an exceptional guest! During your stay at the hotel you'll have the opportunity to enjoy the spa, the fitness centre and the valet parking services.
Are you hungry? Are you thirsty? Both? The hotel has a two-starred restaurant of its own, the Lulli, open in the morning and for lunch during the week. It serves meals created by four top-starred chefs, which shall appeal to anyone and everyone's appetites. For the most thirsty of you, the Lulli also has its lounge bar, where you can quench your thirst all day long, particularly at the champagne bar (yes, you read that one right!) and at the luxury snack bar if you're feeling peckish during the day.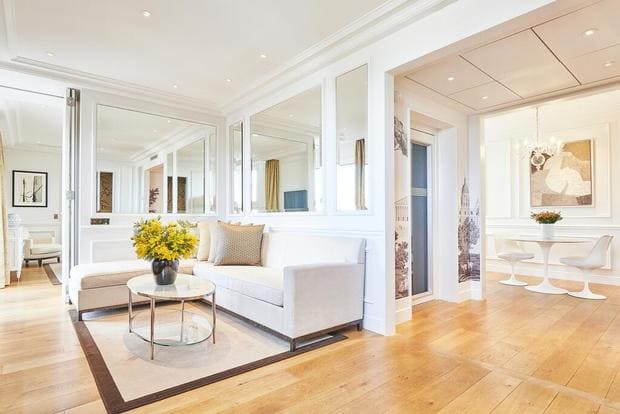 What we like: the panoramic terrace
What we love: Clément Le Norcy 2-star restaurant
For further information about the Grand Hôtel du Palais Royal, its services, prices and availabilities, click here.
5) Renaissance Paris Vendôme Hotel A Marriott Luxury & Lifestyle Hotel***** – A drop of luxury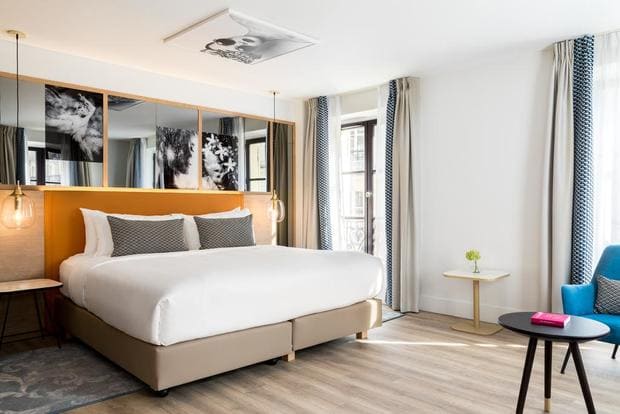 Area: Louvre – Châtelet
4, rue du Mont Thabor, 75001 Paris
"I'll have some luxury, please, but just a tear!" If that is your motto, the Renaissance Paris Vendôme will perfectly suit your expectations. It features a mix of luxury and simplicity with a modern decor, so as to never get too excessive. This palace received its title in 2009 and has never ceased honouring it ever since. You'll wander around in a highly Parisian setting, with several buildings and sites providing evidence that you are in a fancy neighbourhood. The hotel is 2-minute walk away from the Tuileries Gardens and the Place Vendôme.
A total of 7 rooms are available in the palace … Aren't you lost? Do you know which one to pick? We're going to help you out a little! The first type of room is chic and spacious and offers all the same basic services as the suites.
If you're fond of large, open spaces and of a higher kind of lavishness, you'd better choose a suite. They comprise a lounge, the perfect place to relax between two tours or two meetings. They can host up to 3 customers (especially a baby) without any feeling of promiscuity.
You're going on a trip with your family? The hotel provides family suites for you and your little (or big!) kids, with various presents for the children. You'll benefit from two bedrooms and two bathrooms, along with an office for work, unless you are on holiday.
But first of all, do come to the Renaissance Paris Vendôme to relax: a spa and an outdoor swimming pool are available for every customer. Professionals will give you massages. After comfort, comes … more comfort! For lunch and dinner, the Pinxo, a gastronomic restaurant and a Chinese bar compete to serve you the best dishes — you cannot miss them! For breakfast, three different menus will be suggested with fresh products; after that, tummy touches table!
The very accessible staff will listen to you and offer you various services, such as currency exchange, shoeshine, laundry and ticketing services. Thus, you'll spend a very relaxing holiday, without any tiresome occupation whatsoever.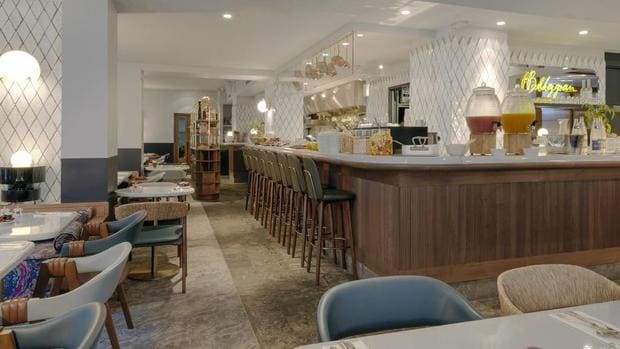 What we like: the fact that the Tuileries Gardens are close at hand
What we love: the spa massages
For further information about the Renaissance Paris Vendôme, its services, prices and availabilities, click here.
6) Mandarin Oriental Paris***** – The new kid in town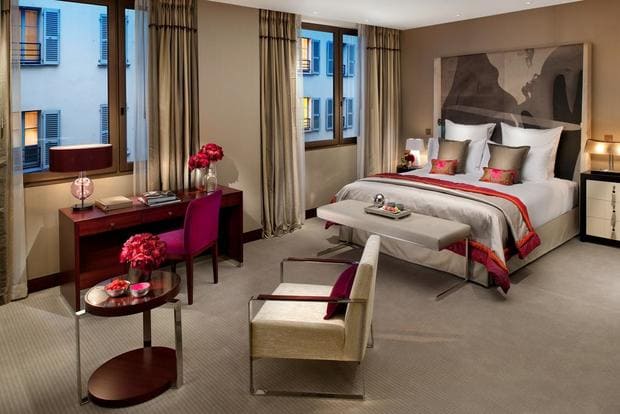 Area: Louvre-Châtelet
251, rue Saint-Honoré, 75001 Paris
The Mandarin Oriental, which was inaugurated very lately, will appeal to you, especially if you like what's new and modern. As it is located on the fancy rue Saint-Honoré, you can enjoy this exceptional environment, with the very close Place Vendôme and Place de la Concorde.
There are 138 rooms and suites in this palace, divided into 14 different types of rooms. For the simple kind, the single room, despite its name, will offer you all the luxury you desire. It comprises a king-size bed, a balcony looking onto the garden and a bathroom with both a shower and a bathtub.
Much wider, even more impressive suites are also available (particularly if you need to live in 400 square meters). Each one is more luxurious than the next and they all look like a flat. If you seek the same comfort as what you find at home, this is where you want to be. They are decorated and organized. Most of them comprise a lounge, a dining room, a large bedroom, a dressing room and a magnificent bathroom (with a Japanese toilet included!). Did I mention the view over great gardens, the Eiffel Tower and even the entire city?
But they might be too small for you if you like going on an adventure with your family, with your big family… The "J'aime Paris" (I love Paris) penthouse will be wide enough for everyone. Eight persons can sleep in it, as it extends up to two floors and a 400 square meter surface area. You will enjoy 3 bathrooms, a dining room, a kitchen and a bar. Once you've seen the whole suite, you can ease your thirst at the bar.
The rooms and suites offer you many privileges: a spa with an indoor swimming pool, beauty services, steam bath … along with complete hotel services that include tour desk, room service, events reception, etc.
You will also find two restaurants, a bar and a cake shop. The famous chef Thierry Marx settled down by creating the Sur Mesure restaurant and its avant-garde cuisine. The restaurant Camélia serves more traditional dishes. The Bar will provide you with cocktails and snacks. After all that, are you still hungry? You can taste the Cake Shop's pastries and sweets at any hour of the day.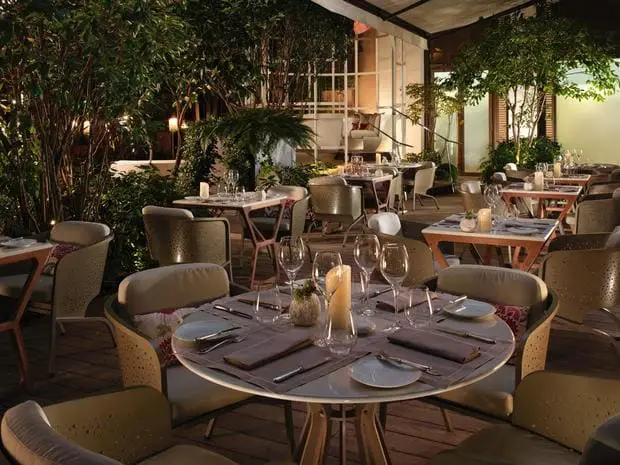 What we like: so many rooms and suites!
What we love: Thierry Marx restaurant
For further information about the Mandarin Oriental, its services, prices and availabilities, click here.
7) Park Hyatt Paris Vendôme*****- Nowadays glamour
Area: Opéra – Bourse
5, rue de la Paix, 75002 Paris
A former haute couture building, one of the first Parisian palaces, only 0.06 miles away from the Place Vendôme? That's right, folks, we're talking about the Park Hyatt Paris Vendôme! It is located in the renowned rue de la Paix near the Palais Garnier and the rue Saint-Honoré, famous for its fashion stores.
In this 5-star hotel, you can pick one room among almost 200 rooms and suites. Two types of rooms and 9 types of suites are available. They're all designed in a modern and aesthetic way, but also chic and stylish with quality materials. Rooms can host up to 3 persons; they have a bathroom with a bathtub and a rainshower. In the biggest room, there is an extra living room, where you will easily watch TV or read the newspapers; you'll get them every day at your door.
As for the suites, they are larger and offer more services. They can welcome up to 8 customers. The largest is 230 square meters wide with 4 meters in height under the ceiling. But why would you need so much space in a hotel room? Because there's a private spa inside, with a hammam, a hot tub and some extra space for massages! They're included in the booking price, so don't hesitate!
As a customer, you have access to hotel services. You can enjoy the 250 square meters wide spa with its Jacuzzi, hammam, hot tube and fitness room. You can benefit from several beauty services, including pay-per-view either in your room or in the institute treatment room. The hair salon and the cosmetician can also come and take care of you in your room, along with your personal shopper and your favourite fashion stores. You will never leave your cosy nest! The staff will listen to your every concern and will always be there to help you.
Don't you feel a little bit hungry after all this fuss? Don't worry because, once more, you shall stay in your room and ask for room service. They will suggest you various meals and snacks. Or, you can go to one of the three restaurants; for example, the Pur, a starred restaurant which focuses on gastronomic food. As for drinks, you can sip a cocktail at the typically Parisian bar or on the terrace (but don't forget your coat during winter!).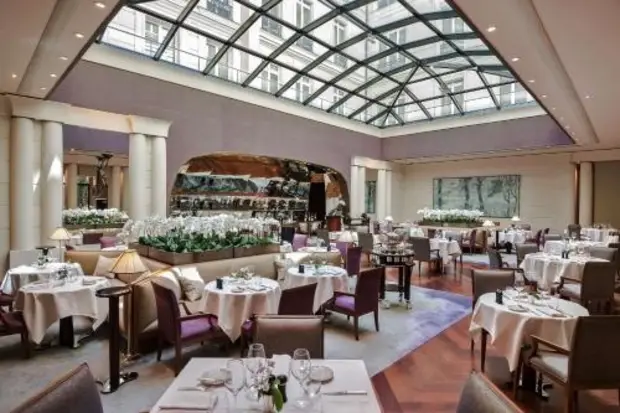 What we like: the possibility to do everything without leaving your room for even a second
What we love: the spa. We would spend (almost) the entire day there if we could.
For further information about the Park Hyatt Paris Vendôme, its services, prices and availabilities, click here.
For more luxurious hotels in Paris, check this article !

I aim to share my tips and recommendations for the beautiful country of France. My goal is to help you plan your next adventure, whether it's a weekend getaway or a once-in-a-lifetime trip. From finding the best hotels and restaurants, to discovering unique activities and sights, I've got you covered!