Paris is the Capital of Fashion, but it's not only that! France and Paris are well-known worldwide for their outstanding cuisine. In Paris, you can find the fanciest restaurants and the most famous ones, with the best chefs that are known all over the world. They know how to give real pleasure to your taste buds with their grandiose, sophisticated and exquisite menus that are real works of art thanks to their talent and imagination.
Before starting, here's a map to find these restaurants:
La Tour d'Argent
15, quai de la Tournelle – Paris
 

Voir cette publication sur Instagram

 
⚠️ This restaurant is temporarily closed
In the 5th district, you will find this bright and magnificent restaurant with a fancy wooden style. It offers a panoramic view of the Seine river and of Notre-Dame de Paris cathedral.
Because it is one of the oldests restaurant in Europe, we can find prestigious wines in its cellar and about 300,000 bottles, including Bordeaux wines from 1845. Yannick Franques, the chef of this restaurant, shares with you his expertise through exquisite and very elaborate menus.
Its Royal Dublin Bay Prawns, its farm veal sweetbreads and its wild pike dumplings will whet your appetite!
You can find their menu on their website: https://tourdargent.com/en/
Price: up to €280
1 Michelin star
Bel Canto (2 restaurants in Paris)
72, quai de l'Hôtel de Ville, 75004 Paris
6 Rue du Commandant Pilot, 92200 Neuilly-sur-Seine
 

Voir cette publication sur Instagram

 
In these opera-themed restaurants, you will marveled at their simple but original dishes.
In the restaurant located in Neuilly-sur-Seine, you can witness lyrical song performances while eating, which will envelop you in a wonderful atmosphere.
Bel Canto's cuisine is the signature of Eric Léautey. He get his inspiration from French terroir and works closely with chefs from both restaurants.
The customers get to live a unique experience as if they were on stage with the artists, since they are dressed like the waiters and blend in with the crowd.
A musical dinner is always something quite charming and uncommon, and this is the reason why you should definitely give it a go!
You will go nuts for the duck foie gras with port wine, homemade bread and onion jam, Supreme of yellow chicken, truffle juice and sweet potato mousseline and Lemon meringue tartlet, Tonka beans and mango-passion sorbet.
Price: €87
Le Taillevent
15 rue Lamennais – 75008 Paris
 

Voir cette publication sur Instagram

 
Open only on weekdays, the Taillevent restaurant is chic and stylish and really close to the Arc de Triomphe.
This restaurant has an impressive cellar with numerous wine bottles, reflecting its history.
Its chef, David Bizet, who has recently joined Taillevent's kitchen, reimagined the dish and the menu.
It's also possible to order dishes that are not on the menu, David Bizet and his team will be pleased to make them for you on demand.
Do not forget that the customers aren't only French but also from all over the world, so the restaurant will provide menus in the English language as well.
Does that restaurant reminds you of something? Well it might, since it has inspired the animated movie Ratatouille!
You can be sure to go home with a satisfied belly with the lamb and its"Boulangère" potatoes, smoked eel, sauce and gorgonzola.
Price: up to €245
2 Michelin star
Le Pre Catelan
Bois de Boulogne – 75016 Paris
 

Voir cette publication sur Instagram

 
Frédéric Anton, one of the most well-known chefs of French cuisine, is the person that knows how to enhance your senses, and make you melt with pleasure at the first bite of his delicious meals that are prepared with care and passion. Thanks to Lenôtre gastronomy and to its team, you can be sure to enjoy an unforgettable mealtime.
Right in the center of Bois de Boulogne park, it's a quiet place away from all of the noise coming from the city. Its setting, made from light tones, recalls the greenery of the park.
This restaurant is also perfect for a business lunch or dinner since it is equipped with the latest technologies (wifi, screens, and it is possible to organize videoconferencing, etc.)
You might be surprised to find on the menu the Langoustine (Ravioli, Duck foie gras, thin gold jelly) and the Chocolate (Bitter cocoa pie, Pistachio ice cream).
http://restaurant.leprecatelan.com/index.cfm/page/lid/2/rid/3852/
Price: up to €330
3 Michelin stars
Restaurant Le Meurice
228 Rue de Rivoli, 75001 Paris
 

Voir cette publication sur Instagram

 
The technique of detail and refinement is pushed to its maximum with chef Amaury Bouhours and pastry chef Cédric Grolet, under the supervision of Alain Ducasse in Le Maurice restaurant. You will find fine and light dishes there.
You will be able to taste the authenticity of each and every dish with unique and outstanding products.
The setting of the restaurant, classic and modern, is also inspired by the royal apartment of Versailles, but with a contemporary touch that will supplement your perfect meals.
It is one of the most luxurious place in Paris.
You will be amazed by the chicken from Culoiseau with herbs, some oyster mushroom and red onion and the Vanilla pod from Madagascar for your dessert.
https://www.alainducasse-meurice.com/en
Price: up to €340
2 Michelin stars
L'Espadon, au Ritz Paris
15, Place Vendôme – Paris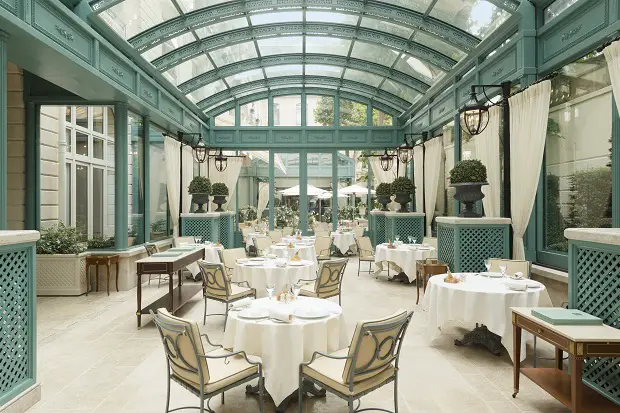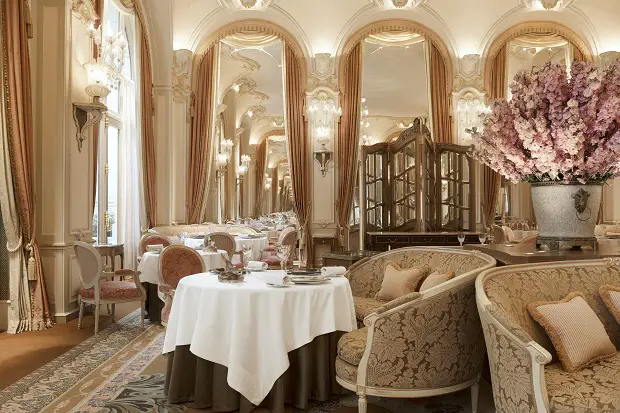 ⚠️ This restaurant is temporarily closed
Located inside the Hotel Ritz in Paris, this restaurant will make you travel through its different universes depending on the time of the day you wish to eat: from 7 to 10:30am you can eat at Les Matins de l'Espadon, from 12:30pm to 2:00pm at Les Jardins de l'Espadon, from 7:30pm to 10:00pm at La Table de l'Espadon and, if you want to enjoy a nice brunch, from 12:30pm to 2:00pm at The Brunch of l'Espadon.
Each universe is designed to amaze you and to stimulate desire with the lightness and the uniqueness of each of its creations.
Nicolas Sale, François Perret and Estelle Touzet are the talented chefs that will add some sparkle to your meals, thanks to their expertise and their passion for gastronomy.
You will find the following dishes on the Brunch of l'Espadon's menu: white asparagus with grilled Comté cheese, "Meaux" mustard coulis, as well as the back of rabbit with tarragon, the legs ravioli, the green asparagus and, as a dessert, the strawberry gazpacho with fresh cream.
https://www.ritzparis.com/en-GB/fine-dining-paris/espadon-restaurant
Price: up to €396
La Table de l'Espadon: 2 Michelin stars
Les Jardins de l'Espadon: 1 Michelin stars
Guy Savoy
Monnaie de Paris, 11 Quai de Conti, 75006 Paris
With its 6 different dining rooms, this restaurant has been voted the world's best restaurant four times, from 2017 to 2020!
Inside of the Monnaie de Paris, it offers a nice view over the Seine river, Pont Neuf, the French Institute and the Louvre Museum.
Its dining rooms are decorated with a design from the eighteenth century and with sober and dark colors that catch the light with light white colored tables.
The dishes of this restaurant are prepared with the utmost care and will become your favorites without any doubt! Besides its outstanding cuisine, the staff of the restaurant is very professional, well trained and know every product by heart.
You will find in its menu "COULEURS, TEXTURES ET SAVEURS" (colors, textures and flavors): iced poached oysters, concassé of oysters, granité of seaweed and lemon, and as a dessert you will find the trolley of ice creams, sorbets, dessert jars and traditional biscuits.
To learn more about the other dishes, please visit their website: https://www.guysavoy.com/en/ (website in French and English, but you can find also Russian, Japanese and Chinese translations)
Price: the menu costs €585
3 Michelin stars
L'Ambroisie
9 Place des Vosges – 75004 Paris
 

Voir cette publication sur Instagram

 
Bernard Pacaud, the chef of this restaurant, offers a grandiose cuisine up to the level of a 3-star hotel. He breathes all his soul into his creations and will do his best to blow your mind and your senses with his delicious meals.
L'Ambroisie is located in the heart of Paris and will offer you the best when it comes to its setting and its high standard of gastronomy.
You can order from their menu a Red tuna pastilla with pistachios and apricots, tomatoes salmigondis and its Montmorency peking pigeon supreme with a mix of pickled beets. You just have so much to choose from their very tasty menu!
https://www.ambroisie-paris.com/ (website in French)
Price: up to €260
3 Michelin stars
Restaurant Pierre Gagnaire
6 Rue Balzac – 75008 Paris 08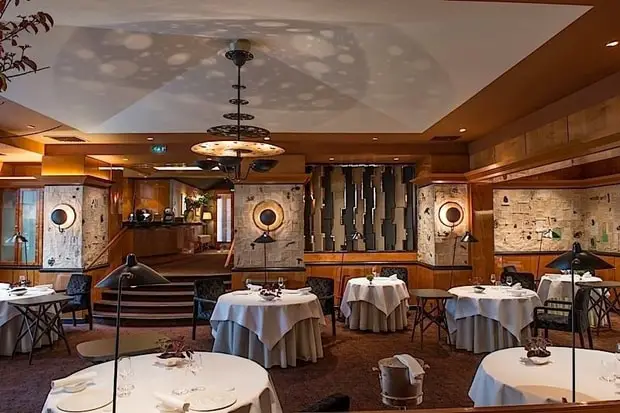 With a creative touch to his dishes, and a modern and warm setting in his restaurant, Pierre Gagnaire was voted the world's best chef in 2015. He will entice you to taste his recipes that are created with tenderness and delicacy, but mixed with boldness and sobriety.
The world-renowned Pierre Gagnaire travels the world between his restaurants that are found all over the world and not only in France but also in: London, Shanghai, Tokyo, Dubai, Seoul, Danang, Las Vegas, and Hong Kong.
You can choose anything from the menu, but also from the different menus like the
"Menu Esprit Pierre Gagnaire". You have a large choice for the dessert, including the Soufflé – Vanilles d'origines.
The restaurant is only 2 minutes walk from the Champs-Élysées and it's easy to get there.
https://www.pierregagnaire.com/ (website in French and English)
Price: €365 for the "Menu Esprit Pierre Gagnaire"
3 Michelin stars
Sola
12 Rue de l'Hôtel Colbert – 75005 Paris 05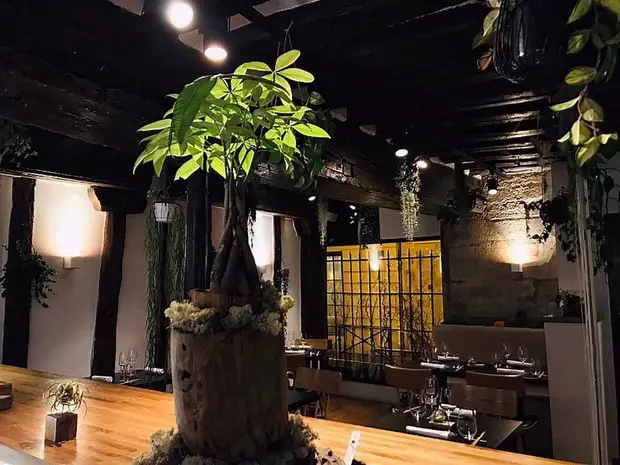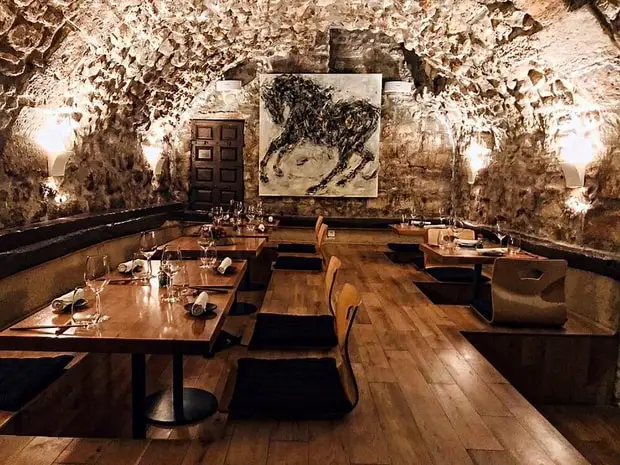 For something more sober and exotic we recommend the Sola restaurant to you. It is a Japanese restaurant that works with both French and Japanese produce.
In a relaxing and wooden atmosphere, you can have access to the basement where it is required to take off your shoes to seat on the tatami and enjoy a meal with Japanese flavors associated with a French touch.
Thanks to his exceptional works of art, Kosuke Nabeta,the restaurant's chef, knows just how to satisfy your appetite. The staff is very professional and you won't wait too long between each dish since the waiters and cooks are quite efficient.
Its main menu, called Omakase, costs €98 and will bewitch you by adapting each meal to reflect the current season.
For a gastronomic restaurant with 1 Michelin star, the prices are very affordable.
https://www.restaurant-sola.com/ (website in French)
Price: up to €130 (for diner)
1 Michelin star
Mystery Cuisine
37 Rue de Montpensier, 75001 Paris
 

Voir cette publication sur Instagram

 
If you are curious about Vietnamese cuisine, then you should try Mystery Cuisine restaurant. The place was created from the marriage between Thu-Ha, a Vietnamese chef, and Édouard, a French chef.
Subtly mixed between French and Vietnamese cuisine, this restaurant has only a few tables to offer to its customers. It is located between La Comédie Française and Le Palais Royal.
Its subdued atmosphere and its private setting make it really charming.
For those who are in search of adventure, it's the perfect place thanks to its refined cuisine and burst of flavors at each bite.
https://www.mysterycuisine.fr/ (website in French)
Price: up to €259

I aim to share my tips and recommendations for the beautiful country of France. My goal is to help you plan your next adventure, whether it's a weekend getaway or a once-in-a-lifetime trip. From finding the best hotels and restaurants, to discovering unique activities and sights, I've got you covered!