You've always dreamed of going to Japan, to immerse yourself in that rich culture, or simply would you like to go back? In that case, what better way than gastronomy to be in a zen and exotic atmosphere during a meal? To discover or rediscover Japanese culinary art, here is a selection of the best restaurants that will take you to Japan.
From €10 to €20
Kodawari Ramen
29 Rue Mazarine, 75006 Paris
ramen soup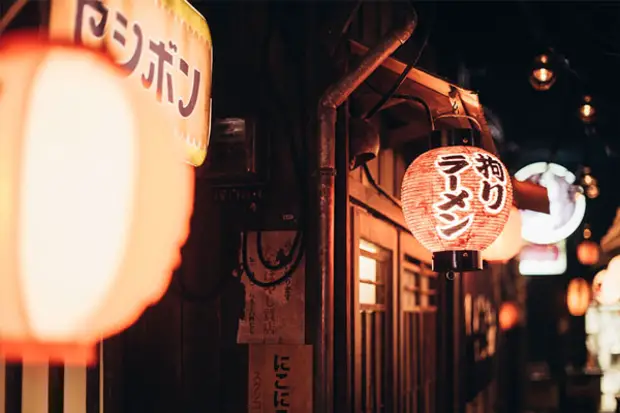 8.5/10 : France Hotel Guide's expert rating
To enjoy some good quality ramen as if you were really in Japan, this is what this restaurant has to offer to you, with a remarkable setting of a typical street of Tokyo more realistic than ever. A change of scene guaranteed!
One amazing aspect of this restaurant is that the food, coming from far away, is achieved with local products of excellent quality. Especially their broth and ramen noodles that are homemade, what has the benefit of reinforcing the authenticity of the dishes.
So you will be able to choose among a variety of homemade ramen and add the toppings of your choice, between €1 and €3, in order to create the perfect recipe that will take you to Japan.
Be careful, Kodawari Ramen doesn't take any bookings, so keep in mind that you'll have to arrive early.
Menus: ramen from €12
We like: the various toppings
Website: https://www.kodawari-ramen.com (only available in French)
Yamanashi Ramen
5 Rue de Lancry, 75010 Paris
ramen Takoyaki bao
 

Voir cette publication sur Instagram

 
7/10 : France Hotel Guide's expert rating
Welcome to the Ramen Temple.
Here you will get to savour these noodle soups of various kinds. With ramen as the main ingredient, a broth is added that comes in various flavors (miso, vegetable, pork, or beef). Meat, vegetables and noodles are added to the soup. This establishment offers you a large choice among 6 ramen recipes.
And while Yamanashi Ramen, as the name implies, is specialized in ramen, there are also other traditional Japanese dishes available (domburi, yakisoba, and Gyoza or Takoyaki styled tapas.).
Price of a bowl of ramen: €12.50 – €16
We like: many ramen options
Website: https://yamanashi.fr (website in French)
Oinari
34 Rue la Bruyère, 75009 Paris
Inarizushi Izakaya
 

Voir cette publication sur Instagram

 
6.5/10 : France Hotel Guide's expert rating
Inarizushi is the speciality of this establishment. This kind of fried tofu pocket filled with rice is served here with side dishes (meat, fish, vegetables).
If you plan on stopping by at this restaurant for lunch, 3 menus will be at your disposal:
Inari Bento: inarizushi with side dishes + miso soup + drink
Udon: course of the day + miso soup + drink
Donburi: course of the week + miso soup + drink
Menu: €16 – €18
We like: the Inari Bento menu
Website: http://oinariparis.com (website in French)
C'Roll Sushi
156 Rue Saint-Martin, 75003 Paris
sushi maki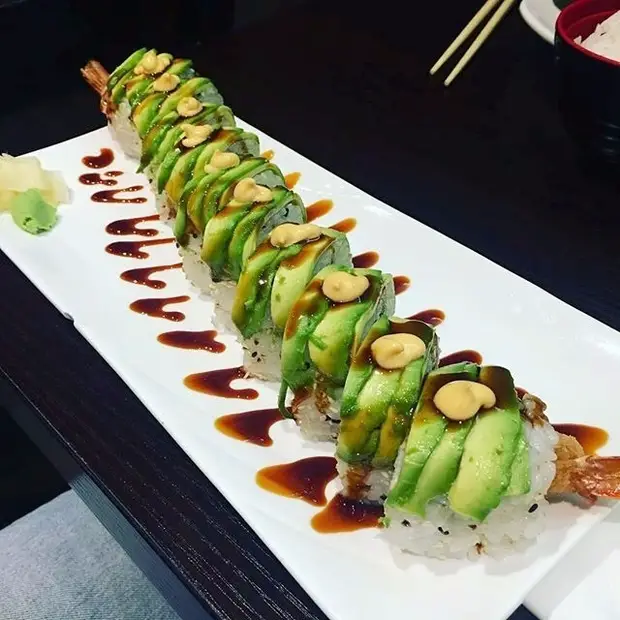 6.5/10 : France Hotel Guide's expert rating
You must have understood it, the specialty of this restaurant is rolls of maki with a diversity of flavors. Served up to 8 or 10 pieces, the price can range from €8.50 to €18.90.
The most difficult part will be to choose among the 30 different rolls presented on the menu and served with an amazing homemade sauce!
Of course, you will also be able to enjoy other traditional dishes that are not missing on the menu.
The authenticity of Japanese cuisine is here mixed with the use of local products of quality to offer you the best experience possible.
Menus: from €13
We like: the €45 chef's plate that allows you to try all the specialties
Website: http://www.crollsushi.fr/ (only available in French)
Yamadaya
84 Rue de Maubeuge, 75009 Paris
sushi maki boats
 

Voir cette publication sur Instagram

 
7/10 : France Hotel Guide's expert rating
Located near the Montmartre district, this restaurant offers you multiple choices of Japanese dishes à la carte and also a great variety of menus. For the lunch one at €9.70 you can choose two main dishes among a great selection of sushi, maki, sashimi, gyozas and more.
In addition to the lunch and dinner menus, you have also the yakitori, tray, chirashi or even boat menus. There is something for every taste!
So, the welcoming and family-oriented atmosphere of the restaurant offers you a genuine experience of Japanese culture in the heart of Paris.
Menus: from €10
We like: the Royal Menu
Website: https://www.yamadaya.fr (only available in French)
From €20 to €40
Kawamoto
43 Rue de la Roquette, 75011 Paris
grills sushi chirashi
8/10 : France Hotel Guide's expert rating
Kawamoto will offer you a variety of grilled meat of all types: Teriyaki salmon, sea bream, Teriyaki bobbin net, Teriyaki rib steak.
The lunch menu is served in an occidental style and is composed of a starter, a main course and a dessert. You can choose between a grilled meat of your choice or raw fish.
The dinner menu on the other hand will be served to you in a more Japanese style. This menu mostly takes the form of an Izakaya with 7 courses served to you in succession (appetizers, various starters, assortment of sashimi, grilled vegetables, a daily grilled meat, 4 sushi and a dessert).
Here, the big eaters will have everything they need to indulge themselves for an accessible price.
Menu: €22 – €54
We like: the extensive lunch menu
Website: http://www.restaurant-kawamoto.com (website in French)
Miss Kō
49-51 Avenue George V, 75008 Paris
sushi maki
 

Voir cette publication sur Instagram

 
9.5/10 : France Hotel Guide's expert rating
Embark for a really different Japanese ambiance in this restaurant with an unusual contemporary decor created by the famous French designer Philippe Starck. This atypical address was made up around a fictional character named Miss Kō: a woman with a body covered in tattoos inspired from Asia. This is also how the walls are decorated.
The originality is also in the dishes. Of course, there is not only Japanese dishes on the menu but the ones that are served here have original and quirky tastes that are worth trying! For example, you can try the "rock n'rolls" sushi in which some have mango or even pineapple.
If you want to have a trendy meal that is out of the ordinary, don't hesitate in coming to Miss Kō.
Menus: lunch menu at €24
We like: the dishes made with creativity and the originality of the decoration
Website: https://www.miss-ko.com/ (only available in French)
ZEN
8 Rue de l'Échelle, 75001 Paris
donburi maki
8/10 : France Hotel Guide's expert rating
If you want to enjoy some delicious homemade ramen, domburi and other Japanese specialties, you must go to the Zen. With its precursory name, this restaurant will embark you immediately into a typical Japanese ambiance.
For lunch, you can choose from a selection of ramen between €11 and €17. For dinner, you can enjoy a menu with more choice. For example, you can give the Sakura menu a try for €35 that will offer you two appetizers, sashimi and one main dish of your choice between grilled salmon, breaded pork or chicken tempura. This will give you a great example of what Japanese gastronomy has to offer.
Are you a sake lover? If so, come have a taste of this typical Japanese alcoholic beverage at the Zen and make your choice out of a great selection of products.
Even if you can't book a table for lunch, you can still do so for dinner.
Menus: from €25 to €58
We like: SHOGAYAKI DON (pork belly, fried onions with ginger over rice)
Website: http://www.restaurantzenparis.fr/en/
From €50 to €150
Kushikatsu Bon
24 Rue Jean-Pierre Timbaud, 75011 Paris
kushikatso izakaya sake
 

Voir cette publication sur Instagram

 
8.2/10 : France Hotel Guide's expert rating
Kushikatsu Bon is an upmarket Japanese restaurant that is specialized in kushikatso (breaded meat skewers).
Here, you can savour all kinds of kushikatsu, but the most incredible one is without doubt the kushikatsu with foie gras, which is a fusion of French terroir cuisine and Japanese know-how.
The menu Selection Kushikatsu menu will be perfect to make you discover the kushikatsu as it consists of a salad, a small bento, tapas and skewers.
Menu: €64
We like: the selection menu Kushikatsu
Website: https://www.kushikatsubon.fr/en/
Komatsubaki
3 Rue d'Artois, 75008 Paris
sushi soup Japanese Gastronomy
 

Voir cette publication sur Instagram

 
9.8/10 : France Hotel Guide's expert rating
This Japanese restaurant is filled with elegance and refinement. Once you enter this place, the two talented chefs will offer you the best with their creativity, through 3 "omakase" options (Omakase means "I will leave it to the chef").
Sushi: a major dish from Japan (a menu with a starter, a main course, and a dessert, along with appetizers and sushi)
Kaïseki ("Traditional Cuisine"): various small dishes served either successively or jointly, and which require advanced culinary skills (appetizers, traditional sashimi, sushi, a traditional warm dish and many side dishes)
Shôjin ryôri ("Zen Cooking"): A vegan cuisine based on the Buddhist principles that forbid believers from killing living beings in order to get food (vegan sashimi, seasonal soups, appetizers and many side dishes)
Menus: €120 (for each omakase)
We like: the authentic minimalistic Japanese decoration
Website: https://www.komatsubaki-paris.com/en/
Ao Izakaya
12 Rue de Caumartin, 75009 Paris
sushi maki izakaya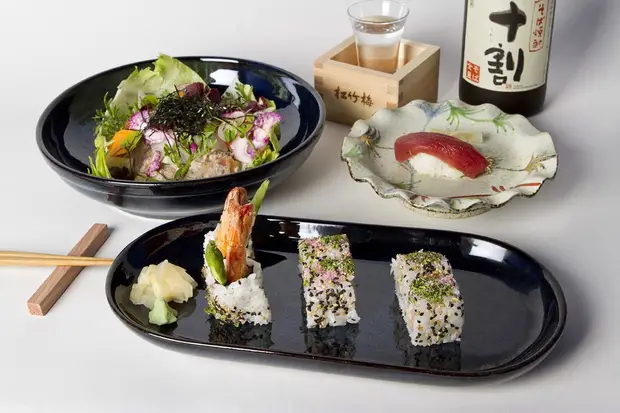 8.5/10 : France Hotel Guide's expert rating
If you want to have a great time in an intimate setting and enjoy an excellent Japanese cuisine, come discover the universe of chef Yasuo Nanaumi.
Coming directly from Japan, he will introduce you to traditional dishes of quality thanks to a refined cuisine with rich flavors. The chic and minimalist decor and the open kitchen will allow you to appreciate even more your meal as you are going to be immersed in this different culture.
With a diversified menu like at Ao Izakaya, you will enjoy a great selection of Japanese tapas (hot or cold), sushi, nigiri sushi or even sashimi.
A multitude of traditional dishes all unique and original with a touch of French inspiration. A real testimony of the chef's gastronomic experience.
To live the Japanese culinary art experience to the fullest, don't hesitate in taking the Carte blanche menu that will take you places with its 7 traditional dishes served to you.
Whether it be for the quality of the dishes, the atmosphere, or the service, to eat at Ao Izakaya is an experience worth having!
Menus: €69 for the Carte Blanche menu
We like: Shabu Shabu Salada (thinly sliced and poached beef salad with sesame dressing)
Website: http://aoizakaya.com/ (only available in French)
Matsuhisa Paris
37 Av. Hoche, 75008 Paris
izakaya japanese gastronomy soup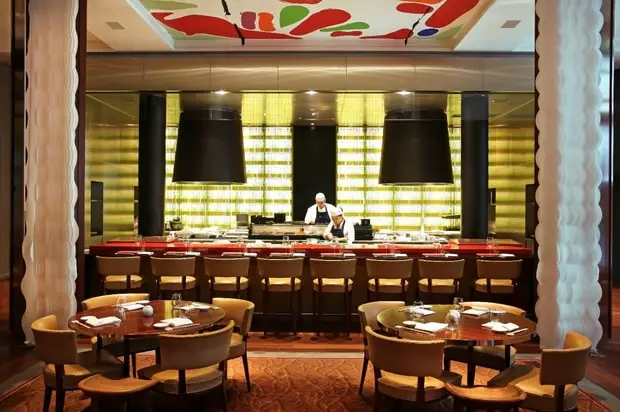 9/10 : France Hotel Guide's expert rating
The notorious Japanese Chef Nobu Matsuhisa and the Palace Le Royal Monceau – Raffles Paris have joined forces to open the first Matsuhisa restaurant in France, since March 2016.
In the kitchen, Executive Chef Hideki Endo and his brigade of sushi masters deliver their very contemporary vision of Peruvian-Japanese cuisine, the fruit of the gastronomic encounter of the two cultures dear to Nobu Mastuhisa.
The menu, generous and exotic, is a culinary journey that mixes with the codes of Japanese gastronomy with the exoticism of flavors and techniques inspired by Latin America.
Among the signature dishes, we find the Albacore tuna sashimi accompanied by jalapeno peppers, the black 'Black Cod' and its miso sauce.
The Chef has also taken up the game of working with exceptional French local products: Wagyu nigiri with black truffles, whole lobster and its wasabi pepper sauce or even grilled octopus, spinach maki and its coriander vinaigrette.
So many pleasures to marry with a sharp selection of sakes and original cocktails, to end on a sweet note with the creations of Pastry Chef Quentin Lechat.
Menu: 130€ for the Omakase menu
We like: the surprising mix between Japanese and Latino gastronomy
Website: https://www.leroyalmonceau.com/en/restaurants/matsuhisa-paris/
Shu
8 Rue Suger, 75006 Paris
kushiage japanese gastronomy
 

Voir cette publication sur Instagram

 
9/10 : France Hotel Guide's expert rating
You will have to make a great effort if you want to eat at Shu! Go through a tiny door to land in a restaurant as unusual as its entrance: an ancient cellar of many centuries.
As if you were cut off from the rest of the world, you will be able to enjoy the different Japanese dishes and more precisely their specialties: the kushiage.
This traditional dish is made of vegetables, crustaceans or meat deep fried at the end of little wooden sticks. So start your journey with this specialty before continuing on loving other traditional dishes.
This atypical scene and the good food will transport you to this country of the other side of the world.
Menus: from €42 to €52
We like: Ochazuké (rice soup with green tea) which makes a good transition to the dessert
Website: http://restaurant-shu.com/

I aim to share my tips and recommendations for the beautiful country of France. My goal is to help you plan your next adventure, whether it's a weekend getaway or a once-in-a-lifetime trip. From finding the best hotels and restaurants, to discovering unique activities and sights, I've got you covered!