Paris is a big city (nothing new so far), with so many places to see you do not know where to go. How to choose between the most famous places, the most unknown, the hidden ones, and those you do not even begin to imagine … you still have a lot to see in the City of Lights. Refined restaurants, original pubs, and nightclubs … the following list gathers but a few examples of where you can go when you are in Paris.
Summary:
Somewhere to eat
Somewhere to drink
Somewhere to go clubbing
Somewhere to eat
Saturne – Gastronomic
17, rue Notre-Dame des Victoires, 75002
This restaurant will take you to a design planet of wood and steel. The wine cellar and the big loafs will soon remind you that you are still on Earth and in a (great) restaurant. The meals will also take you away to territories you did not know existed with unexpected savors and combinations of otherwise traditional meals. Chef Sven Chartier proposes an inventive menu with a "carte blanche" menu of six courses and, with each course, wine waiter Ewen le Moigne choses the best wine for you. An explosion of flavors from beginning to end.
Budget: About 45€ for lunch and 75€ for dinner.
For further information about the Saturne, click here.
Bustronome – Gastronomic
2, avenue de Kléber, 75016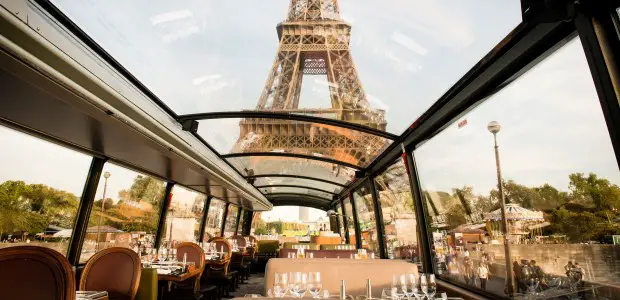 To visit Paris whilst eating French food is rather tempting, but you must admit, eating and walking at the same time is never easy. The Bustronome solved the problem for us and enables us to eat while we discover Paris from a bus (a better bus than those of the Parisian transportation society). You will discover both the French capital and the French gastronomy thanks to Vincent Thiessé's gastronomic meals. You can have a taste of foie gras in front of the Louvre, savor a sea bream under the Eiffel Tower, and discover a pastry around the Trocadéro. It is far better than travelling in the metro.
Budget: Around €65 for lunch and €100 for dinner.
For further information about the Bustronome, click here.
Le Procope – Historical
13, rue de l'Ancienne Comédie, 75006
The oldest café in Paris is a must see for all those who want to see the authentic Paris. The café has a long history, as it was founded in 1686 and saw centuries, styles, and celebrities. It first was a coffee shop and an ice cream maker, and soon became the first literary coffee shop in the world and saw Voltaire, Balzac, Rousseau, and Verlaine in its walls. In the 18th Century, the French Revolution took place in Paris and new faces like Robespierre, Diderot, and Napoleon Bonaparte went there. Today, Le Procope has been renovated but still bears traces of its glorious past for history and literature amateurs to see. In this authentic decor, you will find traditional cooking without fantasy but of a certain quality.
Budget: Around 21€ (two courses).
For further information about Le Procope, click here.
Bouillon Chartier – Historical
7, rue du Faubourg Montmartre, 75009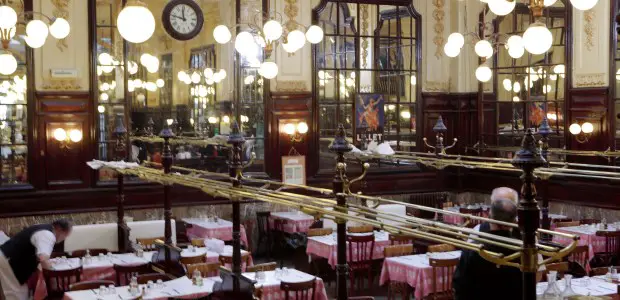 It is historical, yes, but for a small price! Not far from the Grands Boulevards and its numerous shops, this brasserie (both pub and restaurant) is absolutely not recent. It was founded in 1896, opens every day, and its main room has been classified as part of the French Historical Heritage since 1989. For all those years, the menu almost never changed: snails, eggs and mayonnaise, camembert, baba au rhum … Why would they change the recipes that worked for a century? Even if they only serve traditional meals, all the guests are not foreigners, far be it! Many French people go there eat French meals. You must come early if you do not want to queue up with an empty stomach.
Budget: About 12,5€ for three courses.
For further information about the Bouillon Chartier, click here.
La Cantine du Troquet – Traditional
101, rue de l'Ouest, 75014
Chef Christian Etchebest gives much advice to ruined restaurants in the French TV show Cauchemar en cuisine. But how is his cooking? He chose to try "bistronomic" food and opened three "cafeterias" in Paris. A friendly atmosphere, meals from Southwestern France, we go back to childhood at small cost. This is working! Among the cafeteria specialties we can find roasted pork's ears, navarin lamb, and chocolate pie with one of the numerous (and tasty) wines. It is a cafeteria indeed, but far better than those we are used to.
Budget: Around 35€ (three courses).
For further information about La Cantine du troquet, click here.
Les Fondus de la Raclette – Traditional
107, avenue Parmentier, 75011
There are no mountains nor eternal snows in Paris, but there are mountain restaurants. Les Fondus de la Raclette serves specialties from Savoy, in the Alps. Most of them include cheese and potatoes and, whatever the season, you can suddenly find yourself in a chalet atmosphere. All the specialties are there: raclette, fondue, tartiflette … But for those who do not like cheese so much, there are also brasérades (like a small indoor barbecue), a fondue bourguignonne (just like a fondue except you replace the cheese with oil and the bread with meat. A must do!), or a rumsteak, a bit less traditional, but still delicious.
Budget: About 21€ (three courses).
For further information about Les Fondus de la Raclette, click here.*
Le Sergent Recruteur – Traditional
41, rue Saint-Louis en l'ïle, 75004
Le Sergent Recruteur is an old inn on the Ile Saint-Louis but it has managed to keep a touch of modernity thanks to the renewed traditional cooking. Chef Antonin proposes a gastronomic journey, with truffles and foie gras ravioles (some big crusted ravioli), roasted turbot or lemon pie. It is definitely not cheap, but the fresh products and their delicious taste are worth the price. Le Sergent Recruteur comprises a bar where you can take a glass of champagne, wine, or a cocktail and begin to try French food with some appetizers (oysters, foie gras, caviars, cheeses …).
Budget: About 39€ for lunch and 49€ for dinner.
For further information about Le Sergent Recruteur, click here.
La cave de l'Os à Moelle – Traditional
181, Rue de Lourmel, 75015
The os à moelle (marrow bone) is classical French meal but also the name of a restaurant you must try in Paris. Chef Thierry Faucher began in famous hotels like the Bristol and opened his own restaurant in 1994: L'os à moelle. The Cave de l'os à moelle, just in front of the restaurant, opened a few years later and is now one of the main table d'hôte of Paris. You will appreciate meals from your childhood or from the countryside in a friendly atmosphere. Country terrine, tripes, rice pudding, and many others … So much choice!
Budget: Around 25€ (all-you-can-eat buffet).
For further information about L'Os à Moelle, click here.*
Le Club des 5 – Traditional
57, rue des Batignolles, 75017
Old-fashioned toys, table soccer, cartoons … The five friends who opened this restaurant really bring us back to childhood. The decor is charged with many memories, but our meals too. The first courses mix tradition and innovation with, for instance, breaded Babybel croquettes, a small lentil and pork plate, or even goat cheese nems. The courses follow the same guidelines: smoked pork belly in a cordon bleu, confit duck in a shepherd's pie, or the daily special on a blackboard, just like in school. The desserts are more birthday cakes than anything else: you can choose between a Kinder tiramisu, an M&M brownie, crumbles, and other delicacies.
Budget: Around 15€ for lunch and 23€ for dinner.
For further information about Le Club des 5, click here.*
Nos ancêtres les Gaulois – Traditional
39, rue Saint-Louis en l'Île, 75004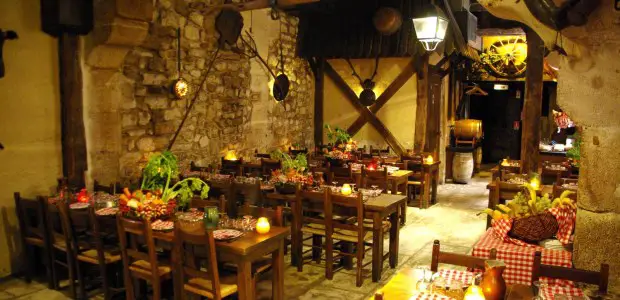 This cave will transport you back to antiquity and to a Gaulish buffet. The all-you-can-eat formula (wine included) will make you feel like you are at a Gaulish feast. This idea was born in this very place in 1969, and it worked so well that, today, you can find the « cave » in three different buildings, in 7 rooms welcoming up to 300 people. In this cheerful atmosphere, you can have raw vegetables, meat pieces grilled in front of you, cheese, dessert, as much as you can eat! You can even go pour yourself a glass of wine from the wine cask (as much as you can drink as well). But this Gaulish atmosphere could not be complete without the few troubadours singing around the tables.
Budget: Around 14€ for lunch and 420€ for dinner.
For further information about Nos ancêtres les Gaulois, click here.
Dans le noir? – Random
51, rue Quincampoix, 75004
Social networks are overflowing with nice and colorful food pics. The taste can sometimes seem less important than the first impression of the meal, which is how it looks. Dans le noir? proposes to eat again with your taste and sense of smell, as it was long ago or … as blind people would do, because the room is completely dark. During this blind taste, the visually impaired or blind staff will serve 2, 3, or 5 courses depending on your choice. The game is to find out what is on your plate! After you have eaten, you can see a photo of every meal you had and the ingredient list. If you apprehend cooked vegetables, you may be surprised.
Budget: Around 49€ (three courses).
For further information about Dans le noir, click here.
L'Îlot – Sea products
4, rue de la Corderie, 75003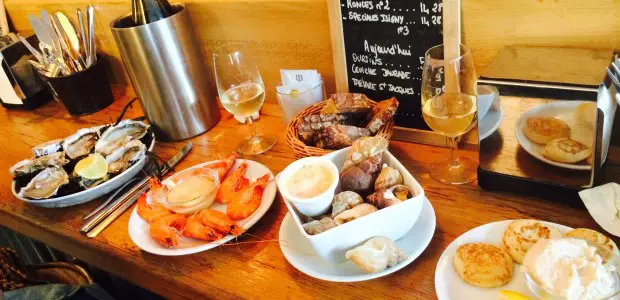 Of course you can have sea products in Paris! Normandie and Bretagne are not far and they are full of shellfish and fish to supply the French capital. If you like to have a bit of everything, the plateau is ideal but it may not be enough and it serves only as an appetizer. You can choose on the menu oysters, mussels, and tarragon or whelks with aïoli (garlic-based sauce). For those who do not like sea products very much, L'Ilot has also composed meals with blinis, potatoes, or mozzarella and rocket. Tou can have a smoked, marinated, grilled, or raw meal, or a soup … Everyone should be satisfied.
Budget: Around 40€.
For further information about L'Ilot, click here.
Le Grenier de Notre-Dame – Veggie
18, rue de la Bûcherie, 75005
Despite its name, this restaurant is not in an attic, but on the ground floor of an establishment in the 5th district full of appeasing plants. Le Grenier de Notre Dame is the first vegetarian and macrobiotic restaurant of Paris. We all know what « vegetarian » means, but what about macrobiotic? It is a way of eating to supply your body without any defaults nor excess (more or less). Your meals will contain spelt, bulgur, vegetables, and agar-agar cooked in such a way that meat eaters won't even notice its disappearance.
Budget: Around 12.5€ for lunch and 17.5€ for dinner.
For further information about Le grenier de Notre-Dame, click here.
Somewhere to drink
La fine mousse – Beer bar
4 bis, avenue Jean Aicard, 75011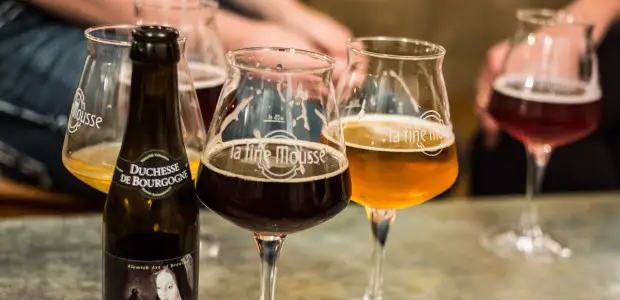 No Heineken or 1664 here, no Guiness: every beer is handmade and the menu changes regularly. There are 20 different draft beers and 150 kinds of beers … you will have to choose. The decor is bright, the atmosphere friendly, and the staff knows their stuff. You can know everything about the beer you are tasting: its confection, its brewer, its history … In order to discover beers the best way possible, the bar throws up musical events, meetings with the brewers, etc. For those who really are interested, La Fine Mousse proposes initiation, discovery or perfectioning classes to beer tasting.
Budget: Between 3.5€ and 10€ per beer.
For further information about La Fine mousse, click here.
The Bar at the End of the Universe – A bar for everything
19, avenue Victoria, 75001
This unique bar could be called a geek bar, as it encourages imagination from all sources, mangas, series, cinema, literature, in short everything that one day had us believing in something fantastic. You can come as you are to this place, alone, with friends, to play, eat, drink, sleep, chat, always in a laid-back atmosphere. The menu looks crazy but proposes modern meals: fruit cocktails (with alcohol or not), teas; and if you are hungry, you can have the 42cm long hot dog, a bruschetta, a tartareor, a brownie.
Budget: Between 6,5 and 12€ for a cocktail.
For further information about the Bar at the end of the Universe, click here.*
Little Red Door – Cocktail bar
60, rue Charlot, 75003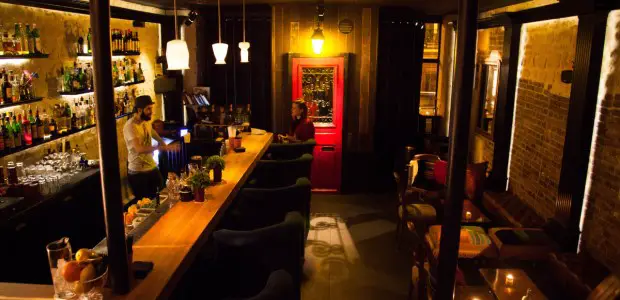 As the name says, you come into this bar through a little red door. Although the customers are from the 21st century, one might think he just went back under the Prohibition: subdued light, stone walls, more alcohol than ever behind the desk and in the glasses. This is a cocktail bar, so do not ask for beer, wine, or appetizers … this is not the house's specialty. Look at the day's cocktails if you want no bad surprise. The drinks are a bit expensive, but the quality and the atmosphere are worth the price, especially when artists make a show in the bar.
Budget: Around 13€ and 16€ per cocktail.
For further information about the Little Red Door, click here.
Wall Street Bar – Theme Bar
17, avenue Parmentier, 75011
Every day from 6 p.m. and the arrival of the first customers, a real stock market takes place in this bar of the 11th district. The rates of wines, beers, and other cocktails change every 100 seconds on a screen in the middle of the room. There are often crashes, and when it happens you better be the first at the desk to order, because it will only last 100 seconds. On the menu, the names of the cocktails stay in the economic trend with the CAC40, the Dow Jones, or the Nikkei. As drinking with an empty belly is a bad idea (thank you, Mommy, for the tip), the bar has a variety of tapas for you: nachos, patatas bravas, burrata … the stock market game is not enough for this bar, which organizes other events throughout the year such as blind tests or theme parties (raclette party, tartiflette party…).
Budget: Between 5,5€ and 7,5€ per cocktail (before the stock market at 6 p.m.).
For further information about the Wall Street Bar, click here.*
Le Merle moqueur – Rum bar
11, rue de la Butte-aux-Cailles, 75013
Everyone knows straight rum, mixed rum, and one or two spiced rums. But this time you can choose from twenty homemade spiced rums! The decor suits the topic, between African and tropical in a very convivial general mood. The spiced rums are served as shots and sometimes a dozen at a time to avoid waiting too long. The attractive prices and the original concept make the bar a little crowded on weekends, so it might be best to try it out during the week.
Budget: Between 3€ and 6€ per shot.
For further information about Le Merle moqueur, click here.*
Espit Chupitos – Shot Bar
117, rue Saint-Maur, 75011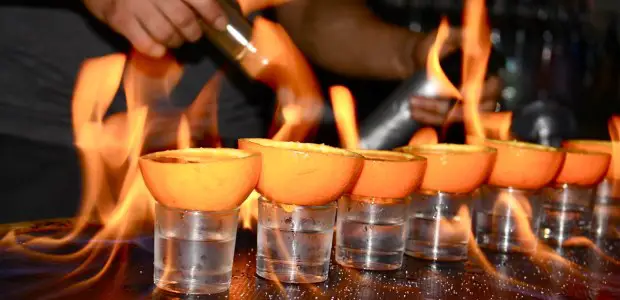 The idea of a shot bar is unique in Paris, with almost 600 shots on the menu. It was born in Barcelona and managed to expand until it reached Paris for our greatest joy. All the names of the shots are written on a wall, from the simple « Malabar » to the « Baiser de la Mort » (Death's kiss) or the « Foutre de Schtroumpf » (Smurf's cum). Each of the 600 recipes has been patented; no point in asking what is in your glass. The shots cost 3€, but you can also ask for a bottle at a reasonable price. Among the 600 recipes, everyone can find the one he will love, whether it is flaming, with a little game, with sweets, etc. Let yourself be surprised!
Budget: 3€ per shot.
For further information about the Espit Chupitos, click here.*
L'entracte – Very first bar of Paris
47, rue de Montpensier, 75001
Just next to the Comédie Française, and in front of the Palais Royal theater, the audience comes here have a drink before or after the show. People like this little pub for its simplicity; unlike other bars of the neighborhood, the staff is polite but not obsequious, and they do not wear a complete suit. It opened in 1734 and is one of the oldest in Paris, but almost nothing has changed. The decor is from the 18th century, yet not kitsch (except for the garlands), you can hear old French songs and the prices are honest. Marcel, the owner, is always glad to see people show up at his pub and goes out of his way to satisfy you. If you feel hungry, he can even prepare some ham or cheese, go fetch some pastas at his Italian neighbor's, or cook some homemade meal for you.
Budget: Between 4€ and 8€ for a glass of wine.
For further information about L'Entracte, click here.*
Le Nid – Board games bar
227, rue Saint-martin, 75003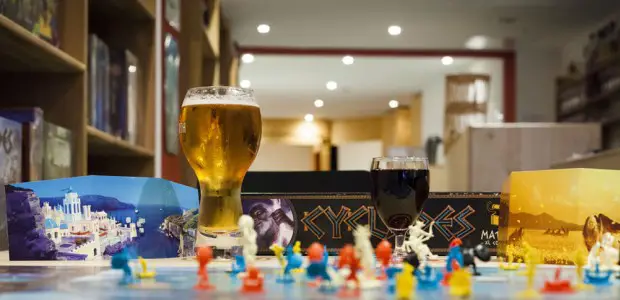 Monopoly, Clue, Seven Wonders, coffee, chocolate, and cookies … You are not home, but in a bar! Le Nid is a « recreational cocoon » in which you can order a drink while you choose one of the many board games at your disposal. The most classic games are here, of course, but more modern and less known, or even unknown games are here also. The owner loves board games and can happily explain the rules if you want to play something you do not know. He may even play with you if you lack a partner! To access the room with more than 500 games, you must pay 3€ and order a drink. The prices are quite reasonable to play for the afternoon, and it sure is funnier than just chatting on a terrace.
Budget: Between 6€ and 8€ for the entrance and a drink.
For further information about Le Nid, click here.*
Moonshiner – Hidden pub
5, rue Sedaine, 75011
Paris is full of mysteries and hidden places, little streets, parks, but bars too. The idea of hidden just like in New York under Prohibition or in Berlin is very trendy and has arrived in Paris. You must enter the Pizzeria Da Vito, not order pizzas, but to find the pub's entrance. It is just behind the big metallic door of the cold room. Then you enter a temple devoted to whisky, with 83 references on the menu. They also propose many cocktails and beers for the most traditionalists. You do feel as if you are in a speakeasy of the '20s, and you do not know in which city you are anymore, lost among the accents of the different countries around you, the subdued light and the jazz music going on all night.
Budget: Between 10€ and 14€ for a cocktail.
For further information about the Moonshiner, click here*
Somewhere to go clubbing
Au Paris 80 – Relaxed
97, Rue de Paris, Bobigny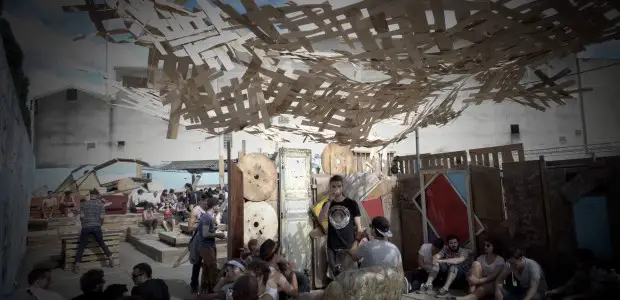 Au Paris 80 is a 2000m² place wanted by all sorts of organizers. This old circus was transformed into a night club but kept its circus tent and some childhood memories like a sand box, many colours, and children's artwork. You will be able to dance without any complex, and to rest a bit, because in 2000m², you will not be packed in with your neighbors. Accessing it may be a bit difficult, since it is outside Paris (but not far, and the place is worth the effort). The light mood guarantees the porters will not throw you out if you do not wear dress and heels or shirt and loafers. Be careful to pick up the right night to go there, because being an old circus (sometimes kitsch), shows take place there.
Budget: Between 5€ and 9€ for a drink.
For further information about the Paris 80, click here.*
La Ferme du Bonheur – Concept
220, avenue de la République, Nanterre
This is no common farm, but there is heart in there. This is a community living place, with some recycled materials and gardens to keep the idea of the farm. When they are not busy organizing environmental projects, the farm hosts theater, music, cinema, architecture, and so on. From 3 p.m. or 4 p.m. you can go to this place from another time and discover culture under many its many faces. Notwithstanding the events the farm organizes, some associations organize night events a few times a month. You can find the Parisian, Londonian, or Berlin frenzy while enjoying a natural and particularly spacious place.
Budget: 15€ for a three-course meal.
For further information about La Ferme du Bonheur, click here.*
Concrète – Young
69, port de La râpée, 75012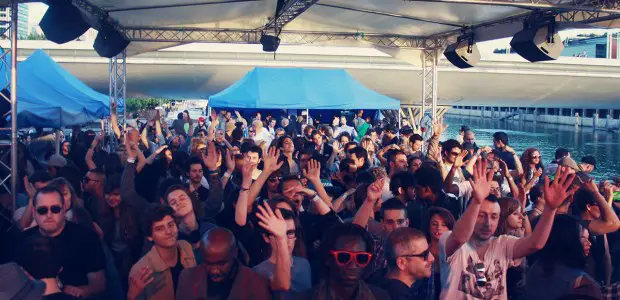 On a barge of the Gare de Lyon, this place admits the youngsters and the people in their late twenties every Friday and Saturday (sometimes on Sundays too). This temple of house, electro, and techno music may look like a Berlin club but the prices soon remind you that you are in Paris. On the artist side, there are very few French, or not at all but many German, English, and American names, great or small. People come here to dance all night and are relaxed; the atmosphere is casual, but you cannot always avoid the everlasting hipsters or other showing-off people. Near the Cité de la Mode et du Design.
Budget: Between 5€ and 11€ for a drink.
For further informations about La Concrète, click here.*
Alcazar Club – Mythical
62, rue Mazarine, 75006
Amongst many other rumors, Jim Morrison died from an overdose in the toilets of this club in 1971, during the era called Rock n Roll Circus. The place was very famous and welcomed guests such as Serge Gainsbourg diving in the sex, rock, and drugs atmosphere of the '70s and '80s. It has changed much today and welcomes students and tourists at night. The whisky and rock mix are not trendy anymore. The famous club has to use commercial and contemporary music to satisfy its new customers. The place is still mythical, but we warned you about the changes, so do not be disappointed. Between '80s and '90s parties, salsa classes on Sunday evenings, and some concerts from time to time, all you have to do is choose what suits you best.
For further information about the Alcazar Club, click here.*
Djoon – Trendy
22, boulevard Vincent Auriol, 75013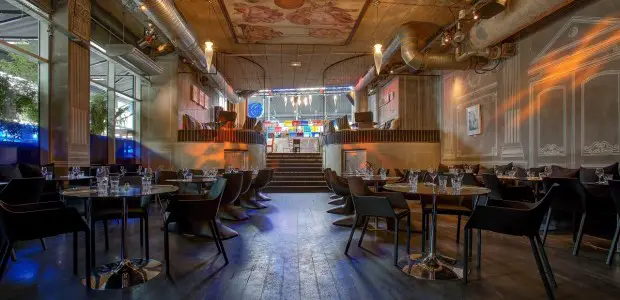 This restaurant and night club is a unique place in Paris. In this loft of two floors, in the 13th district, you can eat, drink and, of course, have fun. International DJs come one after the other to animate the dance floor for thirty-year-old people avoiding the overcrowded famous clubs. The entrance is a bit selective, but the effort is worth it. This trendy place will refresh you from the other Parisian clubs with its music alone. Depending on the artists, you can have a funk, deep-house, hip-hop, or soul atmosphere. The restaurant allows you to eat some real meals between two dances, and not just hot dogs like other night clubs, even if the high prices do not change.
Budget: 9,5€ for a drink
For further information about the Djoon, click here.*
Chez Moune – Underground
54, rue Jean-Baptiste Pigalle
You can go at Moune's just like you go at your friend's place. The friendly mood, the nice porters, and the decor put you at ease. In the underground room you can party, dance, and shout all you want; there are no neighbors to complain. This old lesbian pub was transformed into a nightclub for the 20- and 30-year-old people. The music varies depending on the nights and can be electro, rock, or minimal, always in a subtle mix. Some nights, DJs play independent labels and animate the best night ever. The subdued light and the space of the place can make it a bit crowded, but the entrance is free.
Budget: 10€ for a drink.
For further information about Chez Moune, click here.*
L'Arc Paris – famous
12 rue de Presbourg, 75116
If you are dreaming of spending an unforgettable night in one of Paris' most elegant, chic and luxurious clubs, you won't be disappointed by your visit at the L'Arc Paris. It is located just a few meters from the magnificent Arc de Triomphe at the Place de l'Etoile and it gives you a spectacular view not only over this impressive parisian monument, but also over the nightlife on the illuminated Avenue des Champs-Elysées. It has everything an excellent parisian club must have: good music, which is a mix of our favourite tunes from the past and modern electro music, a veranda with a large panoramic glass roof so you can enjoy the unique environment of the L'Arc Paris, a little garden which gives the location a touch of freshness and relaxation and a unique modern-vintage decoration. The L'Arc Paris is open every Thursday, Friday and Saturday from midnight to 5 am. And by the way, don't be surprised to come across international stars like Bruno Mars and Rihanna in this worldwide well-known club.
Click here for any further information about the L'Arc Paris.
Le Pigallion – Undergound
11, place Pigalle, 75009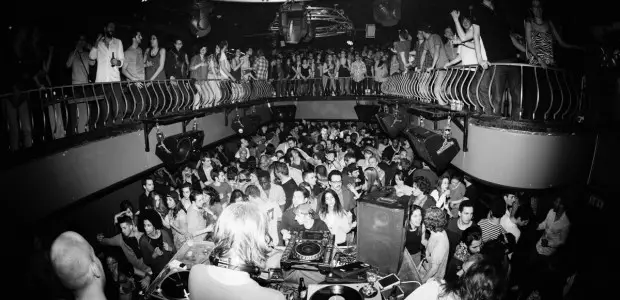 This old striptease cabaret has had its hour of glory during the roaring twenties and the '90s as an emergent electronic stage. Nowadays, it is still crowded every night till morning. There is no dress code to get in; people go there only to relax and dance very close to one's neighbor. Do not expect to sit down; there is absolutely no room for that! Most of the artists play electronic music, but some of them drag undesirable people with them, so be careful which night to go there. The bar on the upper floor is very popular, but also very expensive, so you might as well drink before you come.
Budget: 8€ for a soft drink.
For further information about Le Pigallion, click here.*
Café Chérie – For those in their thirties
44, boulevard de la Villette, 75019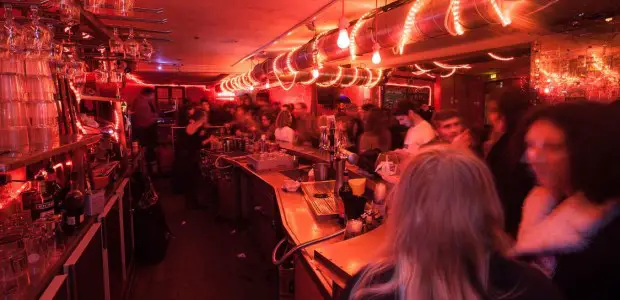 The red neon lights are the most striking feature of the Café Chérie, where you will spend hours chatting with your friends or with strangers. At 5 p.m., the mood starts to change, as the regular customers arrive and curious people just walk in to discover the place and the crazy atmosphere. As soon as the music grows up, people use an ad-hoc dance floor or even the bar (when they drank enough). You can already write down that every Thursday, Friday, and Saturday, DJs come from 10 p.m. to 2 a.m. to make people dance, always on the ad-hoc dance floor. If you want a good seat for those nights, come early … For more surprises still, the first floor temporarily hosts expositions or garage sales.
Budget: Between 3€ and 8€ for a drink.
For further information about the Café Chérie, click here.*
Les Bains – Trendy
7, rue du Bourg l'Abbé, 75003
Les Bains is one of the most selective nightclubs of Paris. The same building hosts a gastronomic restaurant and a hotel, which show you how posh the place is. The reputation of the place was built thanks to the models, artistic directors, and other celebrities who came there to have a nice time. The decor is futuristic, very different from the usual Parisian nightclubs, and it even includes a pool (bath forbidden). The customers are classy and like to show it. This place is so well-known it even has permanent DJs and invites people after a careful picking. Beside the DJs, other events often take place there, such as concerts or private events. The place is famous but very selective; you must be well-dressed to get in and be ready to spend money easily.
Budget: Quite high.
For further information about Les Bains, click here.
*Website only available in French