When you really like beer, it is easy to be pleased. There is something for everyone's taste: a wide range of percent proofs and of colours (pale, gold, amber, brown, or black). Whether it is during the summer on the outside sitting area of a café, or during the winter by the fireside, a good beer is rarely a disappointment. But the real question is: where can we find a good beer in Paris? Here is the answer with these eight craft beer pubs in Paris.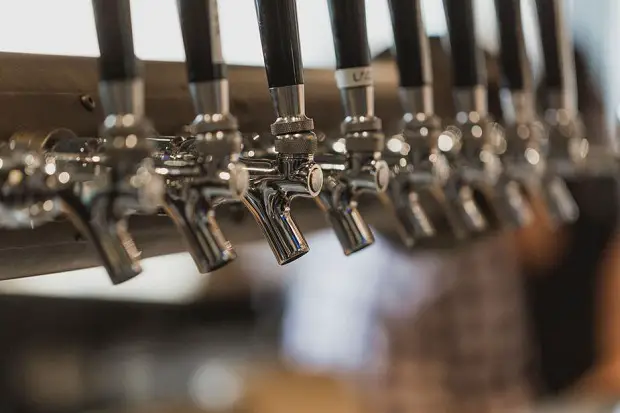 Les Trois 8
11 rue Victor Letalle, 20th district
Monday, Tuesday, Wednesday, Thursday, Friday, Saturday 5pm-2am, Sunday 5pm-12pm
www.lestrois8.fr (webpage in French)
In this bar with a rock'n'roll atmosphere, you will find around a hundred different kinds of bottled craft beer, and eight different draught craft beers (alternating, mostly local productions), as well as organic wines and many other sorts of alcohol. So there is no doubt that you will find something to quench your thirst, and even something to eat thanks to their informal meals: cheese and cold meat plates or vegan spreads with pickles and a good traditional baguette from a Ménilmontant bakery.
25cl beers between €2.50 and €4.90
Paname Brewing Company
41 bis quai de la Loire, 19th district
Monday, Tuesday, Wednesday, Thursday, Fria, Saturday, Sunday 11a-2am
www.panamebrewingcompany.com

What is better than drinking a good beer on the terrace of a pub? Drinking a good beer on the waterfront terrace of a pub! That is what this bar with an industrial but cosy atmosphere, recalling a loft in New York City, offers. Located on the edge of the bassin de la Villette, the Paname Brewing Company serves its own production that is brewed right inside the pub! A street food selection is also offered to fill your stomach.
25cl beers between €3.70 and €4.50.
Les Cuves de Fauve
64 rue de Charonne, 11th district
Weekdays : 5pm – 2am
Saturday, sunday : 11.30am – 2am
https://fauvebiere.com/ (website in French)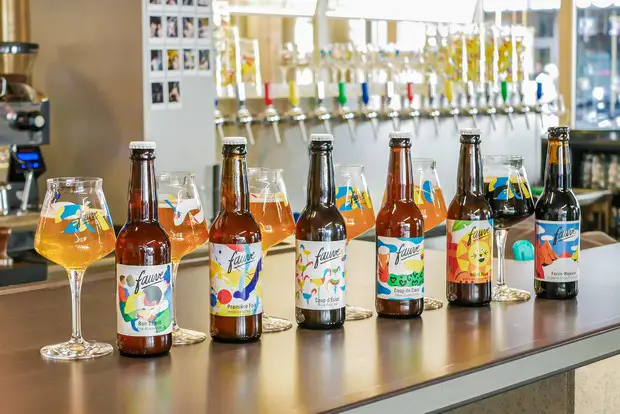 The Brewpub Les Cuves de Fauve welcomes you with its industrial decoration made to look like a professional kitchen. Here, you will be able to enjoy six types of permanent craft beers as well as many transient ones. This is the perfect excuse to come back! Le Fauve's beers have won several awards in France and abroad. In addition to its friendly atmosphere, the bar also regularly organizes different types of events.
25cl beers between 3.50 and 7.50€.
Kiez Biergarten
24 rue Vauvenargues, 18th district
Monday, Tuesday 4pm-2am, Wednesday, Thursday, Friday, Saturday, Sunday 10am-2pm
www.kiez.fr (webpage in French)
Germany has been living an everlasting love story with beer, and it has been perpetuated in Montmartre! In this German pub, you will be able (as well as drinking good craft an industrial beers) to eat typical German food (Schnitzel, Spätzle, Apfelstrudel, Brezel, Weisswurst, and so on) in the backyard.
25cl beers between €3.20 and €3.90.
Le 49.3
3 cité de Phalsbourg, 11th district
Tuesday 12pm-2am and 5:30pm-2am, Wednesday, Thursday, Friday, Saturday 5:30pm-2am
The name of this pub is a wink to a particular article of the French constitution that has been disputed in 2015, but is also (and mostly) a reference to the 49 kinds of beer they serve, and the 3 different brands per alcohol available in this pub. The snacks are not outdone since you can ask for generous cold meat and cheese plates for only €7.90 (€13.90 for a mix plate). Moreover, bread and cheese are offered with the first round. Prices are as good as the beer selection.
33cl bottled beer for €5.50.
Brasserie La Goutte d'Or
28 rue de la Goutte d'or, 18th district
Thursday, Friday, Saturday, 5pm-7pm
www.brasserielagouttedor.com
This entirely Parisian microbrewery was created in 2012 thanks to a crowdfunding campaign and now refunds the donators with beers! Each beer of this brewery has an emblematic name of the district: Ernestine, Myrha, Château-Rouge, La Chapelle, and so on. It originally was only a brewery, but a "tap room" has been open to enjoy a beer and tapas, and you can also taste the production if you visit the brewery.
50cl bottled beer from €3.
La Fine Mousse
4 rue Jean Aicard, 11th district
Open all week, from 5pm from monday to friday and from 4pm on the weekend.
www.lafinemousse.fr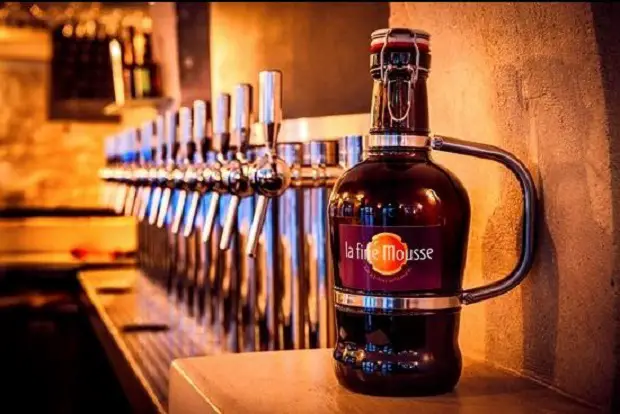 La Fine Mousse is a craft beer pub selling French and international beers, essentially from the north of Europe (Belgian, English, and Norwegian beers). You will easily find something to please your throat, since there are around a hundred kinds of bottled beers and twenty draught beers (alternating). There is also a small restaurant whose waiters and waitresses will help you find the best meal/beer harmony.
Initiation and improvement workshops about beer are organised on a regular basis – check the official webpage for more information.
25cl beers between €3.50 and €6.
Bonus
If you want to taste a beer as crafty as possible, why not try brewing your own beer? There are several workshops in Paris; each of them lasts about 4 hours, costs around €160 for one person or two people, and you will leave with 15 to 20 liters of your very own production. Here are a few names: Brew unique, Les Houblonneurs, La Beer Fabrique, Ma bière (webpages in French).
For the ultimate fans, there actually is a beer fair in Paris: it is called Planète Bière (website in French) (literally "beer planet") and takes place every year around March and April and lasts two days (check the exact dates on the official website).

Mona knows Paris like the back of her hand. Bars, restaurants, hotels… whether you want to sleep, eat, party or just take a walk in Paris, Mona gives you her best advice. Follow her lead, she will gladly give you all her good tips and best addresses!