France, and Paris, are famous for the French gastronomy. It is one of the best parts of the French culture, and it keeps amazing the whole world. People come to France from every country to taste French food. As it happens, wine bars concentrate on every taste of France; those are places truly dedicated to French gastronomy. They propose foods and drinks, but you may feel lost when it comes to choosing one. They are so numerous! We decided to help you and select our 10 best wine bars of Paris.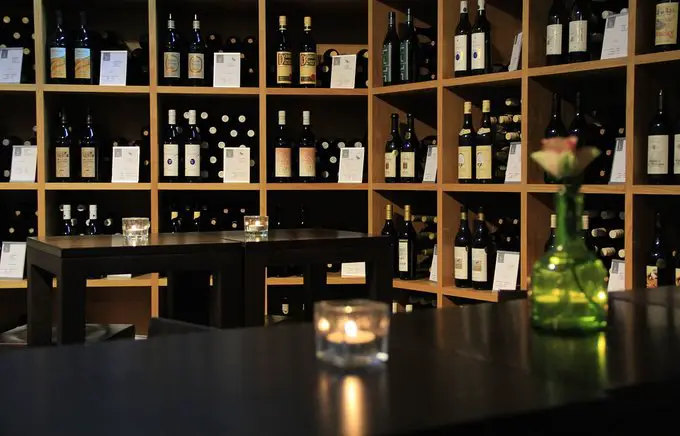 1) Les Caves de Pragues
8, rue de Prague, 75012
Not far from the Place de la Bastille, in the 12th district, you will find Les Caves de Prague. It belongs to this category of bars you want to keep secret, and it is not well-known in the neighborhood, especially compared to the Baron Rouge (Cf. infra), and yet they have nothing less.
When you come in, you will be welcomed by the smiling owner, who will be pleased to help you choose your drink. Most of the wines are French, from different parts of the country, and with a large variation of savors. All of them are organic-certified, which guarantees their quality.
Rates: From 5€
Access: Metro line 8, Ledru-Rollin station
2) Le 11e Domaine
14, Rue des 3 Bornes, 75011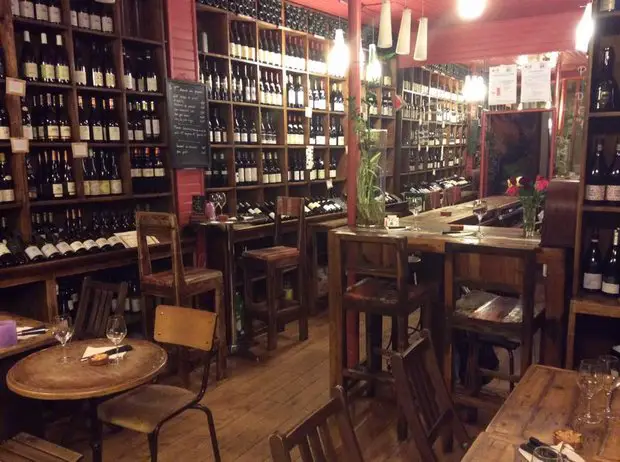 Crédits : ©Le 11ème Domaine
A few meters away from Parmentier station on metro line 3, Le 11e Domaine is ready to welcome you for a magical savoring. Here, the wines come from every area of France, such as Bordeaux or Bourgogne, but there are also less famous wines on the menu, such as foreign bottles from Chile, Argentina, or Australia. You can also buy whisky or rum, and the bar proposes oenology classes. They offer all kinds of services related to wine.
But the best wine bars also serve some delicious food, and Le 11e Domaine is no exception. You can order hearty cheese and hams trays, with numerous tasty cheese, coppa, and rosette slices.
Rates: 15€ for a ham tray, 5-12€ for a glass
Access: Metro line 3, Parmentier station
3) La Cave à Michel
36, rue Sainte-Marthe, 75010
This bar is probably the most authentic and typically Parisian you can find in the city. This very small establishment on the rue Sainte-Marthe is almost a stereotype, with its skimpy counter and its tiny kitchen. Still, this is a wine temple, but it's okay if you are not a wine specialist, because Fabrice, the owner, is here to advise you. White wines from La Vallée de la Loire are lined up next to red wines from the Côtes du Rhône. Thanks to the average price of 8€, the bar is not too expensive, and you can try the rosé; it is a cheap bottle with some real taste.
The tiny kitchen we spoke about earlier is run by chef Romain Tischenko. He manages to cook great meals with very attractive prices in a very small room. This bar is worthy of Bacchus, and it is a dream come true for every wine lover.
Rates: 7-10€ for a meal, glasses from 5€
Access: Metro lines 2 and 11, Belleville station
4) La Cave de Paul Bert
16, rue Paul Bert, 75011
This is a luxurious bar, taking care of both appearances and content. Let's talk about appearances first: the bar is very well-designed, with a big and bright room; it is very modern. But the reason this cellar is famous is obviously its content. There is a large choice of wines amongst which are Vauthiers, Calekous, Cuzins, or as many unknown names for the beginners, but which will draw the attention of the true amateurs. For all wine lovers, those names vouch for the bar's quality.
The Beaujolais are not alone, though, and some appetizers go with them, like Basque Pancetta or traditional ham. Although the bar is modern and spacious, the owner does not forget to speak with his customers, and this is important in a wine bar. Dialogue is at the heart of La Cave Paul Bert.
Rates: 5-14€ for a plate, average glass for 5€
Access: Metro line 8, Faidherbe-Chaligny station
5) Inaro
38, rue René Boulanger, 75010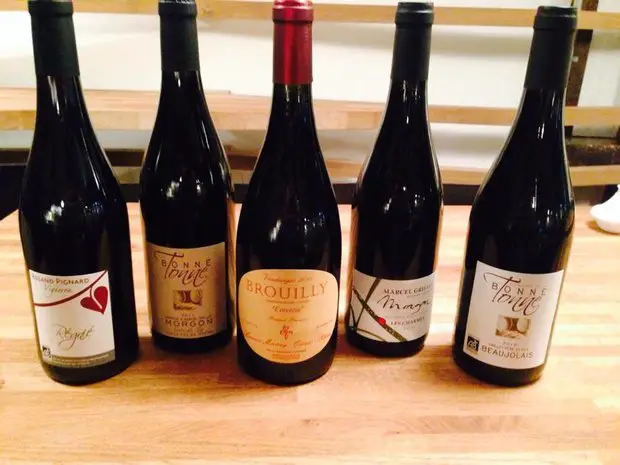 Crédits : ©Inaro
The street René Boulanger, has been for a few years now, a place to go for wine lovers. With its motto « Drink, Savour and put the world to rights », this small pub and its wooden decoration will make your mouth water. Because of its success, the bar can be crowded, so you'd better book in advande if you want a free spot on the leather seats that are waiting for you. Before you can discover the selection of wines, the team of the Inaro lets your desires take over and proposes you to compose your own plate. Saucissons, cheeses or deserts…the spotlights are put on the products. Whether originating from foreign countries or different regions of France, products of small producers in love with their job will offer you a treat for your taste buds. You'll find cecina beef from Spain but also local products, with for instance French southern cheese.
Then, you'll be able to choose the wine of your desires (this is what you came in for, after all). A large variety is proposed to you. You can savour your wine in different sahpes : glass, jug, or bottle. The prices can get quite high, but no worries, you'll be satisfied with whatever you choose. So don't hesitate and pass the gates of the little bar with a convivial atmosphere where the sense of sharing reigns.
Rates: Plates 6-27€, Wines from 4.4€ to 48€
Access: Metro lines 3, 5, 8, 9, and 11, Republic station
Schedules : From Monday to saturday form noon to 2.30pm and from 6pm to 1am.
6) Etna
33, rue Mazarine, 75006
To find a good wine bar with correct prices near Odéon is next to impossible. Indeed, the area is more famous for its tourist traps than for its wine bars. And yet, lost in the Rue Mazarine with its black front window, the Etna opened its door. Inside, the wooden panels and the exposed stones make a warm and welcoming atmosphere, completed by the funk music in the back.
All the wines of the Etna are organic, handpicked, and have aged according to tradition. There are more than 350 different wines in this bar.
The relationship with the owner is probably the best part when you stop here: he will advise you after he has listened carefully to your tastes. The boat-shaped counter can be very quickly crowded, especially since the menu includes chorizo, terrine or tapas, each of them with a suggestion of wine. Definitely one of the best wine bars.
Rates: 7-8€ for a glass / Bottles from 28€ / foods from 8€ to 14€
Access: Metro lines 4 and 10, Odéon station
7) Septime La Cave
3, rue Basfroi, 75011
In the annex of the restaurant Le Septime run by Bertrand Grébaud is a wine bar. It is a well-known cellar in Paris, including because Beyonce went there. The bar has the reputation to be elitist but it is not; when you walk in, you will see the waitresses putting white cards on a blackboard. Those cards are suggestions of the bar, as many promises and invitation when waitresses and barmen advise you and tell you about their favorite wines.
You will fine white and red glasses from 5€, but also bottles of organic wines.
This wine cellar, being famous, is also a bit crowded, but you can still manage to find somewhere to sit, in a warm and cosy atmosphere. It is one of the best of Paris.
Rates: A glass of wine from 4,5€
Access: Metro line 9, Charonne station
8) La Cave de Belleville
51, rue de belleville, 75019
The Cave de Belleville does know how to decorate, with its high and large windows, the exhibition of its bottles like art masterpieces, and the hams and saucisson hanging from the ceiling. Its night blue facade draws the eyes to the bar. It would be shame not to stop here for a few moments. The staff is always available and capable to advise you if you are not a specialist or if you are hesitating.
For the connoisseurs, there is a large choice of wines, from every area of France, but also from South America or Africa, such as this South-African wine for 6€.
Of course, if you come here you must be willing to put up with the price, but those wines are worth it and you will learn to savor them.
Rates: From 6€ for a glass
Access: Metro line 11, Pyrénées station
9) La Garde Robe
41, Rue l'Arbre-Sec, 75001
This well-tended bar awaits you in the 1st district ! Several wines are proposed by the barmen, each of them being a wine specialist. You will not find any great vintage like Saint-Emilion here: La Garde Robe only serves wines from small producers. All of them come from organic but also "biodynamic" agriculture, which means the wine makers tried to enhance the relationships between the vine and the soil.
Thus, every wine has a particular taste, with a minerality and a savor very different from what you can find elsewhere. Besides, tapas and ham trays ensure this is one of the best wine bars of Paris.
Rates: Tapas 8€-20€, from 4€ for a glass
Access: Metro line 1, Louvre-Rivoli station
10) Le Baron Rouge
1, rue Théophile Roussel, 75012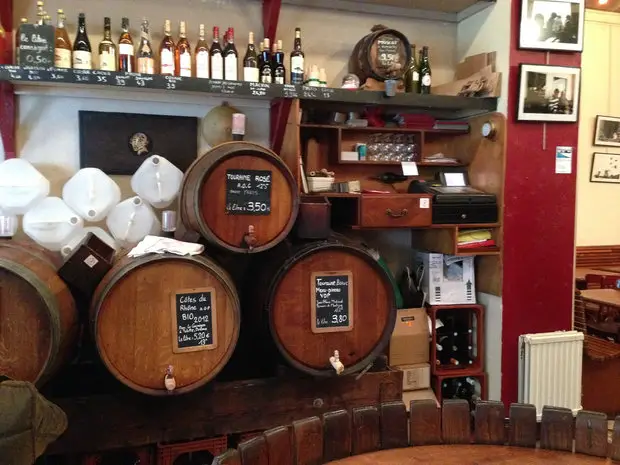 Crédits : ©Heatheronhertravels.com
Le Baron Rouge is a must do for all wine lovers of Paris, whether they are beginners or specialists. Well-known in the capital, this wine cellar will know how to seduce you with its vintages.
You are immediately welcomed by the rustic style of the bar, with its wooden furnishing, the bottles all along the walls, and the barrels piling up to the ceiling.
On Sundays, Le Baron Rouge proposes fresh oysters with Sancerre (a white wine) or some red of his choice, always going with some ham tray. There is plenty of wine.
Rates: From 2€ for a glass
Access: Metro line 8, Ledru-Rollin station