Since our childhood, we eat candies and confections for their sweet and comforting taste, as well as for their sparkling colors and shapes. Have your childhood memories awakened by discovering these traditional French candies your parents or grandparents might know about?
Nougats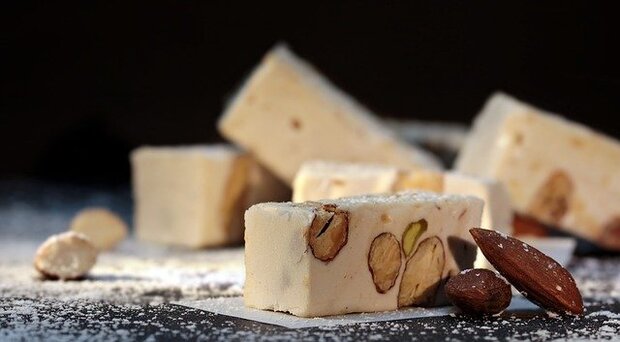 Based on egg whites, honey, sugar and almonds, nougat is a typical sweet from Provence. It is made by melting the sugar and honey, then adding roasted almond and pistachios at the end of the cooking process.
Known in France in Montélimar, the candy needs to contain at least 30% almond and 30% honey to be named as such. Existing since Antiquity in the East, it is during the 18th century that nougat paste has spread throughout the world and has offered a variety of recipes depending on the country.
In Spain, it is called Turron, in Italy Torrone or Copeta or Jabbane in Morocco. There is also Chinese nougat, in the form of small cubes surrounded by sesame seeds.
Nougat is also known for its benefits. It is partly made of honey. A natural remedy against sore throats, constipation and burns; honey has antibacterial, energetic and antioxidant properties. Nougat is therefore a comforting and restorative sweet.
Candy Cane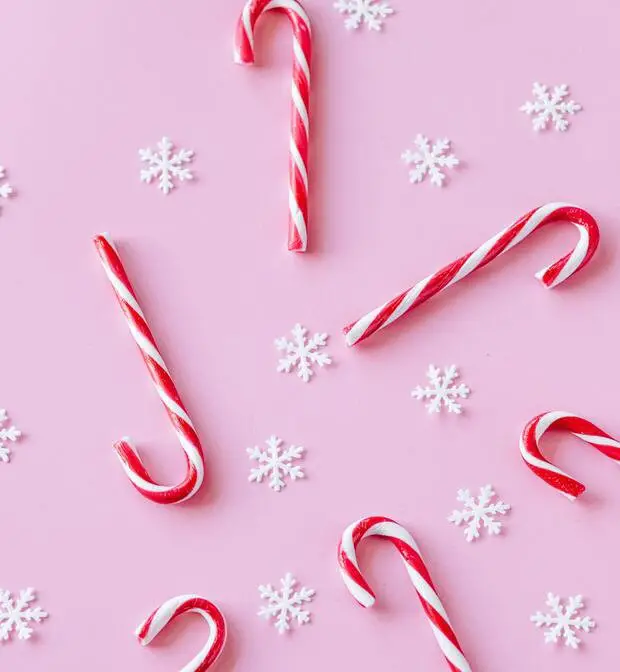 Based on a mixture of sugar, vinegar and barley tea, candy cane was once designed to relieve the sore throat of priests reading at Mass by the nuns of Moret.
This traditional Christmas candy, in the form of a cane, with white and red stripes, was once more sober, of a whitish color and a rounded shape. To recall its creation during the winter, it was given a more playful form and gradually became a symbol of Christmas.
Sometimes flavored with mint, lemon or bergamot, Candy Cane is no longer used as a natural remedy for winter colds, but is used as a Christmas decoration or as an ingredient in Christmas desserts: in pieces in muffins, shortbread, gingerbread…
Anis de Flavigny
 

Voir cette publication sur Instagram

 
Developed in Flavigny-sur-Ozerain, since the 1950's, the Anis de Flavigny are a result of a secret recipe handed down from father to son, made in the old abbey of the city today transformed into a confectionery factory.
Yet these small balls stored in their oval boxes have existed locally for centuries in Flavigny. They were originally created by Benedictine monks.
These confections are made from a green anise seed covered with several layers of sugar flavored with natural anise. They turn in large copper vats for several weeks, to obtain firm and crunchy dredges.
Today sold worldwide, the recipe is now available in different flavors of lemon, tangerine, violet, rose and licorice.
Coussin de Lyon
Composed of chocolate ganache and almond paste flavored with curacao liqueur, the Coussin has become a specialty of Lyon, the capital of gastronomy. Created fifty years ago by Voisin, a master chocolatier from Lyon, the Coussin is classified in the National Heritage of Confectionery.
The recipe is inspired from the Coussin de soie, a green silk cushion on which the Lyonnais made their offerings to the Vierge Marie on December 8.
Made entirely by hand in Lyon, the Coussins de Lyon take 4 days to make.
Pastilles de Vichy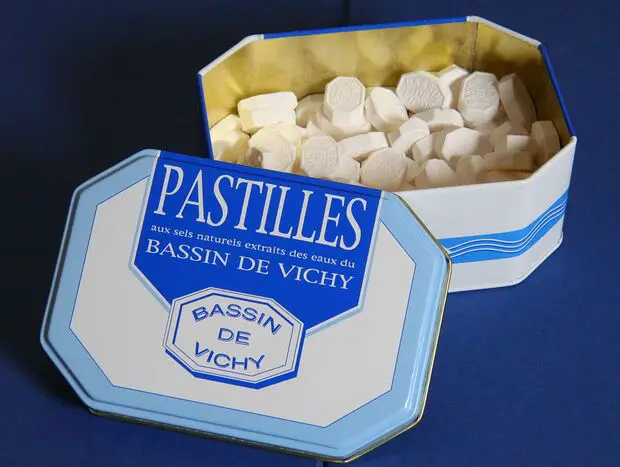 The Pastilles de Vichy are white candies with an octagonal shape and were originally a medicine. Made from the thermal waters of Vichy, they are now consumed for their digestive properties and their refreshing mint taste.
Created 200 years ago by the chemist Jean-Pierre-Joseph d'Arcet. They were sold in pharmacies for their digestive virtues due to the mineral salts of Vichy water and mint aromas.
Even if their recipe hasn't changed, today they are made without sugar, with lemon, mint and anise flavors.
Calisson d'Aix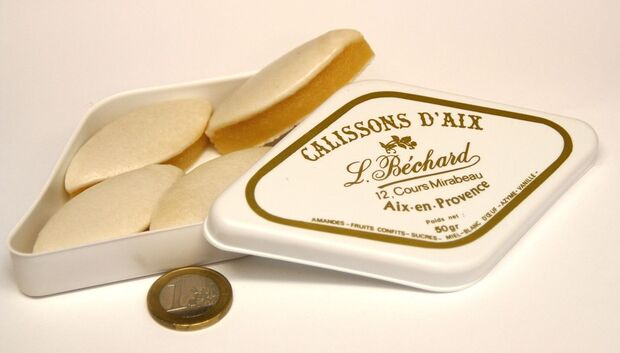 The Calisson d'Aix, a confection in the form of a shuttle, is a Provençal specialty. It's now a typical Christmas candy.
Historically, the Calissons were created in the 15th century, when the confectioner Roy René made these confections to impress the queen. In Provençal, calisson means "hug".
Created with a fine paste of candied melon and crushed almonds, the Calisson is coated with royal icing, and placed on unleavened bread. Handcrafted, with expensive products, its manufacture is long and its price is often expensive.
Bergamotes de Nancy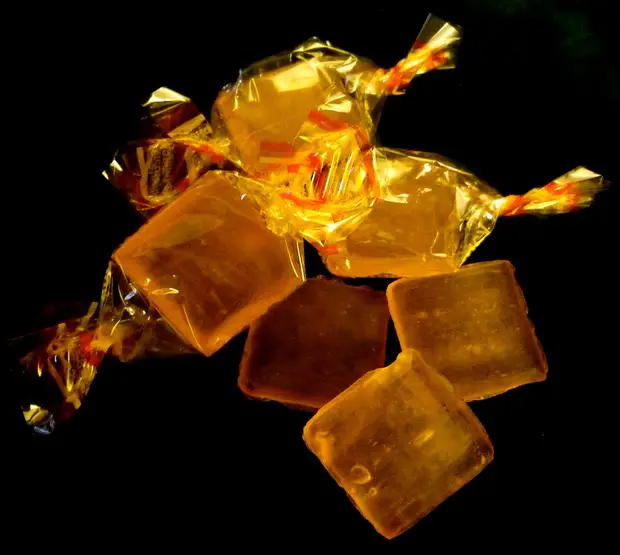 This flat and square candy is the culinary specialty of the city of Nancy. Made from bergamot essential oil, it has an orange and translucent color, and a tangy taste.
Bergamot citrus grows a lot in Lorraine. In the 18th century, a limonadier had a candy with bergamot extract in Lorraine, but the candy was already known in several regions.
This candy, made from baked sugar, is packaged in a colorful iron box. And it made an appearance in the movie "Amélie Poulain".
Violettes de Toulouse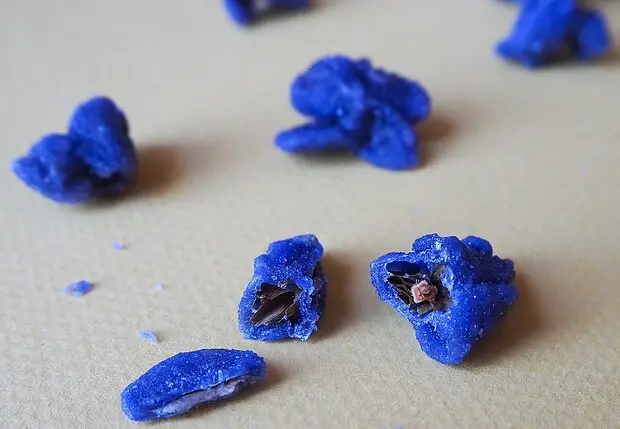 Blooming at the end of the year, this purple flower has been the emblem of Toulouse for 3 centuries.
Available in the form of a perfume or cookie flavor, it is best known for its confection. This culinary specialty of Toulouse is very delicate to make: the violet flowers are coated with sugar and then crystallized. They are generally made by hand.
But you still have to distinguish them from the purple violet flavored candy. These have a form of violet flower, they are made as traditional sweets and not as crystallized violet flowers.
Bêtises de Cambrai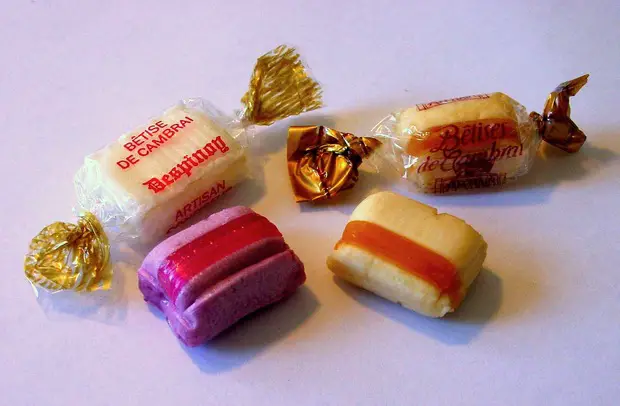 The Bêtise de Cambrai is a traditional confection from the city of Cambrai, in the North of France.
Made out of sugar, glucose syrup and mint extract, Afchain and Despinoy confectioneries fight for the title of creator of this candy.
Legend has it that the creation of the recipe is from a mistake made by the confectioner. Today, they are available in different flavors: apple, orange, lemon, praline, raspberry…
Berlingots de Carpentras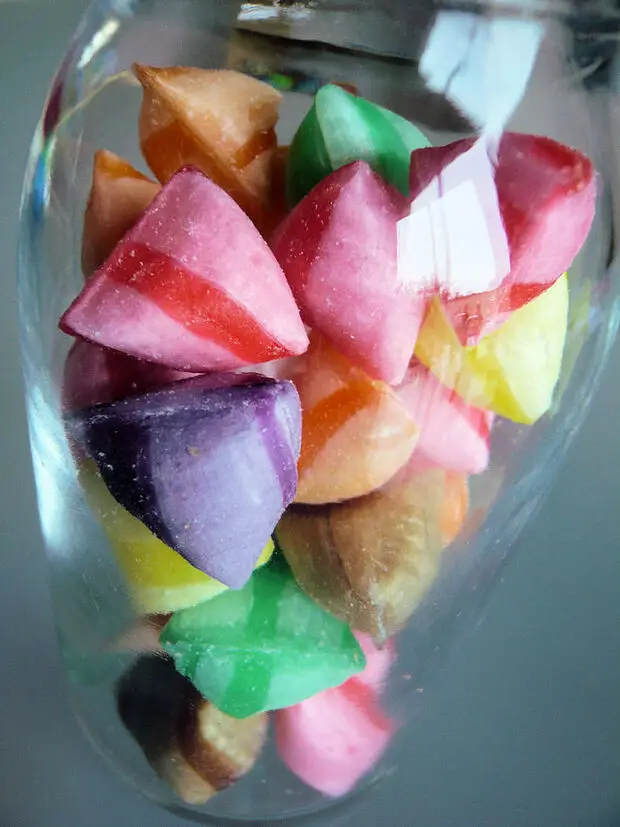 In Carpentras, in Provence, a famous confection was born: the berlingot of Carpentras. It has a pyramidal shape, bright colors and white stripes. At the time, the candy was sold as a medicine.
This candy is made out of candied fruit syrup, which gives it its solid texture. Their different colors indicate their flavors: red for mint, green for anise, yellow for lemon and orange for orange.
The white stripes are from the cooked and beaten sugar, added at the end. They are then cut using a machine called a "berlingotière" which gives them this shape.
La pastille du mineur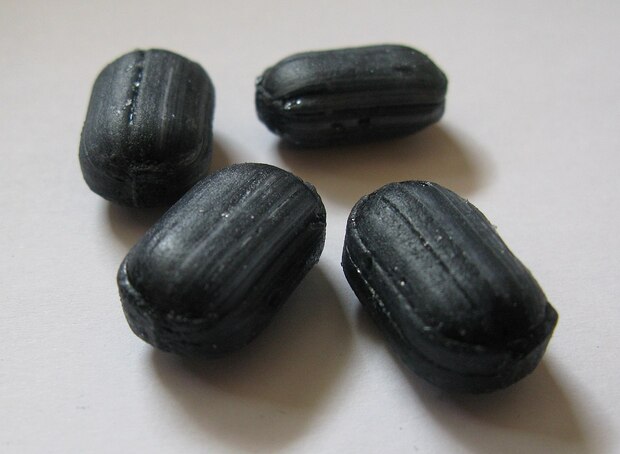 Invented in Tourcoing, in Nord-Pas-de-Calais, these black and hard candies were invented for miners.
There were many mines in that area, and the miners were deprived of smoking inside. Thus, with their black coal color, the pellets culled the desire to smoke for the miners.
In addition, they have many benefits: they are detoxifying, bring a feeling of freshness, release the bronchi and soothe digestive disorders.
Dragées de Verdun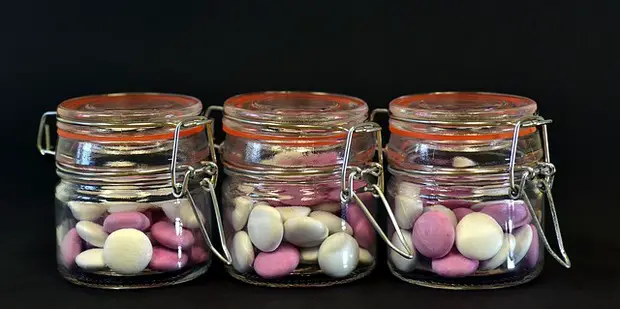 Known for its use in weddings, baptisms and communions, the Dragées de Verdun are the oldest confections in France.
Almond-shaped and often white or light pink, they are designed with a hard kernel of almond or other dry fruit. This dry fruit is then covered with sugar syrup in moving copper vats.
Initially, this candy was created for its digestive and curative virtues as well as fertility, which is why they are often thrown into the air during weddings.
Babeluttes de Lille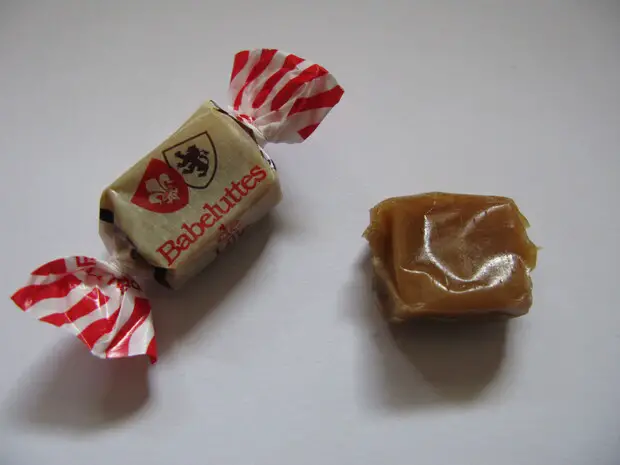 Originating in Lille, Babeluttes de Lille means "trinkets" in Flemish, and "talkative" in Ch'ti.
Because of its sticky and compact texture, the person who tastes it is no longer able to speak.
Made with caramel and flavored with honey or brown sugar, these Flemish specialties have a rectangular shape and a light brown caramel color. They are packed in an iron box featuring the Lion of Flanders.
Cachou Lajaunie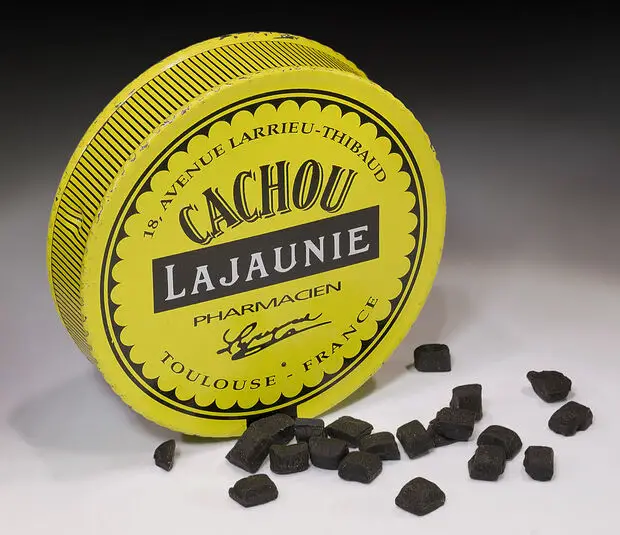 Originally from Toulouse, these small black square candies were created by the pharmacist Léon Lajaunie, they were created in 1880.
Made from licorice, they are called Cachou because they are partly composed of Cachou powder. They also exist in mint and vanilla flavors.
Marketed in a round and yellow metal box, it was created to be easily slipped into the pockets of clothing.
Known for its benefits, cachou powder is combined with licorice in this candy. It helps people with dry mouths, dentures in poor condition as well as gives a feeling of freshness.

I aim to share my tips and recommendations for the beautiful country of France. My goal is to help you plan your next adventure, whether it's a weekend getaway or a once-in-a-lifetime trip. From finding the best hotels and restaurants, to discovering unique activities and sights, I've got you covered!