Paris, along with a few other cities such as New York, London and Milan, being the capital of fashion, it is the perfect place to go shopping. Its many shopping centers, small boutiques and second-hand clothes stores fill the carts of all shopping addicts (to their accountants' great dismay…).
In order to make sure your shopping spree goes on without a hitch, we have put together a list of the very best shopping centers and, malls in and around Paris.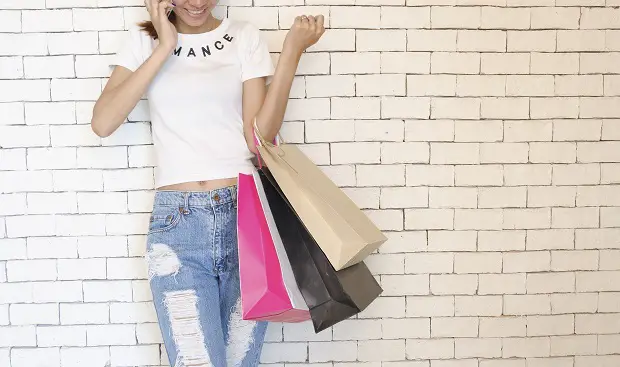 Summary :
Shopping Centers in Paris
Top class
40 boulevard Haussman, 75009 PARIS
(Métro 3, 10, 13 and 14 Station St. Lazare)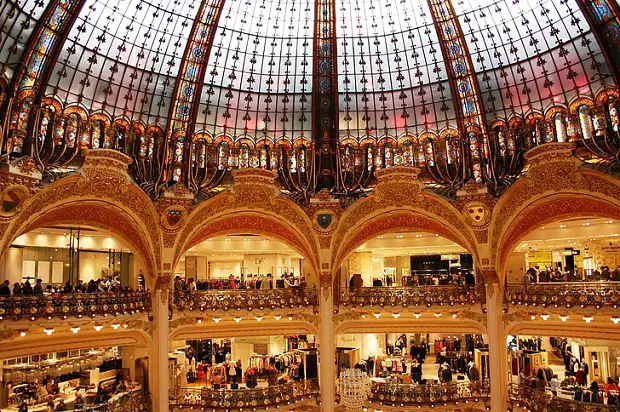 One of the world's most famous shopping centers is at a mere 300 meters from the Opera Garnier.
Can you guess which one it is?
I am obviously talking about the Galeries Lafayette on Boulevard Haussmann. This place is also known for its temporary sales and Christmas lights.
Thanks to the variety of shops as well as the different prices each will sell their wares for, anyone can shop over there.
A staggering number of 35.000 brands are all put together in this 70.000 m² Boutique. As such, the Gallery Lafayette provides everything, from the cheapest items to the most luxurious pieces. Fashion, jewelry, beauty products, gourmet foods and cultural events are all meshed up, bringing about a unique shopping experience. Not to mention there are 25 restaurants to choose from.
The best? The Ice Cube Bar (not to be mistaken with the Ice Kube Bar on 5 Passage Ruelle, 75018 Paris) offers an elusive view of the capital while enjoying tapas and a cup of Champagne, on the 7th floor, underneath the two glass domes.
Open from Monday to Saturday from 9:30AM to 8:30PM
And Sunday from 11:00AM to 7:00PM
Our input: The Galeries Lafayette is the shopping center you just have to visit, all the more so if you happen to be a tourist. There are many brand names as well as top-quality products. Even if you aren't planning to buy anything, it is enjoyable nonetheless to walk around and check out products from all over the world. Another positive aspect would be that no matter which restaurant you go to the quality of the cuisine will be top-notch and the view of the city will be superb.
24 rue de Sevres, 75007 PARIS
(Métro 10 and 12 Station Sèvres-Babylone)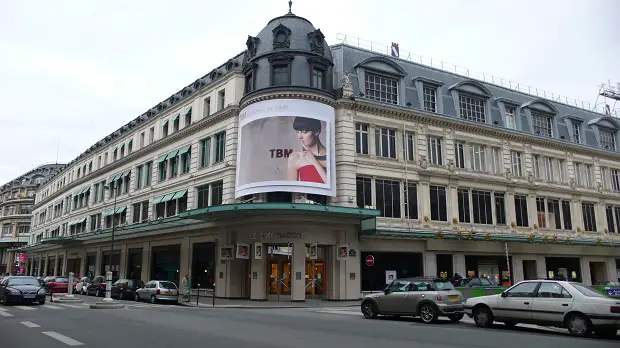 At no more than a 10-minute walk from the Luxembourg Garden and a 15-minute walk from the Tour Montparnasse is where you will find the famous boutique, Bon Marché.
Bon Marché was the first high-class department store in Paris and greatly contributed to the image of luxury that France currently enjoys.
Don't be fooled by the shop's name ("bon marché" meaning "cheap") which falsely implies that the store's wares would be affordable. But despite the prices, very few, if any, customers have left the store unsatisfied.
High-quality food can be obtained; be it wine, cheese or even the more than famous macarons nothing is missing. You can also get world-famous fashion designers such as Marc Jacobs, top-class cosmetics from brands such as By Terry or La Mer and even impressive jewels coming straight from the prestigious Maison Cartier.
Each year, thousands of tourists come to Paris with the sole purpose of buying articles from these prestigious brands.
Open every day from 10:00AM to 8:00PM
And also on Thursday and Friday from 10:00AM to 8:45PM
Our input: There are many brand name products that will plaster a smile on the wealthier people since, sadly enough (while perfectly logical), the better the quality, the more expensive the item. On the other hand, there are much fewer customers and it's much more enjoyable to walk around in Bon Marché than it is in most other department stores. The shows and temporary exhibits are mostly interesting. The best moment to shop there would be during the sales, in order to get cheap(ish) bargains.
12 rue Linois, 75015 PARIS
(Métro 6, Station Bir-Hakeim)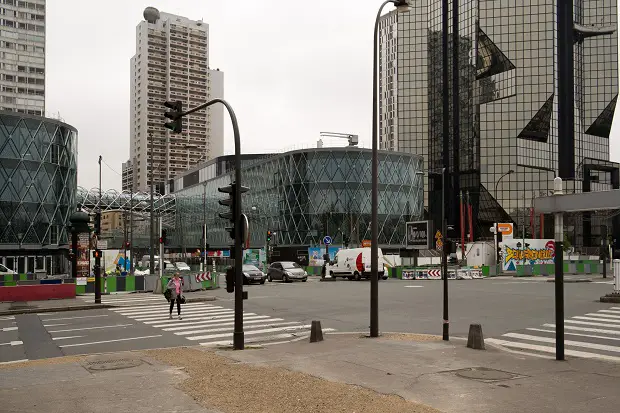 Beaugrenelle is the most eco-friendly of the department stores and has even received the High-Quality Environmental standard label.
It owes this honor to its glass structure allowing for light to enter the building and structure made of metallic grids causing a self-regulated thermic control.
Not only is it the prettiest department store, but it also reflects the beautiful structure of the Eiffel Tower (each being at a simple 25-minute walk from the other).
The Beaugrenelle building is separated into three distinct "islands" (basically, areas).
The first of these areas being the îlot Magnetic which mainly contains high-class fashion such as Aigle, Michael Kors, Zadig & Voltaire, Celio or Hollister as well as top brands such as H&M, Celio or Zara. Finally, there are luxury cosmetic shops such as Agatha and Guerlain. Basically, it's the Holy Land for fashionistas.
The îlot Panoramic hosts 14 restaurants, a Marks & Spencer and 5 floors all of which provide extremely British clothes, decorations and food.
The îlot City, at street level, provides basic services such as a post office or a CIC bank office.
Not only does the Pathé movie theater show a great number of movies in its 10 cinematic theaters, but it also presents many prereleases, operas, concerts and ballets.
Open from Monday to Saturday from 10:00AM to 8:30PM
And on Sunday from 11:00AM to 7:00PM
Our input: Another high-class boutique gathering, though the presence of a few relatively cheap shops is appreciated. The same goes for some harder-to-find shops such as Uniqlo. Not only is it spacious, cozy, stylish and comfortable, but there aren't many people, even during the sales period. A couple of other good things about it would be the fact that it opens on Sundays and the view through the entirely windowed building is rather enjoyable.
64 Boulevard Haussmann, 75009 Paris
(RER A – Station Auber; Métro 3 et 9 – Station Auber)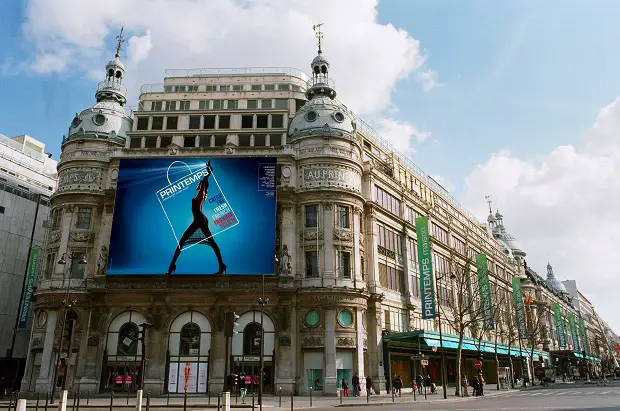 Located near the Opéra Garnier, in the very heart of Paris, Printemps Haussmann is one of the most important luxury department stores in Paris. Its outer walls and rooftops (minus the recent additions) are classified as historical monuments.
Most famous clothes and cosmetics brands are available. All of which are separated by categories in all three of the store's three buildings, each rising up 9 floors. Brands such as Dolce & Gabana and Karen are at your disposal at Printemps de la Mode, at Printemps Beauté, Vogue and Laura Mercier (among others)are free to purchase, and finally, Printemps Homme is where you'll find brands such as Armani and Levi's.
On occasion, depending on the period, events and professionals such as hairdressers or tastings -depending on who the honored guests are- can also be scheduled.
As for food, be it a meal at the Brasserie Printemps, macaroons from Ladurée -all in its Napoleonian style- a coffee at Café Pouchkine –the Russian restaurant to go to- or eating on the patio of Printemps Deli-cieux, everything has to be tried out.
Finally, if you come during the winter period, beautiful window displays are there to be admired.
The Best? The Personal Shoppers at your disposition.
Open from Monday to Saturday from 9:35am to 8:00pm (except Thursday: 8:45pm).
Our input: One of Paris' most beautiful department stores. It was literally created for luxury products. A perfect place to walk around or buy a few hidden gems. The greatest strength of the store might very well be the breathtaking view the terrace and its restaurants have to offer.
99 Rue de Rivoli, 75001 Paris
(Métro 1 et 7 – Station Palais Royal – Musée du Louvre)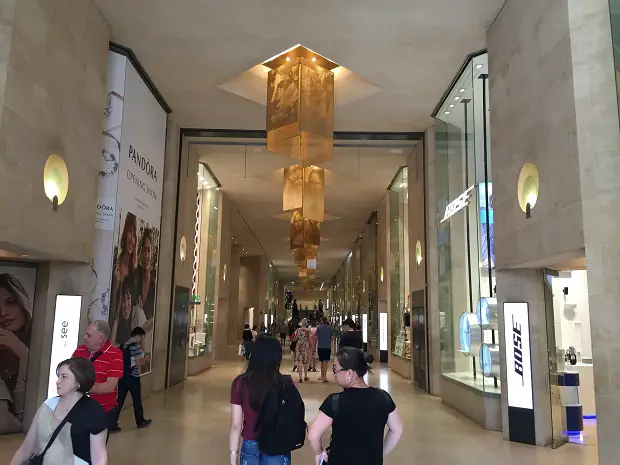 The Carrousel du Louvre is located beneath the Jardin du Carrousel, right next to the Comédie-Française and the Orsay and Louvre museums.
Not only is it a shopping district, but there is also a food court and a cultural area.
The shopping center has many different types of stores such as fashion and accessory shops like Lacoste, cosmetic shops such as Bicki, Pandora and Les Minéraux, health product providers like Omey, multimedia stores like Apple, decoration providers like YellowKorner as well as a supermarket and the Pierre Marcolini chocolate shop.
As for the food court, many options are viable such as McDonald's and Starbucks if you want fast food; and Meltem, Mira, Salam, Soï and Tazio (respectively Mediterranean, Spanish, Moroccan, asian, and Italian cuisines).
Art is also a major aspect of the Carrousel. Not only is it attached to the Louvre museum but many expositions take place in its convention center; there's even an archeological area showing off Paris' walls.
Open from Monday to Sunday from 10am to 8pm.
Our input: This shopping center is practically a beautiful subterranean town which holds many luxury and modern shops. (Cheap) replicas of the Louvre's famous pieces are for sale; the food is adapted to everyone since all kinds of cuisines are available. Its greatest strengths should be its convention center and the direct access to the Louvre. Its greatest fault, on the other hand, would most likely be the crowd, which is mainly due to its proximity to the Louvre museum.
Mid-range Shopping
101 Porte Berger, 75001 PARIS
(Métro 1, 4, 7, 11, 14 & RER A, B, D Station Châtelet / Les Halles)
In the very center of Paris, right next to the Louvre -the world's most famous museum- is where you can find the Forum des Halles.
Everyone, be they locals or tourists, loves its brand new undulated Canopy (despite it taking 5 years to build).
The reason is simple: Lots of Brand name shops such as H&M, Jules Naf Naf and Super Dry as well as many cosmetic shops like Sephora, The Body Shop and Marionnaud.
Some shops, such as Rituals which enjoys quite a reputation in other countries, (a cosmetics shop) can only be found here! A couple of personal shoppers also sell it in department stores such as Galeries Lafayette and BHV.
Some shops are specialized in leather goods such as Lollipops and 1, 2, 3.
Others sell top-class famous shoes such as André, Eram, and Minelli. Quite a few jewelry shops are also at your disposal such as Agatha or Histoire d'Or.
In this mish-mash of shops which sell a variety of different products for (quite obviously) very different prices, all classes of wealth are accounted for.
Open from Monday to Saturday from 10:00AM to 8:00PM
And on Sunday from 11:00AM to 7:00PM
Our input: There are a whole lot of different shops. Basically, everything is there. As it is underground, you don't need to worry about rain when shopping. It's location in the middle of Paris makes it a quite popular shopping mall.
30 Avenue d'Italie, 75013 Paris
(Métro 5, 6 et 7 – Station Place d'Italie)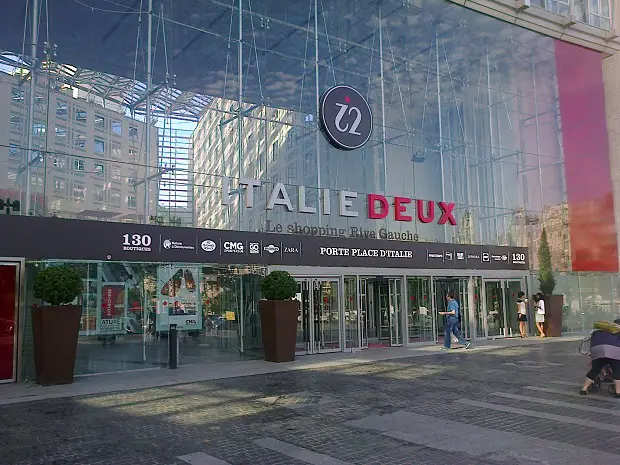 Italie 2 is located in the 13th district and hosts roughly 130 shops.
There are jewelry stores, fashion stores, footwear stores, decoration providers, cosmetic boutiques, multimedia stores, culture shops as well as toys and gift shops; but more importantly, the Carrefour Market supermarket is there.
Concerning the other shop:
Among the jewelry shops, shops such as Agatha, Guérin Joaillerie are present.
The footwear stores include Adidas, André, Eram and Minelli.
Fashion shops such as 1, 2, 3, Armand Thierry, Camaïeu, and Promod will offer a wide range of both clothes and prices.
Fashion shops such as Marionnaud, Sephora or Yves Rocher will welcome you with open arms.
And restaurants like Hippopotamus, La Croissanterie, Paul as well as Subway and McDonald's will fill you up for a reasonable price.
Open from Monday to Saturday from 10am to 8pm (except on Thursday: closes at 9pm).
Our input: Every kind of shop can be found there, be they expensive or cheap stores. It is made to satisfy every need, be it food, clothes, daily products or anything else.
Shopping Centers Near Paris
2 Parvis de la Défense 92092 Paris – La Défense / Puteaux
(Métro 1 & RER A Station La Défense / La Défense Grande Arche)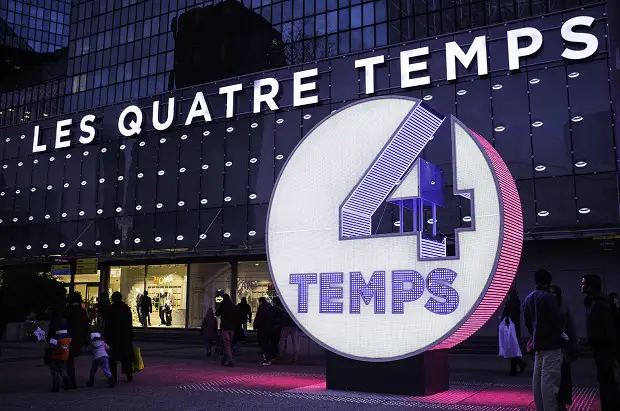 Located at La Defense, 6 km away from the Arc de Triomphe, this neighborhood is famous for being the most important business district in Europe. Therefore, there are many head offices as well as high-class hotels which will host foreign businessmen.
The gigantic arch, skyscrapers, and view of Paris are what make the area so charming.
Two shopping centers, at a mere 400 meters from each other, both facing the Grande Arche, are separated by the La Défense forecourt.
With its 240 shops including everything from clothes to decoration and beauty shops, the 4 Temps is the biggest shopping center in Europe.
There are many famous clothes stores such as Mango, H&M, C&A, Bonobo and Esprit.
With all kinds of foodstuffs, the mall's food court is impressive. McDonald's, Burger King, KFC, Hippopotamus and Matsuri as well as many smaller sandwich shops will satisfy anyone craving for a quick meal.
Just as is the case with Rituals in the Forum des Halles, the only place you can find the American makeup brand NYX, is in the 4 Temps.
CNIT, the other shopping center contains "only" 50 shops of all kind, among which are Fnac Monoprix and Habitat.
Both open from Monday to Saturday from 10:00AM to 8:00PM
And on Sunday from 11:00AM to 7:00PM
Our input: The 4 Temps is not only ideally located in the La Défense business district and easily accessible through both metros and RERs, but it's spacious and bright as well. There are many shops which will satisfy anyone, whatever their budget as well as some fast-foods. Occasionally, events will be organized which will spice up the atmosphere even more.
31 Rue d'Alsace, 92300 Levallois-Perret
(Métro 3 – Station Louise Michel, Train L – Gare de Clichy Levallois)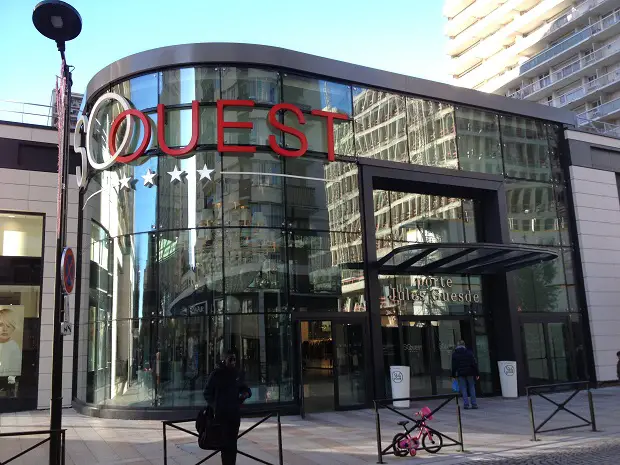 This shopping center is at Levallois-Perret, close to Clichy-la-Garene and the Porte d'Asnières (Paris' 17th district). Since it was built in a habited area, it was decorated in a Louis XV fashion design and was built with sustained development in mind. Furthermore, television screens and smell dispensers have been placed pretty much everywhere in order to create a different atmosphere depending on your own location.
This shopping center hosts two supermarkets. A bigger one underground and a smaller one above ground.
There are all kinds of shops; decoration, fashion, cosmetics, games, multimedia as well as a movie theater.
As such, shops like Zaz, Mango, H&M, Camaïeu, Sephora, Marrionaud, Micromania and Nature et Découvertes will obviously be present.
A food court is also at your disposition with restaurants like Fratellini Caffe, McDonald's, Prêt à Manger, Bagelstein and HD Diner
Open from Monday to Saturday from 10am to 8:30pm.
Open on Sunday from 11am to 7pm.
Our input: So Ouest is an esthetically pleasing and well-lit shopping center which provides services for all budgets. There are cheap shops such as H&M, La Chaise Longue as well as more expensive shops like Sud Express and the Tops. Since there are fewer people shopping in it, there's less hustle and bustle. Its greatest strengths are surely the screens and smell dispensers
30th Buissons Street, 95700 Roissy-en-France 
(RER B : Roissypôle / Parc des Expositions & Bus : 39/349 Stop Aéroville)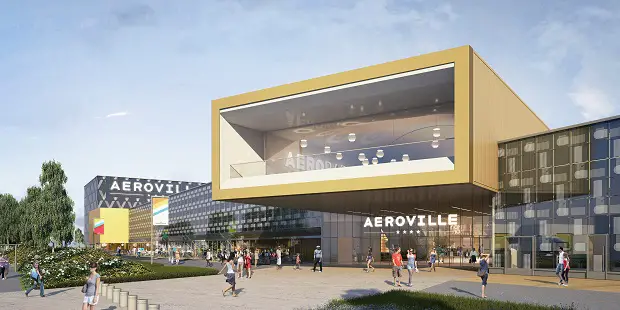 At a simple 10 minutes from it, the Aéroville shopping center is right next to the Roissy-Charles-de-Gaulle airport.
Tourists, businessmen and people living in the closer towns all shop there on a daily basis.
This shopping center is famous for its smell diffusers and calm music, providing a calm atmosphere, not unlike a natural ambiance.
The shopping center was created to satisfy any and everyone's greatest desires. Europacor movie theaters, many restaurants, an Auchan supermarket, a sports center and the usual clothes, decoration, cosmetics, games, leather and jewelry shops are obviously all present.
Furthermore, events are organized on a monthly basis. Not only is there a children's playground, but the shopping center will also organize activities to entertain them while their parents do their shopping.
There are also DIY decoration activities, and cooking classes with starred chefs such as Cyril Lignac, Norbert Tarayre and Ruben Sarfati from the Top Chef cooking show.
During these free lessons, you will learn how to cook with these famous chefs in an enjoyable atmosphere before your meal.
The best? A shopping coach is at your disposal.Open every day from 10:00AM to 8:00PM
Our input: It's spacious, well designed and well decorated, as well as full of nice shops. It's very useful if you need to be at the Charles-de-Gaulle airport. There are multiple restaurants for a quick meal and famous -not too expensive- shops at your disposal
Outlets Near Paris
Outlets, also call "factory outlets" or "stocks," are shops which sell items of a previous season for cheaper prices. They are perfect for anyone with a small budget or a tight grip on their wallet.
3 cour de la Garonne, 77700 SERRIS
La Vallée Village is the number one outlet for brand-name items.
At no more than a 35 minute trip from Paris and a 5 minute trip from the Disneyland Paris theme park, this shop, in its small open-air chalets, will have you explore its small picturesque town.
At a 2-minute walking distance from Val d'Europe, a relatively common shopping center, all your desires can be fulfilled.
With 120 high-class fashion or leather shops such as Jimmy Choo, Balmain, Guess, Michael Kors and Lancel, there is no better place to get cheap bargains.
The prices of the items for sale can go down from a 30% sale to a 70% sale, during private sales.
What to do when you don't have a car: For a mere 25€ per person, you can ride the "Shopping express bus" from the Place des Pyramides (next to the Louvre Museum) at 9:30 am or 1:00 pm. The return trips are at 4:00 pm and 6:45 pm. Whether you will only stay a few hours or all day, is a choice only you can make.
Book your Express bus from Paris to Vallée Village
Open every day from 10:00AM to 7:00PM including Sundays.
Extension on Saturday from 10:00AM to 8:00PM.
The best? Lots of shops with quality items at cheap prices
Our input: Nice village with cute little houses
Avenue de la Plaine de France, 95500 Gonesse
(RER B Station Parc des Expositions Villepinte et Bus 640, stop Centre Commercial)
At 45 minutes from Paris, Usine Center is the suburban central outlet. Many high-quality brands such as Nike, Leonidas, Valege and even Levi's jeans are at your disposal.
The 100 shops which include, clothes, shoes, leather goods, chocolatiers and restaurants are all at incredibly cheap prices. The down prices go from -40% to -80%.
The best: During the sales periods (January and July), these incredibly cheap items become even cheaper.
Open from Monday to Friday from 10:00AM to 7:00PM
And weekend from 10:00AM to 8:00PM
Our input: Lots of shops at really low prices. Few people during the week. A few unexpected shops where you can make nice deals.
1 rue du Président Kennedy, 78340 Les Clayes Sous Bois
(Bus 44 et 50 arrêt Vallée des Entrepreneurs
Bus 20 arrêt Gare routière des Clayes
Transilien N, Station Villepreux les Clayes)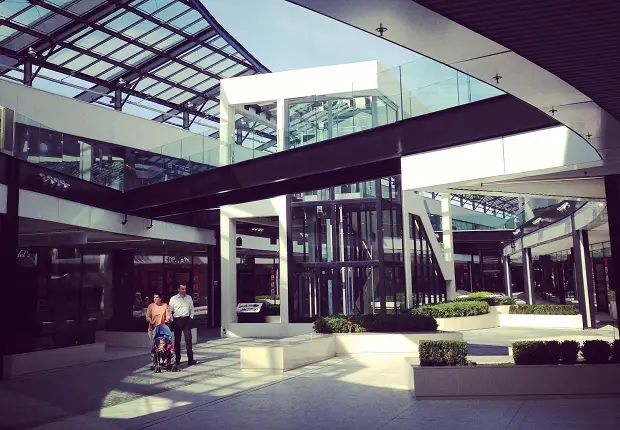 At 30 minutes from Paris and 10 minutes from the Château de Versailles, One Nation is the perfect place to do some high-class shopping at low-class prices. You can even combine culture and shopping on the same day!
400 top brands at cheap prices going from -30% to -70%, private sales and pre-releases.
Many prestigious and high-end brands such as Armani, Gant, Diesel and Cacharel will provide you whatever you desire (at cheap prices).
Hugo Boss dresses at 140€ instead of 700€, Rebook sneakers for less than half-price, Guess watches for under 200€… you name it.
Shopping is known to whet your appetite… So how about eating a good Italian meal at La Fraschetteria, a coffee at Starbucks, a homemade meal at the Monument Café or burgers from Maison Foude.
And if you want a small gift for your friends and family, how about chocolates from Godiva and Lindt or tea from Kusmi Tea
Open from Sunday to Friday from 11:00AM to 8:00PM
And on Saturday from 10:00AM to 8:00PM
Our input: Lots of prestigious brands at cheap prices -especially during the sales period. On the other hand, this is an open mall, so it can be cold and humid in winter as well as hot and muggy in summer.

I aim to share my tips and recommendations for the beautiful country of France. My goal is to help you plan your next adventure, whether it's a weekend getaway or a once-in-a-lifetime trip. From finding the best hotels and restaurants, to discovering unique activities and sights, I've got you covered!