In France, since fair trade (ethical and equitable) stores have been created, minds have changed and this kind of trade has significantly developed. For years, some specialized stores have been created in France to sell products coming from those trades. From 2006 to 2014, the turnover of labeled products sold by the whole of commercial players more than doubled.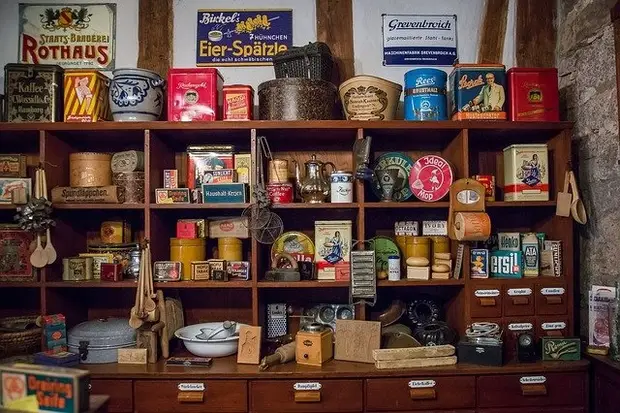 In order to more easily recognize the products from those trades, certification labels were created, such as Fairtrade Max Havelaar, Bio Equitable Organic Fair Trade or Fair for Life. The fundamental basis of each of them is the respect and the autonomy of the producers, to guarantee the rights of producers and workers, its commitment to making international trade evolve and the respect of the environment. So if you want to make a contribution to those actions and buy fair trade products, here for you is a list of some fair trade stores to go shopping in Paris.
Misericordia
The idea of creating the brand Misericordia saw the light in 2003 in the slums of Lima, Peru, from the imagination of Aurélyen, the designer. Every product is created in the brand's own factory in Lima, and every worker is treated with respect and his work is recognized.
The main materials used for the creation of the products Misericordia are the Pima cotton (one of the softest and most beautiful cottons in the world but it is also very smooth and resistant) and alpaca wool (known to be smooth, to be good heat insulation of quality and to be sustainable).
Here, the clothes are of quality, fair and contemporary. You will find prêt-à-porter for men (stitches, shirts, tracksuit jacket, coats and pants, etc.) and for women (dresses, skirts, coats, pants, etc.), but also fashion accessories (hats, scarves), and everything will be chic and authentic.
Where you can find it:
Misericordia: 9 Rue de Charonne, 75011 Paris
http://www.misionmisericordia.com/en/
Artisans du Monde
Following the Abbé Pierre's calling, the first shop Artisans du Monde (World's Craftsmen) opened in Paris in 1974. It is THE pioneer of fair trade in France.
The production of these products happens all around the world: in Africa, South America, Asia and Oceania, and points of sale are hold by benevolents. Artisans du Monde lays on values of solidarity and human rights.
Thus, food and craft products are bought at disadvantaged producers' organizations; they are helping classes that are often discriminated against and have trouble gaining access to a job, and this helps them have a better social insertion and participate, respecting the biodiversity.
You can find a very complete range of fair trade products: handmade products (decoration, culinary art, furniture, toys, candles, etc.), sugar and salt grocery (chocolates, teas, cookies, etc.), cosmetics (essential oils, etc.), jewelry and much more.
Where you can find them:
Artisans du Monde: 20 Rue de Rochechouart, 75009 Paris
Case Graine Artisans du Monde: 31 Rue Blomet, 75015 Paris
http://www.artisansdumonde.org/ (French version)
Altermundi
The first Altermundi shop opened in Paris in 2003, as Groupe SOS (a French organization specializing in social aid) wished.
At the beginning, it only proposed products from equitable trade but has since developed and today offers products from ethical trade.
The production of those products happens worldwide: in Africa, in South America, in Asia, in Oceania and in Europe, including France.
Altermundi defends the fundamental values of the respect of the human being and of environment. For example, it wants the producers to be paid with a fair wage and a long-term partnership with them, in order to allow those little craftsmen to durably improve their living conditions.
Moreover, it uses ecological materials: biological cotton, bamboo and other renewable materials. It proposes a wide range of products that will please everyone: decoration (wallpapers, candles, etc.), table accessories (tableware, cooking accessories, etc.), clothes and shoes (including Veja trainers) and other things.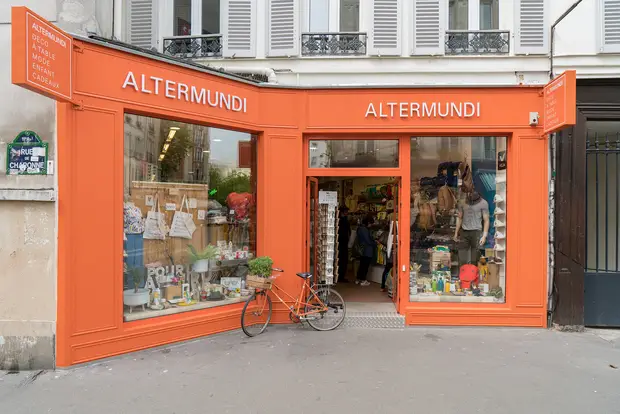 Where you can find them:
Altermundi Cirque d'hiver : 5 boulevard du Temple – 75003 Paris
Altermundi Mairie du 10e : 71 rue du Faubourg Saint-Martin – 75010 Paris
Altermundi Charonne : 39, rue de Charonne – 75011 Paris
Altermundi Ordener : 135 rue Ordener – 75018 Paris
Altermundi Rives de Seine : 140 voie Georges Pompidou, sous le 2 quai de la Mégisserie – 75001, Paris
Altermundi Rue des Martyrs: 17 rue des Martyrs – 75009 Paris
Altermundi Lévis: 8 rue de Lévis – 75017 Paris
Altermundi Commerce: 24 rue du Commerce – 75015 Paris
http://www.altermundi.com/fr/ (French version)
Twins for Peace
The project Twins for Peace was born in 2009, driven by twins and their childhood friend and whose main motivation was to help people in need. All shoes are produced fairly and handmade with quality materials coming from Europe.
The exclusive shoes are made in Cameroon and others in India. The strength of this brand is that for every pair of shoes that is bought, a new pair of trainers if given to a child so they can "live fully their childhood." Like this, it has offered shoes to children from Cameroon, Brazil, and Mozambique, among others.
The brand donates money to associations helping children and the development of education programs. In this way, you can buy women or men or children clothes, fashion accessories, backpacks or trainers.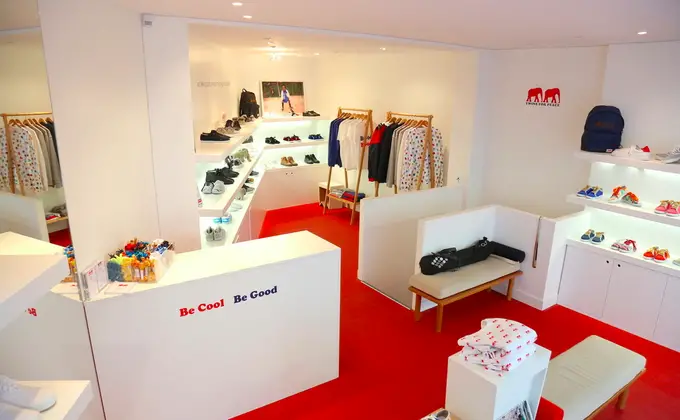 Where you can find them:
Twins for Peace: 5, rue Commines – 75003 Paris
You can also find the brand in other shopping centers like Le Bon Marché and Les Galeries Lafayette.
Oxfam France
Originally, Oxfam was created in 1942 in England to take action against starvation provoked by the English blockade against the Nazi occupation in Greece. Then it extended itself in many countries among which France since 1988. Oxfam campaigns for the access to health, financing the development, against climate change, for the right to food and protection of civilians among other things. All products that are sold in Oxfam shops are second-hand products given to the organisation. Volunteers offer them a second life because after they classify and index them, they refurbish the products before putting them on sale again. In these "bouquineries" (old book stores), you can find several kinds of products such as books, CDs, DVDs, clothes, accessories and decorative objects. With this refurbishing and a low price, culture and fashion are now available to everyone while making fair and solidarity action.
Where you can find them:
Bouquinerie St Ambroise: 8, rue Saint-Ambroise, 75011 Paris
Bouquinerie Daguerre: 61, rue Daguerre, 75014 Paris
https://www.oxfamfrance.org/ (French version)
 La CSAO
The CSAO (Senegal and Western Africa Company) saw its first store opening Paris in 1995. Its purpose is to distribute the work of Western African craftsmen and to introduce artists while building a lasting and fair relationship with them.
The products are all coming from Western Africa and are prepared and sent from Gorée, Senegal, and are all coming from exhibitions and fairs. All materials are coming from the villages where the products are confined: cotton, wood, recycled plastic …
It proposes a wide range of products that will please everyone: furniture (chest of drawers, chairs, stools, etc.), decorations (lamps, mobiles, etc.), toys, jewelry (bracelets, necklace, etc.), and other things.
Where you can find them:
La boutique CSAO: 9 rue Elzévir 75003 PARIS
La galerie CSAO: 9 bis rue Elzévir 75003 PARIS
http://www.csao.fr/ (French version)
Centre Commercial
It is not mistake; this shop is really called "Shopping Center." It was born from the idea of two childhood friends who also created the fair brand Veja, known to be a brand of trainers, ecological bags and accessories that are also coming from fair trade.
The "Centre Commercial" lays upon values of transparency about the method of production of the clothes, it wants to contribute to sustainable development, it is working with traditional craftsmen and it contributes to fair projects in partnership with humanitarian associations.
The shop will give you the choice between a wide range of clothes and fashion accessories for men, women and children.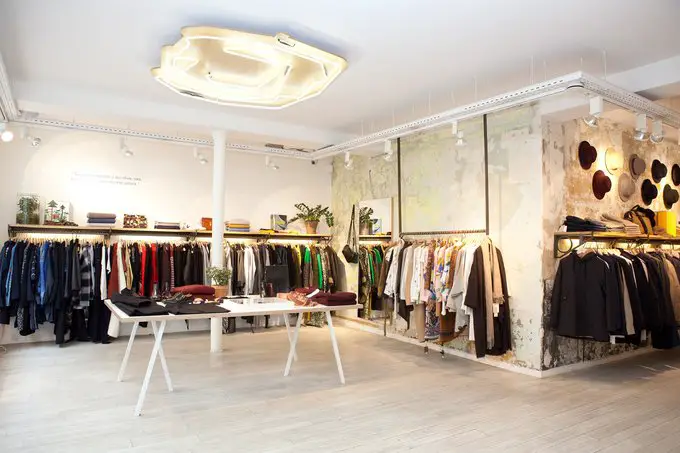 Where you can find them:
Centre Commercial: 2 rue de Marseille
Centre Commercial Kids: 22 rue Yves Toudic 75010 Paris
http://www.centrecommercial.cc/en/
Manifeste011
The Manifeste011 shop was created in 2017 by twin sisters, Judith and Maud Pouzin. They both believed and wanted to be of service of a world more respectful of the environment and life, so they created their own ethical vegan fashion store in the 11th arrondissement.
This store pays great attention to working conditions and works to have a production chain that is as transparent as possible without sacrificing the beauty and style of its collections.
With a preference for products made from natural materials such as linen, cotton, cork and organic hemp, the store offers a wide selection of clothes, accessories (bags, belts, jewelry…) and shoes all ethical, organic and vegan.
The online store is aimed at women and men and also offers a non-gendered and mixed offer.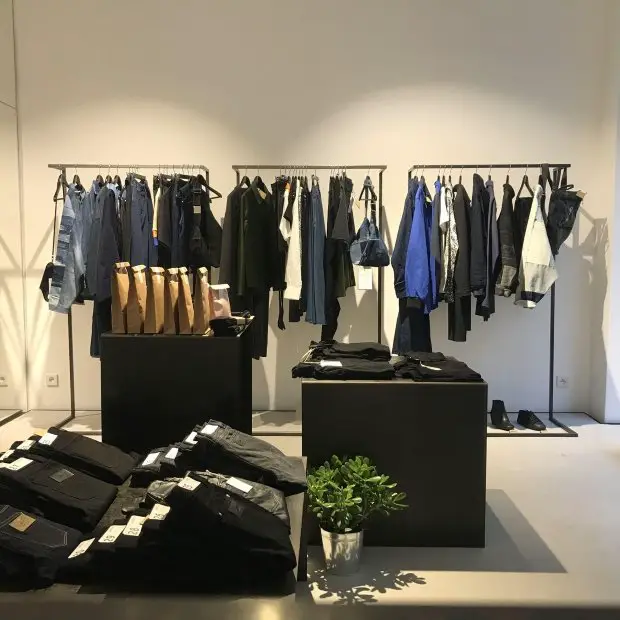 Where you can find it:
14, rue Jean Macé – 75011 Paris
https://www.manifeste011.com/ (website in French)
Rue Rangoli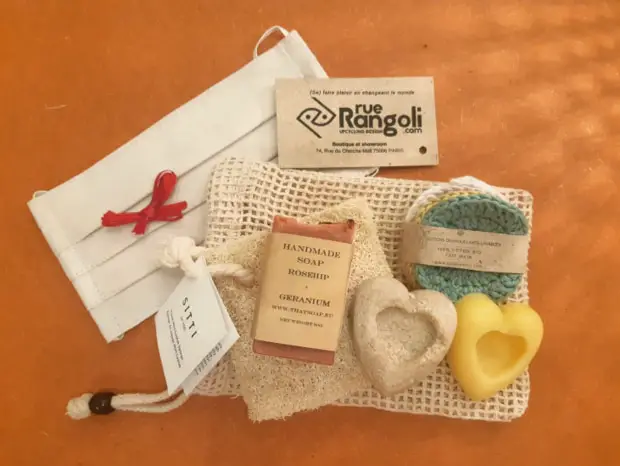 The main objective of the founder: "a fairer, more human and more respectful economy for the planet".
With this brand, Patricia LAVOCAT, originally from Pondicherry, has chosen to put her skills and know-how at the service of disadvantaged populations and fight every day to improve their living conditions.
Rue Rangoli is a design and solidarity upcycling company that operates in a circular economy: animals sculpted from flip-flops recovered from the oceans, jewelry made from ostrich eggs or coffee capsules, and zero-waste products such as solid soaps and shampoos and conditioners, bamboo straws, etc.
This brand offers you a new experience of ecological consumption which will make you an actor of change.
A 100% ecologically aware, 100% committed (as it trains people from disadvantaged backgrounds), 100% sustainable (as it helps these populations to move from a survival economy to a solid and circular economy).
Where you can find them : 
74 Rue du Cherche Midi 75006 PARIS
Ambrym
If you want to be fair and original, you are in the right place. The brand was born from the imagination of its creator Gabrielle Gerard.
This brand only wants to use biological and natural materials, respecting the environment but also human beings.
Among materials respectful of the environment, you will find biological cotton, merino wool, European flax, but it also salvages the end of stock of other big brands…
The brand keeps its creation only for women and perfectly mixes the exoticism of travelling (the brand was named after the Ambrym Island, in an archipelago of South Pacific) with an urban and contemporary personality.
Where you can find them:
Galerie-boutique AMBRYM: 22 – 24 rue des Vinaigriers – 75010 Paris
Boutique du musée du quai branly (sérigraphies Gabrielle Ambrym): 25/29 quai branly – 75007 Paris
The Body Shop
The first stores of this cosmetic brand launched in 1976 in England, then developed and finally opened in France in 1986. Since it has been created, the brand never stopped showing its fair values through its action, its manufacturing or even its foundation created in 1990.
Since then, it has been protecting human rights (increase of the revenue of women involved in the creation of products, but it is also campaigning against domestic violence, and others), animal rights (it is working notably in association with Green Peace) and the protection of the environment. It makes a point of selling natural products but also sustainable products.
In this way, you will see products prepared from chamomile, tea tree, shea, fruits and many more natural ingredients. You will find cosmetic products that will please every taste: body care (body butter, massage oil, etc.), facial care (face wash, mask, etc.), hair care, makeup and even perfume.
Where to find it:
Paris St Germain, 152 Boulevard Saint Germain
Paris Passage du Havre, 107 rue Saint Lazare
Paris Gare Montparnasse, 11 Boulevard De Vaugirard
Paris CC Italie 2, 30 Avenue D'Italie
https://www.thebodyshop.com/en-gb/
La Boutique Pédagogique
The first Boutique Pédagogique ("Educational Shop") opened its doors in Paris in November 2003 and the second in December 2004, at the instigation of Territoire et Emploi ("Territory and Employment"), an initiative association.
Thanks to those shops, it trains its workers to business professions, notably through initiative placements. Its basics are: professional training and integration. Furthermore, they raise awareness among their clients about Fair Trade and Social and Solidarity Economy.
The products that are sold come from different places like NGO of North-South development and of fair trade or even from craftsmen networks and gatherings. In those shops, you can find food products (grocery, chocolates, coffees, gluten-free products, etc.) but also products coming from crafts (jewelry, natural incense, bags, etc.).
Where you can find them:
Boutique Pédagogique: 6 rue du Tage, 75013 Paris
Boutique Pédagogique: 32 rue du Maroc, 75019 Paris
Sira Kura
Created in 1999, Sira Kura is a shop that is done with the principles of fair trade and proposes products from fair crafts: it bases its values on conversation, transparency and respect. It contributes to sustainable development.
The shop brings products from Western Africa. Moreover, it wants to mix top of the range with authenticity. Sira Kura uses diverse materials such as ebony wood, silver and plant ivory and also recycled materials.
In this shop, you will be able to find different kinds of articles: jewelry (earrings, headbands, necklaces, bracelets, etc.), made with silver, fabric, ebony or others.
Where you can find it:
Sira Kura: 81 rue de Fontenay à Vincennes 94300
You can also find the brand in the stores Artisans du Monde.
http://sira-kura.com/ (French version)
Un Eté en Automne
The brand saw the light on the principles of fair trade, that is to say, the respect of men, women, and the environment.
The products come from local crafts, and they are created on different continents, in countries like Morocco, Peru or India. The producers work on appropriate working conditions and have a fair salary.
The brand proposes a wide collection for women, urban and fair prêt-à-porter and leather goods. Moreover, if you are about to get married and if you want an original dress, the store offers to create your wedding dress.
Where you can find it:
Un Été en Automne: 33 rue Pascal 75013 Paris
Storie
The Storie shop places undue emphasis on the working conditions of the craftsmen, on their salary, on the impact of their work on their daily life and their families, on recycling and sustainable development.
Storie also pays attention to the product's origins: where they were made, by whom and how. Each item is handmade, which makes them even more authentic.
Here are the things you will be able to buy: decoration items, accessories, child's articles.
Where you can find them:
Storie Vill'Up: 30 avenue Corentin Cariou, 75010 – Paris
Storie Vavin: 20 rue Delambre, 75014 – Paris
http://www.storieshop.com/ (French version)
Du Beau avec du Sens
Just like every fair store, its preoccupations are human and environmental problems. It helped building schools and houses for street boys, it fights against child labor, for the improvement of access to health, and trains people for the protection of the environment.
The products that are proposed in this store come directly from Calcutta and New Delhi and are natural materials. The brand also uses products coming from salvage.
It also sells products from other networks but not less ethical: Atypik, Umaé, Ethos, etc. The strength of this shop? Its aisles are renewed every month, so it offers a wider choice. Finally, you will find all kinds of products: clothes, fashion accessories, decoration items, natural cosmetics.
Where you can find it:
Du Beau avec du Sens: 39 Rue de Charonne, 75011 Paris
https://www.altermundi.com/en/ (French version)
Mahatsara
Settled in values of fair trade, Mahatsara sells ethnic, fair and chic products and you can find African objects with a contemporary design. Those products are created by men and women developing ancestral and traditional skills from their country while improving their crafts.
You can find decorative objects like baskets spun with phone cable, felted wool ottomans, recycled plastic chandeliers, textile articles like turtles, monkeys or embroidered cushions but also jewelry and bags.
Where you can find it:
Mahatsara: 8 rue Oberkampf 75011 Paris

I aim to share my tips and recommendations for the beautiful country of France. My goal is to help you plan your next adventure, whether it's a weekend getaway or a once-in-a-lifetime trip. From finding the best hotels and restaurants, to discovering unique activities and sights, I've got you covered!