It is best to visit Paris when skies are blue to discover all the treasures scattered throughout the capital. Since the weather is a risk that we all know about, Parisians have plenty of ideas available to avoid letting an unfortunate shower get them down. Here are several options to turn these rainy days into happy and enriching experiences!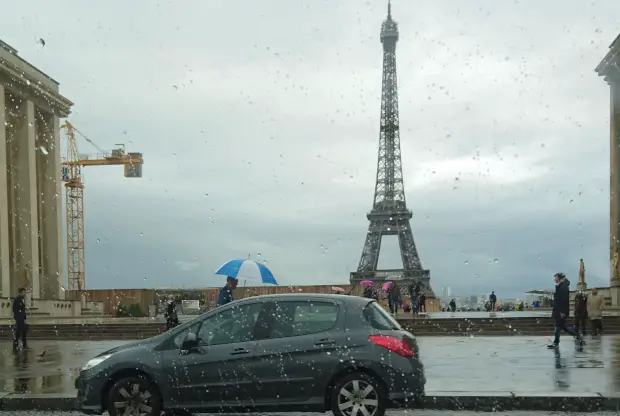 Visit the Quai Branly Museum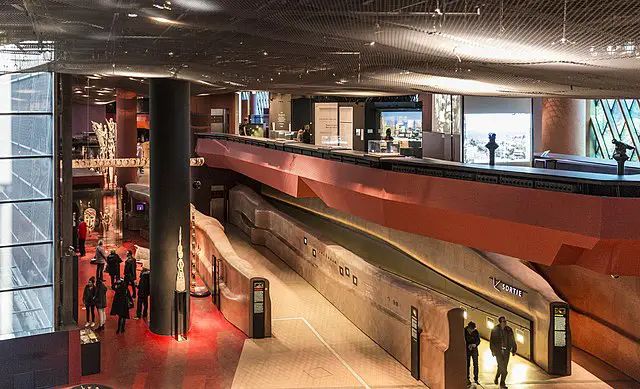 The idea that immediately comes to mind after seeing the first raindrops is to go see a temporary exhibit or the permanent collections in a museum.
However, the Louvre is swarmed, and as for the Grand Palais and the Musee d'Orsay, the lines to get in are getting longer and longer under the rain (unless you already have an express entry ticket).
So avoid the crowds and head to museums that you don't think of as much, but are worth the visit. We recommend, in this category, the Quai Branly Museum by the Eiffel Tower.
This modern museum is dedicated to art from Africa and Oceania.
It never ceases to spark the interest of the French as well as foreigners with its exhibits/events like Tattooers, tattooed or Beloved Hair.
Visit The Tropical Aquarium of Porte Dorée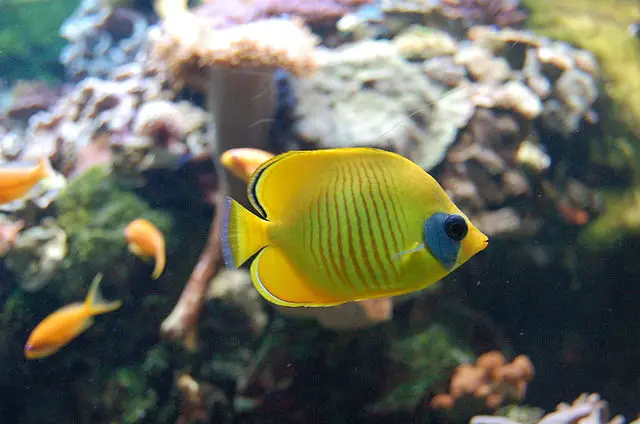 Did the Quai Branly Museum give you a taste for the exotic?
If so, you can continue your day with a visit to the tropical aquarium of Porte Dorée.
It is open from Tuesday to Sunday, and you can get there by Metro (line 8, Portée Dorée station), by bus (line 46), and by tram (line T3a).
Built in 1931, this aquarium puts on display and heightens awareness for flora and fauna from tropical waters.
There are 5000 species waiting for you, and among them, crocodiles.
Who said that rainy days in Paris are boring?
Go check covered pathways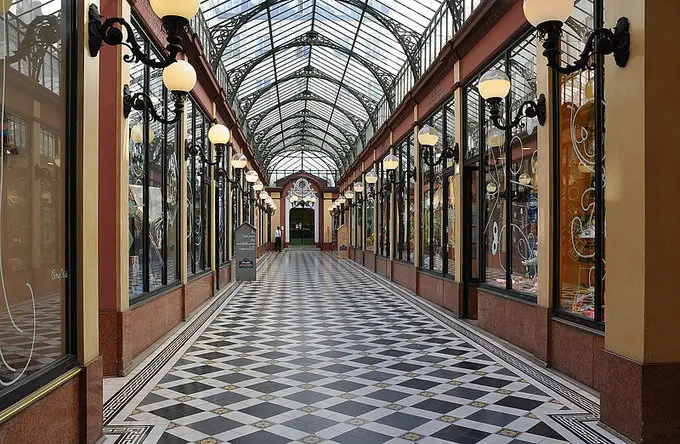 The covered pathways are just another part of Paris' characteristic architecture.
Built in the 19th century, these galleries are, still today, a stylish place to wait for a shower to end.
If you like art, artisanal creations, small shops, and antiques, you'll definitely find a souvenir to bring back from your stay in Paris.
The oldest is the Passage des Panoramas at 11 Boulevard Montmartre (Metro stop Bourse on line 3 or Grands Boulevards on lines 8 and 9).
➡️ On this topic:  The Top 7 of the Most Beautiful Parisian Covered Pathways
Go To a Tea Salon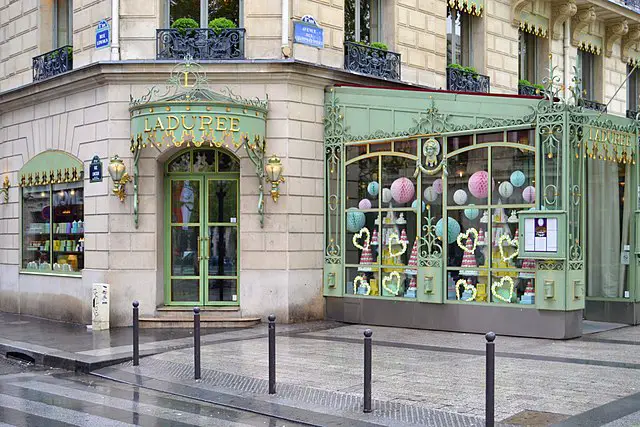 To warm yourself back up, you can obviously go have a coffee in a Parisian bistro (click to check my list of favorites).
But, if you want to immerse yourself in the décor of real institutions in the world of tea salons, we can only recommend going to Ladurée on the Champs Elysées.
Address : 75 Av. des Champs-Élysées, metro George V (line 1).
Exquisite pastries and the house special, the macaron, go marvelously well with some tea.
Are you a chocolate enthusiast?
The 100-year-old shop, Angelina, is made for you.
Address : 226 rue Rivoli, metro Concorde (lines 1, 8, 12).
Like Coco Chanel, treat yourself to the famous old-style hot chocolate, a subtle mix of three kinds of African cacao. There you'll also find elaborate pastries like the Mont-Blanc, which, along with their hot chocolate, contributed to the shop's fame.
Once you've been won over by the shop's delicacies and charming décor, you can go around the shop and leave with a package of delicious cookies or even a small bottle of hot chocolate.
Visit The Greenhouses of Jardin des Plantes
In the 5th arrondissement, you can also immerse yourself in a warm atmosphere while strolling through the greenhouses at Jardin des Plantes.
Travel step by step alongside plants that only grow in New Caledonia (and in these exceptional greenhouses) and go back in time to understand our flora's evolution.
Visit Churches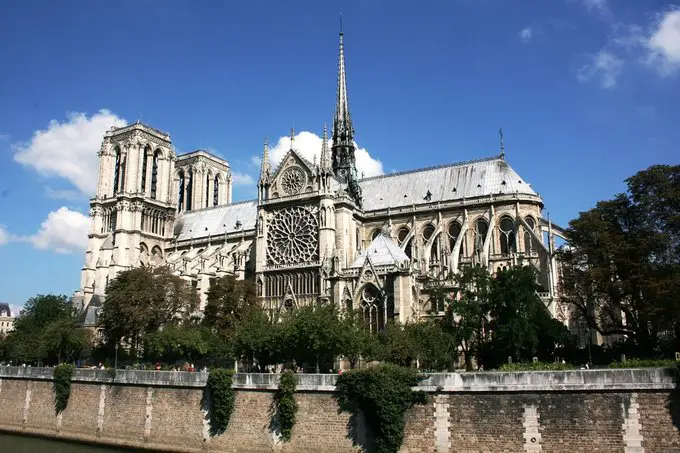 Update February 19, 2020: Due to it being rebuilt, the Notre-Dame Cathedral is currently closed to the public. You can still walk up to -and around- it in order to enjoy its resplendent architecture which still qualifies it as one of Paris' iconic monuments.
Churches are architectural marvels, both on the inside and outside.
The rain is a good occasion to revisit these structures and, in the stillness, check out their windows and architecture.
Once you've visited the Notre Dame Cathedral, there is an underground activity right by you.
In fact, you can head to the Crypt of Parvis Notre-Dame to learn more about the neighborhood's architecture thanks to results from excavations that were completed before the cathedral's renovation in the 1980s.
Go To the Palais de la Découverte's Planetarium
Gray skies aren't the end of the world if you go to the Palais de la Découverte's Planetarium.
Above your heads stands a dome 15 meters in diameter that immerses you in a starry sky.
Adults and children alike will be delighted by this activity that makes us dream beyond ourselves, and allows us to better understand the solar system.
Watch a Session of Paris Story
If you'd rather visit the big department stores of Boulevard Haussmann, you are right by a place that can teach you a lot about Paris.
Located between the Lindt and Nespresso shops is Paris Story. A one-hour film goes through the history of Paris, as well as several additional stories.
It is shown every day with the first showing at 10 am and the last at 6 pm.
Visiting the Aquarium de Paris at the Trocadéro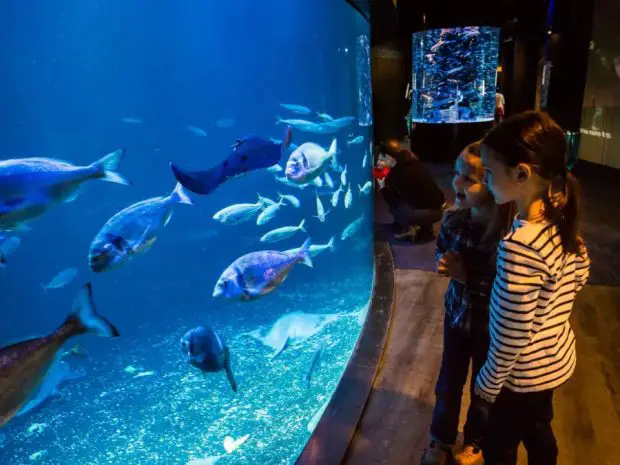 When the rain is pouring outside, is there anything better than going to an aquarium to dive into the world of the fishes and other sea creatures?
Jellyfishes, sharks, corals…the Aquarium of Paris offers to show you what lives in the ocean.
Don't let the rain stop you, and, who knows, maybe you'll be able to witness the fish being fed on Mondays, Wednesdays and Fridays.
Information and booking (in French)
Go Shopping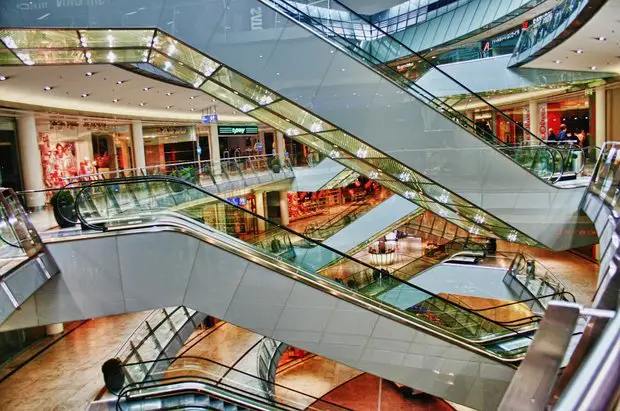 Obviously, when it is raining, shopping is a popular choice.
The Parisian department stores being a must during your visit, we can recommend going to Le Bon Marché.
Missed by many tourists, Le Bon Marché is one of the oldest stores of its kind. It is mostly visited by Parisians and the atmosphere is a little different.
There you'll find up-and-coming creators and exclusive cosmetic brands.
Taking the bridge from there, you'll reach La Grande Epicerie, another building dedicated to gastronomy.
This specialty store brings together the best of what France has to offer and more.
You can even dine in and try some shellfish or cheese.
Go Enjoy a Swimming Pool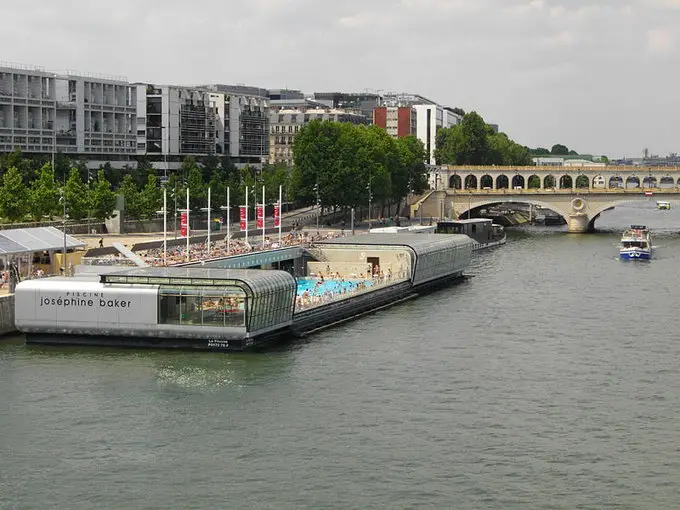 Would you rather sing in the shower rather than in the rain? The beautiful Parisian pools can also be a nice place to work out until the rain stops.
The Pool at Butte-aux-Cailles being listed as a historical monument, you'll probably end up swimming on your back so you can admire its ceiling.
If you dream of going on a boat tour along the Seine, you'll definitely like the Josephine Baker Pool.
Placed right along the Seine, the glass sides give the impression that you are directly swimming on the water's current.
Get Immersed In an Escape Game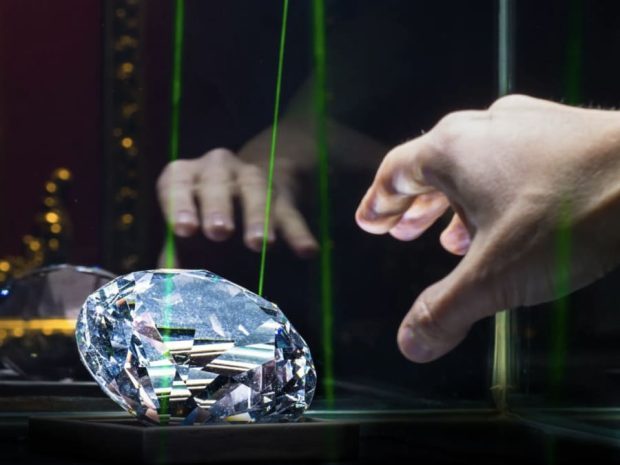 When it's raining outside, the temptation can be strong to lock yourself up in a warm and comfy room.
Escape games could very much take your word value.
Literally locked up in a room, you are now playing as a secret agent, a prisoner, an airline staff member or anything else.
Your goal? Escaping before your time is up. Bring with you friends and family to help solve this puzzle.
Paris has a large number of escape games scattered all around the city.
Check them out here.
Sit Down In a Café-Théâtre
"Café-théâtre" is a very French concept. With the first one created in 1966, in Paris, they offer the fun of a show associated with a full meal and/or a drink. "Café-théâtres", as opposed to cabarets, are often a lot cheaper and aren't held at a specified time.
From opening to closing time, various artists, magicians, singers, humorists come and go.
No matter what your preference is, going from the very classy Café Oscar (Facebook page in French), specialized in comedy, to the Double Fond, also known as the "café of magic", there will always be a "café-théatre" for you to enjoy.
Don't miss out on the renowned Chez Ma Cousine (website in French), in Montmartre, which celebrated its 80th anniversary in 2018.
Play With Kitties In a Neko Café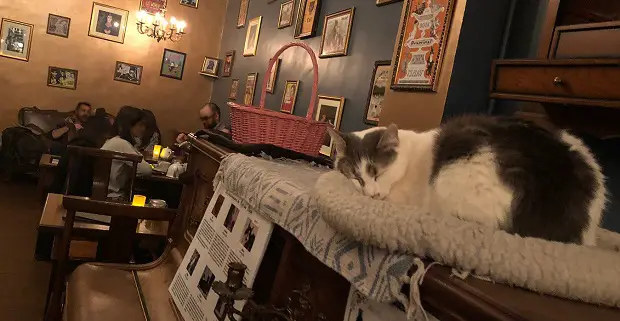 While humans don't like rain, they aren't the only ones.
Coming straight from Japan, neko cafés (from the Japanese "neko" that means "cat") will have you enjoy a snack surrounded by friendly felines.
The concept is getting more and more popular in Europe and Paris couldn't escape from it.
Come eat a tasty hamburger with a cat sleeping on your legs at Café des Chats (website in French).
Many breeds are also waiting for you at Chat Mallow (website in French).
Enjoy a Cinema Classic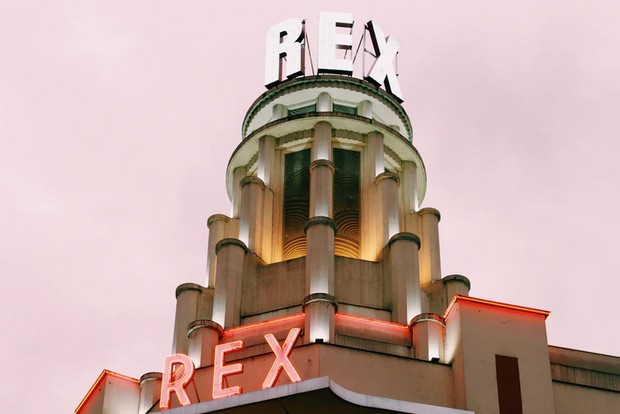 One of the major activities to come to mind when it's raining outside is probably the cinema.
Why not go watch a French or international cinema classic at the Filmothèque du Quartier Latin?
If you are more interested in the atmosphere than in the movie, Paris also has some of the most gorgeous screening rooms you have ever seen.
Le Louxor (website in French) and its Youssef Chahine room inspired from Ancient Egypt, the more retro Studio 28 (website in French) or the very notorious Grand Rex with its projection room which seems to be out of the Opéra Garnier will amaze you.
Go Ice Skating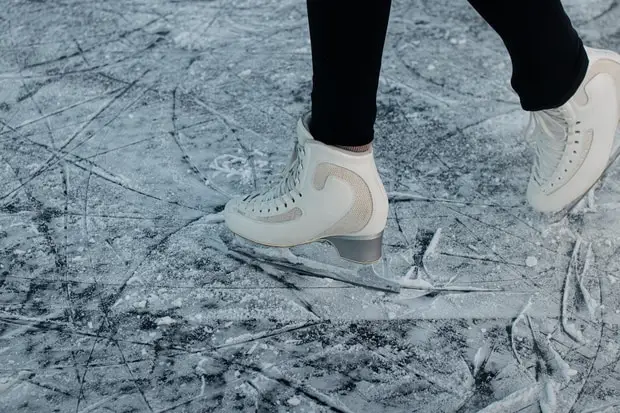 When winter comes, ice rinks seem to flourish like flowers, in Paris.
From December to January, it is impossible for you to miss the Patinoire du Grand Palais, the biggest temporary skating rink with its 3000m² of ice and stunning ceilings in the world.
For the rest of the year, you can head to the Patinoire Pailleron (website in French) in the 16th arrondissement.
Take Part In a Workshop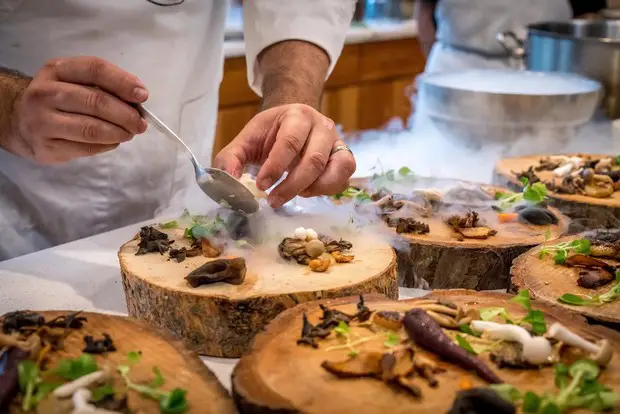 What if the bad weather was the occasion for you to learn something new?
Cooking or baking classes, knitting workshops or creation of bio cosmetics, Paris will never run out of things to teach you.
If there's one thing France is well-known for, it's its wines; why not try out wine tasting (website in French)? And if beer is more your thing, Ma Bière (website in French) will have you create and taste your own draft beer in a fun and friendly atmosphere.
L'Ecole de cuisine Ducasse (website in French) offers cooking workshops every day, for adults and parents/kids.
L'Atelier de Mona(website in French) will help you in your creation of custom luxury jewellery.
Visit the Musée des Arts Forains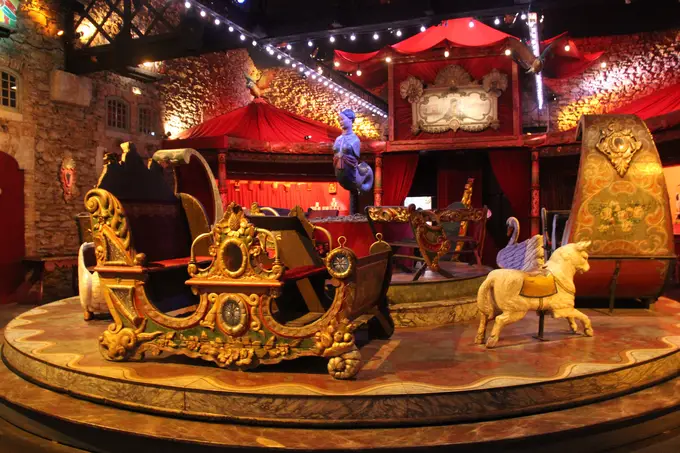 Paris and its thousands of museums.
We all know about the Louvre, the Musée d'Orsay and, now, even about the Musée du Quai Branly.
But have you ever heard about the less known Musée des Arts Forains (Fairground Arts Museum)?
Located inside the Pavillons de Bercy, the museum exhibits circus and funfairs' attractions dating from the 19th to the 20th century.
Unlike normal museums, the collection isn't locked up behind windows and you are more than welcome to touch and even try out some of the oldest attractions.
Take the Leap In a Skydiving Simulator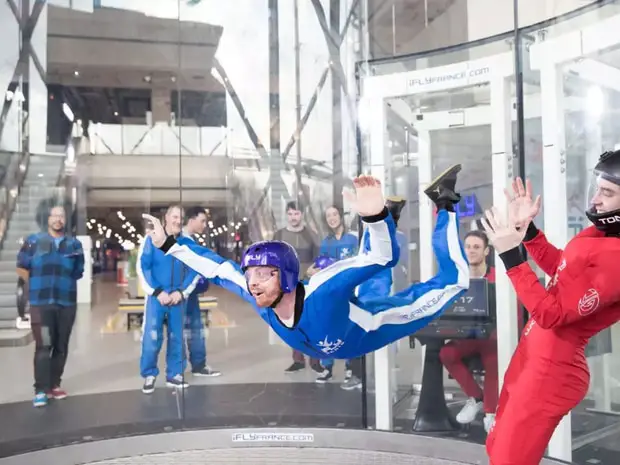 If the weather isn't good enough for a real parachute jump from a plane, why not try out the experience… on the ground!
Besides being a lot more affordable, economically speaking, skydiving simulators are open even for kids older than five.
All that is left for you to do is jump!
Information & Bookings (in French)
Fly Over Paris From the Ground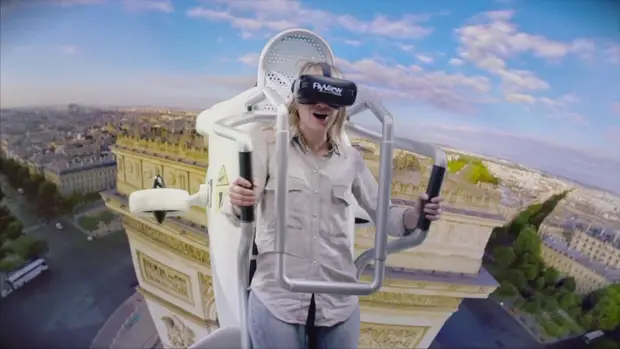 Skydiving is too much for you?
No worries!
FlyView Paris (in French) offers a more peaceful experience that will have you fly over Paris without even standing up from your chair.
Well-secured in a jet pack replica and virtual reality glasses on your eyes, extend your wings and take a brand new look on the French capital city.
But if the real problem isn't the weather but it's because it's Sunday and many places are closed, check our article on what to do in Paris on Sunday.

I aim to share my tips and recommendations for the beautiful country of France. My goal is to help you plan your next adventure, whether it's a weekend getaway or a once-in-a-lifetime trip. From finding the best hotels and restaurants, to discovering unique activities and sights, I've got you covered!