The time has come for geeks to get out of their cave! You think you can't leave your console or your computer to leave your passion? You've got it all wrong! What is a geek? First, you need to know that there's nothing pejorative about this term. A geek is originally a person that is passionate about the field of high technology. Over the years, the term geek extended to any area of imaginary culture. Computer science, science fiction, video games, but also literature and cinema. That's why more and more people grant themselves the qualifier of geek. So, we decided to concoct you a list of some activities to do in Paris for geeks!
1) Bars for geeks
Meltdown Paris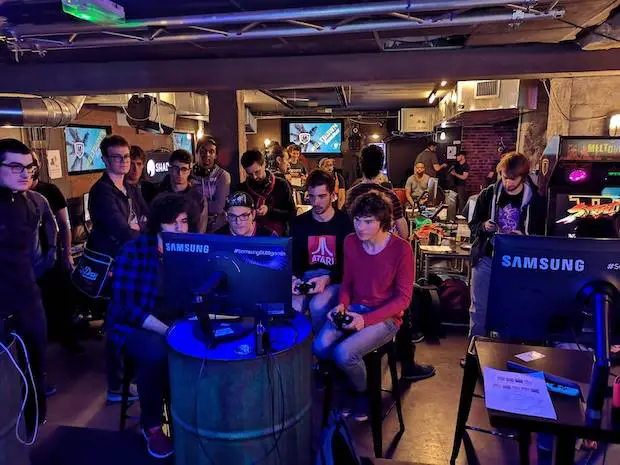 If you want to share your love for video games with other fans of the genre, the Meltdown is made for you. Open since 2011, this place is the benchmark of gamers. You can play games, LoL (League of Legends), Starcraft… Computers are on free access as long as you consume at least one drink. But that's not it! You can also gather around a console or partake in one of the many themed evenings. So don't hesitate and come play or just watch a stream around a drink!
Address: 6, passage Thiéré, 75011 Paris
Metro: Lines 1, 5, 8 Bastille.
Site: https://www.meltdown.bar/
Le fantôme
The black tile facade of the Fantôme is enough to stimulate your imagination and intrigue you. When entering this bar, you discover a world haunted by the 80s. Baby-foot, pinball machine and arcade games are at the rendezvous and will offer you a little trip to the past. You can also enjoy cocktails prepared by David West, an American barman, and taste delicious portion of pizzas!
Address: 36 Rue de Paradis, 75010 Paris
Metro: line 7, Poissonnière; line 4 Château d'Eau
Site: http://lefantome.fr/ (Link in French)
Kawaii Café 20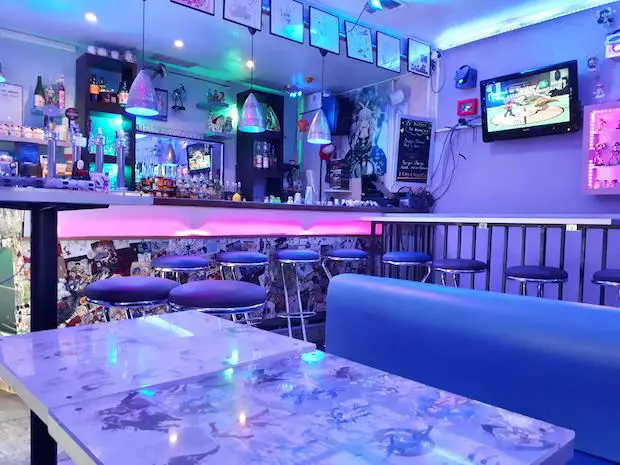 The Kawaii Café is a small bar dedicated to Japanese culture. Born from the association of a manga culture passionate and a video game enthusiast, this place proposes entertainments linked to Japanese culture. Cosplay and gaming are obviously part of the game! Inspired by maid coffee and cosplay coffee, this bar offers a real escape to the lands of the rising sun. You can enjoy some dishes, burgers, ramen, Japanese specialties…but also Japanese cocktails. Therefore, it will be a real immersion in the Japanese universe and a gustative discovery guaranteed.
Address: 20 rue de Nemours, 75011, Paris.
Metro: Line 3 Parmentier; Line 8 et 11 République; Line 5 et 9 Oberkampf.
Site: http://www.kawaiicafe.fr/ (link in French)
Le dernier bar avant la fin du monde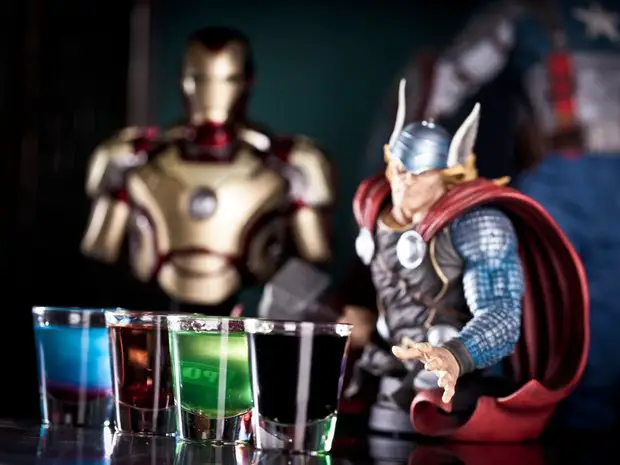 Crédits : Dernier Bar Avant La Fin Du Monde
Straight out of the imagination of passionates of science fiction, fantasy, manga, series, cinema or even fantastic literature, this bar gives way to the imaginary. Since its opening in 2012, its popularity has been increasing steadily! The geek culture is celebrated through an atypical decoration and dishes and drinks that will remind you that you love these universes so much. Guests can enjoy the Bruschette Mario, the Bouffi Bouffon, the Queen Amidala or drinks such as Poison Ivy or Death Star. In addition to giving free access to a library, the bar organizes many events, blind tests, game nights, roleplay… This small place gathers all the good reasons to leave your computer aside.
Address: 19 avenue victoria, 75001, Paris.
Metro: Lignes 1, 4, 7, 11 et 14 Châtelet.
Site: https://www.dernierbar.com/
Le Nid Cocon Ludique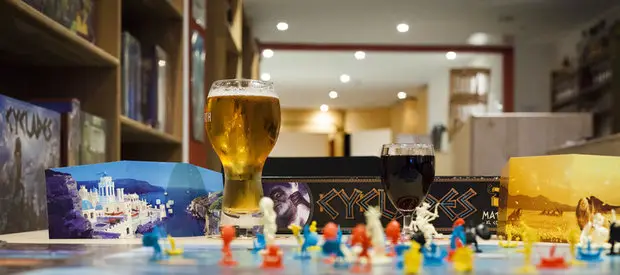 Crédits : Le Nid – Cocon Ludique
Le cocon ludique is a new trendy bar that gives pride of place to board games. The Nid is a place with a very simple principle: to have access to more than 500 games and a drink offered at your arrival for 3 euros. If you stay more than 2 hours, you will be asked to order a second drink. After having discovered or found games, you can buy them directly in the shop linked to the bar. You can gather around a drink and a game, unavoidable or unknown. Be at peace in this small space of relaxation.
Address: 227 Rue Saint-Martin, 75003 Paris
Metro: Lines 3 et 11 Arts et Métiers
Site: http://lenid-coconludique.com/ (link in French)
Reset Bar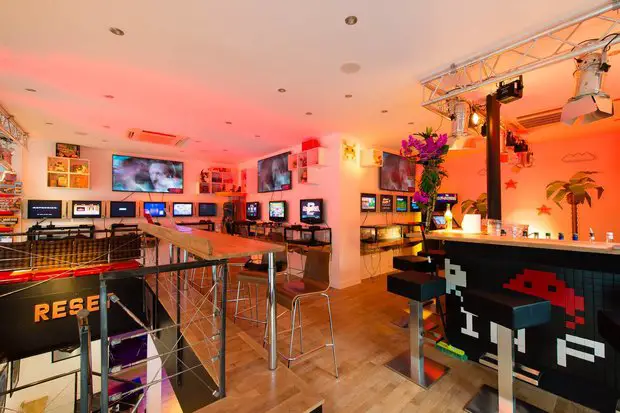 Crédits : AFJV
The Reset Bar proposes the concept of drink gaming. The principle is simple: you can quench your thirst while enjoying a video game. Arcade machines or consoles, numerous games are proposed to you, including some emblematic games like Super Mario Kart or Street Fighter. You can also eat in case you're a little hungry: sausage boards, hot dogs and veggie baskets are prepared for you. The motto of this bar is "trinquer, jouer et s'amuser" (toast, play and have fun). So everyone, grab your gamepad and GAME ON!
Address: 17, rue du Cygne, 75001 Paris
Metro: Line 4 Étienne Marcel
Site: http://www.reset.bar/ (Link in French)
Deux Points Zéro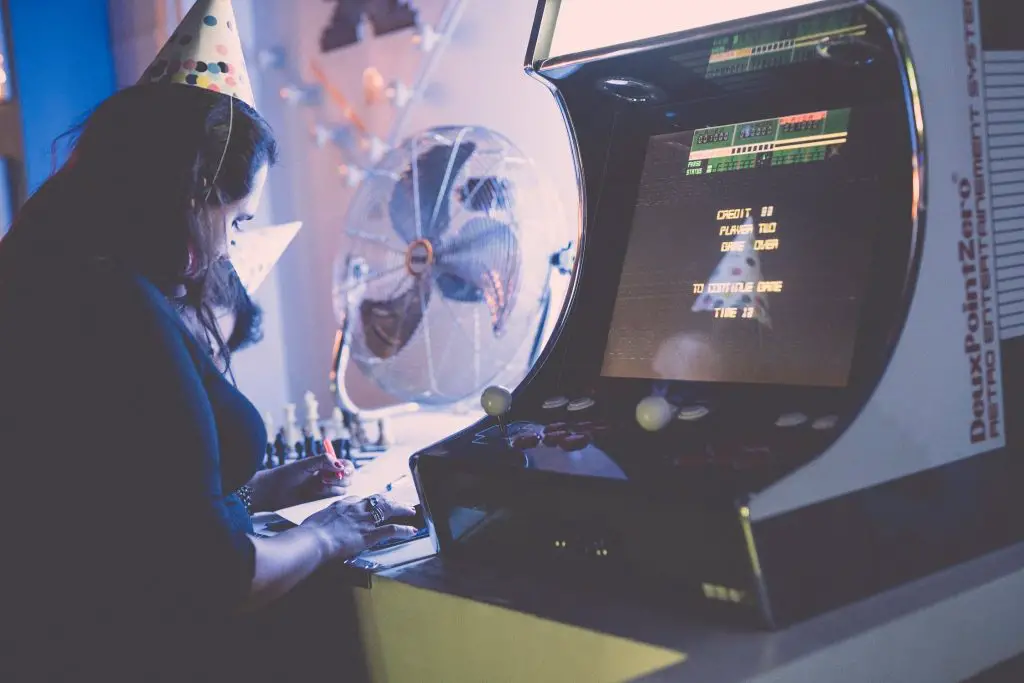 Deux Points Zéro was created by the O'Neil brothers, two bartenders who decided to settle in Paris to share their concept of a 21st century bar. The idea here was to create a connected bar. But what does it consist of? When you enter the bar, you need to download the application available on Android and Apple Store. It will allow you to vote for the music broadcast in the bar, play blind tests or answer quizzes. There will be a lot of interactions with other guests of the bar. Thanks to animations, you can earn points that will allow you to win gifts such as goodies or a free consummation. You can also play video games while sipping on cocktails with extravagant names like the Super Mario, the R2D2 or the Mufasa.
Address: 7 Rue Blondel, 75003 Paris
Metro: Lines 4, 8 et 9 Strasbourg – Saint-Denis
Site: http://www.deuxpointzerobar.com/ (Link in French)
2) Arcades
La tête dans les nuages
La tête dans les nuages is Europe's largest playroom. It is divided in 5 different complexes and grants you free access for the young and old alike!
La tête dans le fun: This part is reserved to younger ones starting from 3. They can play mini-bowling, puzzles or mini-golf.
La tête dans le compteur: This complex is paradise for gearheads. Giant cars, motorcycles and scooter simulators will be at your disposal to appease your thirst for racing. And for those who dare everything, dancing games are accessible. Get on track!
La tête dans le viseur: This is the perfect name for this room since it proposes action games. Video games enthusiasts eager to go on an adventure with a weapon in hand will be delighted with their excursion.
La tête dans le rétro: What about going back to the past? This resort will definitely offer you a trip back in time with the best games of the years 1990-2000. Have a good time with Pac-man or play a game of Street Fighter that will take you back to the days when arcades were the only place where video games were accessible.
Espace billard: 6 pool tables at your disposal.
Address: 5, boulevard des Italiens 75002 Paris
Metro: Line 8 et 9 Richelieu-Drouot.
Site: http://www.ltdn.com/fr/
3) Food
Pastry for Geeks
Paint Cakes offers you pastry lessons during which you'll create your own cupcakes with the effigy of your favorite films and series characters.
Site: http://www.paintcakes.com/cours-de-cupcakes.html (link in French)
4) Geek stores
Geeks and Vape
This warm shop is a concept store in the geek and vape universe. With a stylish decor and a warm welcome, it offers clothes, toy figurines, stuffed toys, mugs… Anything to please the customers!
Address: 52 rue Basfroi, 75011 Paris
Metro: Ligne 9 Voltaire
Site: https://fr-fr.facebook.com/geeksandvape/ (link in French)
Metaluna store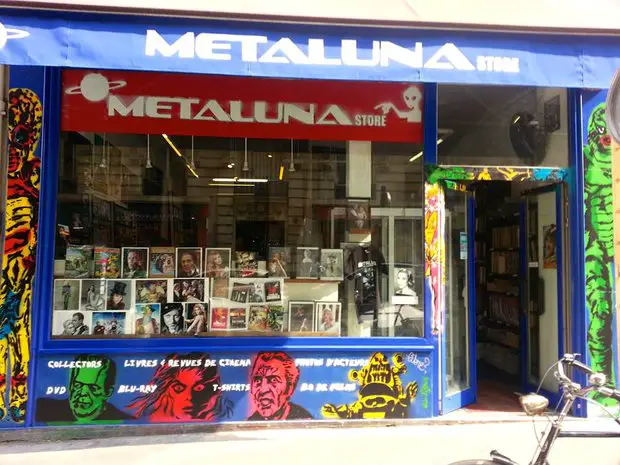 Crédits : Metaluna store
This shop is specialized in the cinema of genre where you'll have an extraordinary choice of DVD, Blu-Ray or VHS. Fantastic, Western, horror… You'll find whatever pleases you. Cinema enthusiasts will also find emblematic works on the 7th art thematics, T-shirts, or even small emblematic figurines. In short, a real paradise for cinema fans!
Address: 7 rue de Dante, 75005 Paris.
Metro: Ligne 10 Cluny – La Sorbonne
Site: https://fr-fr.facebook.com/movies2000/ (link in French)
Geek Store
This shop unites the entirety of the geek universe. You'll find figurines, clothes, games, computer parts, decoration materials… A lot of things! You'll be sure to find anything you'll need to completely transform your life into a geek world!
Address: 6 rue des Filles du Calvaire, 75003 Paris
Metro: Ligne 8 Filles du Calvaire
Site: http://www.geekstore.fr/
Neo Legend
Neo legend is a shop that sells arcade games and computer parts. You'll be able to go back to the times of arcades and find wonders of the past there!
Address: 71 rue Crozatier, 75012 Paris
Metro: Ligne 8 Faidherbe – Chaligny
Site: http://www.neo-legend.com/?lang=en
Pulp's toys and Pulp's comics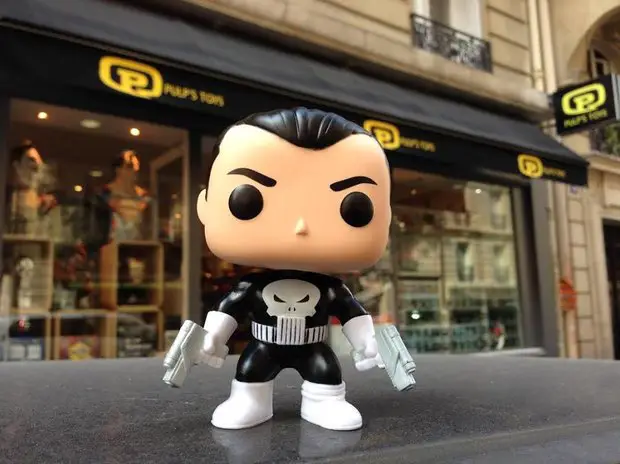 Crédits : Pulp's Toys
These two stores offer a large choice of figurines, and derived products such as board games, stuffed toys, computer parts, clothes, sketchbooks… All of the geek universe is celebrated in this little paradise spot.
Address: 3 and 9 rue de Dante, 75005 Paris
Opening hours: Du lundi au samedi, de 10h30 à 19h30
Metro: Ligne 10, Cluny – La Sorbonne
Site: https://pulps.fr/ (link in French)
Galactic Stories
This small store, which originally should have been called Alderaan (like the planet in Star Wars), is a real gold mine for the adepts of this galactic universe. Principally centered on the universe of Jedis and the Force, this store also offers comics, figurines, novels or any kind of books. In short, all the sci-fi universe is in this geek hideout.
Address: 6bis Rue des Écoles, 75005 Paris
Metro: Ligne 10 Cardinal Lemoine
Site: https://www.facebook.com/pages/Galactic-Stories/1391073791111965?fref=ts (link in French)
Lulu Berlu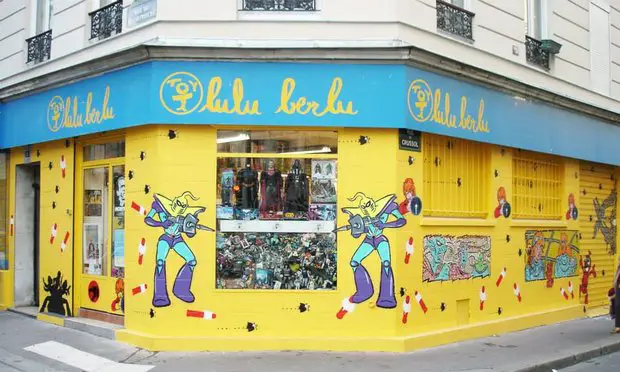 Crédits : Lulu-Berlu.com : action-figures & collectible toys shop
Lulu Berlu is a shop specialized in the selling of collector and vintage toys. Goldorak, Star Wars, Saint Seiya, Dragon Ball Z… All of your childhood's universe will be present in this store. Figurines and toys are reassembled in this paradise for collectors.
Address: 2 rue du Grand Prieuré, 75011, Paris
Metro: Ligne 5 et 9 Oberkampf
Site: http://www.lulu-berlu.com/
Manga Story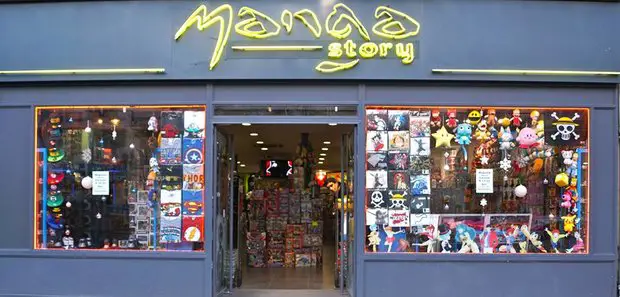 Crédits : Manga Story Paris
Just like its name indicates, this store offers mangas. An entire collection covers the walls of this small shop. But that's not all. Manga Story also offers DVDs of animated Japanese movies, a good way to meet the heroes of your childhood. Stuffed toys, posters, mugs, figurines and board games are also sold there.
Address: 13 boulevard voltaire, 75011, Paris
Metro: Lignes 5 et 9 Oberkampf
Site: https://www.manga-story.fr/ms/Accueil-Manga-Story.html (link in French)
Maxxi Games
Maxxi Games is a franchise specialised in video game consoles and video games. When you enter this shop you'll find the latest known technologies but also hidden treasures.
Address: 7 boulevard voltaire, 75011 Paris
Metro: Lignes 5 et 9 Oberkampf
Site: http://www.maxxi-games.fr/ (lin in French)
5) Geek Librairies
Manga Café V.2
Manga Café V.2 is a huge library which offers you an enormous section of mangas (around 10000). Starting from 3€/hour, you'll have access to the library, the video games, but also free drinks at will! You'll also be able to act like Japanese people and enjoy the purikura machine. The video game zone has Playstation 3s, PSPs but also arcade machines.
Address: 9 rue Primo Levi, 75013 Paris.
Metro: Ligne 14, Bibliothèque François Mitterrand.
Site: https://www.mangacafe.fr/V2.php (link in French)
Hayaku Shop Librairie Manga
This little welcoming bookstore is a temple where the Japanese culture is a religion. Mangas, figurines or other books and things related to Japanese cultures are offered in this shop.
Address: 4 rue de Dante, 75005 Paris
Metro: Ligne 10 Cluny La Sorbonne
Site: http://www.hayakushop.com/boutique/index.php
Album Comics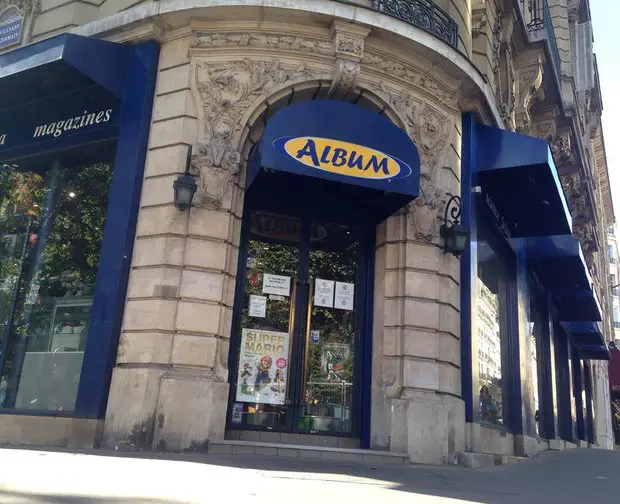 Crédits : Album Comics Paris
Album comics is a bookstore specialized in comics. Not only does it offer you a large number of comics, but you'll also have a good choice in derived products, figurines, textiles, mugs and much more!
Address: 67 boulevard st germain, 75005 Paris
Metro: Ligne 10 Cluny – La Sorbonne
Site: http://www.albumcomics.com/en/
Aaapoum Bapoum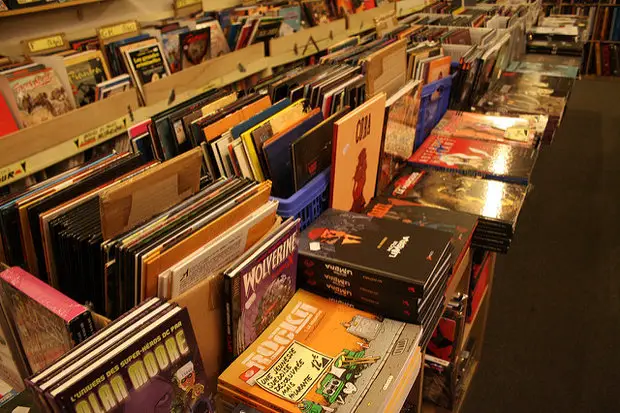 Photo Credits : Alex Erde under Creative Commons 2.0
This store decorated by columns offers a numerous amount of comics from France and Belgium, but also superhero comics and mangas of all sorts!
Address: 14 rue Serpente, 75006 Paris
Opening hours : Du mercredi au samedi de 11h à 22h15. Dimanche de 14h à 21h. Lundi et mardi de 11h à 21h.
Metro: Ligne 10 Cluny – La Sorbonne
Site: http://www.aaapoumbapoum.com/boutique/index.php (link in French)
6) Geek Conventions
Video City Paris
Video City Paris is an event that happens only once a year and that assembles many YouTubers. Humor, Music, Gaming, Beauty… No matter the style of their YouTube channel, they'll be there to share their passion with you. FAQs, shows, games… Anything to learn more about your favorite YouTubers!
Address: 1 Place de la Porte de Versailles, 75015 Paris.
Access: M12 Porte de Versailles, M8 Balard.
Site: https://www.videocityparis.com/ (link in French)
People Conv'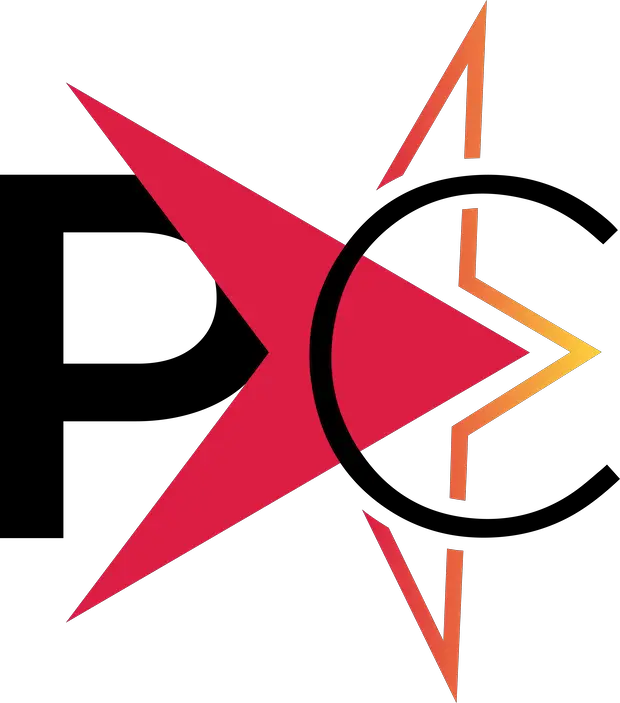 Every year at different periods, the People Convention organizes different conventions of series during where you'll be able to meet your favorite actors from your favorite series, get some autographs and assist at the conferences.
Examples of planned conventions in 2017:
The dark light convention: Supernatural (29 et 30 avril 2017)
Superheroes convention: Arrow et The Flash (3 et 4 juin 2017)
The Happy Ending Convention: Once upon a time (17 et 18 juin 2017)
Rebels: Spartacus (7 et 8 octobre 2017)
Welcome to the Magic School IV: Harry Potter (13 et 14 janvier 2018)
Address: Hôtel Hilton Paris Roissy Charles de Gaulle. Roissypôle. BP 16 461 Rue de Rome, 95708 Roissy-en-France.
Site: http://www.people-convention.com/
Japan Expo Paris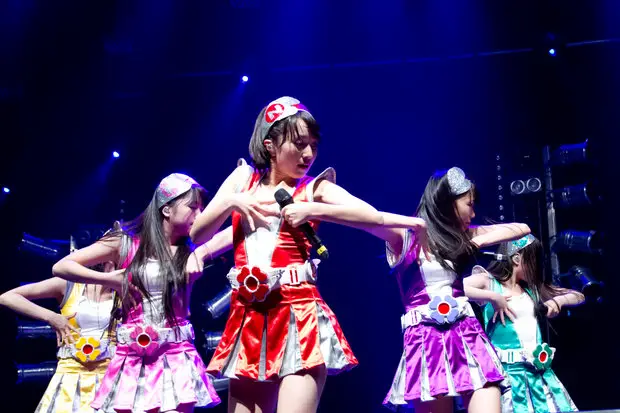 Japan Expo is THE meeting of japan, mangas, video game lovers… Between meetings, autographs, showcases, workrooms, games, cosplay, discovery of traditional culture and fashion, a weekend at the Japan Expo will take you right into the country of the rising sun!
Address: Parc des Expositions de Paris-Nord Villepinte, 93420, Villepinte.
Site: http://www.japan-expo-paris.com/en/
Geek's Live
Geek's Live is the event you don't want to miss if you are a technology enthusiast. There, you can discover the latest news of technology, virtual reality and robotic. YouTubers, journalists, and professional players will be there waiting for you!
Address: Carreau du Temple, 4 rue Eugène Spuller, 75003 Paris.
Site: http://www.geekslive.fr/ (link in French)
Geek n' Play
Geek n' Play is an annual event that started 5 years ago. It is a video game, board game, roleplay and retrogaming tournament: Anything you need to discover the geek culture.
Authors and editors will present their games or prototypes so you'll be able to play with people who share your love of games!
JMJV
Launched in 2010, the International Video Game Day has the goal of bringing support to the video game sector. The idea is to assemble people around the video game universe. Tournaments, conferences, special store sales, LANs… In short, anything you need to attract veterans but also newcomers of the video game world.
Site: https://fr-fr.facebook.com/journeesmondialesjeuvideo/ (link in French)
Video Game Tournaments
There are some video game tournaments where eGame amateurs can meet and challenge each other, or just watch people play! You'll be able to battle others on hugely known, but also smaller games.
Examples: Student Gaming League, Student Esports Competitions
7) Geek Fairs
Paris Manga & Sci-Fi show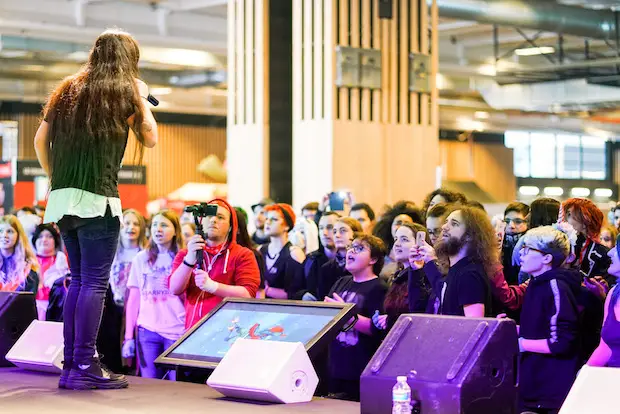 It is one of the main geek events of the year. Save the date: November 7th and 8th, The Pop Culture Meeting, PARIS MANGA & SCI-FI SHOW comes back for its 30th edition at Paris Expo – Porte de Versailles Hall 3. The event will be held in the Parc des Expositions de Paris, Porte de Versailles, over 20,000 m² in which you will dive into the different words from Animes to Cinema, Tv Shows, Comics, Video Games and some Web culture.  Welcoming more than 72,000 people every year, with 2 editions per year, you will be able to find many activities, from Asian culture to the Geek culture activities and entertainment. You can wander around the many booths, but also enjoy meeting your favourite science fiction actors, Youtubers or Japanese personalities. An unforgettable experience with numerous guests, artists and prestigious speakers. A family event !
Address: Parc des Expositions de Paris, Porte de Versailles 75015 Paris
Metro: Ligne 12 Porte de Versailles
Site: http://www.parismanga.fr/accueil.html (link in French)
Paris Games Week
It is the general public video game event of France. With its thousands of visitors welcomed every year, this fair has become the main exposing event of video game industry. You'll be able to discover all the new technologies, the new trends and the future of video games. Organized during the Toussaint holidays (in October), the Paris Games Week allows everybody in your family to participate and try the new games; for instance, the Paris Games Week has a special Junior space dedicated to those 3-12 years old. In short, it is THE meeting you don't want to miss if you are a video game enthusiast!
Address: Paris Expo Porte de Versailles 75015 Paris.
Access: Ligne 12 Porte de Versailles, Ligne 8 Balard.
Site: https://www.parisgamesweek.com/ (link in French)
Paris Images Digital Summit
This event is dedicated to digital creation of all kind: visual effects (VFX), virtual reality (VR), but also animation, special effects (CGI – Computer Generated Imagery) and 3D. Paris Images Digital Summit fuses creativity with the technical and economic aspects of a sector in constant evolution. There, you'll have the possibility to assist conferences, study cases and exchange with professionals… All of that on many different domains like cinema, TV, advertising, video games and also previews of movies.
Generally, this event takes place at the end of January, in Enghien-Les-Bains.
Le Salon Fantastique
During a weekend, you'll have the opportunity to discover a whole new world of fantasy, med-fan, science fiction and steampunk. Crafters, costumers, writers, drawers… You'll see them all during the month of May.
Address: Paris Event Center, 20 Avenue de la Porte de la Villette, 75019 Paris.
Metro: Ligne 7 Station Porte de la Villette
8) Geek Meetings
Paris est Ludique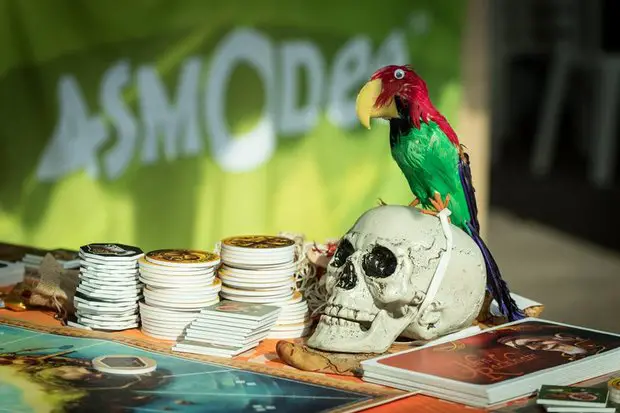 Crédits : Festival "Paris est Ludique"
Created in 2011, it is a board games festival. There, you'll be able to wander around hundreds of stands and play a game with other visitors at each one of them.
Every stand is animated by a specific association, editors, or devoted people whose only motivation is to make you discover new games and have fun!
The 2017 edition will take place on Saturday the 24th of June from 10am to 8pm and on Sunday the 25th of June from 10am to 6pm in the Pelouse de Reuilly near Vincennes, Cardinal Lavigerie square entrance. The weekend pass is 5€ but it is free for children younger than 8.
Zomb'in the Dark Paris
There, you can choose your side: Are you more a zombie or a survivor? The concept is easy: an orienteering session organised every year everywhere in France, but mostly in the Parisian region. The competition takes place by night in a forest, and the goal is to find as many beacons as possible in less than an hour. The beacons are worth between 1 and 5 points but any supplementary time will give you a penalty. Furthermore, the "survivors" are equipped with a special belt that has two "lives" on it, and if you get caught by a zombie, you lose points. If you are a zombie, the makeup is offered there and the goal is to terrify the survivors.
To know the rules and the times of the competition a little more precisely, check out this link. (link in French)
Les Rendez-Vous de l'Imaginaire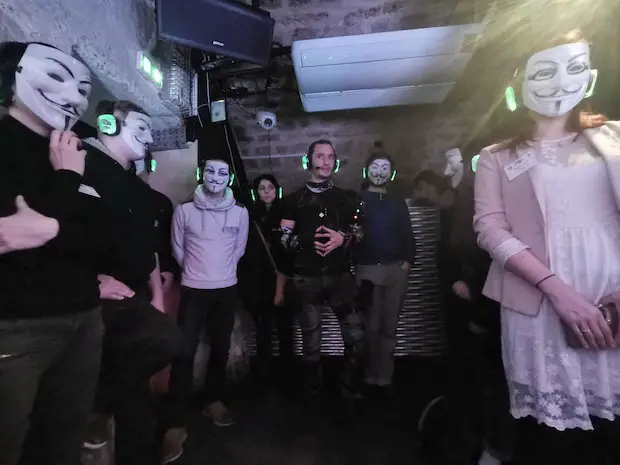 This association regularly organizes networking evenings directed towards professional geeks where they can get together as graphic artists, entrepreneurs, startups, bloggers, developers, students, professional players, directors or just geeks in order to make their projects more famous. These events take place in a different place each time, so the best way to be aware of what they are doing is to go to their Facebook page (link in French) to get informed on the latest news.
Lately, they have expanded by creating a special gamer event, "Les Rendez-Vous des Game Makers." The events take place in bars. The party begins at 7pm and ends around 11:30pm.
Bourg la Run
You could guess it from its name: this event is a race, and more precisely a marathon that benefit the Téléthon. But not a marathon like any other. Indeed, there, the participants try to finish video games as fast as possible! More than 30 players, called speedrunners, will take turns during 48 hours without interruption to finish as many games as possible.
Started in 2014, it takes place every year in Bourg-la-Reine (about 30 minutes by car from the center of Paris), during the Téléthon week-end. The event is free but you can always donate on the "Ma Collecte" platform, as it will be automatically given to the Téléthon organization.

Mona knows Paris like the back of her hand. Bars, restaurants, hotels… whether you want to sleep, eat, party or just take a walk in Paris, Mona gives you her best advice. Follow her lead, she will gladly give you all her good tips and best addresses!