France is THE country of food! And, thanks to the rich and prestigious gastronomy, it deserves its notoriety. As a traveler in Paris, you will be able to try making some French gastronomy by taking a cooking class. In this article we gathered, exclusively for you, the best 10 English-speaking cooking classes of Paris so you can enjoy this friendly activity in the best spots of the capital. The diversity is really impressive so you should be able to find just what you are looking for. Once the class is over, you will have a lot more new recipe ideas. Put the traditional recipes of granny down – it's time to renew!
1) Chefsquare
Address: 40 rue Sedaine 75011 Paris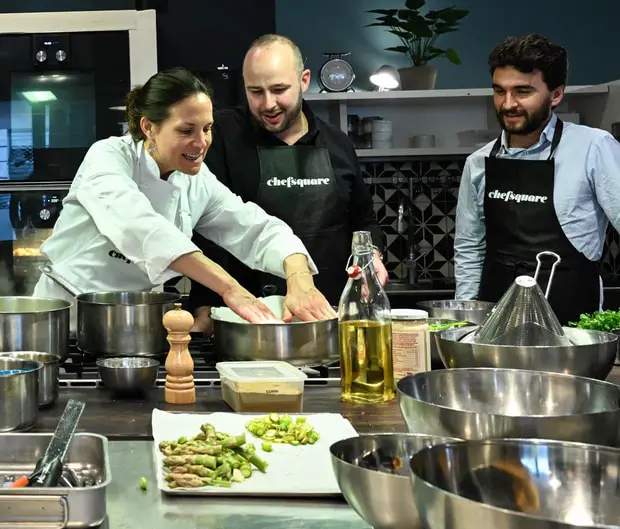 Since 2004, Chefsquare (L'Atelier des Sens) has offered the opportunity to make recipes in a very friendly atmosphere and in a tastefully decorated workshop.
With other amateurs, you will cook different dishes depending on the option you choose; then you will taste your creations with the group.
You will even be able to bring your child with you so you can have a family time, thanks to the "Family class" where parents and children are allowed and can make some recipes together.
You can opt for a class where you will cook special gluten- or lactose-free recipes.
It's perfect if you are intolerant to these or if you just want to reduce their consumption.
But watch out! This class is taught in French, so it's perfect if you want to improve yours.
We love: the fact of cooking in very nice workshops, in some dynamic areas like Bastille or Beaubourg.
Price: from €36 for 2 hours
Get more information on the website
2) Le Foodist
Address: 59 rue du Cardinal Lemoine, 75005 Paris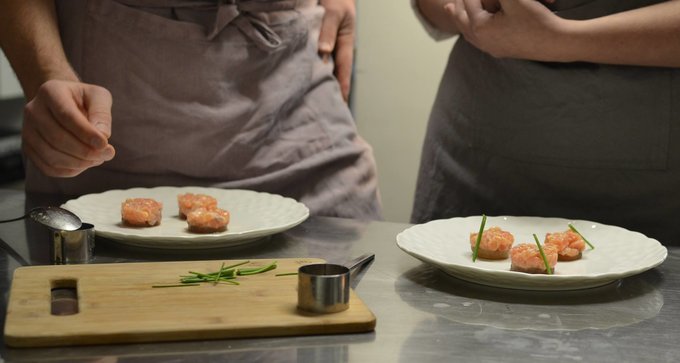 Created by a British woman, Amanda, Le Foodist is one of the most famous English cooking classes of Paris thanks to its large selection of choices.
You will surely find what you like among the various baking and cooking classes!
But the best experience to have is the Food Tour. Every Thursday, a chef gathers a small group of people and brings them to the best producers and markets of the Latin Quarter, one of the most beautiful of Paris.
After you learn a lot of things about French food, you will enjoy a picnic meal in a square or park with, of course, wine. You will also appreciate a wine-tasting class.
Moreover, Le Foodist offers you the possibility to discover Provence for a week. You will cook in the most wonderful settings of France – lucky you! The motto of Le Foodist "discovering culture through food" will become a reality.
We love: the diversity of the classes
Price: From €69 to €189
Get more information and book your culinary experience via the website
3) A World in a Pan
Address: 75 boulevard de Montmorency 75016 Paris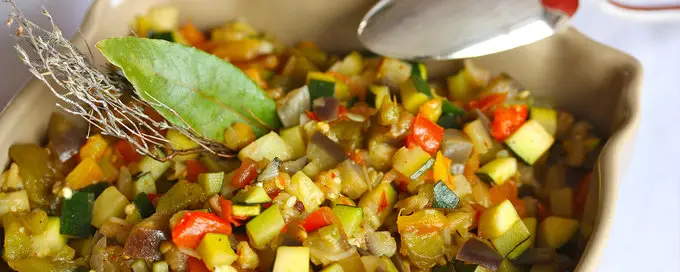 A World in a Pan offers 6 cooking classes taught in English.
The chef, Perrine, will welcome you into her apartment to cook and chat about French culture and gastronomy.
In the class "just like a Parisian", you will meet at her flat before going to the market to choose your produce for the menu.
Then, you will cook with a group of 8 people or less, and you will eventually eat what you prepared while drinking a glass of wine.
Actually, the dishes change depending on your taste and the current season, so it's kind of personalized.
During the "All about Cheese" class, you will learn a lot more about French cheese.
Extra: the view over Paris from Perrine's kitchen is breathtaking, and makes your class even better!
We love: the "Little Chef" class, that allows children to cook. Parents, you will be able to stay to take pictures of your child!
Price: from €95 to €135
Book your cooking class with A World in a Pan
4) Ooh La la Paris Cooking Classes
Address: 70 rue de Rome, 75008 Paris
The concept is simple: first, you meet your chef and you go to the market with the rest of the group.
Then, you cook, transforming the product into amazing dishes. And finally, you eat them! So it's not just a cooking class.
By going to a typical market, you will discover a part of the Parisian lifestyle.
Furthermore, Ooh La la offers something that "no restaurant can offer": French food tasting.
You will have a 100% French meal in a Parisian flat. So if you want to taste other products than the baguette or other's pastries … don't miss it!
We love: that the chefs adapt their products and recipes according to the customers
Price:
– Cooking class: €140 per person, €70 under 13
– Food tasting: €65 per person
Get more information about Ooh La la Paris cooking classes
5) La Cuisine Paris – Cooking Classes
Address: 80 quai de l'Hôtel de ville 75004 Paris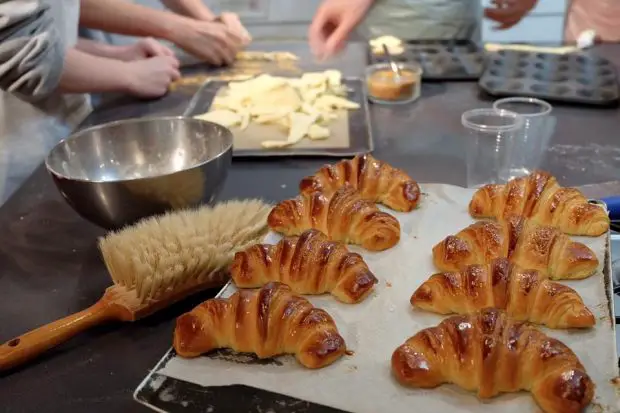 Ranked the second-best cooking class on Tripadvisor, La Cuisine Paris hosts you in Le Marais, not far from the docks, for a couple of hours.
Here, you will learn some simple and effective recipes, the ones that are unforgettable and always useful.
If you had planned to go on your own, don't worry – the chefs know how to make you feel good and will strike up the conversation in the whole group.
As soon as the class starts, the chefs try to make it very fun: they really do their best to make everything go well and to allow you to have an amazing time.
Very good atmosphere!
We love: the Food Guides
Price: €69 for 2 hours / €99 for 3 hours
Book your cooking class at this website
6) Les Secrets Gourmands de Noémie
Address: 92 rue Nollet 75017 Paris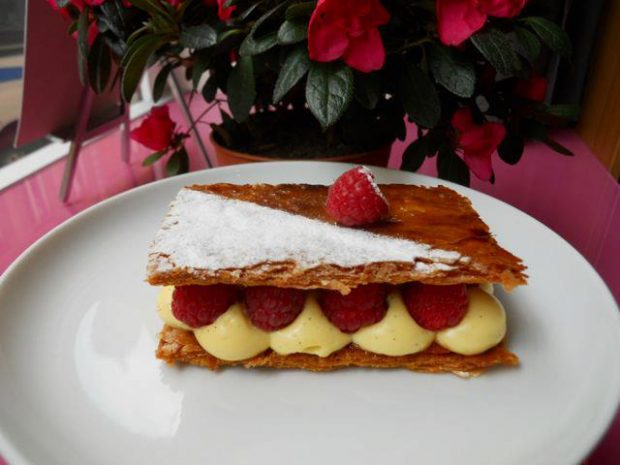 Located in the Batignolles area (17th district), Noémie welcomes you in her girly workshop, where you will learn delicious recipes and tips to ease your way to cook.
During the very friendly class, you will learn a lot more about your chef Noémie and her professional background. And you will quickly understand that she's here to share her passion with you.
She offers French cuisine classes taught in English, but a lot more choices in French, if you want to try.
After the cooking session, you will be able to taste what you prepared.
All the recipes you will learn are very easy to make at home. It's also an opportunity for you to show what you learned with Noémie to impress your guests!
We love: the warm and friendly atmosphere of this class, led by Noémie only.
Price: From €75
Book your cooking class on the website
7) The Parisian Kitchen
Address: 4 rue de Tocqueville 75017 Paris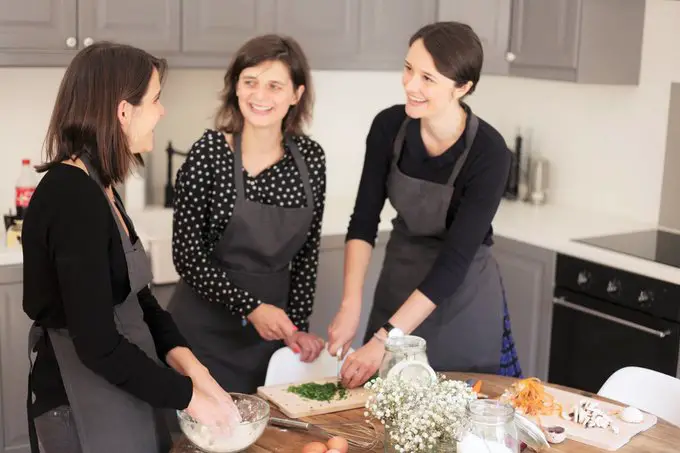 As the motto "be our special guest" says, you will have an intimate and friendly time thanks to Bénédicte Mesny.
It's 10 a.m., let's meet at the Marché de Lévis in the 17th district, where you will pick the best fresh produce.
This market is one of the most famous in Paris, and it's known for its excellent produce.
Then, you will go to Bénédicte's apartment to have a 2-hour class with a group of 6.
She knows how to share her passion with her guests so you will surely love this experience.
You will live a 100% Parisian experience cooking in a Haussmann-style apartment.
If you go to Paris soon, stop by Bénédicte's cooking class – you will not regret it!
We love: the conviviality of Bénédicte
Price:
– Lunch Time Experience: €130
– Pastry Class Experience: €80
Get more information on The Parisian Kitchen website
8) The Alain Ducasse Cooking School
Address: 64 rue du Ranelagh 75016 Paris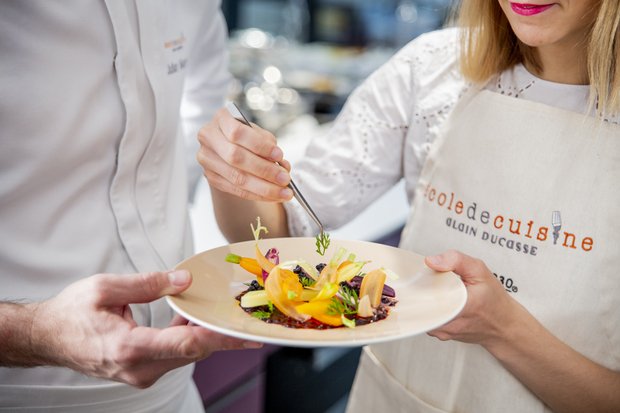 Alain Ducasse, the first French chef who was awarded 3-stars three times, opens the doors of his culinary school for you to learn or improve your French gastronomy skills.
Located in the very heart of the 16th district, the school has 4 kitchen workshops and common areas all around a very luminous patio. For sure, you will be amazed by the wonderful setting.
You have everything gathered for you to have a unforgettable experience: setting, high-quality produce, prestigious chefs…
Great occasion to improve your French: most of the classes are taught in French, but if you don't feel so good about it, you can choose yours from among the ones taught in English.
You can also choose to pay for a translation service during the French class, and this will provide more choices in the cooking classes.
We love: the baking classes, where you can learn to make bread and French pastries
Price: From €90 to €340
Choose your cooking class on the website
9) My Hush-Hush Paris – Fun Cooking
Address: 178 avenue Gallieni 94160 Saint-Mandé
This one is very particular – it's not a cooking class as you might think.
Here, the concept is to cook and learn some recipes with the chef. Bertrand Philippe is your guide for the day – don't worry, he speaks very good English!
He will take you to a local farmers' market to choose the best products and then he will invite you to cook them at home.
There, you will certainly love the intimate atmosphere during the cooking time.
With groups of a maximum of 6 people, you will eat what you cooked in the living room – like at home!
Bertrand Philippe allows you to have a 100% Parisian experience, and that's why we like My Hush Hush Paris so much.
We love: the friendly atmosphere and the unique experience
Price: from €120
Get more information and book your class with chef Bertrand Philippe
10) Cook'n with Class – Paris
Address: 6 rue Baudelique 75018 Paris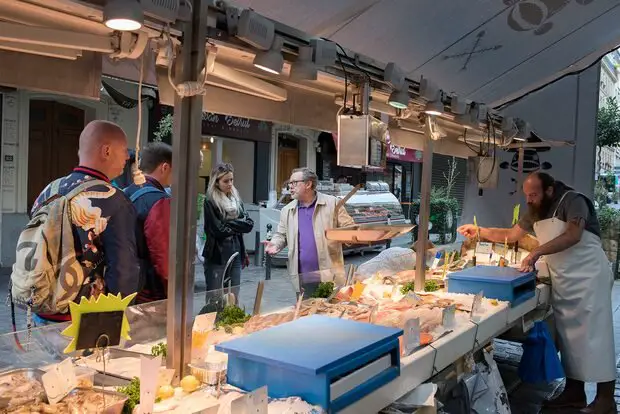 According to the customers who left a comment on Tripadvisor, it's one of the best cooking classes in Paris.
The place is located in the 18th district and it offers classes where you will learn simple and effective recipes, but always very technical. It's time to test yourself!
Let's have a drink to start the class, it will improve the atmosphere and everybody will have a good time.
Then, let's move forward to the learning process. Once this step has finished, you will taste what you prepared – yummy!
Obviously, you will be able to take the rest with you, which will make some happy people at home.
Cook'n with Class is also the only spot in Paris where you will have the chance to take a molecular cuisine class in English, so don't miss it!
We love: the molecular cuisine class
Price: from €109 for 3 hours
Get more information on the website

Mona knows Paris like the back of her hand. Bars, restaurants, hotels… whether you want to sleep, eat, party or just take a walk in Paris, Mona gives you her best advice. Follow her lead, she will gladly give you all her good tips and best addresses!