The 17th district is a link between the chic districts in the South and the working class districts in the North. With its many luxury private mansions and green spaces, the southern part of the district attracts wealthy people. As for the North, we refer first of all to the Place de Clichy which, despite its bad reputation, still seduces young people for its bars and its festive atmosphere.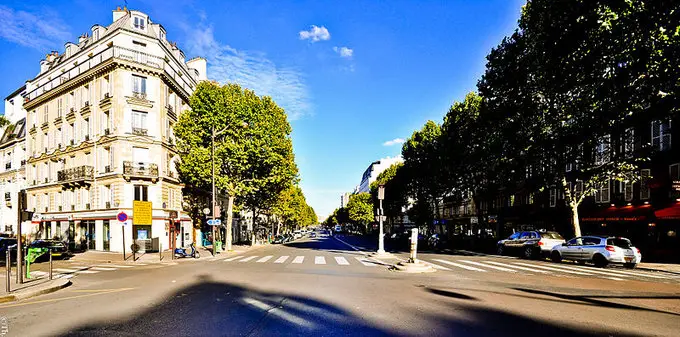 What can you do and see in the Batignolles district?
Clichy-Batignolles-Martin Luther King Park
To the north, located on the former SNCF station of Les Batignolles, the Parc de Clichy-Batignolles-Martin Luther King (website in French) is located in the Batignolles district, between rue Cardinet, Place Charles Fillon and rue de Rome. Accessible by the metro line 13, exit at Brochant on Avenue de Clichy, turn left on Cardinet Street and right on rue Lemercier. It will only take you 5 minutes.
Built in 2007 on 6.5 hectares, it will reach a size of 10 hectares by 2020. This lovely park is eco-friendly and has a natural and family style based on 3 themes: sport, the seasons and water.
The park is indeed enhanced by its many water points and flowers coloring the landscape.
The theme of sport, on the other hand, is based on the playgrounds available for all ages.
You can consult the opening hours of the park using the link indicated above.
Batignolles Square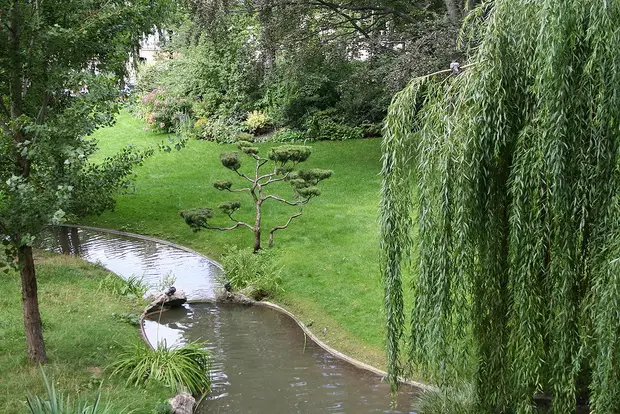 The Batignolles district will charm you with its "small village" style that offers a natural and welcoming atmosphere.
In addition to Martin Luther King Park, which is located a few steps away, Square des Batignolles (website in french) is a haven of peace where you can rest in the shade of the trees, lulled by the sound of the stream.
In the English style, the square is a green space that invites both tranquility and melancholy. The colors are so beautiful that you would think you were in an Albert André' painting.
Built in 1862 under the Second Empire at the request of Baron Haussmann, the square extends over approximately 16,600 m².
In addition to the many species of trees, the cave and waterfall contribute to this magical atmosphere.
To get there, take the metro line 13 that will take you to Brochant station; all you then need to do is take Brochant Street for 500 meters and you will arrive at the entrance of the square.
Place Clichy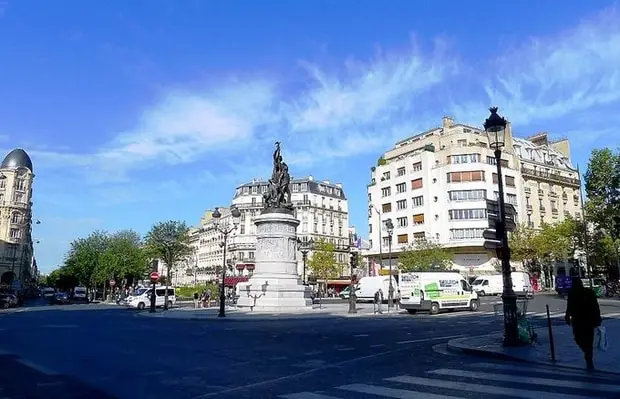 Going down Avenue de Clichy, you will arrive at Place de Clichy, or more commonly called "Place Clichy", which is one of the trendiest places in the capital. Cosmopolitan, it is the crossroads of four districts of Paris: 8th, 9th, 17th and 18th.
Its many bars, restaurants and shops welcome thousands of people day and night.
Located near the famous Moulin Rouge, it has earned a bad reputation, especially at night, because of its sex shops and erotic movie theaters on Boulevard de Clichy (which are not directly on the square), but the local bars are very popular with Parisian youth.
Book a show at the Moulin Rouge
You might be interested to know that it is one of the few squares in Paris that has not been altered by an urban planner, which explains its diversity of architecture in terms of the buildings surrounding it.
Cinéma des Cinéastes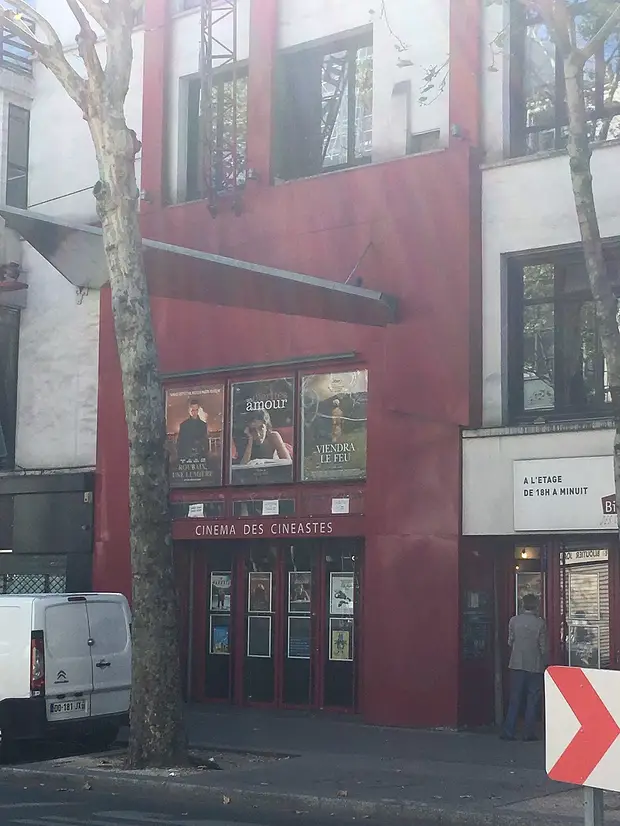 Located on Avenue de Clichy No. 7, Cinéma des Cinéastes (website in french) is not a classic movie theater like Gaumont or UGC.
It was first founded in 1930 under the name of Eden and then Le Mirage, but became a meeting place for film professionals in 1970 and where you can now see arthouse films, Original Version movies and actors little known to the general public.
Don't expect to see American blockbusters; you'll be more likely to see retrospectives or foreign films in their original version.
Where to eat in the Batignolles district?
Wepler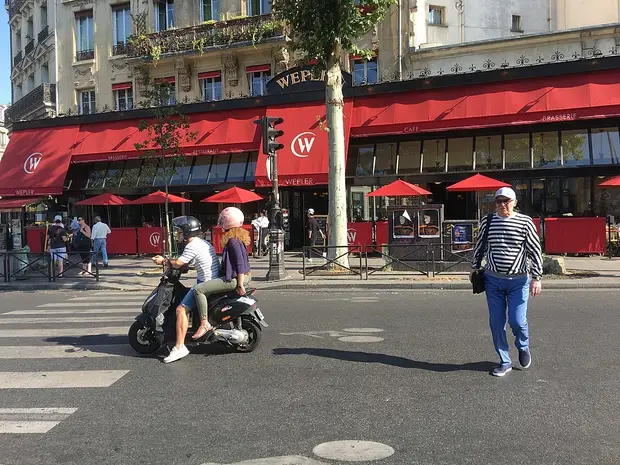 At 14 Place de Clichy, the Wepler brewery welcomes you to its 19th-century setting. With its red seats and dressed waiters, this restaurant has been a sensation for nearly 110 years now.
After having welcomed artists such as Toulouse-Lautrec and Modigliani, the Wepler invites you today to taste exquisite seafood and other dishes typical of French cuisine.
Prices remain a little high. Count on at least €26.50 for a "starter-plate" or "main course" menu, excluding drinks, and a maximum €38 for a complete menu with drinks. However, it is a beautiful journey back in time that awaits you (prices are subject to change).
Le Costaud des Batignolles
Le Costaud des Batignolles can also welcome you at 10 Rue Brochant. It is a restaurant in the middle of an art gallery, where a warm and family atmosphere is felt, the ideal place for a meal with friends or family, but also to organize an event.
Its colorful decoration with a touch of humour has earned it many compliments from customers.
In addition, it offers a list of carefully selected wines of good quality.
Only one menu is offered, it is the Menu "La Royale" by Magali, whose price is €48 per person; otherwise you can order their various dishes à la carte.
Formaticus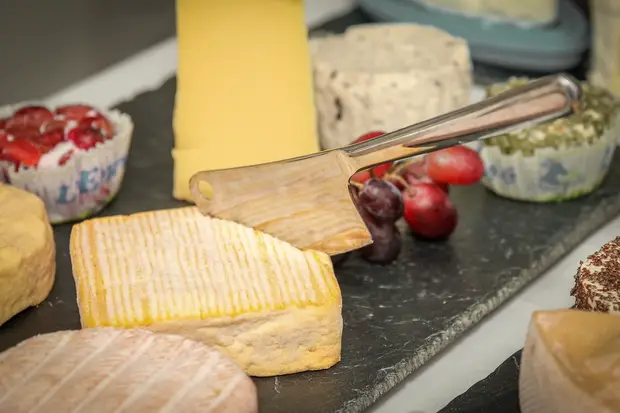 For cheese lovers, we advise you to go to 16 rue Brochant, at the cheese bar Formaticus, to taste cheeses of all kinds, carefully arranged on boards.
Several formulas are offered, whose names are quite nice since they are French expressions such as "La crème de la crème", but also "dans l'cochon tout est bon" ("everything is good to eat in pork meat", meaning "nothing is wasted") or "le beurre, l'argent du beurre et…" .
It's not only a cheese bar, but also a cheese dairy, so you can do your little shopping and go home with it.
Prices vary from €8 to €48.
L'instant
If you wish to spend a more relaxing moment, we suggest you eat at L'Instant (website in French), a small café-restaurant that is also a grocery store.
A first course costs between €4 and €6.50, a main course between €17 and €20, and for €4 you get a delicious dessert.
Located at 16 Rue Jouffroy d´Abbans, don't hesitate to stop by; you can be sure your taste buds will thank you!
Le Diloft
On the terrace or inside, the Diloft will welcome you with enthusiasm.
The quality of the dishes is really good thanks to the use of fresh produce and there is a good quality/price ratio.
The service is well handled as well as the decor.
The first courses cost between €8.50 and €9.50, the main courses between €16 and €21 and the desserts between €7.50 and €9.
Where to drink in the Batignolles district?
For bars, Le Cyrano, at 3 rue Biot, invites you to spend a pleasant evening in a "flashy" and original setting where both music and football are discussed in a warm and relaxed atmosphere. There are people of all ages, from high schoolers to people in their 40s. The setting has not changed since 1914, so this small bar keeps its genuineness. It is possible to drink arranged rum, wine, and eat some snacks.
For the those who are thirsty or hungry, go up to the first floor of the Cinéma des Cinéastes, where the Bistrot des Cinéastes invites you to talk about the film you have just seen over a drink with other enthusiasts.
The Bloc Café is more suitable for small budgets. You will be welcomed by its staff in a warm and modern setting, from 7:30 am to 8:00 pm on weekdays. In the evening, rock, hip hop and electro music is streamed for a little more cheerful atmosphere.
La Légende will welcome you to its premises, a former brothel converted into a cocktail bar. Located at 100 rue Legendre, this bar is open from Tuesday to Saturday from 6:00 pm to 2:00 am. In a New York and vintage style, you can refresh yourself with cocktails, beers or other drinks. The prices are quite reasonable with pints of beer between €5 and €7.50.
The Be Bop Bar will help you enjoy a good evening. Close to the bar La Légende, you will find it at 89 rue Legendre. In a relaxed atmosphere, with a vintage vibe, this bar offers you its menu of cocktails and beers. Pints cost €4 and cocktails €5. It is also open every day: from Monday to Wednesday from 6pm to 12:30am, and from Thursday to Sunday from 6pm to 1:30am.
Where to sleep in the Batignolles district?
Hôtel Beausejour Montmartre ****
6 Rue Lecluse, 17e arr., 75017 Paris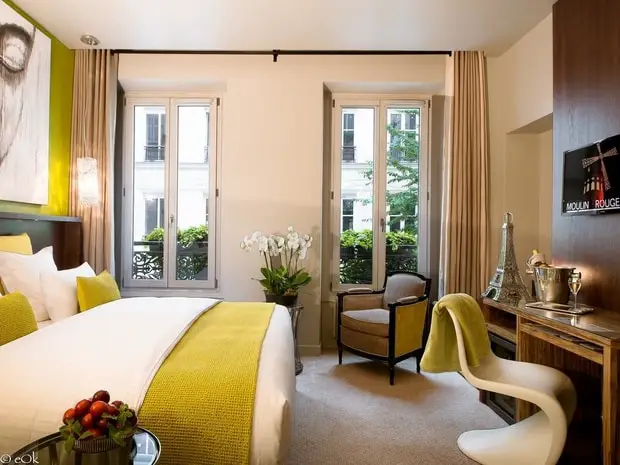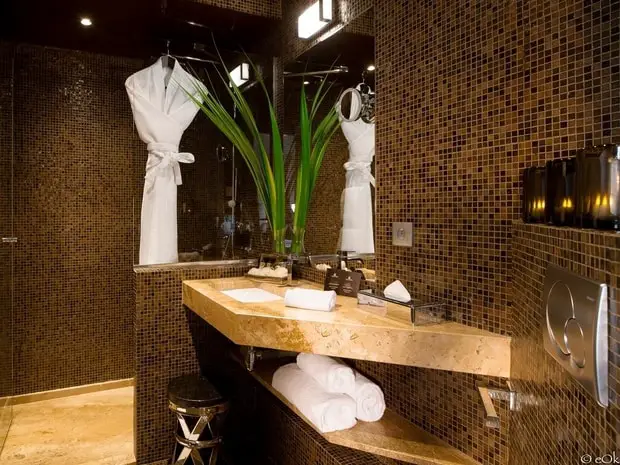 Modernity, tradition, and calm, are the adjectives that describe this 4-star hotel.
It has a wine bar that opens on to an indoor garden.
It is also close to the Moulin Rouge if you ever want to check it out and enjoy one of its shows.
In its Bar Le Discret you can have a generous breakfast before leaving for your long day of sightseeing or work.
The hotel rooms are equipped with marble bathrooms with a shower, and of course you will also have access to a mini-bar and a docking station for Ipod/pad.
Hôtel Astoria Astotel ***
42, rue de Moscou, 8e arr., 75008 Paris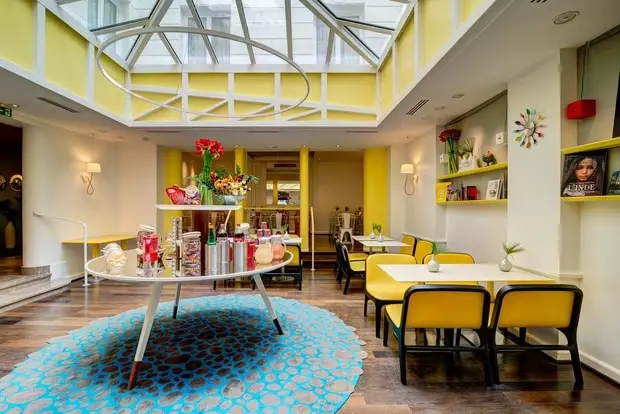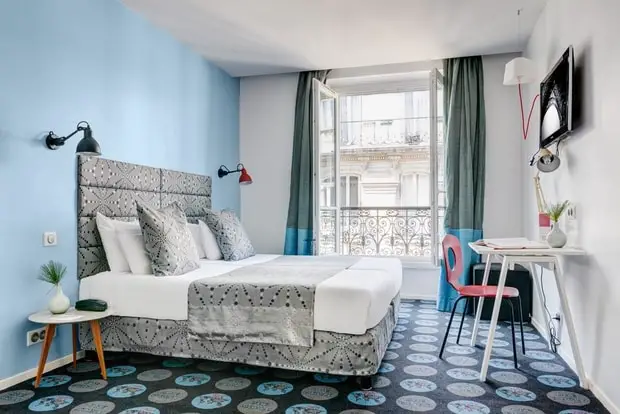 Near Saint-Lazare station, 550 meters from Place de Clichy.
The decor of the rooms of this hotel in the 8th district is neat and elegant.
The rooms are provided with wifi, a private bathroom with hairdryer, a minibar with free soft drinks, a television and a small desk.
A buffet is served during breakfast time in the hotel lounge but if you prefer to stay in your room to eat it is also possible.
In the hotel lobby you can have the pleasure of satisfying your thirst or hunger with a snack and soft drinks, offered by the hotel from the afternoon to the evening.
Hôtel Paris Legendre **
149 rue Legendre, 17e arr., 75017 Paris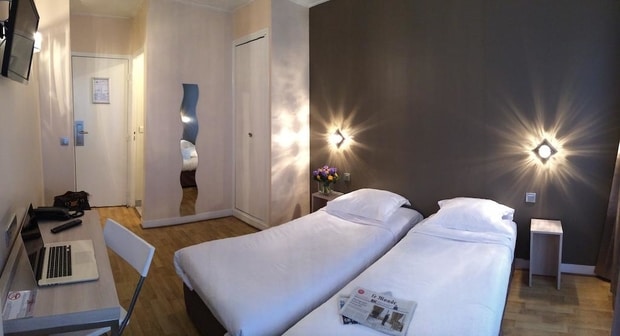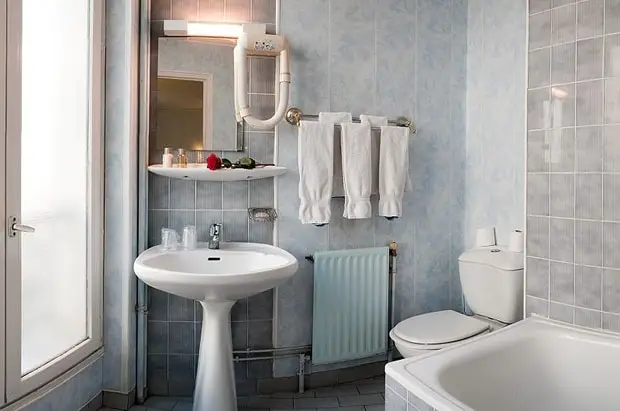 Located on rue Legendre, this 2-star hotel will offer you the comfort you need to spend the night.
Its rooms are all equipped with a television, a private bathroom, a small desk, and free wifi.
Every morning a buffet breakfast is served in the dining room and it is also possible to leave your luggage at the reception desk, which remains open 24 hours a day.
The Secrets of the Batignolles District
Le Bal
6, Impasse de la Défense 75018
This is a French-English café-restaurant hidden in one of the small streets near Place de Clichy. This restaurant also offers an exhibition of original photos that you can see before or after a meal in one of the rooms of this restaurant.
A soul of artists
The birthplace of Impressionism, this district is home to one of the most frequented cafés by 19th century artists such as Manet, Degas, Cézanne, Monet, Renoir, and Guillemet but also Zola, Max Jacob, Duranty, Paul Éluard and Simenon.
The Guerbois café no longer exists today, but at the time it was located at 11 avenue de Clichy and the artists regularly met there until 1875.
Polish School
A Polish school was established in 1844 in this district at 15 rue Lamandé. It was used at the time to educate the children of Polish emigrants following the November Uprising (the period during which there was a conflict between the Poles and the Russians because they refused to submit to Russian domination. The Poles who suffered a defeat against the Russians emigrated in large numbers to Western Europe). Today it is still possible to follow Polish language courses there

Mona knows Paris like the back of her hand. Bars, restaurants, hotels… whether you want to sleep, eat, party or just take a walk in Paris, Mona gives you her best advice. Follow her lead, she will gladly give you all her good tips and best addresses!