Marais is one of the oldest neighborhoods in the capital. Witness to the traces of our past and French history, it has seen its population change and evolve throughout the centuries. From the royal court of Louis XIV to the gay community, passing by the Jewish Ashkenazi population, the "Old Paris" still possesses a young and dynamic soul that still entices visitors. Made up of the 3rd and 4th arrondissements, there you'll find the most beautiful monuments in the capital, including a certain few that are listed as historical monuments or are part of UNESCO's global heritage sites.
The Place des Vosges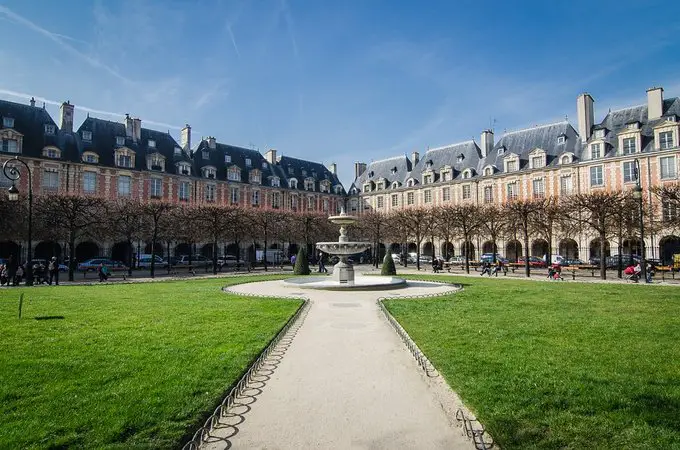 (M1: station Saint Paul)
It was in 1800 that the Place des Vosges was given its name. Formerly known as Place Royale, it was built in 1605 under Henri IV and was thus the playing field for nobles.  Used for tournaments and duels, it served as an open-air stage for Parisian choirs in the 1830's.  In 1954, it was listed as a historical monument and was protected by the Plan de Sauvegarde et de Mise en Valeur du Marais in the 1960's.  These measures were taken mostly to protect the buildings façades.
Built in a square shape, it is made up of 36 pavilions on 2 floors. It owes its creation to the king, Henri IV, that trusted the plans to the architects Jacques Androuet du Cerceau and Claude Chastillon.
Among the famous residents of the square, we'd like to point out Hôtel de Sully.  This Renaissance styled building was listed as a historical monument and was the home of the Duke of Sully, Maximilien de Béthune, minister of the king, Henri IV.  Although it cannot be visited, we can still take a stroll in the courtyard's garden to admire the building. We can also take notice of the Maison de Victor Hugo that can be visited for temporary exhibits or for the apartment itself where the writer composed a part of his work Les Misérables.
Maison de Victor Hugo: 6, Place des Vosges, 75004. Take rue de Saint-Antoine, then turn right on rue de Birague.
Hôtel de Sully: 62, rue Saint-Antoine, 75004. Take rue Saint-Antoine.
The Temple du Marais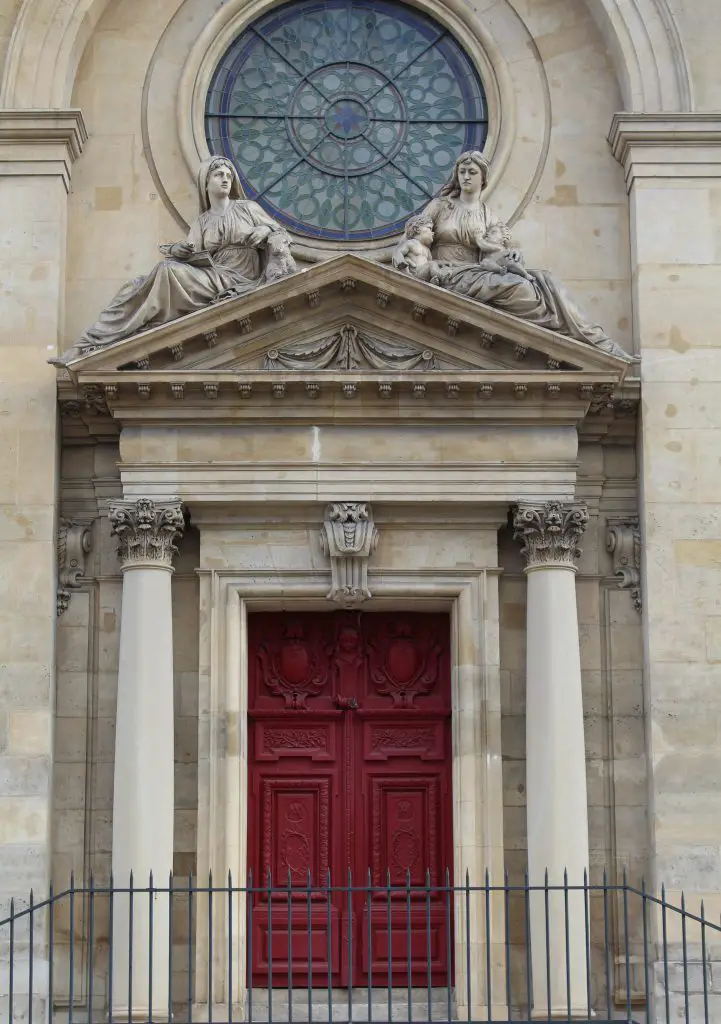 400 meters from there, the Temple du Marais is located on rue Saint-Antoine. Built under the direction of François Mansart in 1632, it is home to the family vault of Nicolas Fouquet (who was superintendent of finances). This building only ever had the status of a protestant temple in 1802 under Napoleon Bonaparte. In fact, it was formerly the church of the Visitation Sainte-Marie convent (which was destroyed in the Revolution). The temple has been listed as a historical monument since 1887 and carries the name Temple Sainte-Marie.
To get there, get off metro line 1 at Saint-Paul or line 8 at Bastille. Take rue Saint-Antoine. The temple is located at 17, rue Saint-Antoine, 75004.
The Bazar de l'Hôtel de Ville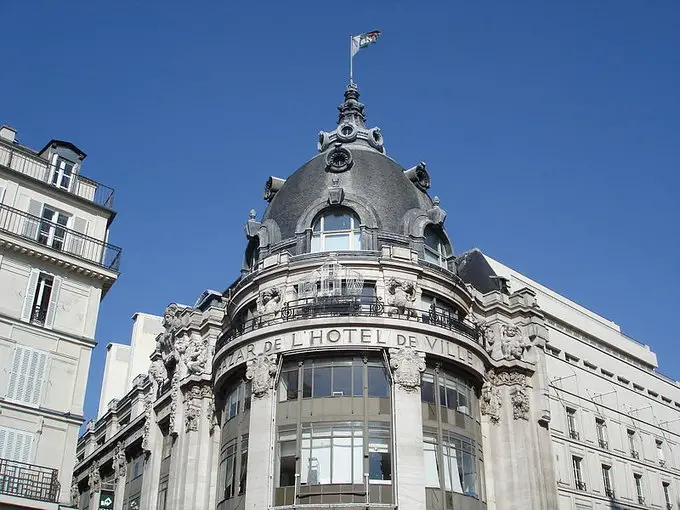 Going back up rue de Rivoli, you'll stumble upon the BHV. Created in 1856 by Xavier Ruel, "BHV" literally stands for Bazar de l'Hôtel de Ville, because at its origin, it was found on the on rue de Rivoli, just two steps from the Hôtel de Ville, before becoming a chain in the international market. It is actually part of the Galeries Lafayette group and was destined to basically sell home improvement tools. But today, its stock has truly diversified since you can now find haute-couture items, a leather goods section, perfume section, a floor for toys and children, a section for home improvement, one for home and interior design, etc. The BHV is a kind of a"little Galeries Lafayette", because its style is similar and the items are just as expensive!
To get there, get off at the Hôtel de Ville station on metro line 1.
Adresse: 36, rue de la Verrerie, 75004.
The Hôtel de Ville de Paris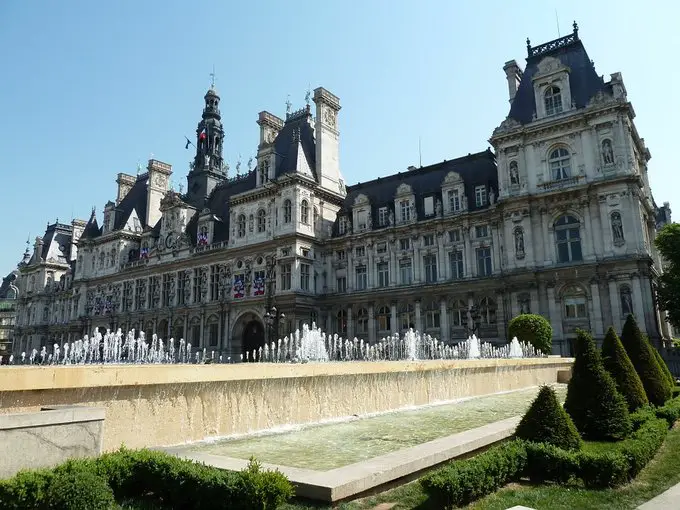 Located in the same area, the Hôtel de Ville, surrounded by its many fountains, stands majestically on the old Place de Grève. A place of power where you find the seat of the Conseil de Paris, it is the largest municipal building in Europe. Built in 1357, it has housed the capital's municipal institutions ever since.
Today, the Hôtel de Ville opens its doors to visitors, but only by request. Since the location is protected, you'll have to make a request to the hosts in charge of visits.Exhibits are also regularly planned.  You'll find all the necessary information on the Ville de Paris web site.
The Hôtel de Ville was built in 1357 by the architect Etienne Marcel, and then followed centuries of change. The palace was redesigned many times and has adopted today a neo-Renaissance style that it has had since 1874, thanks to the plans of Edouard Depertes and Theodore Ballu (architect of the Eglise de la Trinité).  The building need important construction work following a fire that happened during the Paris Commune in 1871 that ravaged the Hôtel de Ville and caused the loss of many manuscripts and municipal documents.
Every year, during the Christmas season, a skating rink is placed on the square until around the month of March, and welcomes visitors for free (only the ice skates are for rent for 5 euros) from 9am to 10pm.
You can also have fun all year round on the squares carousel, for people of all ages!
To get there, get off metro line 1 at the Hôtel de Ville station.
Address: Place de l'Hôtel de Ville, 75004.
The Carnavalet Museum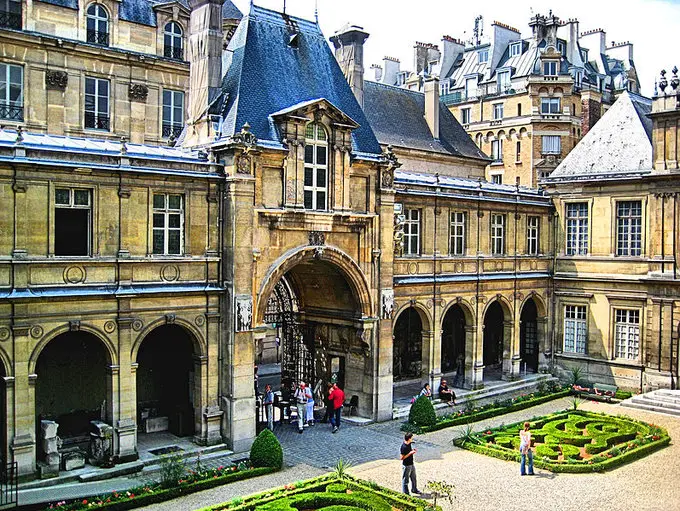 The Carnavalet Museum will undoubtedly excite any history lover. Located on rue des Francs Bourgeois, this museum retraces the history of the city of Paris.  It consists of two private mansions containing many paintings and historical objects from France. It is so famous that it was once home to the Marquise de Sévigné, who gave her name to the street that the mansion is found on.
Its Renaissance architecture acts as witness to its past. Built in the 16th century and having the whole site listed as a historical monument in 1846, the Hôtel Carnavalet is one of the oldest mansions in Marais. The residence was transformed into a museum during the 19th century and welcomes relics from our time. From prehistory to the modern era, come discover the hundred reconstructed rooms that will guide you through the centuries.
To get there, get off metro line 1 at the Saint-Paul station. Take rue de Sévigné, then a left on rue des Francs Bourgeois.
Address: 16, rues des Francs Bourgeois, 75003.
The Bibliothèque Historique de la Ville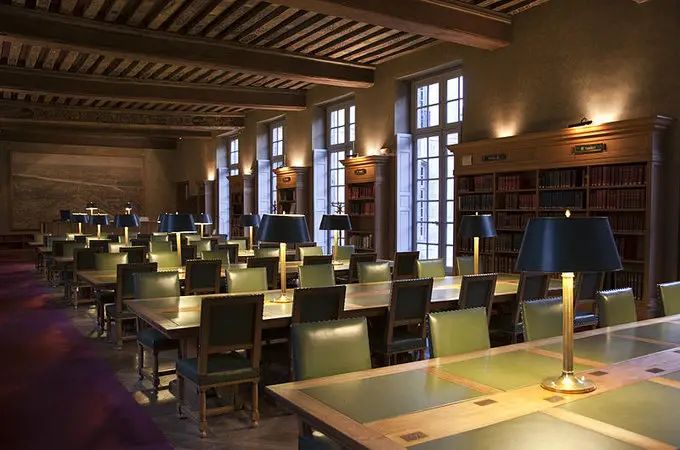 Across from the museum, you'll find the, Bibliothèque Historique de la Ville de Paris. A public library that specializes in the history of Paris and the Ile-de-France, it is located in the Hôtel d'Angoulême-Lamoignon on the corner of rue Pavée and rue des Francs Bourgeois.
This private mansion, listed as a historical monument in 1937, holds manuscripts and documents about Parisian history. Opened in 1763 as a public library, it officially became Bibliothèque de la Ville de Paris in 1804. It stretches from Place des Vosges to the intersection of rue Rambuteau and rue des Archives.
To get there, get off metro line 1 at Saint-Paul station. Take rue de Sévigné, then take a left on rue des Francs Bourgeois.
Address: 24, rue Pavée, 75004.
Rue des Rosiers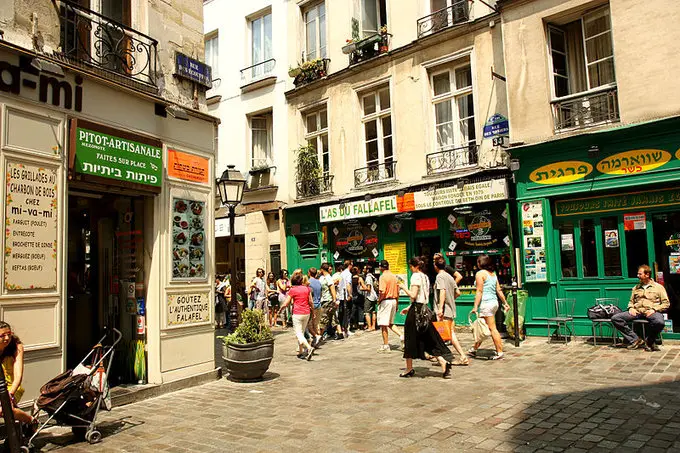 At the exit of the Bibliothèque Historique de la Ville de Paris, we recommend taking rue de Rosier that crosses with rue Pavée. In addition to being a good shopping location, this street is the heart of the Jewish neighborhood in Marais. The majority of its Jewish residents are descendants of Eastern European Jews, a community, a community that is deeply rooted and active in Marais. Furthermore, rue des Rosiers is home to many restaurants whose specialties include falafels, little balls made from chickpeas or beans that are fried in oil and often served in a sandwich with a lot of vegetables. Nevertheless, we suggest that you be prepared to wait before going to face the extremely busy line at noon, because falafels on rue des Rosiers are famous and appreciated by the neighborhood's inhabitants just as much as by tourists. We recommend these two locations in particular: L'As du Falafel and Chez Marianne, two tiny restaurants that offer varied meals served there or to go.
Locations:
L'As du Falafel: 32-34, rue des Rosiers, Paris 4th arrondissement.
Chez Marianne: 2, rue des Hospitalières Saint Gervais (10 meters from the end of Rue des Rosiers), Paris 4th arrondissement.
The Epicenter of the Gay Community
Marais makes itself known as the epicenter of the gay community in Paris. Many bars, boutiques, and restaurants are brought together on rue Saint Croix de la Bretonnerie and rue des Archives. We suggest visiting the neighborhood in summer, and more particularly during Gay Pride that livens up these streets that are normally already pretty animated. In fact, along rue Saint Croix de la Bretonnerie and rue des Archives you can find numerous gay bars and clubs like Free DJ, a club that offers many themed parties for those that like to party through the night or the stylish Cox, a bar with a calmer atmosphere, but nevertheless welcoming. You can also appreciate the many gay or gay friendly boutiques that sometimes offer products that are really… bold, like at Le Gay Choc, a bakery that offers a large selection of baked goods in various and rather original shapes, solely reserved for our less prude readers. You'll also discover the capital's first gay bookstore: Les Mots à la Bouche, an establishment that offers various works and is particularly specialized in homosexual literature.
Locations:
Free Dj: 35, rue Saint Croix de la Bretonnerie, Paris 4th arrondissement.
Le Gay Choc: 45, rue Sainte Croix de la Bretonnerie, paris 4th arrondissement.
Le Cox: 15, rue des Archives, Paris 4th arrondissement.
Les Mots à la Bouche: 6, rue Sainte Croix de la Bretonnerie, Paris 4th arrondissement.
Rue de Rivoli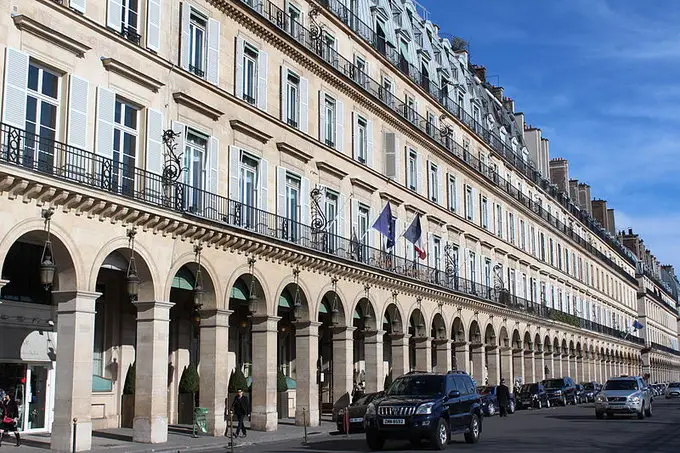 Known around the world, rue de Rivoli stretches from the 4th arrondissement from rue Sévigné in Marais to the 1st arrondissement up to Place de la Concorde with a total length of 3 kilometers. Following it from Concorde, we can admire the Jardin des Tuileries and the Orangerie up to the Louvre on our right. To the left, the archways house the little boutiques, bars, and restaurants up to those in Marais.  There you'll find all styles and prices. The more chic boutiques and the most expensive are found higher up on the street, around Concorde and the Louvre. But also around Châtelet, you'll find larger shops like Zara, Mango, Stradivarius, H&M, Etam, Forever21, and plenty others.
Saint-Jacques Tower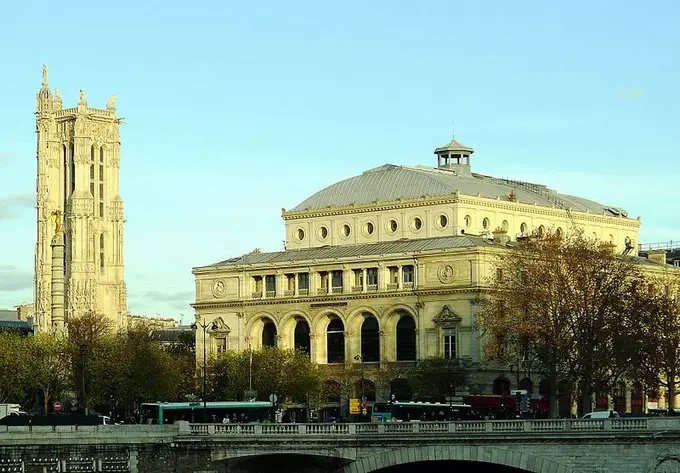 Crossing the street, you can see Saint-Jacques Tower.  Listed as a historical monument and as a UNESCO global heritage site, it is located on the Square de la Tour Saint Jacques, at the edge of the street, in the Saint-Merry neighborhood (the same one where you'll find the Centre George Pompidou). Today it is the only part left from the church with the same name.
To get there, you can take lines 1, 7, 8, 11, and 12, to stations Bastille, Saint-Paul, Hôtel de Ville, Châtelet, Louvre-Rivoli, Palais Royal-Musée du Louvre, Tuileries, Concorde.
Chic and Trendy Boutiques
For the end of this article, we've put together a list of the chic and trendy boutiques that we recommend visiting while passing through Marais.
From chic to second hand, find what makes you happy among these:
Also a few art galleries:
Our recommended hotels in this neighborhood
5 stars:
Hôtel Dupond Smith : spacious and design rooms, trendy and refined, very central location.
4 stars:
Hôtel Original Paris : eclectic and lively, every space is a voyage into an imaginary land of extravagance and elegance, design rooms and luxury services.
Le Pavillon de la Reine : The bedrooms are very elegant and refined, and certain rooms also benefit from stylish wooden beams, near Victor Hugo's house.
3 stars:
Hôtel Bastille de Launay : calm and comfy rooms, furnished with elegance and sobriety, near Le Marais .
Hôtel Caron : This prestigious hotel will welcome you in a haven of peace, and will suggest you sophisticated rooms, illuminated, the rooms will offer you a peaceful and comfortable setting.
1 & 2 stars:
Hôtel Nicolo : a real concentration of comfort and tranquillity just a stone's throw from numerous monuments, restaurants and boutiques.
And for more activities in neighbouring quarters, check this article !

I aim to share my tips and recommendations for the beautiful country of France. My goal is to help you plan your next adventure, whether it's a weekend getaway or a once-in-a-lifetime trip. From finding the best hotels and restaurants, to discovering unique activities and sights, I've got you covered!