You're right in the center of Paris and you have no idea what to do. Should you do something casual or something enlightening, should you explore France's history or more recent stuff, should you move around and work out or stay put and relax?… Fear not, the Bastille area will suit any of your answers and so many more.
So… what is exactly the Bastille?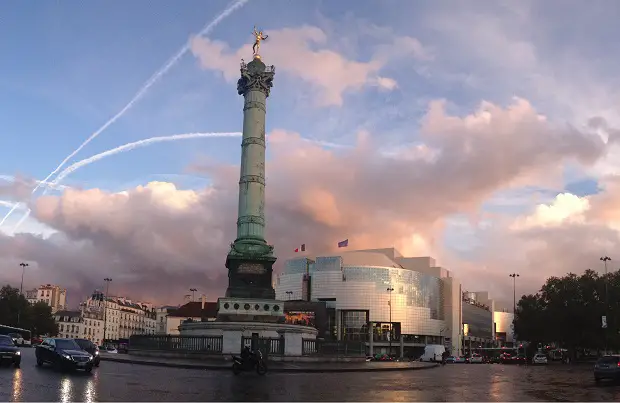 The Bastille area is full of historical monuments and places to go to in order to enjoy a perfect afternoon.
The most obvious thing to start with would be the geographical, historical and cultural center of the area; the central square (albeit a round one), the Place de la Bastille itself. So, how about a short history class?
The Bastille has not always been a square. It used to be a prison. But that wasn't its original role either. Even before that, it was a fortress built in 1369. The Cardinal Richelieu -during the 16th century- is the one who changed that fortress into a prison.
In 1789, following the French Revolution, the Bastille prison was destroyed and razed until it was turned into just as many stones. And even those stones were put to use elsewhere (including -while not limited to- the Pont de la Concorde). In other words, the only thing that the Place de la Bastille has in common with the prison is its name.
The next year, the very first July 14th ball (the celebration of the French Revolution) was organized on this newly built square.
In 1840, in honor of the deceased during the so-called "July revolution", the city built the July Column, a tall, 43 meter high, monument.
Ok, so that was "Bastille 101". Now let's talk about the fun stuff.
Let's Walk the Walk
The Place des Vosges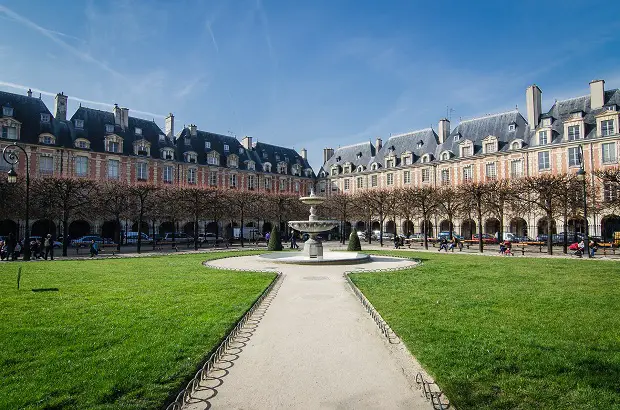 Whether it is its historical value, the architectural splendor of the buildings surrounding it or its relaxing atmosphere with nice green grass and the beautiful fountain in the middle of the square (a square one this time), The Place des Vosges is a must-see.
From within the small garden of what used to be the Place Royale (which is what is now called the Place des Vosges), you will be able to see the centuries-old manors that king Henry IV of France had built for his royal court.
On a side note, at the 11 Place des Vosges, on one of the pillars, present for anyone who cares to check it out, there is a very old inscription, now considered the ancestor of all Parisian graffitis.
The Coulée Verte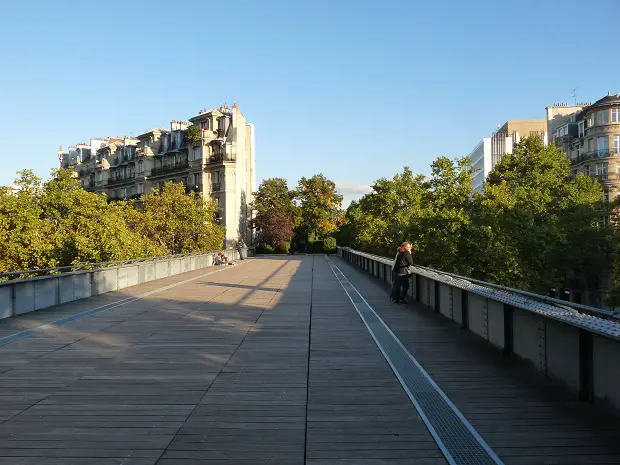 "Downtown nature" is, surprisingly enough, not an oxymoron. Where there once was an abandoned railroad, there is now a 5 (-ish) meter high walkway called the "Coulée Verte".
Built in 1988, the Coulée Verte's principle is to have greenery on either side of the walkway. A principle which, I might add, will surprise and dazzle you from one end to the other of this magnificent pathway.
After the archways holding up the walkway were restored and strengthened, Parisian artisans all moved under the Coulée Verte. As such, passerbys can admire the shop fronts which showcase all of those people's works. Due to such a sight and atmosphere, this pathway, at the foot of the Coulée Verte is now known as the "Viaduc des Arts"
Whether you stroll around the walkway and admire the greenery around it or follow the streets at its feet, the "Coulée Verte" is a sight to behold.
The Jardin du Port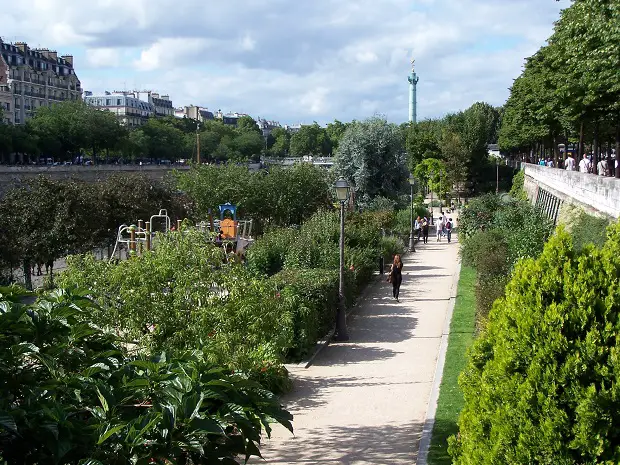 Every Spring and Summer, all of the few hundred usable square meters of the Jardin du Port are virtually invaded by people wanted to relax. From an aesthetic point of view, this Garden emulates the style of terraces in the South of France by bordering the canal for a few hundred meters.
When Summer comes around, anyone can just turn around and admire the numerous climbing plants such as kiwi, rose and chevil vines.
If you feel too lazy to take a stroll, then you can just lie down and relax on the lush, green grass. Whether you'd rather be in the sun or in the shade is up to you; all along the way, the Garden has spots both in the sun or under the green leaves of majestic trees.
No one can Ignore Culture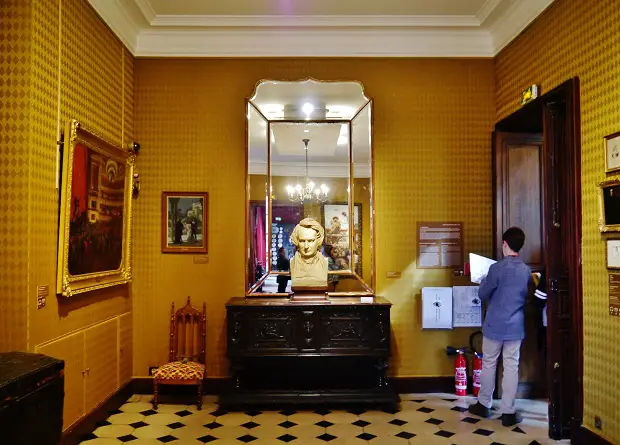 This famous author used to live at the Place des Vosges (see how impressive that Square is?); on the third floor of the 6th. And this is the very place where he wrote many of his most famous books (as well as most of Les Misérables). This house has now been transformed into a museum dedicated to his glory.
The apartment is, in fact, not organized in a way to copy his lifestyle when he lived there. Instead, through the presentation and locations of his furniture and decorations, anyone can follow him through the three main periods of his life; the time before, the time during, and the time following his exile.
The second floor whose visits are only possible on demand, is also used for temporary exhibits. The main contents of that floor would be Victor Hugo's own paintings, pieces of art his books have inspired as well as a first edition library of his entire bibliography
Address: 6 places des Vosges, 75004 Paris
Schedule: Tuesday through Sunday (10:00 am – 6:00 pm)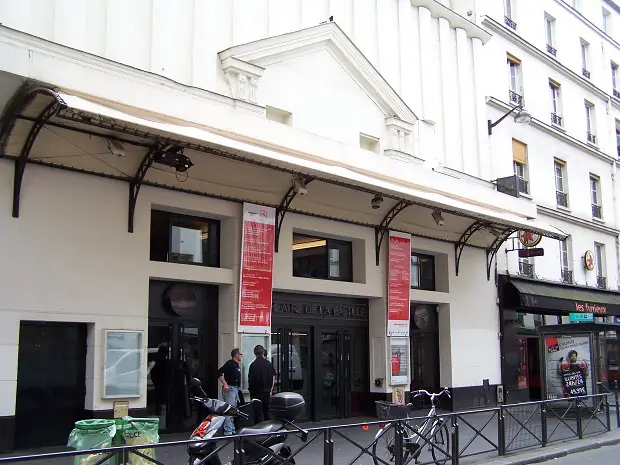 The Bastille Theater mainly showcases plays and dance performances.
It prides itself in its originality. All the plays shown onstage are results of the unbridled creativity of their directors; some will put on normal performances while others will throw in their brightest and craziest ideas.
Furthermore, rather than just being a common spectator, the public can also participate in multiple activities concerning the theater itself (writing a play, public readings, a conversation with the performers onstage…)
Address: 76 rue de la Roquette, 75011 Paris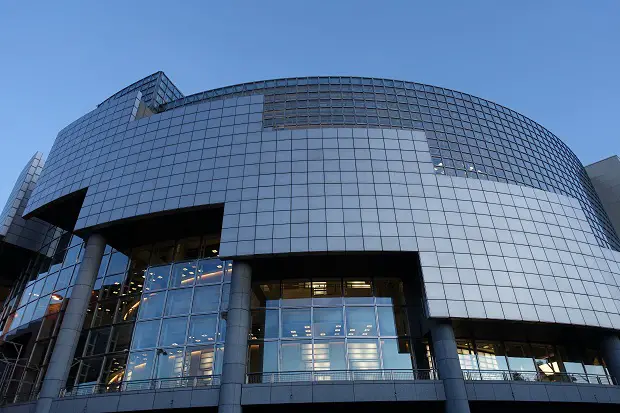 Not only is this monument (built 1989) impressive, but it is also one of the very icons of the Place de la Bastille and even Paris itself. So, you've guessed it, we're going to talk about it.
The impressive and innovative architectural design of the building and the fact that it's one of the 5 biggest operas on Earth are but a few of the reasons you should explore the Opéra Bastille.
You can, quite obviously, go there to watch an opera, theater or classical dance performance; but more impressively, a guide will give you a tour around this behemoth.
Even if you're not overly fond of lyrical arts (or have been traumatized by the fat lady's song), it would still be a shame to miss the opportunity to explore the Opera's architecture.
Address: Place de la Bastille, 75012 Paris
Things to do, whatever you're into
The ever present movie theater
The Bastille area has everything in it. Not only can you hang out in both museum or bars (depending on your mood); you can also watch some good old (new) recently released movies.
There are no less than… three movie theaters in the Bastille area. The mk2 Bastille is located at 5 rue Faubourg Saint-Antoine, while mk2 Bastille-Baumarchais is at 4 Boulevard Beaumarchais. If you're more into old classics, you can also go to the Majestic Bastille at 2-4 Boulevard Richard-Lenoir.
The rue Keller, a Street Tailored to your Tastes
The rue Keller is, at first sight, a cute and simple street… But when you look into it a bit deeper, you'll discover that no matter what you call yourself, this is where you'll find the fun you're looking for.
Whether you like Rock (not rocks), feel emo or are devoured by the passion of American pop-culture or Japanese manga, this is where you'll feel at home. This tiny street is known for all its Rock, manga, cosplay, pop culture and disk shops (and so on and so forth).
For those who have an affinity to Rock or emo and emo-goth clothes and accessories, The Indien Boutique is here just for you. For all those otakus out there (if you don't know what an otaku is, then you definitely aren't one), Black Sugar will give you all the cosplay you need and Manga Dori prides itself in covering pretty much every aspect of the Japanese manga culture. And if what you like is good old American pop culture, the Pop Culture Shop will welcome you with open arms.
Let's not forget that this minuscule street less than 100 meters long also has multiple bars where you can have fun after having satisfied your darkest desires.
Some Meals You'll never forget
Café des Chats €€ – €€€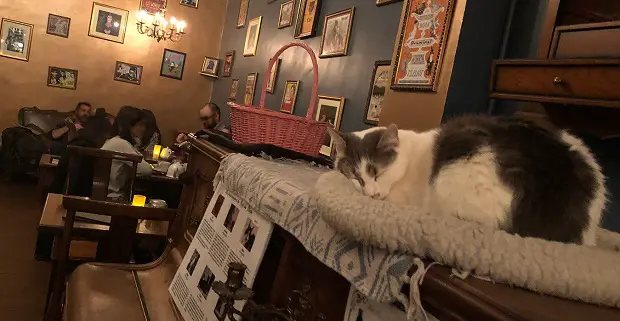 Let's start with something cute and fluffy which makes you smile and scares mice away. I am, of course, talking about cats. The principle of the Café des Chats can be summed up in one word: cats. Everywhere around you, the café is stock full with big fluffy furballs walking around with no restraint.
You can find them awake, or you can find them sleeping. Whether you look on your left or on your right; whether you look up above or down below cats are everywhere. Surrounded by so many fluffballs, this is the world of cats.
While these cats may be the main point of interest of the café, the quality of the food is in no way whatsoever to be denied. Everything is homemade and you will enjoy your food all the more due to the cute cats surrounding you (as well as the other way around).
If you're allergic, don't come. If you're not, you might not want to leave.
Address: 9 rue Sedaine, 75011 Paris
Schedule: Tuesday through Sunday (12:00 pm – 10:30 pm)
Cost: 12€ – 22€
Grades:
Tripadvisor: 4/5
Google: 4,3/5
Check out the restaurant (the link is in french)
Pizzeria Il Quadrifoglio €€ – €€€
Pizza is, while an Italian staple, also loved worldwide. As such, we weren't going to miss out on this delicious spot.
While the food itself is of great taste and prepared on the spot with quality ingredients, the greatest strength of this pizzeria is its special brand of homemade gluten-free flour. Il Quadrifoglio serves gluten-free pizzas and pasta with the exact same taste and texture as their wheat-based counterparts.
On a final note, the pizzas have an extra touch which might take you by surprise. The pizzas are heart-shaped. Some might find it funny while others might find this romantic; one thing everyone will agree on is that they're cute.
Address: 19 boulevard Bourdon, 75004 Paris
Schedule: Tuesday through Saturday (12:00 pm – 3:00 pm; 7:00 pm – 11:00 pm)
Cost: around 30€ per meal
Grades:
Tripadvisor: 4,5/5
Google: 4,6/5
NaNa €€ – €€€
NaNa is a small, inconspicuous fishbar with a delicious menu.
Despite it being called a fishbar, its real specialty is the combinations of meat and seafood they serve for dinner.
The menu, while somewhat lacking, changes daily, according to whatever fresh products they can get their hands on; as such, each meal will be completely different from the next.
In order to guarantee their ingredients' quality, not only are they bought nice and fresh from the market, but only seasonal products will be put on your plate.
Address: 10 rue Breguet, 75011 Paris
Schedule: Monday through Friday (12:00 pm – 2:30 pm; 7:30 pm – 11:30 pm)
Cost: 22€ – 60€
Grades:
Tripadvisor: 4,5/5
Google: 4,7/5
Bistrot de l'Oulette €€ – €€€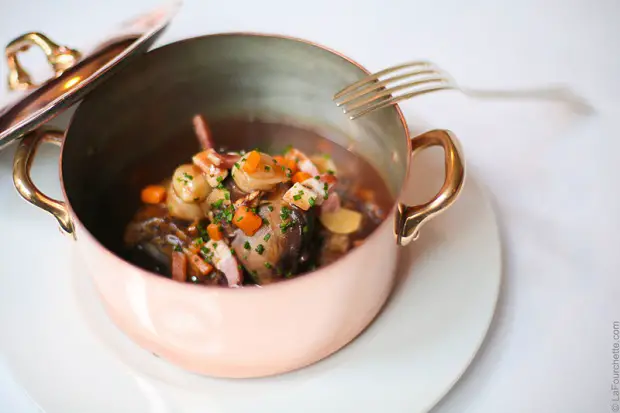 If you want exquisite cuisine in a chic -yet not posh- atmosphere along with portions that will satisfy you, search no further, you're at the right place.
While originally a restaurant in the Bercy area, The Bistrot de l'Oulette's food (foie gras, cassoulet, terrine…) was so popular that they opened a second shop near the Bastille.
While their food is good, they don't try to rip you off and you can eat a nice meal in a cozy and friendly atmosphere.
In other words, if you want to eat some South-Western specialties but are stuck in Paris, then just go to the Bistrot de l'Oulette.
Address: 38 rue des Tournelles, 75004 Paris
Schedule: Monday through Saturday (12:00 pm – 2:30 pm; 6:30 pm – 10:30 pm)
Cost: 17€ – 41€
Grades:
Tripadvisor: 4,5/5
Google: 4,7/5
Saveurs d'Atika €€ – €€€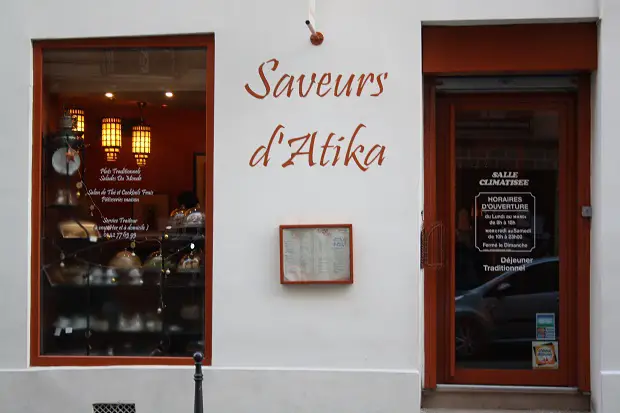 This tiny restaurant with no more than twenty seats is owned by, wait for it, Akita and her mother (Finally a restaurant that is really named after its owner). This Moroccan restaurant provides national specialties such as the kefta briwat or chicken pastillas as well as an incredible amount of different couscous and tagines each of which are more succulent than the last.
While the prices are pretty low, the portions, on the other hand are surprisingly big.
The last thing to mention is most probably that if you were to come during the afternoon, between lunch and dinner, the restaurant turns into a tea house, serving nice warm, sweet mint tea.
Address: 14 rue des Tournelles, 75004 Paris
Schedule: Monday (12:00 pm – 4:00 pm); Tuesday through Thursday (12:00 pm – 3:30 pm; 6:30 pm – 10:00 pm), Friday and Saturday (12:00 pm – 10:00 pm); closed on Sundays
Cost: 25€
Grades:
Tripadvisor: 4,5/5
Google: 4,5/5
>> check out this restaurant <<
Ristorante italiano 00 39 €€ – €€€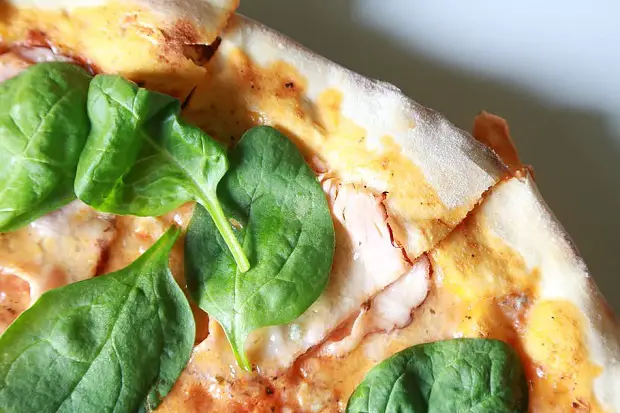 Let's end this list with a hint of humor and deliciously delicious (yes, that's how delicious it is) cuisine. The 00 39, being Italy's international phone code (check it out if you don't trust us), will put you in direct contact with this country's national cuisine. While all the dishes prepared by the restaurant's owner, a real Italian chef specialized in Tuscan food, are exquisite, the restaurant's specialty are most definitely its antipasti.
Address: 24 rue des Tournelles, 75004 Paris
Schedule: Tuesday through Sunday (12:00 pm – 2:30 pm; 7:00 pm – 11:00 pm)
Cost: 23€ – 36€
Grades:
Tripadvisor: 4,5/5
Google: 4,6/5
Check out the restaurant  (the link is in French)
Where to Go When You Just Want to Chill
The Moonshiner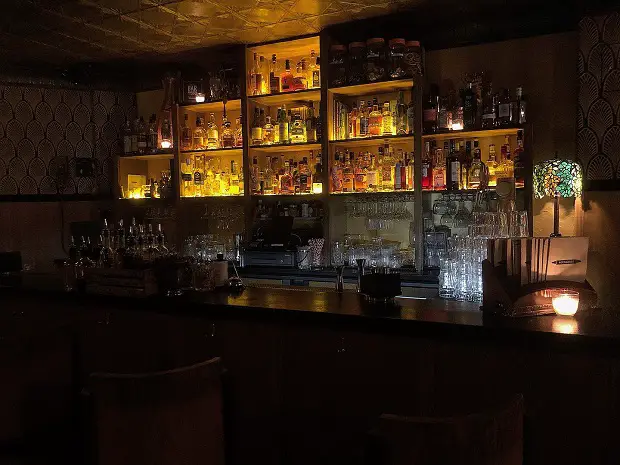 "Moonshiner" is a term describing the people who provided illegal alcohol (also called "moonshine") during the prohibition period; and there is absolutely no better way to name or even describe this bar.
Trying to mimic to the utmost perfection the style the illegal bars used to have during the American prohibition period in the 1920s and 1930s, not only is there no indication whatsoever concerning the bar itself, its entrance is hidden inside the fridge of the Da vito pizzeria.
The principle of having a prohibition period's illegal bar does not merely stop at hiding it behind another restaurant. Every single thing inside is made for people to feel immersed in that period. Whether it's the subdued light, the record player, the wooden structures or the jazz music, they did not hold anything back in order to make us relive the beginning of the 20th century. Even the glasses and silverware are of a vintage style.
But let's stop talking about the atmosphere; this place is first and foremost, a bar. As such, the most important part should be the booze. This place is both a heaven and a haven for all those cocktail lovers out there.
While they obviously serve cocktails straight from that time (the recipes, not the ingredients), there's also a lot of recent and even unheard of cocktails, all of which are prepared by baristas specialized in mixology.
There's even -just like in the good old times- a smoking room which is (obviously) decorated in that vintage 1920s style as well.
In conclusion, going to the Moonshiner is like taking a trip in space and time in order to get a drink in another era.
Address: 5 rue Sedaine, 75011 Paris
Schedule: Everyday (6:00 pm – 2:00 am)
Cost: 10€ – 15€ per cocktail
Grades:
Tripadvisor: 4/5
Google: 4,7/5
Pachi Pacha Minibar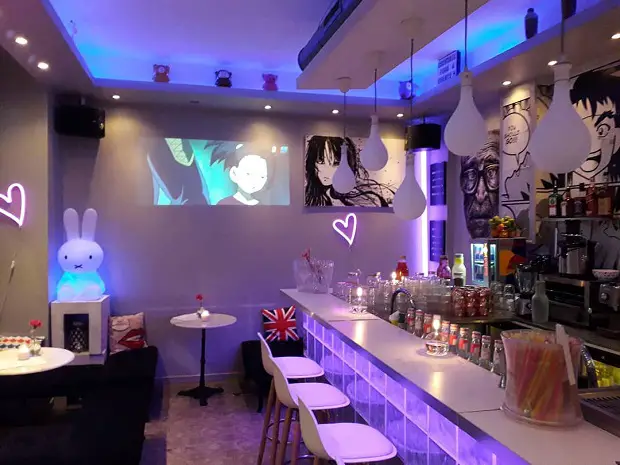 This is a mind-boggling (and we mean that in many ways) place which is, to put it plainly, unorthodox.
First of all, this bar accepts reservations which is already somewhat uncommon. There needs to be at least 5 people to reserve a table and 35 to reserve the whole place.
Let's talk about the bar… This "Champagne bar" doesn't just serve some sparkly white wine. This is the place where you can get cocktails you wouldn't dare to imagine, even in your craziest dementia-induced, dreams. In other words: a whole lotta fun
The atmosphere is… well, describing the atmosphere in a single dozen words would be hard. It's incredibly multigenre (see? I had to invent a new one). The entrance has a Miffy lamp, the walls and paintings are manga-oriented, the posters are more of a pop-art style while the benches are plastered in white fur. Everything is different and chaotically mixes together to create a unique and exciting ambiance.
Address: 44 rue de Charenton, 75011 Paris
Schedule: Tuesday through Saturday (4:00 pm – 2:00 am)
Cost: around 10€ per cocktail
Grades:
Tripadvisor: 4,5/5
Google: 4,7/5
Check out and reserve  (the link is in French)
Mojito lab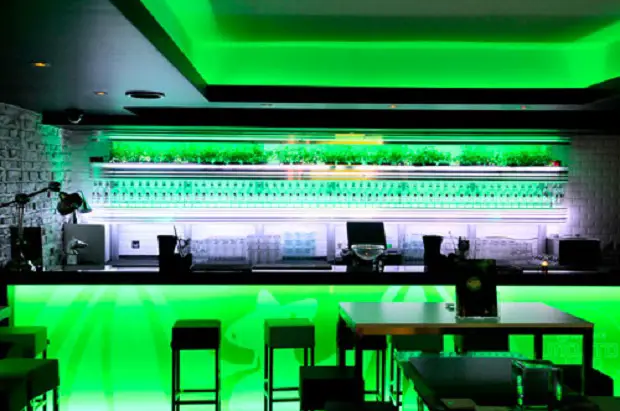 Some bars have an insane amount of different cocktails. This is definitely not one of them. The Mojito Lab only serves… Mojitos (then again, when the bar has that kind of name, I'm pretty sure you weren't expecting vodka-martinis)
Created by Laurent Gréco, a famous mixologist, this very mojito-oriented bar has no less than 20 mojitos on its list for you to choose from. Whatever your preferences or diet are, here, you will find the mojito of your heart.
The mojitomania of this bar doesn't just affect the somewhat absurd amount of mojitos on its mojito-esque menu. The real stone walls, which could have given a somewhat chic and sober atmosphere to the bar are full of different types of mint (an important ingredient for mojitos).
Being a mojito addict isn't enough for you? Well, the Mojito Lab does not shame its title of "Holy Land of Mojitos" as you will be able to take lessons and learn how to make three different mojitos (after all, you probably won't be satisfied with just one type of mojito, right?)
Once you've decided to follow the Cult of the Mojito, on your way home, you can step by a minishop and buy, you guessed it, all the ingredients you might need to make a mojito.
A last point of notice would be that you can bring your mojito-attitude back home. For a mere 50€, some mixologists (mojitologists?) will come and teach you the Secret Arcanes of the Mojito. They will then leave you a mojito cocktail kit as well as a bottle of… mojito.
If we were to describe this bar in one single word, then that word would be "Mojito".
Address: 33 rue Keller, 75011 Paris
Schedule: Open every day (6:00 pm – 2:00 am)
Cost: 10€ – 15€ per cocktail
Grades:
Tripadvisor: 4/5
Google: 3,8/5
Rue de Lappe (Lappe Street)
Rue de Lappe is not bar. It is, as it names clearly implies, a street. But not any street. It's a street filled to the brim with bars (and some restaurants, here and there… but mainly bars). From side to side and from end to end, all you can see, is bars.
Do you have any idea, how many bars are in rue de Lappe? The answer is 42.
As naming them all would require an article of its own, we will just mention some of the more popular ones:
A Few Spots to Sleep at
Oh la la!
6 Rue de la Roquette, 75011 Paris
Let's finish with the bars and talk about one last one of them. The Oh la la! isn't a mere hotel. It's also a bar with a nice ambiance. With its slightly dimmed light and subtle atmosphere, drinking cocktails is nearly a delicacy.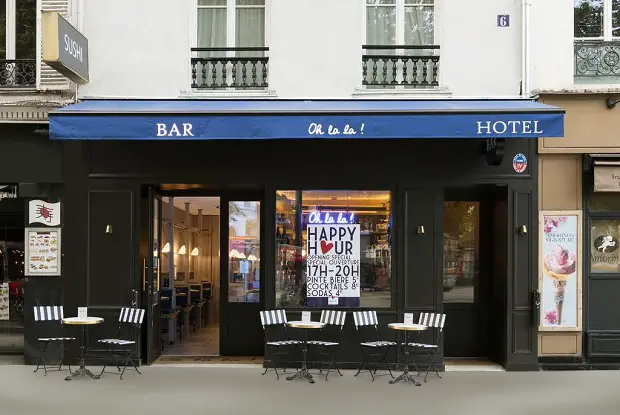 As the most recent hotel in the Bastille area, this hotel will have operated for a single year by the time 2020 is over. As a renovated and modern hotel, the Oh la la! doesn't pale, even when compared to the surrounding hotels
With a Bed & Breakfast deal and a popular bar, the Oh la la! is clearly targeted for younger tourists.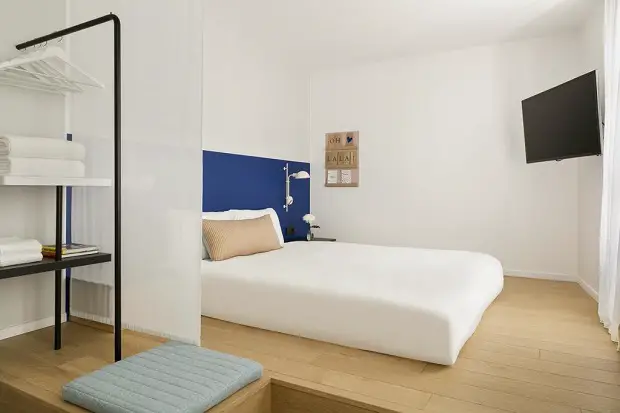 By the way, did I mention that being at literally one street from it, the Oh la la! is the closest hotel to the Place de la Bastille? Well, now I have
Fare: from 95€ and on
Oh la la! Hôtel bar Paris Bastille: information and reservation
Pavillon de la Reine
28 Place des Vosges, 75003 Paris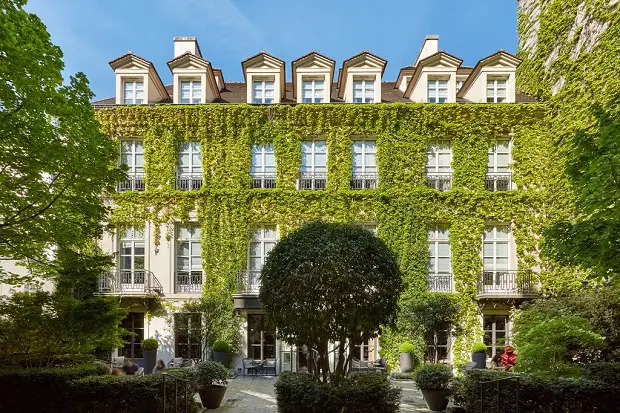 Have you ever dreamed of being of royal blood? Living in a house tailored for a monarch and have everyone at your beck and call? In that case, consider your wish granted.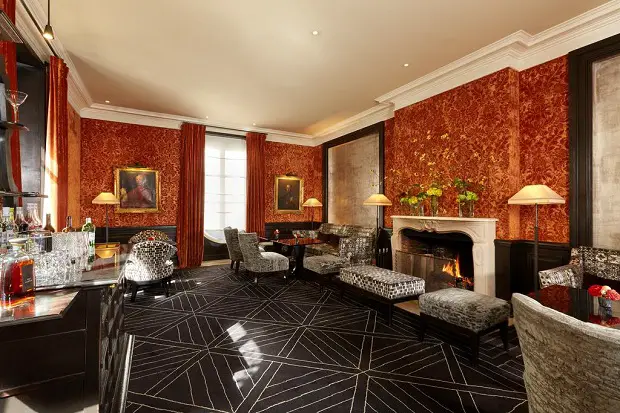 At the Place des Vosges, the Pavillon de la Reine is a historical landmark whose name comes from the fact that at the time of Louis XIII… it was the queen's pavilion.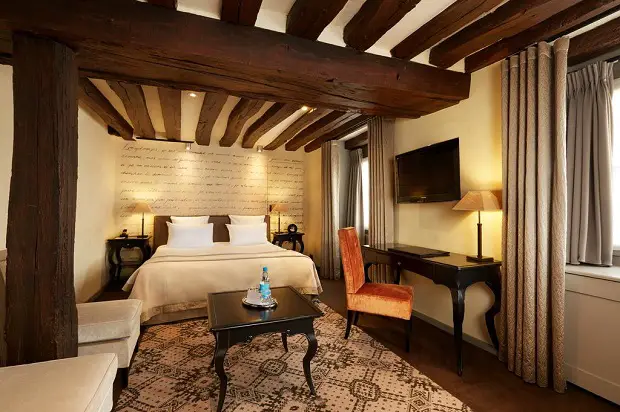 Sleeping in a royal house… I bet you never did anything like that before, right?
From massages to hairdressing, from laundry to housework, from baby-sitters to fitness coaches… Everyone is here to satisfy your Highness' desires.
Along with that, there are the usual luxury hotel stuff such as hot tubs, steam baths, bike renting, beautiful and impressive rooms… For the first time, you'll really feel like you're in a palace.
You also have access to the Place Royale… now that's what I call royalty
Fare: from 330€ and on
Le Pavillon de la Reine & Spa: information and reservation
Hôtel Standard Design
29 Rue des Taillandiers, 75011 Paris
This time, we're not going to talk about classiness, nobility and subtlety. We won't be talking about how you can walk through a nice bar to reach your room. And of course, we're not going to talk about the price such bonuses cost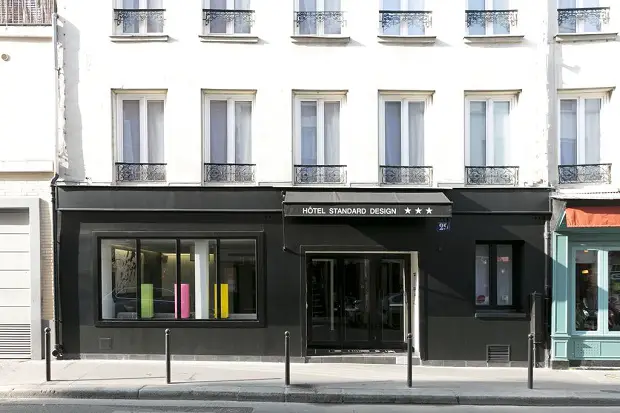 The Hotel Standard Design might be no more than a standard hotel and might only offer standard services… but its customers will all agree on the fact that the hotel's standards correspond to the standards they are looking for.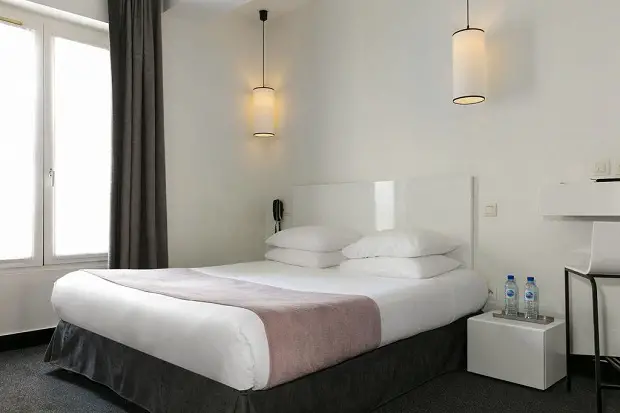 The main advantage of this hotel (besides the fact it's close to the Place de la Bastille without which it wouldn't even be in this article) is that it's located halfway between rue Keller and rue de Lappe; thus placing it, on one hand, close to the most active area around Bastille, and on the other, in a rather calm street.
Both cheap and perfectly situated to go out at night, this is the perfect hotel for anyone who just wants to come to Paris and have some fun.
Fare: from 65€ and on
Hôtel Standard Design: information and reservation

I aim to share my tips and recommendations for the beautiful country of France. My goal is to help you plan your next adventure, whether it's a weekend getaway or a once-in-a-lifetime trip. From finding the best hotels and restaurants, to discovering unique activities and sights, I've got you covered!