Are you lacking in inspiration to celebrate your next birthday? Here is our selection of exceptional places in Paris with a spark or originality.
Original Places
Bar Karaoke Box
30 Rue Richer, 75009 Paris
50 Rue d'Aboukir, 75002 Paris
40 Avenue de la République, 75011 Paris
4 Rue de Caumartin, 75009 Paris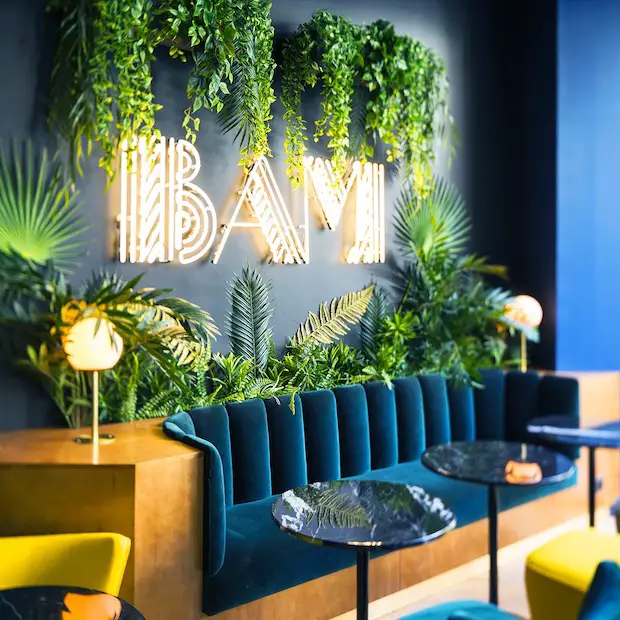 With its many locations, this karaoke chain guarantees a high-quality and unforgettable experience in its diversified settings -from vintage all the way to futuristic styles as well as a Haussmann-style cozy/chic ambiance.
The private rooms can welcome up to 30 people to fully enjoy your party accompanied by some delicious cocktails.
You can prepare your playlist beforehand on their website to avoid wasting too much time.
You can book the whole place if more rooms are necessary.
We like it for the wide variety of songs available (nearly 25,000 songs) and its camera in the room to immortalize this event.
We like it less for the insufficient number of microphones for which people shouldn't have to fight
Website: https://en.bam-karaokebox.com
Stan & Walter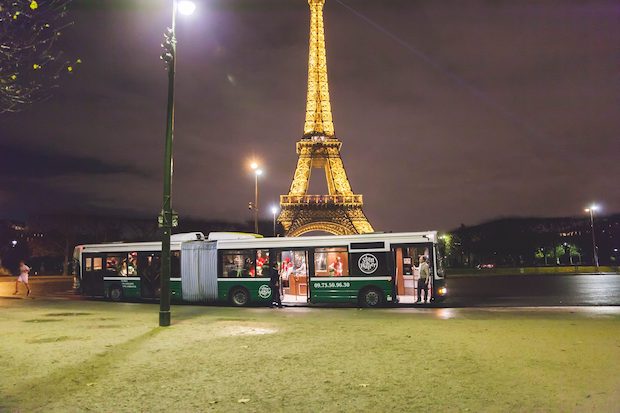 You feel like enjoying a bus experience other than your usual "Disco Bus", Stan & Walter will fulfill your needs with their innovative concept; in a 59 feet articulated bus, you will be able to gather bar,  DJ and photo booth all in one place.
In a cozy and vintage atmosphere, the caterer service includes cocktail dinners, gastronomic dishes and breakfast.
We like it for its original concept, its varied activities- wine tastings, street-art animations and photography, and a customizable itinerary.
We like it less for its maximum capacity of 50 people
Website: http://www.stanandwalter.com/en/
Fluctuart
2 Port du Gros Caillou Pont des Invalides, 75007 Paris
This innovating concept is the first one in the world: a floating urban art center!
This barge can be privatized for a maximum number of 10 people to enjoy the beautiful view over the Grand Palais and the Eiffel Tower while sipping drinks on either the terrace or the rooftop.
We like it for the fact that we can come dressed up and bring our own birthday cake and we can also enjoy the experience during winter loaned blankets.
We like it less for its plastic straws and cups which are not very eco-friendly and its limited capacity for this kind of event.
Find the details for the privatizations on their website https://fluctuart.fr/en/
Lock Academy – Escape Game
25 Rue Coquillière, 75001 Paris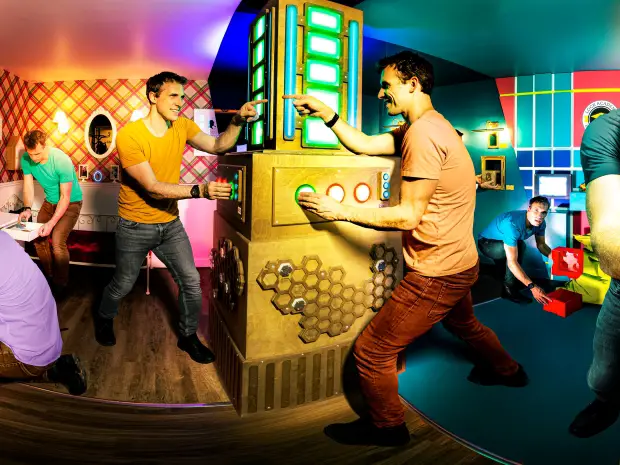 Since its creation, the Escape Game concept has become more and more popular. In groups of a maximum of 6 people, take on this challenge and lead the investigation in one of the 7 rooms provided by this shop.
With an outdoor option, Lock Academy is available for everybody and will undoubtedly pose a challenge to you.
Rates:
Regressive prices between €40 per person (for two people) and €25 per person (for six people).
€90 for the open-air option
We like it for the immersion in an investigator's universe, the original décor and plots and the clear game rules explanations.
We like it less for the difficulty in certain rooms which can be "too easy" for some people
Our advice: check the difficulty level before booking a room here https://lockacademy.com/en/booking/ and find more information on their website https://lockacademy.com/en/
Laser Paris – Laser Game
9 Rue Robert de Flers, 75015 Paris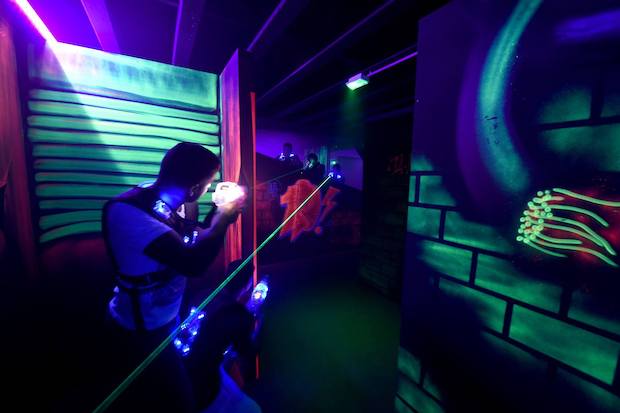 In almost 5,600 square feet, come and play by yourself or in teams in this laser game located a few blocks away from the Beaugrenelle shopping mall.
The birthday, which you need to book online, option includes 2 sessions of 20 minutes with a break to celebrate with a cake.
Rates:
€27 (cake and drinks included) and €29 on weekends and days off.
We like it for its decoration and its music.
We like it less for the large number of players on weekends who can be very loud
Website: https://www.laserparis.com/en/
Bars and Restaurants
The Ice Kube Bar
1 Passage Ruelle, 75018 Paris
This cocktail bar guarantees an original experience at a -20°C room temperature.
This concept is unique and the decoration fits the theme.
Rates:
€25 for a 25 minutes experience
We like it for its exceptional experience and the pretty pictures we can take in there.
We like it less for the room size which is quite small and the menu is not great for non-drinkers
Website: https://www.kubehotel-paris.com/en/page/ice-bar-hotel-paris.425.html
Le Sophomore
4 Rue Gambey 75011 Paris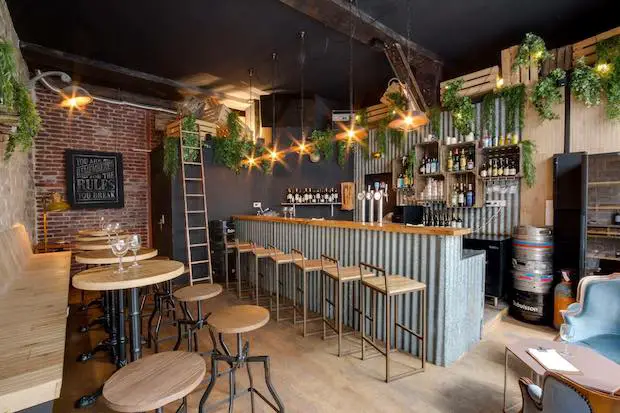 Le Sophomore is perfect if you wish to privatize a bar with a warm and friendly atmosphere.
This elegantly decorated and designed wine bar allows you to book a few tables if you have less than 30 people and the whole bar if you have more than that.
We like it for the affordable rates.
We like it less for the fact that we can't bring our own food, like a birthday cake
Their Facebook Page : https://www.facebook.com/lesophobar/
Le Mojito Bar
28 rue Keller, 75011 Paris France
Located near the Quartier de la Bastille, this bar dedicated to mojitos is an atypical place to enjoy mojitos declined into many recipes.
Surrounded by vegetation on their two floors; this lab will take you on a discovery trip to new mentholated flavors.
We like it for its imaginative cocktails
We like it less for its prices which are slightly high
Website (in French): https://mojitolab.fr
Le Zéro de Conduite
102 Rue du Théâtre, 75015 Paris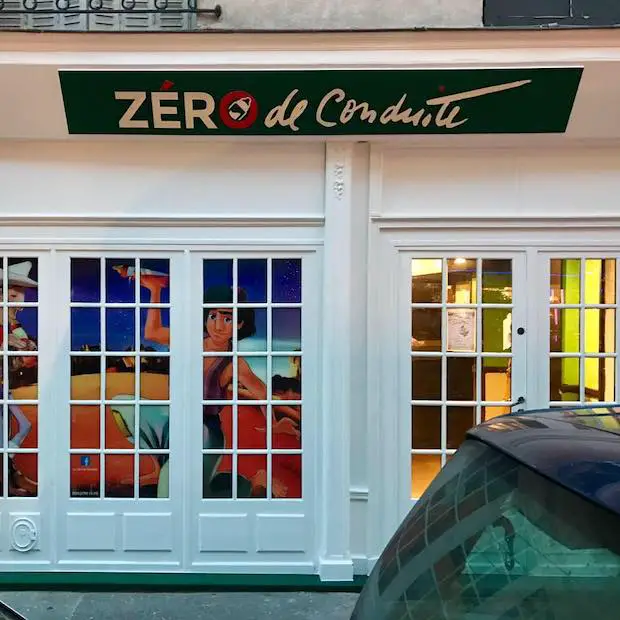 This little bar with an original concept in the 15th arrondissement will surely take you back to your childhood.
Between drinks served in baby's bottles (which you can keep), the cocktail names replaced with cartoon characters' names and the fact that you have to draw these characters to order, the bar never runs out of originality.
We like it for the innovative concept, the humorous atmosphere and the good vibes
We like it less for the room's size (a maximum capacity of 30 people)
Our advice: book well in advance
Facebook Page (in French): https://www.facebook.com/Le-Z%C3%A9ro-de-Conduite-24866625815/
La Mezcaleria
13 Boulevard du Temple, 75003 Paris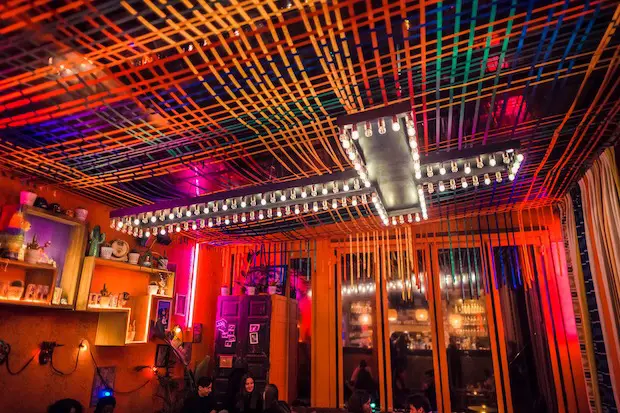 Going across the Hotel 1K lobby, you will find this cocktail bar with an inventive concept which will take you for a trip to Mexico in a typical Mexican décor, in the heart of the Marais.
We like it for the original menu
We like it less for the fact that we have to go across a lobby and kitchens to get there.
Find their Facebook Page :https://www.facebook.com/lamezcaleriaparis
L'Inside Bar
14 Rue Claude Tillier, 75012 Paris
The Inside Bar is the perfect place for a birthday in a calm yet cheerful atmosphere where we can enjoy delicious and affordable cocktails during the Happy Hour until 10pm.
The good atmosphere created by the DJ on weekends and the very attentive barman for your cocktail preparation promise a great night.
We like it for the affordable prices: €5 cocktails
We like it less for the noise in the room
Gemini Odéon
9 Rue Monsieur le Prince, 75006 Paris
83 Rue Vaneau, 75007 Paris
16 Rue des Halles, 75001 Paris
34 Rue Legendre, 75017 Paris
You will find this Italian restaurant in the Latin Quarter here, mood, quality meals and affordable prices are all keywords.
This place is perfect if you want to celebrate your birthday in a friendly ambiance and a friendly service which might be in a small committee or for a bigger group, the restaurant can make adjustments to suit your preferences to organize a great and cheery meal.
You will be able to find simple and classic dishes which will always be tasty and served plentifully.
Click here to find the menu (in French)
We like it for the affordable prices and the many locations which means that we don't have to run to the other side of the capital to eat
We like it less for the relatively small room
Our advice: book your table ahead of time, especially if you are in a large group
Website (in French): http://www.restaurantgemini.fr/

Mona knows Paris like the back of her hand. Its bars, its restaurants and above all, its hotels, whether you want to sleep, eat, party or just take a walk in Paris, Mona knows them (nearly) all. Follow her lead, she will gladly give you all her good tips!