You're passionate about art and exhibitions but you're still hesitating whether or not you should visit the Grand Palais? Here's our advice to help you make a decision.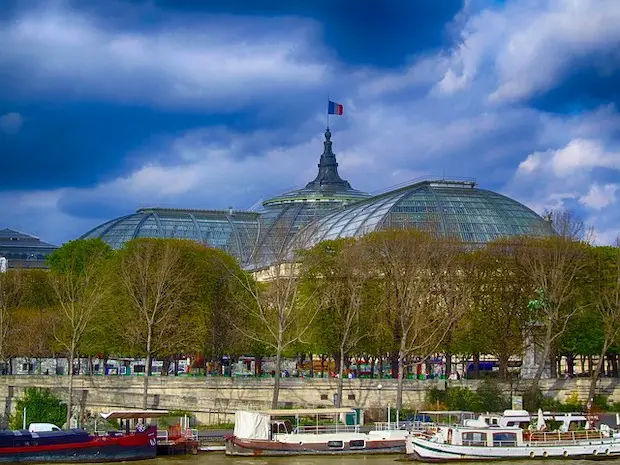 Our opinion on the Grand Palais' tour
We like it for:
Its architecture and its massive glass-dome
Its temporary and unique exhibitions
Its various events throughout the year and a termporary[1]  ice rink during the Christmas period
We like it less for:
Its rather long waiting lines
Its ticket prices which are relatively high
Its difficult accessibility – 3 entrances
You should visit the Grand Palais at least once and the experience its fascinating setting and beautiful exhibitions.
However, since the ticket price for the tour is quite high, we advise you to go for a specific event (for the ice rink or for a particular exhibition you don't want to miss, for instance) and to buy your tickets well in advance in order to avoid waiting in line for too long.
What is it?
The Grand Palais was built on the Avenue des Champs-Elysées in 1900 for the World's Fair before becoming a historical monument in 2000.
Famous for its glass-dome architecture, the original monument has undergone its first-time restoration project:
Some renovated exhibitions galleries were mad much bigger and brighter
The Neg now gives access to some balconies and will provide a new point of view from which to applaud events such as the Fashion Week
The children's gallery is now an area dedicated to students
The mediation areas were relocated in order to become brighter
The auditoriums are now able to welcome more people thanks to a bigger capacity
The outdoors have also been reconditioned to fit in better with both the Grand Palais' architecture and its urban surroundings.
Discover the Grand Palais through a virtual tour to give you a foretaste of what it is like:
What Audience is the Grand Palais aimed at?
The Grand Palais welcomes and reaches out to a large audience with some tickets whose price is adapted for the disabled:
Free entrance + €7 for the conference-tour
For accompanying people: free entrance + €10/full price for the conference-tour
For more information, click here  (in French)
A group ticket option which includes a free entrance is also possible:
Guided tour with a Grand Palais guide
An 1h30 tour for 25 people (accompanying people included) – €30
Guided tour with your own guide
An 1h30 tour with a maximum number of 25 people (accompanying people included) – €50
Self-guided tour
The group must consist of maximum 15 people, accompanying people included (25 people can be received on Tuesdays). You must book your tickets by email
For more information click here (in French)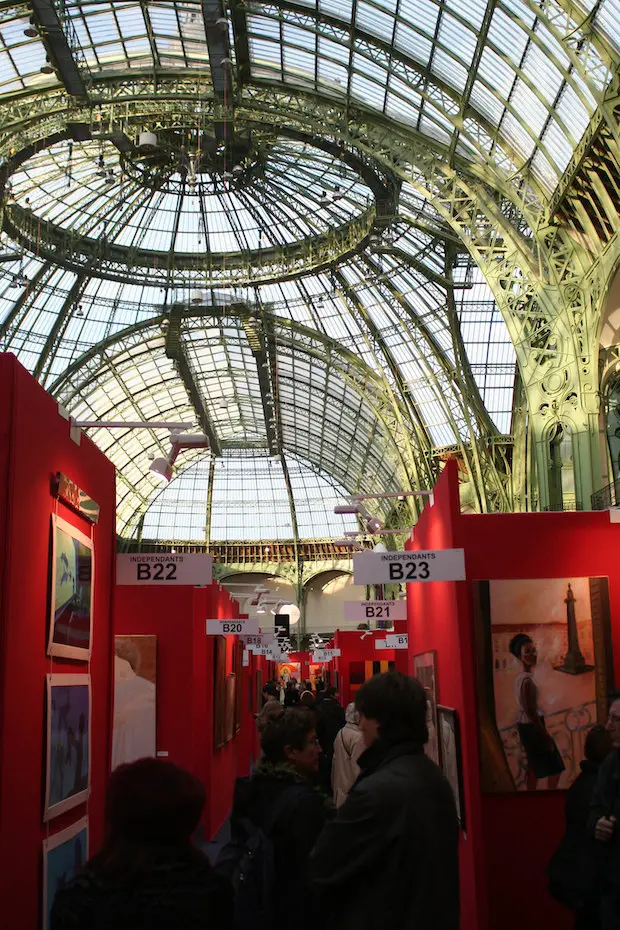 How to Visit the Grand Palais
How to get there?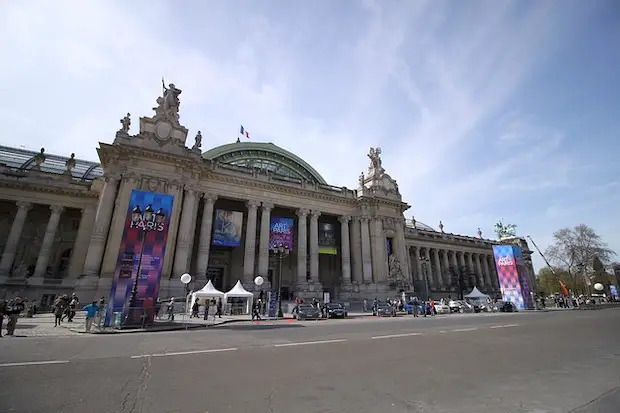 Located in the 8th arrondissement, the Grand Palais can be difficult to find and to access because of its many entrances.
By bus:
Line 28 42, 52, 63, 72, 73, 80, 83 et 93
By subway:
Line 1,9/ Station: Franklin-D-Roosevelt
Line 13/ Station: Champs-Elysées
By RER:
Line C/ Station: Invalides
By Vélib':
Station 8029, 1 Avenue Franklin-D.-Roosevelt
Station 8001, Avenue Dutuit
By car:
There are some parking lots around for which you have to pay but you can reserve a parking spot online – the closest ones to the Grand Palais are:
When should you visit the Grand Palais?
Busy hours depend on the exhibitions displayed, but as a general rule, Mondays, Thursdays and Fridays are the best days to visit.
Keep in mind that the museum is closed on Tuesdays.
You should avoid the first weeks and last few weeks of the exhibitions, as well as national holidays.
Regarding the tour recommendations, you should arrive 15 minutes before the start of a guided tour and half an hour in advance for a self-guided tour.
If you don't book your tickets beforehand, bear in mind that they will stop issuing tickets 45 minutes before the exhibition ends.
Where and how to book your Grand Palais tickets?
Even though booking online charges you with an additional €1, we advise you to do so in order to save time and avoid the long waiting lines but feel free to get your tickets when you get there.
Book online here
All the exhibitions have different prices, but the full price is generally between €10 and €15.
If you want an audio-guide, prices will go up to about €25 and €17 for reduced prices.
For those under 26 years old (and EU nationals) and teachers, you have a free access to permanent exhibitions.
For those under 16 years old, you can access the exhibitions freely.
Keep in mind that the entrance is free for children under 5 years old.
If you wish to become a regular of the museum, the Pass Sesame allows you to skip the lines and to access both the Grand Palais' and the Musée du Luxembourg exhibitions for a year:
Sesame+: 4 unlimited exhibitions and line-skipping for the Grand Palais' and the Musée du Luxembourg's – €45
Sesame: 2 unlimited exhibitions of the Grand Palais – €20
Sesame Jeune (30 years old and younger) – €15
Sesame (16-17 years old) – €1 online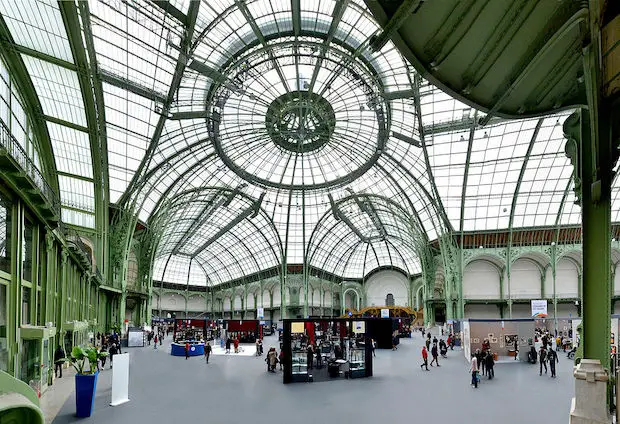 Is skipping the line actually worth it?
Very often, the waiting time is very long and the large number of visitors create some organization issues.
To avoid wasting too much time, we do advise you to get the line-skipping option which will allow you to enter much faster during the busy hours.
Can we visit the Grand Palais with children?
Everybody can appreciate the exhibitions displayed; with a « Jeune Public » (young public) section, the Grand Palais offers an experience adapted to youngsters with a more "fun" approach (apps, games and online exhibitions) on their website.
With online games, video games, comics and their creation, you'll never get bored of the many activities! You have the possibility to have a family tour (from 5 years old and on) but you can also let your children discover some workshops while you enjoy another show (from 8 to 11 years old)
However, you won't be able to access the exhibition galleries with strollers; but you can ask for free baby carriers at your disposal and leave your strollers in the changing rooms.
What is the advised tour duration?
It will take you between 2 and 3 hours to appreciate the exhibitions, for an average tour. If you have the opportunity to do so, go for the guided tour which will provide you some insight and more detailed information.
Are there any other specific restrictions to enter?
For security reasons,  larger belongings (bigger than42x30x20 cm) won't be accepted inside the building.
Transport mediums such as scooters and their accessories can be freely dropped off in the changing rooms.
Restaurants near the Grand Palais
Restaurant des Galeries Nationales du Grand Palais
3 Avenue Du General Eisenhower Grand Palais, 75008 Paris
If you don't want to spend your time looking for a restaurant, you can opt for the restaurant and tea salon "Les Galeries" or the "Comptoir Moka" for some fast food.

Budget: about €20 euros à la carte

Working hours: the restaurants close 1 hour before the Galeries Nationales closes.
Le Mini Palais
3 Avenue Winston Churchill – Entrée Rotonde Alexandre III 75008 Paris
The restaurant presents a fine French cuisine in a charming Parisian setting, very close to the Grand Palais. There are cold dish such as tartar or some French assorted cooked pork meats and some delicious desserts.

Budget: average of €30

Working hours: every day from 10am to 2am

Website: https://www.minipalais.com/?lang=en_us
Marxito
1 bis, Rue Jean-Mermoz 75008 Paris
This street food restaurant is located on the Champs-Elysées roundabout and welcomes you in a warm atmosphere. They serve its "Marxitos" which are buckwheat crepes which are ideal for a quick and healthy lunch cooked with some fresh products.

Budget:
Lunch menus from €12.50
Savory Marxitos: from €5.50 to €9.90
Sweet Marxistes: from €4 to €5
Bowls: from €12.50 to €14.50

Working hours: from Monday to Saturday from 11:30am to 5pm

Website: https://marxito.com/en/

I aim to share my tips and recommendations for the beautiful country of France. My goal is to help you plan your next adventure, whether it's a weekend getaway or a once-in-a-lifetime trip. From finding the best hotels and restaurants, to discovering unique activities and sights, I've got you covered!