Paris, or the city of love… The capital is full of lovely spots each more romantic than the other. To help you make a decision, we have selected for you the most romantic bars in Paris. Whether it is for a first date or for your Valentine's Day dinner or even to spend a nice moment with your significant other, finding the perfect place in our selection is a given.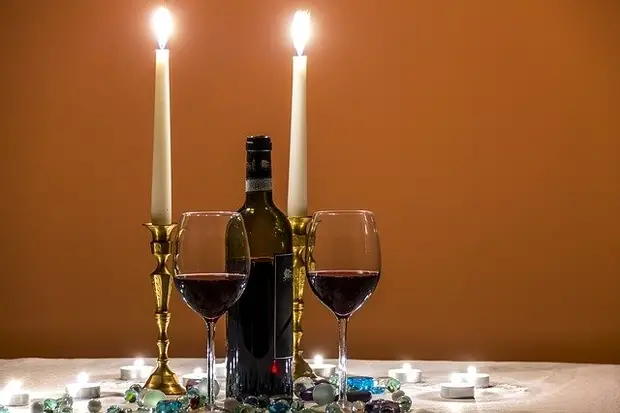 For the Setting
Pershing Hall
Your date will immediately fall in love with the Pershing Hall's charm which is located in the heart of the Triangle d'or, the area surrounded by the most luxurious Haute Couture stores.
This historical building is now a luxury hotel with a breathtaking decor.
The cocktails offered at the bar are delicious and if the night goes well, you might be able to have dinner in this stunning place.
Our advice: ask if it is possible to get a table with a balcony just out over the restaurant for a beautiful view of the green wall.
Budget: $$$
Address: 49 rue Pierre Charron, 75008 Paris France
Opening hours:
The Pershing Hall is currently closed for renovation purposes but it will reopen ASAP
Website: https://www.pershinghall.com/en/landingpage.html
Lulu White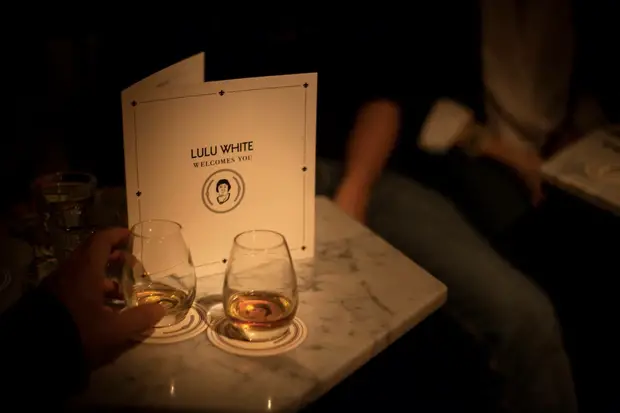 This bar located in the fiendish Pigalle district is the new creation of the original team behind the famous Little Red Door.
The bar's name "Lulu White" comes from a well-known Storyville legendary hospitality matchmaker, who used to be known for her being libertine in the historical district of New Orleans.
In this New Art decoration bar, you will witness the revival of Lulu White's provoking spirit… putting an interesting twist to your romantic date.
Besides, the famous "green fairy" is the center of attention, with a cocktail menu offering a unique experience of taste of the harmonious absinthe mixed with other elixirs.
If you want to spend a moment strong in sensations, Lulu White is perfect for you!
Budget: $$
Address: 12 rue Frochot, 75009
Opening hours:
Mondays, Wednesdays, Thursdays and Sundays: 7pm – 2am
Fridays and Saturdays: 7pm – 4am
Website: http://www.luluwhite.bar
For the Breathtaking View
The Terrass Hotel Rooftop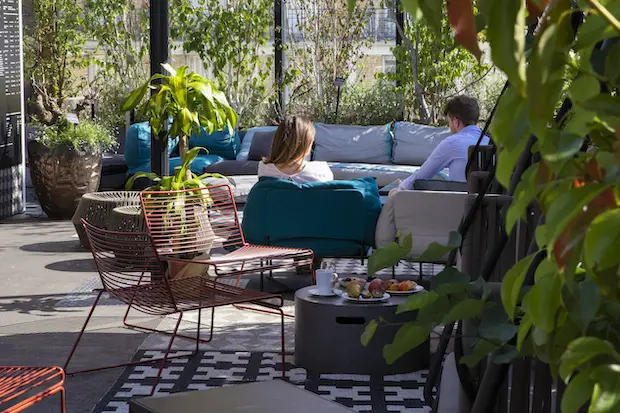 We cannot talk about Paris romanticism without mentioning Montmartre.
In this legendary village inside the capital, close to the trendy Pigalle district is where you can find the Terrass Hôtel and its rooftop bar.
Come and enjoy a cocktail in good company in this New-York vibes bar.
It provides one of the most beautiful panoramic views of the capital: your partner's eyes might shine as bright as the Eiffel Tower -which you can admire from the terrace.
In such a setting, it is difficult not to fall in love…
Budget: $$$
Address: 12-14 Rue Joseph de Maistre, 75018 Paris
Opening hours:
Opened everyday: 3:30pm – 1am
Website: https://www.terrass-hotel.com/en/restaurant/menu-bar
Le Perchoir du Marais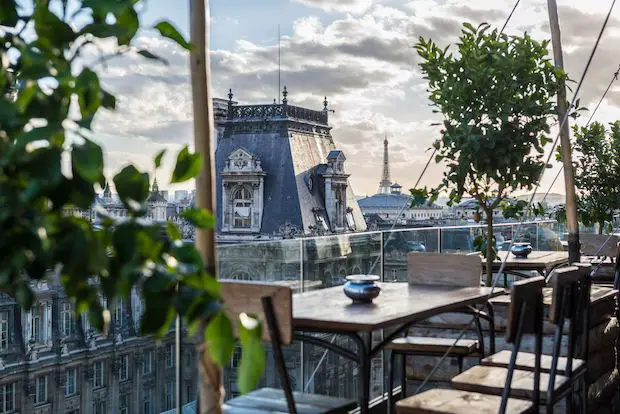 After the Perchoir de l'Est-which is also very romantic- the Perchoir du Marais opened its doors to the public, followed by the Perchoir Ménilmontant and the last addition to the group, the Perchoir Porte de Versailles.
All of these are rooftop bars and offer a cozy and cool decor as well as a gorgeous view overlooking the capital.
We have a soft spot for the Perchoir du Marais – its intimist decoration, the lights on the terrace, and the comfortable seats against the walls are an invitation to confessions and passionate declarations.
However, be mindful that the gorgeous view attracts many customers, the waiting time might be long.
Budget: $$
Address: 37 Rue de la Verrerie, 75004
Opening hours:
Opened everyday: 8:15pm – 1:30am
Website: https://leperchoir.fr/location/le-perchoir-marais-en/
For the Idyllic Setting
Rosa Bonheur des Buttes-Chaumont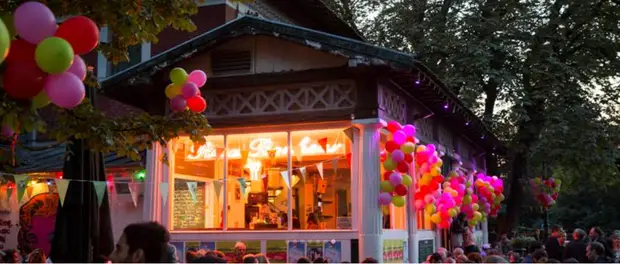 The setting plays an important role to give a place a romantic atmosphere.
Rosa Bonheur's is unique since the bar is at the top of the Buttes Chaumont.
In this small country restaurant with music and dancing, you can enjoy the appetizers under the trees while appreciating the last sun rays and the stunning view.
The paper lanterns which light up the terrace give off rural and romantic vibes which will win him or her over for sure.
Named after an emancipated slave and free woman, the Rosa Bonheur is a warm, open-minded and tolerant place.
You will have a good time with your partner in this bucolic setting which will definitely establish a good mood.
Budget: $$
Address: Parc des Buttes Chaumont, 2, allée de la Cascade, 75019 Paris
Opening hours:
Thursdays and Fridays: 12am – 11:45pm
Saturdays and Sunday: 10am – 11:45pm
Website (in French): https://www.rosabonheur.fr/rosa-buttes
La Dame de Canton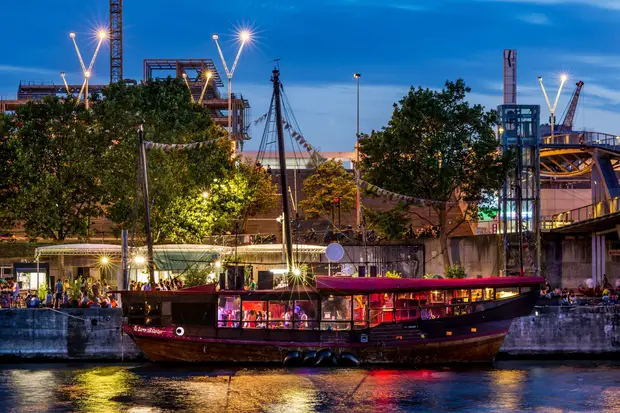 This floating bar on the Seine is the perfect place for a romantic dinner.
The Dame de Canton is a lovely Chinese junk boat moored alongside the Seine near the Bibliothèque Nationale de France.
The bar-barge decoration is friendly to seduction with its lacquered wood and red wall seats.
The place becomes even more charming at night when you can admire it and the capital's lights reflected in water from the landing stage.
If you are in a party mood or you want to dance with your loved one, concerts and musical nights are organized once a week.
Budget: $$
Address: Port de la gare – 75013
Opening hours:
Opened from Tuesday to Saturday: 7pm – 12am
Website: http://www.damedecanton.com/en/
For the Atmosphere
Bar de la Maison Souquet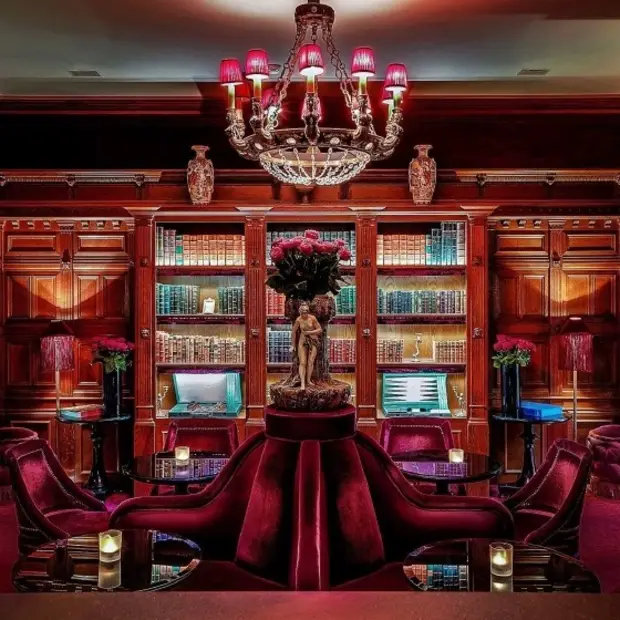 There is no greater seduction appeal than this cozy and intimate confidential bar.
It is located in a 5-star hotel whose atmosphere and decoration are strongly inspired by the place's first purpose, a former pleasure house.
To discover the filtered bar, go through the doors and squeeze in towards the Salon des Petits Bonheurs.
You only have to sit down on the red velvet seats and make a choice among the menu: the cocktails are named after old famous call girls, and you will dive back into the intimate history of this place.
The sensuality given off by this bar is far from usual and will enchant your partner without a doubt, for a romantic moment.
Budget: $$$
Address: 10 rue de Bruxelles, 75009
Opening hours:
From 5pm – 1am
Website: Bar de la Maison Souquet
Le Dokhan's Bar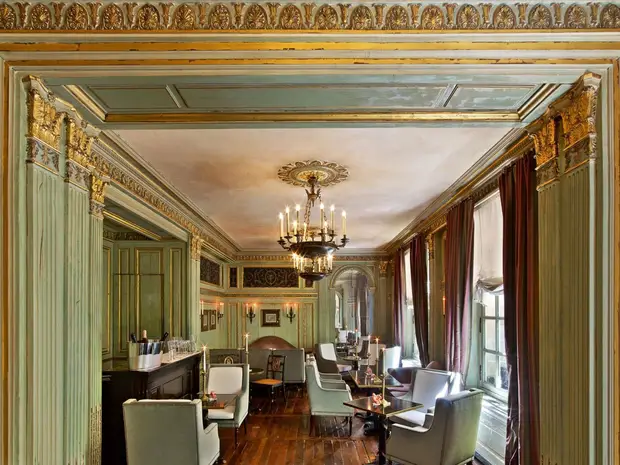 If you want to go all out, this champagne bar is exactly what you need.
The beautiful, luxurious, furnished room and the stunning woodwork is lit up by the lights from the candles to create a dim and intimate atmosphere.
You will be able to choose among the 250 champagne types offered by the establishment, and to benefit from the advice given by the wine steward.
Your glass is served with hot gougères which are choux pastries with cheese.
Difficult to do more romantic than a champagne glass with your beloved around the warm chimney fire…
Budget: $$$
Address: 117 Rue Lauriston, 75116
Opening hours:
Opened every day: 6pm – 12am
Website: https://www.hotelledokhansparis.com/?forceUserSelectedLangId
For the Originality
The Herbarium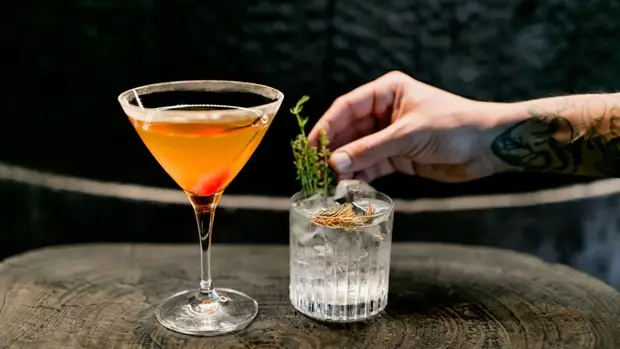 Here, all your senses will be awoken. Located in the Hotel National des Arts et Métiers, the Herbarium is a bar with an enchanting concept: the cocktails recipes have been thought out, like a perfumer would mix his fragrances.
The range of option is a true variety of tests: we choose our creation with the smell of it.
This Herbarium's original and elegant concept is ideal for a romantic night.
The bar is on the hotel's first floor, after passing through the two restaurants (The Ristorante National and the Cicchetteria).
If you are aiming for a rooftop for your date, you can choose the second hotel's bar which offers an unmatched view of the capital's roofs.
Budget: $$
Address: located in the Hôtel National des Arts et Métiers, au 243 rue St Martin, 75003
Opening hours:
Opened every day without reservation: 6pm – 2am
Website: https://www.hotelnational.paris/en/page/restaurant-marais-paris-france.2814.html
La Mezcaleria, or La Malicia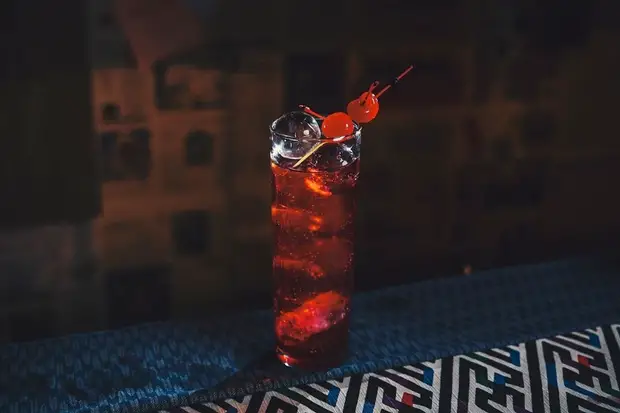 For an unforgettable experience, take your date to the Malicia, the hidden bar of the Mezcaleria.
The only condition to access it: you need the chef's barman's green light, who is known for his mezcal-based creations.
If you want to be invited to this mysterious bar, you will need a bit of luck…
You will then enter a red and dim bar, with a mysterious and spiritual atmosphere.
There, we order a cocktail depending on our mood, according to our desires and need: order the "chance" cocktail to make sure you will have a great time.
Anyway, the bar's originality will obviously win your partner over.
Budget: $$
Address: 13 boulevard du temple, 75003
Opening hours:
Opened from Tuesday to Sunday: 6pm – 12am
Website: La Mezcaleria Facebook page

Mona knows Paris like the back of her hand. Its bars, its restaurants and above all, its hotels, whether you want to sleep, eat, party or just take a walk in Paris, Mona knows them (nearly) all. Follow her lead, she will gladly give you all her good tips!