You want to have a party in Paris without going to a club? The capital is full of nice and festive bars to dance in. Whether you want to drink a cocktail or a beer or hit the dance floor in an electro, hip-hop or rock atmosphere, you will undoubtedly find what you are looking for in our list of the best bars to dance in Paris.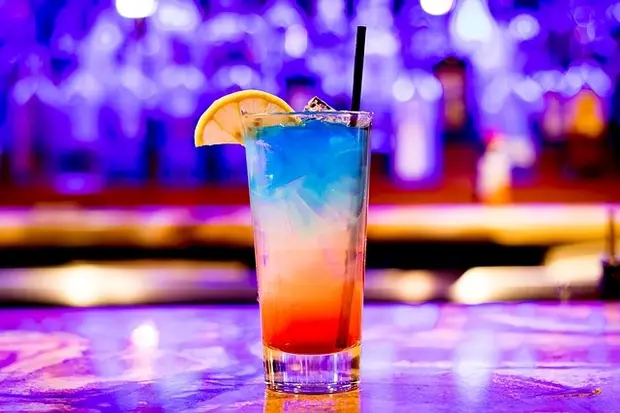 Café Chérie, a Must-See in the Belleville Neighborhood

Café Chérie is a cosmopolitan and multifaceted bar and an institution of the Belleville neighborhood.
Its major advantage is the big and pleasant terrace, in which the regulars can drink their morning coffee.
In Summer, you can sit in the red chairs and enjoy a drink in the sun; but at 10pm, the bar transforms, especially on Thursday night.
Until 2am, the DJs heat up the atmosphere. The red neons illuminate the dance floor and give the bar all its charm.
You will be able to enjoy electro, rock, hip-hop or funk DJ sets…there is music to suit all tastes.
The Cafe Cherie stands out thanks to the always festive atmosphere, the reasonable prices (especially during the Happy Hour from 5pm to 8pm), and the varied customers.
Extra: the exhibits and flea markets upstairs. Warning! Cafe Cherie is a victim of its own success: after 10pm, the place is crowded, we recommend you to arrive early.
Location : 44 Boulevard de la Villette, 75019 Paris
Metro station : Belleville / Colonel Fabien
Opening hours : everyday from 8am to 2am
Café Chérie (link in french)
Alimentation Générale, THE Place to Party
Despite its looks, Alimentation Generale is not a corner shop, but a bar located in the 11th arrondissement.
Here, the atmosphere is convivial and chill.
As its French name suggests, this bar is not specialized in one particular music style.
On the contrary, it is rather eclectic: free live concerts during the week, and DJing in various styles on the weekend.
After a chill evening drinking beer and eating different cheeses or tapas, the big wooden and babyfoot tables are moved around to create a dancefloor.
On Friday and Saturday nights, you can party until 5am. In this bar, you will meet cosmopolitan, young and nice people.
Location : 64 Rue Jean-Pierre Timbaud, 75011 Paris
Metro station : Parmentier
Opening hours :
Wednesdays and Thursdays : 7pm – 2am
Fridays and Saturdays : 7pm-5am
Sundays (only on special occasions) : 7pm – 2am
Closed on Mondays and Tuesdays
Alimentation Générale (link in french)
Favela Chic, a Tropical Atmosphere
It's always party time at Favela Chic, where you can listen to samba in a tropical atmosphere.
It is the ideal place to spend your entire night: it begins with a caipirinha followed by a typical Brazilian dinner while watching live concerts until midnight. Finally, you can dance on electro-tropico beats until the morning.
This bar-restaurant is also very well decorated: the plants and neons make it look like a true Brazilian party in Paris.
The place was newly renovated.
A new entry was created through an exhibit of contemporary art which only opens at night, as well as a cozier room where you can take a short break between two latino songs.
Even if the dinner and drinks are not cheap, the entry is free, and you will always be satisfied with the atmosphere.
Location: 18 Rue du Faubourg du Temple, 75011 Paris
Metro station : République (lines 3,5,9,11)
Opening hours :
From Tuesday to Thursday : 7.30pm – 2am
From Friday to Saturday : 7.30pm – 5am
Closed on Sundays and Mondays
Favela Chic (link in french)
Rosa Bonheur, a Bar in a Bucolic Setting
Located at the highest point of the Parc des Buttes Chaumont, Rosa Bonheur offers a charming setting.
In this bucolic open-air café, you can have a drink under the trees and enjoy the last rays of sun and the splendid view.
You will enjoy fresh fruit juices and a Mediterranean cuisine.  The owners, Mimi and Zouzou, are from the South of France, which gives a special atmosphere to the bar.
You will definitely have fun during the electro, popular or themed evenings.
Every Thursday, Rosa Bonheur invites you to the open-air electro evenings, and on Sunday, it becomes the place to be to for the LGBT community (hetero-friendly).
The bar is named after a liberated artist and woman, and is a convivial, open and tolerant place.
The owner Michelle Cassaro or "Mimi" previously owned The Pulp, a famous lesbian club that closed in 2007.
If you are looking for a peaceful and joyful place, don't hesitate, this bar is made or you !
Location : 2 Avenue de la Cascade, 75019 Paris
Metro stations : Botzaris (Line 7 Bis) or Jourdain (line 11) + 10 mn on foot
Opening hours of the open-air café :
Thursday & Friday : 12pm – 12am
Saturday & Sunday : 10am – 12am
Rosa Bonheur (link in french)
Pili Pili, a Spicy Bar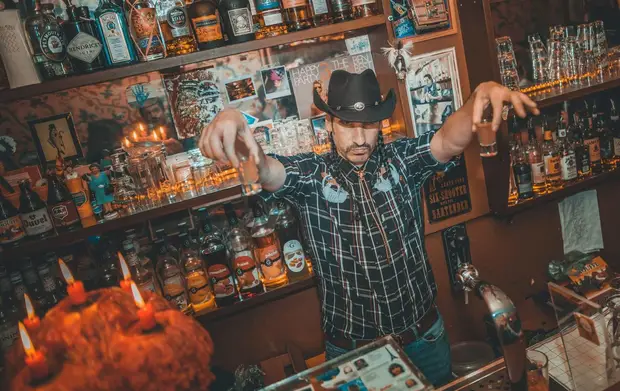 Are you looking for an original and daring bar to dance in?
Pili Pili is just the place for you.
Thanks to the odd decoration (you will find, for example, a real British phone box), the red lights, the spicy atmosphere and the daring cocktails made with hot pepper, Pili Pili is a bar you will undoubtedly remember.
The songs are carefully selected : Rock'n'Roll is the main music style, but all kinds are played (new wave, punk, country…).
In addition to the themed costume parties every Wednesday or Thursday, Pili Pili sometimes hosts DJ's, live concerts and temporary exhibitions.
Location : 70 Rue Jean-Pierre Timbaud, 75011 Paris
Metro stations : Parmentier
Opening hours :
From Tuesday to Saturday : 6pm – 2 am
Pili Pili (link in french)
Gast, for Rum Lovers
Gast, or the "most refined Antillean rum factory of the Oberkampf neighborhood" will seduce rum lovers, and others.
Besides its delicious cocktails, the bar presents various animations, as live slam poetry and live concerts of groove, funk, salsa or even zouk music.
It is the ideal place to have a drink, but also an artsy place.
The place is open until 2am every Wednesday and Thursday, and every Friday and Saturday you can enjoy the tropical dance floor until 5am.
A little extra : you can try a Caribbean cuisine specialty on Thursday evenings!
Location: 5 Rue Crespin du Gast, 75011 Paris
Metro station : Ménilmontant
Opening hours :
Tuesday : 6pm- 8pm
Wednesday : 5pm – 12pm
Thursday : 5pm- 2am
Friday : 6pm – 2am
Saturday : 6pm – 4.30am
Sunday : 12pm – 4.30am
Gast (link in french)
N'importe Quoi, a Crazy Bar
N'importe Quoi is a warm dancing bar located at the heart of Paris.
Whatever atmosphere you are looking for, this place will definitely have it in store for you.
You can taste delicious and original cocktails at the bar.
If you want to start the evening more calmly with your friends, you can have a drink in the cozy side of the restaurant.
And if you feel ready to dance all night long, go to the basement where you will find another bar as well as a sound system.
One of the strong points of the bar is the themed evenings (blind tests, ladies night, AfterWorkNiqhtParty) which are always met with great success.
Let's have a crazy night out at N'importe Quoi!
Location : 16 Rue du Roule, 75001 Paris
Metro stations : Les Halles / Louvre – Rivoli
Opening hours :
From Mondays to Wednesdays : 6pm-4am
From Thursdays to Saturdays : 6pm-5am
N'importe Quoi (link in french)
Zero Zero, a Alternative Ambience in Paris
Zero Zero might look like it is aimed at a specific clientele, but do not judge a book by its cover. On the contrary, it is a melting-pot of customers of all ages, united by the same desire: to have a good time.
You will be charmed by the underground and vintage decoration and the walls covered with graffiti which make it seem like a 1980's bar of New York.
Zero Zero is owned by DJs that only use vinyls which is ideal to dance on some good house, funk or hip-hop music until closing time.
If you do not like small spaces, this bar may not be for you : the customers are sometimes squeezed out towards the street , which proves the success of this place.
Location : 89 Rue Amelot, 75011 Paris
Metro station : Saint-Sébastien Froissart
Opening hours :
From Monday to Friday : 6pm – 1.45am
Weekend : 7.30pm – 1.45am
Zero Zero (link in french)
L'International, for Music Lovers
L'international is well-known for the various animations it offers : live concerts, happy hours and clubbing.
The vintage decoration and the leather sofas of the main room make this place a convivial bar, ideal to gather up in with friends.
Downstairs, you will enjoy live concerts.
With two or three bands each night, the line-up is eclectic and every style is welcomed !
After midnight, it is clubbing and electro with popular DJs.
Location : 5/7 Rue Moret, 75011 Paris
Metro station : Ménilmontant
Opening hours :
From Tuesday to Saturday : 7pm – 1am on weekdays, 7pm – 6am on weekends
L'International (link in french)
Andy Walhoo, a Chic Pop Art Bar
Set up in a beautiful "hôtel particulier" in the Marais district, Andy Walhoo offers a mix of pop art decoration and oriental design furniture which makes it an exceptional place.
In this hybrid and trendy bar, you can party from Wednesday to Saturday listening to electro, hip-hop, and electro-tropical music.
You will definitely find something you'll want to drink in the impressive cocktail menu, otherwise, the barista will create a special cocktail just for you.
Warm atmosphere, tasty food and carefully selected music: what else?
Location : 69 Rue des Gravilliers, 75003 Paris
Metro stations : Etienne Marcel / Arts et Métiers
Opening hours :
From Tuesday to Saturday : 6.30pm – 2am
Andy Walhoo (link in french)
Trucmush, the psychedelic bar
Trucmush is a bar with a pop and original decoration.
The very reasonable prices during the happy hour (a pint of beer for 3€) make it the favorite spot of students (and others).
In this off-the-wall bar, the nights are crazy too; with beer pong games, wild blind tests and quizzes of all kinds.
The DJ, in his booth built from a piece of a Twingo, will have you dance to funky music.
Location : 5 Passage Thiéré, 75011 Paris
Metro stations : Bastille (lines 1, 5 or 8) or Ledru-Rollin (line 8)
Opening hours :
From Tuesday to Saturday : 6am – 10pm
Trucmush (link in french)
9B, Couscous and Electro Music
9B is the little brother of the former bar "Le 9 Billards" in rue Saint-Maur.
Established at boulevard de la Villette for a few years now, this bar quickly found its public.
There is a secret club area hidden in a beautiful cave, where you can dance to electro and house music.
A lot of artists and well-known DJs are invited to animate the nights.
In this simple but warm bar, you will be offered couscous for free every Wednesday to go with your pint of beer.
Location : 68 Boulevard de la Villette, 75019 Paris
Metro station : Belleville
Opening hours :
From Monday to Friday : 8am – 2am
Saturday : 3pm – 2am
9B (link in french)

Mona knows Paris like the back of her hand. Its bars, its restaurants and above all, its hotels, whether you want to sleep, eat, party or just take a walk in Paris, Mona knows them (nearly) all. Follow her lead, she will gladly give you all her good tips!