Paris, the cultural city of Light, the arts and gastronomy… but Paris is not only that; it's also a glamorous and sexy city where it's always good to party.
Indeed, the heart of the French capital beats even faster at night. Its cabarets, which appeared at the beginning of the 19th century and used to enliven the nights back in the day, are known and renowned across the whole world, with the French Cancan being its courtship ritual.
With this article, come and dream with us while we present to you the most prestigious and legendary cabarets in Paris!
1. Le Moulin Rouge
82, Boulevard de Clichy, 75018 Paris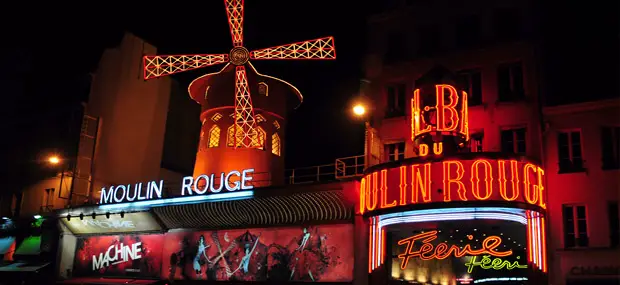 Lights, neon lights, curtains and red carpet … let yourself dive into an enchanting world full of music and dance at the Moulin Rouge, one of the best-known institutions in France and around the world! Located in the sexy Pigalle quarter, this international icon, which doesn't even need to be introduced anymore, was created in 1889 by Oller and Charles Zidly, owners of the also famous Olympia. Life, beauty and party are celebrated in this wonderful place filled with beautifully decorated tables.
Even before the show starts, a band already puts you in the atmosphere of the following show by playing some music. On the agenda of this dream night – water features with light and sound shows, and lively music that will remind you of musicals.
Each scene is made of its own universe, full of colors that honor France. The artists' outfits are highly sophisticated and handmade.
One part of the show is a circus, which has a friendlier atmosphere, making you laugh for sure. Animals like lions, snakes and horses are brought on stage, turning the spectacle into something even more magical and fabulous.
Provocative, sometimes cheeky, this show still remains gracious and entertaining: there is so much more to see at the Moulin Rouge than the French Cancan! Staged by artists known across the whole world – like, for example, in charge of the choreography of the "girls" (as the female dancers are called), the former dancer Miss Doris – the show at the Moulin Rouge will make you spend a magical night in the capital.
We like: the ever-so-famous French Cancan, which we will never get tired of watching being performed by true professionals.
Price: from €115 for the cabaret show and €170 for the dinner and show formula (amuse-gueule included).
Metro station: Blanche (line 2).
Book a show at the Moulin Rouge
2. Le Crazy Horse
12, Avenue Georges V, 75008 Paris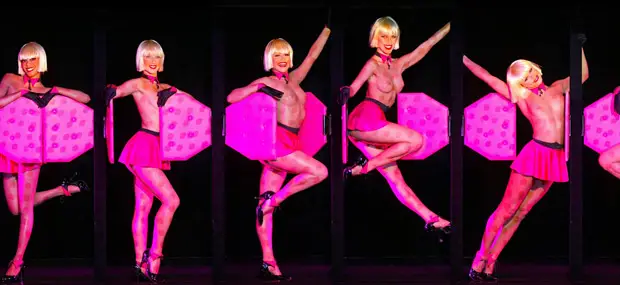 The Crazy Horse distinguishes itself from the other cabarets with its more scandalous and intimate performances, gathering in its show glamour, audacity and impertinence. It's a true ode to femininity, without ever becoming vulgar.
Women perform in a bath of light made in such a way that we do not know where the body begins and the shadow ends: it's an intoxicating dance that plays with your senses in a creative way, where the sports prowesses are worthy of those of high-level athletes. The music accompanying them is modern and doesn't overlap with the rest of the show.
Each girl has a stage name with an idealistic reference, which helps them get into their role as a performer. Make the most of the show at the Crazy Horse with a glass of champagne – you will not be disappointed at all when you leave!
We like: the perfect mix between grace and eroticism in this show.
Price: from €115 per person
Metro line: Alma-Marceau (line 9).
Book a show at the Crazy Horse
3. Le Paradis Latin
28, Rue du Cardinal-Lemoine, 75005 Paris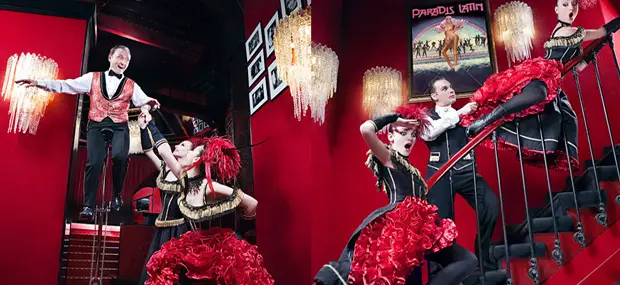 In a huge room full of beautifully decorated tables, the Paradis Latin offers shows with sophisticated machinery and wonderful-setting games. All the outfits are handmade, beautiful and neat. As soon as you enter the room, you will dive into a magical universe full of sequins, but yet still modern and original.
On the agenda: the new show choreographed and directed by Kamel Ouali, who revisits the French Cancan in a new way. L'Oiseau Paradis, the new show, features a new vedette: Iris Mittenaere, Miss France and Miss Universe 2016. This show is expected to be original with its creatures, dancers, singers, special effects, new technologies and exceptional costumes. Artists from all over the world form this group of 30 artists who will do their very best to ensure that you have a magnificent evening.
The Paradis Latin is a perfect representation of the glamorous and romantic Paris – an event that is not to be missed when you are in the capital city!
We like: the magical universe created by how the room is decorated with its red carpet.
Price: from €70 a person. (€45 for people under 26)
Metro line: Cardinal Lemoine (line 10).
Book a show at the Paradis Latin
4. Chez Michou
80, Rue des Martyrs, 75018 Paris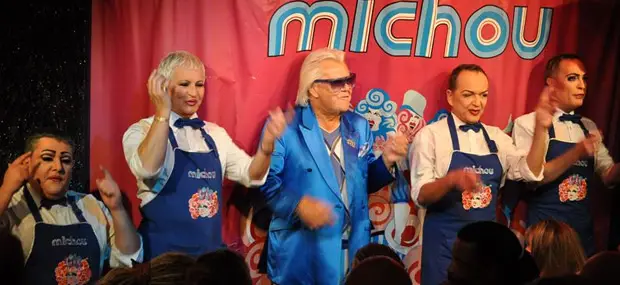 Located on the side of the Montmartre hill, only a few feet away from the Sacré Coeur, the Chez Michou cabaret has, since the beginning of the 60's, invited spectators coming from all around the world to come and see a more than an hour and a half show.
This legendary and unmissable place of Parisian life is mostly known for its performances by transformist artists, who imitate a lot of famous international personalities – Patricia Kaas, Vanessa Paradis, Michael Jackson, Mylène Farmer or even Stromae… throughout the years, they've all been parodied.
In a more intimate place, in a smaller room and a friendly atmosphere, the guests are welcomed by Michou himself before the butler takes them to join their table so that they can enjoy a burlesque, funny and glamorous show. It is a true blessing for the eyes, without being vulgar or provocative! The atmosphere is always light at Chez Michou.
It would thus be a shame not to enjoy this visual magical extravaganza in the heart of Paris.
We like: the intimate atmosphere of this place which allows us, thanks to its small room, to be close to the artists who perform on stage for an hour and a half of pleasure.
Price: from €120 a person for the dinner and show formula, €45 if you do not eat/drink anything.
Metro line: Pigalle (lines 2 and 12).
Go to Paris Cabaret and find special offers (website in French)
5. La Nouvelle Eve
25, Rue Pierre Fontaine, 75009 Paris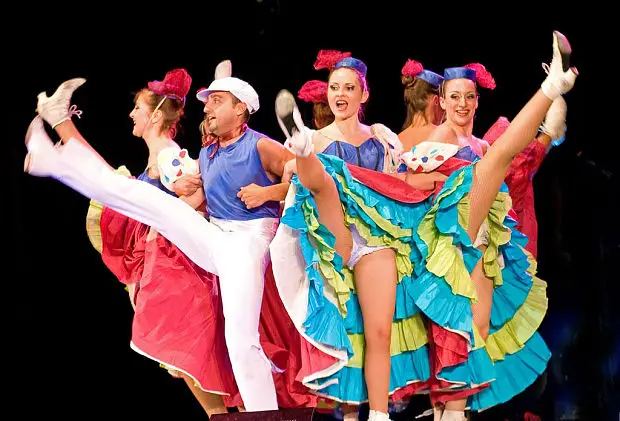 At the foot of the Montmartre hill stands one of the oldest cabarets in Paris, which will bring you wonder and entertainment: the Nouvelle Eve cabaret. Come and attend a dinner show under a roof full of stars and in a subdued atmosphere. Performed from a fluorescent and colorful scene, you will watch an extraordinary spectacle lead by 23 male and female dancers, all wearing wonderful outfits.
If you sit in the first row, maybe you will even be part of this spectacle with the artists who will make you participate in their performance! This intergenerational show is a typical example of the Parisian revues. What you can find among the different interpretations: juggling and dances, and the famous French Cancan.
The room is small, yet cozy. It's the perfect deal to spend a colorful night in our capital city!
Moreover, during winter, numerous other shows are played in this room and replace the cabaret: from concerts to one-man-shows, everyone can find something they will like!
We like: how diverse the shows are, from the famous and typically Parisian cabaret to other concerts and one-man-shows during winter.
Price: from €69 for the cabaret show and €145 for the dinner and show formula.
Metro line: Pigalle (line 2).
Visit the website of the Nouvelle Eve
Interested in finding out about more cabarets in Paris? Jump straight to our other article Cabarets in Paris: The Ultimate Guide to Help You Choose Your Show.

I aim to share my tips and recommendations for the beautiful country of France. My goal is to help you plan your next adventure, whether it's a weekend getaway or a once-in-a-lifetime trip. From finding the best hotels and restaurants, to discovering unique activities and sights, I've got you covered!