Vegetarianism is an eating practice which excludes animal flesh consumption. Among the big characters of this world, some of them have chosen to adopt a vegetarian diet, in particular Leonardo da Vinci, Voltaire, Gandhi and Albert Einstein.
Here is a list of 9 restaurants in Paris proposing you vegetarian dishes.
1) 5 Lorette €€
5 rue Notre Dame de Lorette, 75009 Paris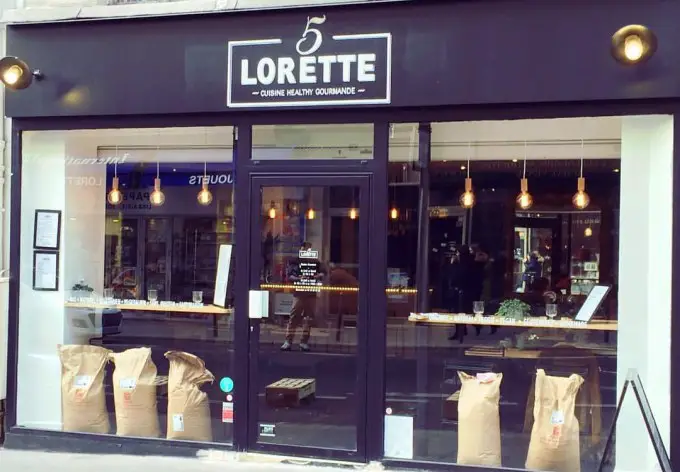 "In the Pousse-pousse's end is the 5 Lorette's beginning" … thus can be summarised the restaurant's history. In 2015, when the Pousse-pousse closed its doors, Rina Azria decided to join her brother Yoakim and the Chef Faïçal Ouertani in order to open the 5 Lorette. What kind of cooking do they propose? A bio, vegetarian and gluten-free cooking format with each week a new menu according to seasonal products for consumption onsite or to take away.
The restaurant offers full of flavour plates like the Crudivore (celeriac and green apple carpaccio, raw adzuki falafel, ginger cream, dehydrated vegetables crisps, green salad, raw algae caviar) or the Cereale (stuffed pepper with semi-brown rice and buckwheat, citrus sauce, sunflower seeds and turmeric, roasted vegetables, green salad, chickpea caviar).
Noon menu 21€ – Plate 15.50€
Website: https://www.5lorette.fr/english-menu/
2) Soya €€
20 rue de la Pierre Levée, 75011 Paris

Located a few steps away from Canal Saint Martin, this bio, vegetarian, mostly gluten-free and 90% vegan canteen, opens its doors for a healthy and vegetal taste pleasure.
It's in this old faucet store that the Chef Christel Dhuit decideds to open in 2007 her loft canteen and she insists on the "canteen" word in order to put forward the melting pot and friendly side of her cooking.
Let yourself be tempted by the special Couscous' soy and quinoa made up of turnip, eggplant, carrot, zucchini, pepper, fennel, tomato, ras-el-hanout, candied grapes and home- made harissa on request, but also the Curry Masala which gathers home- made garam masala, ginger, lemon zest, cashew cream, seasonal vegetables, Thaï rice and button mushrooms pan-fried. Your five fruits and vegetables quota a day will be fully satisfied thanks to Soya.
Menu between 15€ and 22€
Average price 20€
Website : http://www.soya-cantine-bio.fr/en/
3) My Kitch'n €€
82 rue Lemercier, 75017 Paris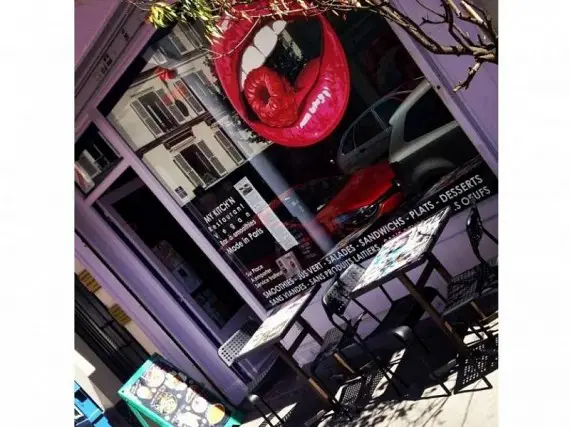 © My Kitch'n
« You really trully are what you eat », here are the words from the Swedish owner Jennifer Eric, who perfectly reflects the ideology of her little restaurant.
In the Batignolles area, find out entertaining dishes names such as the Hot Dog Frenchy (with soup or salad), the Sushi Burrito (nori seaweed leave mexican wrap  with salad) or the Chili sin Carne (spicy tomato sauce, rice, vegetables of the day, crudities). You will find all these good vegetarian dishes from wednesday to sunday for lunch or brunch.
Noon menu 14€
Greedy menu 20€
Adults Brunch 25€
Website : http://www.mykitchn.fr/www.mykitchn.fr/Welcome.html
4) Wild & the Moon €€
55 rue Charlot, 75003 Paris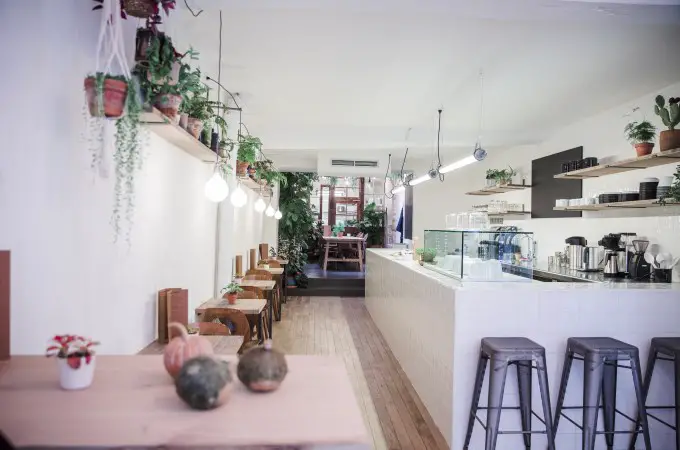 Passing by New York or Dubai, Emma Sawko is extending her vegetal and gluten-free canteen concept for breakfast or lunch. Since February 2016, this Parisian canteen is a real call to the "healthy food" and to well-being, the natural materials, the plants and the pure light of the place, and these are specifics to the offered cooking: GOOD cooking! And to achieve that the product screening is stringent: goods, bios and vegetarians!
Come and taste the very very large choice of smoothies (cold-pressed) and hot drinks! Always detox, of course!
Find out the soup, the salad or the dish of the day thought out, prepared and served with love!
Dish of the day 11€
Juice 5€
Website: http://www.wildandthemoon.com/#top
5) PH7 Equilibre €€
21 rue Le Peletier, 75009 Paris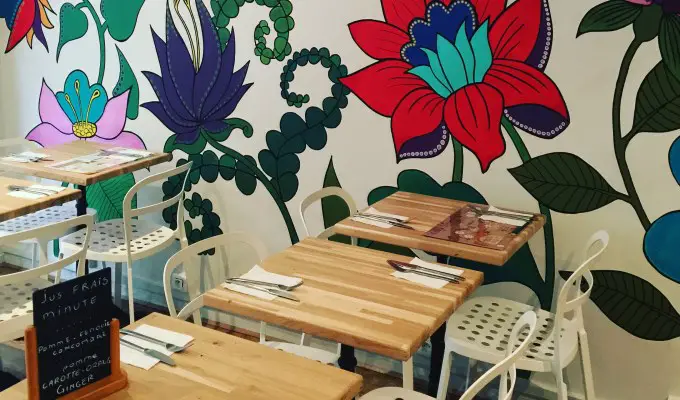 Bio and vegetarian restaurant with a well-defined concept: the respect of the body's acid-base balance.
Indeed, mother and daughter join together in cooking in order to set up recipes with Indian, Mediterranean and Provencal scents, good for our health and stomach.
Little reminder: the food combinations and the digestion release alkalising and acidifying substances in the body and it is around this point Zemor women impose some inalienable values as: the acid-base balance with high-quality formulas of course, the use of products from organic and seasonal farming, to know the producers and favour short tracks and to respect the environment…
Hence, you can taste for lunch or snack the plate Essentielle or Alcaline composed of crudities, cereals, leguminous, or the carrot cake or the Vegan Panna Cotta.
Dishes between 12€ and 18€
Website: http://www.monph7.com/ (french version)
6) Sense Eat €€
39 rue Mazarine, 75006 Paris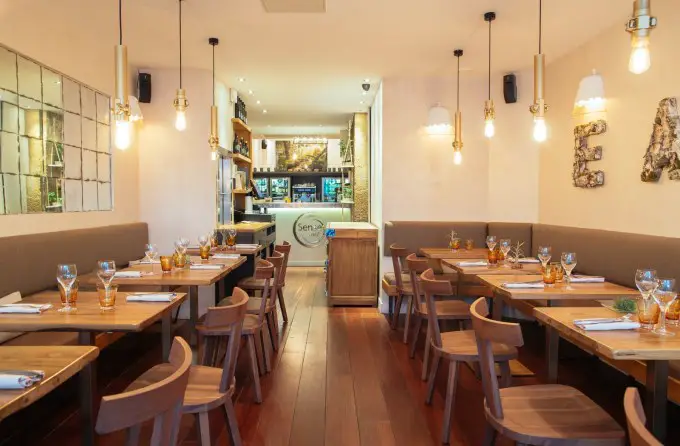 © Sense Eat
The pioneer in the vegetarian Italian field, the Sicilian restaurant La Trottinette leaves the door open for its heir, Sense Eat, located close to Saint-Germain-des-Pres.
From the meeting between a vegetarian and a chef (both Italian) is born this concept of "epicurean vegetarian" restaurant by joining Italian flavours and diet with imported products from Italy like burrata, mozzarella di bufala and olive oil.
Together, Enrico Einaudi (the vegetarian owner) and Maurizio Carlucci (the chef) have set up this very attractive concept of diet respect and taste usual flavours from an Italian restaurant, at the same time.
So you can find on the menu, Risotto (Riso vialone nano "Melotti" with Cuneo Saffron, diced pumpkin and candied fruits slightly marinated with mustard, amaretto powder) and the Dolce Patata (roasted sweet potato, beets, applesauce, fresh cheese goat and pine nuts).
Daily menu 19€ – Dishes between 16€ and 23€
Website: https://www.senseeat.fr/en/
7) Crepe de la joie €
4 rue du Fer à Moulin, 75005 Paris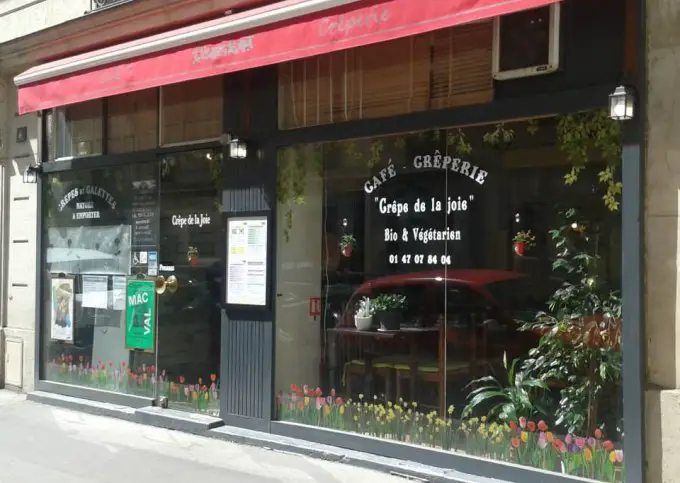 Located in the university district of the fifth borough, this Breton inspiration specialties creperie will delight you with its vegetarian and bio patties.
The buckwheat flour is used for patties, pancakes, for their part, are realized with unhybridized bio spelt flour, and it comes straight from our German friends.
Let yourself be tempted by the Blessed Imp (tofu, tomato coulis, sweet potatoes, oregano) or by the Garden Fairy (seasonal vegetables, aromatic herbs, parmesan, egg) or make up your own wafer! Furthermore, gluten-free, lactose-free and vegan patties are available on request.
Noon menu:
Korrigans menu (salted wafer + jug of cider or hot drink) 12€
La joie menu (salted and sweet wafer + jug of cider or hot drink) 18€
Website: http://crepedelajoie-restaurant.fr/en
8) Paulette in the truck €


© Paulette in the truck
Paulette offers here or elsewhere her wraps, soups and vegan desserts. Her Vegan Street Food takes a walk in Paris and its close suburb in order to make you discover her delicious cooking wherever you are. To keep the Food Truck's infernal pace, don't hesitate to follow the Paulette's schedule on Facebook.
Noon menu: Wrap + Drink 11€
Wrap + Drink + Dessert 13€
Website: https://www.facebook.com/pauletteinthetruck/
9) Pur, etc €
21 rue des Jeuneurs, 75002 Paris
25 rue Sedaine, 75011 Paris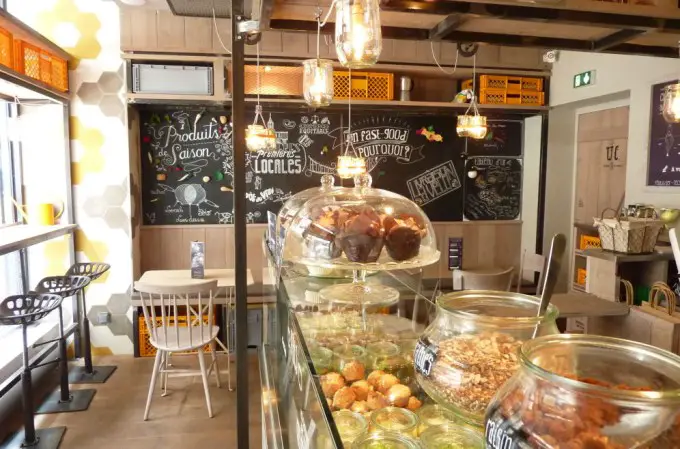 This "Fast-Good" brand is born in Strasbourg and is expanding in Paris, Puteaux or Versailles, to allow you from breakfast to dinner, to taste clean and healthy food. Products are cooked around seasonal local fruits and vegetables, indeed Pur, etc. favours raw materials proximity (Grange gathering).
You can order online, onsite or to take away among the several capital city restaurants and its surroundings.
With many vegetarians options, let yourself be tempted by the seasonal vegetables, vegetarian lasagna (tomato, rice milk, carrot, onion, celery root, soja proteins, lasagna, margarine, olive oil, nutmeg, garlic) or by the smocked haddock on a lentil salad and julienned carrots (carrot, smocked haddock from sustainable fishing, lentil, parsley, shallot, olive oil, balsamic vinegar).
Menu between 9,60€ and 11,90€
Pur'Box between 23€ and 25€
Dishes between 9,50€ and 11,50€
Website: http://www.pur-etc.fr/accueil (french version)
If you are more of a vegan, check our article on the vegan restaurants of Paris !