Vegetarianism is an eating practice which excludes animal flesh consumption. Among the big characters of this world, some of them have chosen to adopt a vegetarian diet, in particular Leonardo da Vinci, Voltaire, Gandhi and Albert Einstein. Here is our selection of vegetarian restaurants in Paris.
If you are more of a vegan, here's our article on the vegan restaurants of Paris.
Soya €€
20 rue de la Pierre Levée, 75011 Paris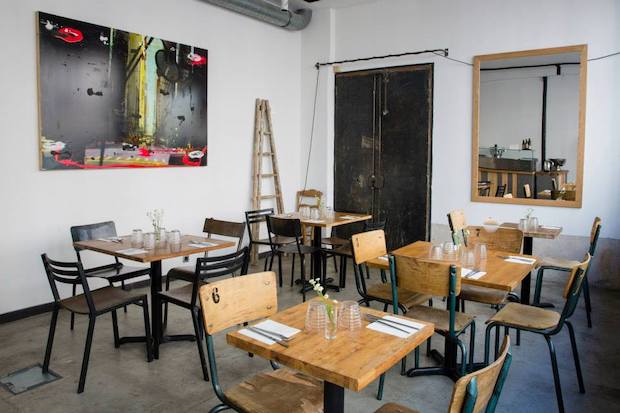 Located a few steps away from Canal Saint Martin, this bio, vegan and mostly gluten-free canteen, opens its doors for a healthy and vegetal taste pleasure.
It's in this old faucet store that the Chef Christel Dhuit decided to open in 2007 her loft canteen and she insists on the "canteen" word in order to put forward the melting pot and friendly side of her cooking.
Let yourself be tempted by the special Couscous' soy and quinoa made up of turnip, eggplant, carrot, zucchini, pepper, fennel, tomato, ras-el-hanout, candied grapes and homemade harissa on request, but also the Curry Masala which gathers home-made garam masala, ginger, lemon zest, cashew cream, seasonal vegetables, Thaï rice and button mushrooms pan-fried.
Your five fruits and vegetables quota a day will be fully satisfied thanks to Soya.
Menu between €15 and €25
Average price €18
Website: http://www.soya-cantine-bio.fr/en/
My Kitch'n €€
82 rue Lemercier, 75017 Paris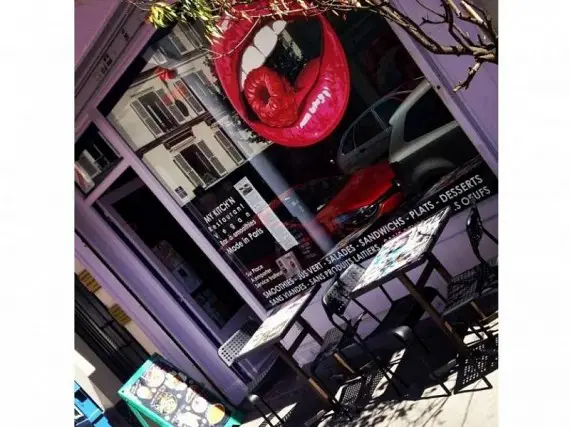 "You really truly are what you eat", here are the words from the Swedish owner Jennifer Eric, who perfectly reflects the ideology of her little restaurant.
In the Batignolles area, find out entertaining dishes names such as the Sushi Burrito (nori seaweed leave Mexican wrap with salad) or the Chili sin Carne (spicy tomato sauce, rice, vegetables of the day, crudities).
You will find all these good vegan dishes from Wednesday to Sunday for lunch or brunch.
Noon menu €15.80
Greedy menu €24
Website: http://www.mykitchn.fr/www.mykitchn.fr/Welcome.html
Wild & the Moon €€
55 rue Charlot, 75003 Paris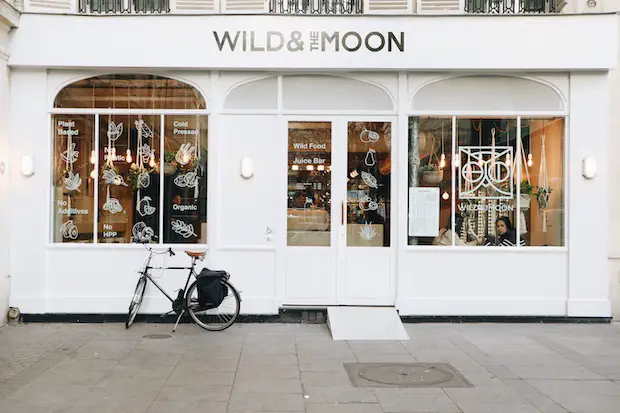 Passing by New York or Dubai, Emma Sawko is extending her vegetal and gluten-free canteen concept for breakfast or lunch.
Since February 2016, this Parisian canteen is a real call to the "healthy food" and to well-being, the natural materials, the plants and the pure light of the place, and these are specifics to the offered cooking: GOOD cooking! And to achieve that the product screening is stringent: goods, bios and vegetarians!
Come and taste the very very large choice of smoothies (cold-pressed) and hot drinks! Always detox, of course!
Find out the soup, the salad or the dish of the day thought out, prepared and served with love!
Main course starts at €9.90 
Juice starts at €5.50
The restaurant now has many addresses in Paris:
Saint Honoré : 19 Place du Marché
Charlot : 55 rue Charlot, 75003 Paris
Gravilliers : 25 rue des Gravilliers, 75003 Pqris
Amelot : 138 rue Amelot, 75011 Paris
Opéra : 4 rue du Helder, 75009 Paris
Charenton : 149 rue de Charenton, 75012 Paris
Saint-Charles : 24 rue Saint-Charles, 75015 Paris
Demours : 23 rue Pierre Demours, 75017 Paris
Website: https://www.wildandthemoon.fr/en/
PH7 Equilibre €€
21 rue Le Peletier, 75009 Paris
 

Voir cette publication sur Instagram

 
Bio and vegetarian restaurant with a well-defined concept: the respect of the body's acid-base balance.
Indeed, mother and daughter join together in cooking in order to set up recipes with Indian, Mediterranean and Provencal scents, good for our health and stomach.
Little reminder: the food combinations and the digestion release alkalizing and acidifying substances in the body and it is around this point Zemor women impose some inalienable values as: the acid-base balance with high-quality formulas of course, the use of products from organic and seasonal farming, to know the producers and favor short tracks and to respect the environment…
Bowl + juice or soup or dessert for €19
Dessert, juice or soup for €6

Website: http://www.monph7.com/ (French version)
Sense Eat €€
39 rue Mazarine, 75006 Paris
 

Voir cette publication sur Instagram

 
The pioneer in the vegetarian Italian field, the Sicilian restaurant La Trottinette leaves the door open for its heir, Sense Eat, located close to Saint-Germain-des-Pres.
From the meeting between a vegetarian and a chef (both Italian) is born this concept of "epicurean vegetarian" restaurant by joining Italian flavors and diet with imported products from Italy like burrata, mozzarella di bufala, and olive oil.
Together, Enrico Einaudi (the vegetarian owner) and Maurizio Carlucci (the chef) have set up this very attractive concept of diet respect and taste usual flavors from an Italian restaurant, at the same time.
So you can find on the menu, Risotto (Riso vialone nano "Melotti" with Cuneo Saffron, diced pumpkin and candied fruits slightly marinated with mustard, amaretto powder) and the Spaghettone Gragano (turmeric and lemon spaghettoni with green pepper and caper powder).
Main course between €17 and €34
Dessert or cheese for €12

Website: https://senseeat.com/en/services
Crepe de la joie €
4 rue du Fer à Moulin, 75005 Paris
 

Voir cette publication sur Instagram

 
Located in the university district of the fifth borough, this Breton inspiration specialties creperie will delight you with its vegetarian and bio patties.
The buckwheat flour is used for patties, pancakes, for their part, are realized with unhybridized bio spelt flour, and it comes straight from our German friends.
Let yourself be tempted by the Forest Gnome (mushrooms with garlic powder, parsley and Emmental) or by the Garden Fairy (seasonal vegetables, aromatic herbs, parmesan, egg) or make up your own wafer!
Furthermore, gluten-free, lactose-free and vegan patties are available on request.
Noon menu:
Korrigans menu (salted wafer + jug of cider) €13
La joie menu (salted and sweet wafer + jug of cider) €18
Website: http://crepedelajoie-restaurant.fr/en
Pur, etc €
21 rue des Jeuneurs, 75002 Paris
25 rue Sedaine, 75011 Paris
 

Voir cette publication sur Instagram

 
This "Fast-Good" brand is born in Strasbourg and is expanding in Paris, Puteaux or Versailles, to allow you from breakfast to dinner, to taste clean and healthy food. Products are cooked around seasonal local fruits and vegetables, indeed Pur, etc. favors raw materials proximity (Grange gathering).
You can order online, onsite or take away among the several capital city restaurants and their surroundings.
With many vegetarian options, let yourself be tempted by the seasonal vegetables, vegetarian lasagna (tomato, rice milk, carrot, onion, celery root, soja proteins, lasagna, margarine, olive oil, nutmeg, garlic) or by the Lebanese tabbouleh with quinoa and hummus.
Main course from €12.90
Dessert from €3.90 
Website: http://www.pur-etc.fr/accueil (French version)
Le Grenier de Notre-Dame €€
18 rue de la Bûcherie, 75005 Paris
 

Voir cette publication sur Instagram

 
Le Grenier de Notre-Dame opened in 1978 and is, therefore, one of the first vegetarian restaurants in the capital. The restaurant's specialty is seitan which is used to replace meat in burgers or to go well with other food.
A great choice of courses is on the menu, from a simple pie to cassoulet and even couscous. The eatery only uses fresh produce for quality meals. Vegetarian and gluten-free dishes can also be found.
Main course costs between €16 and €19

Website : http://www.legrenierdenotredame.fr/ (in French only)
Restaurant VEGE €
122 rue du Théâtre, 75015 Paris
 

Voir cette publication sur Instagram

 
This restaurant adapts Turkish cuisine for vegetarians and vegans.
Let yourself be tempted by their specialty, the Tchi kofte (Çiğ köfte in Turkish), which you can have for €13.50 (or €7.50 if you want the sandwich version) or by the numerous cheap appetizers (from €3) such as the chickpea croquettes with sesame cream and the red cabbage with nuts and yogurt.
Website: https://vegetarian-vegan-cafe-and-deli.business.site/(in French only)
Tien Hiang €
14 rue Bichat, 75010 Paris
 

Voir cette publication sur Instagram

 
Tien Hiang was the very first restaurant in Paris to serve Asian vegetarian food. Since the 1990's, it has served all the typical dishes of South-East Asia. On the menu, you can find dumplings, Thai rolls, tempura, skewers, soup with noodles and more.
Dehydrated soy protein is used to replace meat and to recreate all these emblematic courses.
Main course starts at €9
Dessert at €4
English Menu: https://www.tien-hiang.fr/wp-content/uploads/2020/09/CN-Menu1-Final-vf-compressed.pdf
Hank Burger €
55 rue des Archives, 75003 Paris
8 rue Marguerite de Rochechouart, 75009 Paris
123 rue Oberkampf, 75011 Paris
 

Voir cette publication sur Instagram

 
H.A.N.K which stands for "Have a Nice Karma" is a fully vegan "fast-food restaurant" committed to the environmental and animal cause.
On the menu, you will find burgers, nuggets, roast potatoes as well as salads.
Steaks are made of tofu, mushrooms, rice, cereals and different kinds of spices. Every sauce is homemade with fresh produce.
If you want a Beyond Meat steak in your burgers, you will have to pay an extra 2€. This brand makes "fake" steaks that have a similar taste and appearance.
Around €9 for a burger
€5.50 for 6 nuggets
Dessert starts at €3
Website: https://www.hankrestaurant.com/en-home
Vegebowl Paris €
24 rue du Faubourg Saint-Martin, 75010 Paris
 

Voir cette publication sur Instagram

 
This eatery has a great choice of Asian vegan and vegetarian dishes. Among which are dumplings, spring rolls, nem, noodles, sticky rice and even pho soup.
The prices are cheap: from €5 for a starter and from €8.50 for a main course.
Website: http://www.vegebowl.com/
Pita Paris €
6 rue des Trois Frères, 75018 Paris
 

Voir cette publication sur Instagram

 
As its name suggests, in this place you can enjoy a pitta bread sandwich made with fresh vegetables.
The restaurant also offers dishes like the "Sabich" which is a combination of eggs, aubergines, cucumbers, tomatoes, cabbages, fresh parsley, hummus and some tahini sauce.
The desserts on the menu are all homemade. You can also order takeout if you rather.
Main course from €7
Dessert from €2
Website: https://www.pitaparis.com/ (in French only)

I aim to share my tips and recommendations for the beautiful country of France. My goal is to help you plan your next adventure, whether it's a weekend getaway or a once-in-a-lifetime trip. From finding the best hotels and restaurants, to discovering unique activities and sights, I've got you covered!