After wandering the streets of Paris, do you find yourself looking for something sweet to eat or a place to have a hot beverage? In this article, we are introducing you to 10 good places where you can eat the best pastries and taste the best hot chocolates, coffees or even teas in the capital city of Paris. There is a place for every budget and every taste, whether you are more traditional or exotic, it is your choice.
Best Bakeries
Ladurée €€€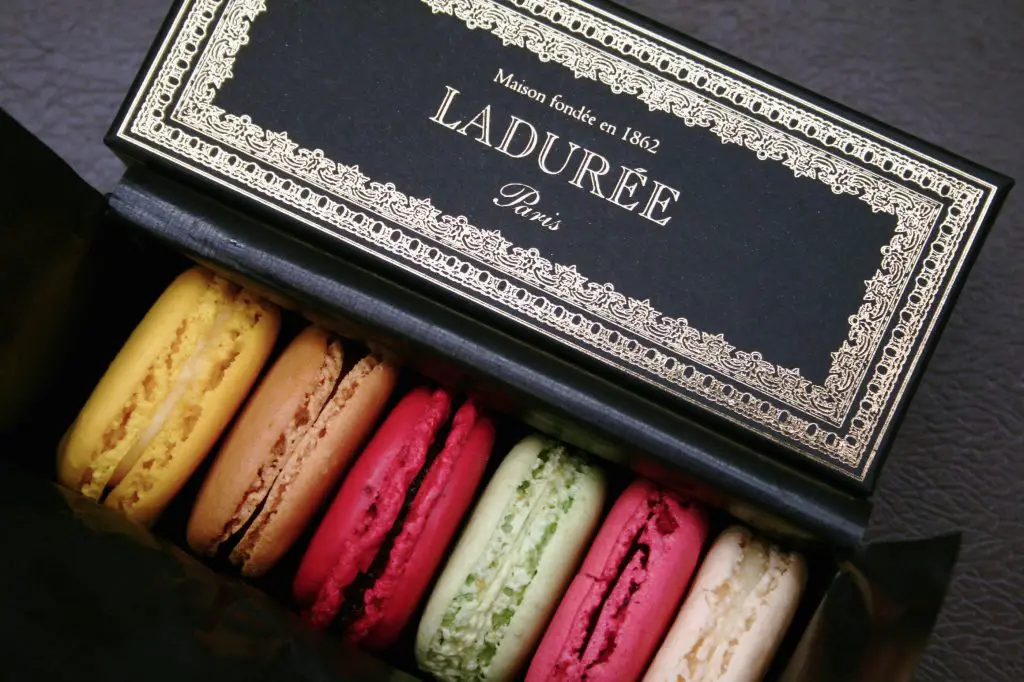 Is anything more iconic than Ladurée? This prestigious company is a place you cannot skip if you are a fan of macaroons.
You will have plenty of opportunities to buy some, as they have six different locations in Paris and, even though you cannot go inside one of their shops, don't worry, you can order online!
When it comes to macaroons, the flavors are traditional: lemon, coffee, strawberry candy, licorice, pistachio, and raspberry but there are also some seasonal flavors such as chestnut, brandy, and chocolate hazelnut. The company Ladurée also gives you the opportunity to customize the macaroons – a good way to please your family!
Prices: Unit price of a macaroon: 1.90€. Box: starts at 12.50€
Addresses:
Ladurée Paris Royale: 16 to 18 rue Royale 75008 Paris.
Ladurée Paris Champs Elysées: 75, avenue des Champs Elysées 75008 Paris.
Ladurée Paris Bonaparte: 21 rue Bonaparte 75006 Paris.
Ladurée Paris to printemps de la mode: 64, boulevard Haussmann 75009 Paris.
Le macaron Ladurée Paris: 14 rue de Castiglione 75001 Paris.
Opening hours: From Monday to Friday: 10am to 7.30pm. Saturdays: 9.30am to 7.30pm. Sundays and public holidays: 10am to 7pm
Pierre Hermé €€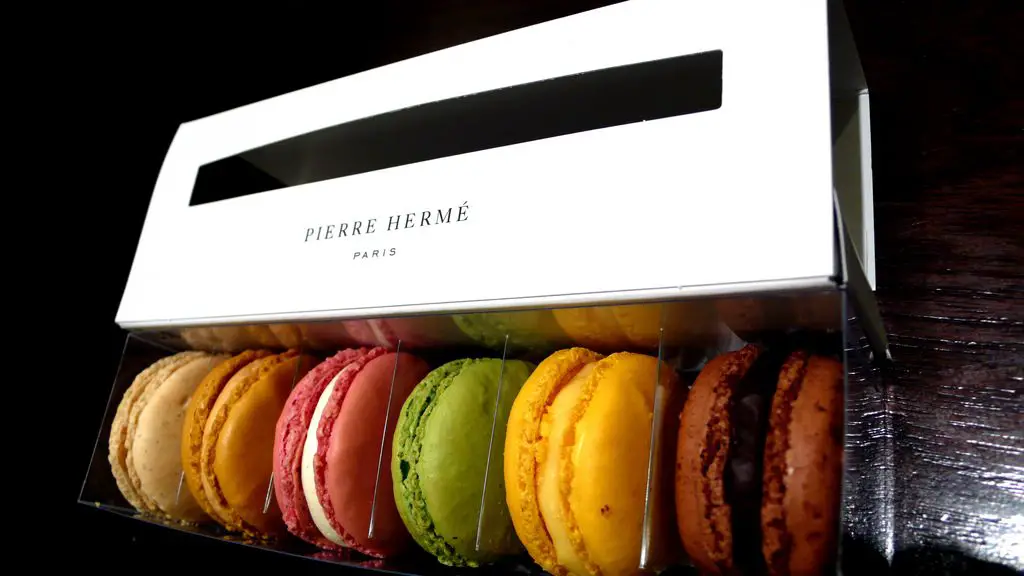 What's better than trying pastries from the world's best baker of 2016?
Pierre Hermé, the inventor of the "Haute Couture Pastry", offers you cakes, macaroons and other sweet treats that will satisfy the most demanding of you.
You will obviously find his hallmark macaroons like rose, salted caramel, Brazilian coffee, or even those tasting of milk chocolate and passion fruit. Additionally, you can choose from those a bit more original (offered depending on the season), like the jasmine one, neroli one or the "immortelle de Corse" (flower from Corsica) one proposed during spring 2017.
You will also be able to find desserts that have now become classics such as the 2000 Feuilles or the Mont to Blanc.
Pierre Hermé also has an online shop.
Average price of a pastry: 8.40€
Price of a box of macaroons: Starts at 19€
Price of a box of chocolate: Starts at 12€
Addresses:
185 rue de Vaugirard 75015 Paris.
72 rue de Bonaparte 75006 Paris.
Aoki Sadaharu €€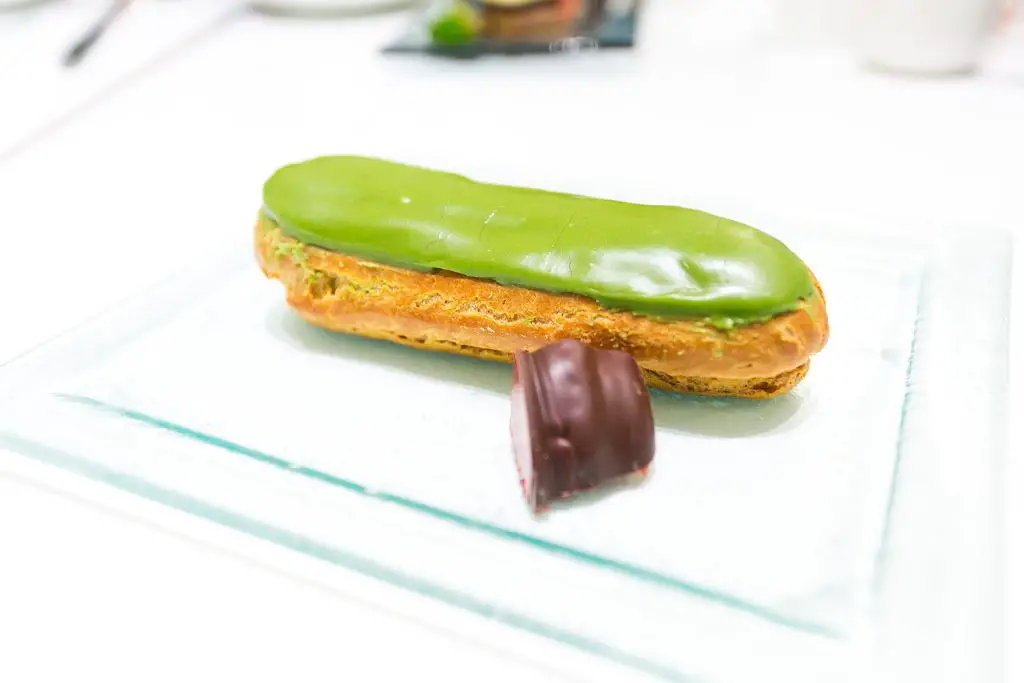 This Japanese man, who moved to France 20 years ago, offers pastries with original flavors coming straight from Japan – enough to satisfy the taste buds of the most adventurous!
You will particularly be able to find matcha tea croissants, black sesame seed eclairs, pastry rolls and other desserts with Japanese flavors.
Their desserts are always extremely elegant and mastered to perfection, making Aoki Sadaharu one of the best bakers in the capital.
Unit price of a macaroon: 1.40€
Average price of a pastry: 5.50€
Addresses:
Boutique Vaugirard: 35 rue de vaugirard 75006 Paris.
Boutique Port to Royal: 56 boulevard de Port to Royal 75005 Paris.
Boutique Ségur: 25 rue Pérignon 75015 Paris.
Boutique Saint to Dominique: 103 rue Saint Dominique 75007 Paris.
Website (only in French)
Pâtisserie Cyril Lignac €€€
France's favorite chef has not started his own bakery brand and managed to establish himself successfully.
Associated with the Michelin-star chef, Benoït Couvrand, together, they create classics of French pastry such as eclairs, rum babas or even lemon pies but restyled in a more modern way with the sole purpose to please.
Don't miss the chefs' hallmark: the Equinoxe – a clever mix between shortbread biscuits flavored with speculoos (crunchy biscuits flavored with sugar and spice), light Bourbon vanilla ganache, and a center filled with salted caramel.
Average price of a pastry: 6€
Unit price of a macaroon: 2€ (boxes start at 20€)
Chocolate bars: Starts at 6€
Addresses:
Boutique Paris 6ème – Sèvres: 133 rue de Sèvres 75006 Paris.
Boutique Paris 11ème – Ptol Bert: 24 rue Ptol Bert 75011 Paris.
Paris 15ème – Pasteur: 55 boulevard Pasteur 75015 Paris.
Paris 16ème – Chaillot: 2 rue de Chaillot 75016 Paris.
Paris 17ème – Poncelet: 9 rue Bayen 75017 Paris.
Arnaud Larher €€
Arnaud Larher, awarded with the title "Best Worker in France" in the category bakery/sweet in 2007, offers you a whole range of simple yet elegant pastries in one of its three Parisian addresses.
You can also order online, and then come pick up your order at the shop.
Arnaud Larher offers a few classic french cake and pastries, (such as "kouign amann" a specialty from the Brittany area, babas rum …), ice creams, and macaroons that he offers in a variety of flavors (dark chocolate, vanilla, lemon, poppy to raspberry, rose to Turkish delight…).
You will also find delicious chocolates and a range of different cakes with flavors (lemon cake, chocolate and Gianduja, chocolate lava cake, orange…) – a good way to please everyone!
Price of a box of macaroons: Starts at 9.20€
Average price of a pastry: 6.60€
Addresses:
Boutique 53 rue Caulaincourt – 75018 Paris.
Boutique 57 rue Damrémont – 75018 Paris.
Boutique 93 rue de Seine – 75006 Paris.
Classic Tea Houses
The Tea Time of the Hotel Prince de Galles €€€
 

Voir cette publication sur Instagram

 
In the bar of the Hotel Prince de Galles, between 3pm and 6pm, the atmosphere changes completely and becomes more British as people enjoy their delicious tea.
Known to be one of the best tea houses of the capital city, Prince Galles' Tea Time is led by the chef Tristan Rousselot and his team. You will be able to enjoy a hot drink of your choice, served with the traditional scones, as well with fine pastries and salted delicacies.
You will also be able to try the chef's version of a few Gâteaux de Voyages, which are common cakes French families love to grab for a picnic. This menu also offers an option with a glass of Champagne Laurent Perrier.
Price: 88€ per person (champagne included)
Address : 33 avenue Goerge V 75008 Paris
Tea Time of the Hotel Bristol €€€
At the heart of the French Garden, you will be able to enjoy a moment away from the pollution and noise to have a tea served with a pastry of your choosing.
It is in this haven of peace that you will be able to taste macaroons as well as cakes, scones, muffins, and other petit fours, all of this washed down with your favorite tea and even a little bit of champagne if you wish.
Price: Set menus at 60€ (classical complete tea set menu) and 80€ (complete tea set menu "Le Bristol")
Address: 112 rue du Faubourg Saint-Honoré, 75008 Paris
Angelina €€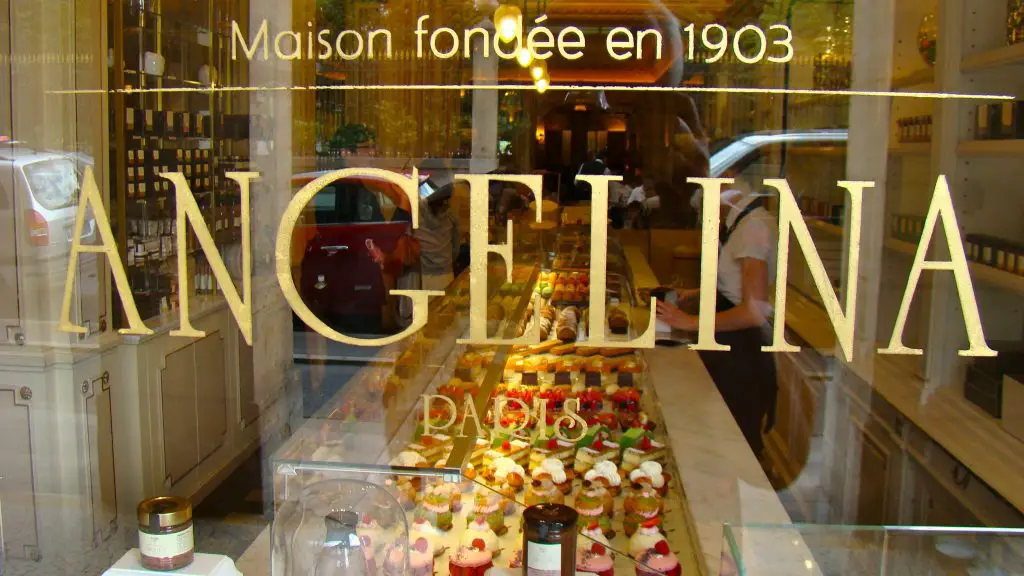 This company, created in 1903, imposed itself as a gourmet and refined place to settle down and have a cup of tea.
Just like some famous people have, in particular, Proust and Coco Chanel.
You will be able to taste two of their bestsellers: the African hot chocolate composed with three cacaos from Africa (Niger, ghana and Côte d'Ivoire) as well as the Mont-Blanc, which is a pastry composed of a meringue, whipped cream and vermicelli of chestnut cream that made the company, Angelina, famous.
Price: 20€ per person (32€ with champagne)
Addresses:
226 rue de Rivoli 75001 Paris
108 rue du bac 75007 Paris
19 rue de Vaugirard 75006 Paris
Japanese Tea Houses
Toraya €€€
This Japanese tea house, which has been settled in Paris since 1980, will offer you a relaxed atmosphere and will allow you to discover teas and treats from the other side of the world.
This company offers you a range of 4 different cakes every two weeks so that the cakes are always fresh and seasonal – a good way to satisfy the most curious.
Toraya's specialty remains the Yokan, a traditional sweet pastry made out of kidney beans, dough jellified with agar-agar, and declined in a wide range of flavors such as fig, apple or red berries (depending on the seasons).
In this tea house, you will only find Japanese products, from teas to pastries that will take you all the way to Japan.
Price of the pastries: Starts at 5€
Price of the tea: Starts at 6.50€
Address: 10 rue St-Florentin 75001 Paris
Tomo €€
Welcome to an elegant and surprising tea house which will make you discover a Japanese-like tea time.
The chefs, Romain Gaia, who is French, and Takanori Murata, who is Japanese, combine their savoir-faire in order to offer you traditional pastries, cooked by the book.
Come and enjoy traditional or French-Japanese dorayakis: Japanese pastries which have become Tomo's specialty, according to your desire.
Take a delicious break with a Japanese tea, and experience a true exotic escape.
What we love about this place is that you can learn to create your own pastries and teas during workshops organized by the chefs.
Prices:
dorayakis start from 5€ (-1€ for takeaways)
tea starts from 6.80€ (-1€ for takeaways)
Addresses:
Tomo "Opéra" 11 rue Chabanais, 75002 Paris
Tomo "Odéon" 16 rue Grégoire de Tours, 75006 Paris
Website (only in French)
Kosyuen €€
Get away from the outside agitation by entering this peaceful and Zen tea house/restaurant.
Enjoy a traditional tea accompanied by tasty pastries from the Land of the Rising Sun, cooked with gluten-free rice flour and organic products.
This tea house offers a Dessert Menu, from 2p.m to 6p.m, including a selection of pastries and a beverage.
let yourself be tempted by the Matcha tea accompanied by a dessert selection and its exotic flavors.
Prices:
Dessert Menu starts from 8.50€ to 12€
Tea starts from 4.50€
Address: 258 rue St Honoré, 75001 Paris
Middle-Eastern Tea Houses
Lune de miel €
In this cozy tea house, everything is thought-out to make you travel to Morocco, from the handcrafted middle-eastern pastries to the traditional teapots and teacups.
Vanilla/caramel mhanchas, vanilla babouches, date makrut and many others: let yourself be tempted by a wide selection of handmade treats full of sun.
Prices: pastries cost 1.70€ each
Address: 14 Bd de Reuilly, 75012 Paris
Le Sphinx €€
The tea house offers you traditional tea and pastries in a middle-eastern and convivial atmosphere.
A place where the staff is welcoming and friendly and where prices are affordable.
Even if you are not hungry nor a tea lover, don't worry, Le Sphinx also sells narghiles.
It is an ideal place where you can take a break with your friends.
Address: 37 Rue de la Gaité, 75014 Paris
Kanoun €€
Kanoun welcomes you in a sober and elegant setting for you to enjoy a delicious break with a succulent mint tea and middle-eastern pastries.
the sweets are handcrafted and are available in a wide selection that will make your mouth water.
We fell for the trompe l'œil marzipan apricot, stuffed with apricot jam.
If you are more fond of middle-eastern authenticity, Kanoun also offers a selection of baklava, gazelle horns, makrut and many other exotic specialties.
Prices: pastries cost 3€ to 3.50€ each (-1€ for takeaways)
Address: 98 Rue de Charonne, 75011 Paris
Website (only in French)

I aim to share my tips and recommendations for the beautiful country of France. My goal is to help you plan your next adventure, whether it's a weekend getaway or a once-in-a-lifetime trip. From finding the best hotels and restaurants, to discovering unique activities and sights, I've got you covered!