Lunch break, picnic or even snack time? Grab a sandwich and you are good to go. It's by far the most convenient alternative to full and formal meals. We have put together down below, a list of our 9 best restaurants in Paris.
Chez Alain Miam Miam
26 Rue Charlot, 75003 Paris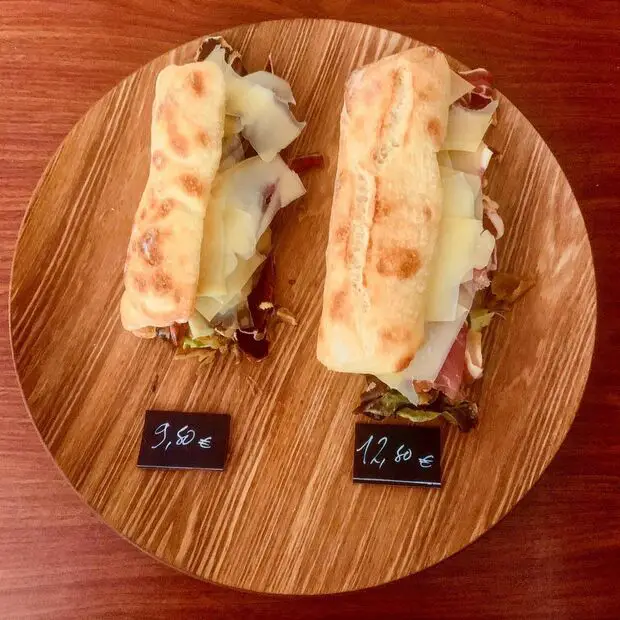 This fast-food restaurant offers sandwich combinations with the most balanced variations to the most gourmet.
You will have a wide selection between combinations of organic vegetables with tomato, candied onions, cooked mushrooms and combinations with Protected Designation Origin cantal or Comté cheese and toppings such as ham, pastrami, chicken, cecina, etc.
The little extra: Alain Miam Miam is Vegetarian and vegan friendly. In addition, they also serve up some specialties such as sweet and savory crêpes, pancakes and waffles.
Price range: Between €9 € and €12
Website: https://www.facebook.com/ChezAlainMiamMiam/ (in French)
Lamée Sandwicherie
20 Bis Rue la Boétie, 75008 Paris
In a rather modern and plain style, Lamée Sandwicherie serves original sandwiches prepared with fresh products and traditionally made bread coming from daily supply.
You will therefore have the choice between French rustic specialties such as "pain de campagne au levain" (sourdough bread), grained and ciabatta bread.
Regarding the sandwiches types whether, toasted or classic with toppings, it's up to you.
In addition, the star here is the croque-monsieur. They are made with great ham and Swiss Gruyere. We definitely recommend you try it.
The little extra: The value for money is more than reasonable. They are vegetarian and vegan friendly. Also find combinations such as the sandwich with sea bream rillettes and chia seeds, fennel, fresh tomatoes or a vegan sandwich topped with a homemade hummus, seasonal vegetables with seven spices, fresh herbs and beetroot sprouts.
Price range: From €8
Website : https://lamee-sandwicherie.com (in French)
Honoré 1875
26 Rue des Petits Champs, 75002 Paris
They serve gourmet sandwiches with various compositions and toppings.
The fresh and refined ingredients are served in a crispy baguette which can be, standard or rustic, according to your preferences.
For the indecisive, you have the option of choosing two flavored sandwiches, the house's signature.
The nice interiors are also an invite to try out their sandwiches.
The little extra: Options for vegans and vegetarians are available. If you follow one or the other of these diets, we suggest sandwiches with tomato, nuts, shrimps or salmon, etc… We also recommend the sweet sandwiches made with milk bread and fruit for garnish.
Price range: €5.90 for a sandwich and between €11 and €13 for a formula.
Website: https://www.honore-1875.com (in French)
Maison Castro
47 Rue des Moines, 75017 Paris
Here you will enjoy tailor-made gourmet sandwiches made with fresh ingredients right in front of you.
Special diets are welcome there too.
The little extra: The house's focus is on Mediterranean cuisine and they offer the best products made traditionally, coming from the Nice region. You can therefore stock up on cold meats or cheeses, for example if you want to.
Price range: Between €5 and €14. For a full lunch formula, count between €6.90 and €7.80
Website : https://www.maisoncastro.com/ (in French)
Chez Aline
85 Rue Etienne de la Roquette, 75011 Paris
Interested in original sandwiches?
This snack-bar restaurant offers sandwiches filled with pot-au-feu chicken, tortillas, Prince of Paris ham, guacamole etc… in other terms, you will have a wide selection just by looking from outside of the window.
The little extra: The bread choice here is between a typical baguette and a round sesame bread, both homemade to the delight of your taste buds.
Price range: Between €5 and €8.50
Website: Chez Aline (in French)
Le Petit Vendôme
8 Rue des Capucines, 75002 Paris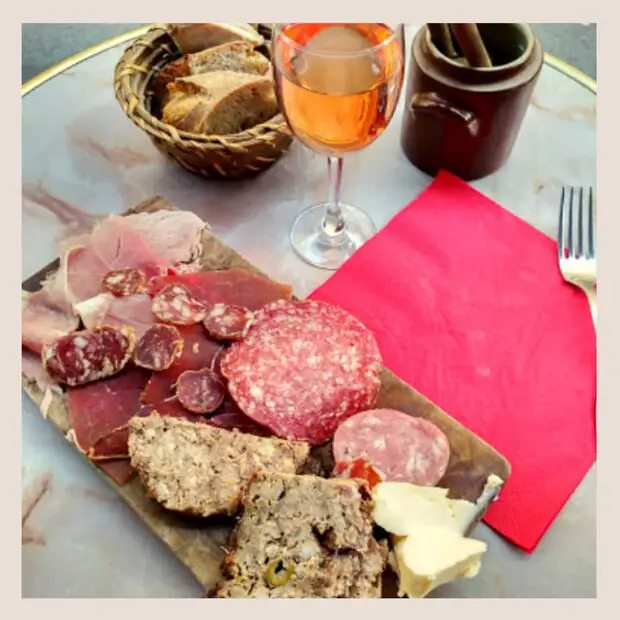 This is a bistro spot that offers around twenty variations of the baguette sandwich depending on the ingredients and mainly the type of ham.
You will obviously find the great classics with country hams, paté rillettes and various cheeses to accompany them.
Everything is made in front of you in a rustic and very friendly setting.
However, no options for vegans or vegetarians.
The little extra: The in-house restaurant offers cold cuts and cooked dishes such as Salers beef entrecote or charolais with fries, béarnaise sauce, Roquefort and pepper.
Price range: Between €4 and €6
Website: https://lepetitvendome.fr/fr
Le Bar à Sandwich
18 Boulevard Montmartre, 75009  Paris
Feeling like composing your sandwich yourself?
Well, Le Bar à Sandwichbar is the place to go since it offers a variety of bread and toppings.
There is no shortage of ingredients to garnish your sandwich.
You will indeed have the choice between countless assortments and toppings namely lettuce, tuna, chicken, various types of cheese (Emmental, mozzarella, cheddar..), bacon, sun-dried tomatoes, to name a few.
There are many vegetable combinations that vegans and vegetarians will enjoy (lettuce, tomatoes, pickles, eggplants, etc.)
The little extra: Composing your sandwiches with one, two, four or more ingredients is obviously possible but you may as well go for a formula, which lets you have a 4-ingredient sandwich, a dessert and a drink.
Price range: Between €5 € and €9.90
Caractère de Cochon
42 Rue Charlot, 75003 Paris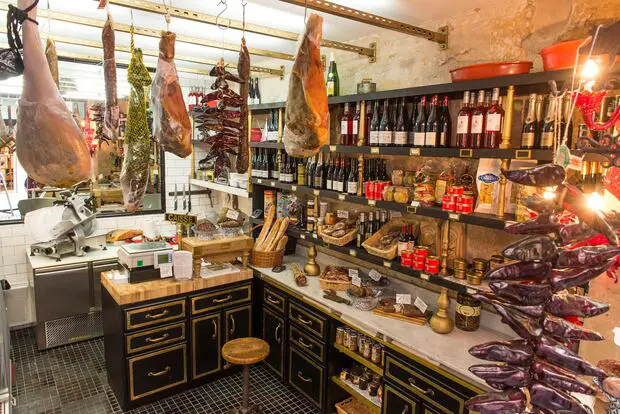 You may somehow be put off by the rather daring name of this place, but if you don't stop by, then you will be missing out on a great place.
Indeed, specializing in cold meats and, in particular, on ham, this grocery store-restaurant offers you one of the best ham and butter sandwiches in Paris.
The hams in the sandwiches are, among others, Paris ham which is rather soft on the palate and delicious, raw Parma ham, Provençal ham with rosemary…
We also recommend other charcuterie toppings like dry sausages, Catalan fuet and more!
The little extra: This grocery store-restaurant has a shop with international ham specialties. You will find Hungarian mangalitza, Tuscan pepper or even babilla, a kind of beef heart ham.
Price range: Between €7 and €14.90
Website: Instagram (in French)
Picto Sandwicherie Artisanale
1 Cour de Rome, 75008 Paris
Picto serves up the great classics of sandwiches yet you will have the choice between two types: the seasonal sandwiches made up of fresh products of the month and the "counter" sandwiches which are classic sandwiches, namely ham and butter, rillettes du Mans, rillettes-pickles, dry-butter.
You will discover many products coming from all around France.
The little extra: Seasonal sandwiches are available in three recipes for Vegetarians and Vegans: one based on cheese, the others based on fish and egg. Each week, however, you can find a chef's sandwich that brilliantly revises classic French recipes such as beef bourguignon or chicken in vinegar.
Price: €5
Website: https://www.picto.paris/ (in French)

I aim to share my tips and recommendations for the beautiful country of France. My goal is to help you plan your next adventure, whether it's a weekend getaway or a once-in-a-lifetime trip. From finding the best hotels and restaurants, to discovering unique activities and sights, I've got you covered!