The food truck trend is spreading on the whole planet, and Paris has more and more of them. If you want to try something other than the usual restaurants, a lot of trucks are roaming the city to fill your stomach. American food, Thai food, even frozen desserts, you can try culinary specialties coming from different places on Earth, and cooked in a small truck.
Food truck map in Paris
Le camion qui fume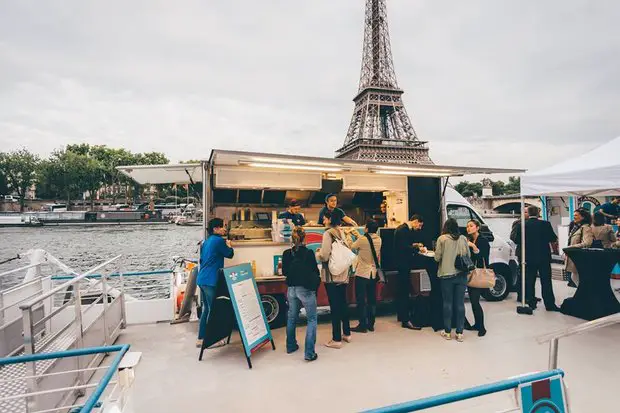 Type of food: American food, burgers
Bestseller: le Barbecue
Kristin Frederik, a Californian woman fond of cooking, decided, with her associate Frédéric Fédière, to begin their adventure, running a food truck in Paris. On November the 29th, 2011, they began to run their first food truck. It immediately knew a lot of success.
As a gastronomy lover, Kristin Frederick has decided to offer homemade burgers. .
As of today, 4 of their trucks roam the capital city under the Camion qui Fume flag. This food truck is undoubtedly the most famous and the food they offer will truly delight you.
You will maybe need to wait for a bit before enjoying your nice burger because of the success this food truck has, but you will be even more satisfied once your food is in your hands.
Now, the Camion qui fume has opened a restaurant as well.
Food trucks' addresses:
MK2 Bibliothèque, 132 avenue de France, 75013 Paris : Every day from 12am to 2:30pm and from 7pm to 10:30 pm except for Monday noon.
Place de la Madeleine, 11 Place de la Madeleine, 75008, Paris : Every Tuesdays and Fridays from 12am to 2pm.
Restaurant's address:
168 Rue Montmartre, 75002, Paris: from 12am to 11pm.
Visit their Facebook page here
Glaces Glazed

Type of food: Ice Creams
Best Seller: Voodoo Chile (a caramelized banana and curry ice cream)
Have you ever dreamed of hearing the "ding ding" of an American ice cream truck? The Glaces Glazed truck will make your dream come true, being the first ice cream truck to roam the streets of Paris.
Glazed is famous for its original and elaborated ice cream flavors. Forget about the boring vanilla, chocolate and strawberry. Be tempted by Orange Mécanique or Black Sugar Sex Magik ice creams.
Glazed meets the Parisians with its HY Ice truck, an HY Citroën truck refurbished with a touch of rock fashion! In addition to the unusual ice creams, the truck now offers waffles to completely satiate your appetite.
The truck has had so much success that the creators of Glazed decided to run an ice cream shop in Rue des Martyrs so people can enjoy their frozen wonders anytime.
Shop's address: 54 Rue des Martyrs, 75009 Paris: from Tuesdays to Fridays, from 1:30pm to 8:30pm; Saturdays and Sundays from 11am to 8:30pm
Food truck's address: in the capital and its surroundings.
Website: http://www.glaces-glazed.com/ (in French)
El Carrito : Clásico Argentino
Type of food: Argentinian cuisine
Bestseller: Empanadas (the menu changes each month)
The Clasico Argentino is the name of the Argentinian restaurants run by Enrique Zanoni and Gastob Stivelmaher, two Argentinians, fond of cooking.
After opening several restaurants, they decided to run their own food truck in 2012 and named it El Carrito. This is a reference to a Buenos Aires' coast, more precisely the Rio de la Plata one. In the 50's, traveling food carts would set themselves along the river and sell empanadas and ice creams.
This is how the Argentinian truck now roams the city and offers homemade Argentinian specialties.
You can find El Carrito at the Bastille, in the Quartier Saint-Honoré, and many other places in the capital.
Website (in French) : http://clasico-argentino.com/
The Mum Dim Sum
Type of food: Singaporean street food
Best seller: Porc aux 5 épices (5 spice pork)
This food truck with an exotic name offers a wide variety of Asian takeaway dishes, especially some Singaporean takeaway dishes.
You will have some choice between dim sums, which are steamed cooked bites with shrimp, salmon or beef in them, or baos, soft bites with pork, chicken or even vegetables inside.
The truck roams the 13ème arrondissement: this is the place where we find the finest Asian restaurants of Paris. They also have 2 restaurants in the 11ème and 17ème arrondissements.
Addresses:
14 Boulevard de Courcelles Paris 75017
20 Rue de la Folie-Méricourt Paris 75011
Website (in French) : mumdimsum.com
Mozza & Co
Type of food: Italian, mozzarella
Bestseller: Foccacias Francis and Ford
Are you fond of Italian cuisine? If so, Arthur Gambard and Thibault Merendon understand you.
These two amateurs of Italian cuisine decided to run their own Italian food truck and show off mozzarella with it.
This ingredient which is extremely present in Italian food and culture is revised in the Mozza & Co truck.
Fine, elaborate meals and desserts; you will be delighted by your little culinary getaway in Italy in this little truck.
Addresses (static) :
65 rue du Faubourg Poissonnière Paris 9; From Mondays to Fridays, 11:30 am to 2:30 pm
Angle rue Dauphine et rue André Mazet; From Mondays to Fridays, 11:30 am to 2:30 pm
Berges de Seine Rive Gauche – Port Solférino; opened the whole week, from 11 am – closing at 12pm except for particular weather conditions.
Website (in French) : http://www.mozzaandco.it/
Deli'Street
Type of food: Burgers & Bagels
Bestseller: the French Burger
According to them, Deli'Street is specialized in homemade street food cooked with fresh ingredients. This way, you'll know that when ordering your nice bagel or your classic hamburger with fries, you will eat local products.
They also claim to buy all their ingredients from Parisian artisans respecting the cold chain.
Their truck sells some very tasty street food thanks to their caterer which will make everything he can to provide fresh products.
If you are interested, their chef even has cooking classes!
The truck also offers to participate in events such as weddings, birthdays and many others, where they will cook for the guests.
Address: 12 Place du Général Koenig, 75015 Paris
Website (in French) : delistreet.fr
Pizza 104
Type of food: Italian, pizzas
Inside the courtyard of the Centquatre, this food truck with its black paint and metal sides is one of the rare pizza trucks of the capital. The Pizza 104 bears its colors even on its license plate.
Calzone, vegetarian, meat… the cook knows how to make the best pizza which will fill your stomach.
Discover some new flavors, and enjoy the warm atmosphere at Pizza 104.
Address: 104 Rue d'Aubervilliers, 75019, Paris
Opening hours: From Tuesday to Friday, from 12am to 3pm; and from 11am to 7pm on Saturdays and Sundays
Website: https://www.104.fr/en/the-shops/the-pizzas-truck.html
New Soul Food
Type of food: Mixed (African, Caribbean and European)
Bestseller: Braised chicken
Rudy Laine, a pastry chef, decided to run his own food truck, helped by his brother and his cousin. But it is not an ordinary food truck!
They offer a mixed cuisine directly inspired by the Cameroonian origins of the cooks.
Every dish is cooked right in front of you; both the dishes and the desserts. You can try the well-known braised chicken and be surprised by Africa's flavors.
You will be pleased by the warm, friendly welcome and by your full stomach, once you get to devour your meal. This being said, don't hesitate: be transported to Africa with New Soul Food's delicious meals!
Certified address:  MK2 Bibliothèque, 128 Avenue de France, 75013, Paris from 12am to 2:30pm.
Website (in French) : http://newsoulfood.fr/
La Traction Gourmande
Type of food: pastries and traditional sweet cuisine
Bestseller: crepes with a wide choice of toppings and fillings
La Traction Gourmande was able to perfectly mix delicious, sweet cuisine with elegance.
In their Vintage HY truck, they know how to fill your stomach with a large choice of sweet snacks such as crepes, pies and even ice creams sold in their little vintage delivery tricycles.
The truck stations on Thursdays and Saturdays at the Place Albert Cohen in the 15è arrondissement to offer all the sweet wonders they make.
The rest of the time, they cook for brunches, cocktails as well as public conferences and exhibitions you can attend.
Address: Place Albert Cohen, 75015 Paris or at Quai des Tuileries
Website: latractiongourmande.paris
DODA (D'Orient et d'Ailleurs)
Type of food: oriental cuisine
Best seller: Chicken, beef and lamb tagine.
DODA means D'Orient et d'Ailleurs (from the East and elsewhere). This truck cooks food typical of the countries from the other side of the Mediterranean sea.
The idea came from Zahra. She's no stranger to the Moroccan cuisine she has enjoyed since her youngest age. She decided to start all over again and perfect her cooking skills with the help of Parisian chefs. There you have it: DODA was born.
The dishes you can try are very exotic, with flavors you don't get to taste every day: chicken, lamb and beef tagines, Harira soups, Chackchouka (pan-fried peppers and eggs) and delicious pastries made of semolina cake, honey and orange blossom extract. It is a true culinary journey that you absolutely must live.
Addresses: 7 Rue Linois, 75015 Paris – Place Albert Cohen, 75015 Paris.
More information on their Facebook page (in French)
La Cabane de Cape Cod
Type of food: Fish'n'Chips
Bestseller: cod Fish'n'Chips
This food truck is held by a cook and his wife. It sells sea products. The concept is apparently innovative, and they claim to be the first ones in town to offer this type of food in a truck.
Most of the dishes are made with fish, and what people enjoy the most here are the Fish'n'Chips they serve.
The menu can vary from one day to another. For instance, on Saturdays, you can taste their tataki made from fresh tuna, rolled in sesame seeds and half-cooked on a plancha.
Other delights are on the menu such as marinated fresh salmon, tandoori shrimp, swordfish and even lobster!
If you are hungry and you like seafood, now you know where you can go.
Address : Paris 17è, Esplanade Cardinet
Website (in French) : cabanecapecod.com

Mona knows Paris like the back of her hand. Bars, restaurants, hotels… whether you want to sleep, eat, party or just take a walk in Paris, Mona gives you her best advice. Follow her lead, she will gladly give you all her good tips and best addresses!