Paris has already started to follow the vegan trend and the possibilities to eat vegan here are greater than ever. We have chosen, just for you, my dear vegan friends, a list of 19 vegan restaurants among the best in Paris.
As a reminder: veganism is a specific diet that solely encompasses fruits and vegetables. Not only do vegans reject meat, fish and seafood, but they will also deny dairy products, eggs, and any other foodstuffs with an animal origin, such as honey for example. Very often, a vegan person doesn't limit him or herself to consuming products and turns to veganism. Veganism is, above all, a way of life and a consumption pattern which tries to exclude animal exploitation, suffering, and brutality, whether for feeding, dressing and so on. The key concept of veganism is based on going against animal exploitation.
1) 42 Degres €€
109 rue du Faubourg Poissonnière, 75009 Paris
This bistronomic restaurant provides 100% "Raw Food" cuisine.
What is "Raw Food" cuisine, you may ask?
It is a way of cooking raw and dried foods to preserve all present nutrients, vitamins and enzymes, all of which are damaged when the temperature is higher than 42° C, hence the restaurant's name.
Naturally, all dishes are gluten-free and vegans often like the smoked pepper parsnip parmentier, the marinated mushrooms accompanied by baby vegetables or the pickled legume toast and chervil crème.
Menus vary from 34€ to 85€
Lunch Formulas are at 16€ and 20€ – Brunch formula is at 33€
What we like: a compelling and innovative "Raw Food" experience. Lunch time meals affordable.
What we like a little less: raw food which can be hard to digest for those with a weak stomach
Website: http://42degres.com/ (french version)
2) Sol Semilla €€
23 rue des Vinaigriers, 75010 Paris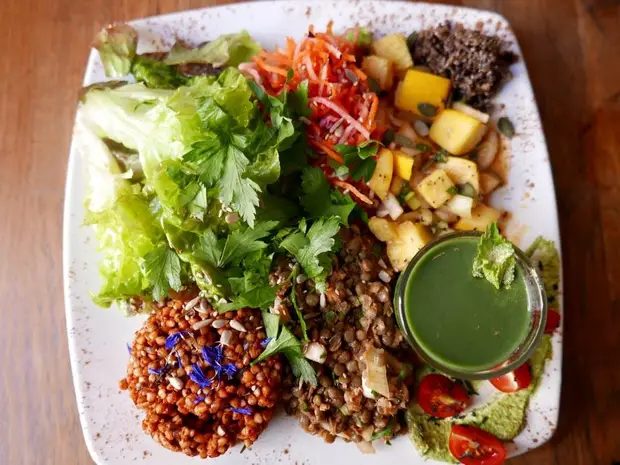 This superfood vegan canteen, located close to the Canal Saint Martin, is the first superfood French brand.
What is superfood?
Simply put, food with a high content in nutrient.
More than a mere canteen, this branch shop insists on 4 very important requirements in their cooking: nutrition, flavor, ecology and fair trade.
Find out their specialties, such as the Raw Plate (veggie platter with salad, seasonal fruits and vegetables, nopal sauce and superfood oleaginous caviar).
Lunch menus go from 19.50€ to 23.50€
Dinner menus go from 23.50€ to 28€
What we like: a familial and unorthodox cuisine which we aren't used to.
What we like a little less: the quantity can be somewhat insufficient on occasion.
Website: http://www.sol-semilla.fr/ (french version)
3) Le potager de Charlotte €€
12 rue de la Tour d'Auvergne, 75009 Paris
21 rue Rennequin 75017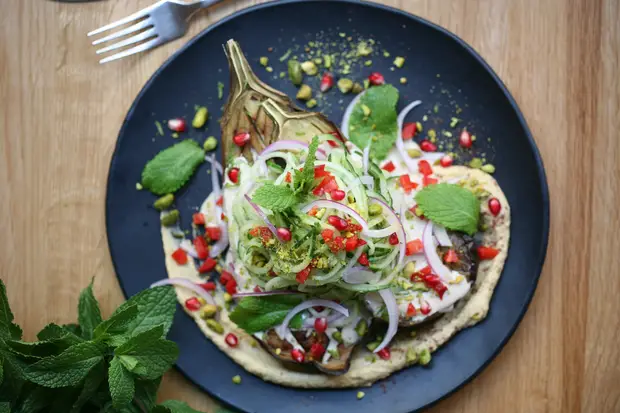 The Valentin brothers David and Adrien have started managing this vegan restaurant since September 2015. The atmosphere is quiet, cozy and warm.
This restaurant is family-managed:
– the mother and muse, Charlotte helps out in the restaurant and especially Adrien
– David cooks tasty dishes
– the uncle helped rebuilding the restaurant under the supervision of none other than David and Adrien
– the father, a culinary photographer, Christophe Valentin, shows us beautiful pictures of this family restaurant.
You can come and taste their vegan dishes from Wednesday to Sunday.
Open Tuesday, Wednesday and Thursday: 7:00 pm – 10:30 pm; Friday and Saturday: lunch and dinner times; Sunday: brunch from 11:00 am to 3:30 pm
The restaurant menu is regularly refreshed according to the products and the seasons.
Find out in particular, the "hard-boiled egg" styled avocado (made of hummus, almonds mayonnaise), rice and chickpea crackers (sweet herbs cashew crème, Espelette pepper, roasted squash seeds), mashed potatoes and parsnip (snacked sunchokes, brie and its green lentils, carrots, smocked southwest tofu, caramelized onions).
Average price: 25€
What we like: a family which welcomes you with open arms.
What we like a little less: You might have to wait before being served.
Facebook page: https://www.facebook.com/lepotagerdecharlotte/
4) Liife €€
33 rue des Petits Carreaux, 75002 Paris
Sport enthusiasts, rejoice! A restaurant in Paris has menus that will perfectly fit the regime of your favorite physical activity!
Liife offers a concept coming straight from the States. Runners soccer players and sportsmen of all kinds will have everything they need on their plate to please both their palates and their specific diets.
A well-thought menu offers dishes which will suit your own sports and activities be those dishes vegan, gluten-free, carbohydrates-rich, low-calorie… it's the perfect place to visit before or after a nice running session.
Here, every nutritional aspect of the contents of your food will be meticulously checked out by the cooking team.
What we like: a new concept, various choices and a well-thought menu.
What we like a little less: the prices are too high. Not a 100% vegan restaurant, so be careful what you order!
Website: http://liife.fr/
5) Le Potager du Marais €
247 rue Rambuteau, 75003 Paris
26 rue Saint Paul, 75004 Paris (from the 1st of July)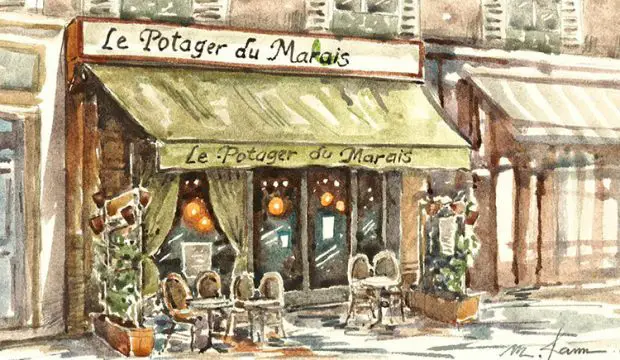 This is where anyone who loves good food and wants to taste the stereotypical Granny's good old recipes can find traditional French cuisine, with a vegan twist.
In addition to being environment-friendly and not condoning unfair animal treatment, this restaurant will please your palate with mostly gluten-free organic food.
When checking out the menu, a little symbol marked on next to some dishes will indicate that that specific one is gluten-free.
Starters cost between 10€ and 14€.
Mains cost between 15.50€ and 18€
What we like: the food quality, the interior decoration, and the perfect service. Don't forget to try out the seafood cassoulet.
What we like a little less: can be somewhat expensive. Would benefit from having a lunch formula.
Website: http://www.lepotagerdumarais.fr/
6) Hank Vegan Burger €
55 rue des Archives, 75003 Paris
These 100% vegan and organic hamburgers are going to seduce you through their originality and healthy aspects.
Whether you eat on-site or takeaways, funny names such as the Wrestler, the Tourist, Aunt Monique, the Little Edgy or the Nutcase are sure to whet your appetite.
The owners decided that they couldn't just stop at that. After having mastered the caloric American burger, they decided to try out Italy's classic: pizzas.
As such, you can now enjoy Hank's Vegan Pizzas (18 rue des Gravilliers 75003 Paris).
Menus cost 12€ to 16€
Hank burgers cost 8.50€
What we like: a restaurant an innovative concept, its affordable vegan burgers.
What we like a little less: it's fast-food; like it or leave it.
Website: http://www.hankrestaurant.com/copy-of-home
7) L'abattoir Végétal €
61 rue Ramey, 75018 Paris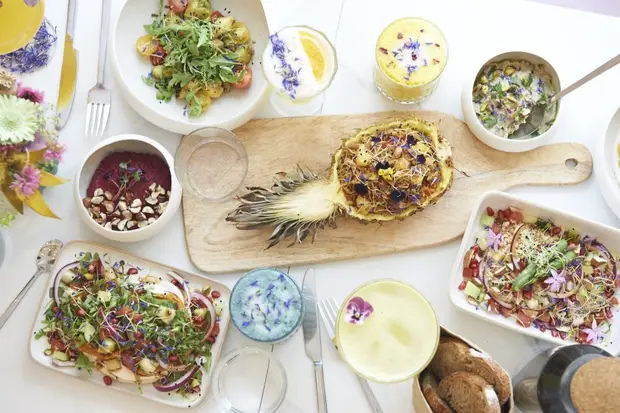 A former slaughterhouse, the Abattoir Végétal (which means Herbal Slaughterhouse) made a 180° turn and became a temple dedicated to Health by firstly removing the animal corpses and replacing them by nice, green suspended plants.
Welcome to a bright, healthy, and spacious world.
Here, the cooking is 100% vegetarian with vegan as an option.
Vegetable curries, veggie burgers accompanied by sweet potato fries, falafels with lemon cream… The various dishes are colorful and adorned with little flowers in order to delicately match the seasonal vegetables used for the dishes.
The €15 starter – main course lunch formula; comes at a reasonable price, and plates are quite full.
The €25 brunch on weekends is a delight.
Buddha rice bowls with roasted vegetables, muesli bowls and hand-cooked granola, white cheese and seasonal fruits are served along with some nice and fresh natural fruit juice.
What we like: affordable dishes, the weekend brunch, and the quality meals.
What we like a little less: the restaurant is often crowded and can be noisy. It can take quite some time before getting a table for Sunday brunch.
Facebook page: https://www.facebook.com/abattoirvegetal/
8) Tien Hiang €
14 rue Bichat, 75010 Paris
This vegetable oriented restaurant which serves dishes typical from Southeast Asia serves food prepared on-site and on-demand.
The theme is making Asian food with vegetarian meat imitations.
All the usual Asian dishes are on Tien Hiang's menu.
Starting with fried rice, lemongrass "beef" skewers, shrimp ravioli and Peking "duck," you won't despite there being such a large menu, you won't be able to notice the differences between these dishes and their "original" versions.
Furthermore, all of them are vegetarian and vegan excluding the "Tien Hiang cauldron," which contains cheese.
You can try vegan shrimp ravioli, black pepper vegan beef cauldron, Phô soup or the vegan Peking "duck."
Lunch menu: 11.50€
Starters cost between 4.50€ and 5€
Dishes cost between 7€ and 8.50€
What we like: The classics of the Asian cuisine but vegan, a true delight.
What we like a little less: due to its popularity, you may have to wait a bit.
Website: http://www.tien-hiang.fr/ (french version)
9) Le Faitout €
23 avenue Simon Bolivar, 75019 Paris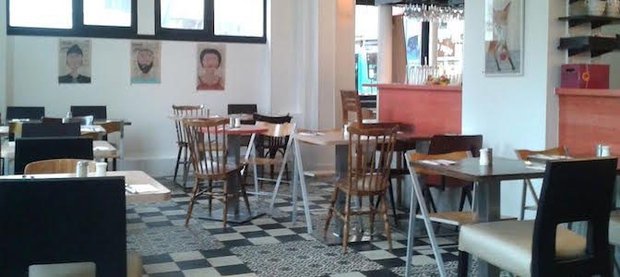 Located a few minutes away from the Buttes Chaumont and the Parc de Belleville; The Faitout, a 100% vegan restaurant specializing in tapas, is in the middle of a vibrant and lively district.
With a neighborly atmosphere rarely found in these kinds of restaurants, the staff does not fuss around and serves straightforward and healthy organic homemade cuisine place does not fuss around and serves a rather straightforward and healthy, organic hand-made type of cooking.
The Faitout successfully offers a fully vegan menu from their starters to their desserts including various high-quality dishes.
The imitation meats are surprisingly accurate and you are welcome to try delicious "cheeses".
Prices are reasonable and they have some fine wines – the perfect place to get together with your friends.
What we like: the 100% vegan menu, the warm atmosphere, and the quality food.
What we like a little less: nothing negative, this is simply one of the best vegan restaurants in Paris at a reasonable price.
Website: http://www.lefaitout.fr/
10) Veg'Art €
123 rue Oberkampf, 75011 Paris
On-site or as a takeaway, find out about this 100% vegan and organic pizzeria.
The small 10-seat room leads you in a warm and friendly atmosphere.
Fall into the temptation facing pizzas such as the Veganita, the Bolognese (tomato sauce, "grated cheese," chopped veggies, onion and olives), the Royal and even the VegArt.
Try out the mythic pizza's flavor with healthy organic ingredients.
Have some of the vegetable quiche, the tabbouleh or the vegetable salad as well.
Menus cost between 7€ and 14€
Pizzas cost between 7€ and 17€
What we like: its really affordable prices.
Website: http://vegartparis.com/index.html (french version)
11) Super Vegan €
118 rue Moines, 75017 Paris
A unique exception in vegan catering, The Super Vegan is somewhere halfway between street-food and healthy-food.
In a comic book styled atmosphere – the owner being a former comic book artist – savor a nice 100% vegan kebab with no unknown animals.
Animal rights are a principle the owners -Simon and Orianne- believe in their heart of hearts. Due to that, every single product used in the restaurant  -up to, and including, the bathroom soap- is guaranteed to not having been tested on animals and are environment-friendly as well.
Whether on-site or as a takeaway, enjoy their sandwiches at a good price.
Menus range from 8€ to 13€; and don't forget to go there on your birthday – you'll get a free drink!
What we like: reasonable prices, and an attractive, healthy street food concept.
What we like a little less: you don't get much to choose from, and the food is not that elaborate.
Website: http://supervegan.fr/
12) Cafe Ginger €
9 rue Jacques Coeur, 75004 Paris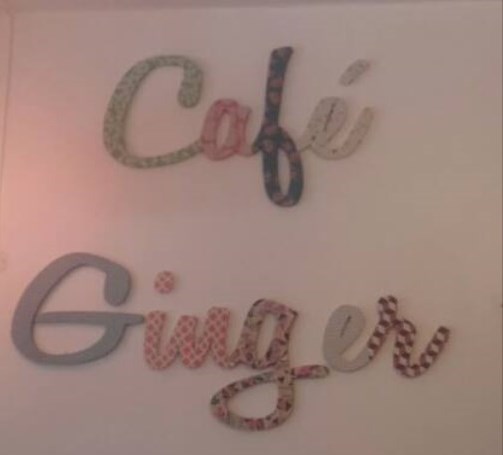 This restaurant with an English touch (just like its owner), opened its doors in September 2011 near the place de la Bastille.
The owner couple, Edward and Daniela Carey, offer you a 100% vegan cooking and guarantee a "95% organic and fair trade products supply".
Enjoy the savory pies (with a gluten-free option), hot or cold salads and the soup of the day along with homemade bread.
It's better to book in advance because, due to its own success, the Cafe Ginger is filled with aficionados from the moment they open.
Daily special : 13.50€
What we like: a quality cuisine, attractive prices, and organic products
Facebook page: https://www.facebook.com/Caf%C3%A9-Ginger-213525212029537/
13) Season Square €
3 rue Louise Weiss, 75013 Paris
Morgan and Jean-Matthieu, two old friends, offer a 100% vegetarian cuisine, homemade with fresh mostly seasonal and organic fresh products.
Open from Tuesday to Friday from noon to 3 p.m., and Saturday from noon to 11 p.m., the Season Square will be pleased to serve your meal onsite or as a takeaway to enjoy even if you're at home.
Discover the Japchae made out of sweet potatoes, broccoli, carrots, mushrooms, spinach and onions; a vegetable festival!
You can also have a Burger Season made with a homemade brioche bun, smoked quinoa steak and a mustard sauce leek crème.
Average price 10€
What we like: seasonal products. The cinnamon rolls to die for.
Facebook page: https://www.facebook.com/seasonsquarerestaurant/
14) Comptoir Veggie
75 avenue Ledru Rollin, 75012 Paris
Both a coffee shop and a pub, the Comptoir Veggie is a juice bar which serves wonders.
They are not limited to fruit juices and fresh vegetables! Pastries and salad bowls are also available !
The place is very pretty and the recipes are innovative.
Several bowls and toast recipes are at your disposal. The most popular bowl is the Buddha bowl which changes its ingredients daily.
It often includes grilled tofu, lentils, and fruits and vegetables.
The best dish is probably the waffles served with fruit and a chocolate-ginger sauce.
Menus: €13
What we like: the lunch and drink menu and the Buddha Bowl, the warm atmosphere of the staff.
What we like a little less: the prices outside the menu are a little high.
Website: http://www.comptoirveggie.com/
15) VG Pâtisserie
123 Boulevard Voltaire, 75011 Paris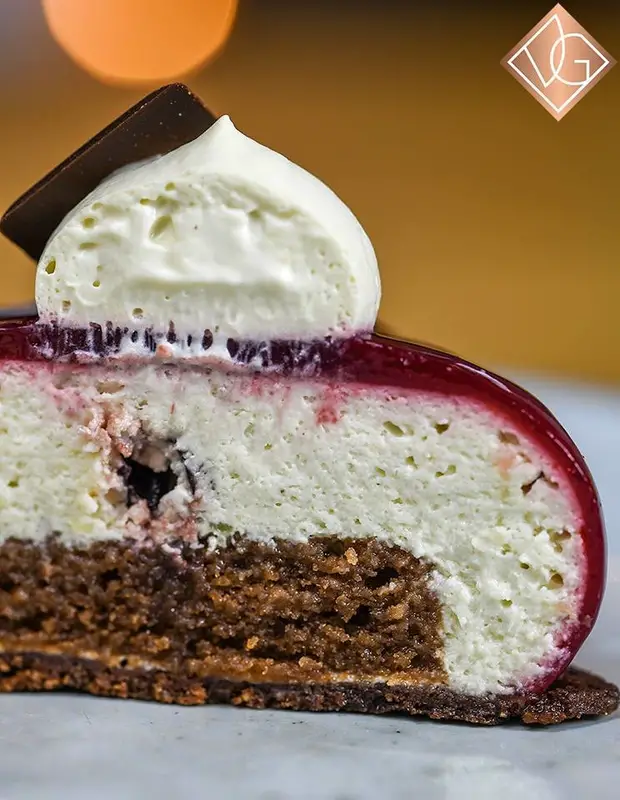 This shop provides excellent pastries for you to enjoy.
The almond croissant and lemon meringue pie are delicious.
You also have a wide variety of pastries, ranging from the double chocolate mousse to the Bloody Cherry.
Everything is delicious and many gluten-free options are available.
If you prefer savory products, soups and quiches are also available.
Let yourself be tempted by the broccoli and tofu quiche, a perfect meal to get all your vitamins and protein.
Menus: between 9€ and 21€.
We like: the quality of the pastries and the gluten-free options.
We like a little less: few places to eat on-site.
Facebook Page: https://www.facebook.com/vgpatisserie/
16) East Side Burgers
60 Boulevard Voltaire, 75011 Paris
You are kindly welcomed and the price to quality ratio is quite good.
The vegan cheeses are breathtaking.
The fries are homemade and the bread is fresh and crispy.
If you don't like burgers, the shop also offers vegan hot dogs, which are just as good.
It's the vegan fast food in Paris you have. to. try!
Also, try the vegan cheesecake and crunchy peanut muffin – a true delicacy.
Hamburgers – 8 euros, hots dogs – 5 euros.
Menus: between 8.5 and 12 euros.
What we like: the quality to price ratio, the vegan cheeses and quick service.
What we like a little less: there is next to no room to sit down.
Website: http://www.eastsideburgers.fr/fr
17) SO NAT
5 Rue Bourdaloue, 75009 Paris
The cuisine is organic and vegan, and the dishes are original.
The staff is entirely composed of smiling and helpful women.
The salad bowls are especially innovative!
The Buddha bowl is healthy and colorful, composed of one-third cereal and veggies and two thirds raw or cooked vegetables.
The juices are also homemade and absolutely delicious.
It is the perfect place to take your meat-loving friends who will enjoy these vegetable-based dishes with their multiple tastes and textures.
Menus cost between 9€ and 12€, lunch: 20 euro, salad bowls: 10€.
We like: the tasty and original salad bowls; you  definitely get what you paid for
We like a little less: Due to its success – it's difficult to find some room.
18) Jah Jah By Le Tricycle
11 Rue des Petites Écuries, 75010 Paris
This restaurant/cantine offers many tasty vegan dishes.
You are served quickly, and the specialty is vegan cheddar cheese, which replaces the classic cheese.
Vegan hot dogs and ginger juice are among the shop's specialties.
The atmosphere is relaxing, and the food is fresh. The smoothies are also delicious and provide you with plenty of vitamins.
As for snacks, between the BBQ sauce cauliflower "chicken wings", raw rolls with peanut-coconut sauce, you will have a wide variety of flavors.
Salad Bowl : On-site: 13€; takeaway: €10
We like: the warm and relaxed atmosphere.
We like a little less: We advise you to arrive early since it often gets very busy.
Facebook page: https://www.facebook.com/pages/Jah-Jah-by-Le-Tricycle/1087310038086995
Check out our Ultimate Paris Vegan Guide, we talk about clothes, beauty products and more.
And if you are more of a vegetarian, check our guide on vegetarian restaurants in Paris.

Mona knows Paris like the back of her hand. Bars, restaurants, hotels… whether you want to sleep, eat, party or just take a walk in Paris, Mona gives you her best advice. Follow her lead, she will gladly give you all her good tips and best addresses!