Are you a pop culture expert ? If so, you'll feel right at home when visiting the Musée Grévin  ! When you're in Paris, this is the perfect place to spend some time on a rainy day. How to get there, what to know about the museum, how to get your tickets … we're about to explain it all.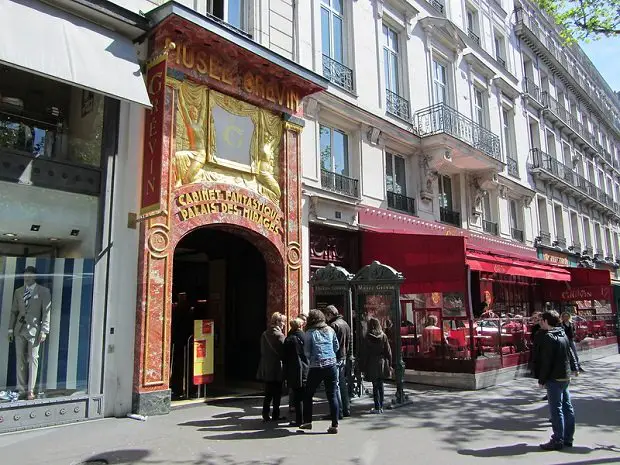 Our Opinion
What We Liked
The welcoming  staff
The museum's clever layout
The realism of the wax figures
The decor around each statue
The interactive aspect of the museum
What We Didn't Like as Much
Tickets are a bit pricey
Too many people, especially on the week-ends and during school breaks.
Unless you're determined to visit Paris on a tight budget, we strongly recommend you give the Musée Grévin  a try. With friends, family, or with your partner, this is a guaranteed fun outing for all of you!
What Is the Musée Grévin?
Who Created the Museum?
While the museum owes its name to Alfred Grévin, the artist who made the first wax figures displayed in the museum, we actually owe the creation of the museum to a man named Arthur Meyer.
Meyer was running a newspaper called "Le Gaulois". In 1881 he decided to build a museum in which his readers could meet real-size reproductions of the celebrities depicted in his newspaper.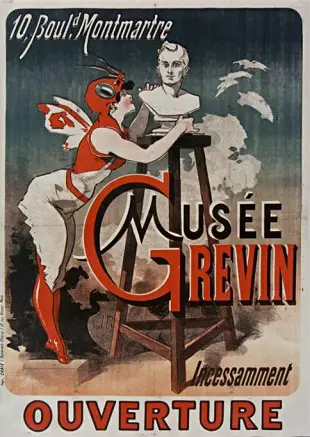 A couple years later, in 1883, a famous promoter named Gabriel Thomas -known for his work on the commercial development of the Eiffel Tower- joined the team.
Thanks to him, the museum's popularity increased even more.
Concept
Similarly to the Madame Tussauds museums, the Musée Grévin stages extremely realistic wax figures imitating pop culture icons.
They're usually movie stars, singers, well-known politicians, great athletes, or just pretty much anyone famous.
The Grévin Academy
Members of the Grévin academy choose the next celebrities to be represented in the Musée Grévin.
This academy was founded in 2001, and has since always been composed of 10 celebrities working in media. It currently includes a few popular TV hosts such as Nikos Aliagas, and some well-known radio hosts like Daniela Lumbroso or Laurent Boyer.
The Academy is chaired by its President Stéphane Bern, a French journalist, and radio and TV host since 2017.
All these big names meet up twice a year, to elect the 4 next celebrities to have their wax figure added to the museum.
How to Visit the Musée Grévin?
How to Get to the Museum ?
It's quite simple to get there. The museum is located in a central area of Paris, easily accessible with public transportation. Subways and buses will take you right to the Museum.
By bus : with lines 20 and 39, "Grands Boulevards" bus stop (walk 300 ft to the Museum); or lines 74 and 85 "Richelieu-Drouot" bus stop (about 600 ft to the Museum).
By subway : lines 8 and 9, "Grands Boulevards" station (600 ft to the Museum)
You can also find a few underground parkings (with fees) around the museum.
Mobypark (at 400 ft from the museum) – 49 rue Vivienne 75002 (booking is required)
Parking Indigo Paris Bourse (at 900ft) – 31B rue Vivienne 75002 (website in French)
OnePark (about a mile away) – 18 rue Favart 75002
When to Visit the Musée Grévin?
Visiting the Musée Grévin can be the perfect activity to spend a rainy afternoon with your children.
The Musée Grévin is open from 10am to 6pm. There is no specific time recommended to visit the museum.
However, if you want to avoid the crowds, we recommend you to come on weekdays, and outside of French school breaks.
But if you are going to visit during school breaks, please note that the opening hours are somewhat different. Closing time is at 6:30pm on weekdays, and the museum stays open from 9:30am to 7pm on weekends.
To avoid busy hours :
From Monday to Friday, between 11am and 1pm, or 3pm to 5pm.
During school breaks: between 9:30am and 11am, or between 5:30pm and 7pm
Note: Visiting the whole museum should take about an hour.
Should You Take a Guided Tour?
While some guided tours of the Musée Grévin  do exist, we don't really recommend them.
Usually, a guide can provide comments which brings something more to your visit, but it is not so for this museum. Don't bother with long and boring explanations, this is a place where you should have fun!
Be creative, and stage some funny situations with your favorite stars. Don't forget to share your picture on social media with the #Grévin Paris,  your picture might just end up on the museum's official website!
Nonetheless, if you're the curious type, you might enjoy this guided tour organized by Musement, which takes you behind the scenes of the Museum.
During this special visit, you'll be able to see how the wax figures are made, and discover all the secrets of those confidential workshops. These tours are only available on Saturdays and take about 1 hour and a half. On a side note, it doesn't include a visit of the Musée Grévin itself.
Can You Visit This Museum With Young Children?
Children are welcome in this museum, but they remain under the responsibility of their parents. Be careful to keep an eye on them so they don't touch the artwork.
Strollers are allowed within the museum, except when the place is too crowded – in which case, you will be asked to leave it them at the front desk. Therefore, if you want to be sure you can visit the museum peacefully, we advise you to take a baby carrier rather than a stroller.
Are There Any Specific Restrictions to Enter the Museum?
You won't be authorized to visit the museum if you carry a big bag or any luggage with you. However, there is a cloakroom/ luggage locker service (with a 2€ fee) within the premises.
Also good to know, small animals are allowed if they can fit in a purse.
Are There Arrangements for People With Impaired Mobility?
Since 2001, arrangements have been made to facilitate the access and visits for people with impaired mobility, particularly for people in wheelchairs.
The museum is also equipped with elevators.
Inside the Museum
Wax Figures
As the most important part of the museum, they're the first reason for the Grévin's initial fame.
The museum currently includes about 200 wax figures, made to look like famous people of all kinds : historical figures, kids movie characters, actors, musicians, politicians, sportspeople, etc.
Even with no knowledge of French pop culture, you will be able to find known faces among the statues. Use this opportunity to take your best selfie !
Some of the most famous French celebrities represented would be the famous singer Edith Piaf, who sang "La vie en Rose", historical figures such as Leonardo Da Vinci, or even the current French President Emmanuel Macron. You'll also find many international celebrities, among which Michael Jackson, Leonardo di Caprio or former President of the USA, Barack Obama.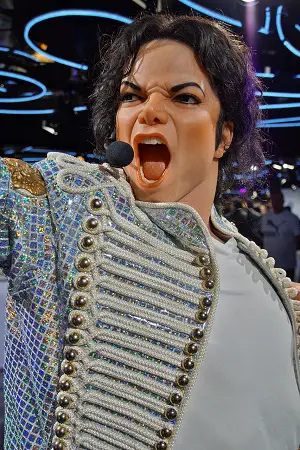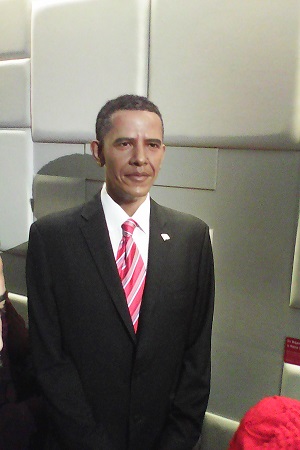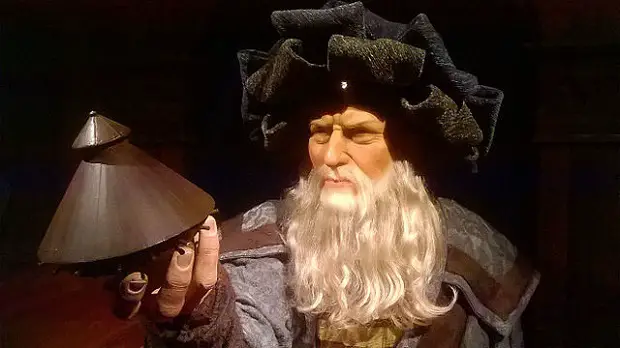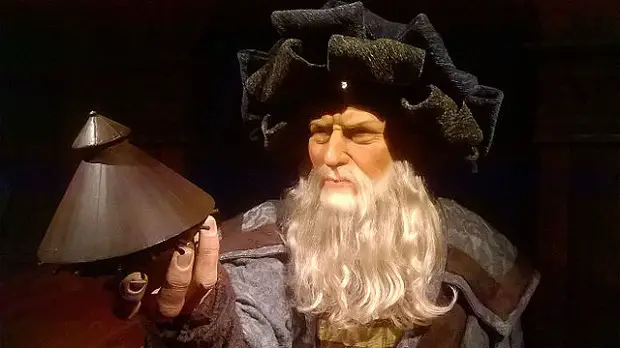 Please note that while you  can get close to the statues, you cannot touch them.
Grévin's Hall of Mirrors
One less known part of the Museum would be the Hall of Mirrors. This gigantic kaléidoscope works with a game of lights and mirrors, immersing you in a magical world, for a few memorable minutes.
The show has been revamped a few times already, the last time being in 2018. Krysle Lip, an American artist, rethought the show to focus on creating a peaceful and relaxing moment for the spectators.
Video made by French public TV channel France 3 Paris île-de-France. (French voice over)
Grévin Theatre
Within the Museum is a theatre where many famous French comedians started their careers. This is why their wax figures are now displayed in the Grévin theatre. You will be able to meet the comic duet "Les Vamps", or Anne Roumanoff, one of the first super famous French female comedians to have a successful one woman show.
But these are not the only stars to have shined on this stage. The Grévin theatre has welcomed many successful artists through the years, such as Charles Aznavour (singer) or Laurent Ruquier (comedian, producer and radio/ TV host).
Take the time to  admire the fine architecture of the theatre as well, now classified as a historical monument. All balconies are adorned with beautiful carvings with high-reliefs, while the stage curtain and the walls are covered with exquisite murals and paintings.
The decoration in itself is a collection of artworks, made around the end of 19th century. The stage curtain was painted by Jules Chéret, an artist who received a gold medal at the world exposition of 1889, while the carvings on the upper circle are the work of Antoine Bourdelle, a famous sculptor.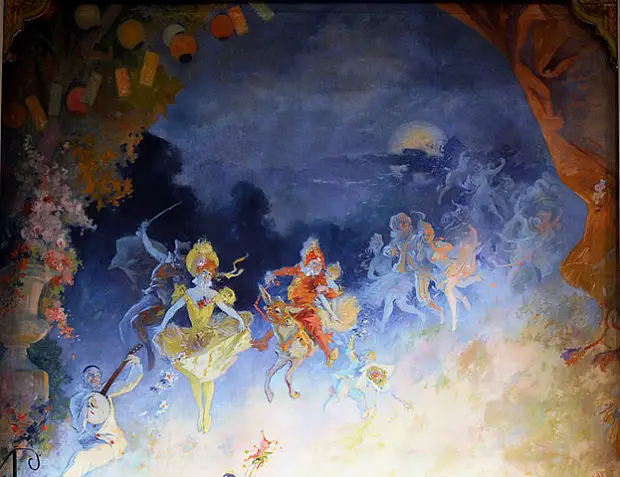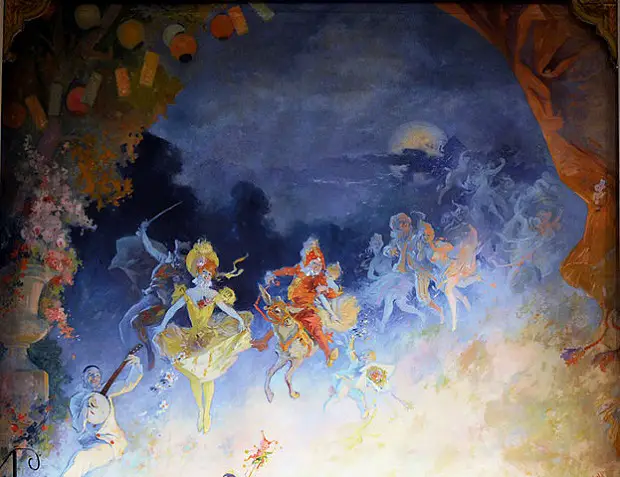 Our Restaurant Recommendations near the Musée Grévin
Bouillon Chartier
7 rue du Faubourg Montmartre, 75009
This historical brasserie -which opened in 1896- welcomes you in its original early 20th century interior. Here you will be able to eat simple and delicious traditional French cuisine, at low prices!
This is an excellent place to have a family lunch, as anyone can find something which will fit their taste on the menu.
Opening hours: 11:30 am to midnight
Prices:
Appetizers between 1€ and 14,80€
Main courses between 6,50€ and11,80€
Desserts between 2€ and 4,60€
For further information about Bouillon Chartier, click here (website in French)
Flam's
11 boulevard Montmartre, 75002 Paris
This Alsatian food chain offers delicious sweet and savoury Flammekueches (a local quiche-shaped specialty).
You can try the more usual ones, especially if you pick the "Authentique traditionnelle" (traditionally authentic), which contains smoked bacon and onions. You can also try the restaurant's own creations, such as the surprising "Ay Caramba!", with red onions, cheddar cheese, ground beef and bell peppers, all of which are perfectly seasoned with the right spices.
Opening hours: Monday 11:45 am – 3pm; Tuesday to Friday 11h45 – 3pm / 6:30 pm – 11pm;
Saturday 11:45 am – midnight; Sunday 12 pm – 9:30 pm.
Prices: Elsassich Menu for 11,40€, Children's Menu (under 8 years old) for 5,50€
For further information about Flam's, click here (website in French).
Restaurant Clémentine
5 rue Saint-Marc, 75002 Paris
At Clémentine's you'll be immersed in a warm and welcoming retro atmosphere, reminiscent of the early 20th century.
This restaurant, which received a "certificat d'excellence" (certificate of excellence) in 2014, will please your eyes and your palate, with courses inspired bylCorsican cuisine.
Price: 37€ for a 3 courses menu
Opening hours: Monday to Friday,12:00 pm to 2:15pm; 7pm to 10pm.
For further information about Restaurant Clémentine, click here (website in French).
Where and How to Book My Tickets for the Musée Grévin?
There are a few options. First, you should know that you can get your tickets at the Museum's booth, though we'll recommend you to book your tickets online. This way, you'll save some time by not queuing up at the entrance!
Our advice: ComeToParis offers skip-the-queue tickets, valid at any time on a period of 7 months.
With ComeToParis: 24€ 50 for an adult (16+), and 18,50€ for a child (click here to book a ticket)
You might find other good deals via the official website of the museum, like the "family offer", or dated tickets (cheaper, but will expire if something comes up on that day). On a side note, anyone over the age of 16 has to book an adult ticket.
Dated ticket: 20€ for an adult, 16€ 20 for a child, to be book a minimum of 5 days ahead.
Family offer (for a minimum of 4 people which can include a maximum of 2 adults): 17€/ individual.
And to end this article on a good note, we inform you that entries are free for children under the age of 5.

Advice, best plans, great places; I will help you in your search for trips, activities, hotels and restaurants. Whether it's for a walk, a weekend, an afternoon or merely to find a trendy place to eat, I can give you all the pointers you need for your endeavor. Just follow the guide!