Paris is certainly known for its luxurious boutiques and its beautiful hotels, but we unfortunately do not have the means to be able to visit them all.  So this article will give you the addresses of boutiques and restaurants that deserve a sticker saying "anti-crisis" or "good idea" on their window!
Budget Restaurants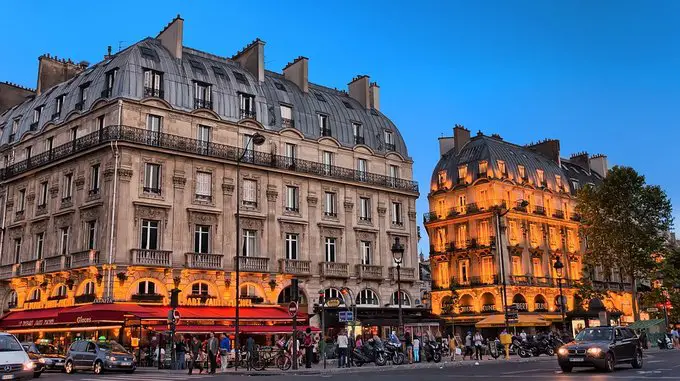 Quick, to the bistro: Les pères populaires.  Decorated like a junk shop, this establishment has its own particular charm to it.  It is mostly frequented by students or other hungry customers looking for a Wi-Fi hotspot in a nice place to help fill them up.  For coffee at just 1€, the place is exceptional, right? Meals are prepared with fresh ingredients at just 15 euros.  The price of beverages is affordable, so you can also go there for a pre-dinner drink and opt for a 10€ plate.  It is important to note that the cafeteria or classroom-styled bistro is often visited during the evenings on the weekend.  So if you want to have a guaranteed place to sit and be able to hear each other, it is important to avoid rush hours.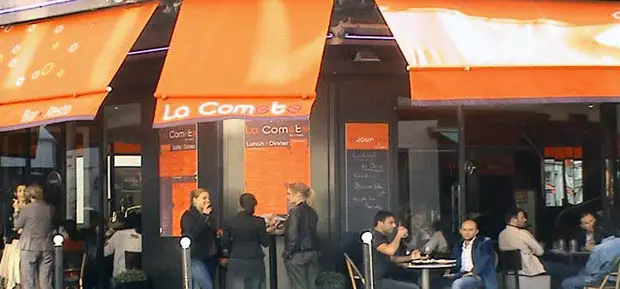 For eating after a shopping trip on Boulevard Haussmann, there is La Comète. For 14.50€ you can have something off the lunch menu.  Also, some rather original food will surely satisfy your hunger.  Perfectly welcoming, you can knock at their doors even after 10:00pm to have a tartar, a quiche, a burger, pasta, or a large salad.  The nice atmosphere attracts tourists as well as locals.
Calling all carnivores to Blend. Here, they serve you meat from the trendiest butcher in Paris, Yves-Marie Le Bourdonnec, in handmade buns.  Everything is clearly homemade.  Your burger can be accompanied with fries or sweet potato fries (if you'd like something more exotic) served in a cute little basket.  At noon, you can take advantage of a 15€ meal consisting of a burger, fries, and a drink.  For the quality of ingredients, the loft design, and the originality of recipes, the price is more than intriguing!  If you are a real gourmand, try a cookie for 2 euros or their cheesecake for 4 euros.  Of course, with these there are many kinds that are offered, ranging from something more classic to innovative recipes.  Due to small spaces and the restaurants' popularity, it is highly probable that there will be a long line.
Address for some of our favorite places: L'Avant-Comptoir. A concept you should REALLY try.  Who is behind this genius idea?  That would be Yves Camdeborde, the heavily accented judge on Master Chef.  What's on the menu? Rightfully, there aren't any here!  Here you pick tapas from the signs hanging from the ceilings. We are tempted by these original little plates that are exclusively made with quality ingredients some sweet, others salty.  For a little overview, there are ham and artichoke waffles, marinated salmon, nori with wasabi, fried lemon cheese fritters, pig feet croquettes, pana cotta with balsalmic vinaigrette, and of course daily specials.  Also, you can eat a limitless supply of the capital's best bread.  It is a small space, long, narrow, and crowded because it is so excellent.  Expect to be standing!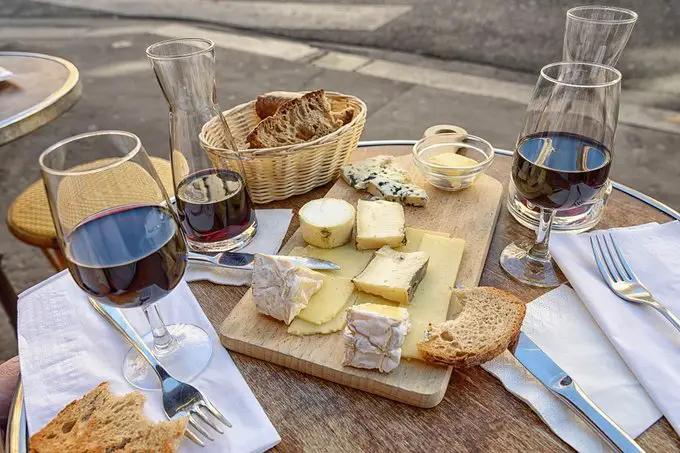 The Brits like the French? : Queen Ann. A tea salon right outside the Marais neighborhood, a few meters from the Centre Georges Pompidou.  Its specialties are sweet and salty tarts, but also soufflés.  Everything is served in English kitsch styled dishes.  Succumb to a good dose of traditional hot chocolate in your mug, it's insane.  For the slight price of 9 euros, you can have a piece of tart and a salad.
Now for something a bit more exotic: a Libyan deli, Al Boustan.  Japanese restaurants are everywhere in the capital, so we won't talk about any of those.  Instead, here is the location of a highly rated Libyan deli in which you can pick out some delicious products out of a large selection, eat at the few tables to appreciate the smell of the oriental cuisine, or take it to go for a picnic in an ambient park.  You can try some falafels, mezze, shawarma (typical sandwich), a divine moussaka, a real tabouleh, and hummus.  You can have a meal with a price ranging from 8 to 18 euros.  You can also buy "by weight" so you can have everything that sounds good.
An atypical italian snack: focaccias à gogo at Cosi. Behind this adorable name is a nice place to eat at a reasonable price on the left side of the Seine's banks.  The focaccia meal (they offer a large variety) is 9.50€ and it's 11.50€ for the salad option.  Search no further! This place is ideal for eating a typically Italian sandwich made to order and a tiramisu to die for.  Everything here is also made with fresh products, so don't worry.  Customers often have to wait out in the street, because the space is so small, but the service is actually pretty quick.
The most endearing and secret: Le Drapeau de la Fidélité. This tiny establishment (only 15 seats) is just as endearing as its kind manager.  You will certainly want to return to this must-visit location that students only share discretely.  Think about coming early to be sure to enjoy prices so low, it's like a little gift. For example, there are Asian dishes from 6.50€ (5.50€ for students).  The place's charm is also due to its decoration:  books upon books cover the wall so that you can patiently wait for your significant other or dinner date.  Be sure to watch the time, because the place closes at 10p.m.
The most economical: Goûtu. It would truly be difficulty, really difficult, to find something cheaper, and for good reason.  The prices for sandwiches vary from 1 to 3 euros, and the prices peak at 4 euros.  Do you have a big stomach or a craving for vegetables?  No problem!  There is a salad meal that starts at 8.50€ and includes a salad, a mini sandwich, and a dessert.  All of this can be found in the Grands Boulevards neighborhood a few steps from the Garnier Opera and the department stores where prices soar.  It is more of a take away place rather than a snack bar where you actually sit down, because of its little size.  To return to your childhood days, get yourself a sweet sandwich (especially with Nesquick) at snack time.
Cheap Bars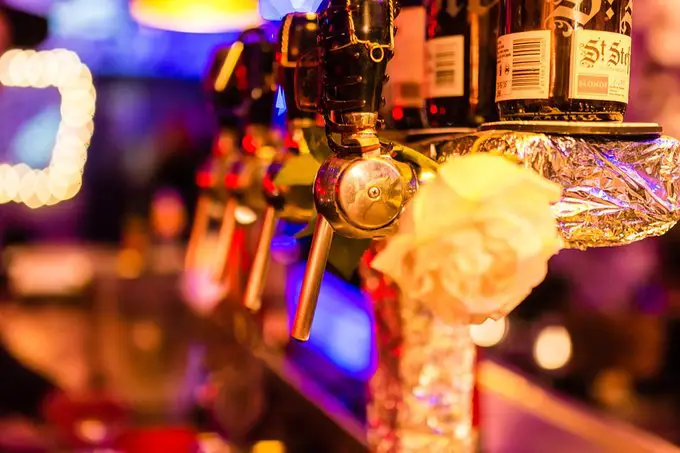 The biggest one for students: Le Syfax. The many visitors the bar receives on Thursday, Friday, and Saturday evenings is thanks to its low prices.  Right by the department stores, you can stop by for a coffee at a really good price, a 4-euro cocktail, a 3-euro beer, or a 1.5-euro glass of wine.  There is no fuss here.  People come to enjoy a welcoming environment with friends (and to make some new ones along the way), but not to have 4-star service.  Nevertheless, you can snack on the few dishes that the cheap establishment offers so that you don't end up dizzy too quickly.
In the lively neighborhood of Pigalle, after walking through Montmartre you can head in the direction of Le Bel'air to enjoy happy hour prices (which we are happy to say goes longer than usual sometimes):  4.50€ for a cocktail and 3€ for a pint.  Besides happy hour, there is nothing to get worked up about: 4.50€ for a pint and 6.50€ for a cocktail.  You can also order yourself a pizza for about 10€, which will quickly be served to you.  The atmosphere is pretty cool and laid back.  6 rue Germain Pilon 75018
For a heated terrace in an effervescent neighborhood, there is Aux Folies Belleville.  Its low prices attract students and others with small budgets from throughout the capital.  It is therefore suggested to arrive a bit earlier.  From 3 to 6 euros you can choose an alcoholic drink to sip on with the company of your friends in a place where people of different social classes can relax side by side.  A good word to describe the atmosphere there:  atypical!
For the liveliest location, we suggest La Cordonnerie. This establishment offers interesting prices for happy hour, from 6:00 p.m. to 8:00 p.m., ranging from 2.90€ for a beer and 3 to 5€ for a cocktail (they have especially good mojitos).  But what's the best?  That would be the copious amounts of couscous, which is served for free on certain days of the week at 9 p.m. with the purchase of a beverage.
Here is a place you won't be able to be bored at: le Bar Ourcq.  In the Villette neighborhood, we recommend having a Parisian-styled get together.  Take your full eco-cup and find a place along the canal.  Isn't it lovely?  Parlour games will keep you busy with your friends and will maybe help you make some new ones.  Pétanque balls are also available to help you forget the annoyances of a Parisian day.  Tapas for 1.50€ and other snacks are displayed on the counter to improve your appetite.  The atmosphere is just as pleasant as the practical prices: a cocktail for 5€ or a glass of wine for less than 3€.
Free Activities Not To Miss Out On
If you are well informed, you should be able to find things to do without spending a dime.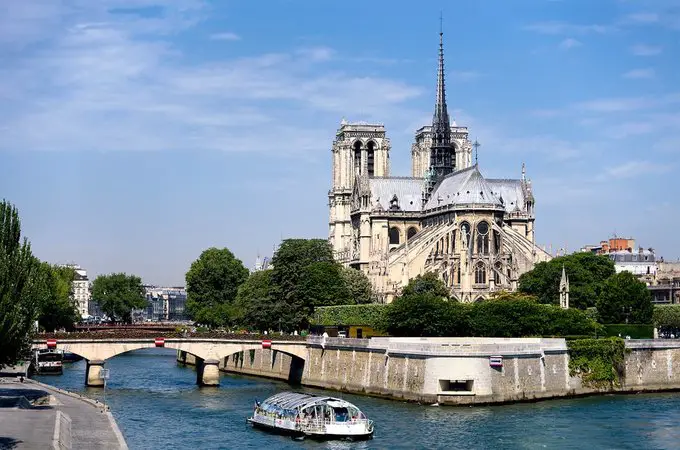 First, if it is nice out, go for a stroll along the Seine.  You can even go down by the banks of the river in certain places, and you can sit down by numerous Parisians who are out reading a book or meeting with drinks outdoors.
Second, walk along the Champs-Elysées, in the Latin Quarter or Saint-Germain-des-Près is really pleasant to put yourself in a Parisian's shoes.
Put on some comfortable shoes and direct yourself to Montmartre to climb up the paths leading to Sacré-Coeur, which you can visit for free.  Also, you will discover a sublime view of Paris just in front of the basilica.  To have a pretty view of Paris, you can also go to the roof of Galeries Lafayette on Boulevard Haussman.  You'll be in the neighborhood of the Garnier Opera so don't hesitate to go around the beautiful building or take a seat along the path in front of the entrance to enjoy an improvised concert by local artists.  Moving on towards the Bastille, go to the upscale neighborhood, Marais, and find a place on the lawn of the charming Place des Vosges to blend in with the neighborhood's inhabitants.
Are you under 26 and European?  Bingo! Enjoy free access to national museums! Are you a bit (or a lot) older?  On the first Sunday of every month you can also visit them for free.
Second-Hand Stores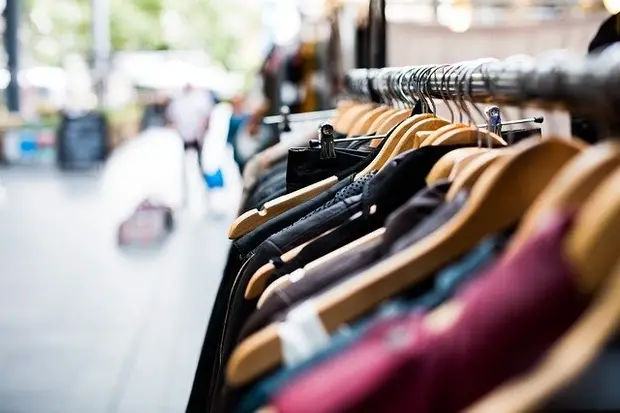 Crédits © Oxfam France
The second-hand store is an inescapable place where you can dig up some vintage pieces of clothing like leather or denim jackets, some cowboy boots, high rise jeans, a pair of Doc Martens, etc.  Obviously there are some pretty expensive items, but you can find them at some very affordable prices.  For you, we made a list of special places that are worth a detour.
Free'p'star : This second-hand store offers vintage items of all sorts for low prices.  You can find fur coats, military jackets, sweaters from the 80's, hats, bags, and leather satchels.  It is up to you to find that rare pearl among the literal mountains of stuff.
Different addresses:
– 8 rue Sainte Croix de la Bretonnerie, Paris 4th arrondissement. (Metro 1 station Saint Paul or Hôtel de Ville)
– 61 rue de la Verrerie, Paris 4th arrondissement. (Metro 1 station Hôtel de Ville)
– 20 rue de Rivoli, Paris 4th arrondissement. (Metro 1 station Saint Paul)
Mamie : Mamie is considered the classy second-hand store.  There you can find quality vintage items, because nothing is left to chance.  You can even find yourself some "end of season" clothing, so they were never even worn.  The prices are a bit higher, expect an average price of 60 euros for a dress, but what a dress it is!
You can find the store at the following address:
– 73 rue de Rochechouart, Paris 9th arrondissement.
Kiloshop: This second-hand store is rather atypical for its kind.  In fact, what do you think of a clothing store that weighs your future purchases like at a grocery store?  Well, Kiloshop does it!  Pick out some jeans, weigh them, pay for them, and that's it!
You even have your choice of location:
–125 boulevard Saint Germain, Paris 6th arrondissement.  (Metro 10 station Mabillon)
– 69-71 rue de la Verrerie, Paris 4th arrondissement. (Metro 1 station Hôtel de Ville)
Les Georgettes : "Be accessible for all stylish people who don't have a large budget."  That is the motto of the duo who manages this boutique.  It is the same idea for the classic second-hand stores, but the prices are interesting and the pieces of clothing are carefully chosen, and this allows for a large choice of beautiful items.
You can find it at the following address:
– 20 rue du Pont aux Choux, Paris 3rd arrondissement. (Metro 8 station Saint-Sébastien Froissart)
La Jolie Garde-Robe: This pretty and "luxurious" second-hand store, situated in the heart of the Marais neighborhood, offers unique and chic pieces of clothing, carefully selected to provide for all tastes and budgets.  You can even find pieces from designers such as Yves Saint Laurent or Thierry Mugler!
You can find it at the following address:
– 15 rue des Commines, Paris 3rd arrondissement.  (Metro 8 station Filles du Calvaire)
Factory Outlets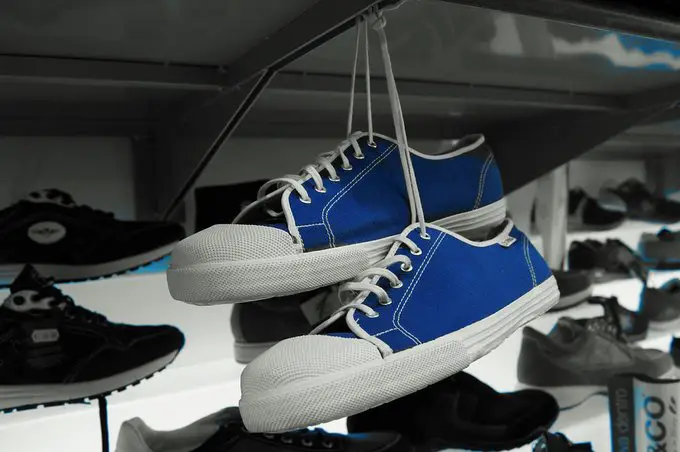 These special stores, which offer some good prices, are often found in the suburbs or outside of town.  But fashionistas in search of good deals also know good places in the capital, and here are a few:
In the department store district, an outlet is overflowing with clothing, bags, and shoes for men and women with prestigious brands: Outlet Démarque: 16 rue Auber 75009 Paris
For your little feet:
– André: 31 avenue des Gobelins 75015
– Jonak: 43 boulevard Sebastopol 75003
– Repetto: 24, rue Chateaudun 75009
For some chic clothes:
– Chevignon: 122, rue d'Alésia 75014
– Chloé: 8, rue Jean-Pierre-Timbaud 75011
– Claudie Pierlot: 6, rue de Marseille 75010
– Kookai: 82 rue Réaumur 75002
– Naf Naf: 143 rue d'Alésia, 75014
– Sandro: 26 rue Sévigné Paris 75004
– Sonia Rikiel: 64 and 112 rue d'Alésia 75014
– Maje: 72 rue des Martyrs 75018
– Zadig and Voltaire: 12 rue du Bourg-Tibourg 75004 Paris
– Cacharel: 114 rue d'Alésia, Paris 75014
– Bon Point: because kids also have the right to dress up as princes or princesses, 42, rue de l'Université 75007 Paris

I aim to share my tips and recommendations for the beautiful country of France. My goal is to help you plan your next adventure, whether it's a weekend getaway or a once-in-a-lifetime trip. From finding the best hotels and restaurants, to discovering unique activities and sights, I've got you covered!