The Hôtel des Invalides is an impressive building located in Paris' 7th arrondissement. Its golden dome, which played an important role in the history of France, catches the eye. Is it worth visiting this most famous Parisian landmark? The answer is in this article.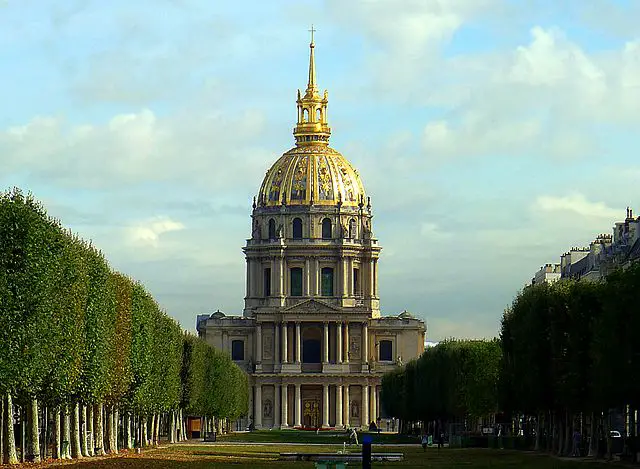 Our opinion
What we liked
The temporary exhibits.
The beautiful monuments.
The price.
What we didn't like as much
You have to pay an extra fee for the digital guide.
There isn't any "official" guided tour.
The Hôtel des Invalides is less known than other Parisian monuments and is therefore less visited.
It is a gorgeous place and the guided tours are very interesting.
If you are interested in French culture and history, it is a place to go to.
Nevertheless, we do not recommend this visit for young children as they will quickly get bored.
A little bit of history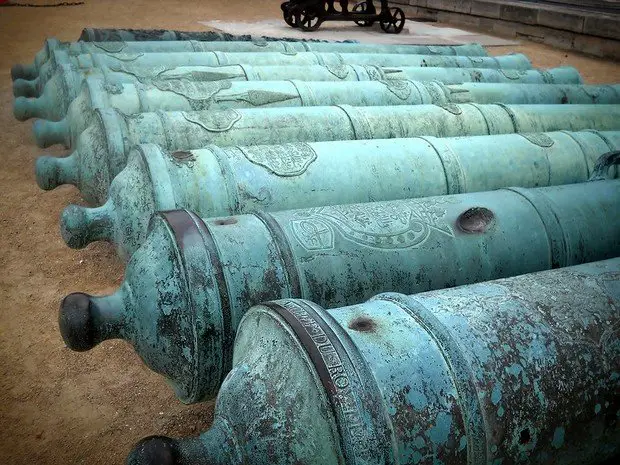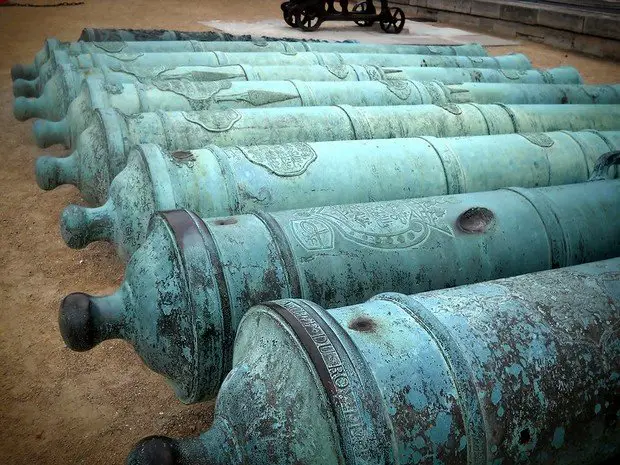 The Hôtel des Invalides was built under Louis XIV to host veterans and disabled soldiers of the French Army.
Nowadays, the hospital located in the Hôtel des Invalides is still active. The hospital's courtyard is where tributes are paid to dead soldiers and famous French celebrities such as Simone Veil (a former French Minister of Health who fought for the legalization of abortion), Charles Aznavour (a well-known singer) or Jacques Chirac (a former French president).
The Hôtel des Invalides is formed of around ten buildings all located next to each other. Its total surface area is of 13 hectares and one of the buildings houses Napoleon's tomb.
Visiting the Hôtel des Invalides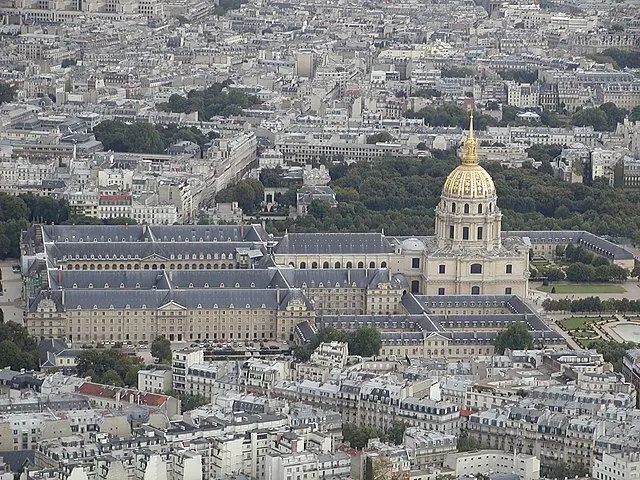 How to get there ?
Address: 126 rue de Grenelle, 75007 Paris France
The Hôtel des Invalides does not have a private parking. Therefore you will have the choice between parking your car in the streets of Paris or going there by public transport:
From the underground station La Tour-Maubourg (line 8) or Varenne (line 13).
From the bus stop Vauban – Hôtel des Invalides (lines 82 and 92).
People with reduced mobility can easily visit the Hôtel des Invalides as there isn't any slopes or stairs.
Note that if you want to visit a specific area in the Hôtel des Invalides, you'd better check their official website to see if it is not temporarily closed (for renovation or any other reason).
Price and opening hours
Opening hours
Every day from 10am to 6pm.
Night-time exhibitions on Tuesdays until 9pm.
Closed on January 1st, May 1st and December 25th.
As is the case for other Parisian monuments, it is better to avoid visiting the Hôtel des Invalides during school holidays.
There are also less visitors on weekdays.
You will need 1 or 2 hours to visit the Hôtel des Invalides on your own.
Price
Full price: 14 euros
Low price: 11 euros
Ticket for the temporary exhibit: 5 euros
The Hôtel des Invalides is part of the Museum Pass.
You can visit the Hôtel des Invalides on your own, with a digital guide (5 euros) or with a real guide.
The guided tours are not organised by the Hôtel des Invalides but by independent organizations.
This is why their price and duration change depending on which company organizes the visit.
For example, AnimeParis organizes guided tours of one hour and a half and Cultival organizes visit of one hour and forty five minutes for 19.50 euros.
Places Which Shouldn't Be Missed
The Salons des Invalides
The first places you will discover during your visit are the many drawing rooms which compose the Hôtel des Invalides.
You will be impressed by the gold and ivory moldings, the bright red walls and the portraits of French leaders, from Louis XIV to Napoléon.
Saint Louis Church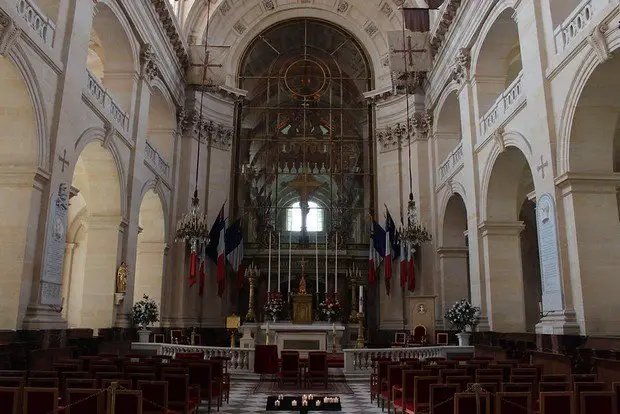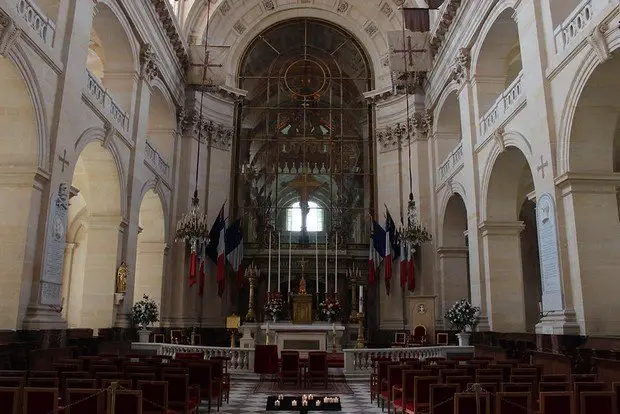 On Sundays, soldiers used to come to this church to pray.
It is a splendid place with huge chandeliers, arched ceilings and sumptuous balconies.
Flags of former armies defeated by the French military are proudly attached to high columns.
In total, more than 1,500 flags are stocked in the Hôtel des Invalides.
A glass wall divides the church into two areas. The organ of this church is very impressive.
The Musée des Invalides
The Musée des Invalides is dedicated to army.
This is why it is also called "Musée de l'Armée" (museum of the army).
Going there, you can admire weapons, models and war plans. The oldest ones dating from 1777.
The Dôme des Invalides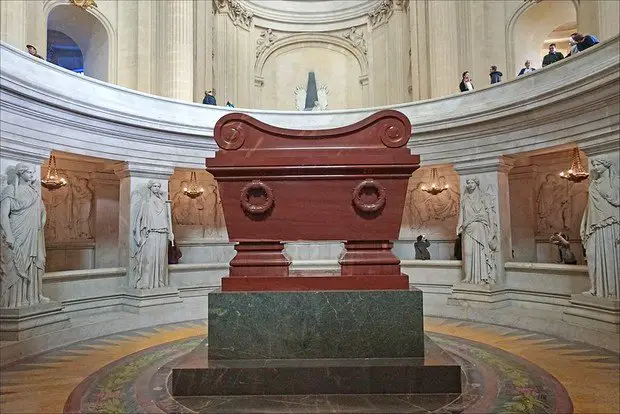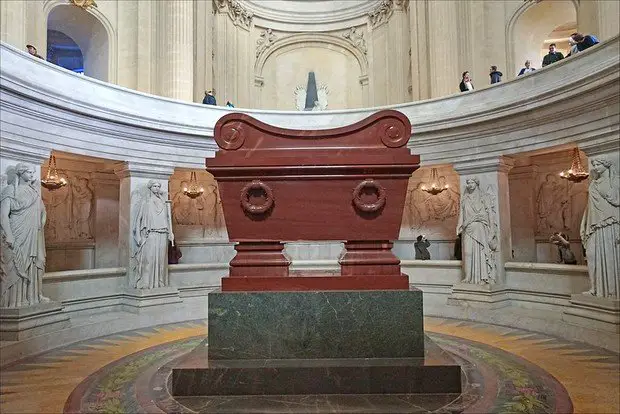 This place used to be dedicated to the royal family. Nowadays, it houses Napoleon's tomb.
You can visit his tomb; his gravestone which was brought back from Saint Helena (the island where Napoleon was imprisoned) before his body will be waiting for you in the entrance.
 Is it Possible to Eat in the Hôtel des Invalides?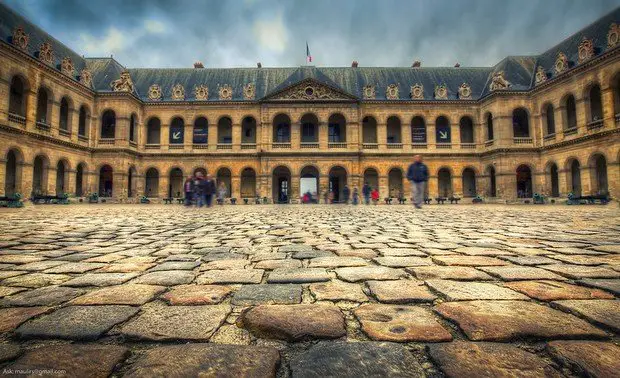 The Hôtel des Invalides has its own restaurant called Le Carré des Invalides. It is located just next to the ticket office. You can enjoy a meal, a coffee or something sweet before or after your visit.
Le Carré des Invalides is a kind of self-service opened all day and every day. Prices are affordable with main courses between 6.50 euros and 13.80 euros.
They also serve sandwiches from 4.80 euros, a good option to eat while visiting the French capital.
You can eat inside or outside thanks to their terrace overlooking the Hôtel des Invalides' courtyard.
Opening hours: 
From April 1st to October 31st – 9am to 9pm.
From November 1st to March 31st – 9am to 6pm.

I aim to share my tips and recommendations for the beautiful country of France. My goal is to help you plan your next adventure, whether it's a weekend getaway or a once-in-a-lifetime trip. From finding the best hotels and restaurants, to discovering unique activities and sights, I've got you covered!