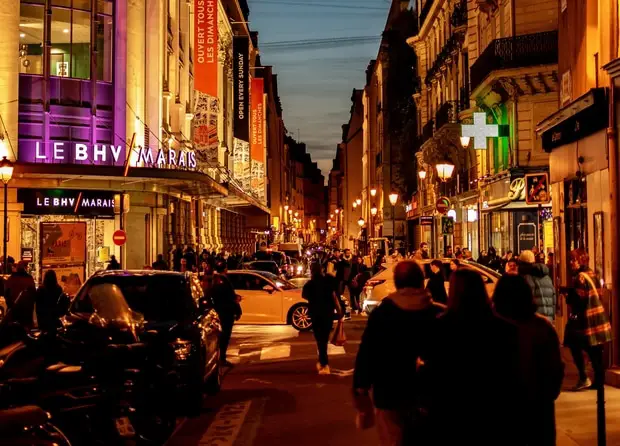 You are visiting Paris for the first time and you are scared of walking around at night because of what you see on TV and read in the newspapers? You are wondering if Paris is really dangerous at night or not?
The city of Paris is no more dangerous than any other touristic city. But of course, you have to be on your guard in the street and on public transport, especially at night, in the same way as in all big cities. Attacks exist but they are extremely rare.
I have lived in Paris for years and have never had a problem. I do not go to the Eiffel Tower, the Sacré-Coeur and the Champs Elysées every day, but I have very rarely heard of any concerns.
There is already one thing to take into account: in Paris, in summer, night falls at around 10 p.m. or 11 p.m. This gives you time to make the most of your evening before darkness falls over the city.
Pickpockets
Firstly, touristic areas are those where there are the most pickpockets as well as in the subways.
Indeed, there are many pickpockets in Paris (well, we don't see them every 5 minutes either), you just have to pay attention to your belongings, avoid showing or leaving your phone or your state-of-the-art camera in plain sight and you won't have any problems.
Keep your bags close to you (obviously) closed and, when it is possible, in front of you, your bag could be rummaged easily without you realizing it if it is on your back.
Finally, do not take your phone out when the metro is about to close, for example, as pickpockets can come and pull your phone away when the doors close.
Also, do not stop if a woman is collecting signatures, often it is a distraction for other people to come and empty your bag.
Places to avoid
Obviously, in each arrondissement there may be places that are less pleasant than others, but that is like everywhere else.
But, when night falls, some places are considered less safe.
So you have to know which neighborhoods it is best not to go to.
Indeed, Pigalle, Gare du Nord, the Barbès district, Place Stalingrad, Porte de Clignancourt, Boulevard de Clichy, Porte de la Chapelle and the Bois de Boulogne and the Bois de Vincennes are not particularly welcoming after dark.
Also, contrary to what foreign media try to make potential tourists believe, there are no "no go zones" in Paris.
There are some places to avoid in the evening, but these places are not dangerous.
A lot of fake news is spreading about certain places in the region, so ignore it and come and visit Paris without fear.
How to get home when night falls?
If you want to go home but don't want to walk back, there are several fairly safe solutions.
Indeed, the metro and the RER are not dangerous at night.
You can take the last metro without worries, most of the time there are often people or at least a few people in the stations near the tourist spots and this until the last metro or RER.
Another alternative is to return home through to the night buses which run after midnight / 1 am. It is slightly different from the metro and RER because safety depends on the areas where you take it. In fact, you should avoid taking it at the places mentioned earlier in the article, even if there is normally no problem.
Your last solution, if these first two choices do not suit you, is to take a taxi (see my guide on taxis) or an Uber (see my Uber vs Taxi guide in Paris) even if this is still more expensive than the other proposals mentioned, this is quite safe.
What behavior to adopt?
If you are not used to wandering around Paris at night, do not try to do so without doing your research before. It is better to get to know the neighborhoods well by day before hoping to wander there at night.
 In general, try avoiding streets that are too dark and where there is no one else if you are alone.
If you stroll more around the tourist areas, this will not be a problem because you will often be surrounded.
Actually, in Paris there are often people going out and mainly in tourist areas thanks to many bars and restaurants. So you are unlikely to find yourself in a dark alley without too many people.
As a precaution, try walking with several people and try not to come home or be left alone.
Being more than one reduces the risk of being attacked, whether on public transport or in little frequented streets.
If you can't avoid being alone, try to stay in frequented places.
Don't hitchhike either because you won't know who you are dealing with, even if you are with other people.
To conclude
In general, therefore, Paris is not a dangerous city. Indeed, according to the final report of victimization and feeling of insecurity in Île-de-France (in French) in 2019, Parisians are generally satisfied with their environment because 89.2% consider it safe and 92.5% pleasant to live in.
So you just need to use common sense: take your precautions, avoid certain areas at night and do not stay alone -as is the case everywhere else- and your nightlife in Paris will be safe.

I aim to share my tips and recommendations for the beautiful country of France. My goal is to help you plan your next adventure, whether it's a weekend getaway or a once-in-a-lifetime trip. From finding the best hotels and restaurants, to discovering unique activities and sights, I've got you covered!