Moving around Paris can be tedious and may disquiet those who are not accustomed to doing so. Although the public transport network is quite clear and functions well, it can frighten some of us. A taxi can then be a reliable solution, independent from the RATP (Paris' public transport network) or SNCF's (French train network) occasional hazards…
So, how can we take a taxi in Paris? Where can you find them? What about private hire vehicles? This article will help you find your way.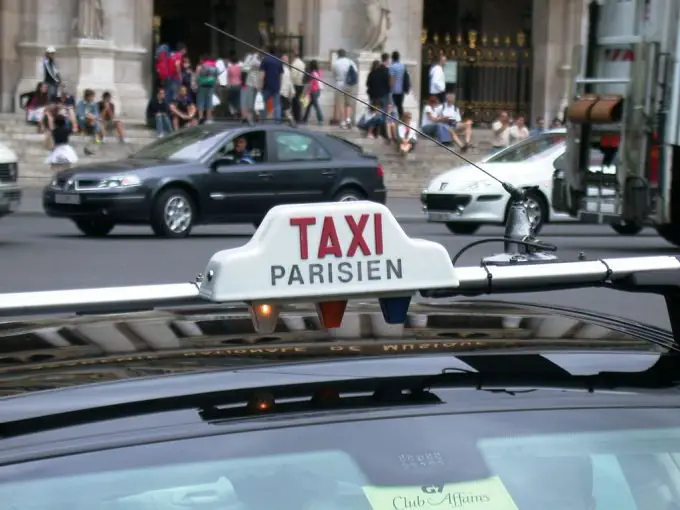 Fees For a Taxi in Paris
The fees for a taxi are regulated in Paris. First of all, the pick-up, for any ride, will be charged at €2.60. There are then 3 different kilometric rates for the cost of the ride itself:
Minimum cost of a ride: €7.10
Rate A
Rate B
Rate C
€1.06/km
€1.32/km
€1.58/km
Urban Zone (red)
Suburban Zone (blue)
Beyond the Suburban Zone (white)
Monday to Saturday
10am - 5pm: Rate A
5pm - 10am: Rate B
Monday to Saturday
10am - 5pm: Rate B
5pm - 10am: Rate C
Rate C
Any day and any time
Sundays (including holidays)
7am - 12pm: Rate B
12pm-7am: Rate C
Sundays and holidays
Day and night: Rate C
Holidays
Day and night: Rate B
Surcharges:
People:
€4/additional person beyond the 5th one (2 children under 10 = 1 adult)
Luggage:
€1 from the second piece of luggage over 5kg
Booking:
€4, instant booking (ASAP, no appointment time)
€7, pre-booking (appointment with a precise time)
Examples:
Ride Châtelet – La Défense (9.5km), Monday, 10am (Suburban Zone, rate B): €12.54
Ride Gare du Nord – Gare de Lyon (5.8km), Thursday, 4pm, (Urban Zone, rate A): €6.14
Ride Gare de Lyon – La Défense (12.1km), Sunday, 10pm (Suburban Zone, rate C): €19.10
Ride La Défense – Roissy CDG Airport (26.1km), Saturday, 5.30am (Suburban Zone, rate C): €42.20
Specific cases from/to the airports:
Rides between Paris proper and Paris airports (Roissy-Charles de Gaulle and Orly) are subject to flat fees. They are thus different between the airport and the place of departure or the destination. Prices are different if the destination is located on the left bank or on the right bank of the river Seine:
| | Left Bank | Right Bank |
| --- | --- | --- |
| Roissy CDG Airport | €55 | €50 |
| Orly Airport | €35 | €30 |
If you happen to change your destination, or ask for a detour during a Paris-airport ride, you will be charged for the price of the flat fee and the price of the ride according to the meter, calculated according to the regular rates (cf. rate charts 1 and 2).
A taxi driver cannot refuse to drive you to one of Paris airports (Bourget, Orly, Roissy CDG), whatever your initial position is. Leaving from Roissy, the driver is compelled to accept any destination.
How To Take a Taxi in Paris?
There are several ways to find and take a taxi in Paris. Beyond the popular wave followed by a "Taxi!", you can access taxi services by:
hailing one on the street
booking one
taking one at a taxi station (in the train stations, airports, etc.)
via a dedicated mobile app (cf. § Mobile Apps)
As a customer, you obviously have certain rights when a taxi picks you up:
in a station, you have the right to choose your taxi; but that is not the case in airports and in train stations.
you can choose your seating: you may sit in the front or in the back of the vehicle.
your driver must take the shortest route to your destination, unless you ask for a detour or a particular route.
However, a driver can refuse to pick you up for one of these reasons:
if your luggage cannot be carried by hand (except foldable wheelchairs)
if you are noticeably drunk
if you have a pet with you (except guide dogs)
if your luggage or clothing might spoil the inside of the vehicle
if you are less than 50 meters away from a taxi station with taxis awaiting
if you wish to go somewhere beyond the three peripheral departments (Hauts-de-Seine, Seine-Saint-Denis, Val-de-Marne)
Available Mobile Apps for Taxis in Paris
NB: Mandatory rates listed previously apply for taxi company apps (G7 and Alpha Taxis).
Taxi G7
With its 9,000 authorised drivers in Paris, Taxi G7 is the European leader of taxi companies. You can order a taxi either by calling them at 3607, or by ordering it online, or directly via their app "G7 Taxi". Via the app, you can see which drivers are the closest, order a ride leaving from your current position or the position of your choosing, and even pay the ride directly via the app!
You can download the app here: Apple App Store / Google Play Store
Mon appli Taxi
This app is part of the government-financed program "Le Taxi", and also allows you to order a taxi via geolocalisation. It will find the closest authorised drivers and offer them to pick you up for your ride.
You can download the app here: Apple App Store / Google Play Store
Paris Taxis
This is the official app of the city of Paris. 4,000 drivers from the governmental record "Le Taxi" are registered here, as well as the nearest stations. As well, it shows the number of taxis available in those stations.
You can download the app here: Apple App Store / Google Play Store
Tako
As well as the usual driver booking functions via an interactive map, Tako – a small French start-up – offers a very interesting concept for the users: the ordered taxi does not charge any approaching costs; so the meter only starts once you are inside the vehicle.
You can download the app here: Apple App Store / Google Play Store
Taxiloc
This Paris taxis app was launched in 2016, and is also state-authorised and a member of the "Le Taxi" platform. It identifies 19,000 drivers in the capital city who can answer your request: the app warns the nearest driver and sends them to you. The slight advantage is that only drivers accepting credit cards are registered.
You can download the app here: Apple App Store / Google Play Store
Alpha Taxis
Alpha Taxis is a cooperative company of Parisian drivers. Almost 1,200 taxis are registered, which makes it the greatest company in the Paris region. This structure has its own mobile app allowing you to order a driver. It also has interesting options when it comes to choosing your vehicle: availability 24/7, free booking, choice of the type of vehicle, etc.
You can download the app here : Apple App Store / Google Play Store
Precautions to take
When you arrive in Paris and do not know much about the transport network, you may be tempted to get in the first taxi you encounter. Do not make that mistake! There are indeed many illegal drivers lurking near train stations, airports, hotels, and highly touristy places. They will offer you knock-down prices; do not trust them. Their meters are often corrupted, and the ride's cost will be much higher than with an official taxi driver.
How, then, can we recognise genuine taxi drivers? It is quite simple: there must be the well-known "Taxi Parisien" lamp with the diodes corresponding to the tariff system "A, B ou C" and the availability diode (green for "free", red for "occupied") must appear on the vehicle, a small poster on the back window indicating the regulation of París' Taxis and the current rate standards, a licensed plate with the authorised parking number written in red on a black background mentioning "PARIS" on the right-front fender, and, finally, a meter recording kilometers per hour inside the vehicle.
Despite those precautions, some people might feel insecure, particularly women. Travelling alone, or simply having to travel late at night, can indeed be challenging for ladies. But there are solutions to overcome this. A company has been created by women and for women: the French start-up Women Drive offers a fleet of vehicles only driven by women and for an all-female customer base. Users have access to the classic services offered by a taxi or a private hire vehicle, that is, pre-booking, availability 24/7, a "long distance" service, paying online beforehand, and the possibility of a return trip.
Private Hire Vehicles available in Paris
Uber:
The US company is the world leader of private hire vehicles. It has been logically implanted in Paris, where the demand is high. The booking of Uber services is quite simple and very understandable, and can only be made through the app.
You can download the app here: Apple App Store / Google Play Store
Heetch:
This Chinese independent driver provider is based on the same system as Uber but is supposed to be cheaper.
You can download the app here: Apple App Store / Google Play Store
Allocab:
Allocab is a private hire vehicle platform very similar to a regular taxi company. It gathers over 8,000 independent drivers from all over France and is therefore able to meet a high demand. As well, this company has a very interesting range of vehicles and services that you can choose (Pool, eco- or business- saloon car, van, motorbike). It is possible to book from the app or the website.
You can download the app here: Apple App Store / Google Play Store
Taxify (Txfy):
Taxify is a private hire vehicle driver company very similar to Uber and Heetch, with an online booking platform via the mobile app.
You can download the app here: Apple App Store / Google Play Store
Snapcar:
Snapcar provides private hire vehicle drivers, and targets quite well-off customers: essentially professionals who have a greater need of moving fast. The company offers a "red button" on the app, which immediately launches a request for a pick-up.
You can download the app here: Apple App Store / Google Play Store
You can also check out our article "In Paris, is it Better to Travel by Taxi or Uber?", where we establish a comparison between regular taxi services and Uber's (and other private hire vehicle providers).
Advice & Recommendations From France Hôtel Guide
If you have to travel within Paris by taxi, we can only advise you to be cautious and always careful. If you have any doubt about a driver offering you his service, do not get inside the vehicle. Select drivers who are in a taxi zone in airports and train stations, or pre-book by phone via various companies platforms.
When it comes to private hire vehicles, the services and applications listed above are trustworthy enough, particularly thanks to their drivers' notation system.