You are visiting Paris and you wish to bring home some gifts for your loved ones to share you experience? Or maybe you simply want to treat yourself a little something? Here's a list of more or less cliché souvenirs that you can bring from Paris.
1) A Béret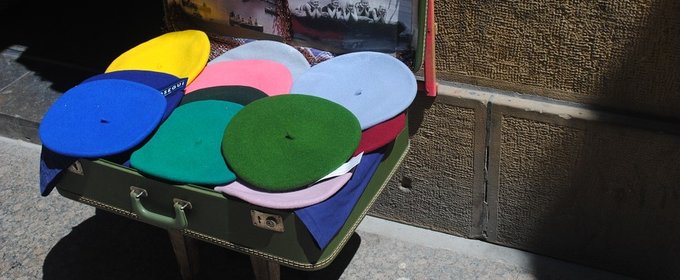 There are many clichés about France and one of the most famous ones is that French people always wear Bérets. This knitted woolen hat is often associated with Parisian artists. And even if French people don't wear it that often, it remains a strong symbol and a great gift to bring home from the French capital city. You can find some cheap ones "Made in China" in pretty much every gift shop in Paris; however, getting one manufactured in France will make it more appealing.
Where to buy it?
BOUTIQUE PASSION FRANCE
42 avenue de la Grande Armée, 75017 Paris
http://www.passionfrance.fr/
Price:
For Kids, 24.90€
For Adults, 24.90€
2) A Marinière
A Marinière is a long-sleeved jersey that was originally worn by the French Marine since the 19th century on. Before, it was strictly blue and white, and had with 21 white stripes of 20mm, and 20 or 21 blue stripes of 10mm. The "Tricot Rayé" (Striped Jersey) became popular ever since Coco Chanel introduced it to the fashion industry. Other fashion designers followed this trend, such as Yves Saint Laurent, and Jean-Paul Gaultier who completely took it over to make it an imaginative, sometimes eccentric, fashion statement.
Where to buy it?
BOUTIQUE AMOR LUX VAVIN
16 rue Vavin, 75006 Paris
https://www.armorlux.com/en/
Price:
Approximately from 40€ to 70€ depending on the product.
3) Macarons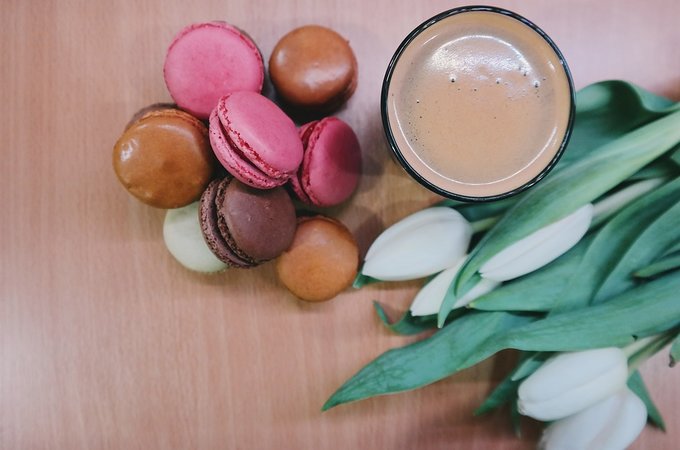 These small pastries made of almond powder, egg whites and sugar, is called Parisian Macaron when it is upgraded with a ganache in between its two biscuits. Whether you are quite adventurous or like classic flavors, you will always find some to suit your taste buds. It is the favorite French dessert of most foreigners, and they are quite right. It's hard to resist to the spell of sweets but these ones are definitely worth tasting, so just go for it!
Where to buy it?
BOUTIQUE PIERRE HERMÉ OPERA
39 avenue de l'Opéra, 75002 Paris
http://www.pierreherme.com/?___store=english&___from_store=french
Price:
From 11.90€ for one assorted box of 4 macarons to 104€ for one assorted box of 40 macarons.
4) Wine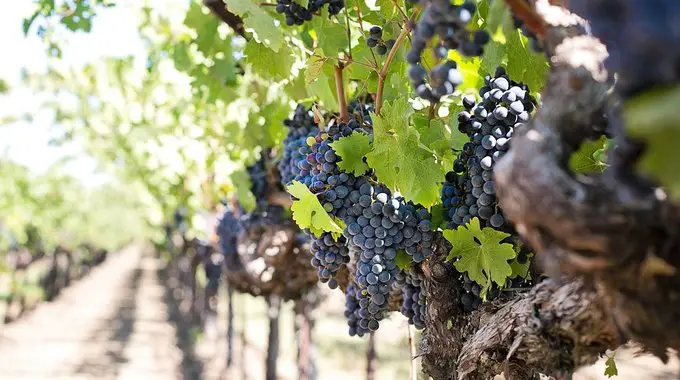 Wine is France's ultimate symbol! We produce wine in almost every regions and it is logically the most consumed alcohol in France. Moreover, there are so many different types that it can fit almost every taste buds, for any budget, so there is no need to hesitate. Go to a wine store and try some! Whether it's a red, a rosé, a white or a yellow one, you will definitely find a bottle that will suit you and your loved ones.
Where to buy it?
NICOLAS RAMBUTEAU BEAUBOURG
30 rue Rambuteau, 75003 Paris
http://www.nicolas.com/en/
There are many other Nicolas boutiques in the city.
Price:
From 3€ to several hundreds euros.
The average price is 15€ per bottle.
5) Champagne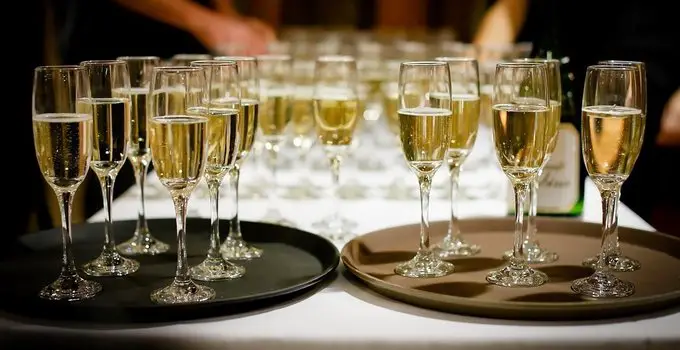 It is the most festive alcoholic drink in France! This drink originated from the Champagne Region is now consumed everywhere in France and in the world. If you want to share one with friends to memorialize an important event (or not), a bottle of champagne would be a perfect gift for your friends and family who love to celebrate, or simply who like to treat themselves.
Where to buy it?
DILETTANTES
22 rue de Savoie, 75006 Paris
http://www.dilettantes.fr/en/?___from_store=fr
Price:
The average price is 45€ per bottle.
6) A Saucisson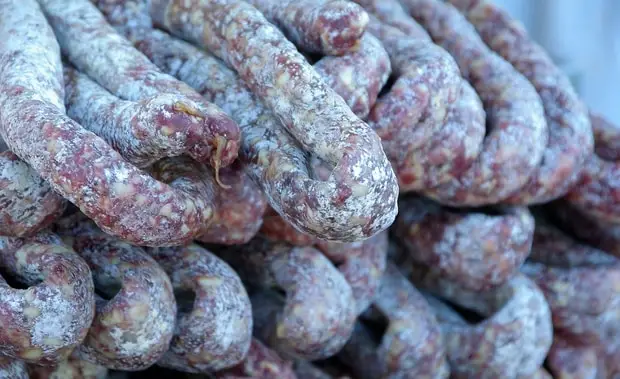 This is one of the numerous French culinary specialties. Saucisson is basically a sausage that can be cooked or dried. This delicacy, usually made of pork meat, or sometimes boar meat, donkey meat, beef or even poultry, will probably surprise you. Taste it just once with some French baguette and you won't be able to get enough of it. Why not share some with your friends?
Where to buy it?
LA GRANDE EPICERIE
38 rue de Sèvres, 75007 Paris
http://www.lagrandeepicerie.com/en.html
Price:
The average price is 7€ per unit
7) Cheese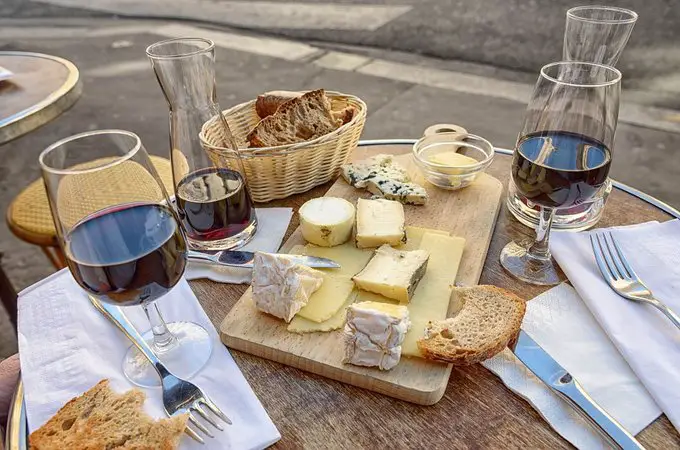 In France, it is said that there are over 365 types of cheese, which means that we can savour a new one every day of the year. Even if it seems a bit too hard to taste them all while you are staying in Paris, you should still try to discover as much as possible and gift your favorite ones to someone.
Where to buy it?
ANDROUET MOUFFETARD
134 rue Mouffetard, 75005 Paris
http://www.androuet.com/
Price:
A cheese platter for 10 is approximately 30€.
8) Foie Gras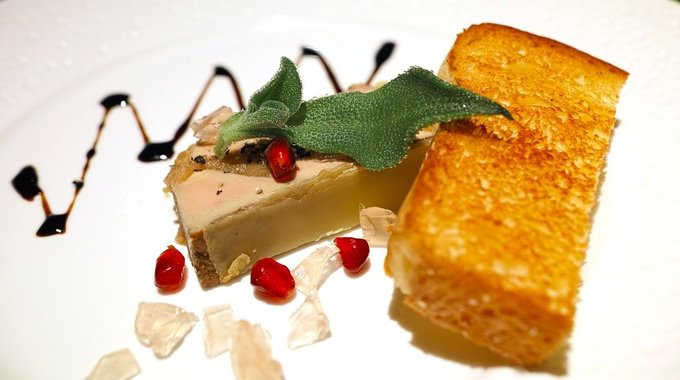 If you spent December the 25th in France, you probably have already tried one the most essential dish of the year-end holidays: the Foie Gras. This French delicacy is basically made of the liver of a goose or a duck; it can be eaten fresh, semi-cooked, or cooked. It is almost a tradition for French people to eat some at Christmas. So it will be the best gift you can think of if you want your loved ones to taste the magic of French Christmas celebrations.
Where to buy it?
FAUCHON PARIS
30 place de la Madeleine, 75008 Paris
http://www.fauchon.com/en/
Price:
Whole Duck Foie Gras from Sud-Ouest Semi-cooked 250g : 45€
9) A scarf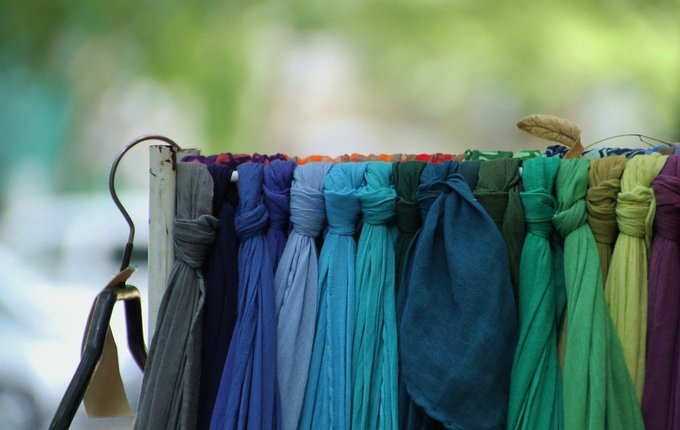 Foreign countries are quite envious of French scarves, whether they are feminine silk ones or warmer and thicker ones. So why not buy one for someone? In Paris, you can find one for every budget, every materials and also every shape possible. It is a fashionable accessory that will keep you warm and stylish for the whole winter while giving you that Parisian chic appearance that every likes.
Where to buy it?
LONGCHAMPS SAINT-HONORE
404 rue Saint Honoré, 75001 Paris
http://en.longchamp.com/en
Price:
50x50cm silk scarf from 65€
70x70cm silk scarf from 135€
90x90cm silk scarf from 235€
Where to buy it (other option)?
GALERIES LAFAYETTES HAUSSMANN
40 boulevard Haussmann, 75009 Paris
http://haussmann.galerieslafayette.com/en/
Price:
Prices start at 20€.
10) A Louis Vuitton Handbag
Those who have a bigger budget should probably go on the Avenue des Champs-Elysées in the beautiful Louis Vuitton Shop. The most famous French leather shop welcomes some millions of visitors and we all know why. Their handbags and travel cases are well-known and worn in the entire world. It has often been imitated but it remained unrivaled. It is definitely one of the best Parisian gifts you could give to someone you know.
Where to buy it?
LOUIS VUITTON PARIS CHAMPS-ELYSÉES
101 avenue des Champs-Elysées, 75008 Paris
http://eu.louisvuitton.com/eng-e1/homepage
Price:
From 760€
11) Books, Posters or Postcards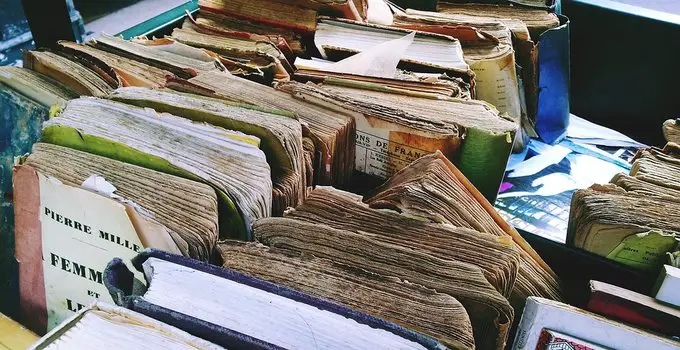 While walking on the banks of the Seine, along the Quai Voltaire, you won't be able to miss the green boxes that border the riverside. The Bouquinistes of Paris are a symbol of the city and they are registered as a UNESCO World Heritage since 2011. The books there are all second-handed so they are quite cheap and you can find some beautiful ones. Also, the postcards and posters are usually vintage. Therefore, you will always be able to find something within your budget depending on the authenticity and the reputation of your purchase.
Where to buy?
THE BOUQUINISTES OF PARIS
Banks of the Seine – From the Quai de la Tournelle to Quai Voltaire
Les bouquinistes de Paris
Price:
From a few cents to more than 20€.
The average price is 10€.
12) An Eiffel Tower Replica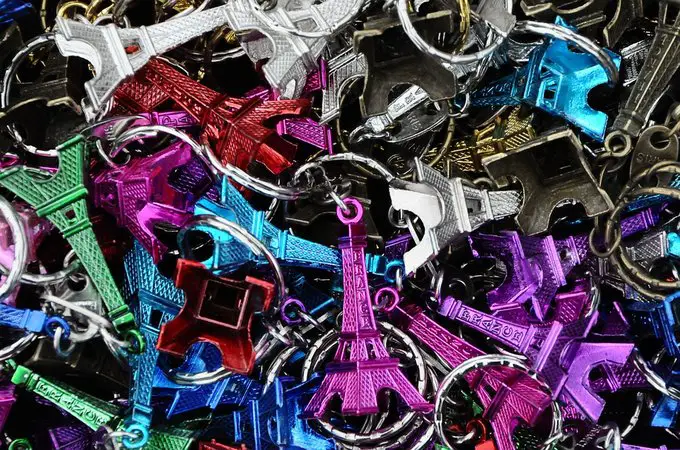 Yes it is a cliché gift, but it does not mean we should completely put it aside. The "Iron Lady" is one of the most visited monuments in France, and it is probably the most iconic monuments of Paris. From there, you have one of the greatest views on the city of lovers. So, share your experience in the Eiffel Tower by giving your friends some of these replicas.
Where to buy it?
SOUVENIRS DE PARIS
103 quai Branly, 75015 Paris
http://www.souvenirparis.com/en/
Price:
One 4.5x2cm Eiffel Tower, 1€
One 8×3.5cm Eiffel Tower, 1.90€
One 30x12cm Eiffel Tower, 19€
One 48x13cm Eiffel Tower, 39€
13) A French Knife

If you want to buy a useful gift that is manufactured in France, you should not hesitate and buy an Opinel knife. These knives with a wooden-handle are made in Savoie and are one of the symbols of the "Made in France" movement. Having one will be useful if you are out in the nature for a picnic or some camping, as well as when you are at home.
Where to buy it?
ARMES BASTILLE
Relais Opinel 61 rue de Lyon, 75012 Paris
https://www.opinel.com/en
Price:
Approximately 15€ for a classic stainless one.
14) Antiques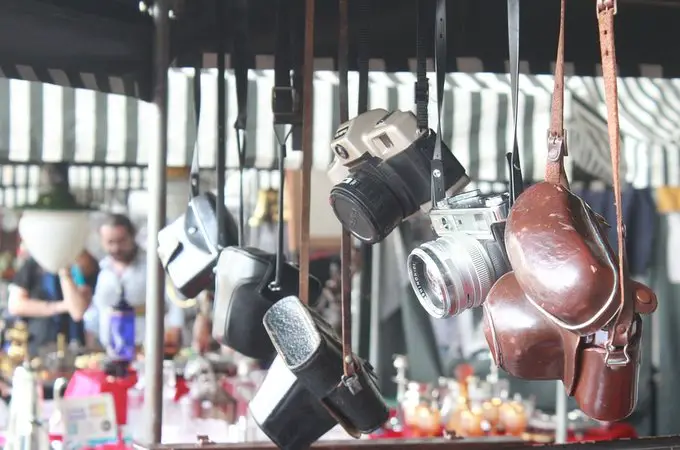 In Paris, there is quite a large choice of antiques and pieces that are worth seeing, even though Paris' most famous antiquarian district, the Louvre des antiquaires, is closing its doors shortly. You can still pursue your quest of a unique and historical piece at a whole lot of Antique dealer shops, or flea markets for those who are courageous enough to browse all the alleys and stores.
Where to buy it?
BOUTIQUE ALASINGLINGLIN
1 rue du Marché Popincourt, 75011 Paris
SAINT OUEN FLEA MARKET
Porte de Clignancourt, 93400 Saint-Ouen
http://www.marcheauxpuces-saintouen.com/1.aspx
Price:
The price differ depending on the shape and the scarcity of the object.
15) Beauty Products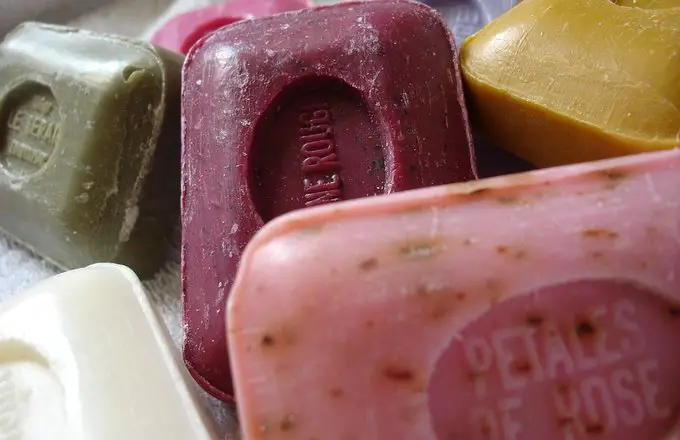 In France there are many unique soaps and skincare products that foreigners love and wish to find in their home country. Bioderma, La Roche-Posay, Avène, L'Occitane… These products are quite accessible in France, however, in other countries they are way less affordable. So when you come to Paris, it is the right opportunity for you to take advantage of those attractive prices and let your friends discover some new French brands.
Where to buy it?
PHARMACIE MONDE
75 rue Monge, 75005 Paris
https://www.pharmacie-monge.fr/
Price:
The average price of a 500ml Micellar Water is 10€
Where to buy it (other option)?
L'OCCITANE EN PROVENCE
84 rue de Rivoli, 75004 Paris
http://usa.loccitane.com/
Price:
Hand cream of 150ml is 21€
100ml average of 50€
Day Cream of 50ml is an average of 40€
16) A Bottle of Perfume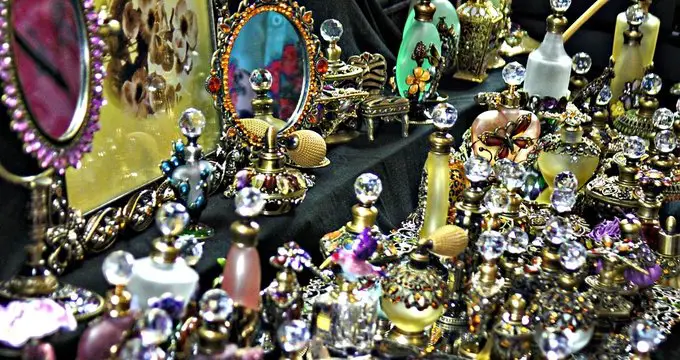 If you want to get a more refined gift, you should go for a bottle of perfume. Whether it is a home fragrance or one that you will give for a person, your loved ones will be crazy about the delicate smells that are created by great Parisian perfumers. With this scented gift, you will make them travel to the most beautiful city in the world.
Where to buy it?
LA MAISON GUERLAIN
68 rue des Champs-Elysées, 75008 Paris
http://www.guerlain.com/int/en-int
Price:
The average price of a 100ml bottle of perfume is 120€.
Where to buy it (other option)?
FRAGONARD BOUTIQUE
196 boulevard Saint Germain, 75007 Paris
https://www.fragonard.com/en/
Price:
Approximately 30€ for the Home Scents
Between 30 and 90€ for a bottle of perfume
17) A scented candle
To stay in a well scented mood, you could choose to buy a Parisian scented candle. Parisian perfumeries are well-known in the entire world for their enchanting smells that please our sense of smell. These candles will help you spread a unique atmosphere at home thanks to a natural and charming smell.
Where to buy it?
BOUTIQUE DIPTYQUE
34 boulevard Saint Germain, 75005 Paris
http://www.diptyqueparis.eu/?___defaultsite=diptyqueeuro
Price:
Between 46 and 60€ for a 190g candle.
18) Mustard
Mustard, or Moutarde in French, is one of the most used condiments in the world; however, nothing can outshine the ones that you can find in France. You can find so many different types that you won't know which one to choose. There are stronger ones like the Dijon Mustard, sweeter ones, or ones that are favored with many different tastes. You will definitely find one to your liking.
Where to buy it?
LA BOUTIQUE MAILLE
6 place de la Madeleine, 75008 Paris
http://www.maille.com/en_GB/
Price:
From 7€ for a classic Dijon Mustard 215g to 43€ for a 250g black truffle and Chablis Mustard.
19) Salt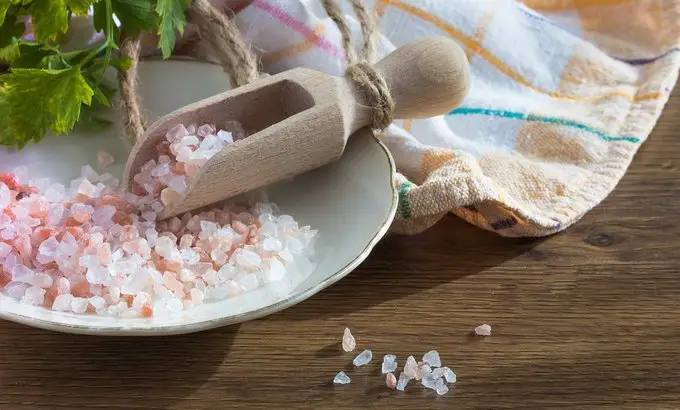 In France, there are many different varieties of salt that are all very different from each other, but are all really good. You can bring home for your friends salts from different regions of France, such as the Sel de Guérande which is the most famous one, but also flavored salts, truffled ones, or colored ones.
Where to buy it?
GALERIES LAFAYETTE GOURMET
35 boulevard Haussmann, 75009 Paris
http://haussmann.galerieslafayette.com/en/category/home-fine-food/
Price:
From 5€ to approximately 20€ per unit.
20) Herbs and Spices
To enhance the taste of your meals, you will find every sort of spices and aromatic herbs you've ever dreamed of in the capital city. There will be some Persillade (parsley, garlic and olive oil mixed together), some Herbes de Provence (a mix of basil, thyme, bay leaf, rosemary, tarragon and many other dried herbs), some Bouquets Garnis (a mix of dried thyme, bay leaf, sage, garlic and a few more herbs), or other spices such as Piment d'espelette (Espelette pepper). These spices will bring life to your plate.
Where to buy it?
FINE L'ÉPICERIE
30 rue de Belleville, 75020 Paris
Price:
From 5€ to approximately 15€ per unit.
21) Tea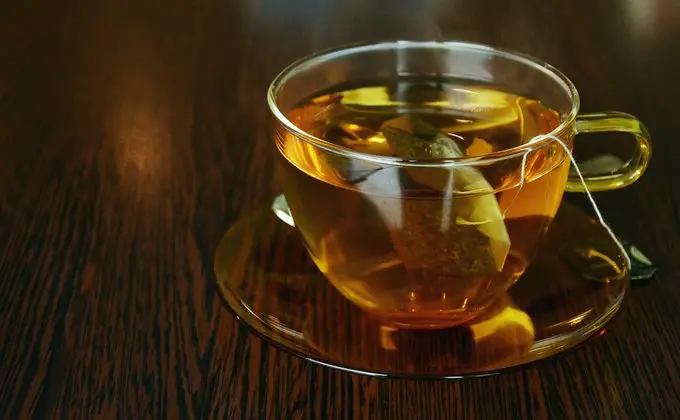 For those who enjoy drinking tea or an infusion, France is the right place for you. Yes, the making of great teas is only kept by our close neighbours the British. We can find in France great Tea Houses that will please your taste buds. So don't hesitate and share some with your friends and family.
Where to buy it?
BOUTIQUE MARIAGE FRÈRES
32 rue du Bourg-Tibourg, 75004 Paris
http://www.mariagefreres.com/UK/welcome.html
Price:
The average price goes from 20€ to 30€ per box.
22) Madeleines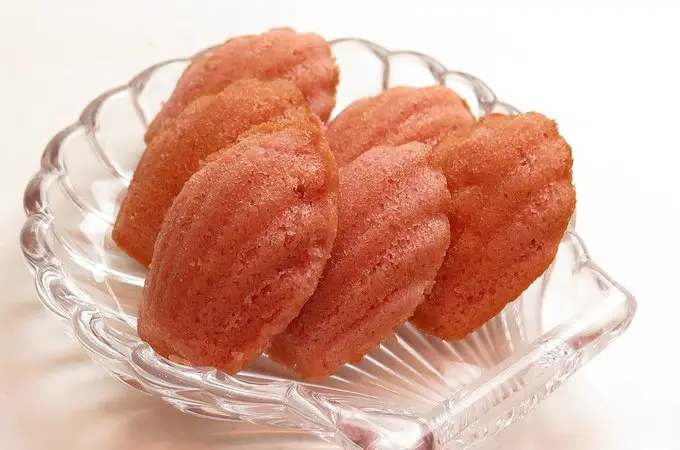 There are one of the most liked food by children and adults when comes the "goûter" (afternoon snack time). These small pastries have such a peculiar shape and are well-known worldwide ever since Marcel Proust talked about it Du côté de chez Swann (Swann's Way). If you offer some to your loved ones, you will be to share and to create great memories with them.
Where to buy it?
MESDEMOISELLES MADELEINES
37 rue des Martyrs, 75009 Paris
http://www.mllesmadeleines.com/index.php
Price:
Mini madeleine sweet or savoury, 0.70€ per unit
Flavored madeleine, 2.50€ per unit
Garnished madeleine sweet or savoury, 3.50€ per unit
The "Gourmande" madeleine, 4.50€ per unit
Where to buy it (other option)?
In any supermarket.
Price:
One bag of classic Madeleine of 500g for 2.50€
23) Chocolates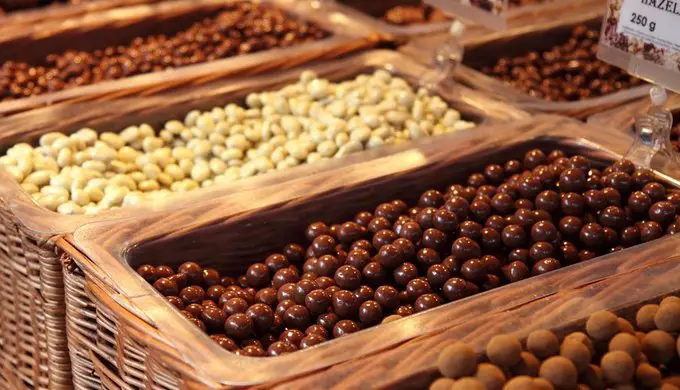 Chocolate is one of the greatest Parisian culinary specialty. It is the reason why there are so many talented chef chocolatiers. Here, you can find chocolate in all possible forms, possible scale and for every possible taste. You cannot stay in Paris without being tempted by some delicacies.
Where to buy it?
BOUTIQUE PATRICK ROGER
108 boulevard Saint-Germain-des-prés, 75006 Paris
https://www.patrickroger.com/en
Price:
Assortment of 9 pieces, 14€
Assortment of 16 pieces, 24€
Assortment of 25 pieces, 30€
Assortment of 50 pieces, 58€
Assortment of 75 pieces, 84€
24) Sweets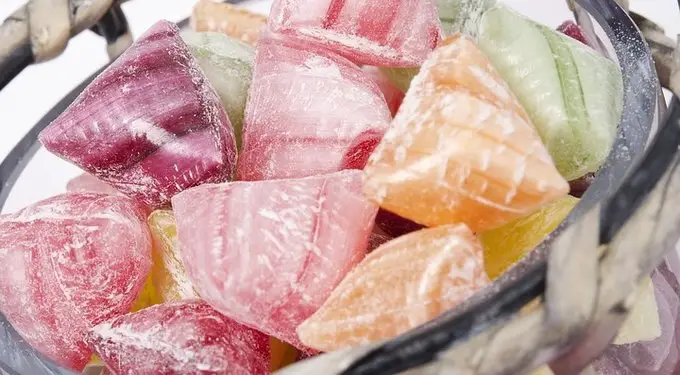 Each regions of France has its own specialties, it is true for the different dishes but also for sweets. During your stay in Paris, you will be able find all these specialties. You will get a great choice of candies, such as Berlingots, Caramels, Guimauves, Roudoudous, Violettes… You will go all around France thanks to these sweets.
Where to buy it?
A LA MERE DE FAMILLE
35 rue du Faubourg Montmartre, 75009 Paris
http://www.lameredefamille.com/
Price:
Around 7€ for one bag of sweets depending on weight and the type of candy.
25) Hot Chocolate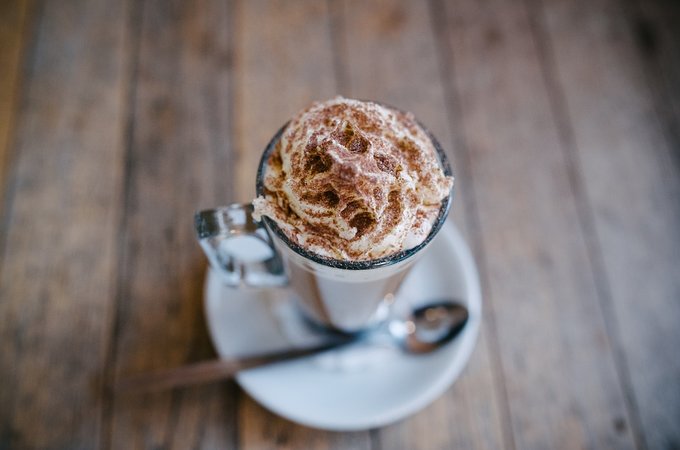 While you are in Paris, you will probably head to one of the numerous Cafés of the Capital City to drink a delicious hot chocolate (especially if you come during wintertime). You can share this experience with your close friends and family by bringing home a French hot chocolate mix. They will be delighted by this drink and its unique Parisian taste.
Where to buy?
ANGELINA PARIS RIVE GAUCHE
108 rue du Bac, 75007 Paris
http://www.angelina-paris.fr/en/
Price:
Mix for hot chocolate of 600g for 22.50€