Travelling requires a certain budget and not everyone can afford extravagances when going abroad.
If Paris remains an expensive city, we have found good deals to enjoy Paris serenely.
1) Book at the last minute
Paris is known to be an expensive city, but keep in mind that you can sleep in Paris without spending a fortune for high standing services!
If you are ready to go overnight, last minute reservations are always fructuous. They offer very interesting discounts for hotels of good quality.
Our website proposes a special category called "Last-minute discounts", which offers up to 75% off on a room! It would be a shame to miss out!
If you are more organized, here is a little selection of "good deals" hotels for less than 50€ a night:
Hotel Cosy Monceau**, a hotel located near the Monceau park which have a good price-quality ratio (from 43€ a night, the prices are likely to change according to the seasons).
The Regyn's Montmartre**, close to the Sacré-coeur with a nice view of the Eiffel Tower, depending on your room (from 33€ a night, the prices are likely to change according to the seasons).
The Prince Albert Opéra**, two minutes away from the Opera Garnier (from 42€ a night, the prices are likely to change according to the seasons).
Booking a hotel in low-season (from November to March) generally offers better prices. If we base it on the hotels above, we respectively get a 22%, 23%, and 25% discount on a low-season reservation.
In summer, July and August often enable reductions or promotions. You'll be able to find and book hotels in Paris at a cheap price and this is not as surprising. The reason is simple: the businessmen are on vacation and don't move around the capital city, leaving several rooms empty which hoteliers try to fill with promotions.
2) Eat smart
Paris is the capital city of gastronomy, and it can be difficult to eat French Cuisine for a small price. Here are some pleasant places that we found to eat without ruining yourself:
– Coming from Italy, the aperitivo is a concept the food lovers will love! You will be served a food tray, more or less consistent, only for the price of a drink. The perfect occasion to enjoy a cheap dinner!
* Lockwood: A free buffet for a drink starting from 6PM!
73, rue d'Aboukir, 75002, Paris
* Il Covo: To make you feel like you are in Italy! (French link only)
11, rue Boutebrie, 75005, Paris
* Les Trois frères: Do you want to go out on a Thursday evening? Here, you will be served couscous with spicy merguez sausages only for the price of a drink! Starting at 8.30PM.
14, rue Léon, 75018, Paris
– If you prefer discovering nice French meals, some bistros and restaurants propose attractive menus.
* In the Bistro des Augustins (French link only), you will be able to try cheap, tasty gratins.
39, quai des Grands Augustins, 75006, Paris
* The Coup de torchon (French link only) offers a French cuisine of quality for 15€ maximum per menu.
187, rue Saint Jacques, 75005, Paris
– The nine restaurants Goutu (French link only) sell sandwiches starting from 1€! You could not find a better deal anywhere else!
– The website The Fork suggests restaurants at unbeatable prices, even at the last minute.
3) Activities at an attractive price
It is no coincidence that Paris is the most beautiful city in the world! Its numerous monuments, parks, and museums are the reasons for the country's fame.
If the capital city doesn't lack activities, we can easily spend money by visiting it.
Here are some tricks to enjoy Paris without trouble:
– Each first Sunday of the month from October to March, a lot of monuments and museums are free: The Louvre, the towers of Notre-Dame (French link only) to enjoy a wonderful view of Paris, the Arc de Triomphe, are just to name a few…
For more information on the monuments and museums concerned, click here.
– Parisian parks allow a free and very pleasant getaway on a sunny day.
At the Monceau park, the Montsouris park, the Tuileries gardens… you will rest on the grass or just admire some structures present in those parks.
Moreover, the Wi-Fi is free in some parks and squares, so why not take advantage of it?
– An interesting concept just came in Paris. In the Anticafé, you only pay for the time you spend in the cosy building, which will remind you of home (5€ an hour, in different locations in Paris). You will be able to enjoy unlimited snacks and drinks, use the free Wi-Fi, play board games, and much more! More information here.
– Are you looking for a free movie? Each summer, the open-air cinema of La Villette offers a diversified program. Grab your plaid and some food and you will enjoy a unique moment in the La Villette park.
The program changes every year, you can find it on this website.
– If you are visiting the flower market, you can take part in the "happy flowers"!
René Veyrat and his shop Rêve offers half price bouquets on Saturdays from 6PM!
4) Prepare your public transport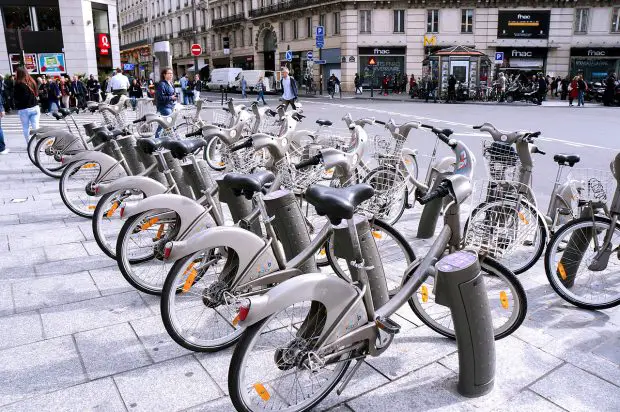 Parisian public transport can rapidly become a brain-teaser for a traveller.
Here are some tricks to prevent you from paying too much for your travel!
– Don't buy your tickets individually and choose the pack of 10. Indeed, instead of paying 1.90€ x 10 so 19€, you will pay 14.90€.
It is important to know that a ticket lasts for 1h30 between the first and the last validation.
– Buying a Paris Visite Pass will allow you an unlimited amount of trips from 1 to 5 days in a row with a different price according to the zone you choose.
For example, for zones 1 to 3, which include Paris and the close suburbs, you will pay 13.20€ a day. For information, Disneyland Paris is located in the 5th zone.
– Why not move by bike in Paris? The Vélib' (self-service bike system) offers a cheaper option than public transport, with a chance to visit Paris from another angle.
The 24h tickets will cost you 5€ with the first 30 minutes free of charge.

Advice, best plans, great places; I will help you in your search for trips, activities, hotels and restaurants. Whether it's for a walk, a weekend, an afternoon or merely to find a trendy place to eat, I can give you all the pointers you need for your endeavor. Just follow the guide!