It's snack time and you're peckish? Why don't you let yourself be tempted by a typically French small cookie, the macaroon? This little round pastry is the reason for France's fame, and there is a reason why! With flavours ranging from the simplest to the most original, we have put together a list of the best macarons in Paris! A wonderful gift idea to bring back from your trip to Paris.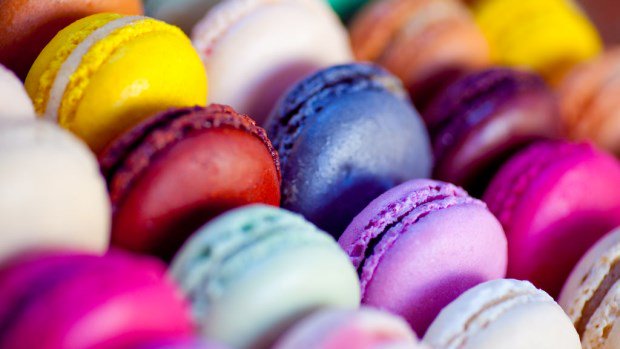 1) Ladurée €€€

How could we not talk about Ladurée? The name is an institution ever since its creation in 1862 and its reputation is well-established.
If you're passing through the capital city or you just want to taste the tasty Ladurée macarons, don't hesitate for a second. You won't be disappointed!
6 Ladurée shops are spread throughout Paris. To enjoy even more of the Parisian charm, take advantage of their very sophisticated tea rooms.
If you are unable to go, their online store will allow you to make your own box from a selection of simple and delicious flavours.
Want a unique macaroon? Choose the citron one.
~ From 29,50€ for a gift box.
~ 1,90€ individually
2) Pierre Hermé €€€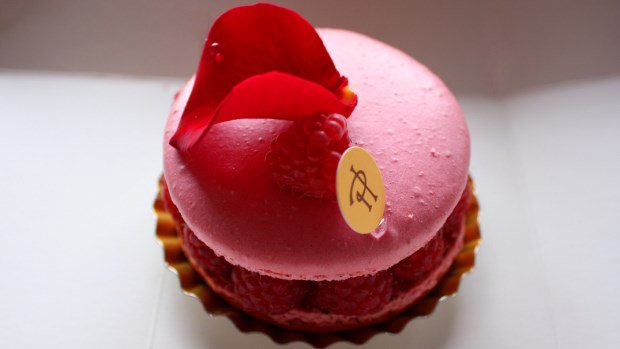 He appeared in a French program called "Le Meilleur Pâtissier" (literally translated "The Best Pastry Chef") and there is a reason for that! Internationally renowned Pierre Hermé was awarded the title of World's Best Pastry Chef in 2016.
The pastry chef has for a watchword to create pastries without embellishment or superficial details. Indeed, his desserts have less sugar in them because, as he says, sugar hides the real taste and flavours. The macarons made like this have a unique taste which will please those who are fond of good food.
Want a unique macaroon? Choose the Ispahan, the star of the shop made of rose petals, whole raspberries and litchi! Or the olive oil and vanilla macaron!
~ From 18,50€ for a box
17 different shops are available in Paris.
Website: http://www.pierreherme.com/
3) Gérard Mulot €€€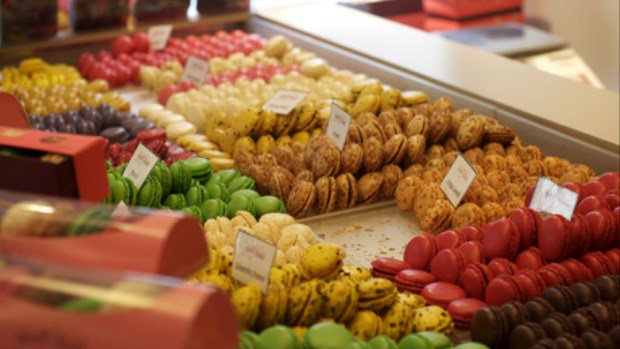 Coming from the Vosges, this pastry chef arrived in Paris in 1975 with the desire to sell quality pastries. The pastries sold are harmonious and colourful and have rather unique flavours.
Gérard Mulot has two shops in Paris as well as a tea room, 'l'Amaryllis", with a menu that will please more than one.
Want a unique macaroon? The shop has a macaron-of-the-month. For instance, the one made with Amaryllis is for August! Other original flavours are waiting for you like the passion basil!
~ 1,70€ individually
Website: http://www.gerard-mulot.com (French version)
4) Sadaharu Aoki €€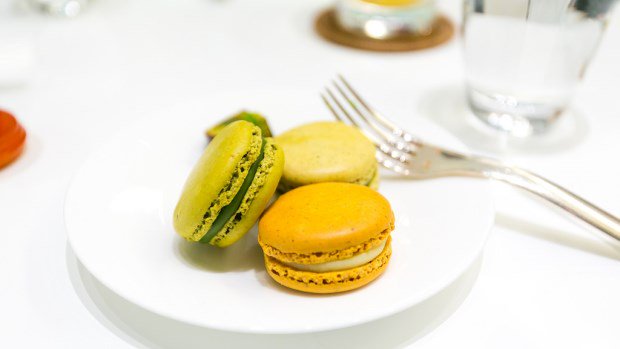 Unusual flavours, enthusiasts take note!
Sadaharu Aoki's pastries are the result of a half-French, half-Japanese mix. So, you can find a millefeuille made with matcha tea, sesame eclairs… And the macarons are not the exception!
You won't regret going to one of the 4 shops in Paris thanks to their originality. Actually, they are some of the most renowned shops in Paris.
Want a unique macaroon?  The wasabi macaroon, the yuzu one or even the matcha tea one will leave you speechless!
~ From 13,60 € for a box
~ 1,40€ individually
Website: http://www.sadaharuaoki.fr/news/en.html
5) Monsieur Benjamin €€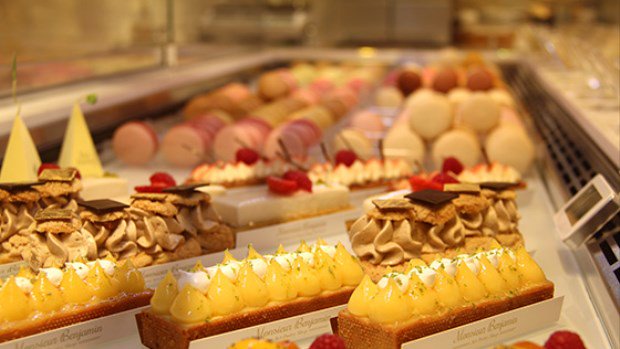 Monsieur Benjamin opened his shop recently or rather his "Art pastry shop" and he is already making some of the best pastries in Paris!
This very contemporary and carefully decorated shop offers breath-taking pastries! Moreover, the macarons are made by a Meilleur Ouvrier de France, which is a token of their quality.
Beautiful and unique creations show the creativity of Monsieur Benjamin.
The macarons have surprising flavours! You'll have to choose between the 30 different ones.
Want a unique macaroon? The fig-violet or the coffee-sesame macarons will surprise you.
~ From 14€ for a box
~ 1,90€ individually
Website: http://www.monsieur-benjamin.com/ (French link)
6) Christopher Roussel €€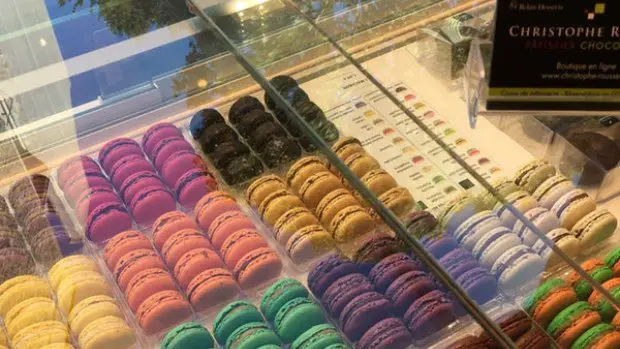 After opening several shops in Brittany, this pastry chef launched his first shop in Paris in the 18th arrondissement.
Christopher Roussel was chosen by Gault et Millau, an influential French restaurant guide, and won many awards. His reputation is well-established.
The chef likes to restyle the classics with new flavours. So, you'll find those in his macarons.
Want a unique macaroon? Try the lavender apricot or the cherry chili.
~ 1,40€ individually
~ Possibility to make a box
Website: http://www.christophe-roussel.fr/en/macarons-c1.html
7) Maca'rong €€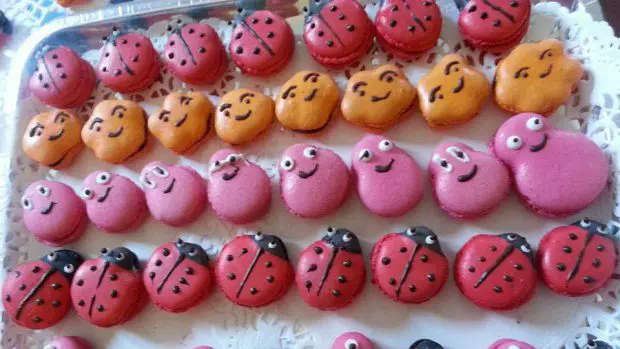 At Maca'rong, you will fall back to your childhood! The shop offers the cutest macarons. Animals, cartoon characters, and there is something for everyone.
Don't hesitate to push the doors of this shop full of pastries, each one more beautiful than the next!
Maca'rong also offers some vegan macarons to please every diet: mango-passion, raspberry, and many more.
Want a unique macaroon? Try the poppy flavour or the bergamot orange one.
~ entre 1,30 et 1,50€ individually.
Website: https://www.facebook.com/macaroncosy/

Mona knows Paris like the back of her hand. Its bars, its restaurants and above all, its hotels, whether you want to sleep, eat, party or just take a walk in Paris, Mona knows them (nearly) all. Follow her lead, she will gladly give you all her good tips!