When you travel by yourself, it is vital to be well organised if you want to avoid wandering on the streets, not knowing where to go or what to do. This is especially true in Paris where it is easy to get lost if you do not know the city well. Despite the fact that getting lost in Paris may provoke anxiety for some people, there is no need to panic as France-Hôtel-Guide is here to help you. Here come our best advice for lone travelers wishing to go to Paris.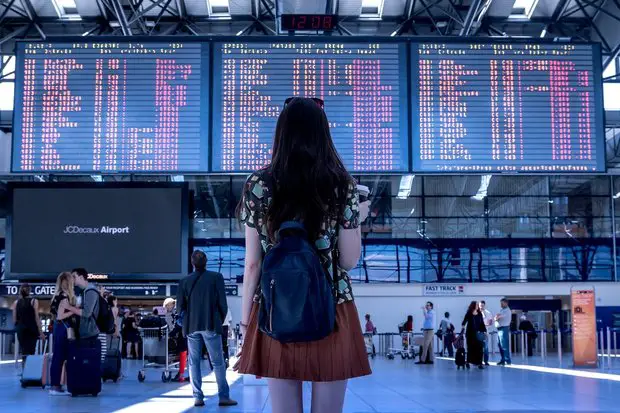 Safety
Of course, you always have to be careful when travelling in a big city, but don't forget that the insecurity you might feel is not always real. Be alert but do not risk ruining your trip by over-worrying. Paris is not a dangerous city for a lonesome traveller if you comply with simple rules. Here are the keys to enjoy a safe trip.
First of all, watch your belongings at all times, above all on public transport (especially on the underground trains, where pickpockets strike most); always keep an eye on your bags; do not put your cell-phone or your wallet in the back pocket of your trousers, etc.
Of course, touristy monuments and the underground are places where pickpockets love to hide, but they also are the safest places in terms of aggression.
Try not to look like a tourist, but like an insider; for instance, do not wear your camera around your neck.
If you are scared to travel by the underground alone at night, or if it is already closed by the time you wish to go home, you can easily take a taxi, on the condition that you take a few simple precautions to assure yourself that it is a real taxi and not an illegal one. There is a network of female taxi-drivers (Women Drive) whom you can call if you are a woman travelling by herself. (Take a look at our article "Complete Guide to Taxis in Paris".)
In a general way, we do not advise to women alone to wander in the streets late at night, or keep in the busiest zones.
Bad encounters can happen anywhere to anyone, hence the precaution-taking. Notwithstanding, here is a map that was published in 2015 by the Observatoire national de la délinquance et des réponses pénales (National Observatory of Crimes and Punitive Responses) which indicates the physical violence rate per neighbourhood: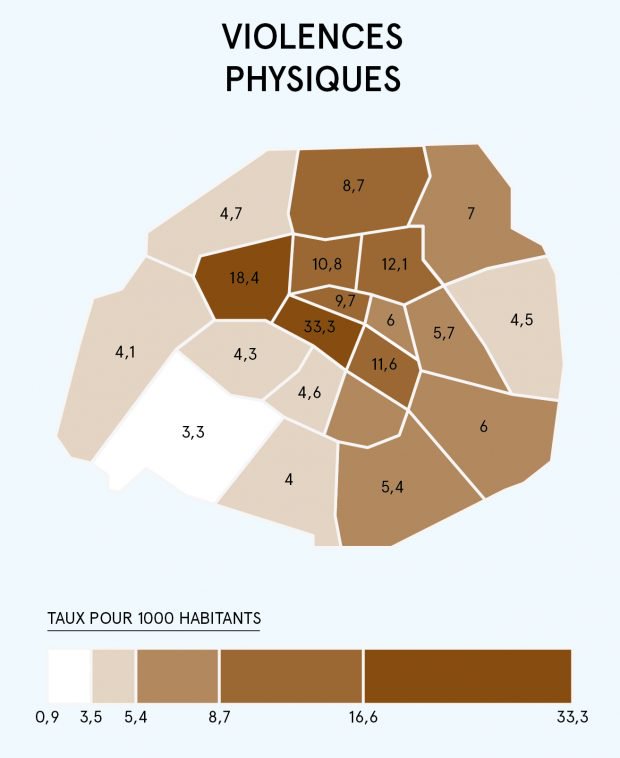 According to the Crimes et délits commis dans les communes du Grand Paris en 2015 report (Crimes and Infractions Perpetrated in the Municipalities of Grand Paris in 2015), the 1st, 2nd, and 8th districts would be the most "dangerous" ones.
What You Cannot Miss
Any of the great Paris museums are obviously a safe bet (the Louvre, Orsay, the Orangerie, the Centre Pompidou, the Petit Palais, and so many others!). There is no need to be accompanied by someone to appreciate the master pieces you will find there. If you like to take your time to admire them, going to the museum alone can even be an advantage (of course, if you rather like to comment on the works with your friends, try something else. But just try and you will see that solitude can be good sometimes!) At times, the quietness and serenity reigning over some museums can favour a certain form of introspection or a reflection over the link that binds each one of us to works of art, and thus, isolation can be enjoyable for art lovers.
For more information about the best museums in Paris, check out our article "6 Must-See Famous Museums in Paris Absolutely Not to Miss".
The City of Paris organises one-time events everywhere and all-year-long; go and meet the city and its inhabitants! If you read French, do not hesitate to have a look at the Pariscope (an online newspaper registering all the cultural activities in Paris).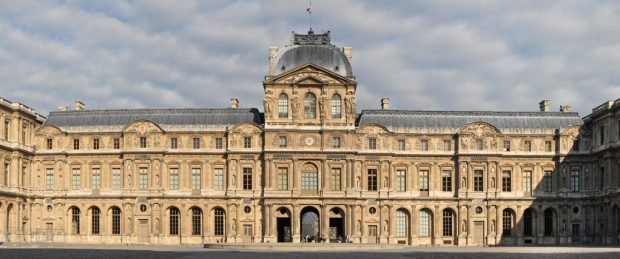 Breathing in Paris
If you are disturbed by the noisy crowds of Paris, you can take shelter in one of the many Parisian parks (Montsouris Park, Luxembourg Garden, etc.). They will suit those of you wishing to stroll in the fresh air after visiting a museum or picnicking surrounded by plants and trees. The banks of the River Seine are also perfect for this.
If the atmosphere of the city oppresses you too much, run away from the polluted Paris air for a few hours without going too far away from the capital. You can access many re-energizing hikes and trails via the different RERs and the transilien (suburban railway services); Meudon's pond via the RER C or the Chevreuse Valley via the RER B for instance.
For more information about the different trails, you can read our article "7 Great Hiking Trails Less Than 1.5 Hour From Paris to Escape the City".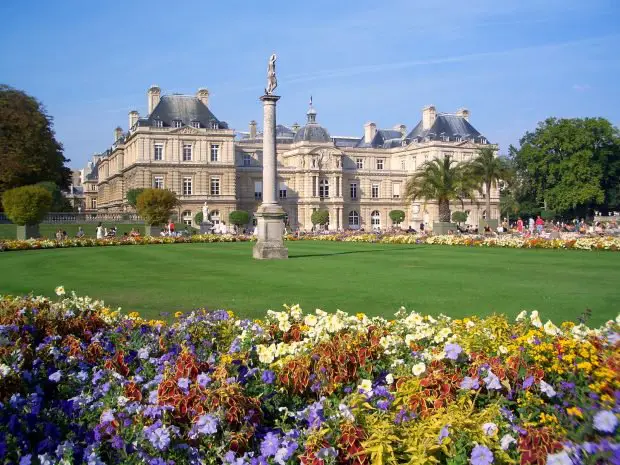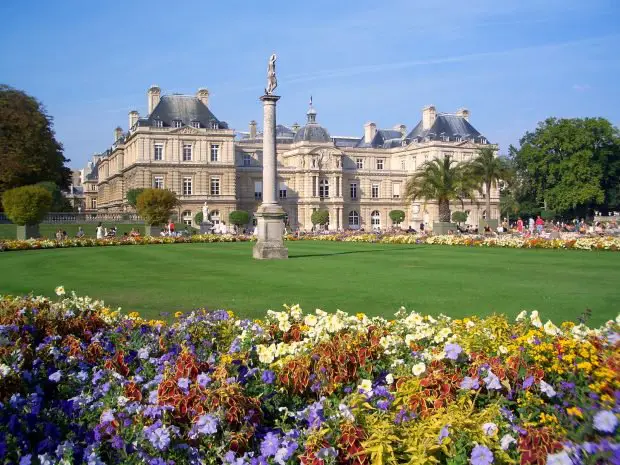 For Literature Lovers
The legendary literary Paris so loved by the greatest French writers has not completely gone. You can even walk in the footsteps of literary heroes thanks to the interactive map (in French) that was edited by the online library Feedbox. Click on the different points of the map and discover the extract associated with the place. You can even download the whole novel if you wish to do so. Those of you who do not speak French or who are more interested in the history of literature than in literature itself will not be outdone – you can visit Victor Hugo's or Honoré de Balzac's house, or the Romantic Life Museum where many artists and writers like George Sand, Eugène Delacroix, Frédéric Chopin, and Charles Dickens came by.
Parisian Parties
Coming to Paris also means enjoying the famous Parisian parties! But getting the most out of your night can be difficult if you are completely alone. No need to panic, party lovers, we have the solution for you; and that is the app Meetup which connects the users to one another in order for them to meet and go have a drink, listen to a concert, party, etc. It will help you meet real Parisians and make new friends to never ever have to come back alone in Paris.
You can download the app here : Apple App Store / Google Play Store
You can also try to sneak in a party and meet people there. All the information you need is on the Paris official website of the Convention and Visitors Bureau.
You can meet people through many other websites and applications like Excusemyparty or Couchsurfing (cf. § "Where To Sleep?").
Travelling alone with company
Travelling by yourself can be re-energizing and enables you to finally be with yourself, but solitude can also sometimes be oppressive. Even if Paris is the most populated city of France (2 million inhabitants), you can quickly feel very lonely. If you are leaving alone but do not want to spend your time by yourself, you can meet travel buddies on the Internet (for example on the Lonely Planet website, on Trip Giraffe or travel companion exchange). On these websites, you can either post your trip and wait for people to join you, or directly join an existing trip.
What to see?
If travelling alone does not scare, but you would accept having some company all the same, the Greeters are here for you. The Greeters are volunteers who make passionate guided tours of their city for tourists. Each Greeter defines its own tour according to their preferences, habits, etc. Your Greeter will probably show you some unusual or hidden places, less touristic ones, … and that is for the best!
What is better than to visit París with a real Parisian?
Where To Sleep?
You are not into going back alone to the hotel at night? You can stay perfecty well with a local! You can visit several websites such as Be My Nest. Some will offer you dinner and/or breakfast and some won't. Most hosts will ask for a financial compensation. If you do not have enough resources, the best solution would be to have a look at the renowned website Couchsurfing: locals will kindly offer you their couch for one night or more!

I aim to share my tips and recommendations for the beautiful country of France. My goal is to help you plan your next adventure, whether it's a weekend getaway or a once-in-a-lifetime trip. From finding the best hotels and restaurants, to discovering unique activities and sights, I've got you covered!