During a trip to France, it is often possible to use the Wi-Fi connection of the hotel you're staying at. Additionally, some public places such as train stations and cafés now offer a free Wi-Fi connection. But since it is hard to predict what you might need at any specific moment of your trip and it can be hard to get access to the internet at any specific time, here are some useful tips to get a SIM card and some telephone credit for the duration of your visit.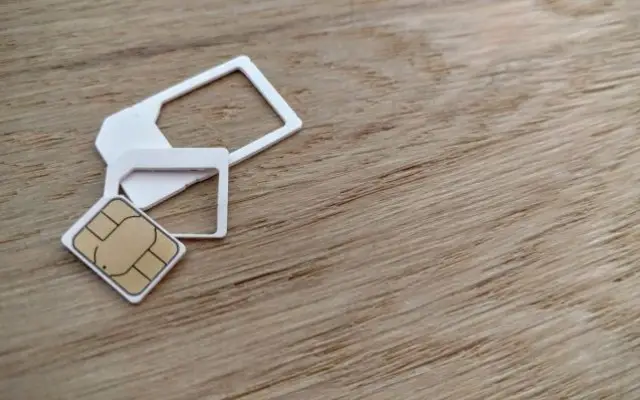 Important note: Since June 15th, 2017, mobile roaming fees have been canceled in Europe. So, if you live in the European Union, you will now be able to use your data without any additional costs during your trip to France (or any other country of the EU). Be careful though, this law is only valid in the European Union and is not applicable elsewhere such as America, Africa, and Asia, or even countries like Turkey or Switzerland (which are situated in Europe but are not part of the European Union). Also, remember to be mindful of your data consumption: your data limit might be reduced while you're abroad. For example, if you have a bundle with 20GB of internet data, you might only be able to use 5GB of data abroad and will be overcharged if you exceed the limit. This law is also applicable to prepaid SIM cards (the conditions will have to be discussed with your telephone operator).
Another element to take into account: the network coverage. Currently, depending on where you are in France, some operators might offer better coverage than their competitors, be it for standard data (voice and text) or for internet data. We will further explain this at the end of the article.
For European citizens, it is therefore not necessary to buy a French SIM card before traveling to France, but be very careful about the terms and conditions of your operator to avoid being caught off-guard.
For others, here are the different offers by French phone companies, created especially for tourists:
1) Travelwifi SIM card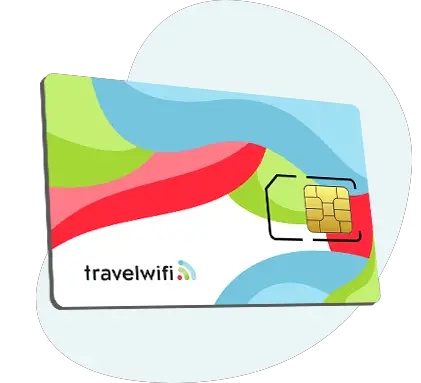 The startup company Travelwifi has set up its own prepaid SIM card. It works in more than 200 countries and offers 20GB of data (valid throughout Europe). It also includes 120 minutes of calls and 1000 texts, all for 39.95€ valid for 14 days.
This SIM card can be collected free of charge at Paris airports (CDG and Orly), at Travelwifi offices in Paris in the 3rd arrondissement or be delivered directly to your hotel (for 1€) or to your home in Europe and Asia (a 10€ delivery which must be ordered 7 to 10 days before the trip).
Enjoy a 5% exclusive discount with the code France_Hotel_Guide
2) Orange Holiday

Orange, one of the main French phone operators, offers a prepaid SIM card conceived for tourists. Under the name of "Orange Holiday", Orange offers a SIM card for 39.99€, with a French phone number, unlimited calls and texts in Europe, 2 hours of calls and 1000 texts from Europe to the world as well as 20 GB of data in Europe. The initial plan is valid for 14 days starting from the first call or text.
You want more? You just need to buy a top-up card to get 1 hour of calls, 500 texts and 5 GB (also for 14 days) for 20€. But it is also possible to top-up with any Orange prepaid card, which you can find in supermarkets and tobacco shops. They are easy to find since they are used by locals as well.
Are you going on a trip around Europe? Good news, this bundle can be used in all the countries of the European Union.
You can get the Orange Holiday card and the top-ups in Orange stores (in French), tobacco shops, gas stations, and supermarkets. You will also find them in Relay shops in airports. The booklet that comes with it will be able to guide you since it comes in five different languages.
3) PASS SFR La Carte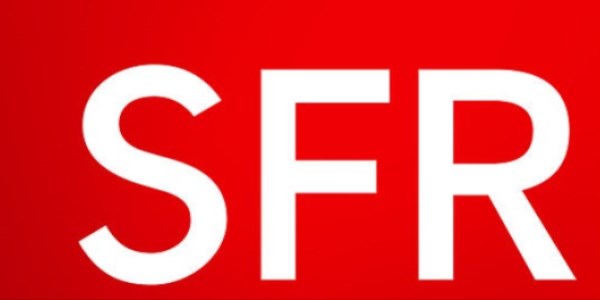 SFR, another leader of the phone operators market, has 3 offers for a French SIM card with the "PASS SFR La Carte" (in French):
The "Pass Internet Mobile", which is valid for 8 days, with 10 GB of data for 10€.
The "Pass Illimité", which is valid for 30 days, with unlimited calls and texts in France and 25 GB for 20€.
The "Pass International", which is valid for 30 days, with 90 minutes of international calls and 15 GB for 30€.
The SIM card must be ordered online (in French) or bought in an SFR store (in French). The top-ups can be ordered online or bought in SFR shops, in supermarkets or in Relay shops (including in airports).
4) LeFrenchMobile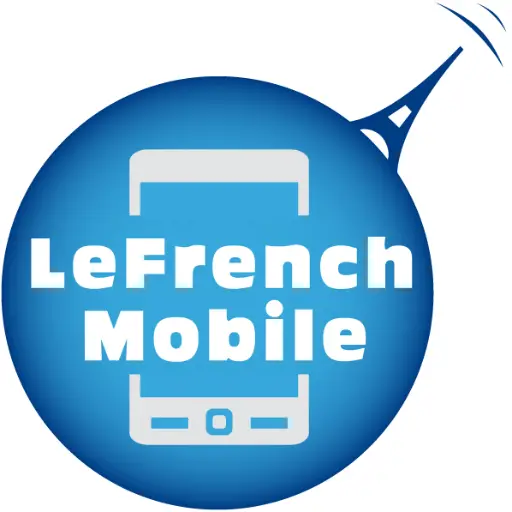 This website offers to purchase prepaid SIM cards to use in France.
With a delivery of 7 to 10 days in Europe and 12 to 15 days for the rest of the world, you will have a SIM card as soon as you arrive in France. You can do everything online: choose the offer you're most interested in and place your order right away. For the tourists in French territory, this company offers a SIM card and a bundle for 25€, which allows you to make calls, send texts in France and use the internet. The advantage is that you can use the 25€ however you want to. Moreover, this bundle has an unlimited validity!
If you only need the internet data, another offer based on the same principle can be better for you: a SIM card with a bundle of 2GB of data, for 16.94€ only. Please note that for this option, the validity is only 90 days.
No more credit? Don't worry, you just need to connect to the LeFrenchMobile website (at a place that offers Wi-Fi) to top-up your SIM card with the amount you wish (2GB will cost you 12€ and 5GB'll cost you 25€). You should note that this website also offers deals that work all throughout of Europe.
5) Lyca Mobile


The website Lyca Mobile also offers prepaid SIM cards, for you to spend your holidays without the stress of not being able to use your phone. You can order directly on the website and can receive your SIM card at home in just a few days. Among many different bundles, we selected these two just for you:
The Pass National M offers unlimited calls and texts in France, as well as 12GB of Internet for only 14.99€. The bundle is valid for 30 days. The bundle also includes 120 minutes of international calls to 50 countries.
The World Pass, for 29.99€, offers a bundle with 3000 calls toward international countries (countries of Europe, North America, and China), unlimited calls and texts in France and 30GB of Internet. This bundle is also valid for 30 days.
Now, you only need to choose according to your budget and your tastes!
To help you choose, we gathered all the different characteristics in a chart below.
Bonus: the 4G Travelwifi Hotspot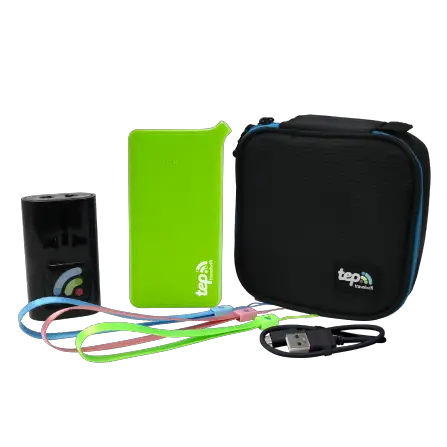 This one is a little bit different since it is not a SIM card. Travelwifi allows you to rent a 4G WIFI hotspot which they call a Teppy and which can be used all over the world, including in France.
The Teppy is ideal for a family or a group of friends traveling together because the connection is in 4G (calls and texts are not included but the Tep+ voice call application is free and included – apps such as Messenger or WhatsApp also work) and can be shared to up to 5 devices (tablets, smartphones, computers).
You can pick up the device at the startup's offices in Paris' 3rd arrondissement, at a Tourist Information Point, at CDG and Orly airports or even have it delivered directly to your home.
After picking up your Teppy, you will receive a pouch containing the device, a user manual, a charger, and a return envelope.
Rental price for the Teppy hotspot in France:
Adventure: 5.95 € / day (1GB / day).
Escape: 6.95 € / day (5GB / day + travel adapter).
Voyage:  7.95 € / day (unlimited internet + travel adapter).
You can also buy the Teppy hotspot for 135 €.
Comparative of the different French SIM cards for tourists:
Price
Calls
Texts
Internet
Validity
Where to buy it
Travelwifi SIM card
36.95€
2h
1000
20GB
14 days
Shop or online
Orange Holiday
39.99€
unlimited
unlimited
20GB
14 days
Shop or online
PASS SFR La Carte
10€

 

20€

 

30€

none

 

unlimited

 

90 internationally

none

 

unlimited

 

 

10GB

 

25GB

 

15GB

8 days

 

30 days

 

30 days

Shop or online
LeFrenchMobile
25€

 

16.94€

To share

 

None

To share

 

None

To share

 

2GB

Unlimited

 

90 days

Online

 

Online

Lyca Mobile
14.99€

 

 

29.99€

Unlimited in France + 120 international minutes to 50 countries

 

3000 international calls + unlimited in France

Unlimited in France

 

Unlimited in France

12GB

 

 

30GB

30 days

 

 

30 days

Online

 

 

Online

Travelwifi Hotspot

from 5.95€/day
via the App Tep+ (WhatsApp or Messenger can also be used)
None
1GB/day to unlimited
customizable
Online or Shop
The mobile phone coverage :
Depending on where you are in France, the strength of your mobile signal can vary, going from full coverage for some operators to "white areas" for others. It is therefore important to get information beforehand on the quality of the network coverage in the region where you will be staying, so you don't get caught off-guard in case of emergency, and thus choose the operator that has the best network.
To make sure you have a satisfying network once you are in France, you can refer to this general map for the main operators' network coverage in France :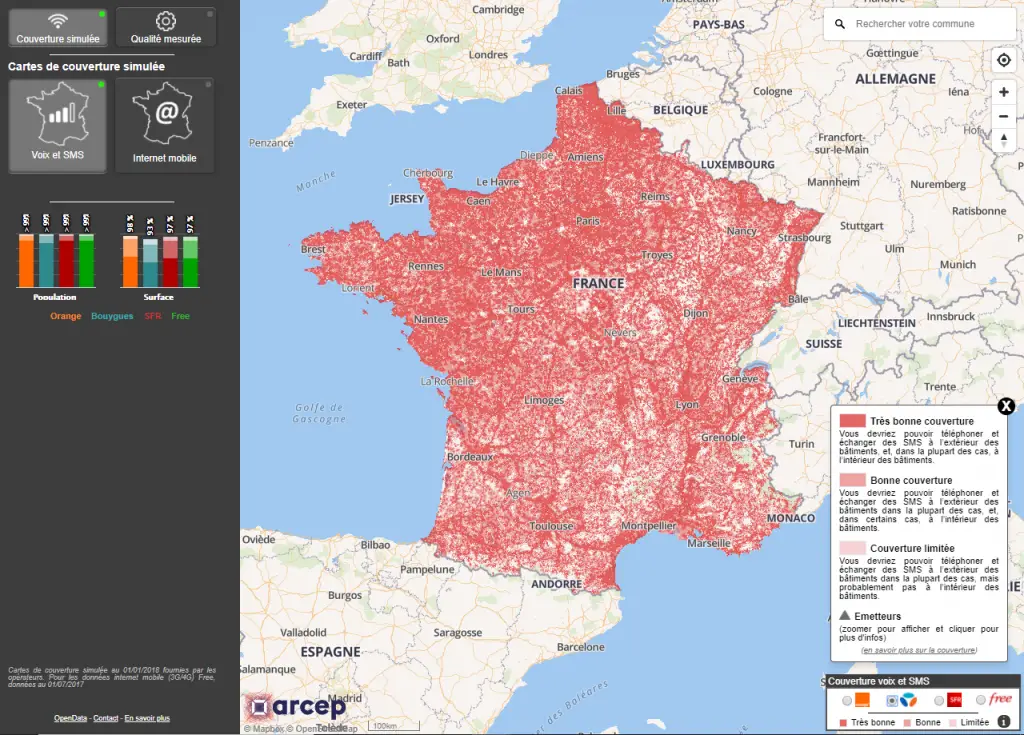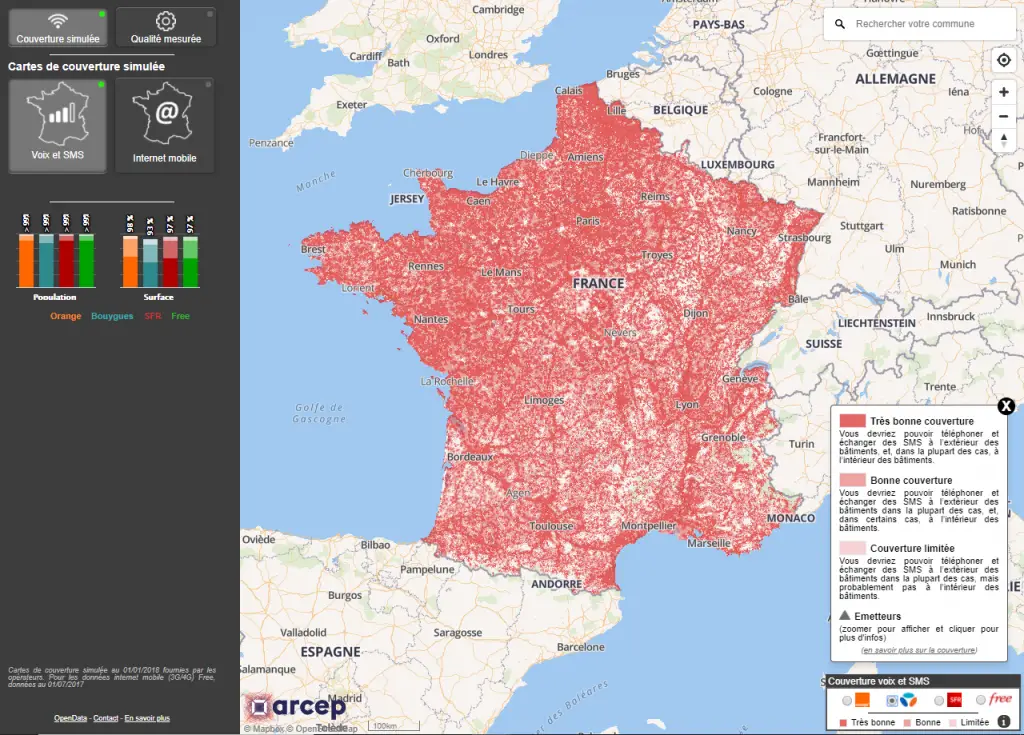 Moreover, this is an interactive map; go to the dedicated ARCEP website, and you will be able to check how the coverage is like in each region and city, depending on the different French operators. Just use the search bar in the right top corner, above the map.
When taking the example of Paris, here are the results:
For Orange: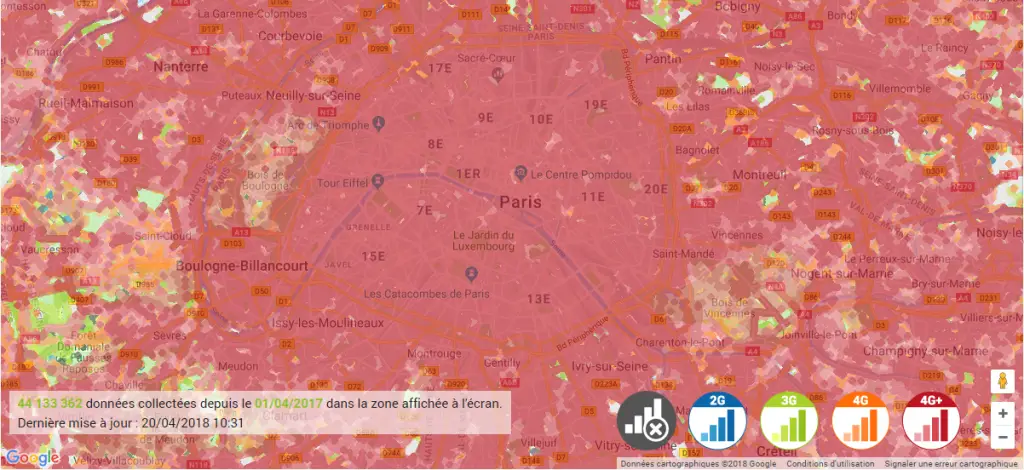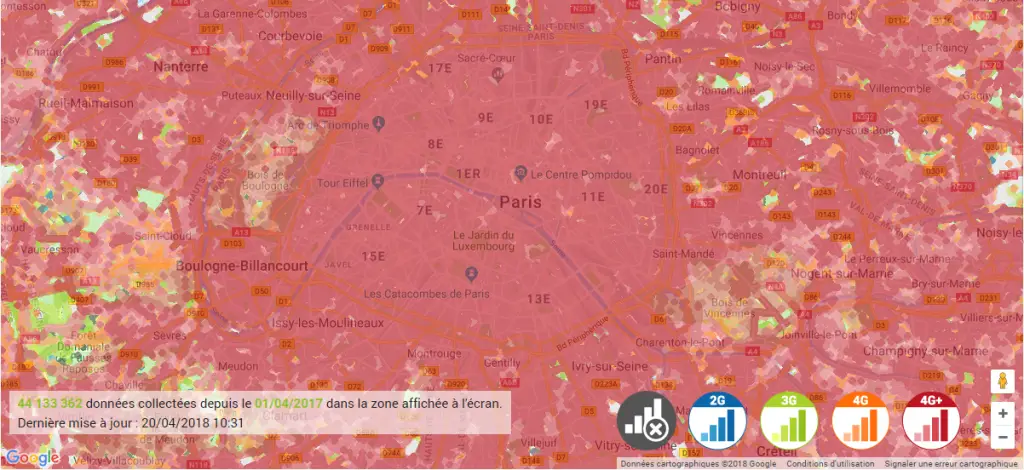 For SFR: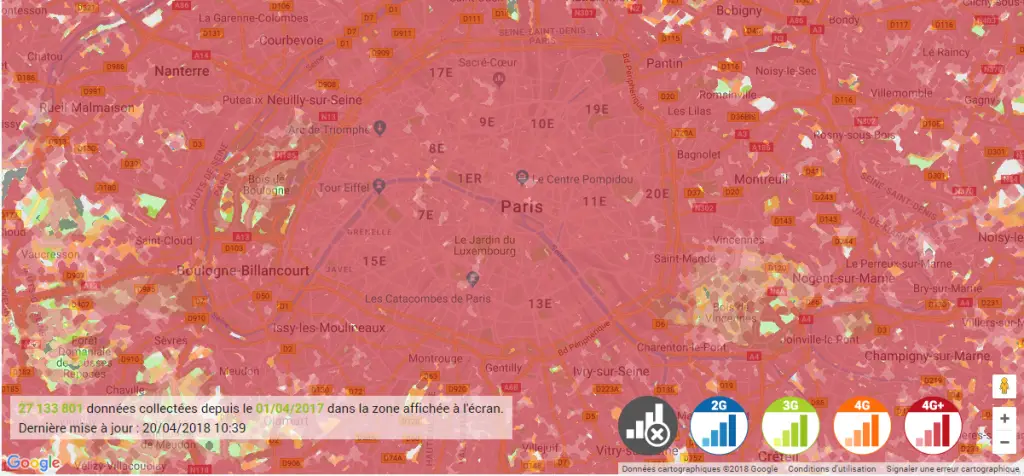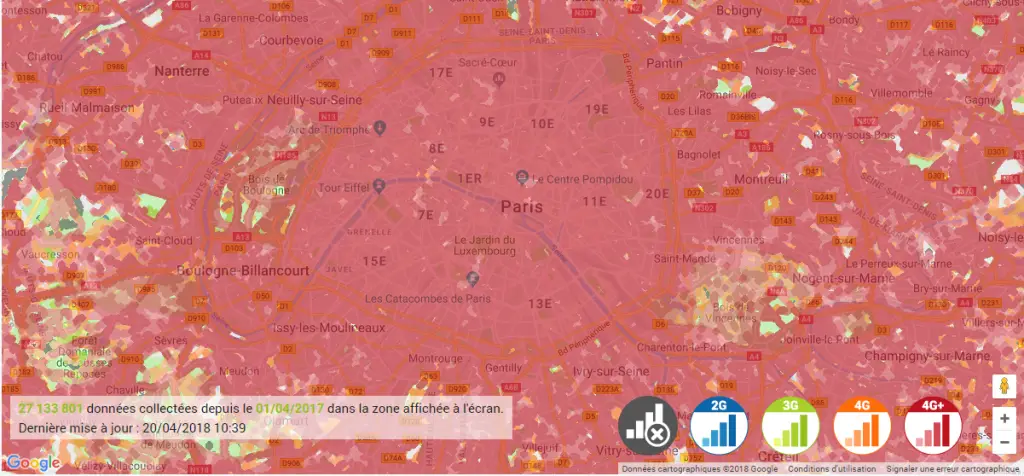 For Bouygues: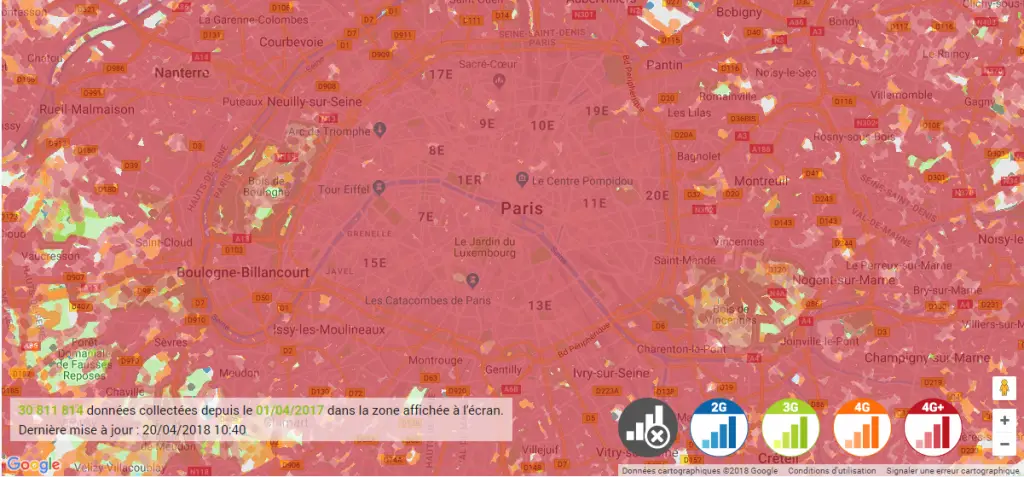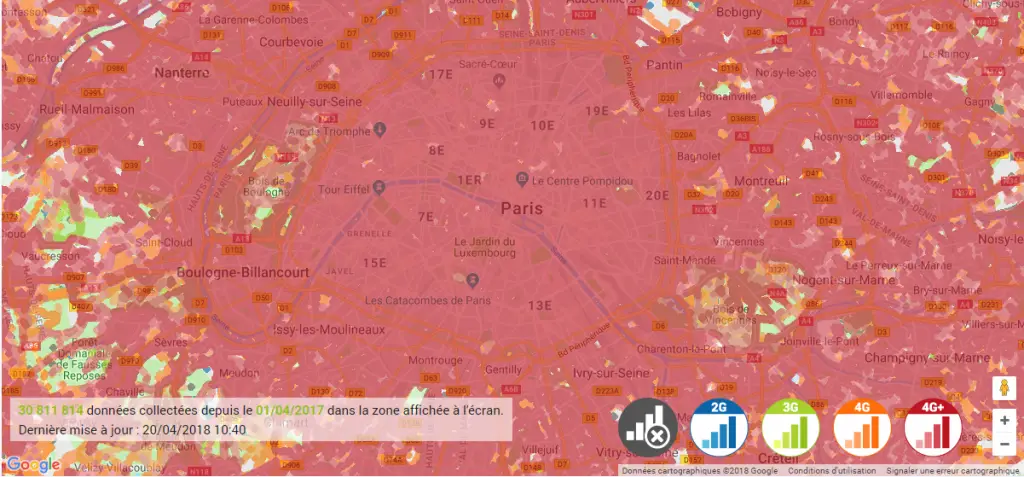 Mona knows Paris like the back of her hand. Its bars, its restaurants and above all, its hotels, whether you want to sleep, eat, party or just take a walk in Paris, Mona knows them (nearly) all. Follow her lead, she will gladly give you all her good tips!