The Seine is one of the most beautiful rivers in France. It surrounds the capital and is crossed every day by billions of locals and tourists. Going on a cruise on the river is a wonderful occasion to enjoy a gorgeous view of the city and its monuments; something you don't want to miss during your visit of Paris. "Bateaux-mouches" are the first name to come to mind, but there is also another alternative: "batobus". Which one is better? Here is our comparison.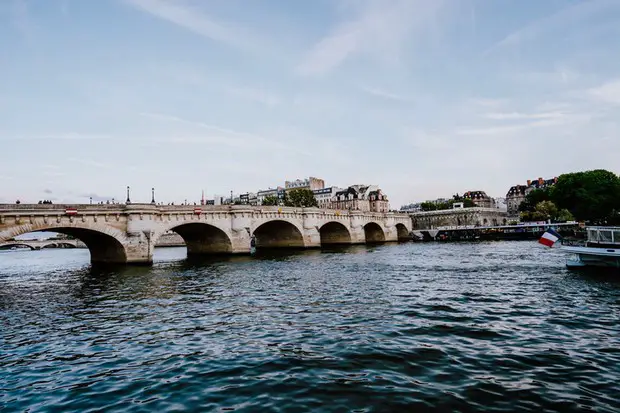 Bateaux-mouches
Paris' bateaux-mouches are loved by tourists wanting to discover the capital under a new light. Sitting on the deck or behind the solarium, enjoying a stunning view on the City of Light.
These big liners depart by day and by night, several times per day.
You can pick a simple cruise or a cruise accompanied with a diner or even a show.
Bateaux Mouches is the leading company, but there are other available ones such as the Vedettes du Pont Neuf or the Bateaux Parisiens.
Tour: Concorde – Musée du Louvre – Hôtel de Ville – Conciergerie – Ile de la Cité – Notre-Dame – Ile Saint-Louis – Pont Neuf – Musée d'Orsay – Invalides – Tower Eiffel – Palais Chaillot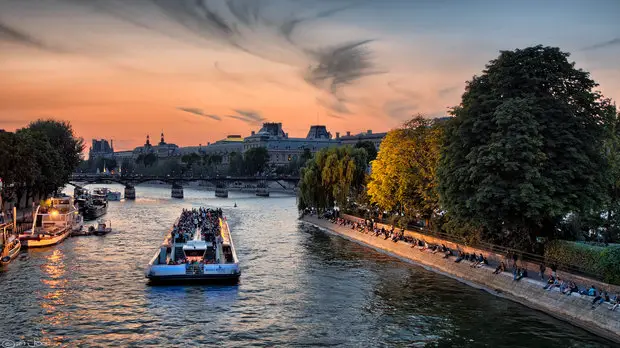 Pros:
The possibility to enjoy a cruise with commentaries, the perfect way to discover more about Paris and its monuments. The guide, present onboard, will be happy to answer all your questions.
The very affordable price. 13.50€ for adults and 6€ for children, with the Bateaux Mouches company.
The guaranteed seat, on the deck or behind the solarium, which is perfect for elderly people or young children.
The possibility to privatize the boat for a party or a gala.
The boats are usually bigger and more comfortable than batobus. You will be able to go from one side of the boat to the other during the entire cruise.
Some cruises come with dinners or shows. The Bateaux Mouches company offers, among other things, a cruise in collaboration with the Crazy Horse, the famous Parisian cabaret.
Unlike batobus, it will be possible, with bateaux-mouches, to enjoy a cruise by day or by night to see the two sides of Paris.
Cons:
Even if simple cruises are rather affordable, diner-cruises or even night cruises can be rather expensive depending on the company, going from 60 to 100 euros.
No stop during the cruise. If you want to visit a monument, you will have to wait for the end of the cruise.
Bateaux-mouches cruises are rather short with a cruise lasting from one to two hours only.
Batobus
Batobus are a lot less popular among tourists, but they are particularly appreciated by the Parisians. These boats are closer to a means of transportation than to an actual boat cruise.
But, unlike the metro or buses, with batobus, you will be able to enjoy peace and a beautiful view on the capital.
Batobus' tours are composed of nine stops which will allow you to get close to famous monuments such as Notre-Dame, the Louvre, the Tower Eiffel and even more.
Tour: Jardin des Plantes – Hôtel de Ville – Louvre – Place de la Concorde – Tower Eiffel – Invalides – Musée d'Orsay – Saint-Germain-des-Prés – Notre-Dame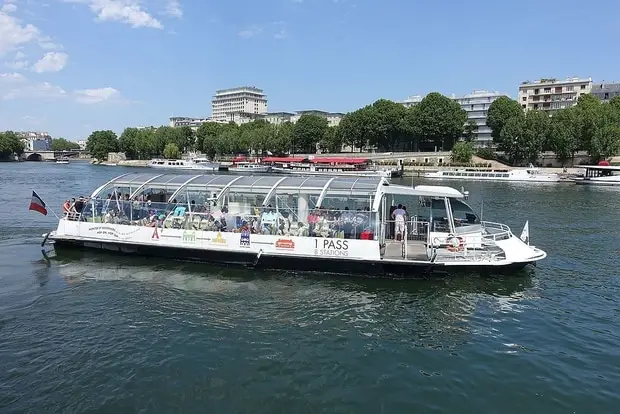 Pros:
The different passes going from 24h to a year. The 24h pass costs 17 euros for adults, 8 euros for children and is free for children below three years old. With this pass, you will be able to get on and get off until it closes at night.
Batobus are a nice alternative to traditional means of transportation. They are generally less crowded than buses and trains and offer a more beautiful view on the city.
For Parisians, annual passes costs 60 euros for adults and 38 euros for children and ensure maximum profitability.
The shuttles are more regular than bateaux-mouches, with a batobus departing every half-hour. Moreover cruises start every day all along the year.
Of course, the main "pro" of batobus is the various stops made near the most popular Parisian monuments such as the Eiffel Tower, the Louvre and the Jardin des Plantes.
Cons:
Despite the fact that shuttles circulate every day of the year, they stop at 9PM in Summer and stop at 7PM the rest of the year which doesn't give you the chance to enjoy a cruise by night.
The big price of the 24h pass, compared to Bateaux Mouches cruises.
No commentaries or guide present on board.
Even if they are less crowded than the metro and buses, the shuttles can get full at certain hours and force you to wait for the next one.
The rather long wait of half-an-hour and limited number of stops which makes it difficult to completely replace an other means of transportation by the batobus.
Conclusion
If you are looking for a calm and peaceful cruise on the Seine or want to experience something new with dinner-cruises and show-cruises, pick bateaux-mouches.
However, if you want to enjoy a more independent visit of Paris, a little like hop-on, hop-off buses, or just have access to a way to get closer to famous monuments, batobus is what you need.

I aim to share my tips and recommendations for the beautiful country of France. My goal is to help you plan your next adventure, whether it's a weekend getaway or a once-in-a-lifetime trip. From finding the best hotels and restaurants, to discovering unique activities and sights, I've got you covered!