Are you planning to spend a week in Paris and starting to think about your budget? In this article, I'll present several types of budgets for each aspect of your stay: accommodation, food, activities, and transportation.
I'll go through them all to help you see things more clearly.
Note: The prices in the chart and in this article are simply meant to give a rough estimate.
In short:
For a limited budget, the total cost of a one-week stay in Paris is about €645, or €92/day. For a medium budget, the total cost is €1,182 or €168/day, and for a luxury budget, the total cost for one week is €3,366 or €480/day.
A Week in Paris: Estimated Total Cost for 1 Person
This chart shows estimated prices per person (but traveling by two) staying in Paris for 7 days and 6 nights, eating 3 meals per day.
Luxury budget
Medium budget
Limited budget
Accommodation
€350 / night
€120 / night
€50 / night
Food (3 meals per day)
€40 / meal
€25 / meal
€10 / meal
Activities

2 activities per day: €15 / entry
1 day at Disneyland: €107

1 activity per day: €15 / entry
1 day at Disneyland: €62

1 activity per day: €15 / entry
Many free activities

Transportation

Paris Visite travel pass 5 days (zone 1 to 5): €74.30
Taxi: €35 (2 rides)

Paris Visite travel pass 5 days (zone 1 à 3): €43.30

2 books of 10 tickets: €14.90

Total for 1 week
€3,366
€1,182
€645
Total per day
€480 / day
€168 / day
€92 / day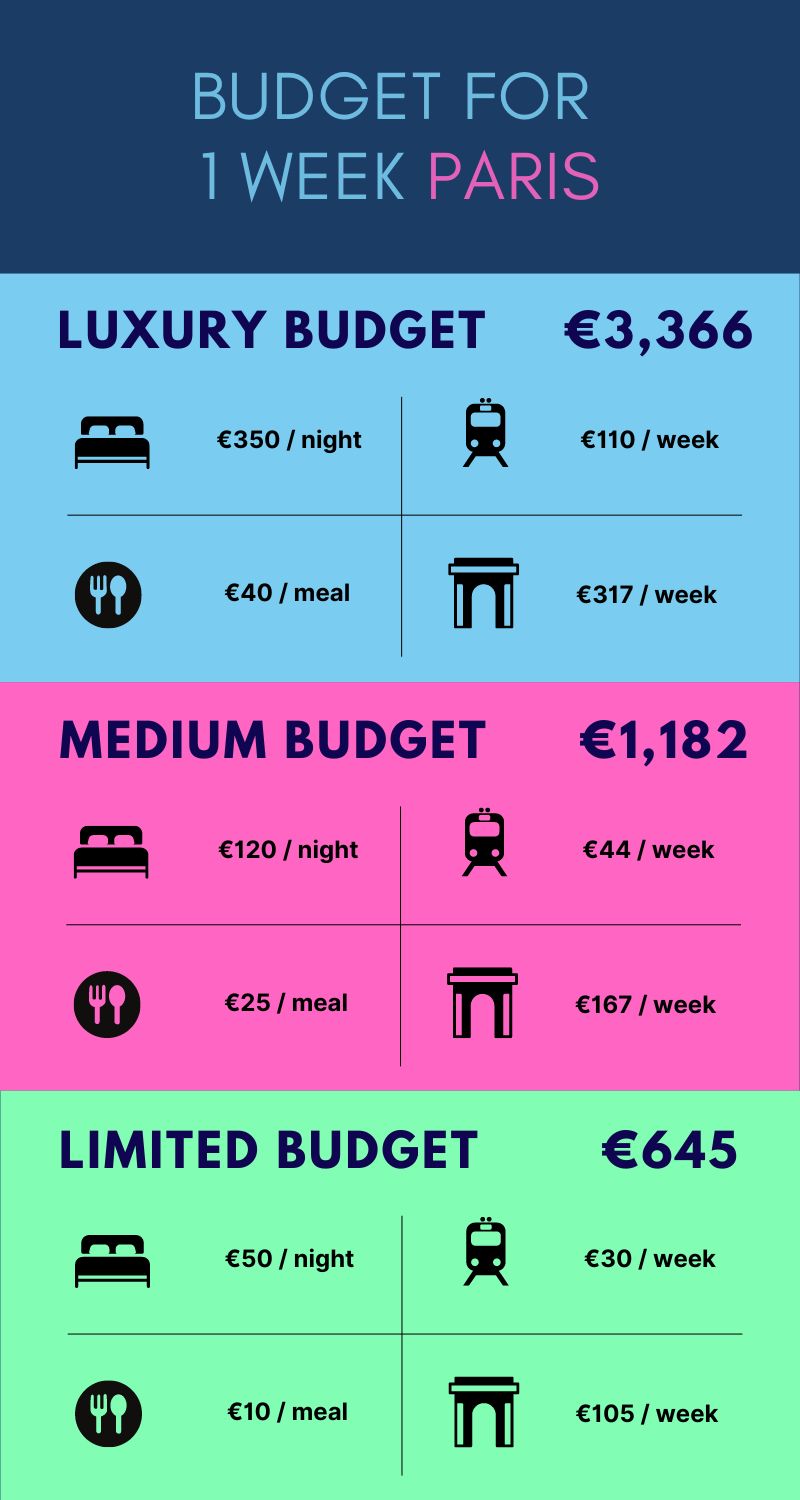 Now, let's get into details.
Accommodation
Hotels
Finding a hotel in Paris is not difficult because there are so many of them. However, finding one that matches your budget and expectations is much more complicated.
Here is a chart of average prices for one night in a Parisian hotel:
| | | |
| --- | --- | --- |
| | High season | Low season |
| Hostel | €60 / night | €40 / night |
| 1-star hotel | €89 / night | €74 / night |
| 2-star hotel | €114 / night | €92 / night |
| 3-star hotel | €144 / night | €117 / night |
| 4-star hotel | €220 / night | €183 / night |
| 5-star hotel | €629 / night | €530 / night |
Note: this is an average of the prices of all hotels in high and low season. Rates are constantly changing, and you may find more or less expensive offers than the average offers calculated in this chart.
If you want to save money, here is a link to help you choose a simple and cheap hotel in Paris.
Here are some hotels that we recommend:
Check out this article to help you choose the area of your hotel in Paris.
Airbnb
Airbnb also offers many accommodation options for different budgets.
Here are some Airbnbs that we recommend:
Airbnb's are often apartment-style accommodations, so they tend to cost a bit more than a hotel room of the same standard.
Food
Breakfast
💡 My money-saving tip: a pastry at a bakery will always cost you less than breakfast at a hotel, so if it's not included, opt for a local bakery instead.
| | |
| --- | --- |
| | Price |
| Bakery | from €1 to €2 for a pastry |
| Café | from €3 to €8 |
| Hotel | from €10 to €20 |
The price of a breakfast in a hotel in Paris is about €15. The price drops to about €4 if you take it in town.
Lunch/Dinner
💡 My money-saving tip: get as far away from touristy places as possible. Some restaurants don't hesitate to offer high-priced menus with rather average quality.
Paris is full of options for eating. From fast food, Parisian bistros, or chic and gastronomic restaurants, there are endless possibilities.
Keep in mind that:
In general, a menu consists of an appetizer, a main course, and a dessert, but this can vary by restaurant.
Prices for a dinner menu may be slightly higher than for lunch.
Price
Fast-food
Menu from €9 to €12
Bistros
From €12 to €15  for a main course

€15 to €35  for a menu

Gastronomic restaurants
No less than €35, often around €50 / person
Snack
No more than €8 in a bakery or in a café
Activities
You need a budget for visiting the City of Light.
💡 My money-saving tip:
A lot of sightseeing in Paris is free, you just have to know where to look. Many museums offer significantly reduced rates, or even free entry, if you are under 25 or a citizen of the European Union.
In addition, many small neighborhoods and parks are particularly nice to discover, and completely free!
For more information, check out our article on free activities to do in Paris.
Here are some examples of activities and visits:
The price of a tourist attraction in Paris varies depending on the type of place. A visit to a museum in Paris costs about €15, but many other activities are free. 
If you want to get away from Paris for a day, you can always visit the Château de Versailles or take a day trip to Disneyland Paris. I recommend this article for ideas of one-day trips from Paris.
Transportation
To be able to get where you want to go during your stay, you'll also want to think about preparing a budget for transportation.
💡 My money-saving tip: distances in Paris are much smaller than you might think. Sometimes it's only a ten minute walk between two metro stations, especially in downtown Paris.
So, to save on expensive subway rides, don't hesitate to walk! In one week, you'll have time to discover the little corners of Paris that only pedestrians can see.
Here is a chart of transportation prices in Paris:
Offer
Price
T+ Ticket
Single ticket (some connections possible)

Metro, RER (zone 1, Paris intra-muros), bus in Ile-de-France

€1.90 / ticket

€14.90  for a book of 10 tickets

Paris Visite travel pass
5 day package, unlimited travel from zone 1 to 3
€43.30
Taxi
X
from €15 to €50 (according to distance and time)
Vélib'
Self-service bicycles available at Vélib' stations throughout Paris
Day ticket €5 (first 30 minutes free, then pay per half hour)
My advice
Bring extra money in case you want to go shopping or go out at night.
Use a credit card instead of cash to minimize the risk of theft. Most places accept credit cards, even for small amounts.
If you are renting an apartment hotel or an Airbnb, plan cheap meals by buying food at the supermarket.
Avoid eating and drinking in touristy areas, such as the Champs Elysées where prices are often higher.

I aim to share my tips and recommendations for the beautiful country of France. My goal is to help you plan your next adventure, whether it's a weekend getaway or a once-in-a-lifetime trip. From finding the best hotels and restaurants, to discovering unique activities and sights, I've got you covered!