Have you ever dreamed of visiting Paris, city of the fanciest restaurants, wonderful monuments, and enchanting nightlights? If you don't know much about Paris's little secrets, here are a few highlights about the different areas and neighborhoods of the French capital so you'll know which one will fit you best.

Latin Quarter: The Historic Charm of the Student District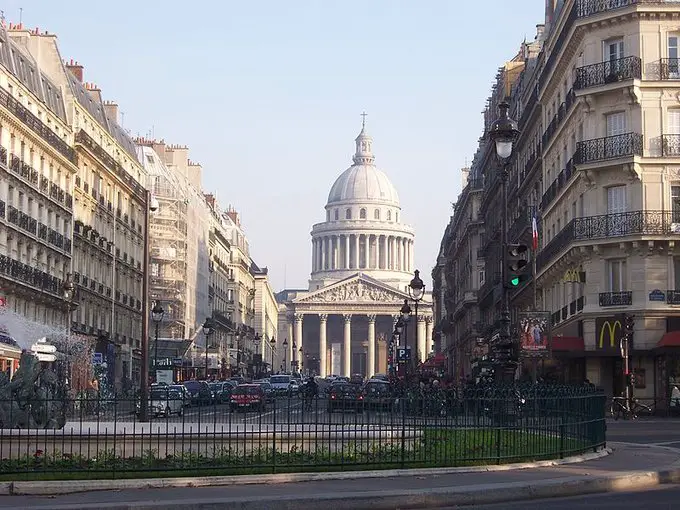 On the left bank, right in front of Notre Dame, is located the Latin Quarter that shines so brightly with beauty, history and culture.
This is a student district where it feels good to live, and where Parisian tension doesn't seem to be around, as the streets and many monuments are filled with calm and grace.
Proof of a rich past can be seen out in the open, like the Lutetia Arena or the ancient Lutetian wall by the rue Lacépède.
La Sorbonne, iconic university of France created in the Middle Age, and business schools welcome students and teachers from around the globe who contribute to create a warm and cheerful atmosphere in the area.
Libraries, small shops and rather inexpensive restaurants are to be found easily, so you will be able to go out and get something to eat for a reasonable price.
The rue Mouffetard is a pretty, paved street that links les Gobelins Quarter to the Panthéon, and hosts a really nice street market, where it feels good to wander on Sunday mornings before visiting Notre Dame, the Luxembourg Garden, the Jardin des Plantes, or the Arab World Institute.
If you're looking for something a bit more exciting, you should go around the Boulevard Saint Michel – a place where we like to search and find old books, films, and vinyls in the numerous bookstores and culture spaces. Movie enthusiasts have particularly come to the right place, because the Latin Quarter is home to a lot of indie movie theaters specializing in retrospective screenings – like anywhere else in the world.
Perfect for rainy days!
Finally, the Latin Quarter is the perfect base in Paris ; whether it's for a family trip, with friends, or for a romantic getaway, anyone will benefit from staying in this district and enjoy a wonderful setting on a daily basis.
Key Strengths:
A beautiful setting with monuments everywhere in a warm and soft atmosphere, calm but festive when the night comes.
This is the ideal location for a visit in Paris.
There are a lot of hotels in the area, and restaurants and bars are cool and not outrageously expensive like in the Marais district.
Weaknesses:
Very few weaknesses, if it was not for the great numbers of tourists throughout summer, and the continual hubbub of the Boulevard Saint Michel and Place Saint Michel.
Check out our 115 hotels in the Latin Quarter
Here are a list of our 15 best hotels in the Latin Quarter
Saint Germain-des-Prés: The Poetic and Chic Village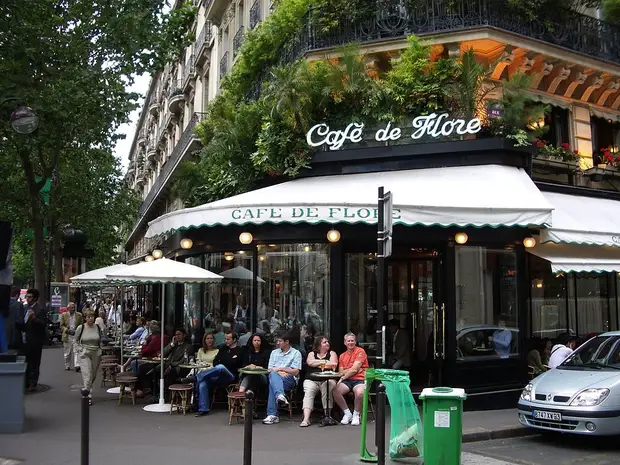 Right next to the Latin Quarter, Saint Germain-des-Prés is a very chic and vibrating neighborhood where it feels nice to roam the streets at night and enjoy tasty cocktails in fancy bars where the beautiful people like to meet up.
Jazz clubs are common and kept as a tradition for a long time in the area.
It would be a shame to miss that, as one can be most certain to spend a great evening, especially with good company! Saint Germain-des-Prés is strongly associated with the show-business environment, but it is nonetheless related to poetry and literature thanks to great authors from the past century, who liked writing while drinking absinthe in Saint Germain-des-Prés.
You should definitely go and grab a bite at the famous restaurant Les Deux Magots, or at the Café de Flore, where the waiters, dressed just like the "garçons de café" from the past century, will serve you in the tradition of the great houses.
On a shopping and fashion level, there might be no better place on earth. Along with the Marais district, this is the most trendy and fashionable district of Paris, where thrift shops and renowned fashion labels shops are just everywhere.
A good deal is always around in Saint Germain, so keep your eyes open… It's not a good idea to be scared of the crowd in this area, as the alleys are always fully packed with people, and at night we can hear the glasses of champagne clinking and bursts of laughter coming from those cosy cafés with subdued lights.
This area perfectly embodies the name "City of Lights", as the streets light up in a thousand fires when the daylight fades away at dawn, and as people celebrate life with good taste and "savoir vivre" in this village that's so typically parisian.
Key Strengths:
A chic and trendy atmosphere, with cutting-edge clothing shops and places filled with culture and history.
It feels like being in a village, both cute and charming, but electric and exciting at night.
Weaknesses:
The housing market is expensive, and so are the restaurants, bars and various shops.
Plus, some people might find the local population to be pretty arrogant, and could feel overwhelmed by the district's non-stop activity.
Check out our 115 hotels in Saint-Germain-des-Prés
Click to see our article for the 12 best hotels in Saint Germain-des-Prés
La Motte Picquet Grenelle / Passy: Top Quality Residential Area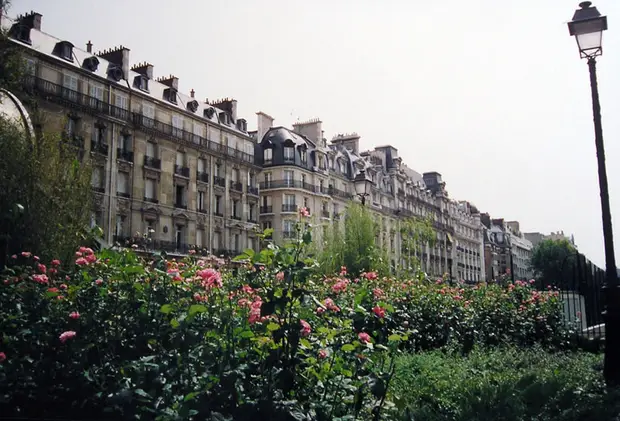 What would Paris be without the Iron Lady? If you ultimately associate Paris with the Eiffel Tower, you might as well find a place to stay near the monument so you can catch a daily view of it.
The Motte Picquet Grenelle area, for instance, would be a perfect location as it is close to the Tower, it is a merchant area – the rue du Commerce offers a street market and numerous food services – and it is a residential zone.
The quarters very close to the Eiffel Tower are extremely expensive and lack vitality, whereas the Motte Picquet Grenelle is economically accessible, offers convenience stores, and a lively neighborhood life in a pleasant setting.
The subway line number 6 that passes through this area between Motte Picquet, Cambronne, Dupleix, and Bir Hakeim is an overhead line that offers an exceptional panorama over the city of Paris and the Eiffel Tower. It's a nice view to enjoy every day when heading back to your hotel …
If you keep going further on that subway line, the Passy area will open its gates right after you cross the Seine.
This is a very posh and rich area that offers a stunning view of the Eiffel Tower.
If you're looking for calm and luxury, you have come to the right place, as it could be classified as a blue card in the board game Monopoly …
Far from the car horns of the downtown area, it feels like being in a rural bourgeois town, and the buildings' architecture made with carved stones is superb and flamboyant.
Key Strengths:
The Motte Picquet area is a merchant and residential one, only two feet away from the Eiffel Tower, so this is the perfect place to stay close to the monument without having your kidney sold for it.
The Passy quarter is far more calm and chic, and the view of the Eiffel Tower is breath-taking.
Weaknesses:
The Motte Picquet area is not the most charming one.
It has some advantages, but nothing like the Butte Montmartre, and the prices are high.
Passy is a calm place, perhaps way too calm, and you will never find a Deli opened at night. Cultural diversity is non-existent and the cost of housing is beyond belief.
Check out our 52 hotels in La Motte Picquet Grenelle / Passy
Opéra / Grands Boulevards / Bourse: The Financial and Restaurant District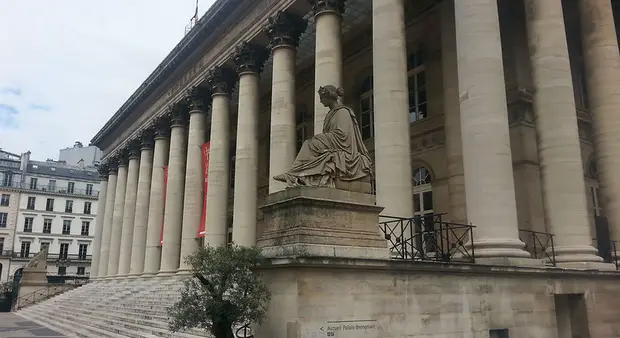 Here is a chic district, where Haussmannian architecture prevails with wide boulevards and buildings made of carved stones with beautiful ornaments. You should try and look up sometimes to give these buildings a good look.
You might be surprised by the fineness and richness of the sculptures and swirls.
This is an office area, where people work and have business lunches.
Chic restaurants are everywhere and they will know how to please your palate if you are prepared to pay the price.
For those on a tight budget who like exotic cuisine, the Opera area is also known as Little Tokyo, and sushi or ramen restaurants are found by the dozen in the rue Sainte Anne. Higuma (French link), for instance, is a very good restaurant with fair prices compared to the area.
Do not miss the chance to taste a top-class burger at the Camion qui fume (French link) near the Madeleine's Church.
This neighborhood offers some of the most luxurious stores of the French capital, as well as the finest delicatessen shops.
It is such a delight to wander in the covered galleries where the air is cooler in the summer.
In those galleries, works of art, old books and curiosities are on sale.
You might end up at the Musée Grévin if you keep roaming those streets.
It is a place of wonder, where famous people from the past and from today come alive right before your eyes in wonderful settings.
A lot of bars on the Grands Boulevards offer generous afterworks, where office clerks like to do some networking while cracking open a cold one.
And if you want to bring the party to the next level, the Bourse area is full of nightclubs, or private clubs, where unfortunately, it can be quite the challenge to get inside …
Key Strengths:
The Grands Boulevards, Bourse and Opera area have that speed and corporate atmosphere that some people might like if one's willing to live the great Parisian life.
If you don't need to worry about the money, there is no doubt you can have the time of your life around the streets of Opera.
Weaknesses:
Cost of living is expensive in this district, but you can easily look for street food addresses or Asian restaurants.
The streets are always crowded during the day and it can get quite tiring.
Check out our 217 hotels in Opéra / Grands Boulevards / Bourse quarter
Bastille: Mojitos and Pop Culture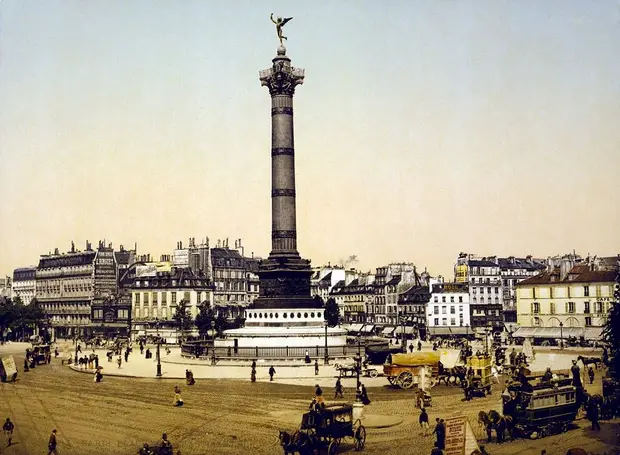 It's a cool and popular district, where life is simple and rather straightforward – welcome to the area of Bastille!
The rue de Lappe is the temple of aperitif and heavy drinking, where bars and restaurants are found everywhere.
They all offer attractive formulas and happy hours that will help you get a lower check. So, what mood are you in? Up for a latino time? The Havanita Café will welcome you in a Cuban, warm and generous atmosphere, where vintage rhum aficionados will be able to sip their beverage and light up a cigar in the smokehouse.
If you're more into a rock 'n roll kind of mood, you should definitely go to the bar Les Furieux (French link), where the loud 90's punk music will knock you out of those red velvet benches and get you jumpin'.
And if you want to dance to a live concert, you should check out what's on tonight at La Mécanique Ondulatoire, a very cool bar with vintage decoration that holds live shows in the basement.
But don't get us wrong, Bastille is not only about drinking and partying ; it is also a very cultural area.
Comic book stores and art bookstores are found everywhere around here, and the rue Keller hosts numerous vinyl stores as well as Japanese culture or alternative culture-related stores.
The Opera Bastille, located on the square that bears the same name, offers wonderful creations such as ballets and musicals that the whole city is eager to see. The rue Saint Antoine has a lot of convenience stores, and many clothing shops.
The Aligre market is a very cosmopolitan one. The market stands are very colorful and will get your mouth watering in no time, and in addition, the prices are very low, so why resist?
If you're up for a nice bucolic stroll, the "coulée verte" is a public path with greenery similar to the highline in New York that begins at Bastille and leads all the way up to Porte Dorée. Runners and street workout enthusiasts will love it.
Key Strengths:
We like this district because of its simplicity, its numerous bars, and relaxed atmosphere, so different from Saint Germain-des-Prés, for example.
Pop culture is celebrated in Bastille, and it feels nice to take a stroll on weekends, have a drink, discover new books and see a live concert.
This is the perfect location for young people to hang out.
Weaknesses:
It can get pretty crowded at night on weekends, and it's not uncommon to get in trouble with some random befuddled guys late at night.
This district is better suited for a group of friends than for a family.
Check out our 90 hotels in La Bastille
Montmartre / Pigalle: The Calm Before the Storm
Welcome to the Paris that we see on postcards, the one that is shown in American films and that tourists from around the world dream to visit one day …
Yes, you guessed it, we're talking about the Montmartre Hill.
How nice this is to take a walk along the charming alleys littered with little houses and gardens.
Parisian cafés with old-fashioned charm and quaint decoration are legion, and parks scattered here and there give this rural-urban jungle enough space to breath.
Life is easy in this Parisian village located slightly away from the city.
On the Place du Tertre, painters draw portraits for tourists who roam the very same alleys where artists such as Picasso, Cézanne, Van Gogh, Renoir once lived.
Having strong legs is important to live in the neighborhood! Climbing is part of the daily fun for the Montmartre Hill inhabitants, especially if you need to climb all the way up the hill to get to your hotel or your apartment.
But this is definitely worth it because there is something special about that place, some kind of rural atmosphere, and the air feels lighter and fresher than downtown Paris.
And if you really want to put exercise out of the equation, you can always use the funicular to get automatically uphill while enjoying the view.
In the summer, make sure not to miss the sunset over Paris from the little park in front the Sacré Coeur. The view is breathtaking, and the atmosphere is warm and festive.
No surprise here, the housing is pretty expensive, but the hotels are charming and most of them are ideally located. Check out our article on the best hotels in Montmartre if you'd like to know more.
Climbing down the hill, we notice that the atmosphere changes completely.
Suddenly, the calm and bourgeois serenity of Montmartre gives way to the turmoil and excitement of Pigalle.
This neighborhood is a never-ending party, whose most famous star is the Moulin Rouge cabaret.
Here we can find the most exciting bars and nightclubs in Paris, and sex shops are everywhere.
Tourists from all around the world come here in their thousands to spend one French crazy night.
Numerous famous performance halls are found in this area like La Cigale, the Elysée Montmartre, or le Trianon, and musicians will be extra pleased because there is an impressive amount of music stores selling all kinds of instruments in the area.
This is an extreme and vibrant neighborhood that can sometimes be dangerous.
We might hate it at moments, but most of the time we love it, just like in a love story …
Key Strengths:
Every corner is a postcard in Montmartre.
The charming paved alleys, street stairs, and street lights will make you want to get a picture with your smartphone nearly every time.
In Pigalle, the atmosphere is like nowhere else in Paris ; there is something floating in the air, something forbidden but addictive.
Languages from around the world are spoken as the district is multicultural, but still manages to keep its own historical and cultural identity.
Weaknesses:
You must have good legs to be able to live on the hill.
This neighborhood might be the prettiest of all, but it's not very accessible for people with reduced mobility.
Tourists are far too numerous in Pigalle, and the huge amount of gift shops feels like being in Disneyland.
You shouldn't be scared of the crowd to live in this area, and it's important to be careful at night, because it's not rare to stumble upon strange and drunk individuals at the darkest hours of the night …
Click to see our best hotels in Montmartre
Check out our 89 hotels in Montmartre
Check out our 111 hotels in Pigalle
Ménilmontant / Belleville: Home of Hipsters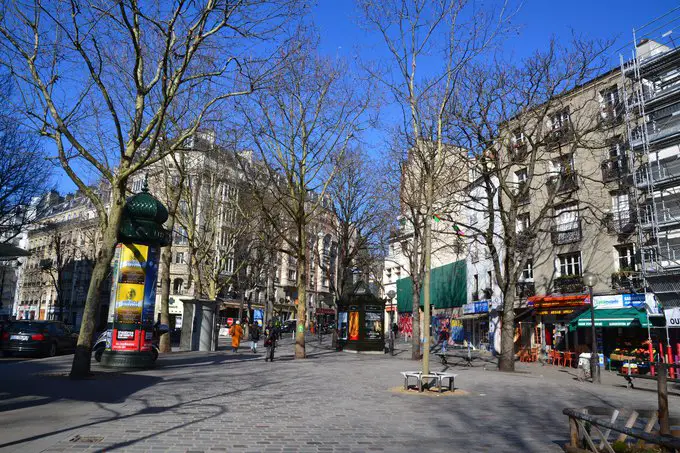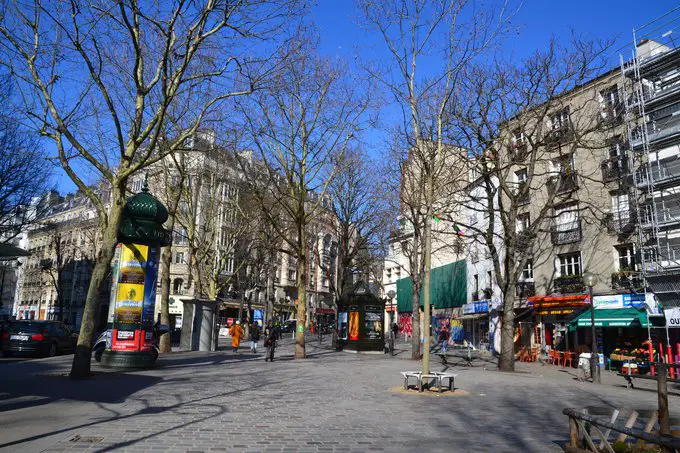 Bearded friends with straps, here is your favourite neighborhood!
The area of Belleville has been in a state of growing expansion for the past 10 years, and attracts young people, artists and creators of all kinds as the rents are still not very expensive.
This is a district of Asian culture, where we can eat cheaply and with delight most of the time. Vietnamese, Chinese, and Thai restaurants are scattered all along the rue de Belleville, and the popular street market on Boulevard de la Villette is perfect for running errands and to get good products cheaply.
Like most fringe-located neighborhoods in Paris, Belleville and Ménilmontant are uphill, and composed of charming, narrow and crooked paved alleys where filmmakers like to set up their cameras to get the essence of the old, popular Paris.
The Belleville area is built around the Parc des Buttes Chaumont, which is undoubtedly the most beautiful park in Paris with its wild herbs and waterfalls.
It feels really nice to take a stroll or to hang out in the park on a summer night with a few friends.
The Parc de Belleville, very close to the Buttes Chaumont, offers one of the most beautiful views over Paris, and people like to gather when the summer comes, and share a drink while watching the sun setting on the city.
Belleville is also a very "Arty" neighborhood, and you can witness some impressive murals on the side of buildings.
If you want to get the most out of the tumultuous Belleville atmosphere, we suggest you have a drink at Aux Folies (French link), which is a very cool and famous bar.
But perhaps you want something more quiet and cosy? In that case you should go to La Vie Devant Soi (French link), where Hadrien will welcome you with his legendary smile and will offer a special selection of his finest beers and wines.
Right next to Belleville, the Ménilmontant area is not so different, but the party might be even crazier in here.
Trendy bars are found everywhere across rue Oberkampf and rue Ménilmontant, and a warm and festive atmosphere is in the air during the weekend.
Here are a few places you should check out: the Haut les Coeurs, a small bar where cocktails are delicious and made with fresh products.
It has a vibrant atmosphere on weekend nights thanks to the regular customers and the dancing Jam Sessions, and chill and loungy during the summer days thanks to its wide, open terrace.
The Saint Sauveur is a unique bar where punks meet up, and where you are guaranteed to spend one hell of a night, meeting improbable people and drinking beer.
Key Strengths:
Belleville and Ménilmontant areas are popular quarters, where life is cheaper than downtown Paris.
These districts are charming thanks to the small paved alleys and small squares that feel like being in a French southern village.
Life is sweet, the atmosphere is electric, and the constant blooming of new shops and restaurants is a reminder that this area has a very bright future ahead.
Weaknesses:
Popular district means noisy district.
Streets are crowded, and some people can find it aggressive. Better suited for a friends' trip than a family trip.
Some streets can be a little dangerous at night, but paranoïa should not take over, because most of the time everything's fine, and it would be shame to miss the most vibrant district of the whole capital.
Check out our 17 hotels in Ménilmontant
Check out our 19 hotels in Belleville
Montparnasse: Bon Appétit!
A literary and commercial quarter, Montparnasse is home to some of the most renowned Parisian restaurants, whose reputation was built in time thanks to the attendance of world- famous painters and writers such as Ernest Hemingway.
Streets are busy in Montparnasse, and this is due to the great number of office buildings, famous brand shops in the rue de Rennes, and Montparnasse train station that attract a huge amount of people.
Nevertheless, there is something about that place, some kind of energy in the air.
The big, modern tower dominating the whole neighborhood is a constant reminder that Paris is also a place where we do business.
People like to go out and have fun in this district.
Several cinema venues flash their neon lights in the streets like a very small Times Square in New York.
Restaurants such as La Rotonde, Le Dôme (French link), La Coupole, or Le Duc, just to name a few, are very fine and famous restaurants, and crêperies (more or less like pancake restaurants) are all over the place for those who can't afford all those fancy restaurants.
Montparnasse is most of all a quarter of offices and stores, but if you move a little bit out of the area, and go around Pernety subway station (line 13), wide boulevards are replaced by charming alleys, major multiples are replaced by small stores and, little by little, the city becomes human again.
Small parks offer rest areas and provide the local population a place where it is possible to get a bit of calm and fresh air before getting back to the non-stop roaring turmoil of Montparnasse.
Key Strengths:
The energy that emerges from this neighborhood makes you want to dream bigger, and the numerous restaurants located around Vavin subway station kind of make you want to live the great Parisian life.
Who wouldn't want to spend some quality time having a drink in the fancy bar, the Select?
And after that, how perfect would it be to have dinner a bit further on the Boulevard, maybe at the Rotonde, or the famous Closerie des Lilas?
This quarter still feels something of the roaring twenties.
Pernety and Plaisance areas offer perfect human-sized residential locations just a few steps away from the Montparnasse Tower.
Weaknesses:
Noise is always present near Montparnasse train station, Vavin, and most of all in rue de Rennes.
Sidewalks are always crowded and it's a common thing to get pushed.
It's a nice place to hang out at night and to feel the city vibrate, but not so much to live in.
You might want to move a bit off the center of Montparnasse to get some air and find simpler interaction between people.
Check out our 56 hotels in Montparnasse
Les Halles / Le Marais: The Trendy Quarter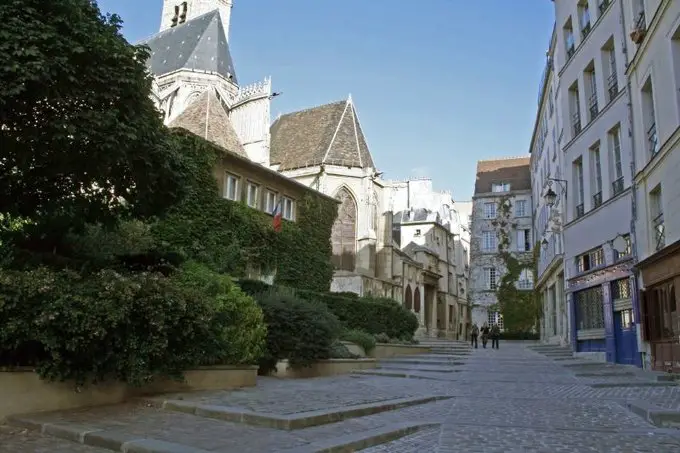 The quarter of les Halles / le Marais is historic and one of the most important in Paris.
It has escaped the great Paris restructure initiated by Haussmann during the 19th century because the soil was too damp to carry out any construction of that magnitude.
So this is the reason why the streets and housing of this area are so crooked, simply because they date from the medieval times.
So many things to see and to do in this district!
You would need way more than a weekend to see it all, and a lifetime to know every little secret!
Here, culture is everywhere. The Picasso Museum, the Mémorial de la Shoah (the Holocaust Museum), the Carnavalet Museum, Victor Hugo's House …
And on top of that the wonderful Modern Art Museum at the Pompidou Center.
On a shopping and fashion level it is just heaven on earth.
There we can find delicatessens with imported products from around the world, bars, trendy restaurants, and art galleries.
The Sunday stroll in the Marais area is a Parisian custom.
There is nothing quite like getting an ice cream at Berthillon (French link) on the Saint Louis Island, before taking a walk in the Marais trying new clothes in trendy thrift shops, and drinking a bubble tea while browsing the window displays of great fashion designers.
The Forum des Halles will please those who like to spend some time in malls, and UGC Les Halles movie theatre will enchant cinema lovers with a large number of screening rooms.
The Forum des Images (French link) also offers film retrospectives, film festivals, and talks around the 7th art.
In les Halles and le Marais areas, life is sweet and stylish – but life is expensive.
Housing prices are very high because the neighborhood attracts a wealthy population, but walking around doesn't cost a dime, and there's such a great variety of shopping facilities, that everybody can find a suitable place to eat, sleep, or have a drink.
Key Strengths:
The many and various stores, cultural centers, and museums give this district a true value.
Life is just sweet in this area, and it's good to take a walk in this chic yet pretty rock n roll neighborhood.
This is the perfect area to hang out with friends, but it's more expensive than Belleville or Ménilmontant.
Weaknesses:
Alleys in le Marais are pretty shady since they are so narrow and don't let sun rays get through the buildings.
The Marais area is kind of expensive, so keep that in mind when you go out.
Tourists are just everywhere, especially when the beautiful days come.
Forget about finding a parking spot, it's nearly impossible, and prefer underground parkings – more expensive but a hundred percent reliable.
Click to see our article on the best hotels in the Marais district
Check out our 51 hotels in Le Marais
La Butte aux Cailles: A Rural Interlude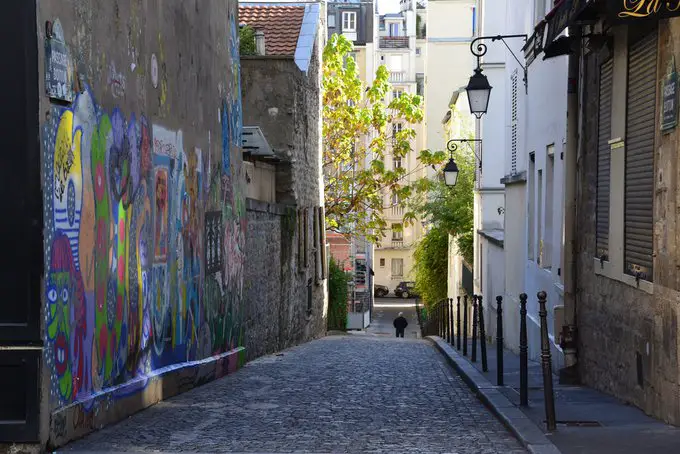 Cobblestoned streets and charming house lovers, we welcome you to the Butte aux Cailles area.
A small corner of countryside belatedly incorporated into Paris in the 19th century, it is still a rural haven of peace in the heart of the 13th district, surrounded by Chinatown and Place d'Italie.
This small village inside the city is simply just one of the places of Paris where life is the sweetest.
It has the advantages of Montmartre without being too much out of town, and the proximity to the Latin Quarter makes it the best choice of residence for families and students.
The atmosphere is calm and warm, except maybe in the rue de la Butte Aux Cailles where bars such as the Merle Moqueur or le Sputnik welcome people of all generations to drink pints of beer and flavoured rhums until the first hours of the night. Its location provides access to the Place d'Italie and Chinatown in a few steps, where you will be able to buy cheap and exotic products and enjoy plenty of delicious restaurants.
Here's an address for those of you who like copious cheap dishes: Chez Gladines offers a southwestern France type of cuisine in a warm and rural setting.
Finally, the Butte aux Cailles (which can be translated as: "the hill of quails") is a rural and peaceful interlude in the heart of the urban turmoil, that gives access to all the vibrant quarters of Paris in no time, and enables you to head back afterwards to a cosy universe, far from the big city noise.
Key Strengths:
Nice, pretty, and quiet area. A rural atmosphere only a few hundred meters from the Place d'Italie. Its central location enables you to get to the tourist spots very easily, thanks to the metro line 6.
Weaknesses:
Few weaknesses, if it was not for the housing prices that have raised significantly the past ten years, but that are still lower that what we can find in Saint Germain-des-Prés, the Latin Quarter, or near the Eiffel Tower. It is the perfect location to stay in Paris.
Note about the other areas in Paris:
We are perfectly aware that other interesting Parisian districts, such as République, the Canal Saint Martin, les Batignolles, or Stalingrad, have not been reviewed in this article.
The purpose of this paper was to give a wide range of the various moods and specificities of major districts of Paris, without being too long, too specific and too boring for you to read.

I aim to share my tips and recommendations for the beautiful country of France. My goal is to help you plan your next adventure, whether it's a weekend getaway or a once-in-a-lifetime trip. From finding the best hotels and restaurants, to discovering unique activities and sights, I've got you covered!