Throughout history, Thai cuisine has drawn its origins from various influences (Malaysian, Chinese, Burmese, Indian, Laotian cuisines) to create -starting from the 15th century- a gastronomy which stands out by its original flavours and ingredients. Paris overflows with Thai restaurants, and it can sometimes be complicated to make your choice. This is why we are handing you our favourite Thai restaurants in the capital.
Tamarind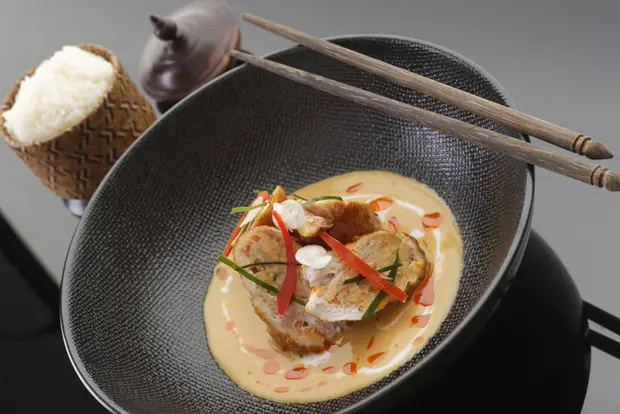 In the course of a walk in the centre of Paris, what could be better than a gastronomic stopover at Tamarind?
Nestled in the heart of the Marais, between Saint Paul and the Hôtel de Ville, not far from the banks of the Seine and the Place des Vosges, this Thai restaurant was born from the desire of two sisters to share their love for their country's cuisine.
Let yourself be bewitched by this enchanting place with its intimate atmosphere and come taste Thai cuisine such as the Crying Tiger, a tender and juicy piece of grilled beef accompanied by a tamarind sauce, or the Hor Mok pla, a steamed fish with red curry and coconut milk served in plentiful banana leaves.
Vegetarians will also be delighted with the vegetarian and gluten-free dishes on the menu.
Address: 33 rue François Miron, 75004 Paris
Hours: Monday to Saturday: noon- 2:30pm / 7pm-11pm, Sunday: 7pm- 11pm
Prices: Count at least 30€ for a complete meal
We like: The setting which remarkably combines the charm of the stone walls and the exoticism of Thai decoration, all of which lulled by the soft and soothing sounds of the fountain.
We like less: The closely-spaced tables which hardly leave room for intimacy.
Website: http://www.tamarind.fr/EN/
CHANG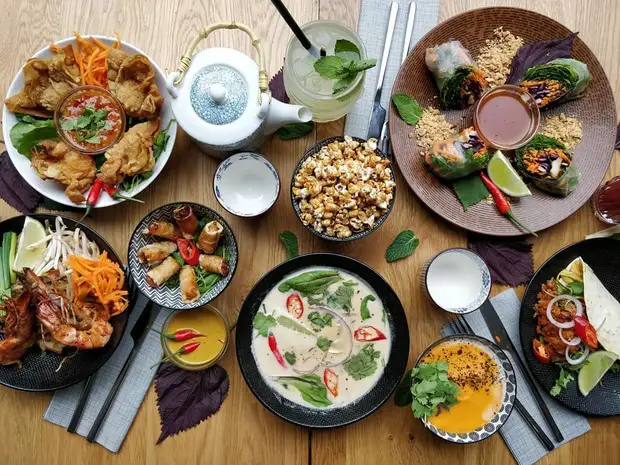 Located in the historic district of the capital, between Le Louvre and Opera, CHANG is a modern and trendy bar-restaurant with a refined decor where chef Alexandre Lam offers you his version of Thai cuisine.
The menu is based on the classics of Thai cuisine with a touch of modernism, lightly spiced so as not to burn our occidental palates.
Between the Crying Tiger with jasmine rice and an exotic Tapioca accompanied by fruit sorbet and a coconut mousse, you will be conquered and satiated, especially since the chef makes it a point of honour to serve well-filled plates.
Address: 22 rue des Pyramides, 75001 Paris
Hours: Monday to Saturday: noon-3pm / 6:30pm-10:30pm, Closed on Sundays
Prices: Count on 20-30€ for a reasonable meal
We like: Its plentiful and gourmet homemade cuisine.
We like less: Its quite small room that quickly becomes noisy.
Website (in French): http://restaurantchang.com/
Bien Bien
Critics are unanimous: at Bien Bien we eat well, very well!
Ideally located in the 9th arrondissement of Paris, a stone's throw away from the Folies Bergères, the Grévin Museum and the many theatres in the Grands Boulevards district, Bien Bien is a traditional Thai restaurant run by the Hoang family since 1988.
You will be warmly welcomed by the family members and eat in an authentic woody setting, adorned with decorations like those from the ancient Kingdom of Siam.
As far as food is concerned, there are raw shrimps with lime and fresh herbs, minced pork with basil, sautéed skewers with peanuts or soft rice with coconut milk. There is something to suit all tastes!
Address: 30 bis rue Bergère, 75009 Paris
Hours: Tuesday to Saturday: 11:45am-3:15pm / 4:30pm-8:30pm, Closed on Sundays and Mondays
Prices: 10-20€
We like: Its simple family setting in which you will immediately feel at ease and its excellent quantity and quality to price ratio.
We like less: The necessity to book a table
Website: https://bienbien.eatbu.com/?lang=en
Chieng Mai
For authenticity lovers, try a stopover at Chieng Mai, one of the first Thai restaurants to have been established in Paris.
Located just a few streets away from the Latin Quarter and the Notre Dame Cathedral, they will not disappoint you with their decades of experience in Thai cuisine.
And for good reason! The service is perfect, there is little to no waiting time, the quality to price ratio is very good and the dishes are delicious; not to mention their well-stocked wine cellar.
Address: 12 rue Frédéric Sauton, 75005 Paris
Hours: Thursday to Tuesday: noon-2:30pm / 7 pm-11 pm, Closed on Wednesdays
Prices: Count 30€ for a discovery menu with 4 starters and main courses
We like: The exceptional and discreet service which is both welcoming and warm.
We like less: Its old-fashioned and outdated decoration which could be renewed.
Mam Thai
At Mam Thai, you will discover the cuisine of Thai chef Mam, who moved to France in 2001 and introduces us to the flavours of her country.
Embark on a direct flight from Paris to Bangkok thanks to a menu that evolves over the seasons and typical dishes from Thailand made with fresh products.
For those who love traditional dishes, there is Pad Thai, there is stir-fried vegetable wok for vegetarians, and Thai custard flavoured with a pandan leaf for gourmands. Mam Thai is a real invitation to travel to Thailand. Eat it either on the spot or at home, thanks to the home delivery service.
Address: 8 rue Cadet, 75009 Paris
Hours: Monday to Friday: 11:30am-2:30pm / 7pm-10:30pm, Weekend: 11:30am-4pm / 5pm-10:30pm
Prices: Starters and desserts at 3€ – Main courses at 9€
We like: Very affordable prices.
We like less: Dishes are sometimes not spicy enough.
Website (in French): https://mamthai.co/
Tuk Tuk Thai
Tuk Tuk is a Thai restaurant located not far from the Saint-Lazare train station, where a Franco-Thai team offers you traditional dishes innovated in a modern and inventive way; all of which is in a chic setting at affordable prices.
Address: 47 rue Laborde, 75008 Paris
Hours: Monday to Saturday: noon-2:30pm / 7pm-10:30pm, Sunday: 7pm-10:30pm
Prices: Starters and desserts between 7 and 10€ – Main courses from 12€
We like: The local Thai music as background noise, the smell of the incense surrounding the place and the genuine tuk-tuk decoration.
We like less: It is almost impossible to go there without a reservation.
Website (in French): http://tuktukthai.fr/
Yo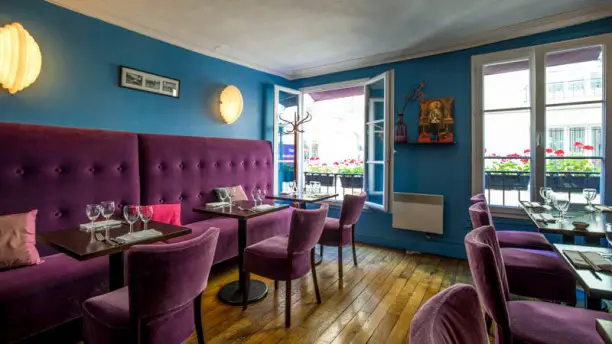 Fond of cultural-culinary mixes?
Just a stone's throw from the Opera Garnier, don't miss YO, a Franco-Thai restaurant whose cuisine is entirely prepared using local products.
Give in to the spring rolls with shrimps and black mushrooms, the guinea fowl wok or the bass fillet stewed in a banana leaf, all of which is spiced just as it should be for our sensitive Western palates.
The price is justified both in quality and quantity, and in case you would still be a bit hungry, the owner Jérôme offers exquisite meringues to accompany your coffee.
Address: 10 rue de Port Mahon, 75002 Paris
Hours: Monday to Friday and Saturday night: noon-2pm / 7:30pm-10:15pm, Closed on Saturdays noons and Sundays
Prices: Starters and desserts at 9-10€ – Main courses at 20-25€
We like: The attentive staff which won't fail to advise you on the best seasonings and wines to go with your meal.
We like less: The decor, which doesn't seem very Thai.
Website (in French): https://www.yorestaurant.fr/
Chez Neung
Chez Neung is a family restaurant and you can feel it, as the atmosphere is warm and welcoming.
As you enter this rococo restaurant located just up the road from the Gobelins Manufactory, you will notice the portrait of a Buddhist monk, the wooden representation of an elegant peacock and the traditional straw-hats by way of lampshades which will plunge you into traditional Thailand.
As for the food, you can treat yourself without spending a fortune with the puffed shrimps with cashew nuts, the ginger beef or the crispy tofu.
If you are looking for affordable quantity and quality along with exoticism, you know where to go!
Address: 70 boulevard Saint-Marcel, 75005 Paris
Hours: Monday to Saturday: noon-3pm / 7pm-10pm, Closed on Sundays
Prices: Starters at 6€ – Main courses at 10€ – Desserts from 3€
We like: The possibility to enjoy your food with your family and friends at low prices.
We like less: Tight tables and slightly hard stools.
Ma Cantine Thaï
Located in the 9th arrondissement, in the heart of Paris, Ma Cantine Thai is hard to miss with its entirely green front window.
Inside, you will be welcomed by Anne and Eric, a couple of Laotian origins, who have been living in France since the 80s.
Each morning, the couple thinks up and concocts 3 dishes of the day, in addition to the essential Bo Bun and Pad Thai which are always on the menu.
Eager to share their culture with us, Anne and Eric also publish many posts and articles about the cuisine, rites and traditions of their native land.
Address: 56 rue Richer, 75009 Paris
Hours: Monday to Saturday: noon-3pm, Closed on weekends
Price: Menu starter/dessert + main course + drink at 12,90€
Menu starter + main course + dessert + drink at 14,90€
We like: Quick service, great for lunchtime before going back to work.
We like less: Impossible eto make a reservation. First come, first served.
Website (in French): http://ma-cantine-thai.com/
Blue Elephant
If there is a place worth the trip, it is Blue Elephant: a guaranteed change of scenery!
Between the staff in local costumes, the teak walls, the intimist loggias and the small bridge spanning a stream where flows the water from a fountain, everything here suggests that we are in Thailand, in a small traditional village.
The four Thai chefs offer specialities from the four provinces of Thailand and the dishes are rated from 0 to 3 elephants to indicate whether they are more or less spicy.
How about a beef curry served in a coconut or a ginger crème brulée?
For a nice decor along with sophisticated dishes, you know where to go!
Address: 43-45 rue de la Roquette, 75011 Paris
Hours: Monday to Wednesday: 7 pm-midnight, Thursday to Sunday: noon to 2:30 pm / 7 pm-midnight
Prices: Starters from 15€ – Main courses from 20€ – Desserts from 8€
We like: The waiters in traditional costumes and the elephant barometer which indicates the degree of spiciness.
We like less: The dishes that could be a bit more plentiful.
Website: https://www.blueelephant.com/our-story/
La Brasserie Thai
In the heart of Montmartre, a few steps away from the famous Place du Tertre, in a quiet little street, La Brasserie Thai is the only Thai restaurant in the area.
Would competition hesitate to set up there?
It must be said that the restaurant offers authentic dishes from the North of Thailand, prepared in front of you with fresh products, thanks to the open kitchen.
Impossible not to taste the Ice Roll made with fresh fruit, the cold trend in Thailand, as nice to look as it is to eat.
Address: 5 rue Poulbot, 75018 Paris
Hours: Monday to Friday: noon-3pm / 7pm-10:30pm, Weekends: noon-10:45pm
Prices: Lunch menu from 11 to 18€, Count 20-30€ in the evening
We like: The open kitchen from which you can see the dishes stewing.
We like less: The staff which could be a little warmer.
Website (in French): https://www.brasseriethai.fr/

I aim to share my tips and recommendations for the beautiful country of France. My goal is to help you plan your next adventure, whether it's a weekend getaway or a once-in-a-lifetime trip. From finding the best hotels and restaurants, to discovering unique activities and sights, I've got you covered!