Say what you want about Paris, the city is always trying its best for its inhabitants. Despite an overcrowded urban area, Paris offers many free sports infrastructures open to the public. We tend to go past them, without really paying attention.
Where to play soccer?
Undoubtedly the most popular sport in the country, spaces dedicated to soccer are plentiful in Paris, so we are just going to name some of the nicer ones.
Emile Anthoine sports centre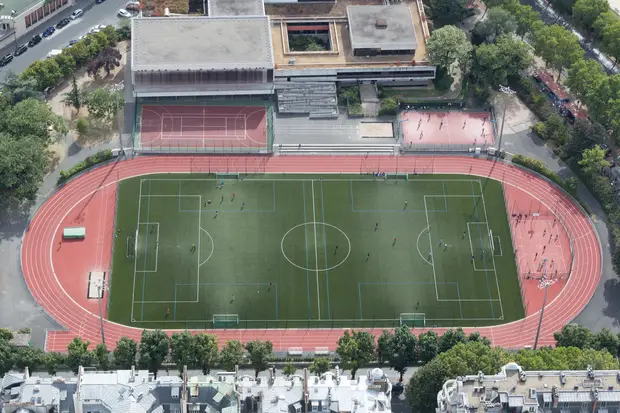 Located at the foot of the Eiffel Tower, the Emile Anthoine sports center is one of the best sports facilities open to the public. A large field, divided into two smaller ones, with synthetic grass and nets attached to the goals, the field's equipment is irreproachable. However, make sure that the field is not reserved for club matches, so you don't disturb the competitions taking place here regularly. 
An open stadium, well located, and offering a stunning view of the Eiffel Tower, it is simply a bargain to Parisian athletes. It is here that many sports lovers of all ages and levels gather. It is also a place where numerous sportsmen stopping by Paris come to exercise a bit, making it an ideal place for fruitful meetings. 
Address: 9 rue Jean Rey 75015 Paris
Parc Kellermann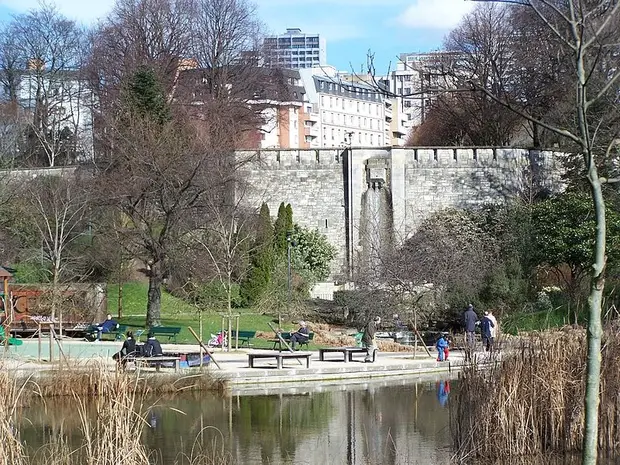 Besides being an ideal spot for relaxation, the Parc Kellerman offers a large variety of infrastructures allowing you to practice your hobbies – tennis, ping pong, fitness paths, and obviously a football field. The beautifully wooded and flowery park provides a very nice setting for this field, even if it is adjacent to the ring road.
Address: Boulevard Kellermann, Rue de la Poterne des Peupliers, Rue Max Jacob 75013 Paris
Opening hours: every day from 8:00am or 9:00am to 8:30am or 11:30am (depends on the season).
Stade Léo-Lagrange
A stadium often occupied by players of all levels, with synthetic grass and a small spectator area, it offers good quality installations. In addition, a basketball court, a running track and even a volleyball field are at your disposal, the latter being pretty rare to find in Paris. 
Moreover, the field is located on the boundary of the bois de Vincennes, a nice place where you can exercise right in the area. 
Address: 68 Boulevard Poniatowski, Paris
Opening hours: 
Monday to Friday: 7:15am to 8:00am + 12:00pm to 1:30pm + 6:00pm to 10:00pm
Saturday: 7:15am to 10:00pm
Sunday: 8:00am to 6:00pm
The football fields that are open to the public are numerous in Paris – the list would be very long. You can check out the stadiums close to you on Paris.fr (website not available in English). Don't think twice about visiting these places yourself to find the soccer field you like best.
The "City-stades"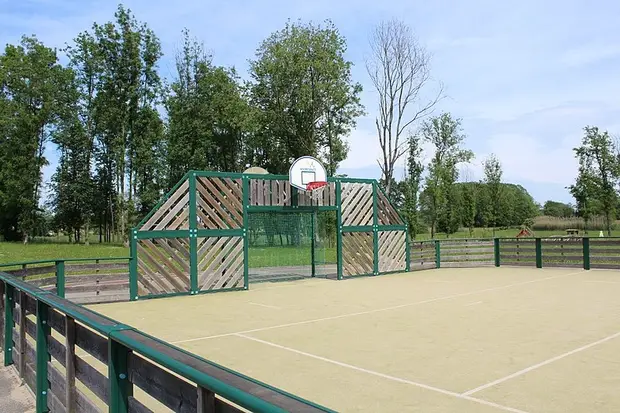 Or "City" for short. Perfect for 5 on 5 matches, these tiny soccer fields are scattered all across the city and mainly occupied by the younger generation. From memory, you will find one in the jardins St-Paul (4th arr.), at the Charles Moureu sports centre (17 Avenue Edison, 75013 Paris), at the terrain the sport Phillipe Auguste (72 Avenue Philippe-Auguste, 75011 Paris), or even at the la Grange aux Belles sports centre (17 Rue Boy-Zelensky, 75010 Paris).
Check your nearby sports fields on Paris.fr, otherwise it is up to you to go find the hidden City of your district.
Bonus: Soccer field of the Champs-de-Mars
(Located at the left of the Mur pour la Paix, 48°51'11.2″N 2°18'03.0″E)
A wear-free stadium, with no nets in the goals, and fences that are too short. This field is thus made to last, which is understandable considering it is open to the public 24/7 without regulation. All this in the busy place of the Champ-de-Mars.
Everybody stops by here to peacefully kick the ball around for a bit. But when the field gets stormed by the regulars who start improvised matches, things get serious. A pacy and physical game is coming, were timeouts are only dictated by the ball flying at full speed above the fence.
Where to play basketball?
Basketball is the second most practised sport in France. Jean-Pierre Siutat (president of the FFBB) even announced on Twitter on May 2, 2019, that there are more than 700,000 licensed players in France.  This is a sport whose popularity keeps increasing.
As a consequence, many free and open playgrounds have been made available in Paris. Unfortunately (or fortunately for some people), the same 'city-stades' for soccer players double as basketball courts. First come, first served. However, there are some exceptions: playgrounds solely dedicated to basketball, or even city-stades mainly occupied by basketball players.
Under the subway lines at Stalingrad and Dupleix stations
These are two playgrounds that remind you of the ones you find in New York, especially the one at Stalingrad.
Yes, you don't breathe the freshest air (with cars constantly rolling by), but whatever!
Inside these basketball cages, you only have three things in mind: having fun, testing yourself and surpassing yourself.
After a good warm-up followed by two games of HORSE, real streetball games begin to animate the courts.
The Dupleix court is more often occupied by younger players and the level is more diverse. It is a narrow court, the backboards are shorter and the nets are replaced by rubber bands. The court's capacity is therefore limited. Don't forget to bring water, as there are no watering places nearby. The ground is very slippery when wet, and if that is the case, avoid deploying your best crossovers…
Addresses:
– Stalingrad: 234 Boulevard de la Villette, 75019 Paris, under Stalingrad Station's line.
– Dupleix: Boulevard de Grenelle 75015 Paris, in front of La Cantine du Troquet.
Emile Anthoine sports centre
Yes, once again, the Emile Anthoine sports centre just keeps on satisfying all sports lovers. It has not one but two open playgrounds that are at your disposal. Same thing as the soccer field – you will have a breathtaking view and players of all levels. 
Come in the afternoon, and peacefully warm up before things get real. Given the high number of people, you have to earn your place on the court. Form a team of 5 people and wait for your turn. Once it comes, King of the Hill can begin.
For those wishing to just dust themselves off and shoot around at their own pace, you can seek refuge on the second court, where there will be enough room for everyone.
Address: 9 Rue Jean Rey, 75015 Paris
Go to Paris.fr for more information (opening hours, access…)
Playground of the Champ-de-Mars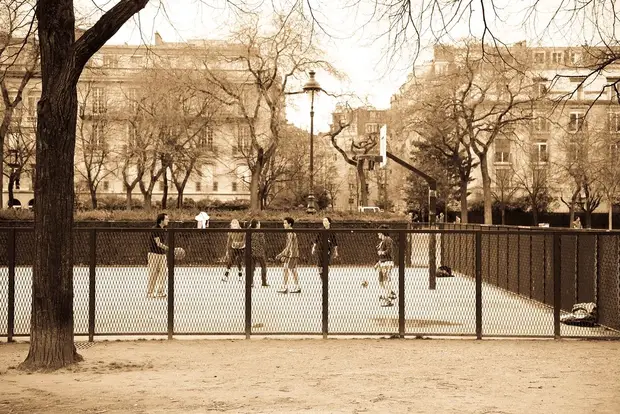 Right next to the soccer field. It is a very popular playground, which is not surprising given the setting. You can still see, on one of the backboards, the sticker placed by the French comedian Rémi Gaillard in 2007.
The court is as solid as its neighbor. And the same goes for its regulars who exercise a physical and fast brand of basketball.
The Champs-de-Mars have water fountains to hydrate yourself.
Pigalle Playground – Duperré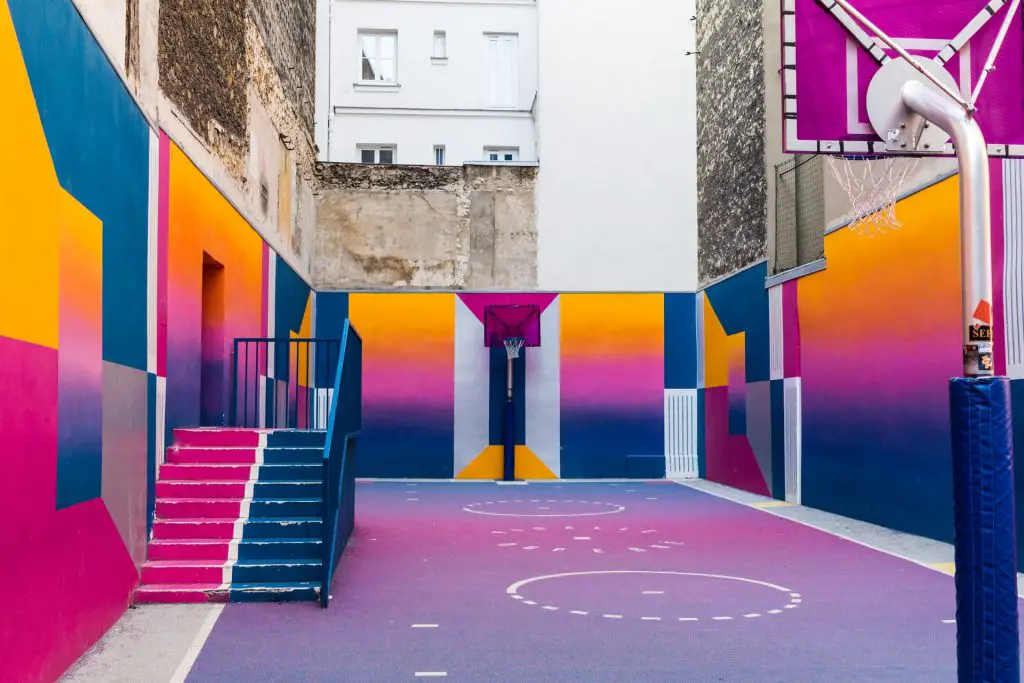 This playground's makeover, realized by Ill-Studio in 2017, has strongly improved its popularity. And how about that for a makeover! The court is beautiful, with trendy color gradients – the final product is perfect and is very popular on social media.
Here is the icing on the cake: the backboards are made of plexiglas and equipped with nets. Its size is very much reasonable, enough to host organized tournaments.
Address: 22 Rue Duperré, 75009 Paris
Opening hours: 
Monday to Friday: 12:00pm – 8:00pm
Sunday: 2:00pm – 8:00pm
Facebook page: Pigalle Basketball
Other playgrounds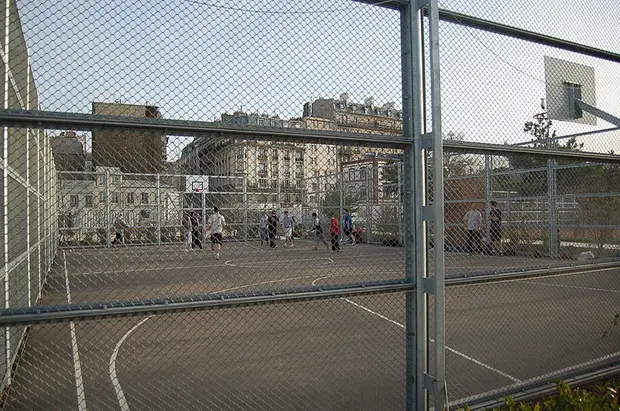 There are many playgrounds in the capital, so here is a non-exhaustive list of the places where you can practice your sport:
– Terrain de sport des jardins St-Paul: 9 Rue Charlemagne, 75004  (8:00am – 6:00pm)
– Stade Charles Moureu: 17 Avenue Edison, 75013 Paris (8:00am – 10:00pm)
– Paris 14 playground: Rue Paturle, 75014 Paris (24/7)
– Canal Saint-Martin playground: 142 Quai de Jemmapes 75010
– Léo-Lagrange playground: 68, boulevard Poniatowski 75012 (see: stadium's opening hours)
– Stade Georges Carpentier: 81 Boulevard Masséna, 75013  (8:00am – 10:00pm except Saturday and Sunday: 8:00am – 6:00pm)
If, among all of these, you still cannot find your happiness, the Courts of the World app allows you to share your favorite playgrounds and your own impressions about them.
Where to play rugby?
Rugby is a sport that demands a particular setting and organization.
Organizing a g ame of rugby in a park is far more complicated than for soccer or basketball. Besides needing a very large open field, one quickly understands that a game of rugby between strangers can quickly turn into a fight at any time. 
However, if you feel like gathering a group of friends to have fun on a field this weekend, it is possible, as long as you have all agreed on the respect on the rules and are properly equipped. 
Plaine de Jeux du Polygone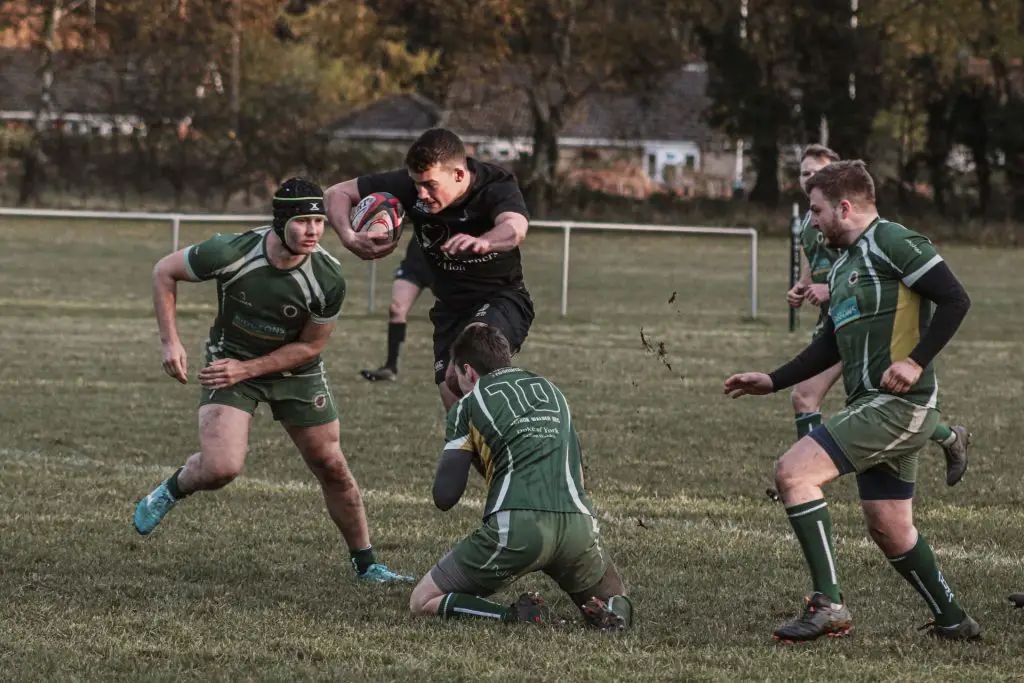 The Plaine de Jeux du Polygone in the Bois de Vincennes includes many fields: soccer, volleyball, handball, and of course rugby (3 to be precise). You will be able to enjoy plenty more space than needed to have a good time. The grass is natural, which can offer a good cushion for collisions. 
Adding to this, the place is very nice and used by many sports fanatics (and clubs). Don't hesitate to contact the administration if you fancy organizing a big event here. 
Phone number: 
06 43 52 83 68
01 41 74 80 50
Address: Route de la Pyramide, 75012 Paris
Opening hours: 24/7
Facebook page: Plaine de Jeux du Polygone
Plaine de Jeux de Mortemart
Not very far from the previous one, Mortemart's playground offers only one rugby field.
Particular feature: a softball field (an offspring of baseball) is attached to the rugby field, making it one of the few places where you can play this sport in Paris.
Address:  Route Bosquet Mortemart, 75012 Paris
Opening hours: 24/7
Where to do fitness, ping pong and pétanque in Paris?
A number of installations are available in Paris for free. Woods, parks, fitness paths, athletics tracks, open-air fitness areas and many more.
We are going to present the nicer ones by category.
Fitness areas/Street Workout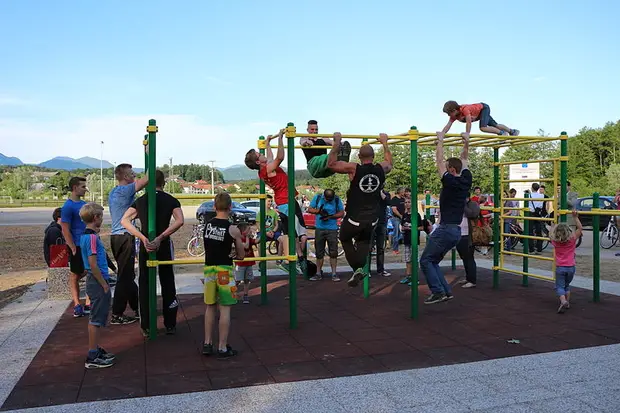 For a few years now, for the delight of fitness lovers, French company Freetness scatters its street workout and fitness areas across the capital, and even its obstacle courses and fitness paths.
Installations like rowing machines, exercise bikes, cross trainers, or even pull-up bars, wall bars and training stations are available in a number of parks in Paris. 
The Bois de Boulogne's fitness site is very well-equipped. There is, at your disposal, a great variety of machines and structures within a 250-yard radius. Feel free to stop by during your jog.
Otherwise, many installations are scattered around Paris, in squares, parks and even right in the city:
– Square Boulay: 26 Rue Émile Level, 75017 Paris, France
– Les Hauts de Malesherbes: 16P, Rue Christine de Pisan, 75017 Paris.
– Centre sportif Poissoniers: Boulevard Périphérique Intérieur, 75018 Paris
– Quartier de La Chapelle: 25, Rue du Département, 75018 Paris
Take a look at Paris.fr, in the category "Les aires de fitness" to find a fitness area close to you.
Ping Pong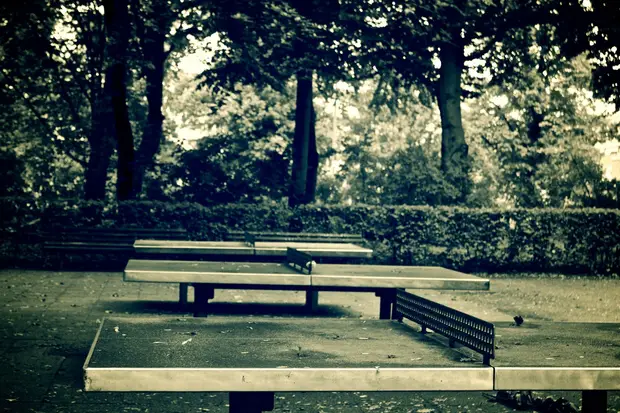 Ping Pong is a very popular sport in France. Whether it is for its easy access or its fun and practical factors, this sport is ideal for family outings at the park. It is therefore easy to find ping pong tables in numerous Parisian green spaces.
Square Pierre-de-Gaulle
Right next door to the metro station Saint-Fraçois Xavier, you'll find this peaceful square around Les Invalides. Ideal for children accompanied by their parents. You'll come across two ping pong tables for friendly or family duels.
Address: 2 Place du Président Mithouard, 75007 Paris
Parc André-Citroën 
A very modern park located in the 15th arrondissement. To find it, you just have to look up at the sky when the giant hot-air balloon is at its highest point. A lot of space to do sport, and of course, ping pong tables. During the sunniest days of the year, the park is very busy; however many activities are doable while waiting for your turn to play.
Address: 2 Rue Cauchy, 75015 Paris
To find a ping pong table close to you, go over to Paris.fr in the category "Où jouer au tennis de table ?".
Pétanque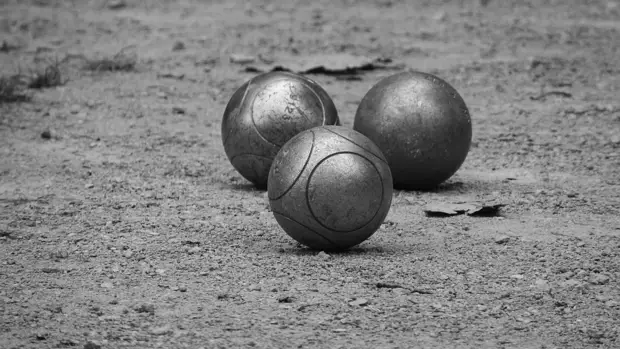 A historical French sport, the bowling game is still played today, with the number of licensed players at about 300,000 in 2016 (a figure that doesn't include amateur and occasional players).
In Paris, places where you can play pétanque are plentiful. 
Here are some of them: 
Le Jardin du Luxembourg
The best possible place to make you feel like you are in the golden age of pétanque, at a time where the nobility had taken ownership of the sport.
A ground for veterans and the more silent players.
Address: Le Jardin du Luxembourg, 75006 Paris.
Les Arènes de Lutèce
Open to the public, this Roman theatre is undoubtedly among the most ancient monuments in the capital. Here gather the most experienced pétanque players.
On very hot days, don't forget to bring all of the necessary to protect yourself from the sun (water bottle, hat, sunglasses…).
Address: 49 rue Monge, 75005 Paris
Le Bois de Boulogne
For the players who prefer being close to nature or sheltered beneath a tree, the Bois de Boulogne is a calm place where you can enjoy your games of pétanque away from the Parisian commotion and racket.
Address: Bois de Boulogne, 75016 Paris
Where are the best skate parks in Paris?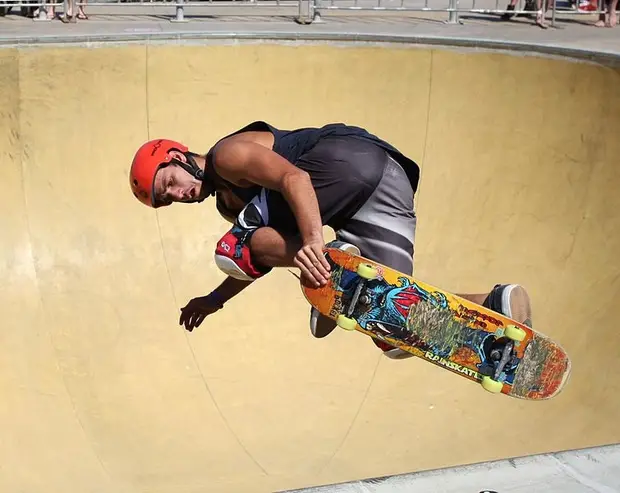 Without forgetting anyone: skaters have asserted the merit of extreme sports for a long while now. Although rarer and less major than the ones you find in the largest cities in the United States, Paris also has skateparks.
Here is our selection for the best spots to ride:
L'Espace Glisse Paris 18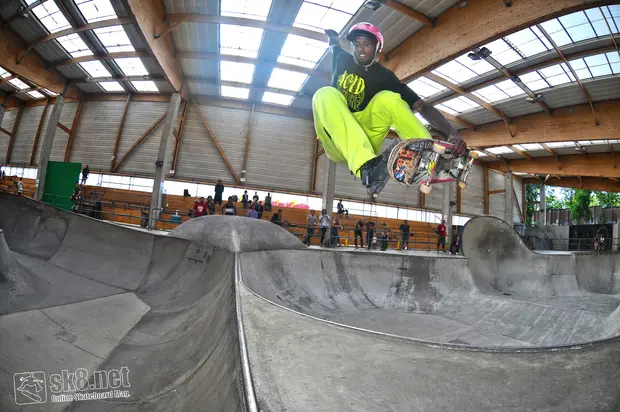 Or "EGP(18)" for the regulars, it is an indoor skating area. Undoubtedly, this is the best that Paris has to offer to riders. With ramps, bowls, stairs, copings and rails, the skatepark is very well equipped. You just have to register at reception to fully enjoy this spot, which has the advantage of being supervised, allowing people to quickly report all sorts of accidents.
Initiations are organized here on weekdays and Saturdays – go to the website of the 18th arrondissement's town hall for more information (website only in French).
If you'd like to try out skating or are looking for a good spot, you know where to go.
Address: 54, boulevard Ney, 75018 Paris
Opening hours: 
Mondays and Fridays – 5:00pm to 9:30pm
Tuesdays – 4:30pm to 7:30pm 
Wednesday – 5:00pm to 9:30pm 
Thursdays – 4:30pm to 9:30pm 
Saturdays – 4:00pm to 7:00pm 
Head over to Paris.fr for more information.
Facebook page: EGP18
Arcueil Gentilly Skatepark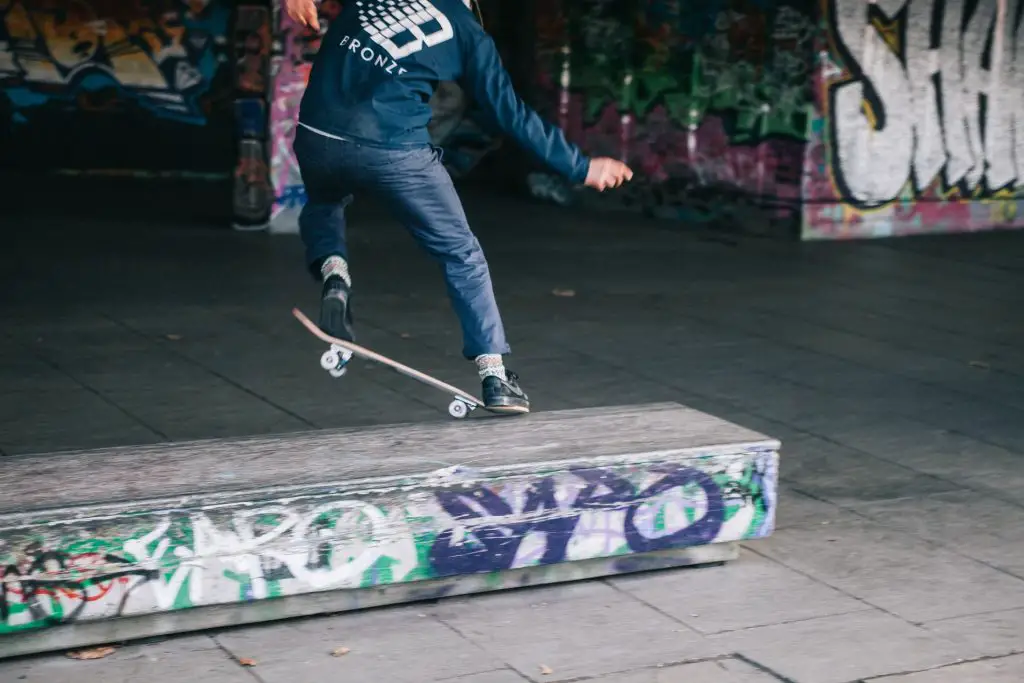 It is under highway A6A that this little yet very pleasant spot can be found. Without any pretensions, Arcueil's skate park offers a 7'5" deep bowl, and varied street skateboarding elements: rails, pipes, ledges and so on.
The park is made of smooth concrete, making it durable while at the same time offering good grip (except on rainy days where, of course, the use of the park is impracticable).
Address: 58 Avenue François Vincent
Opening hours: every day from 8:30am to 11:00pm
Facebook page: https://www.facebook.com/skateparkarcueil/
Skatepark de Jemmapes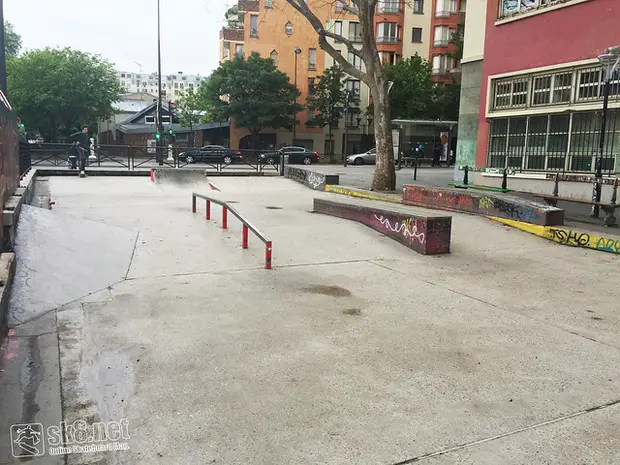 Arguably the most modest skatepark of our selection, the Jemmapes skatepark has at least the merit of being in the heart of Paris, in the 10th arrondissement. 
Some classic elements: a rail, a quarter pipe, a curb, a kicker and that's it.
It is still enough for you to try out wheeled sports, and to get better before tackling the more challenging skateparks.
The park is very popular, so if you'd like to skate here in peace, we recommend doing a little morning session.
Address: 146 Quai de Jemmapes, 75010 Paris
Opening hours: 24/7
Other skateparks
On the Paris Commune's official website, you'll find a map indicating all of the skateparks located in Paris.
There are many other unofficial urban spots in the capital, like place de la République or at the Palais de Tokyo, which also are very known within the Parisian skating community. Although tolerated, skating on pavements and public infrastructures is legally forbidden. So, for the sake of the sport's image and what it represents, it is important to make sure to not damage anything, along with being polite to bystanders and law enforcement authorities, under all circumstances.
"I won't quit skating until I am physically unable." said Tony Hawk. So wear protection and train according to the rules in order to enjoy skating for as long as you feel passionate about the sport!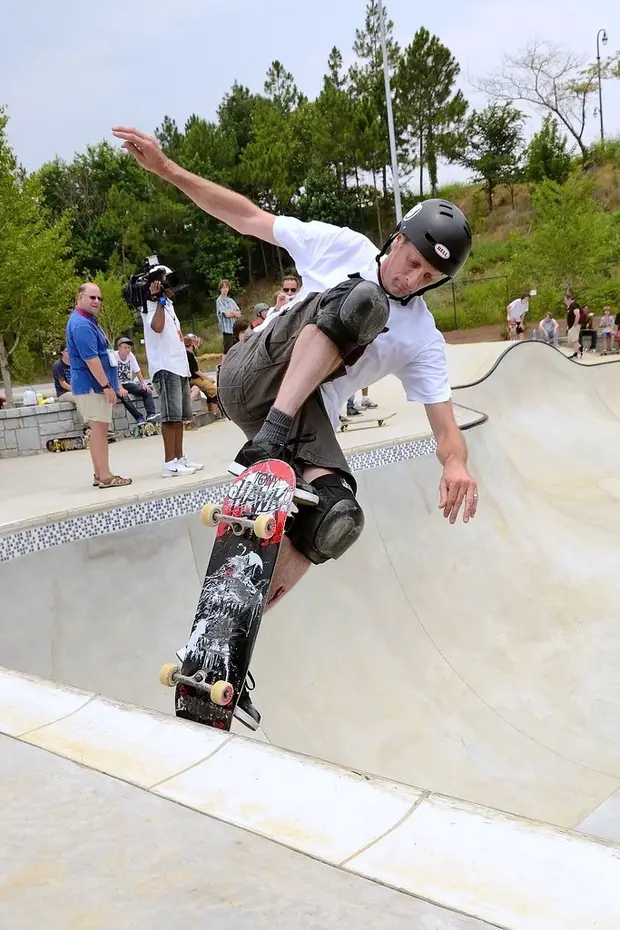 I aim to share my tips and recommendations for the beautiful country of France. My goal is to help you plan your next adventure, whether it's a weekend getaway or a once-in-a-lifetime trip. From finding the best hotels and restaurants, to discovering unique activities and sights, I've got you covered!