It is not easy to find a restaurant in Paris when you are in a group of more than 6 people. Fortunately, we are here to give you a hand! It doesn't matter if you are in a group of 6, 12, 20, or more, you will find the perfect place for you in one of these restaurants. They are the best so we promise you won't have to give up on the flavor!
Here is a map to locate the restaurants:
1) L'Alsacien
9 rue René Boulanger, 75010 Paris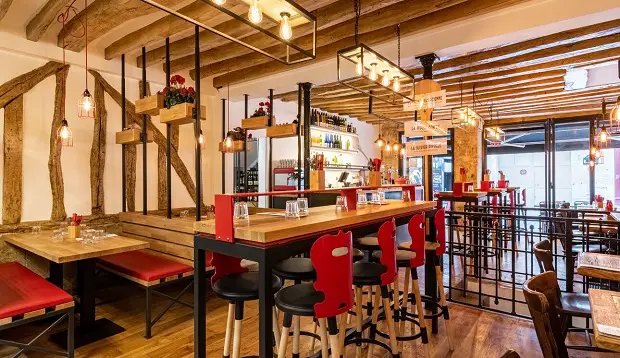 Want to taste the famous Alsatian atmosphere? You have found the right address!
At L'Alsacien, good mood and good food are the order of the day. In addition to a very welcoming staff, you will be able to eat delicious typical Alsatian flambé flamenkeuchs.
Two rooms are at your disposal to organize your events. The lower one has a dance floor, a beer-pong table and a karaoke. The upper one can accommodate much larger groups.
Both rooms are equipped with a self-serve beer dispenser that will enable you to drink as much as you want. Isn't life great?
Price: group menu at 15,50 €.
Website – French
⭐ Are you coming as a group for a birthday or any other event? Privatize part of the restaurant or the whole restaurant (link in French).
2) Le Monteverdi
5 Rue Guisarde, 75006 Paris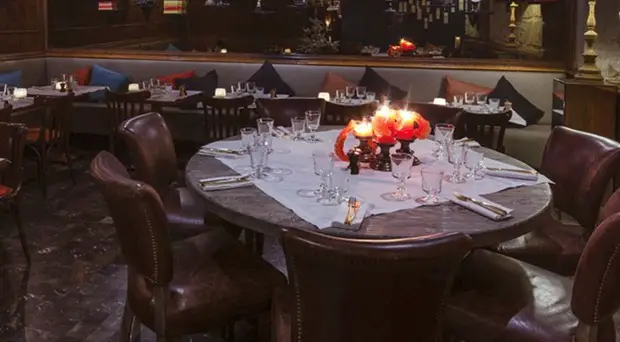 Monteverdi is the kind of restaurant that will make your guests' eyes sparkle. The chic décor, with its leather armchairs, antique books, wooden furniture, etc., gives the place a smoking room atmosphere that will appeal to history buffs.
The Monteverdi offers refined and authentic Italian cuisine that will delight its guests.
The two private lounges available – the business lounge and the lounge with the fireplace – can accommodate between 16 and 25 people.
Prices: from 45 to 60 € for the group menus, and 40 € for the cocktail reception
⭐ Are you coming as a group for a birthday or any other event? Privatize part of the restaurant or the whole restaurant (link in French).
3) Septime
80 Rue de Charonne, 11th district
 

Voir cette publication sur Instagram

 
In this restaurant with a slightly raw decor (wooden chairs and tables, iron stairs and columns, etc.), chef Bertrand Grébaut, who learned from Alain Passard, welcomes you.
Its sophisticated cuisine will introduce you to unexplored associations of flavors, such as the pea pod sorbet. In terms dish presentation, it is quite simple and focused on the produce.
In fact, most of the produce comes from local producers. Due to the high quality of the dishes served in this restaurant, it is very popular and the booking list is quite long, so if you want to enjoy a delicious meal in this fantastic restaurant, book in advance.
Besides, there is an "open" menu, divided into many sections, that is based on the creativity of the chef, so just trust him and taste it!
For groups, there is the guests table that is big enough for 10 people.
Price: from €65 to €110 for the "open" menus
4) Alcazar
62 Rue Mazarine, 6th district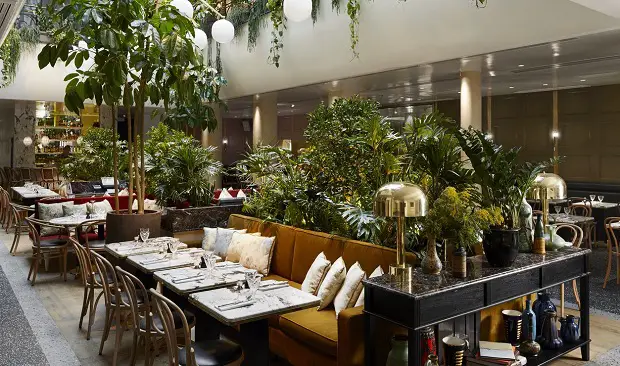 The sophisticated and modern cuisine of this restaurant is ideal for everybody: you will find not only traditional dishes, but also international ones.
There is even a choice for those who are vegetarians or vegans.
On Sunday, come and enjoy the generous brunch of Guinguette d'Angèle.
The elegant and natural atmosphere will delight you: the restaurant is located under a glass roof and its decor is inspired by the jungle; nothing better to enjoy your meal!
However, the Alcazar is not only about food: from Thursday to Saturday you can come become a clubber in its mezzanines to the rhythm of a trendy musical program (the program changes every week, and you can find it on the Alcazar's official website).
This is the perfect place for your birthday parties, after-work, and other group events.
Price: menus between €37 and €44
⭐ Are you coming as a group for a birthday or any other event? Privatize part of the restaurant or the whole restaurant (link in French).
5) Mio Posto
24 Rue Keller, 11th district
 

Voir cette publication sur Instagram

 
Italy – what a beautiful country!
There will be no unpleasant surprises in this Italian bar-restaurant: fresh homemade pasta, delicious firewood oven-cooked pizzas made by real Neapolitan pizzaiolos, and cheeses that come directly from Italy.
Simply by looking at the long menu, your mouth will already be watering and you will want to try everything! But don't worry, whatever you order, you won't be disappointed, the flavors are so authentic that you'll feel like you are in Italy.
But what about groups? Well, everybody wants the big table, but it is not as easy as it seems; you need to earn it, and to do so everybody should arrive on time and order not only a drink but also something to eat. That's the price to pay for an Italian culinary experience as a group…
Price: Cocktails €10, pasta €15, pizzas around €16
6) Le Mordant
61 Rue de Chabrol, 10th district

High ceilings, brick walls, rough wooden tables, glazed bay window overlooking the kitchen… Le Mordant definitely has its charm!
In terms of dishes, there is a great variety, and we can recognize the French and European (mainly British) influences.
This wine bistro has a big table in a wonderful private room – ideal for groups, decorated with beautiful dark flower wallpaper and closed by a big door that will make you think of a country house.
Price: Average price à la carte €40, brunch €27
7) Beurre Noisette
68 Rue Vasco de Gama, 15th district
 

Voir cette publication sur Instagram

 
The Beurre Noisette is a welcoming bistronomic restaurant operated by chef Thierry Blanqui. As soon as you arrive, the staff will offer you some bites as a welcome. The menu changes all the time depending on the season.
Even though it serves sophisticated cuisine, it remains a classic bistro with its classic dishes (rabbit terrine, pork belly, cod back, etc.).
In short, it is a chic restaurant, but not a sumptuous one, with good value for money.
Groups are more than welcome in one of the small private rooms with their black and white tiles and their bottle crates.
Price: lunch menu between €28 and €36, dinner menu between €45 and €60
Website (in French)
8) Carboni's
45 Rue de Poitou, 3rd district
 

Voir cette publication sur Instagram

 
Here, Italy is at the heart of the experience. In fact, this is the concept of the restaurant, specialized in Italian dishes. Its friendly atmosphere and its chic decoration will remind you of fancy restaurants: scraped walls, old leather banquettes, marble tables and hanging plants.
The restaurant can welcome groups of up to 10 people. Beyond this number, you'll have to privatize the restaurant. Moreover, a special menu has been created for groups.
The menu may change depending on the season and the available produce, but in general, it is composed of signature dishes from refined Italian cuisine.
And if after your meal you want to continue the party, don't worry – just go to the cocktail bar located in the basement. It is open until 2:00 am.
Price: €70 per person

I aim to share my tips and recommendations for the beautiful country of France. My goal is to help you plan your next adventure, whether it's a weekend getaway or a once-in-a-lifetime trip. From finding the best hotels and restaurants, to discovering unique activities and sights, I've got you covered!