Do you like original concepts and unusual places? If so, this article is made for you. We have made a shortlist of the most unusual restaurants to be found in Paris, whether it is by the place, the service, the name of the meals or the meals themselves.
This is where they are to be found:
1) Bustronome
2 Avenue Kléber, 75016 Paris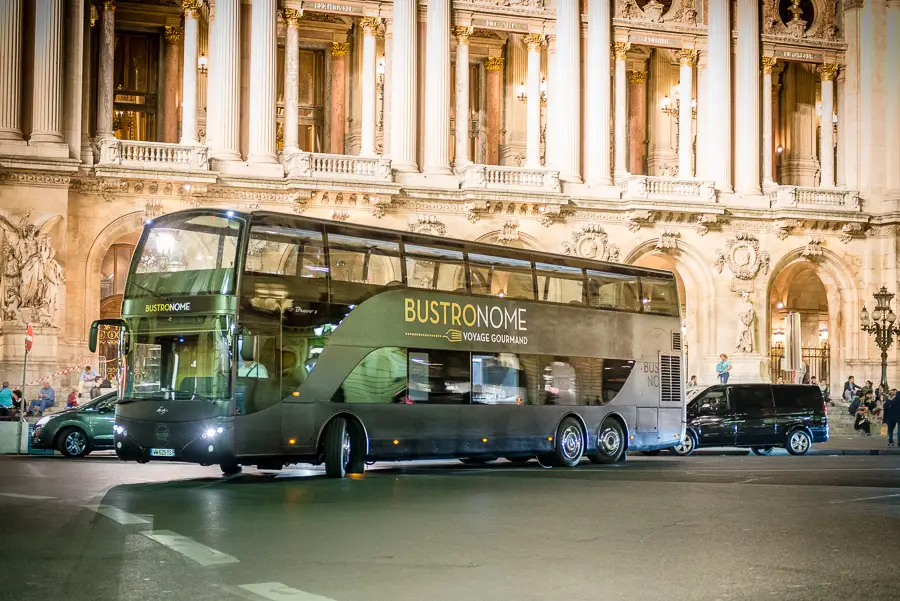 To taste some local gastronomy while visiting Paris and its touristic places is now possible thanks to this bus in which you take your meal under a glazed roof to enjoy the nicest views of Paris.
The restaurant menu will offer you different and restyled courses that can also be adapted according to your diet plan.
You can also find in the kitchens former candidates of the French version of Top Chef.
Enjoy!
Cost: menus between €70 and €120
2) The Barbecue Boat
Port de Cergy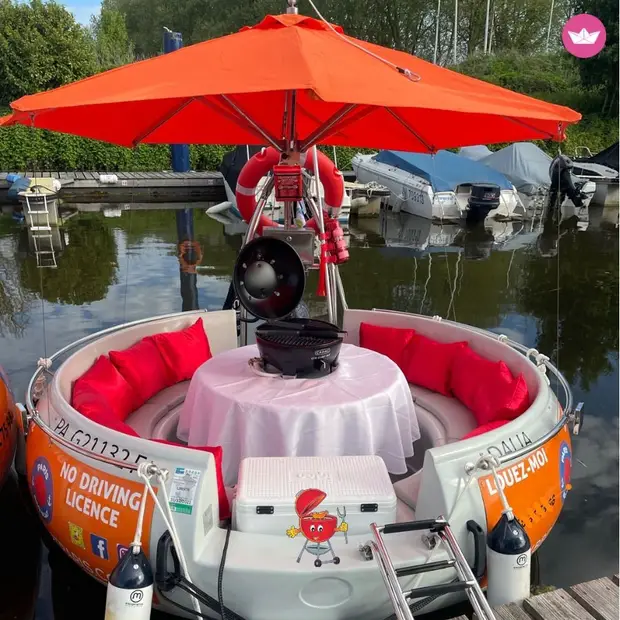 Have you ever wanted to enjoy a nice and peaceful barbecue while floating on the Seine? It is possible with Click & Boat. It is a service which enables you to rent boats anywhere in France.
We are talking about the BBQ Boat. You can rent it from Hakim for 4 hours. You can bring something to grill for a nice, friendly meal, or you can directly choose grill menus offered by Hakim: the Boucher menu (meat), Sushi Boat or Sea Food. For additional fees, you can rent a speaker or a hookah on board.
It is a nice way to enjoy a friendly and warm moment, peacefully floating on the Seine.
Cost: €288
3) Pedra Alta
25 Rue Marbeuf, 75008 Paris
13 Place Lachambeaudie, 75012 Paris

 

Voir cette publication sur Instagram

 
Pedra Alta is a Portuguese restaurant not far from the Champs Elysées. Its dishes are mainly sea products served in very large portions.
In Portuguese, Pedra Alta is a rock which indicates a natural fishing site when the tide goes down. This gives us an idea about the product's quality!
The restaurant serves huge seafood and fish platters.
For instance, one of the most enjoyed platters is very complete: it has two half-lobsters, big shrimps, a stuffed crab, squid skewers, garlic shrimps with sides of clams, french fries, shredded carrots, soy…
Be ready for huge quantities of food. Come in groups with empty stomachs and have a good time.
Cost: platters from €28 to €62
4) Coco de Mer
34 Boulevard Saint-Marcel, 75005 Paris

 

Voir cette publication sur Instagram

 
The Seychelles, but in Paris, they said.
It's a restaurant with a very exotic atmosphere: inside it you will find woodworks, small palm trees and even sand on the ground. You will discover some dishes from the little pieces of heaven everyone dreams about.
What you will find the most exotic is probably what's inside your plate: on the menu, there is curry beef, Seychellois cod, coconut and curcuma chicken, curry squid, and much more.
You will also have a wide choice among a selection of arranged rums with coconut, lime or passion fruit. There is also homemade punch and wine: some of them come from Catalonia, Australia or New Zealand.
Cost: dishes from €13 to €18
Website (in French)
5) Fuumi Sushi-Burrito
124 Avenue Parmentier, 75011 Paris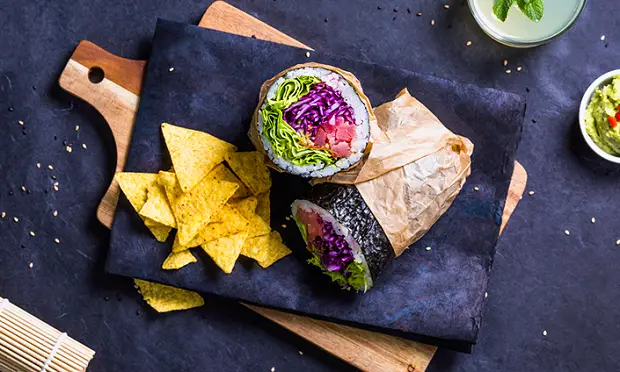 A brand new concept just arrived in Paris. The Fuumi restaurant prepares burrito-shaped sushis in a record time by combining both Mexican and Japanese cuisines.
Don't be afraid to taste the "Tokyo" burrito which mixes raw tuna with guacamole, or the "Tijuana" which blends soy, beef and chipotle sauce together (we won't tell you everything in order for you to enjoy discovering them.)
For special events, the restaurant will prepare a true sushi cake that you can share with your whole family, as well as sushi donuts which will definitely surprise all of your guests.
One thing is for sure, you will never eat sushis in the same fashion after spending your time here.
Cost: between 11 and €13 for a sushi-burrito
Website (in French)
6) Bao & Me
89 Rue du Faubourg Poissonnière, 75009 Paris

 

Voir cette publication sur Instagram

 
The story of Bao & Me originates from the moment when two lovers of Asian and French cuisine worked together to create a "fusion cuisine".
The chef, who is from Laos, is always putting effort into adding his personal touch in dishes that would otherwise be simple, such as burgers.
They become ramen burgers: the burger buns are replaced with crispy noodle pancakes.
In the Bao Sukiyaki, we also find bao buns instead of bread, with some teriyaki chicken inside.
This fusion cuisine, which tastes very exotic, will be a real discovery for your taste buds. You must not miss this restaurant.
Cost: lunch menus between €15.50 and €21.50. Burgers start at €12.90 and €16.90.
Website (in French)
7) Le Café des Chats
9 Rue Sedaine, 75011 Paris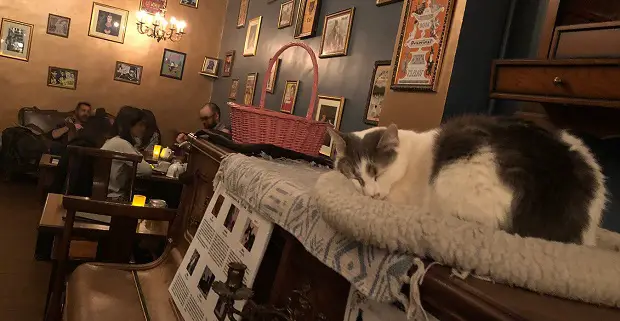 This café-restaurant is well known for its unusual concept: you can enjoy your meal or coffee among cats, freely roaming in the restaurant. Indeed, in this unique place, a dozen cats live here and are pretty much everywhere. You will have some company during your meal.
The restaurant serves nice homemade meals. They are rather classic, like some Provençale lasagna, croque-monsieur, burgers, salads and other simple but tasty foods.
However, the restaurant has certain strict rules about the cats: do not carry them in your arms, do not bother them when they are sleeping, do not feed them…
Cost: from €13 to €16 for most of the dishes. There are also brunches on Saturdays and Sundays for €24 and €29 respectively.
Website (in French)
8) Le Wagon Bleu
7 Rue Boursault, 75017 Paris

 

Voir cette publication sur Instagram

 
This restaurant is uncommon because it is located in a wagon, just like its name indicates.
It also has a terrace. On Friday and Saturday nights, around midnight, it turns into a "dance space", sort of like nightclubs. A lot of people like the unusual atmosphere and it charmed a lot of customers. The restaurant is quite popular.
The more you look at the menu, the more you realize the restaurant has mastered the art of Mediterranean cuisine, especially Corsican cuisine. The chefs work with Corsican producers to provide products with an excellent quality. The restaurant also has a wide variety of 40 Corsican wines.
Among the dishes, you can find Corsican burgers with lonzu carpaccio (lonzo is a Corsican sausage), melted sheep milk cheese, and a Corsican cheese sauce. By the way, most of their burgers have Corsican products in them.
To preserve Mediterranean excellence, the restaurant also serves tapas.
Cost: from €8.50€ to €22 for the tapas ; from €16 to €27 for the dishes
9) Le Dernier Bar Avant La Fin du Monde (the last bar before the end of the world)
19 Avenue Victoria, 75001 Paris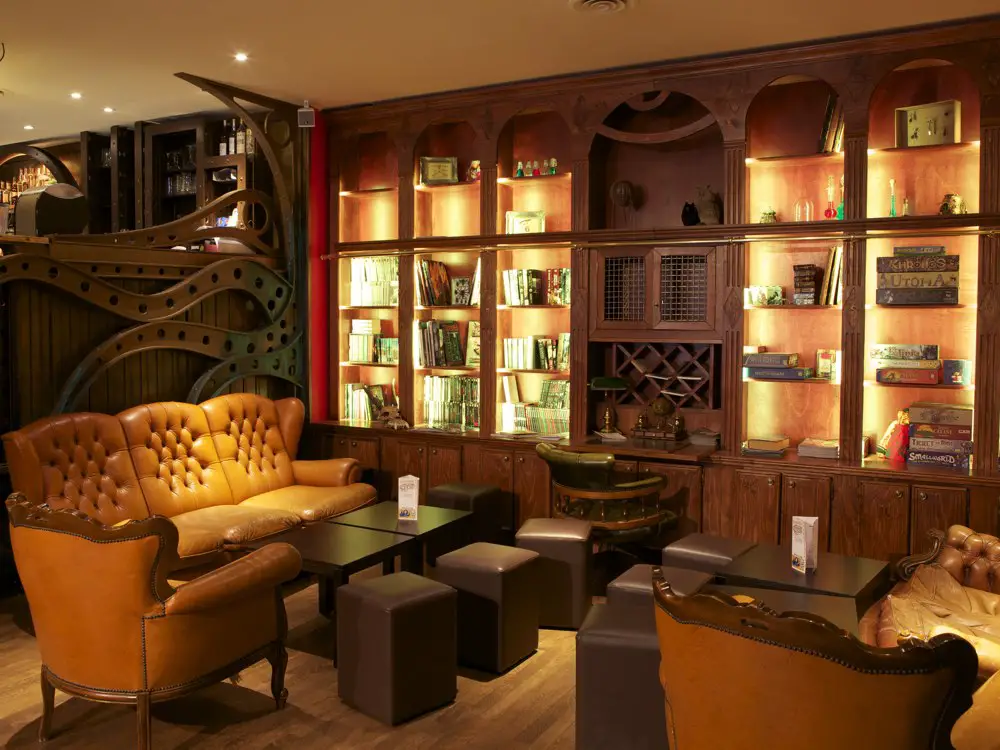 Notice to sci-fi, literature and every universe lovers.
Come and eat or take a drink in a restaurant that puts your favorite movies or TV series at the center of everything.
Here you can taste drinks and meals named after famous characters or places like Godzilla Call, Poison Ivy or even the Tardis.
Another strong point for this restaurant is that it organizes events about those different universes and cosplay is welcomed.
So slip on your finest costume of Jedi, Doctor, Batman or, more simply, of yourself and meet other fans.
Cost: €9.50
Website (in French)
10) Le Kube
1-5 Passage Ruelle, 75018 Paris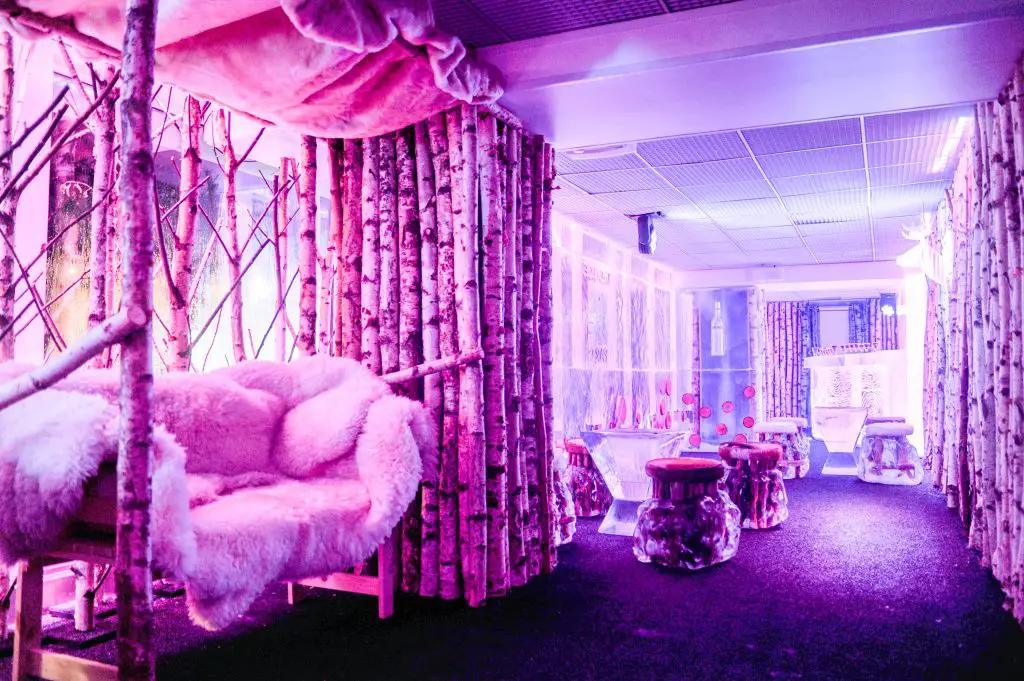 If you want a more unique and improbable atmosphere, go to the bar-restaurant known as Le Kube.
It offers a creative and impressive setting with its illuminated ice bar.
It proposes two menus in order to satisfy all tastes: a traditional and authentic one for fans of classic dishes; and another one, more creative, fun and colorful to charm those who are seeking innovation in their plates.
The menus evolve as seasons change.
The uniqueness of this restaurant especially lies in the bar located upstairs.
It is entirely made of ice (20 tons !) with igloo counters and frozen ice cubes. This bar takes you on a surreal journey with a bright design, both chic and casual.
Cost: €25 for 2 cocktails and a shot
11) Sur Un Arbre Perché
1 rue du 4 Septembre, 75002 Paris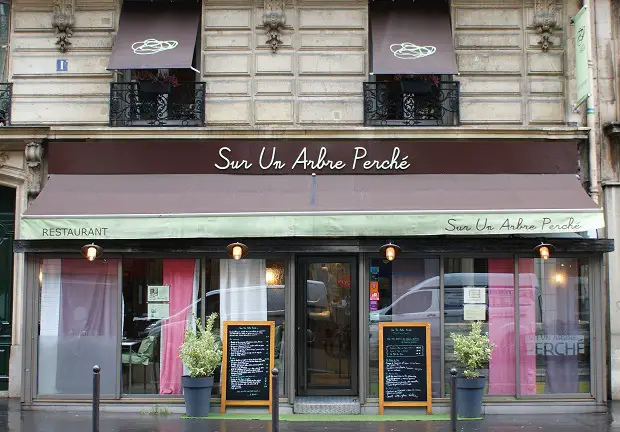 Sur un Arbre Perché is a restaurant set in a welcoming and relaxing natural concept.
You can enjoy modern cuisine in a fun, friendly and creative atmosphere on "swing" chairs and massages are offered at the end of your meal.
All dishes are made ​​with fresh products.
The decoration of the restaurant will remind you of nature, trees and forests; and will offer you a relaxing degustation.
The dishes are original and you will be able to see how they are prepared thanks to the open kitchen.
Cost: prices of the menus vary between 17 and €57
Website (in French)
12) Dans le Noir
51 Rue Quincampoix, 75004 Paris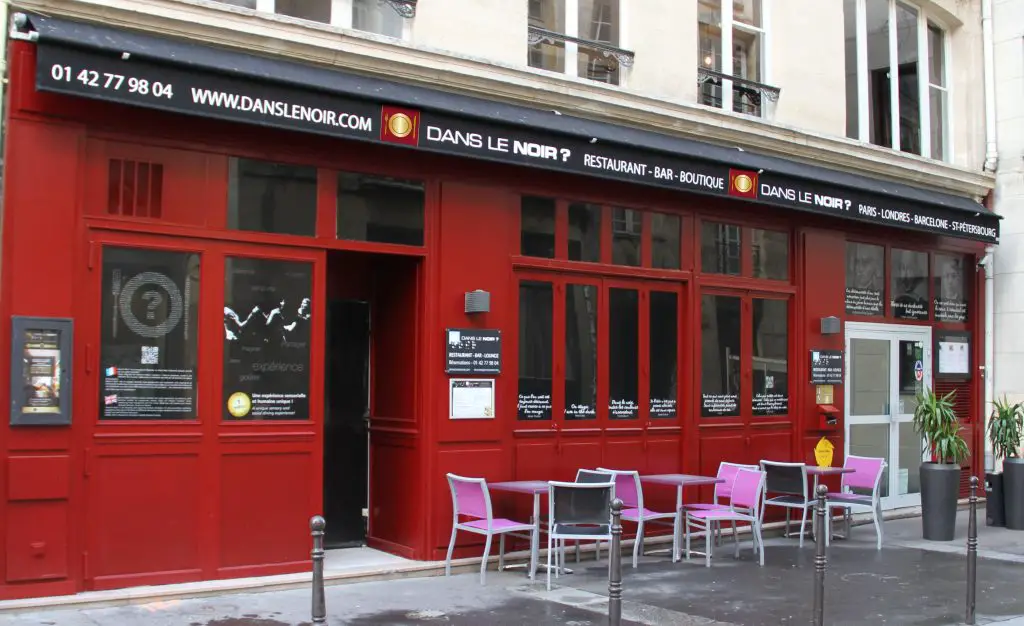 In a rather quirky spirit, the restaurant Dans le Noir is a great suggestion.
Dive into complete darkness in a dining room as dishes are served by visually impaired waiters.
Unleash your imagination as you eat the surprise menus that you will taste but never see!
Cost: from €45 to €105
Website (in French)
13) Bel Canto
72 Quai de l'Hôtel de ville, 75004 Paris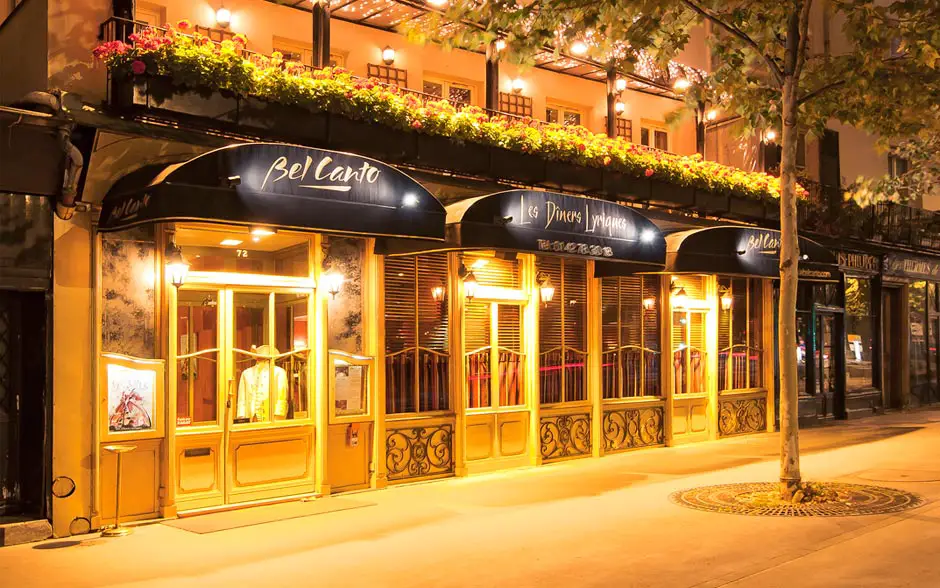 If you want to taste French cooking while listening to opera repertoire, you are in the right place.
Indeed, during the service waiters and waitresses become opera singers accompanied with a piano located in the room.
While singing the greatest operas, the quartet will serve you a delicious and refined cooking worthy of the finest restaurants.
You can taste, for example, a butternut velouté with chestnut, candied chuck steak or even king prawns cooked "a la plancha." With the Bel Canto, the opera is at the corner of your lips.
Cost: menu €87 drinks not included
14) Le Costaud des Batignolles
10 Rue Brochant, 75017 Paris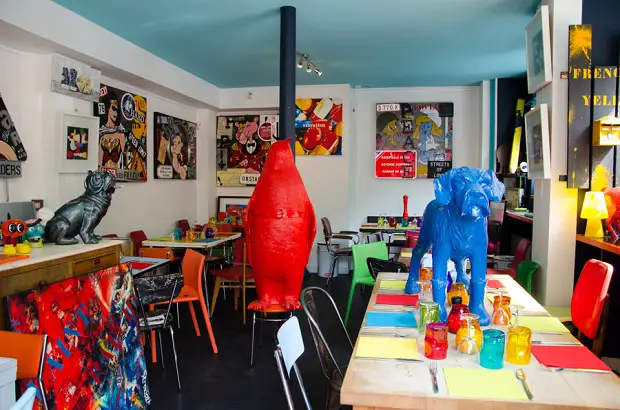 Take your meal in this trendy and colorful restaurant worthy of a modern art museum.
The cooking is for everyone in the family and surprisingly mixes the flavors that everyone will enjoy.
You will taste meals such as a salmon tartare with mango, chicken breast sauté with coconut milk and satay or a Nashi pear carpaccio.
Cost: €40
Website (in French)
15) Razowski
38 Place du Marché Saint-Honoré, 75001 Paris

 

Voir cette publication sur Instagram

 
Razowski is considered to be an American restaurant. Indeed, the main dishes on the menu are burgers.
They are known to be unusual: in this restaurant, any ingredient you can think of can be between two burger buns.
In addition to Mexican dishes like enchiladas and burritos, you can also get bagels and salads.
The restaurant claims its burgers "defy the laws of gravity". A lot of people agree with the fact that the biggest burgers of Paris can be found at Razowski!
The most filling ones on the menu are the Big King Giant with its two 130 grams steaks and its fried egg (among other things) or the Tartufato which contains beef, parmesan, candied onions and truffle cream. Too many fine flavors are there to leave you indifferent.
Cost: burgers go from €11 to €12
16) The Libertalia
Quai n°6 Jean Compagnon, 94200 Ivry-sur-Seine
The Libertalia is an old decommissioned warship, rearranged as a restaurant. It is basically a floating restaurant, as the boat never moves. You can have a nice time enjoying a good meal with a view on the Seine.
You can have classic, traditional cuisine. Salads and carpaccios for appetizers, homemade burgers, fish, rib steaks for the main dishes, and tiramisu, creme brûlée and fruit palettes for dessert.
Cost: menus from €30 to €55
17) Dragon Elysées
1 Rue de Berri, 75008 Paris
 

Voir cette publication sur Instagram

 
Inside this Asian restaurant is a wonderful aquarium on the floor.
It is one of the main reasons why it is so popular.
You will enjoy your onion beef and your caramel pork, and when you look at the ground, you will see plenty of fish swimming everywhere in the huge aquarium, spanning on the whole surface of the restaurant.
Cost: from €8.50 to €75
18) Pink Flamingo
67 Rue  Bichat, 75010 Paris
23 Rue D'Aligre, 75012 Paris
105 Rue Vieille du Temple, 75003 Paris
30 Rue Muller, 75018 Paris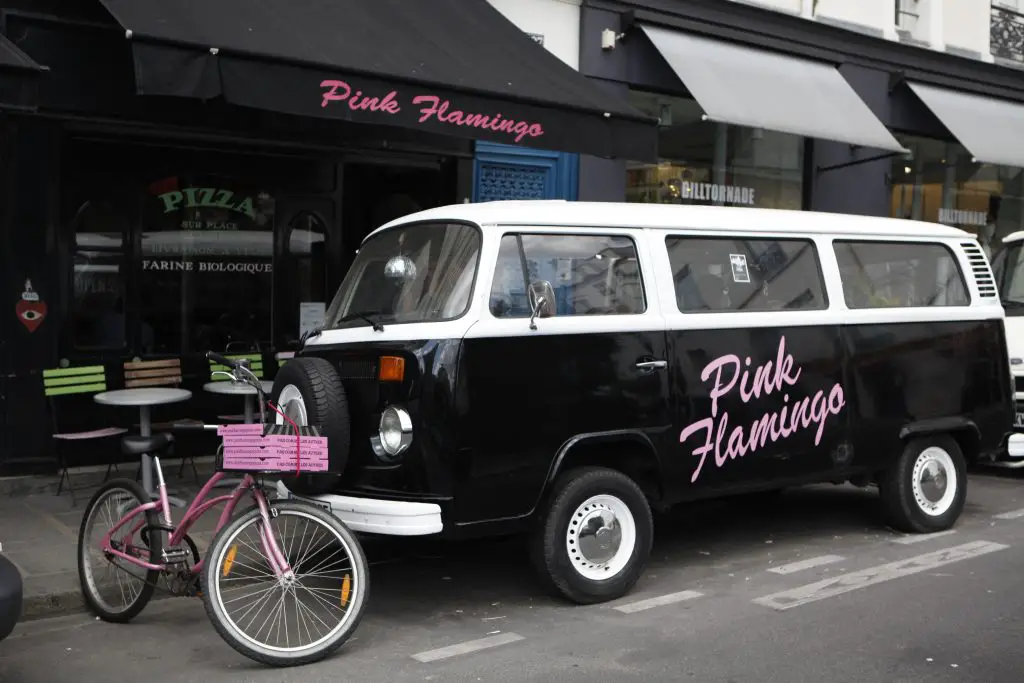 Enjoy the restaurant called Pink Flamingo, where you can eat a pizza like no other: both original and creative.
You will discover a multitude of new recipes, savory and sweet, in an original or surprising decor.
Discover new flavors on those original pizzas such as the "Bjork"  with smoked salmon,  the Ho Chi Minh with chicken, king prawns and coconut milk and many other pizzas that will make you discover pizza through a different way of cooking.
If you want to eat along the Saint-Martin canal, this is possible since a bright pink balloon will be given to you as you order, and thanks to the balloon, the waiters will be able to spot you in the crowd and to deliver you your pizza.
You were looking for an unusual place, right? Welcome to the Pink Flamingo!
Cost: between €12 and €17 for a pizza
19) Pancake Sisters
3 Rue Lucien Sampaix, 75010 Paris
 

Voir cette publication sur Instagram

 
In a more "brunched" spirit, let yourself be tempted by this restaurant that will offer a variety of pancakes, sugary or salty, breakfast or lunch, and with diverse garnitures.
Come and try the salty pancakes with beets and guacamole, salty pancakes with peppers or salty pancakes with beets and fresh goat's cheese.
There is something for every taste and savor.
Cost: €17 – Weekend brunch: €23.50
20) La Recyclerie
83 Boulevard Ornano, 75018 Paris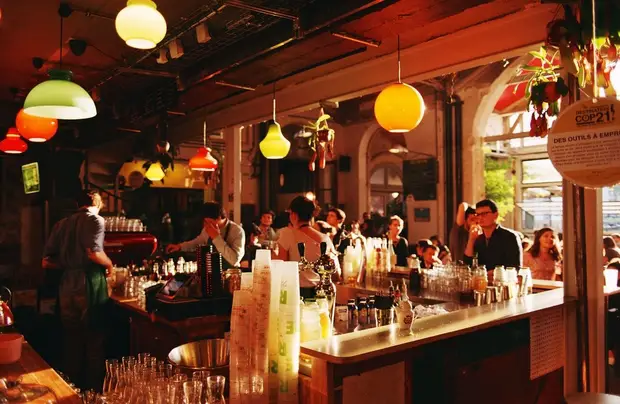 It's a restaurant which insists on eco-responsibility. It is located in a former train station of the Petite Ceinture, a decommissioned railway in Paris.
Everything about the way it functions, from the importation of ingredients to waste management, is said to be eco-responsible. They only count on organic products and got rid of plastic straws, plastic packaging, etc.
Cost: lunch for €13.90
Website (in French)
21) Le Chalet des Iles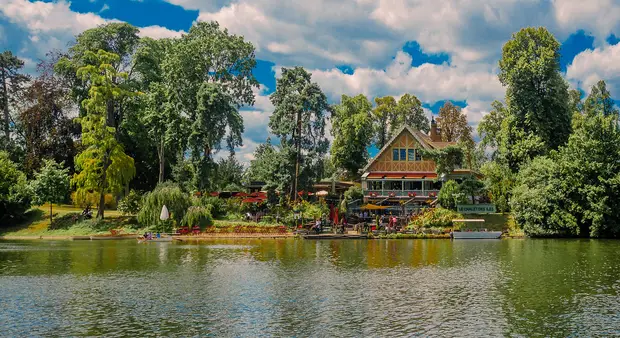 This restaurant is located in the Bois de Boulogne. What's rather unusual about it is the fact it is located by a lake. You can enjoy your meal in the quiet atmosphere of the lakeside restaurant. It is very enjoyable as a restaurant in the capital city.
On the menu, you can find traditional French and Italian cuisine.
Cost: from €18 to €24 for appetizers, and €22 to €39 for main dishes
22) Le Refuge des Fondus
17 rue des 3 Frères, 75018 Paris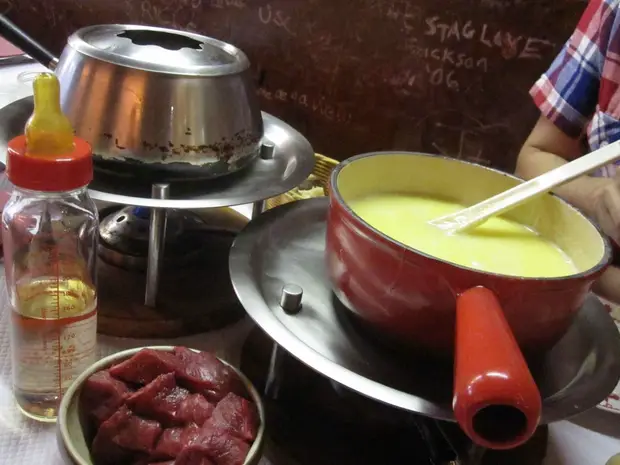 This restaurant has a rustic and narrow interior. It is specialized in Savoyarde and Bourguignonne fondues.
Another particularity: wine baby bottles! You can drink your white or red wine in a baby bottle. This will make for a very friendly and warm atmosphere to have a good fondue with your friends or family.
Cost: €29 per person for the menu
Website (in French)
23) LaLa La Lasagna
12 Rue Pierre Fontaine, 75009 Paris

 

Voir cette publication sur Instagram

 
Just like its name indicates, this restaurant's specialty is lasagna.
You will have the choice between 5 lasagna dishes. Some of them are classics, others are less ordinary: eggplant, fennel, porcini mushrooms, sausages, pesto…
These are the ingredients that are not often found in lasagna. But you will, in LaLa La Lasagna's lasagna.
Cost: lasagna cost from €13 to €14. Antipasti between €6.50 and €30.
Website (in French)
Finally, if you prefer bars to restaurants, go check our article on quirky bars in Paris.

I aim to share my tips and recommendations for the beautiful country of France. My goal is to help you plan your next adventure, whether it's a weekend getaway or a once-in-a-lifetime trip. From finding the best hotels and restaurants, to discovering unique activities and sights, I've got you covered!