The Parisian bars have a certain charm, yet there are plenty of original bars and institutions around the capital. Whether you want to party in a delirious mood or taste singular cocktails, you will undoubtedly find what you are looking for in our list of the most unusual/quirky bars of the capital.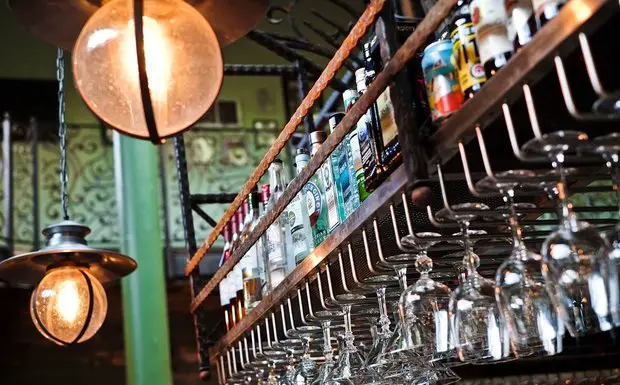 1. Social Bar, Let's Socialize!
In general, when we go to bars, we get there with our friends and we leave with the same ones. At the Social Bar, it is different. The goal is very simple: to help people (whether they are introverts or not) get new acquaintances (without forcing anyone, of course). From the moment you walk in, you have to wear a nametag with some other information about yourself. And then, it's your turn to play! There will be many games and activities to participate in that will help you go towards the other (or that might help people go towards you?).
In addition to the bar's first goal (which is to make you meet new people), this bar is well-named for another reason. It was financed by 175 people thanks to a crowdfunding campaign, which makes it 175 co-patrons that all redistribute 50% of their benefits to associations!
One more thing: when you get to the bar, the tradition is to randomly pick the phone number of one of the bar's regular customers. It might be the start of a great friendship?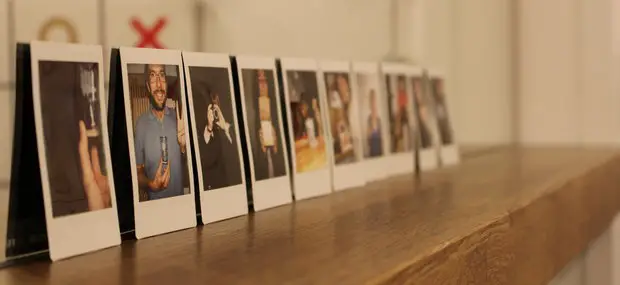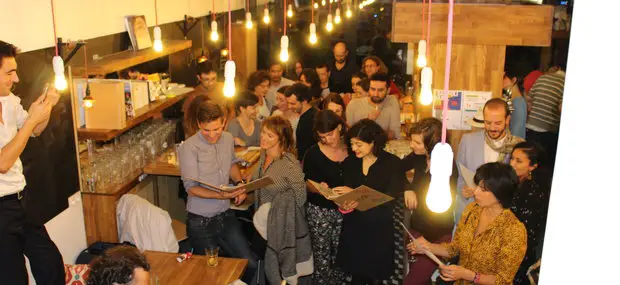 Crédit © Social Bar
Opening hours:
On Mondays: 9am – 6pm
On Tuesdays: 9am – 1am
On Wednesday: 9am – 2am
On Thursday: 9am – 12 midnight
On Fridays: 9am – 2am
On Saturdays: 7pm – 2am
Closed on Sundays
Location: 25 rue Villiot 75012 Paris
Métro station: Gare de Lyon on lines 1, 14, RER A and RER D, or Bercy on lines 6 and 14.
Website & social media:
http://www.social-bar.org/
https://www.facebook.com/lesocialbar
https://www.instagram.com/lesocialbar/
https://twitter.com/SocialBarParis
2. Deux Point Zéro, the digital one
The Deux Point Zéro (literally 2.0) was created by two bartenders. The O'Neil brothers travelled a lot before settling down in Paris to share with us their creativity and their concept of a 21st century bar.
This bar is a "connected" one, but what does that mean? Here, you have to upload the bar app (which is available on the Android and Apple Stores), and then you can vote for the next song on the playlist, or even answer some polls on the bar and its cocktails. Basically, you will interact a lot with other clients of the bar and the bar staff, and each time you participate in a poll, you will earn some points thanks to which you might win goodies or even a drink.
For those who like to play games, you can participate in some activities, such as music quizzes, or you can play some video games. You will have fun and share a great moment with the other clients of the bar while sipping on one of the very original cocktails on the menu.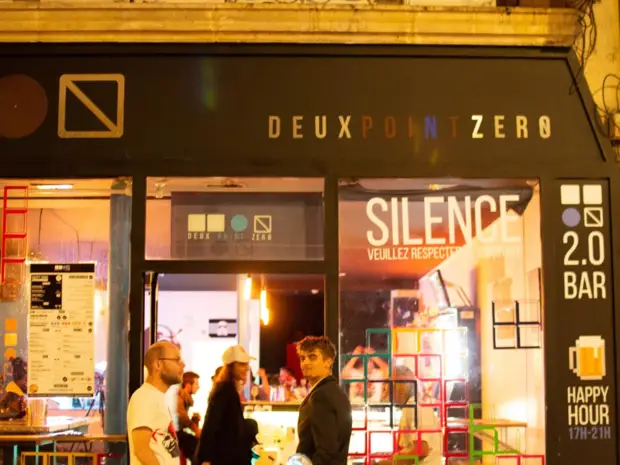 Opening hours:
Closed on Mondays and Sundays
From Tuesday to Saturday: 5pm – 2am
Location: 7 rue Blondel, 75003 Paris
Métro station: Strasbourg – Saint-Denis on lines 4, 8 and 9.
Website & social media:
http://www.deuxpointzerobar.com/
https://www.facebook.com/DeuxpointZero-424310417756889/
https://twitter.com/deux_pointZero
3. Peter Pan's Bar
Feeling nostalgic? Go to the bar called Zéro de Conduite for an incredible evening. It has been specially designed for those who forgot to grow up. In a friendly and fun atmosphere, play Trivial Pursuit to win lollipops, or watch replays of the best cartoons.
The bar hosts events during the school holiday periods and some evenings throughout the year. Join the famous evening "Yippee school is over."
Crédit © Zéro de Conduite
Opening Hours :
From Monday to Sunday : 6pm-1am
Zero de conduite: 14 Rue Jacob, Paris 6th.
Price: Between 6€ and 16€.
4. BAM Karaoke Box Richer, to unwind
For those who like to sing, to unwind and to party, the BAM Karaoke Box is the place to be! This cocktail bar and karaoke place was inspired by the Japanese concept and brought it to Paris for our greatest pleasure. It is the perfect place to celebrate an important event with your loved-ones.
There, you can rent a soundproof room for you and your group of friends which will allow you to sing at the top of your lungs with no shame and without disturbing your neighbors next door! The bar, which is designed in a vintage style, will be at your disposal whether you rented a room or not. You will taste their original cocktails that cost between 8 and 14€. And if you feel a little hungry after singing so much, you can always try the dishes from their menu that are quite unusual for a bar.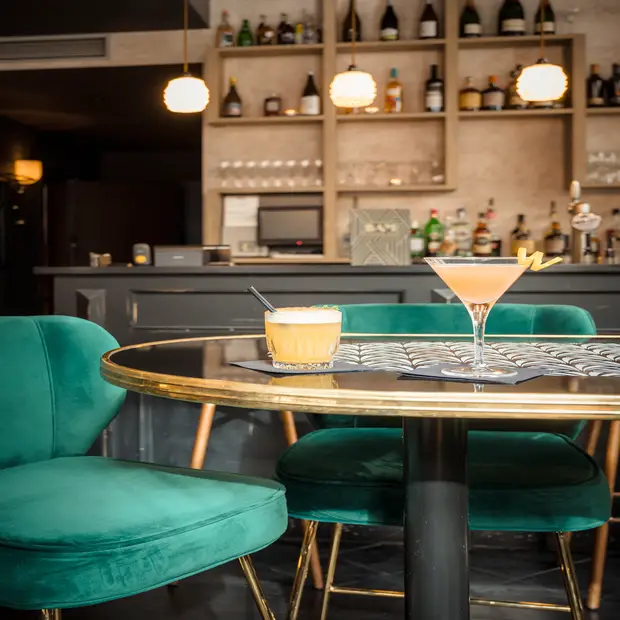 Crédit © BAM Karaoke Box
Opening hours:
From Monday to Thursday: 6:15pm – 1:30am
On Fridays: 6:15pm – 2am
From Saturday to Sunday: 2pm – 1:30am
Location: 30 rue Richer, 75009 Paris
Métro station: Grands Boulevards on lines 8 and 9, or Cadet on line 7.
Other locations: BAM Parmentier – 40 avenue de la République, 75011 Paris
BAM Sentier – 50 rue d'Aboukir, 75002 Paris
BAM Madeleine – 4 rue de Caumartin, 75009 Paris
Website & social media:
http://www.bam-karaokebox.com/en/
https://www.facebook.com/bamkaraokebox
https://www.instagram.com/bamkaraokebox/
https://twitter.com/BamKaraokeBox
http://blog.bam-karaokebox.com/
5. Hairy Bar
For an original interlude, how about a coffee break with a cat? The Café des Chats, located in the 3rd district in the Marais, invites you to immerse yourself in a world dedicated to our feline pets. Simply push the door, grab a coffee, and play or cuddle one of the cats present in the café. Moreover, the establishment donates a part of its profits to organizations for cats.
 Opening Hours :
Closed on Monday
From Tuesday to Thursday : Noon to 10.30pm
From Friday to Saturday : Noon to 11pm
Sunday : Noon to 10.30pm
Café des Chats: 16, rue Michel le Comte, Paris 3rd.
Price: 4 to 8 euros for a hot drink.
6. Wrestling Bar
La Lucha Libre is rather atypical. In the heart of the capital, in the Latin Quarter, you can discover the delirious atmosphere of this bar. After a drink and a well-made house burger (quite tasty for a bar), step into the ring and fight a true professional wrestler if you dare! Yes, you read correctly. In the basement you will find a real wrestling ring where you will have the occasion to fight with a friend (in sumo outfit) or with pro-headliners.
A tip if you want to fight: do not drink too much: the wrestler does not pretend and you might return to your table in really bad shape.
In short, it is a fun bar. Cheap and quite popular with a very nice team!
Opening Hours :
From Tuesday to Saturday : 5pm – 2am
La Lucha Libre: 10 Rue de la Montagne Sainte Geneviève, Paris 5th.
Price: From 5 to 12 euros for a drink.
7. The Vénus Noire, the most poetic one
The Vénus Noire, formerly called "Caveau de la Bolée," was a meeting point for many authors like Rimbaud or Baudelaire. Well-hidden in the 6th district, you'll surely be surprised when you get to the address. In a small paved alley, you will pass the door and walk down the narrow stairs that will lead you to the basement. And you are finally here, probably surprised and reassured while discovering this charming and unique place with its stone walls.
You will feel like you just got in a confidential bar, but no, everyone is welcomed here. There is quite an inward atmosphere, which is perfect to spend an evening with some friends around a drink or two. Jazz concerts are often organized, other genres too, or even exhibitions, and all this for accessible prices… What's not to like?
Opening hours:
Closed on Sundays
From Monday to Thursday: 6pm – 1am
From Friday to Saturday: 6pm – 2am
Location: 25 rue de l'hirondelle, 75006 Paris
Métro station: Saint-Michel – Notre-Dame on Line 4, RER B and RER C
Website & social media:
https://www.facebook.com/barvenusnoire/
8. Reset Bar, for some retro gaming
Are you a gamer? Do you want to play with your old Playstation 2 once again while sipping on a cocktail or a good beer? You are at the perfect place! The Reset Bar is THE place for retro gaming in the capital city. There, there'll be arcade games as well as video games. And to play you just have to buy a drink, that's it; the games are self-service so you don't need to pay to have access to them and have fun. The menu is very diverse and as for the cocktails, there are several types of beers, as well as wines and champagne (and also non-alcoholic drinks). And for those who are a bit hungry, you'll have the choice between a saucisson platter to share with friends, a hot dog or a veggie dish for the vegetarians.
The atmosphere is quite friendly, but you probably shouldn't monopolize the games for too long. It is the perfect place to share a great moment with your gamer friends or why not meet some new ones? For the least patient ones who don't want to wait before playing, you should probably go before 7pm.
Opening hours:
Closed on Mondays
From Tuesday to Saturday: 6pm – 2am
On Sundays: 4pm – 12 midnight
Location: 17 rue du cygne, 75001 Paris
Métro station: Etienne Marcel on Line 4, or Châtelet-Les-Halles on RER A
Website & social medias:
http://reset.bar/
https://www.facebook.com/Reset-1000261353367691/timeline
https://twitter.com/LeResetBar
9. La Commune, The punch bar
After settling down in the 10th district, the staff from the bar Le Syndicat is now going to the 20th district and opens a new address in the middle of Belleville: La Commune. And just like in the Syndicat, there are a lot of French spirits. But unlike its first address, which is specialized in making cocktails with French liquors, in La Commune the specialty is punch!
Here, we don't order glasses, pints or a single cocktail but rather bowls of punch, which, by the way, are as elegant as the bar decoration. We advise you to go as a group so that you can taste as many different drinks as you want, with rum as in a classic punch but also with other alcohols. These delicious recipes will make you travel to India, to the Antilles and also Paris. On a hip-hop musical background, you will enjoy a night with friends, and all this for a great value for money.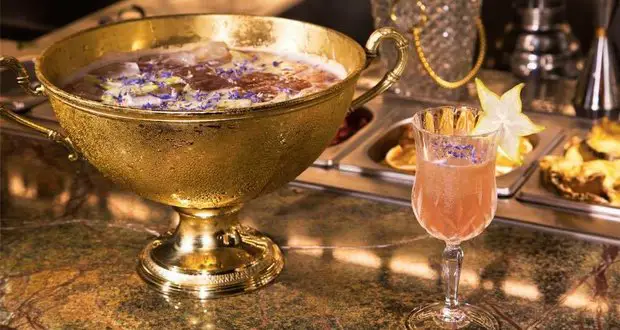 Crédit © La Commune
Opening hours:
From Tuesday to Saturday: 6pm – 2am
Closed on Sundays and Mondays
Location: 80 boulevard de Belleville, 75020 Paris
Métro station: Couronnes on Line 2
Website & social media:
http://syndicatcocktailclub.com/la-commune/
https://www.facebook.com/lacommunepunchclub/
10. Eva Pritsky, to hunt for bargains
At Eva Pritsky's, the concepts of junk shops and bars are mixed up and we love it! There, almost everything is to sell; yes, even the chair on which you are sitting on. It is filled with trinkets, is unpaired, and as soon as the objects get here they are replaced, whether they are the furniture or the walls' decorations.
It is the perfect place to discuss between friends while drinking a good glass of wine. There is great atmosphere that is rarely found in Parisian bars, and that's exactly what makes us want to go back there.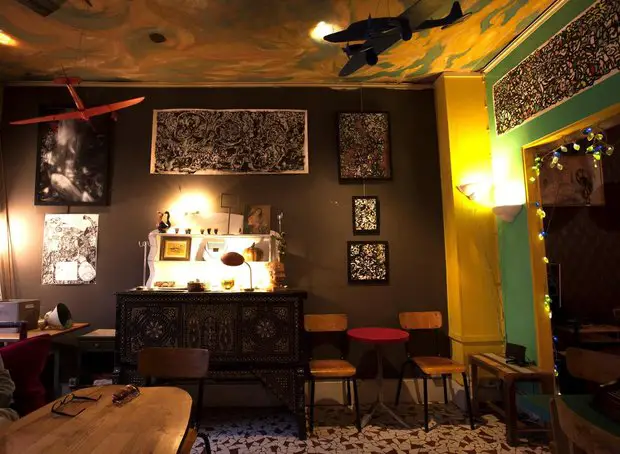 Crédit © Eva Pritsky
Location: 5 rue d'Eupatoria, 75020 Paris
Métro stations: Ménilmontant and Couronnes on line 2
Website & social media:
https://www.facebook.com/Eva.Pritsky/
11. Pachamama
For those who dream of a trip to South America, welcome to Pachamama! Located a stone's throw away from the Place de la Bastille, this bar welcomes you to a relaxed atmosphere that is typical of Latin culture. The historic building, dating from the 19th century, is a work of the world-famous Gustave Eiffel. It is a three-storey building with a dance floor (ground floor), a restaurant (first floor), a cocktail bar (second floor) and a secret room (third floor). The establishment has about 3,000 m2, so you will certainly have enough space to enjoy a typical Latin American evening.
Come and enjoy the festive atmosphere, the spectacular setting, and dance to the rhythm of South America. Order cocktails inspired by the region and eat tapas, all in one place. If you want to visit Pachamama with your friends, remember to book in advance and arrive together, otherwise, you will not be allowed in.
Pachamama: 46-48 rue du faubourg Saint-Antoine, 75012 Paris
Access: Bastille and Ledru Rollin, Lines 1, 5, 8
12. Dernier Bar avant la Fin du Monde
Comic book fans, geeks and anyone who enjoys a fun evening with a good drink and some board games, welcome to the Dernier Bar avant la Fin du Monde. Located in the heart of the city, not far from Châtelet, this magnificent bar welcomes you to enjoy an unforgettable evening. When it opened in 2012, it was an immediate success!
It is the ideal place for an evening with friends. Come and discover how books, games and various sets combine to give this place a festive and original spirit. Come and have fun playing cards, dominoes and much more. If you are hungry, no problem, the last bar before the end of the world also offers you small (or not too small) snacks. So, no more excuses, come and enjoy yourself!
Le Dernier Bar: 19 Avenue Victoria, 75001 Paris
Access: Station Châtelet, Lignes 1, 4, 7, 11 RER A, B et D
13. Le Pavillon des Canaux
This very special place is a mixture of everything – a restaurant, coffee shop, office, etc. – but above all, it is a friendly place to meet people. Located in the 19th arrondissement, this unusual café-restaurant does not accept reservations.
Come and enjoy a delicious coffee, work in a relaxed place and enjoy the entertainment offered by Le Pavillon des Canaux. If you're only interested in eating, don't worry, Le Pavillon des Canaux is also a restaurant, whether it's at noon or in the evening, there's always something for you. With classic dishes as well as vegetarian options, you will not be disappointed.
Le Pavillon des Canaux: 39 quai de la Loire, 75019 Paris
Access: Laumière, Line 5
14. Gossima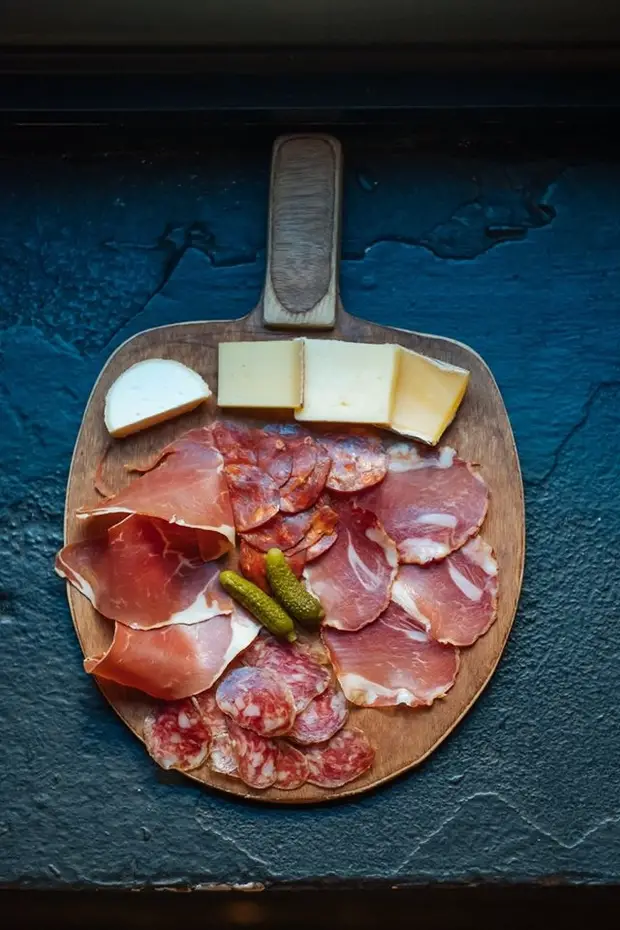 For our friends who are fans of Ping Pong, here is a place just for you! In Gossima, you have two floors, two bars, one stage and eight courts. Several shots in one place: either standing with a beer in one hand and a racket in the other or comfortably sitting on a sofa or around a dining table. Whatever your choice, you will enjoy a wonderful evening in a relaxing atmosphere.
Located in the heart of the 11th arrondissement, this bar offers a Ping Pong evening, drinks and restaurants all in one place. And if you are planning an event, don't worry, the Gossima team is there to help you. There is even a team of multi-medal champions who can entertain your evening!
Gossima: 4 Rue Victor Gelez, 75011 Paris
Access: Menilmontant et Saint-Maur, Lines 2 et 3
15. Le Double Fond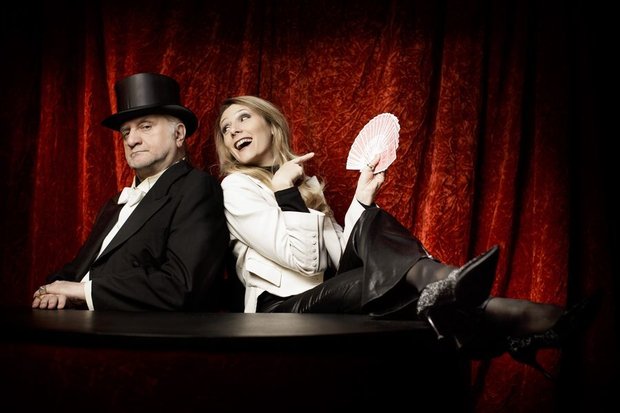 Would you like a magic show? Welcome to the Double Fond, the café-theatre of magic. Located in the 4th arrondissement, on a small pedestrian square hidden in the alleys of the Marais, Le Double Fond offers a magical atmosphere with its cozy decoration and its dim lights. At the bar or on its pretty terrace heated in winter, order your drinks and the waiters-magicians will come and offer magic at your table! In the basement, different shows every night: not the woman cut in half, but sketches full of humor and miracles right before your eyes! Ideal for hosting an afterwork, your corporate event or for a simple evening with friends.
The service is exceptional and the place is full of customers, that's why it's necessary to book in advance. You have several choices of booking, it is up to you to choose between the different options proposed by the site. Don't forget to make your reservation at least one week in advance. The double bottom offers about fifteen different shows, for all tastes and all audiences.
Le Double Fond: 1 Place du Marché Sainte-Catherine, 75004 Paris
Access: Saint Paul, Line 1
And if you are more of a restaurant person, check this article!

Mona knows Paris like the back of her hand. Its bars, its restaurants and above all, its hotels, whether you want to sleep, eat, party or just take a walk in Paris, Mona knows them (nearly) all. Follow her lead, she will gladly give you all her good tips!