Emily in Paris is one of Netflix's biggest successes in 2020.
If you haven't seen it (yet), the show is about Emily Cooper, a young American woman, who leaves Chicago and goes to Paris, where she is about to start her new career at Savoir, a marketing agency.
If you want to pretend to be Emily, here is our guide concerning 25 places you can see in the show.
Emily's apartment
1 place de l'Estrapade, 75005 Paris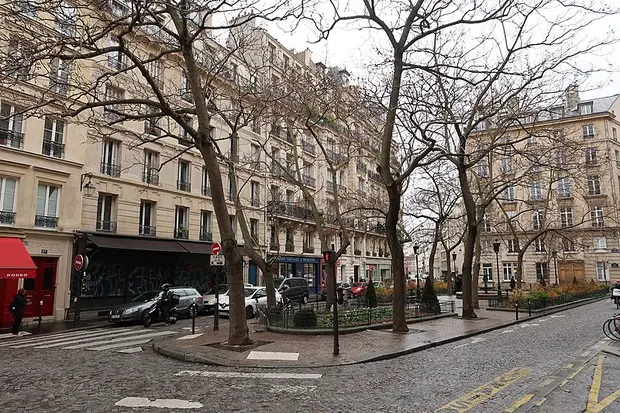 Emily's apartment really is in Paris, in the Latin Quarter, "place de l'Estrapade".
She lives on the fifth floor (without an elevator) of the "maison Moreau" where she has an amazing view of the city.
Though you will not be able to enjoy the view from the apartment, you can walk on the place de l'Estrapade and enjoy the beautiful fountain in its center.
Savoir
Place de Valois, 75001 Paris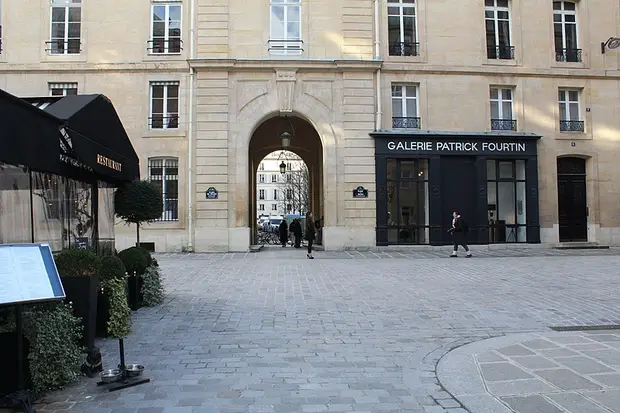 Savoir is a fictional agency, but its neighborhood does exist.
It is located on the "place de Valois", in the 1st arrondissement of Paris.
The agency being fictional, can't be visited, but you can stroll around the square and pretend to be Emily going to work.
Emily's marketing campaign
Place Dalida, 75018 Paris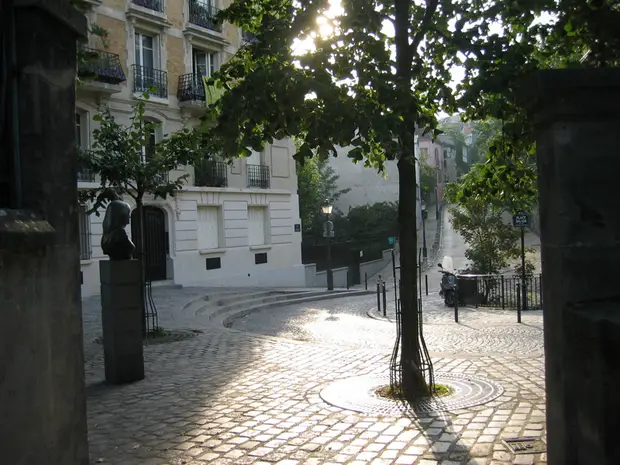 In the fifth episode of the first season, Emily creates a marketing campaign for a brand of luxury mattresses.
Her idea is to put beds in public places so people can take selfies on them.
At the end of the episode, a bed is set up at "place Dalida", in the Montmartre district and Emily takes the first picture of the campaign. You can recreate the scene -without the bed.
The shooting of a perfume ad
Pont Alexandre III, 75008 Paris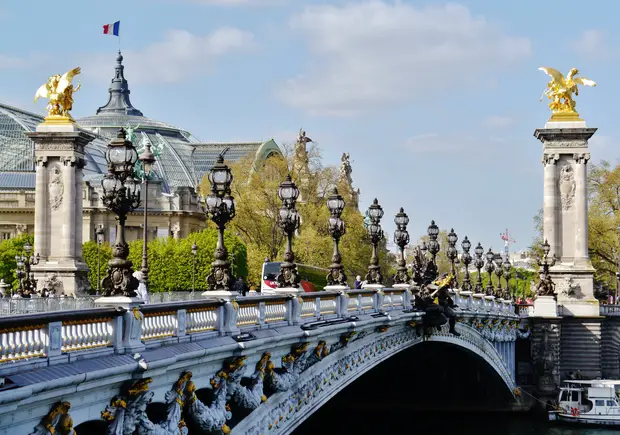 In episode 3, Emily attends the shooting of a perfume ad for the brand Maison Lavaux.
Is there a better place for such a shooting than the Pont Alexandre III?
Day or night, it's an amazing place, where you can take your greatest selfies!
Party at the Musée de l'Homme
17 place du Trocadéro et du 11 Novembre, 75016 Paris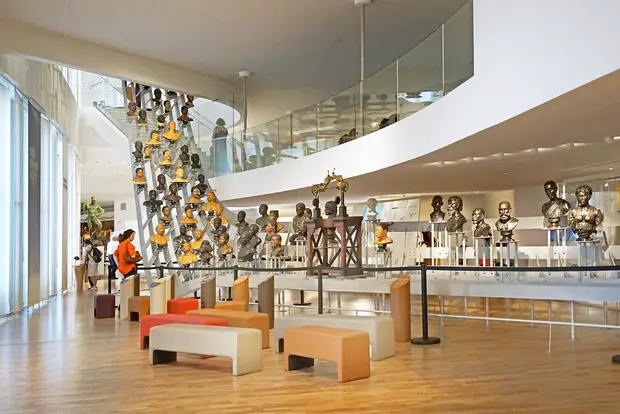 In the second episode, Emily is invited to a party thrown by one of the agency's customers.
The venue is the "Musée de l'Homme", just across the Eiffel Tower.
While this museum is a place you can and should visit, it's the view of the Eiffel tower that was impressive in this episode.
This scene is amazing: Emily wears the most beautiful dress, with a glass of champagne, facing an illuminated Eiffel Tower.
Atelier des Lumières
38 rue Saint-Maur, 75011 Paris
 

Voir cette publication sur Instagram

 
In the seventh episode, Emily visits the Atelier des Lumières, a light show, with two other characters, Camille and Gabriel.
It's the occasion for Emily to have a serious talk with Gabriel, and for us to enjoy the Van Gogh exhibition that was on display when the show was shot.
The exhibitions of the Atelier des Lumières change quite often.
You will not be able to recreate the exact scene that Emily lived, but it's still an interesting place to visit. Read our article about the Atelier des Lumières.
Musée des Arts Forains
53 avenue des terroirs de France, 75012 Paris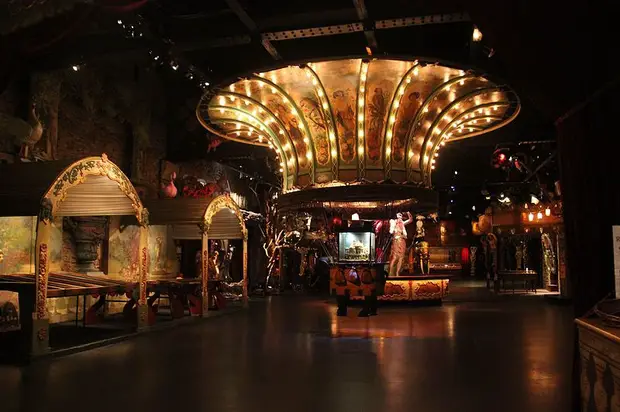 This museum is where Emily attended another party for her job.
The museum displays ancient restored merry-go-rounds and other items related to ground fairs.
You can rent one of their venues to visit the museum or to hold a private event, like in the show.
Plaza Athénée Hotel – Suite Eiffel Haute Couture
25 avenue Montaigne, 75008 Paris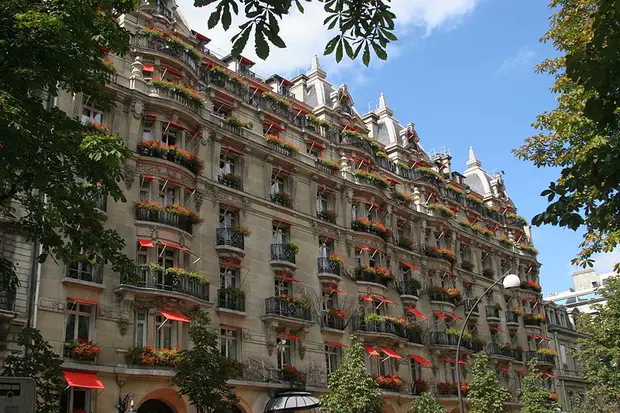 The hotel Plaza Athénée is one of the most luxurious hotels in Paris. It even received the title of "palace".
The Eiffel suite has an amazing view on the Eiffel Tower and it's in this suite that Emily meets Brooklyn, an American actress.
Unfortunately, not everyone can afford a night in this suite.
Instead, you can take a selfie outside the hotel or have a drink at one of its bar-restaurants.
Evreux hotel
19 place Vendôme, 75001 Paris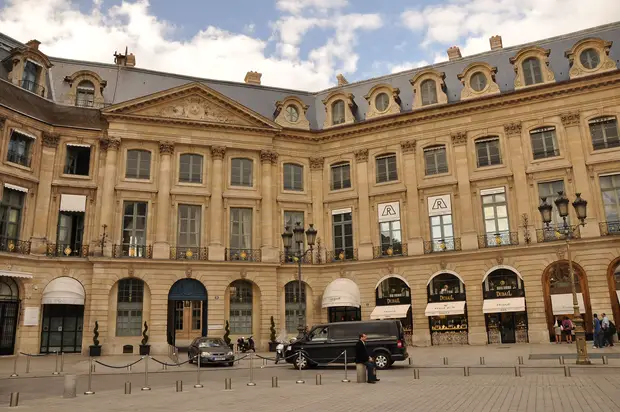 The fictional brand Durée organized an event at the hotel Evreux, an old townhouse, from where you can see the famous Place Vendôme.
If you can't get an invitation for a private event in their private room, you can still walk around the luxurious place Vendôme and its bronze column that you can see from the hotel's windows.
Hôtel Particulier Montmartre
23 avenue Junot, 75018 Paris
 

Voir cette publication sur Instagram

 
Just like Emily, you can have lunch in the gardens of the Hotel Particulier Montmartre.
You can get a table at the restaurant, even if you don't have a room.
You can enjoy an amazing lunch in a luxurious garden.
If you'd rather have a drink than a real meal, their cocktail bar "Très Particulier" will welcome you in their room or their terrace.
Royal Palace Garden
2 galerie de Montpensier, 75001 Paris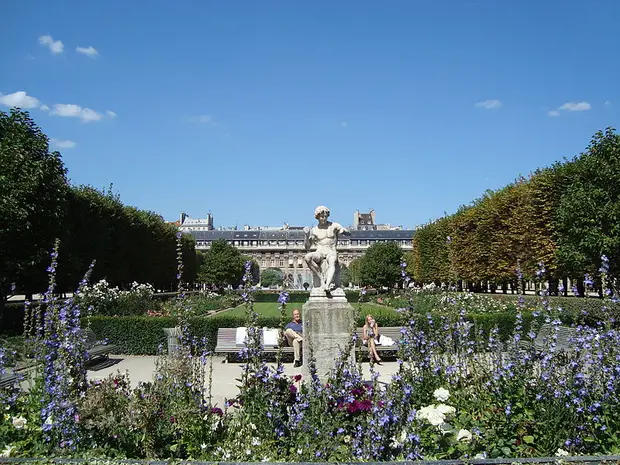 You might not meet your new best friend where Emily met hers, but you can enjoy a nice relaxing time in the garden of the royal palace.
This is the place where Emily and Mindy meet, and later, where they come to have lunch or chat.
This beautiful garden where you can relax is also where you can find the "bench-poems" engraved with quotes from Colette and Cocteau, two French authors.
Palais Garnier
Place de l'Opéra, 75009 Paris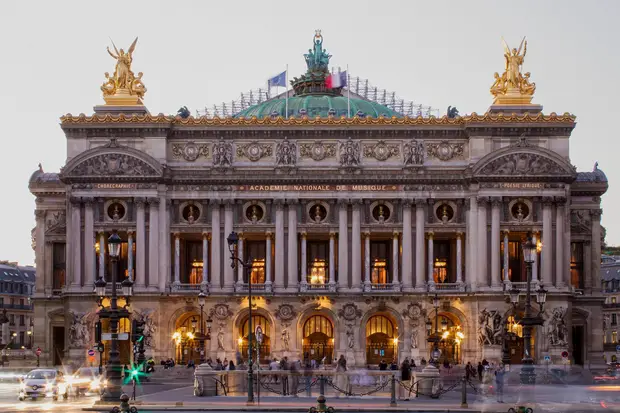 Emily has a date at the Palais Garnier where she attends a performance of the Swan Lake.
If you are not into ballet or opera, you can still visit the palace, either on your own or with a guide. Read our article about Opéra Garnier.
Grand Véfour restaurant
17 rue de Beaujolais, 75001 Paris
 

Voir cette publication sur Instagram

 
The Grand Véfour is a Parisian gastronomic restaurant that opened in 1820.
Many artists, especially from the literary world of 1950, were customers in this restaurant.
Emily had to reserve a table for a dinner with an important client of the agency, but she had the date mixed up.
In 2021, the menu was modified and the prices are (a bit) more affordable, but you still need to reserve your table.
To avoid Emily's mistakes, don't forget that French people write the day before the month.
Monnaie de Paris
11 quai de Conti, 75006 Paris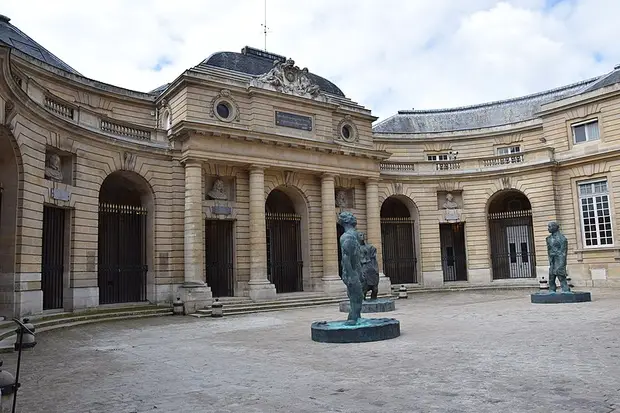 In the last episode of season 1, Pierre Cadault and the Savoir agency set up a publicity stunt for the Fashion Week, outside of the Monnaie de Paris museum.
In the show, it takes place outside the building, but you can visit the museum or check out the store, the café, and the restaurant.
Pantheon
Place du Panthéon, 75005 Paris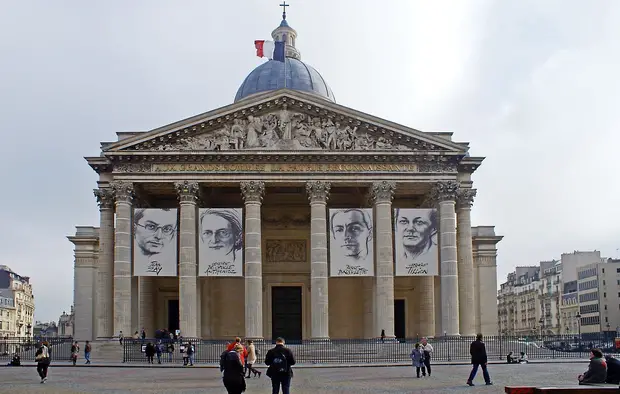 In the second episode, there is a break-up scene in front of the Pantheon. While the outside of the building is beautiful, you can also discover and visit inside.
The Pantheon is an amazing architectural prowess that houses the graves of important historical figures such as Marie Curie, Victor Hugo and Emile Zola. Read our article about it here.
Roxie
23 rue de Ponthieu, 75008 Paris
 

Voir cette publication sur Instagram

 
Roxie is a bar-restaurant that recreates a prohibition atmosphere and where you can dance all night long.
In the show, it's a drag-queens bar where Mindy performs Chandelier on stage after her friends persuaded her to do so.
In real life, there is no drag-queen, but a band performing classics, from the 1950s to today, live.
The maison Rose
2 rue de l'Abreuvoir, 75018 Paris
In episode 5, Emily and Mindy have dinner at the Maison Rose.
It's a French restaurant located in the Montmartre neighborhood.
The ingredients are all seasonal and local and served in a lovely pink house with green shutters.
But if you want to eat there, you should reserve your table for lunch or dinner.
They are also open in the afternoon, from Thursday to Sunday, but you don't need a reservation outside of lunch and dinner.
Flore en l'île
42 quai d'Orléans, 75004 Paris
 

Voir cette publication sur Instagram

 
The Flore en l'île is a restaurant and café where Emily stops after her disastrous first day at work.
Located on the île Saint-Louis, it's a typical Parisian restaurant that serves delicious French cuisine.
You can also get the famous Berthillon ice cream that is said to be one of the best artisanal ice creams in Paris.
Moderne Bakery
16 rue des fossés Saint-Jacques, 75005 Paris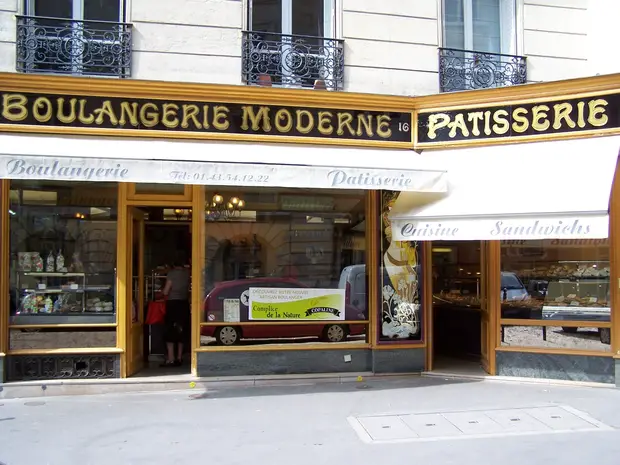 It's the bakery where Emily tastes her first real "pain au chocolat". This bakery has a lot of amazing pastries to offer.
They even have a small terrace where you can enjoy a sweet treat of your choice.
Café de Flore
172 boulevard Saint-Germain, 75006 Paris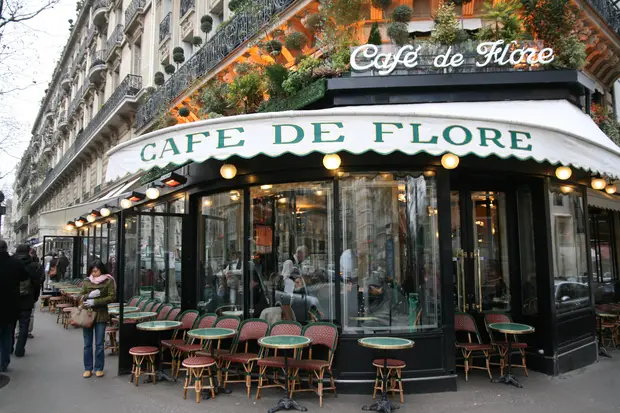 This café is one of the most famous in the capital.
Emily goes there in the first season.
This is where she meets Thomas, the man with whom she will go to the opera.
The Café de Flore is one of Paris' landmarks that all tourists love to visit.
The most famous authors and poets were customers of this café.
Café de la Nouvelle Mairie
19 rue des Fossés Saint-Jacques, 75005 Paris
 

Voir cette publication sur Instagram

 
Close to the Moderne bakery, you can find the Café de la Nouvelle Mairie where Emily sometimes meets up with Mindy.
From breakfast to dinner, you can go to this café at any time of the day for a delicious meal or a simple café.
This typically Parisian café welcomes you in the main room or on their terrace.
Terra Nera
18 rue des fossés Saint Jacques, 75005 Paris
 

Voir cette publication sur Instagram

 
In the show, Gabriel is the chef at the restaurant Les Deux Compères.
This restaurant doesn't exist, at least not under this name.
The real restaurant where the show was filmed is the Terra Nera, an Italian restaurant.
You have to reserve a table if you want to eat there, especially now that the show made it popular. For the fans of the show, a meal and a dish named after Emily were added to the menu.
Ralph's
173 boulevard Saint-Germain, 75006 Paris
 

Voir cette publication sur Instagram

 
Ralph's is an American restaurant that belongs to the Ralph Lauren brand.
Emily is happy to eat there and enjoy a little piece of home. It's a magnificent and luxurious restaurant.
The menu was created along with Ralph Lauren himself.
If the meals are said to be delicious, it's not a restaurant that everyone can afford.
Lulu la Nantaise
67 rue de Lancry, 75010 Paris
Lulu la Nantaise is a crêperie where Emily, Thomas, Gabriel and Camille have dinner.
It's a typical crêperie that serves buckwheat and savory crêpes.
Located near the Canal Saint-Martin, this crêperie is open from lunch to dinner, every day. We only hope you spend a better moment there than Emily.
Bistrot Valois
1 place de Valois, 75001 Paris
 

Voir cette publication sur Instagram

 
Next to the Savoir agency, you will find the Bistro Valois.
Unlike the fictional agency, the bistro is real.
Just like Emily and her colleagues, you can have lunch there.
It has a panoramic view of the place de Valois.
The terrace is covered and heated in winter, so you can enjoy it any time of the year.

I aim to share my tips and recommendations for the beautiful country of France. My goal is to help you plan your next adventure, whether it's a weekend getaway or a once-in-a-lifetime trip. From finding the best hotels and restaurants, to discovering unique activities and sights, I've got you covered!