Every neighborhood in Paris is more charming than the next. We have selected for you the ones Parisians like the most, each one is special in its own way.
1) Montmartre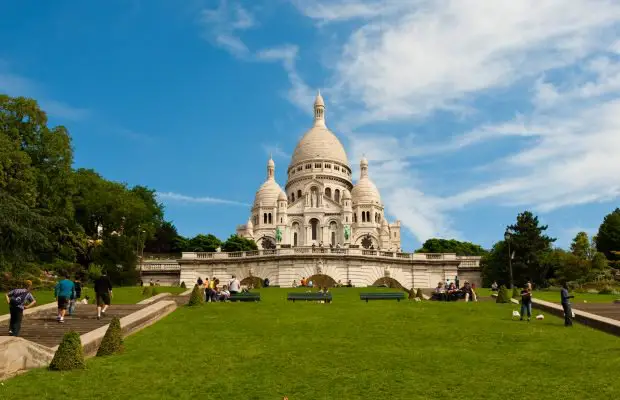 How could we not talk about the charming Montmartre district? It is one of the inhabitants' favorite districts and there's a reason for it.
A real breath of fresh air in the city; you will have a change of scenery in this picturesque place with its cobbled and flowered paths and its timeless atmosphere.
A few suggestions of places to visit:
– Sacré Coeur
At the top of the Montmartre hill, you won't be able to miss this magnificent basilica. You can visit this 19th century edifice which has wealth beyond compare, especially thanks to its architecture and also its crypt.
You will also have an amazing view of Paris when you're at the top of the butte of Montmartre!
– Place du Tertre
At 130m above sea level, a lot of artists come to this famous square. So, why don't you get a drawing of yourself?
This square is a token of the 20th century artistic Paris. Actually, a lot of artists like Picasso lived there.
You can also walk around the streets and visit this lovely area where it almost feels like you're in the countryside.
– Moulin Rouge
Once you've come down the butte of Montmartre, don't forget to go to the legendary Moulin Rouge.
For more than 120 years, one of the most known Parisian cabarets offers spectacular shows, which, while rather kitsch, you don't get tired of.
Enjoy a great dinner and show, and fully experience the Parisian atmosphere that will leave you speechless!
Want to eat in a good restaurant nearby?
Try La Taverne de Montmartre. Located near the place du Tertre, this restaurant offers classic French dishes! From cheese fondue to French onion soup, everyone will be satisfied.
The three-course menu (starter, main course, dessert) costs 14,50€, so don't hesitate!
2) Latin Quarter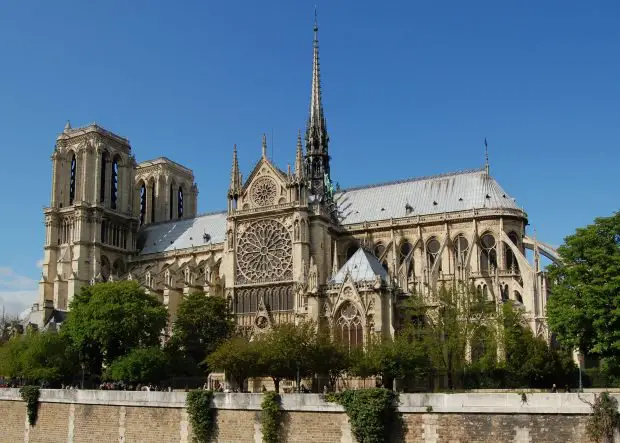 The Latin Quarter is a district you don't want to miss!
Full of history, it's the perfect meeting place for students, Parisians and tourists. It has a lot of remarkable monuments and its cobbled streets will please you.
A few suggestions of places to visit:
– L'île de la Cité et l'île Saint Louis
Real vestige of the past, you can't miss the île de la Cité which once was the heart of Paris.
This isle is the perfect place to stroll. The cobbled streets show history.
You can visit the beautiful Cathedral of Notre-Dame-de-Paris from the 12th century.
Update February 19, 2020: Due to it being rebuilt, the Notre-Dame Cathedral is currently closed to the public. You can still walk up to -and around- it in order to savor its resplendent architecture which still qualifies it as one of Paris' iconic monuments.
Don't miss the Marché aux fleurs (flowers market), one of the most visited markets in the world. Since 1809, it offers plants, flowers, and bushes each day.
A lot smaller than its sister, the Île Saint Louis is just as lovely. You will be able to discover a lot of private mansions on this island which is the perfect occasion to wander through authentic streets.
– The Panthéon
Your visit of the Latin Quarter might bring you to the Panthéon, in which rest many celebrities: Emile Zola, Voltaire, Jean-Jacques Rousseau and, more recently, Simone Veil.
The building has a remarkable architecture inspired of Italy.
You can also see the Pendule de Foucault, installed in 1851, which proved that the Earth does, indeed, rotate!
– Rue Mouffetard
This street is one of the oldest in Paris! It is said that it can be traced back to the Roman period.
This is a really busy street and the charm lies in its diverse shops: there are lots of restaurants and traditional local shops. Butcher shops are close to dairy shops which are close to bakeries and so forth and so on.
Want to eat in a good restaurant nearby?
Located on the rue du Panthéon, the Saigon Panthéon (French link), A Vietnamese restaurant known in the Quarter is worth the trip.
You can enjoy the essentials of Vietnamese cuisine: phò soup, nems, etc.
For an exotic meal, you have found a good address!
The three-course menu costs 23€.
3) Saint Germain des Prés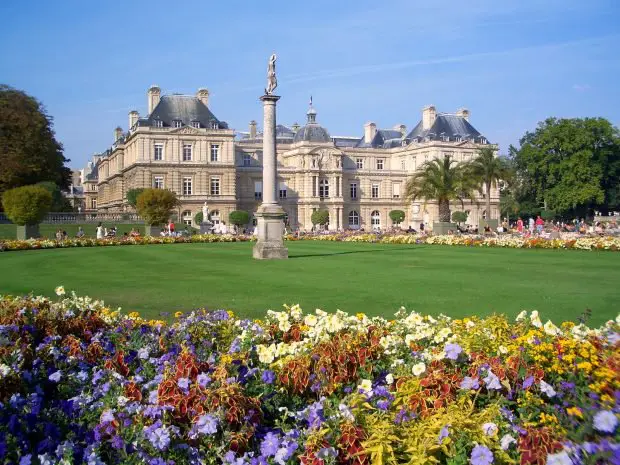 In this beautiful district, you will be immersed in French luxury. Very chic, it is one of the wealthiest areas of Paris. With luxury shops and houses, Saint Germain des Prés is one of the Parisians' favourite places
A few suggestions of places to visit:
– Musée d'Orsay
The former train station destined to be demolished, it is saved at the very last moment to become a museum. Specialized in 18th and 19th century occidental culture, the museum offers exhibitions which are renewed regularly.
Its huge glass roof adds charm to this well-liked museum.
More information here.
– Jardin du Luxembourg
Fitting in this chic district, the jardin du Luxembourg inspired by the Italian gardens. It has visitors from all over the world.
In this garden, you will find the Palais du Luxembourg, its greenhouses which have over 400 varieties of orchids, the Orangerie, which is used as a temporary exhibit room in Summer and so much more…
This peaceful place is well-liked by the locals and we can understand why.
– Les Beaux-arts
Since 1816, the Beaux-arts is a captivating place. Only a few lucky people study in this school. However, you can visit this French artistic headquarter which offers exhibitions regularly.
You can discover centuries of History, from Baroque to Futurism, and you are sure not to be disappointed.
Take the time to walk in the garden, in which there is a blackberry bush planted by Alexandre Lenoir in the old cloister of the abbey on which the building was built.
– Montparnasse Cemetery
Opened in 1924, this cemetery was built where 3 farms once stood.
It is the second biggest cemetery of Paris after the Père Lachaise.
Its 20th century architectural style adds to the charm of this calm place.
This is where you can find the tombs of Charles Beaudelaire, Guy de Maupassant, and even Simone de Beauvoir.
Want to eat in a good restaurant nearby?
Try Invictus, which offers a quality French gastronomic cuisine and fits perfectly in this elegant district.
Close to the Jardin du Luxembourg, you will fall for the way their dishes' presentation.
4) Le Marais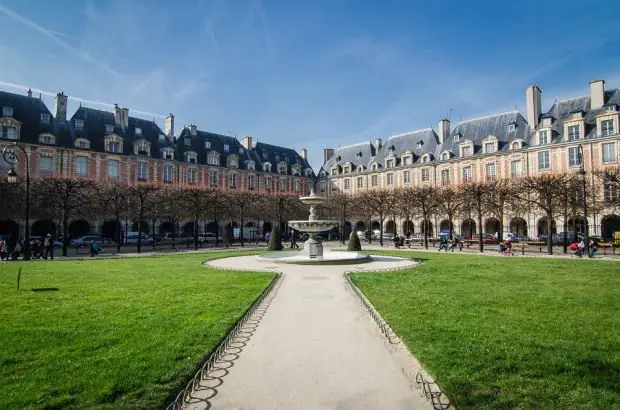 Historical district par excellence, Le Marais is inhabited since the 12th century and has known a constant evolution. There are still many private mansions from the previous centuries.
The cobbled streets and the chic atmosphere of this district makes it one of the most visited in the capital city.
A few suggestions of places to visit:
– Place des Vosges
Don't miss your chance to discover the oldest square in Paris! It was inaugurated in 1612 to celebrate the engagement of Anne of Austria and Louis XIII.
Real historic heritage of the district, the square has, however, not kept its appearance of times gone past.
The Place des Vosges was built as a square. It is surrounded by buildings with identical architectures, which gives a perfect geometry to the whole area.
– BHV
The BHV or Bazar de l'Hôtel de Ville is a department store well-liked by the tourists and locals. There, designer shops are next to furniture stores, fashion stores and many more.
Since 1856, the Bazar de l'Hôtel de Ville is regarded as the 'best market in Paris'. Come and find out why!
– Rue des Rosiers
Your walk in the Marais will lead you to the rue des Rosiers, which has existed since the 13th century. It kept some vestige from the past and has stayed as charming as it has always been.
If it is known today, it's because the Ahskenazi Jewish community settled there. You can find lots of shops and taste the best falafels in France!
5) Champs-Elysées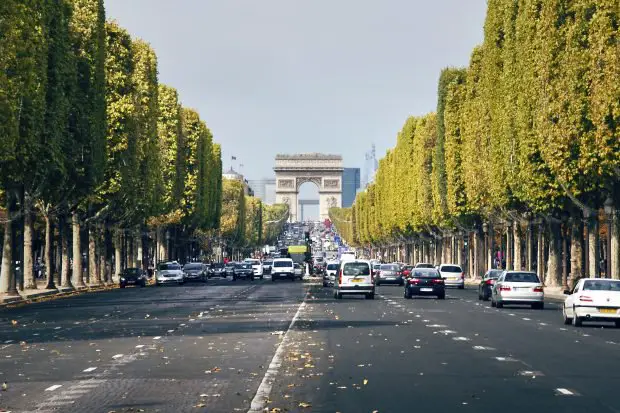 The symbolic district of Paris is visited each day by people from all over the world. With the Avenue Montaigne and Avenue George V, the Champs-Elysées makes the Golden Triangle: the most expensive area of Paris where there are many luxury boutiques.
A few suggestions of places to visit:
– Champs-Elysées
Of course, you just have to visit the most beautiful avenue in the world!
Its numerous shops and restaurants are part of the beauty and luxury of this very frequented place.
In the search of aestheticism, the Haussmannian buildings bring symmetry to this gorgeous avenue. Whether it is for a stroll or for shopping, the Champs-Elysées is the perfect place because shops for every budget are open!
If you walk up the Champs-Elysées, you reach and climb up the Arc de Triomphe in order to discover a new view of Paris.
– Grand Palais & Petit Palais
On  avenue Winston Churchill on which you can see the statue of the politician, you will find the Grand Palais and the Petit Palais.
Both built in 1897 for the 1900 World Fair, you can go there through the Champs-Elysées or the beautiful and famous Pont Alexandre III.
They both hold artistic exhibits that vary on a regular basis.
Besides the gorgeous architecture of the two buildings, the Grand Palais also has an impressive glass roof.
– Place de la Concorde
The Place de la Concorde is the biggest square in Paris. It started to be planned in 1755 under Louis XV.
What makes this square famous is none other than the Obélisque de Louxor, put up in 1836. Gifted by the Egyptians to France to thank Champollion for translating the hieroglyphs, the monument is worth being looked at.
Want to eat in a good restaurant nearby?
Try Le Cinq, the Four Seasons George V hotel restaurant.
This gastronomic restaurant has kept its 3 Michelin stars for more than 12 years, which are a token of the quality and the refinement offered by the establishment.
Prices are like the hotel: expensive. But tasting the Parisian top food may only happen once in a lifetime!
6) Châtelet – Les Halles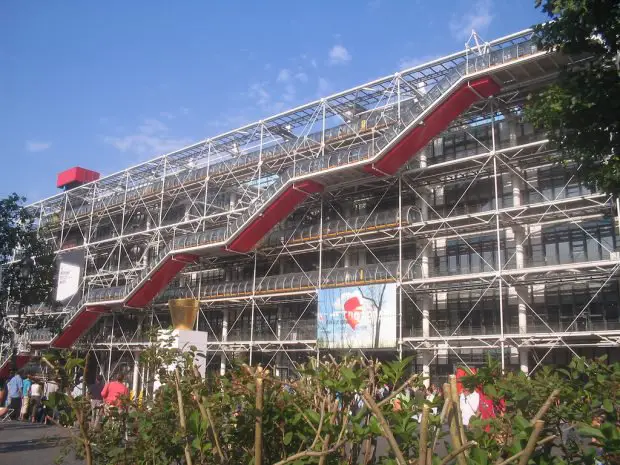 This almost 900-year-old district used to be the former Halles de Paris, now located in Rungis. From 1100, the shops and the district are considered the 'belly of Paris', like Emile Zola used to write.
Now, this lively area gathers a lot of different communities and people of all ages.
A few suggestions of places to visit:
– Forum des Halles
This department store is a must-see in the district! It is now fully part of the Halles. Each day, thousands of people walk within its walls: young and old from all over the world.
Continuously being renovated to improve its appearance, the Forum is now decorated with a canopy – gorgeous work of art which adds to the charm of the building.
– Paroisse Saint Eustache
The Paroisse Saint Eustache (French link) is a 5min-walk away from the Châtelet train station. If you didn't know it existed, you will be surprised by its beauty: its gothic architecture makes it one the most beautiful churches in Paris.
It is where the funeral service for famous men such as Molière or La Fontaine took place and where Voltaire is buried.
– Centre Pompidou
Inaugurated in 1977, this museum specializing in Modern Art didn't always have the same success as it does now.
Former President Georges Pompidou wanted to create an original cultural institution devoted to Modern art but the establishment was criticized because of its appearance and its interest.
Now, many people come and see their regular exhibitions.
More information here.
Want to eat in a good restaurant nearby?
Try Roomies, one of the best burger restaurants in the district!
Here, you can make your own burger, so you won't be disappointed. From a list of ingredients, choose your favourites.
Fries and sauces are homemade. What more can you ask for?
7) Opéra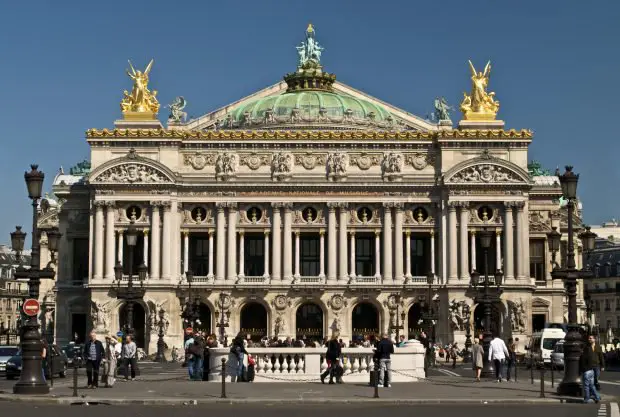 The architecture of this emblematic district is wonderful. You can see famous buildings and major boulevards, typical of the Haussmannian architectural style. A perfect example of this architecture would be the Avenue de l'Opéra which is surrounded by typical buildings and grants you a beautiful view of the Opéra Garnier thanks to its width. While keeping its original beauty, the district still managed to modernize itself and become the center of the Parisian fashion world.
A few suggestions of places to visit:
– Opéra Garnier
Designed by Charles Garnier and inaugurated in January 1875, it's a historical monument ever since 1923. With its gorgeous architecture, the Opéra Garnier is the perfect example of luxury à la française. On its facade, there are 4 sculptures representing Poetry, Instrumental Music, Dance and Lyrical Drama. The inside is as spectacular.
The story of the Phantom of the Opera by Gaston Leroux takes place in this magnificent monument.
Book a visit to the Opéra Garnier
– Musée Grévin
In general, it is very difficult to meet your favourite celebritird. So, the  Musée Grévin offers you the chance to admire their wax statues, before you manage to meet them in the flesh.
It opened in 1882 and welcomes now almost 200 celebrities from Albert Einstein to Mahatma Gandhi passing by Alfred Hitchcock and even Michael Jackson.
New French celebrities who enters the Musée Grévin are picked by the Acédémie Grévin, consisting of both men and women of French media.
For international stars, the managing staff of the museum are the ones who decide.
– Galeries Lafayette
Located on boulevard Haussmann, this huge store has a shopping area of 70,000m². Today, the Galeries Lafayette Haussmann welcomes many shops from hardware stores to luxury ready-to-wear boutiques!
If you're visiting Paris in Winter and especially during the Christmas period, don't miss your chance to see the beautiful Christmas displays all along the boulevard Haussmann. You can also enjoy the lights set up at this time of year and which make the Galeries Lafayette magical and wonderful.
Want to eat in a good restaurant nearby?
Go to rue Saint-Anne, near Opéra Garnier, you will find yourself in the Japanese area of the city. Then, you can pick a restaurant among many with affordable prices. For instance, Higuma (French link) offers dishes for less than 10€.
8) République / Oberkampf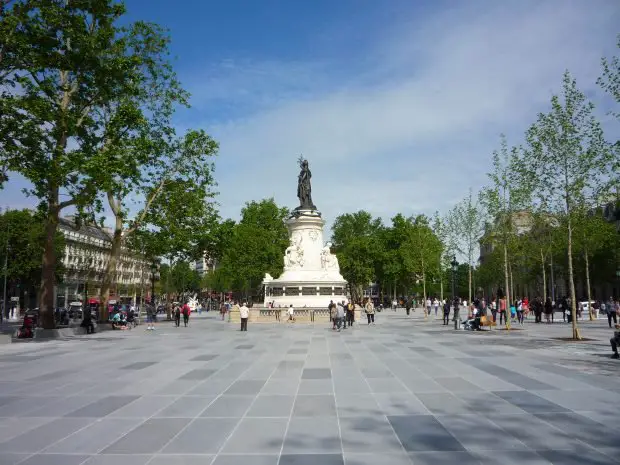 This lively district is the perfect place for festive people! Once night comes around, the Oberkampf district shows its potential.
There are countless bars and plenty of trendy shops.
For a night out or a day out with your family, come and enjoy the good atmosphere in Oberkampf district!
A few suggestions of places to visit:
–  Place de la République
This square was originally a transport hub. It was reorganized recently to make it a pedestrian area.
This place is the usual place for Parisian demonstrations, but it also hosts concerts when the weather is good.
Take the time to admire the Monument à la République, a real work of art with amazing allegories.
– Opéra Bastille
The Opéra Bastille offers modern and contemporary plays. With Opéra Garnier, they make the Opéra de Paris.
Its many seats make it one of the biggest opera rooms in the world!
You can book a ticket here.
–  Bataclan
This building inaugurated in 1865 has a long history.
Changing appearances with every new owner, it welcomed many celebrities over the years: Mistinguett, David Guetta, Jane Birkin… As real historic Parisian treasure, it imposed itself as one of the main concert halls in Paris.
Official site: https://www.bataclan.fr/uk/billetterie
Want to eat in a good restaurant nearby?
Try La vache acrobate (French link). You'll enjoy a tasty cuisine with classics to please you for sure: prime rib of beef, cheeseburgers, poached eggs…
~From 17€ for a dish.
–          The musical bars
This district is famous for its numerous musical bars and is ideal for a night out with friends
* Le Point Ephémère (French link) is a trendy place where artists and people in general meet.
Real artistic center, it offers concerts, exhibitions, parties and more.
The little extra? Drinking your cocktail on 'Le Top', the roof of the building, when the weather is good and in a good atmosphere!
* Panic Room is a bar-club that has a cellar for the clubbers. So, you can go and dance in a great atmosphere.
9) Paris' Forests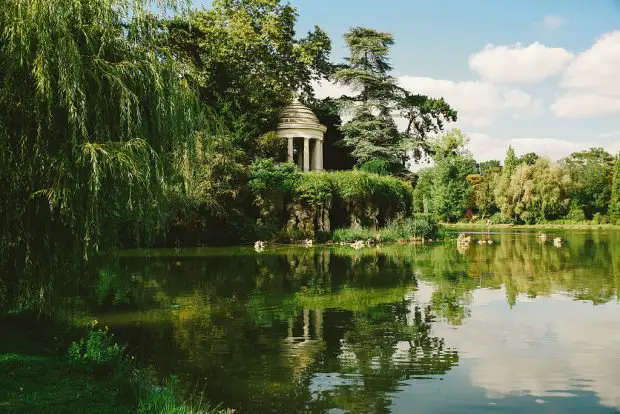 If you want to get out of the city to enjoy nature, why don't you go for a walk in one of the large parks near the capital city? Paris is wonderful but there is not much nature in it. Located on the sides of Paris, both parks offer an escape from the city for a few hours.
A few suggestions of places to visit:
– Bois de Boulogne
Located on the West side of Paris, the Bois de Boulogne was the hunting ground for the Kings of France. Now, people come to relax. This park has two lakes, waterfalls, ponds, etc.
You can stroll in the park while discovering its history thanks to 16 'panneaux-étapes'.
If you wish, you can pony stroll or take a small boat out on the lake (when the weather is good).
– Bois de Vincennes
With an area of 995 hectares, the Bois de Vincennes is the biggest green area around Paris. It has 4 lakes. The Lac de Gravelle is the reservoir for the others. The Lac des Minimes has 3 islands, whereas the lac Daumesnil, the biggest one, has two, accessible by bridges. There is also a waterfall and a cave. The Lac de Saint-Mandé is one of the most picturesque places in the parks.
For people who want to train, 4 areas are available with equipment.
North of the parks is the Château de Vincennes. A monument that is worth a look if you're in the area!
Want to eat?
If you're hungry, why don't you use your trip in nature to have a picnic? Indeed, both parks have picnic areas. Just bring what you need to and have a good time.
To protect the beauty of the green areas, you have to pick up your trash and put them in a bin. And, of course, fires and barbecues are strictly forbidden.

Mona knows Paris like the back of her hand. Bars, restaurants, hotels… whether you want to sleep, eat, party or just take a walk in Paris, Mona gives you her best advice. Follow her lead, she will gladly give you all her good tips and best addresses!