Looking for activities to do around the capital? History enthusiasts, thrill-seekers, sports addicts and for those who simply want to have fun or relax, I suggest these activities to do in the Ile-de-France region and not in Paris itself.
Historical Tours
Ile-de-France is full of monuments and places brimming with history. Guided tours of all kinds are plentiful and history geeks will find their happiness outside of the concrete jungle that is Paris.
Regarding these visits, be aware that entry to all national historic monuments is free on the first Sunday of every month.
The Château de Versailles
→ A 40min car or bus ride from the center of Paris.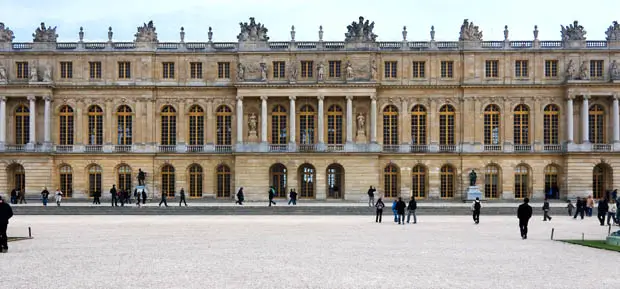 The Château de Versailles is much more than just a castle. Discover the home of French royalty. Louis XIV, XV and XVI, the place has developed with time and kings and is now filled with history.
Originally, the castle was only a hunting lodge created by Louis XIII. It is his son, Louis XIV, the Sun King, who made it his castle.
This castle has survived time and wars, but it is thanks to an American, John D. Rockefeller Jr., and his considerable donation to the French state, that it avoided ruin and became one of the most famous monuments in the world.
Not only will you be able to visit the Castle but also its Gardens, the Domaine du Trianon, and the Royal Stables. There is no shortage of things to see and visit during your day.
I advise you to start your visit in the morning with the other components of the estate before entering the Château later if you don't want to spend hours queuing. You will see, the sumptuous ponds, and fountains as well as the perfectly maintained groves and flowerbeds in the gardens.
Visit the Trianon estate with its large and small Trianon as well as the Queen's Hamlet, an idyllic and underrated place.
Once in the royal stables don't miss the carriage gallery, the equestrian academy of the domain and the sculpture gallery.
Finally, make your way into the castle to cross its famous Galeries des Glaces, see the King's large apartment as well as the Queen's and the many rooms that reflect the luxury of the time.
Regarding prices, in a lot of instances the castle offers free admission or special rates. So, if you are EU residents and under 26 years old, the entrance will be free and you will only have to pay for a few visits; more information about free entrance.
The pass (all-inclusive) for one day is 20 euros and you also have access to other formulas: it's quite reasonable for a whole day of discoveries.
The Château de Fontainebleau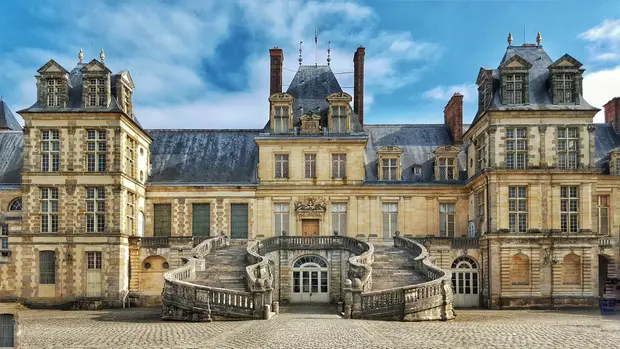 Fontainebleau contains 1500 rooms and an architecture that have evolved and been redesigned several times over the years.
The castle invites you to dive into 800 years of history. Its origin dates back to the Middle Ages and it has evolved over time.
It was the reigning place of François I, father of Louis XII, a former preferred place for royalty, a favourite residence of Napoleon I and a source of inspiration for the republic, for presidents as well as for artists such as Picasso and Malraux.
You will be able to understand the symbol that was this castle by visiting the museums and collections that make it a "castle-museum" like the Napoleon 1st museum, the Paintings gallery, the Furniture gallery, or the Chinese museum. You can see libraries, archives, and documentation on the collections.
Almost 30,000 works of art from the 16th to the 19th centuries are displayed and presented in excellent condition and will easily allow you to imagine the old times as though you were there.
Just like in the Château de Versailles, in several instances, you will be able to benefit from a free entry and the full rate is 12 euros, expect between 3 and 7 euros for each of the guided tours.
The Domaine Chantilly
→ At a roughly 1h car ride and 1h by public transport, you will find that information on the website of the Domaine.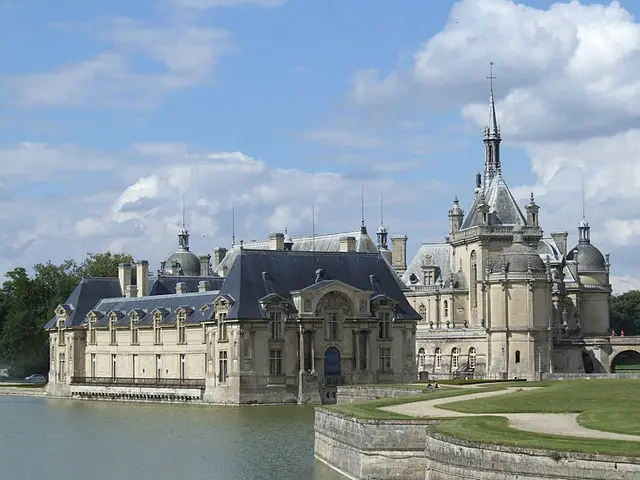 If you love horses and history, don't miss the Domaine de Chantilly and its castle, 115 hectares dedicated to the history of horses, as well as a high place of the high society and the intellectual influences of the 17th and 19th century, which has been very well preserved.
The castle used to be an ancient medieval fortress, it was completely rebuilt in 1875 and is now the property of the Institut de France.
You will be able to observe a rather eclectic architectural style. The Classicism that was mainly shown during the reconstruction of the Grand Château, and a tribute to the French Renaissance inspired by the Italian Renaissance with the Petit Château and its French gardens created by Le Nôtre before he worked on the Château de Versailles Gardens.
Chantilly is well known for its equestrian shows proposed at different times of the year: "Du Manège à la Scène" or "Il était une fois les Grandes Ecuries" will provide you with unforgettable family moments.
The visit is free for the youngest and reduced rates are offered, the different visits and tickets to be booked can quickly add up and add up to a considerable budget.
Here is a guide to the Domaine de Chantilly that you will need for your visit.
The Château de Vincennes
→ A half-hour car drive or 15-minute metro ride from Paris.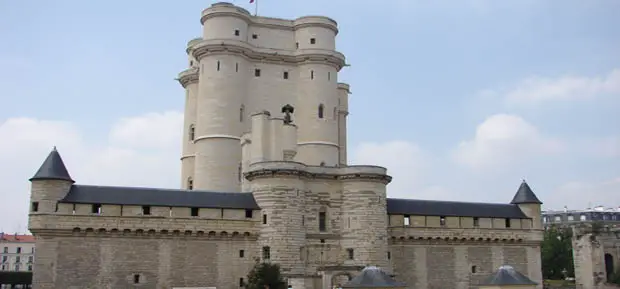 The Château de Vincennes is a building that symbolizes royal power and was the center of the French monarchy before Versailles. Its keep was used as a prison from the 16th to the 19th century and has witnessed the parade of great names such as the Marquis de Sade or Mirabeau to name but a few.
It was the castle that protected Paris from invasions during the 19th century after it was transformed into barracks and an arsenal by Napoleon Bonaparte. The castle was completely restored after the damage it suffered during the Second World War and is now open to visitors.
Visit three levels of the dungeon, including the royal quarters and the former prison. You can't possibly miss the Holy Chapel and its splendid stained-glass windows that contrast with the simple white stone of the construction creating a pleasant effect.
You can also visit the King's and Queen's pavilions, built symmetrically in a classical style.
We also have the possibility to visit both digitally and physically Charles V's study thanks to tablets equipped with virtual reality software that instantly teleport us back to the time of the King.
The site offers a family-oriented visit, and you will have access to a small interactive and didactic game for children (in French).
The Château Champs-sur-Marne
→ A 35-minutes car ride and a 45-minutes train ride from Paris.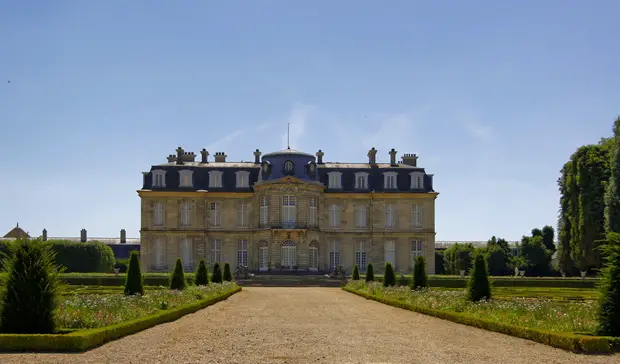 The Château Champs-sur-Marne which is one of the best furnished castles in Ile-de-France welcomes you in its interior where more than 900 collection pieces and furniture, custom-made by the greatest craftsmen are on display.
This castle was built from 1703 to 1708 by Pierre Bullet and Jean-Baptiste Bullet de Chamblain, at the request of the treasurer of Louis XIV and is the very image of a pleasure palace in the countryside for the powerful who wish to escape.
Famous tenants succeeded one another in this place such as the Marquise de Pompadour, the Princesse de Conti, the Dukes of La Vallière and philosophers and writers such as Proust, Voltaire, Chateaubriand, or Diderot.
The estate was bought back in 1895 and completely restored over the years to be offered to the French state in 1935 and become a historical monument to visit. Its gardens inspired by Le Nôtre have been labeled "remarkable gardens" and are worth a visit.
You can stroll through the castle, its lounges, its smokery, its rooms… there are guided tours that will explain all the history surrounding these rooms and there are many exhibitions organized such as exhibitions of antique clothing for example.
The tours are also accessible to children and the site provides children's guides and even a virtual tour (in French).
One last tip for you: get the Paris Museum Pass which will give you access to monuments and museums in Paris and the Ile-de-France region for one or more days. You should also take note of the year-round passes offered by some of these domains such as Versailles for example.
Amusement Parks
We are now moving into another sphere of fun: amusement parks. Here, no historical visits but a dive into fantastic worlds for fun with family or friends.
Disneyland Paris and the Walt Disney Studios parks.
→ A 45-minute car ride or a 40-minute train ride from Paris.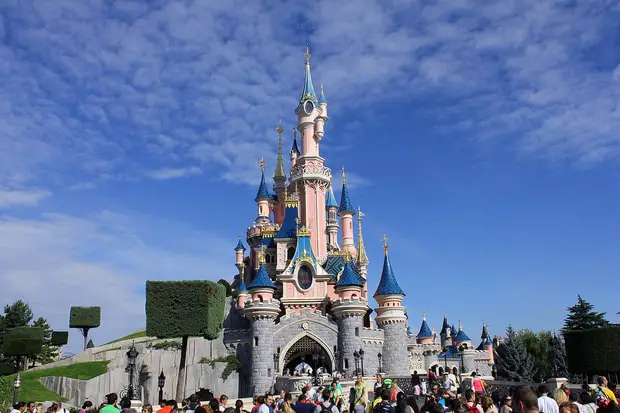 When we think of an amusement park, most of us think of Disneyland, and for good reason, it is the number one European tourist destination, and one of the most popular amusement parks in the world.
The park was approved in 1987 by the French authorities and Walt Disney to open in 1992 and will be 28 years old in 2020.
Disneyland Park is divided into 5 "lands" (villages) that offer something for everyone:
Main Street USA with its Disney discovery workshops, vehicles and horse-drawn carriages.
Frontierland with its "Big Thunder Mountain" roller coaster, ghost mansion and other thrill rides.
Adventureland with its Indiana Jones Temple of Peril, Aladdin's Enchanted Passage and the Pirates of the Caribbean attractions.
Fantasyland with its very famous "small world" dolls world, the Land of Fairy Tales or the Pinocchio attractions.
Discoveryland with its Star Wars, Space Mountain and The Mysteries of the Nautilus attractions.
The Walt Disney studio park, which is part of the complex, is oriented towards a more adult audience. The shows and animations offered there change quite often.
It is divided into several areas, the Frontlot which presents the golden age of Hollywood in the form of theatrical productions; the Courtyard Production which focuses on shows around Disney films, the Toon Studios which presents Disney and Pixar animation and finally Backlot which gathers thrilling attractions such as the Tower of Terror.
Visit the Disneyland Paris website for a complete list of available attractions and shows.
In the Disney Village you will find hotels, bars and restaurants, a Gaumont multiplex cinema and plenty of activities to keep you busy after the attractions in the park. A few kilometers from the park lies the Disneyland Golf for those who wish to play.
The Disney's affiliated hotels are not the most affordable but do not hesitate to inquire about them such as the Disneyland Hotel or go for a more affordable hotel in the surroundings such as the Ibis Marne La Vallée Val d'Europe.
Here is a guide to plan your visit to the park.
Price: from 56€ on
Book a ticket (French website).
The Parc Asterix
→ A 1-hour car ride or 1 h 20 minutes in public transport from Paris.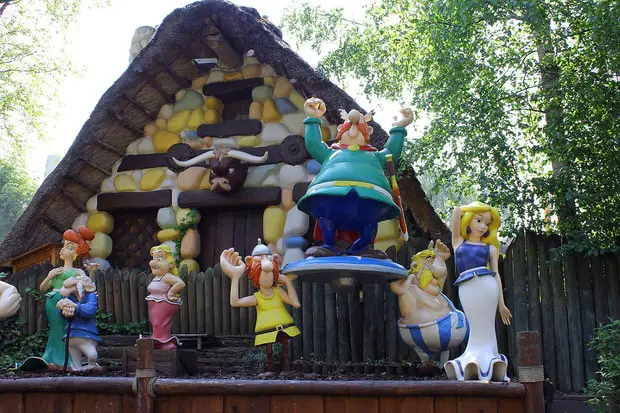 The origins of the parc Astérix date back to the 1980s with its creator Albert Uderzo, co-creator of the Asterix and Obelix comic books with René Goscinny since 1961.
It was in 1987 that he was finally able to make his dream come true with the help of other talented people such as designer-animator Pierre Tchernia, comic book authors Marcel Gotlib and Fred, as well as actors Roger Carel and Gérard Hernandez, not to mention architects Michel Kalt and Jean-Michel Ruols.
It was decided that the park would be built in the town of Plailly, only 30km from Paris and as close as possible to Charles-de-Gaulle airport to make the park accessible. It was in April 1989 that the park was officially inaugurated by the Minister of Culture Jack Lang.
The park is in constant evolution; the attraction "Tonnerre de Zeus" was born and met with immediate success in the second half of the 90s. In the years 2010s the park has undergone a colossal expansion with a new area on the theme of Egypt and two additional attractions: Le Pégase Express and Discobelix.
To date, the park has 42 attractions and there is something for everyone. Attractions such as the Menhir Express, the Aventure Asterix or the SOS numérobis are very popular with families.
For those who prefer thrills, you can try the Oziris, the Goudurix or the Cheval de Troie to name but a few.
Your little ones won't be bored at all; they can climb aboard attractions made for them such as the Enigmatix, the Lavomatix or the Hydrolix for example.
Full price: adult 51€ – child 43€ for one day.
The Parc Aventure Land
→ 1h25 minutes from Paris by car and 1h40 in public transport.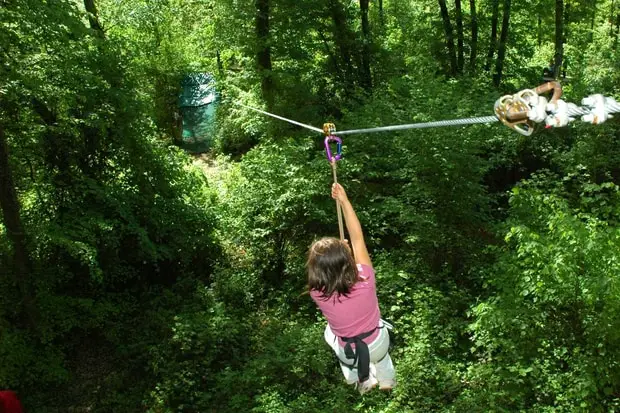 A park in the middle of nature and close to Paris.
The park puts a gigantic space which includes several courses of treetop adventure at your disposal, some courses especially for teenagers and adults but also some adapted for children from 4 years old. It is a perfect park for a family who wants to spend time outdoors.
The employees will educate you and your children about nature and animals along the courses as you cross the many treetop installations, all of which are secured and protected by nets.
Try the courses for older children which are equipped with attractions such as the Vir Express (a circular zip line) or the Vertig'Jaut (an acrobatic ride on an inner tube).
Aventure Land is not only tree-climbing but many other activities you can take part in such as go-karting, bike races, inflatable games, mini-golf, playing in a ball pool, giant sledding…
Or choose the playground for the younger ones (with a rest area for parents) or an educational mini-farm for more relaxing activities.
Ticket prices vary according to the height and age of your children, ranging from 19 to 25€ with reduced rates for seniors, mothers-to-be and families.
More information and ticketing on the Aventureland website (website in French).
The Mer de Sable
→ Less than an hour from Paris by car.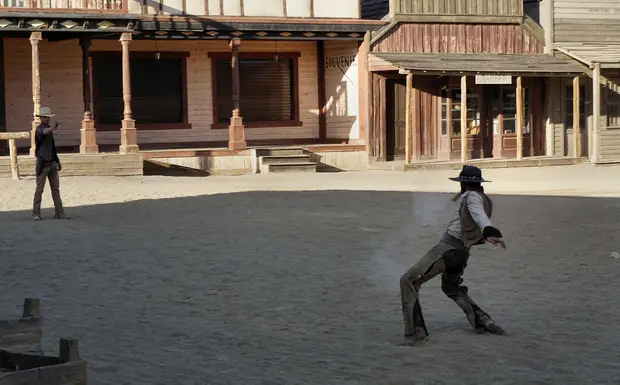 A park in the department of Oise, with about thirty attractions almost all of which are accessible to children (90 cm and more); it is a park where they will love to go, and everything is designed around them.
Shows on the Far West which remind us of those of the Puy du Fou or Ok corral and impressive equestrian shows, you will very quickly be immersed in the atmosphere and your children too.
You will also find a small village, Chikapas, the world of monkey dolls to be more precise, which the youngest love to visit.
There are different attractions in the water such as the wild river ride down the river in a buoy, attractions thought for those who like to be a little more stirred up like the Tiger Express (a roller coaster), the longest zip line in France or the quad ride in the desert which is accessible from 7 years old.
There are also theme parks such as the Marais Cage and its slides, climbing tracks and games for children.
You can also go for the Mississippi Valley treetop adventure course, the flying machines of The Conquête du Ciel or the water pistol games of the Petits Rangers course.
As a result, the Mer de Sable is the perfect place for families or groups of children and teenagers. And don't forget to book online at La Mer de Sable, tickets will be cheaper (website in French).
Fun activities
Rent a boat on the Seine river
→ On the Seine river and around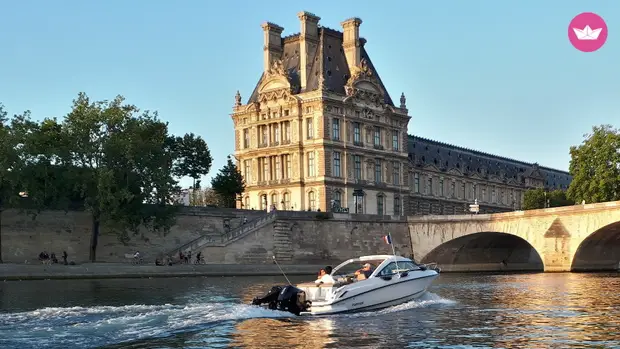 Click & Boat is a platform which allows you to rent a boat anywhere in Paris from an individual. It has numerous offers on rental boats of any kind: big or small ones, with or without an engine, with or without a skipper… Really a great way to discover Paris and the surrounding areas from the Seine.
For instance, we have selected this motorboat cruise on the Seine river which is 3 hours long. You will be able to see Paris from an angle you are not accustomed to. This nice boat has a capacity of 5 persons including the captain, it has comfortable benches, a table if you want to eat or drink, a movable roof to block the sun, and if you want to add some music to your cruise, a very good speaker and subwoofer system.
Many other similar cruises are available on Click & Boat. You can even rent some unusual boats such as barbecue boats, party barges, or italian launches…
Koezio
→ Less than an hour away from Paris by car.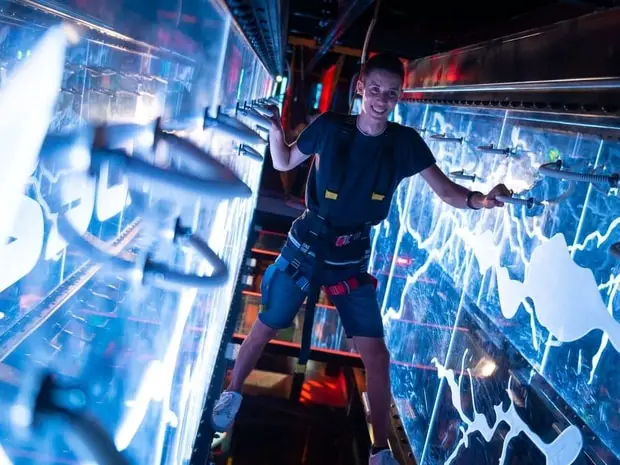 The Koezio special agent center is a mix between Total Knockout, Ninja Warrior and Total Wipeout.
It is a 6000 m2 indoor space dedicated to escape games in several forms. The activity lasts around 2 hours and is accessible to anyone above 1m40.
It is the perfect activity to do with friends, family, or colleagues to strengthen your bonds and team cohesion. You will have to work hand in hand to cross 4 districts full of challenges and finally be able to win.
In the first district, you will use a black light to find clues; observation, memory and speed will be the keywords to pass this test.
In the second district, you will have to channel your inner athlete to cross trampolines, slides, ball pools, inclined planes, etc… This is your "Ninja Warrior" moment. Your team has a limited amount of time to pass all checkpoints.
District 3 will allow your body to recover but your mind will be put to the test, it is a test of communication and general culture in which you will work with your friends.
In district 4 you will have to cross suspended areas like acrobats, to do tree climbing courses, cross monkey bridges, you don't have to take part in the adventure, but it would be a shame to miss it.
A giant slide will take you to the last zone of the area where you will have to solve a short treasure hunt to finally come out as the great conquerors of these events.
Recently, the park started offering a virtual reality adventure. For less than an hour, you will be able to embark on a 3D virtual universe where you will be able to create your avatars and live unique and very realistic adventures.
Hot-air balloon ride
→ Less than an hour away from Paris, near the Château de Fontainebleau
Come to Fontainebleau to live this unique experience, a feeling of freedom and a breath of fresh air in the skies and far away from the city. Hot air ballooning is offering oneself an unparalleled view of all the beauty that the Ile-de-France region has to offer.
France Montgolfières has more than 30 years of experience in hot air balloon rides. This flight is accessible to the young and the old alike and it is not necessary to be athletic to take part in it.
The circuit, adapted according to the wind conditions, lasts over 1 hour, and the whole experience lasts about 3 hours.
Ascend smoothly into the skies and float with the wind. Enjoy the show; you will have a breathtaking view of the magnificent classical architecture of France: castles, French gardens, lakes, valleys, and mountains… you will be amazed.
You will reach land with your head still in the clouds and will be welcomed in a pied à terre with the traditional "Toast des Aérostiers" to eat and drink while sharing your impressions on what happened.
The Aigles du Rempart
→ At 1h15 minutes from Paris by car and 1h45 minutes in public transport.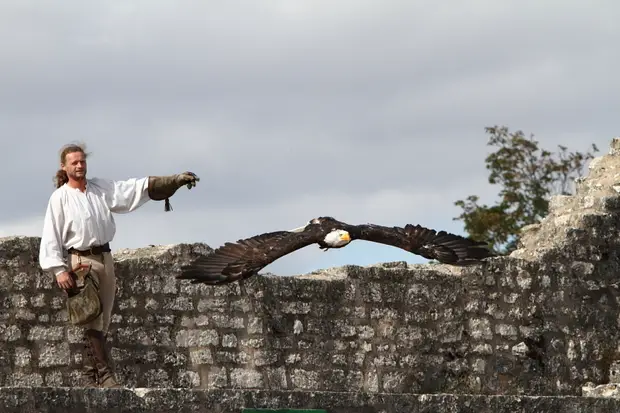 Provins, a medieval city classified as a UNESCO World Heritage Site welcomes you in its Théâtre des Remparts for a wonderful show on the art of falconry on horseback.
100 birds of prey, trained in the traditional art of falconry, dromedaries, donkeys and horses galloping under their watchful eye are here for you. Treat yourself to this 45-minute airborne ballet.
The artists will transport you from Europe to the ancient Middle East, and all through Central Asia.
25 different species of birds such as majestic eagles, vultures masters of gliding, majestic owls, elegant snakes and many other birds that you will be able to observe after the show by visiting the company's aviary are waiting for you.
This show is captivating for all ages, and it is all the more enjoyable thanks to the setting provided by Provins.
The theater also offers another show, centered on knights: the well-named play "La Légende des Chevaliers" featuring an equestrian ballet and simulations of chivalry in a medieval setting.
The prices for both shows are the same, 12€50 for an adult and 8€50 for a child, and you will find all additional information on the Provins website.
The Playmobil Funpark
→ A 30-minute car ride from Paris and a 45-minute ride in public transports.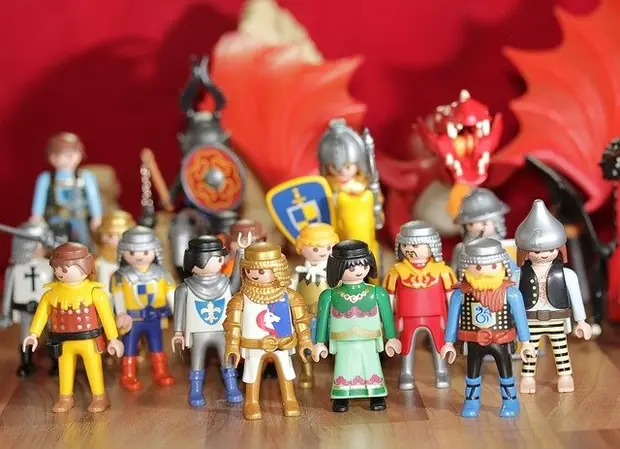 A park dedicated to the Playmobil world. 2000m² divided into 12 playgrounds, there is something for all the Playmobil worlds, from pirates to fairies to firemen. Moreover, the decors and life-sized versions of the small toys are very successful and impressive.
Each of these buildings contains game tables on which smaller structures are solidly attached and gigantic toy boxes containing all existing Playmobil and Playmobil accessories, even the brand-new ones.
4 fire stations, 4 Ferris wheels, 6 princess castles, houses… so many mini-parks where your children can let their imagination run wild for several hours while you accompany them or sip refreshments on the food court.
It's obviously a place of collaboration and growth for your children to work with others to build the best possible stories. The best part is that they won't have to tidy up after themselves, the staff will take care of that on a regular basis.
There are activities throughout the year and special events on holidays, during the activities your children will be able to win little bags of Playmobil goodies.
The park also contains a very large Playmobil store with lots of things that you can't find in the store anymore and there is something for every budget. This is not really a problem since the entrance prices to the park are very low! (3 or 7€).
Find more information on the Playmobil Funpark website.
The Serre Aux Papillons
→ At a 1h car ride from Paris or at about 1h25 minutes from Paris in public transports.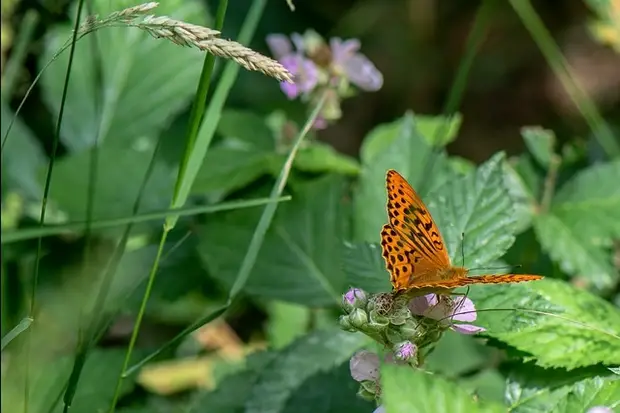 This is an indoor tropical ecosystem that has been providing a great life to butterflies for more than 30 years. Welcome to the butterfly greenhouse, where you will see all the colors of butterflies you can think of.
The greenhouse welcomes the young and old alike, you are welcome to attend this magnificent ballet of butterflies, in these wonderful gardens of plants cultivated especially for butterflies.
Chinese quails walk on the ground -their secretion is important for the ecosystem, everything has been studied by butterfly experts and they will be happy to explain the life of these small animals to you during the various educational workshops.
In the morning, come and witness the hatching of several dozen butterflies in front of the hatcheries, a special place where the butterflies come out of their chrysalis to join their fellow butterflies in their little bubble of happiness.
Observe them in their daily life and you may be so lucky that some of them will come to you. It's a pleasant and relaxing place.
The prices are 5€ for 3-14 years old and 7.50€ for adults, more information on the Serre Aux Papillons website (website in French).
Take a stroll with llamas
→ A t 1h10 minutes from Paris by car.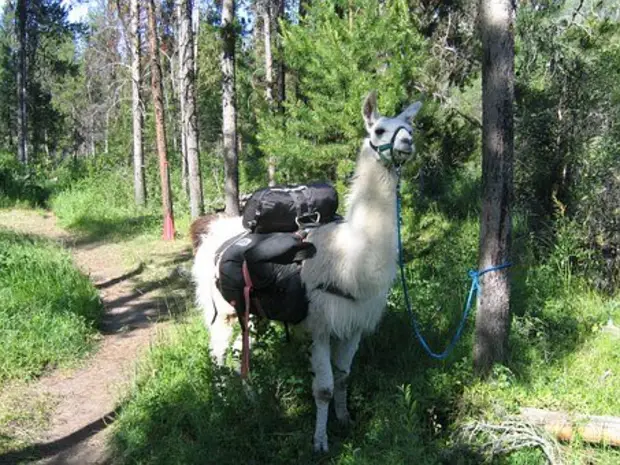 Llamas are not animals we see every day, it's different than walking your dog. Come with your children to Essonne to enjoy a good time in the forest with Lamas.
This activity is possible thanks to Isabelle Barberot who left her former job as a care assistant to become a professional animal mediator and take care of her llamas. She offers walks in the undergrowth of Abbéville-la-Rivière.
The llamas are fond of rambling lianas, brambles and ivy and they enjoy this environment, they are just waiting to go for a walk. These animals are gentle and accustomed to this activity, your children, even small ones, will love to hold their leash and walk around.
You can't ride them, but you can pet them as much as we want, and if you have any questions about llamas, they will quickly be answered.
A fixed price for 5 persons varies from 28€ to 45€ depending on the chosen walk, call +33 6.13.63.44.83 for more information.
Sporting activities
Evasion canine in Fontainebleau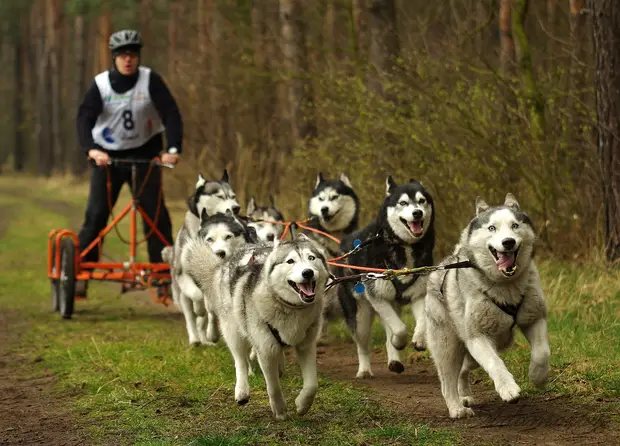 Does a true moment of joy with dogs trained in the forest by a champion sled dog racer appeal to you?
Christian Perlwitz, musher national champion, welcomes you in his haven and gives you a first sled dog race experience on a 4 km course in the forest, preceded by an hour of relaxation with his dogs.
In addition to this initiation, you will be able to take part in several other activities centered around dogs such as go-kart initiation (pulled by dogs), canicross (running with a dog on your belt) or canirando (hiking with a dog attached to your belt).
Christian also moves around for events if you have the room to welcome the dogs.
Come and discover this feeling of freedom, of connection with the animal and of being one with nature. Throughout this experience, you will be able to ask questions and get detailed answers about life with these dogs and the life of a canine sports champion.
The prices are between 30€ and 70€ depending on the activities and you will find more information on the Evasion Canine website.
Superfly
→ A 20-minute car ride from Paris and 30-minute ride in public transports.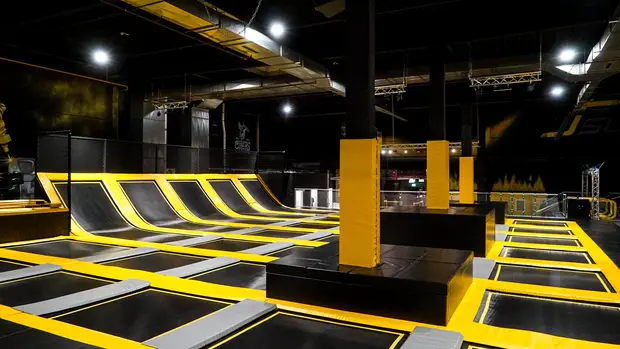 As a paradise for indoor sports activities for the whole family, Superfly is an American-style park with a 3300m² surface with freestyle areas, teen and adult areas and areas reserved for children.
Perfect for families, come and have a good time, let the kids let off steam while you enjoy a soundproofed lounge or go trampoline or any other physical activity with them to your greatest pleasure.
Push past your limits with one of the 15 attractions on offer; there is something for everyone, including climbing, mazes, giant slides, wall trampolines, ninja warrior circuits, trapeze…
It's also the perfect place to celebrate birthdays, team building or to let off steam with friends.
The prices are quite high (16€ for a one-hour session with access to all activities). You will find all additional information on Superfly's website (in French).
Survival camp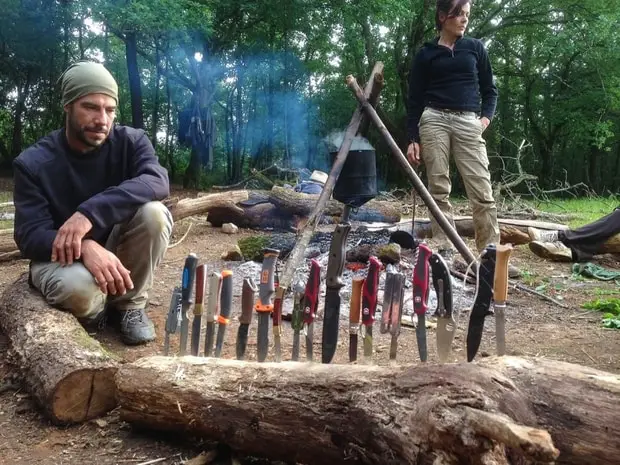 For the more adventurous and/or sporty among you, why not go for a 2-day + 1-night forest survival course?
Learn survival techniques and skills in the wilderness, it might be useful for you one day, who knows? It's mostly an opportunity to get out there, push yourself beyond your limits and have fun.
It's also a great exercise to strengthen your bonds or practice teambuilding with friends, family members or colleagues. Live and work with nature, get up at dawn, feed off your crops, become a survival expert and you are sure to surprise yourself.
Ferra Botanica
→ A 1h10-minute car ride from Paris.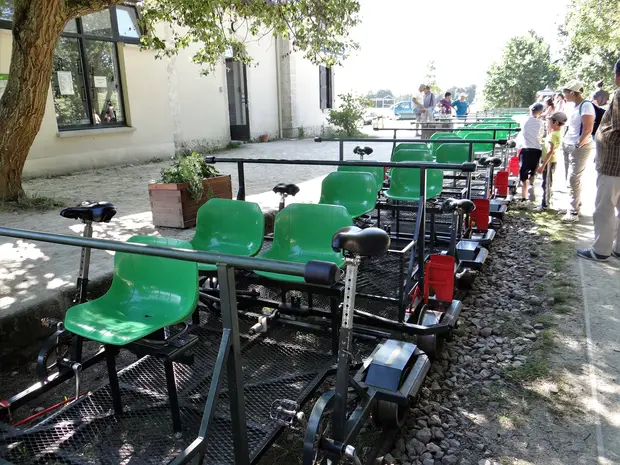 This is the perfect nature adventure that combines a bit of sport and great times with friends or family in the sumptuous setting of the Val du Haut Morin, a natural site in Seine-et-Marne.
A ride that is both recreational and sporty, all in a warm environment. Take the time to ride a bicycle on rails or an electric bike under the blue sky.
The vélorail is a vehicle for 5 people, although it is advisable to come in a group of 5 to share the costs (it costs 7€ per person if you are 5) you can come and rent one with a minimum of 2 people.
It's a very fun activity, quite sporty but, above all, fun; ride on train rails in this sort of "bike wagons".
Electric bike rides can be done on different circuits, some more sporty than others, and I use the term "sporty" lightly since we are talking about electric bikes that make the most effort for you but don't deprive you of the thrill of the downhill and straight-line speeding.
The Petit Morin valley offers landscapes that are not unlike those of Scotland, with flat relief and perfect for invigorating and refreshing rides. The rental for two and the ride on the circuit will cost you between 25 and 35€ per person.
Find all the additional information on the Ferra Botanica website.
Skydiving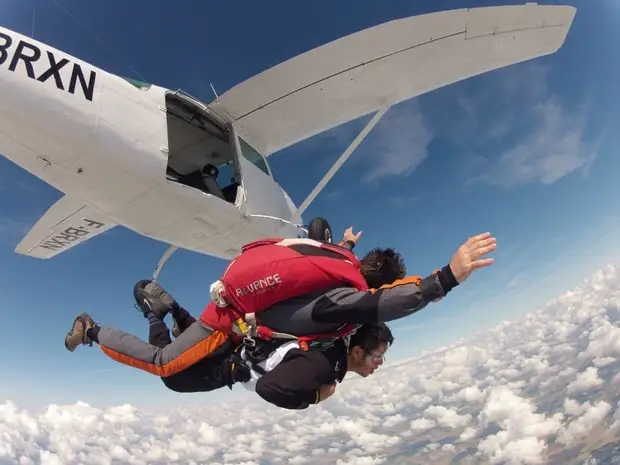 Skydiving will make you experience intense, fleeting, and indescribable emotions. In the sky you will fall at full speed before deploying your parachute to descend to a land so beautiful from the sky, not to mention the wonders of the region that you will see from a unique point of view, to say the least.
A professional instructor will accompany you after ground training for your tandem jump. You will experience a fall at an altitude of 3000 or 4000 m, and which will reach more than 200 km/h.
Living your dreams of flying has a rather high price but it is an experience you can afford at least once in your life.

Advice, best plans, great places; I will help you in your search for trips, activities, hotels and restaurants. Whether it's for a walk, a weekend, an afternoon or merely to find a trendy place to eat, I can give you all the pointers you need for your endeavor. Just follow the guide!