Rambouillet Forest
61 km from Paris
1h15 via N10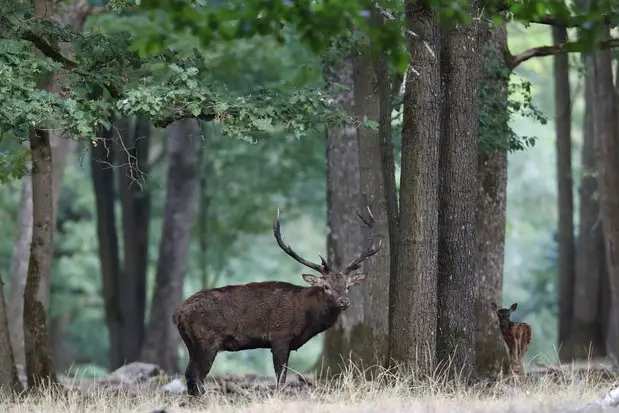 The national forest of Rambouillet has a 14,000 hectares surface. There, you will find many activities to keep you occupied. If you like hiking, you will find what you are looking for in this forest, with its 92 km of hiking trails, 60 km of cycling tracks and its bridle paths.
Take a walk around the ponds of La Tour and Le Perray (French website), connected by an aqueduct, and admire the landscapes. This 13.8 km walk takes about 3 hours and 30 minutes. The most courageous may walk all around the ponds of Rambouillet (French website) and discover the castle park. This 24 km hike takes about 6 hours to complete.
Cyclists can ride a bike through the forest. Walk along the ponds of Hollande, Perray-en-Yvelines and Les Bréviaires during a 3-hour ride. For a longer hike, you can start at the Château de Rambouillet and ride through the forest. Come back by the Drouette valley. This walk will keep you busy for almost 4 hours.
You can also take part in guided hikes, get information on the website. Do not forget to bring a backpack with the necessary items (water, snacks, warm clothing, etc).
Finally, take a walk in the Espace Rambouillet, along trails (French website). If you are discreet, you may have the chance to catch sight of deers, hinds or boars. You can also discover the forest of eagles, where you will have the opportunity to discover more than 30 such species.
To visit the Espace Rambouillet, expect to pay about €15 for an adult ticket in high season, and €10 in low season.
Fontainebleau Forest
73.8 km from Paris
1h15 via N104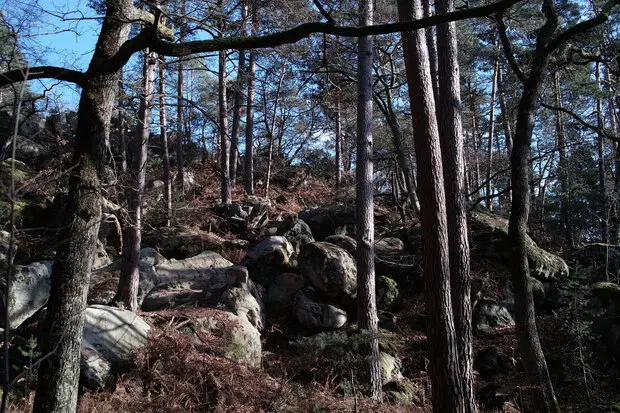 The forest of Fontainebleau has a 22,000 hectares surface and is a former hunting ground for the kings of France. It is recognized as a biosphere reserve by UNESCO.
In this forest, there are many activities to perform. Discover an original activity by taking part in a story-telling walk (starting from €15) or participate in a 2h30 biodiversity tour, starting from €16. You will discover the geological massif, the plants and the fauna of the Fontainebleau forest. You can also take part in a climbing session organized by a state instructor, for about €35 per person.
If you like animals, organize a walk with donkeys, held in reins. You can choose among six tours, from €25. Finally, have fun during a go-kart ride towed by sled dogs, for 1h30. Christian Perlwitz, a national champion in 2006, himself will guide you during this activity,.
Bois de Boulogne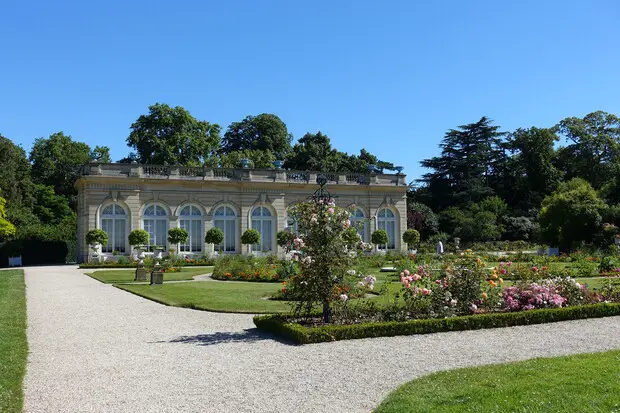 Walk in the Bois de Boulogne if you do not want to go far from the capital but want to enjoy a moment in the heart of nature.
In this former hunting ground with 850 hectares surface, you will find pedestrian walkways, 28 km of bridle paths and 15 km of cycling routes. You can also enjoy picnic areas, children's playgrounds, restaurants, etc. You can also rent bicycles or small boats to go on the Lac Inférieur.
Within the Bois de Boulogne, you can visit various parks including the Parc de Bagatelle, one of the capital's botanical gardens. There, you can admire artificial waterfalls, caves, bridges and water mirrors. You can also observe the beautiful rose garden and its 10,00 roses of 1,200 different species. In summer, you can attend classical music concerts.
You can enter freely from October 1st to March 31st, and the ticket cost €2.50 from  April 1st to September 30th.
Boucle de Nemours
104 km from Paris
1h50 via N20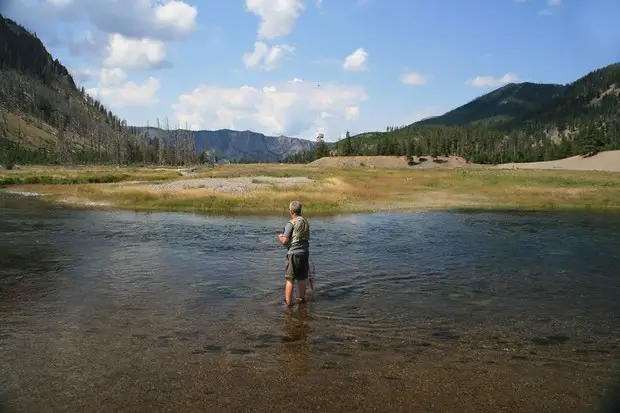 In Nemours, discover the landscapes during hikes or take part in sporting activities.
If you are an athletic person, start your walk from the Bois du Crot du Loup and walk along the paths of the Nemours national forest. Between rocky landscapes and sandy sea, you will have the opportunity to discover several loop routes, from 4 km to 8 km. You will walk for about 2 hours.
If you are adventurous, try bouldering, a climbing discipline that consists of climbing on reliefs under 5 meters high. Do not forget to equip yourself: climbing shoes, a chalk bag to absorb your sweat, a crash pad to soften falls, etc. Be careful though because you can practice this activity freely, without a guide.
Finally, for holders of a fishing permit, you can fish in one of the two waterways: the Loing or the Essone.
Viaduc des Fauvettes
42.3 km from Paris
54 min via Bd Périphérique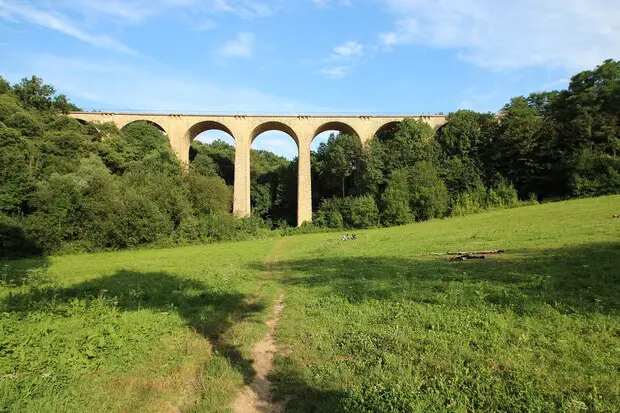 At the Viaduc des Fauvettes, organize a hike to discover the wooden landscapes and the viaduct, a former railway bridge. The 9.2 km loop route takes about 2 hours. The tour is marked out.
The viaduct has been transformed into a climbing site. Therefore you can choose among numerous climbing routes, as the viaduct has 12 arches and 11 pillars of different heights, from 10 to 36 metres. There are more than 100 routes, from 4c – or HS in Great Britain and 5.7 in the USA – (beginner and intermediate) to 7a – 5.11d in the USA – (advanced).
You can also practice trail run, a discipline that consists of running along paths. There are signs along the training route to help you find your way.
Milly-la-Forêt
76.6 km from Paris
1h38 via N20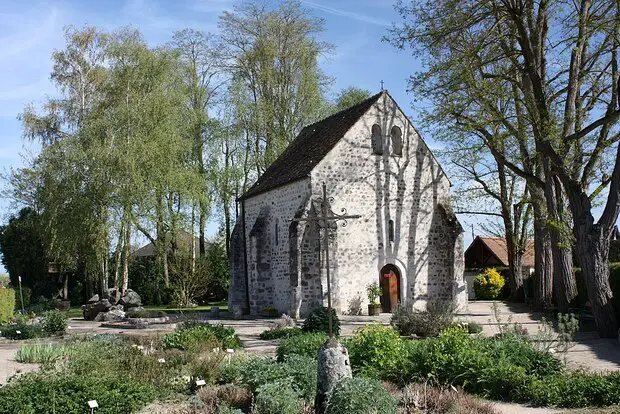 In Milly-la-Forêt, discover the Conservatoire national des plantes (National Plants Conservatory) and its 1,500 species. There, you will discover the history of plants, their origins and their daily uses. The visit will last about 1 hour 30 minutes.
You can also organize hikes in the forest, alone, or with a guide. Cédric Guide will help you discover the forest during 4-hour orienteering. If you have more time you can also organize hikes on a weekend. The Big Island will make you discover climbing in the forest, from €50 for 2 hours and 30 minutes.
Finally, you can also have fun in the heart of nature in the Atout Branches adventure park. You will enjoy 10 different routes, up to 18 meters high, from €21 for an adult ticket.
All links lead to French websites
Saint-Quentin-en-Yvelines Nature Reserve
34.2 km from Paris
53 min via A13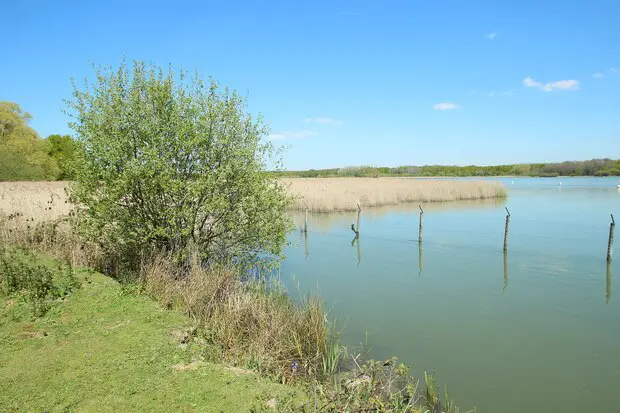 Visit the Saint-Quentin-en-Yveline Nature Reserve and observe 260 bird species. To discover this migratory area, activities are organized all year.
Remember to book, you cannot visit the reserve on your own.
Have fun at the leisure island in a green area. You can walk around the lake on 8.4 km. Go along the National Nature Reserve and discover 70 hectares of fields. You can go for a ride on a segway, starting from €29, or on a bike or Rosalie.
You can also try water activities such as canoeing, kayaking and windsurfing on your own.
Finally, you can also experiment with activities such as mini-golf, golf or tree climbing on the leisure island.
You can also organize a barbecue or a picnic, or even eat in one of the two restaurants in the park: the Golf restaurant or Les Alizés restaurant.
All links lead to French websites
Vexin Nature Park
60.9 km from Paris
1h25 min via A15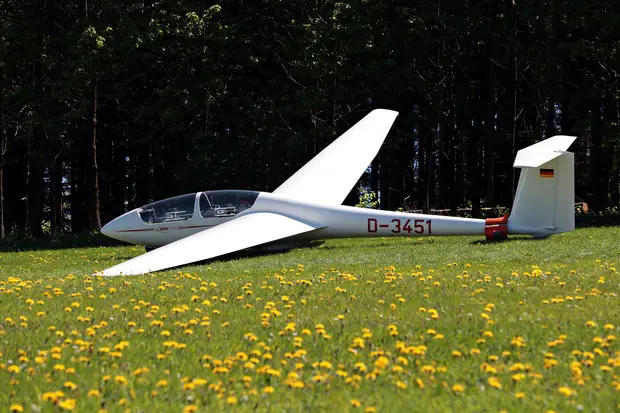 In the Vexin you will have the opportunity to practice many sporting activities: hiking, horse riding, cycling or even water and aerial activities.
Organize a hike on the long-distance paths (GR 1, GR 2, etc), from 4 to 24 km. Discover the banks of the Seine in the heart of the Vexin during a 2-hour walk. Stroll along with the gardens on a 5-hour walk. You can also go horse riding. Choose from the many structures available.
Navigate the river in a canoe. CanoEpte offers several routes depending on your level: 1h30 for the beginners, 2h for the intermediate or 3h40 for the experienced.
Try out aeronautical activities with the Chérence aerodrome. You will have the opportunity to practice gliding or glider flight.
All links lead to French websites
Malowe Nature Farm
87.6 km from Paris
1h21 via N12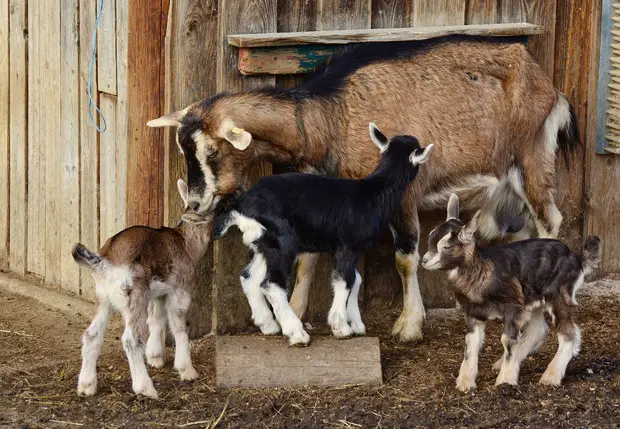 Go and discover the Malowe Nature Farm, which produces fruits and vegetables using permaculture principles. Educational tours are organized occasionally, so look for information on the website. You will also have the opportunity to discover their local product sales.
You can also visit the mini-farm and discover the animals in semi-freedom: sheep, goats, ponies, rabbits, etc. You can also observe the farm's vegetable garden during an educational visit.
Have fun fishing in their 3 ponds dedicated to fishing without a license. You will have the chance to fish rainbow trouts or yellow gold trouts. You can buy or rent equipment from the shop. Beginners can also take advantage of an initiation lesson.
All links lead to French websites
Lilac Park
12 km from Paris
34 min via D7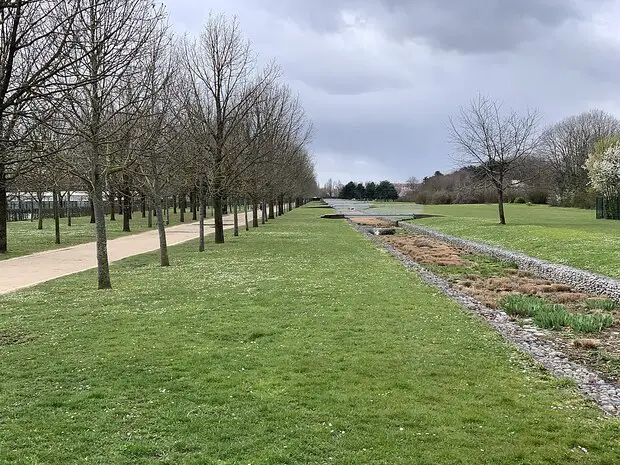 Take a walk in Lilac Park to reconnect with nature.
In this park, you will have the chance to organize discovery walks, admire flowers,  and participate in workshops on pruning fruit trees or shearing sheep. You can also enjoy picnic areas.
You can see the plant collections, including the lilac collection that gathers more than 700 botanical varieties. The rose collection has 500 varieties and the apple and pear collection has 280 varieties.
Feel free to download the free EcoBalade nature application to walk along the park's 4 km of paths.
All links lead to French websites
Ranch de Saint-prix
38.7 km from Paris
1h via Bd Périphérique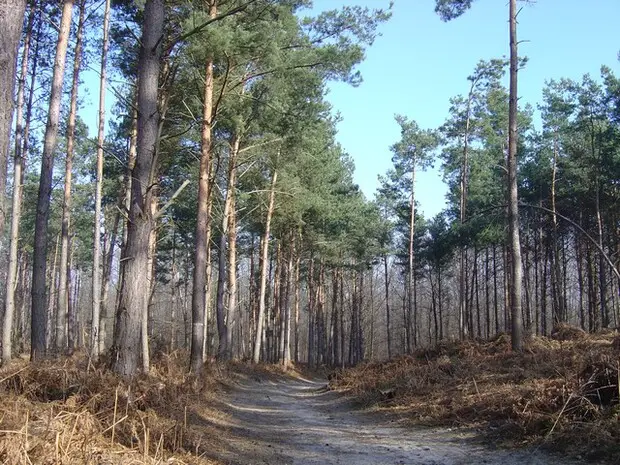 If you want to enjoy horses in a natural setting, go to the Saint-Prix Ranch. This Wild West ranch offers several activities.
You will have the opportunity to participate in rides and walks all year long. You can also experience horse therapy which will make you see the horse as a partner and ally.
About twenty minutes from the ranch, you can organize a hike in the Montmorency forest, either on foot or by bike. On foot, take a long-distance path, such as the GR1 or the GR du Pays. By bike, take the Montsoult circuit, a walk in the forest of Montmorency and Isle Adam to discover the forest.
You can also see the Château de la Chasse, which is closed to visitors.
All links lead to French websites
Sherwood Park
56.9 km from Paris
1h15 via Boulevard Périphérique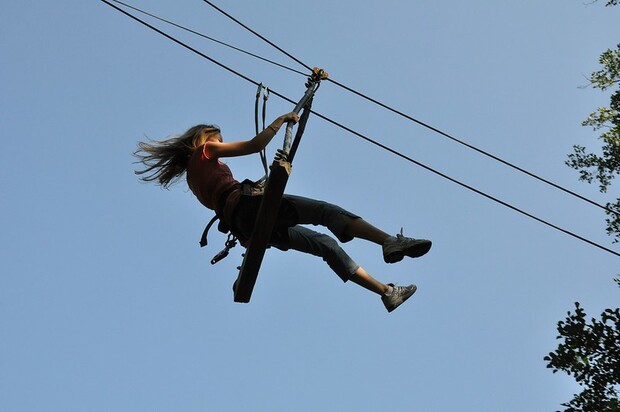 At Sherwood Park, a recreational park, you can have fun in the middle of nature with several activities.
The park offers more than 450 tree climbing workshops, from 1 to 20 meters high, and more than 2,000 meters of zip lines. Launch yourself on the longest zip line in Île de France, of 260 meters in length, you can reach up to 60 km/h. You can also try the zip line with turns, starting from 16 years old, where you will be shaken by speed bumps and 180° turns over a 250 m route.
Take part in shooting activities such as archery and crossbow. Have fun in the giant labyrinth, which covers almost one hectare.
Finally, you can discover the landscapes on hikes in the 1,000 hectares of the Carnelles forest. Have fun with the ATV electric scooters during a 1h30 ride. Do not forget to wear trousers and closed shoes.
Several packs are available, including the Sherwood Pack for €28 per adult with the following activities: unlimited tree climbing for the day, quick jump and giant zip line. You can also choose the Hike Scooter Pack starting from €30: this includes scooter, robin's village, giant labyrinth, riddles course.
All links lead to French websites
Giverny
94.2 km from Paris
1h30 via A15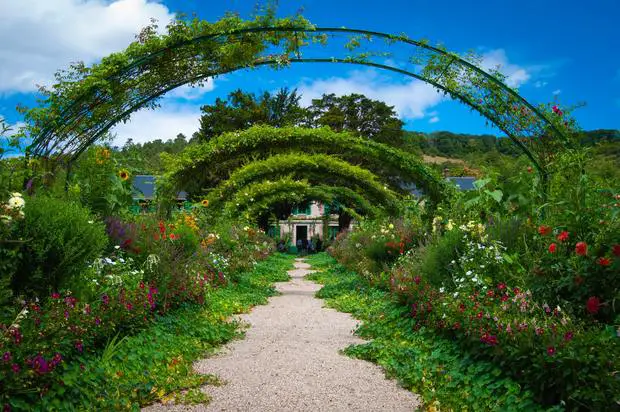 Discover Giverny and the home of the famous painter Claude Monet. You will see a different scenery for a day.
Discover the Clos Normand, located at the front of the house, famous for its metal arches covered with climbing roses. Look at the Water Garden behind the house. There, you will see a Japanese bridge and the famous white water lilies.
You can also visit the surroundings of Giverny and discover the Epte valley. Leave Giverny and reach Gisors and its fortified castle on foot or by bike. Be careful though, during this 28 km walk, you will face several slopes.
This walk is the opportunity to discover beautiful landscapes that were a source of inspiration for many impressionist painters.
You can also walk along the banks of the Seine. Take the opportunity to go canoeing, for example. RandoEpte (French website) offers several routes, between 1h30 and 6h, including the St Clair route of about 2h, or the Dangy route of about 5h. Enjoy it starting from €22 without an instructor.
Chantilly
59.8 km from Paris
1h25 via Bd Périphérique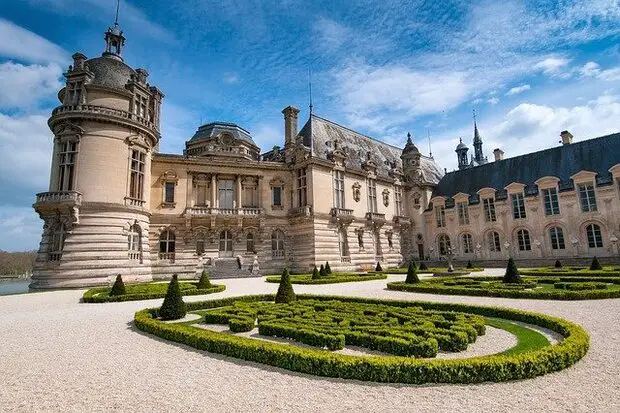 If you like horses, go to Chantilly, a princely town and horse capital.
Discover the Chantilly forest with a several hundred hectares surface on horseback. Take a ride for 1h, 2h, 3h or a day, starting from €28 with the Ecuries de Java club (French websites). In groups, you can privatize the ride starting from 5 people. All riders are accepted, from beginners to experienced horse riders.
Remember to wear trousers and boots or tennis shoes. During your ride, you may see deers, stags or boars.
You can also organize a walk along the hiking paths. You can choose among several routes: a route along the canals of about 1h or a route around the racecourse of about 1h30.
Finally, visit the Château de Chantilly and its French gardens. You can have fun in a 4,000m2 plant maze or a small park with wallabies. Several activities are offered to discover the park, such as a scooter ride or a bike ride, starting from €19. You can also take a trip on an electric boat or pedal boat, starting from €15.
All links lead to French websites
Thoiry Zoo
54.4 km from Paris
1h via N12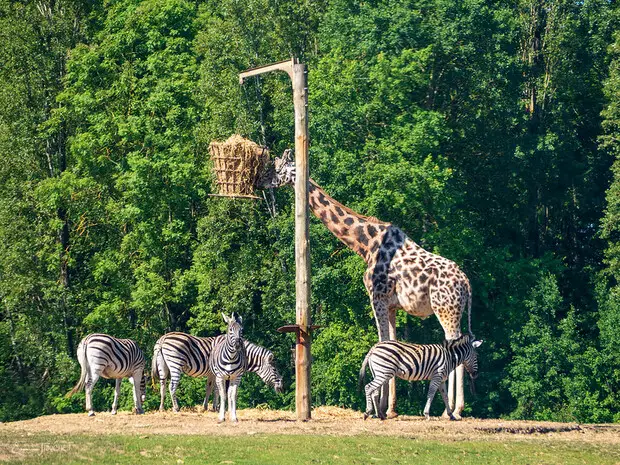 If you want to go on a nature getaway near Paris, do not hesitate to visit the Thoiry Zoo. Discover more than 750 animals in various enclosures.
Explore the glass tunnel and come face-to-face with lions, tigers, as well as hyenas. Walk on the bridges linking the 3 islands to observe the lemurs. Admire the birds in the Australian aviary: budgerigars, galahs and rainbow lorikeets.
In this zoo, you will have the opportunity to take part in an 8 km safari and discover the animals of the reserve: zebras, rhinoceroses, giraffes, ostriches, elephants, etc. In a bush truck or your own vehicle, discover the savannah animals for one hour.
Before leaving the zoo, you can also explore the Thoiry castle and its gardens.
Finally, do not hesitate to book activities to spend a special moment with the animals and the caretakers.

Advice, best plans, great places; I will help you in your search for trips, activities, hotels and restaurants. Whether it's for a walk, a weekend, an afternoon or merely to find a trendy place to eat, I can give you all the pointers you need for your endeavor. Just follow the guide!