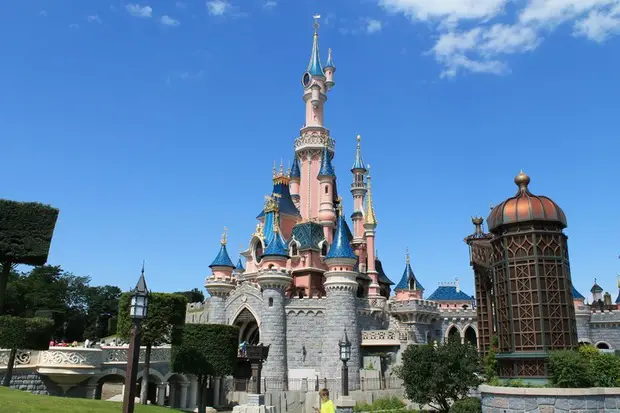 Disneyland Paris is an internationally renowned theme park, which is one reason why we're all eager to visit.
But to fully enjoy the park with good weather and without being surrounded by too many people, when should you go?
To help you with your decision, I decided to study this question.
Before we get started, here's a graphic to help you get an idea of the park's prices, crowds, and weather:
The park is open all year long, allowing people from around the world to enjoy a magical moment at Disneyland Paris during any season.
As shown on the graphic, the busiest times of the year are during school holidays and Disney events (Disney Halloween Festival, Disney Enchanted Christmas, and Disney New Year's Eve Party).
You need to take more into account than just the crowds when visiting Disneyland Paris, however; you must also consider the weather, the prices, the availability of your friends or family, the park's schedules, and so on.
Therefore, choosing one time to visit that will suit everybody is a nearly impossible task.
Best Times to Go to Disneyland Paris

As shown on the graphic, the best times to visit the park are (unsurprisingly) the off-peak ones. In other words, it's best to visit while children are at school and there are no major upcoming holidays (from January to March, in September, and in November).
During these periods, crowds are at their lowest and both the park's and nearby hotels' prices are usually at their cheapest.
If you want to fully enjoy your day at the park without waiting in line for too long and under nice weather, I recommend going on a weekday (preferably a Tuesday or a Thursday) in March.
At this time of the year, children are at school, temperatures are pleasant, and the sun is more and more present. You will get to fully appreciate your day in the park without fighting crowds or having to wait in long lines. For example, instead of waiting one or two hours to ride Big Thunder Mountain, you'll only have to wait around thirty minutes.
However, even though this period is very affordable, there aren't many Disney events in March.
If experiencing one of the events at the park is important to you, get out your cold weather clothes and plan a late September or late November trip (just like in March and June, avoid weekends if possible).
The decorations for each event are usually put up a few weeks in advance.
In late September you can enjoy the Halloween decor. If you wait until late November, you'll get to appreciate Disneyland Paris' magical atmosphere and its Christmas decorations at very reasonable prices.
Before booking and buying your tickets, be sure to check the list of rides since off-peak seasons are usually when renovations are done. For instance, in 2022, the counters at the entrance to the park were being renovated.
Worst Times to Go to Disneyland Paris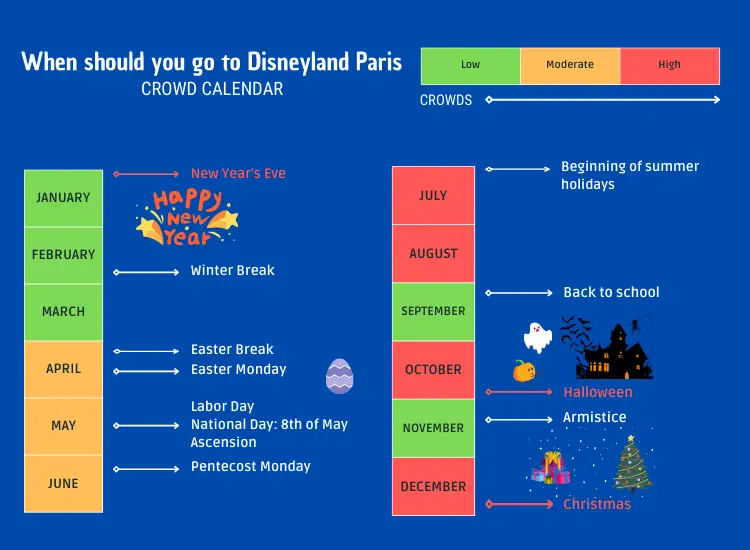 As you can see on the graphic, school holidays should be avoided if you don't like crowded places. The summer holidays are especially busy!
During summer, most families have more free time. It's therefore during this season that most visitors, foreign and local, come to the park. Because of that, crowds and prices are at their highest.
If you want to avoid long waits for rides, periods with events (late October and late December) should also be avoided.
July and August are pretty crowded, but periods with events are generally even more animated because the events cause an increase in the number of visitors.
We also advise avoiding long weekends like Labor Day, Armistice Day, and the 8th of May. At those times, people usually book longer stays and come to the park in larger groups.
Tips
1) Get out of sync with other visitors
If you can only visit during peak seasons, try to get out of sync with other visitors.
For example, instead of having lunch between 12pm and 2pm like everybody else, try to eat before 12pm or after 2pm. Not only will you avoid crowds in the park's restaurants, you'll also get to enjoy the rides for a couple hours while everyone else is eating.
The parade usually begins around 5pm (this may vary with the season) and attracts a lot of people.
We recommend watching the parade from its starting point at the ride It's a Small World (get there at least 20 minutes in advance to secure your spot).
When the parade is over for you, it will only be the beginning for some people. This gives you at least twenty minutes to head to an attraction and have a shorter waiting time to access it.
2) Pack everything you need
In order not to waste any of your time at the park, be sure to pack carefully. Bring your essentials (your wallet, your umbrella, etc.) to make sure you have everything you need once you get to the park.
If you don't want to be too hot, too cold, or soaked by rain, make sure to check the weather beforehand and wear an appropriate outfit and accessories. This way, you'll get to fully enjoy your magical moment at Disneyland Paris.
Also be sure to check the park's schedule as it may vary with the seasons.
FAQs
When is the best time to visit Disneyland Paris?
To fully enjoy your day without too many people, without waiting too long in line, and with pleasant weather, the beginning of the year (especially March) is the best time.
However, if you would like to experience an event, the end of the year is the perfect time for you to visit the park.
When are the crowds the smallest at Disneyland Paris?
Off-peak seasons are the park's calmest periods of the year (from January to March, the beginning of June, September, and the beginning of November).
Please note that off-peak seasons don't have many events and are usually when renovations occur.
When are the crowds the largest at Disneyland Paris?
During school holidays and events. During the Disney Halloween Festival, the Disney Enchanted Christmas, and the Disney New Year's Eve Party, the number of visitors is much larger.
What weekday is the least crowded at Disneyland Paris?
Tuesday or Thursday. Visitors tend to book long weekends and spread their visit out over Mondays and Fridays. Since Wednesdays are considered children's days, the crowds on Wednesdays are generally larger as well.
What's the best time to arrive at Disneyland Paris?
If you want to get on the rides early in the day, you should get to the park fifteen to thirty minutes before opening. The gates typically open thirty minutes before the rides begin to run.
If you are more interested in the evening events at the park, staying until closing hours is a much better option than arriving as soon as the park opens.

I aim to share my tips and recommendations for the beautiful country of France. My goal is to help you plan your next adventure, whether it's a weekend getaway or a once-in-a-lifetime trip. From finding the best hotels and restaurants, to discovering unique activities and sights, I've got you covered!