During the summer, the streets and the banks of the Seine in Paris come alive while the terraces, small or large, come out onto the sidewalks, and passers-by take over the riverbanks for picnics or just a drink. Pedestrians, watch your step!
Canal Saint-Martin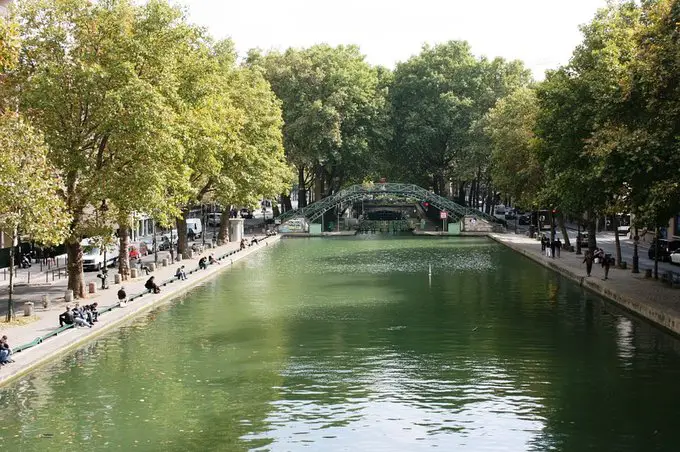 In the 10th arrondissement, the Canal Saint-Martin extends for more than 4.5km northeast of Paris. Inaugurated in 1825, it was well visited at the time and brought drinking water to Parisians as well as various merchandise, thanks to the numerous vessels that traveled down the canal. Today, commercial activity has really decreased and the only boats that use it are pleasure boats or touristic cruises. Actually, the canal is a dream destination for those who love Parisian scenery. Its special atmosphere and romantic walkways make for some beautiful walks between lovers.
In summer, the canal comes to life and Parisians flock to the bars, terraces, and cafés nearby. For a snack, go to Sésame, a little chic and trendy bistro that offers small dishes and pretty desserts at such nice prices! Out on the terrace you'll have a superb view over the canal. You can also have meals or treats to go and eat them along the edge of the canal with your feet (almost) in the water.
Walking along the Quai de Valmy or the Quai de Jemmapes, you'll find a few bars and other nice restaurants like the café, Le Poutch, just two steps from the canal. Explore the decorated cafés at your leisure with their comfortable atmosphere, but we suggest that you avoid the very trendy Chez Prune. Because of its undeserved popularity, you risk waiting a long time before getting a table and getting treated poorly by the busy servers.
At night, enjoy the club, Point Ephemère, with its DJs, who want to dance, temporary exhibits to admire between drinks, or its terrace that opens up to the canal.
Addresses:
Sésame : 51, Quai de Valmy. (M5 : station Jacques Bonsergent or M11 : station République)
Le Point Éphémère : 200, Quai de Valmy. (M2, 5 or 7bis : station Jaurès)
Le Poutch : 13 rue Sampaix. (M5 : station Jacques Bonsergent)
Banks of the Seine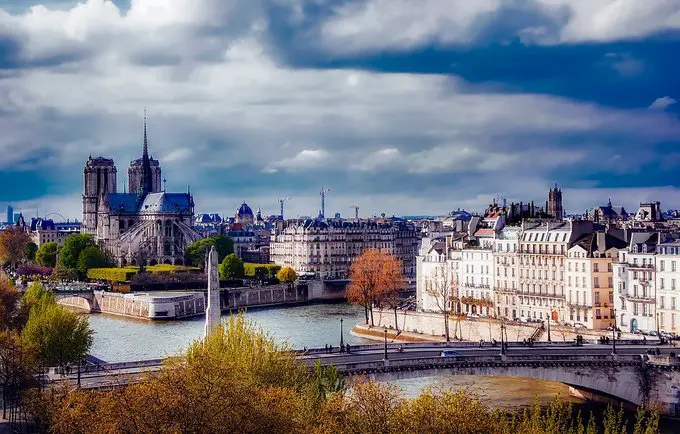 What would Paris be without its riverbanks? In fact it's an institution for all respectable Parisians. Without exaggerating anything, there should be plenty of them out this summer, taking over the banks with a baguette under their arm, a sausage in their pocket, and a bottle of wine. In front of Notre Dame or along Quai Voltaire, facing Tuileries Palace and the Louvre, you are free to choose the part of the riverbank that seems the best. Here we'll give you a few tips to enjoy a relaxed and very Parisian evening.
There is no doubt that the banks in the 13th arrondissement are great to spend an evening. In fact, they have recently been remodeled, and open-air clubs and barges have come to the area, which Parisians have really enjoyed.
Just outside the National Library of France, you will find these bars along the Seine. Here the atmosphere is relaxed and rather festive. You can order at the bar and chill by the river in the chairs or stools that are available to customers. You can also decide to venture onto one of the floating bars docked on the banks between the bridges, Pont de Tolbiac and the Pont de Bercy. A few names to remember like Batofar (Port de la Gare, Paris 13th arrondissement, M6 : station Quai de la Gare, RER C and M14 : station Bibliothèque François Mitterrand), a barge that includes a concert hall and a bar/restaurant. Fall in love with the intimate ambiance with soft lighting, and enjoy the summer breeze that blows through the terrace. It will surely be a good time.
Further up on the banks of the Seine, discover the Dame de Canton (Port de la Gare, Paris 13th arrondissement, M6 : station Quai de la Gare, RER C and M14 : station Bibliothèque François Mitterrand), an authentic Chinese junk ship that, in another life, traveled around the world. Today, docked in the 13th arrondissement, it welcomes you with a warm and colorful atmosphere, and there you can drink a few, listen to artists that come and perform (from Tuesday to Saturday), and enjoy the patio along riverbanks throughout the whole summer.
Even further along the river, find another hybrid place in the neighborhood: Le Petit Bain  (in French only). Created by a cultural association, this barge offers concerts, exhibitions, and the magnificent green deck serves as a bar and restaurant. It would be a nice place to relax during the summer.
You should choose these smaller, less pretentious establishments instead of the very posh Wanderlust (in French only) where you have very little chance of finding a seat, the food is mediocre, and the service is bad.
Of course, you'll find a terrace in every corner of the street during summer in Paris, but most of them, besides being crowded, are in places poorly suited for them. To not end up with a chair leg in the gutter and to not lose out on your spot in the sun while you go to the bathroom (life on the terrace is a zoo), we recommend a few locations to spend a relaxing time in the capital.
Magnificent Views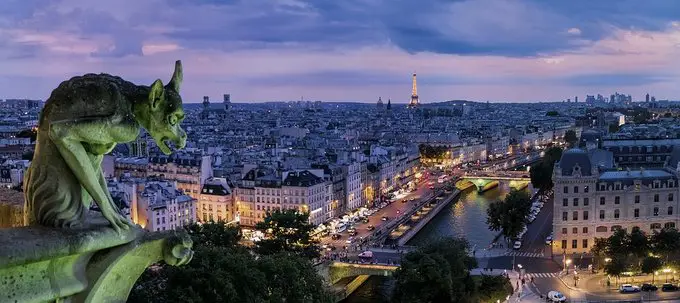 Do you love Parisian architecture? Do you want to have a special time sipping on your coffee? Well, this section is for you.
Just about a walking distance from the Louvre Pyramid, the Café Marly, visited mostly by tourists, will offer a breathtaking view of the Louvre Palace, its courtyard and the Tuileries Garden next to it. But this exceptional view has a price. Expect to pay 12 euros for a cocktail or 10 for a glass of wine. The staff is very caring and the unforgettable view is worth the detour, especially while the sun is setting.
Café Marly : 93, rue de Rivoli, Paris 1st arrondissement. (M1 : station Palais Royal-Musée du Louvre)
For a more panoramic view, we suggest Le Georges. A gourmet restaurant at the top of Centre Pompidou, this very chic establishment welcomes you with a refined décor that lets you enjoy a panoramic view of the City of Lights.
We suggest going there after nightfall so that you can enjoy the lighted buildings. Anyways, consider making a reservation (mostly for dinner) and pay attention to the prices that can add up pretty quickly to the bill. Little tip: you can get to the restaurant through the escalators in Centre Pompidou, but to avoid the chaos at the pre-dinner hour, we suggest taking the elevator that will take you right to Georges. The elevator is located to the left of Centre Pompidou's main door.
Le George : 19 rue Beaubourg, Paris 4th arrondissement. (M11 : Rambuteau or M4 : Châtelet)
We have kept the best for last: Le Déli-cieux will give you a panoramic and completely unobstructed view. You'll find yourself on the roof of the department store, Printemps Home where you can see all of Paris with just one glimpse.
In addition to offering a magnificent view, the establishment is well suited for all budgets and isn't too crowded, since it isn't as well known by Parisians. The only downside is that the terrace closes early (10pm on Thursdays and 8pm the rest of the week) along with the store.
Le Déli-cieux : 64 boulevard Haussmann, Paris 9th arrondissement. (M3, 9 : station Havre Caumartin)
Rustic Terraces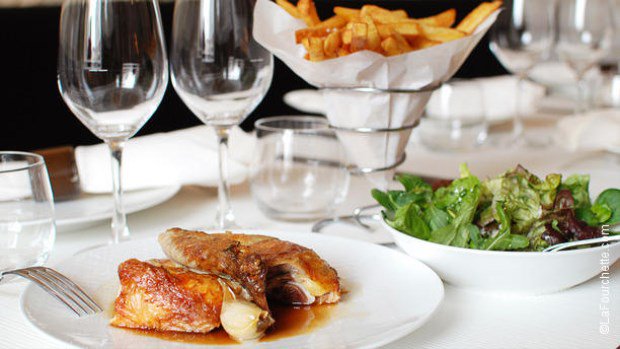 Do you want more nature and greenery? We have revealed the addresses of the most rural terraces in the capital for a kind of country-style break in the heart of Paris.
Le Bistrot des Dames is a location that you can't miss out on. Nestled in the heart of the popular neighborhood, Batignolles, its small colorful garden welcomes you unpretentiously every day of the week. Enjoy all the plants that fill its garden and sunbathe while sipping on one of their wines, because it is, above all else, a wine bar. Le Bistrot des Dames is known by the neighborhood's regulars, and its family atmosphere is really nice.
Le Bistrot des Dames : 18, rue des Dames, Paris 17th arrondissement. (M2, 13 : station Place de Clichy)
At the top of Buttes Chaumont you will find the bar Rosa Bonheur (in French only) inside a remodeled white and green house. You can enjoy the shaded terrace during the summer and admire the park that dominates the 19th arrondissement. However, in the middle of summer, you will need to hang in there (or arrive early), because the bar is really popular in the neighborhood, surely because, in addition to the view, the prices are really affordable.
Rosa Bonheur : Chaumont 2, rue des Cascades, Parc des Buttes Chaumont, Paris 19th arrondissement. (M7bis : station Buttes Chaumont)
Enjoy your visit in western Paris by taking a break in the lovely tropical gardens of the Petit Palais. You just need to ask for a ticket (which are free) to the museum's permanent collections, and then go to their gardens. There, you'll find Jardin du Petit Palais, facing the palace's pond. This café is surrounded by palm trees and luxurious plants. More of a café than a bar, this is the ideal location (which is also really economical for the neighborhood) for a small snack in the afternoon.
Le Jardin du Petit Palais : Le Petit Palais, avenue Winston Churchill, Paris 8th arrondissement. (M1, 13 : station Champs-Elysées Clémenceau or RER C, M8, 13 : station Invalides)
Intimate Terraces
Bellevilloise; Crédits © Meg Zimbeck
For those who are tired of noise and Parisian pollution, check out these exceptional locations that will let you return to a calmer state of mind.
For a Scandinavian atmosphere with a very "Ikea" décor, we suggest Café Suédois. It is open throughout the year, but in summer you can enjoy its paved courtyard and gardens.
Located on a small, calm street in the Marais neighborhood, the café is part of the Swedish Institute and exists to help our taste buds get used to Swedish culture, and we keep asking for more! The baked goods and bread are made on site that very day, and they offer dishes with seasonal vegetables. Here, there is no stress, no pollution, and certainly no crowds, since few Parisians know about the charming place that has specialties at such affordable prices. In addition, their service is really warm and friendly.
Le Café Suédois : 11 rue Payenne, Paris 3rd arrondissement. (M1 : station Saint Paul or M8 : stationChemin Vert)
Still in the Marais neighborhood, Estaminet des Enfants Rouges (in French only) is almost hidden on a tiny street in the 3rd arrondissement. Although it is in a really active area, its location lets it escape the unending traffic and car horns. Perfect for a calm break, the menu has a bunch of inventive sandwiches and a large choice of drinks, as well as a hearty brunch for Sundays.
The modest terrace is very colorful and its exposure to the sun is ideal during the summer season.
L'Estaminet des Enfant Rouges : 39, rue de Bretagne, Paris 3rd arrondissement. (M8 : station Filles du Calvaire)
Bellevilloise is a café full of charm that offers an atypical environment to its customers. The establishment is located in an old worker's cooperative from the end of the 19th century. Also, the café is simply huge. Situated on the outdoor patio with luxurious greenery. Under the shadow of a palm or banana tree, you'll forget for an instant that you are in Paris.
Every year from mid-July to mid-September, the 500m2 space in the place's loft is turned into the Grand Prairie. It brings out its beauty with a natural lawn that invites you to take your shoes off and relax in the seats available on the inside prairie.
La Bellevilloise : 19-21 rue Boyer, Paris 20th arrondissement. (M2, 3 : station Père Lachaise or M2 : station Couronnes)

I aim to share my tips and recommendations for the beautiful country of France. My goal is to help you plan your next adventure, whether it's a weekend getaway or a once-in-a-lifetime trip. From finding the best hotels and restaurants, to discovering unique activities and sights, I've got you covered!